Advertising for tattoo artists
The iNKPPL Tattoo Magazine has over 5 million of tattoo fans from around the world. Among them are your future clients, colleagues, artists, manufacturers of tattoo equipment, prominent figures of the modern global tattoo culture, as well as many others!
The best tattoo artists of the world in INKPPL's articles
More than 1 000 000 views per month.
Our articles feature the most talented, brilliant, and unique people on the planet.
This is the exclusive interviews with the best of the best, reviews of new styles and trends in modern tattooing, new equipment, a calendar of international tattoo events and much more!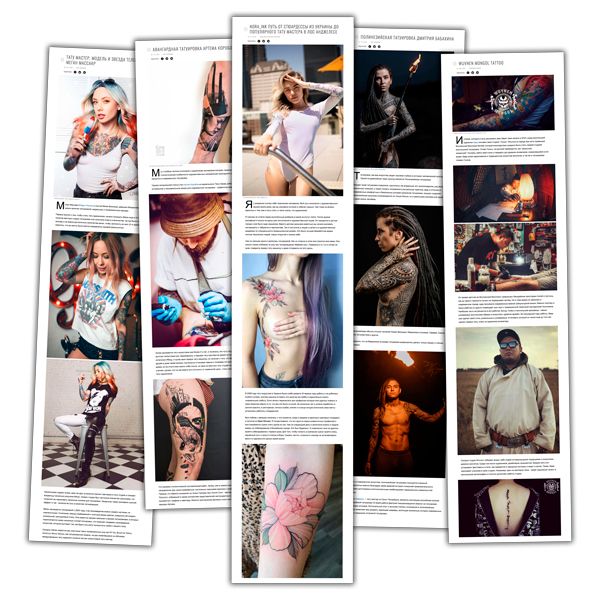 Audience
The magazine's audience is over
5 000 000 people from
217 countries
and more than 5000 cities.
This world wide audience fully involved in the tattoo industry:
- TATTOO FANS (future clients of artists and shops);
- TATTOO ARTISTS, from beginners to world-renowned professionals;
- Owners and administrators of TATTOO STUDIOS around the world;
- MANUFACTURERS of tattoo equipment;
- Tattoo equipment STORES, accessories, clothing.
iNKPPL on Social Media
Instagram: More than 90 000 followers and more than 2 000 000 views of posts per month.
Pinterest: More than 240 000 followers and more than 50 000 000 views of posts per month.
All posts are posted once and forever, and are not removed from the feed.

Lead the rankings of the Best Tattoo Artists of your style, country, or even the whole world!
Thousands of people from all over the world are looking for their tattoo artists every day.
Help them make a choice.
Take a place in the TOP list of the best tattoo artists, increase your online visibility and get new clients!
Standart
1 month = €30
3 months = €60
6 months = €100
12 months = €180
Plus
1 month = €50
3 months = €100
6 months = €180
12 months = €300
Pro
1 month = € 70
3 month = € 140
6 month = € 250
12 month = € 420
Advertising on iNKPPL
Advertising on iNKPPL.com for tattoo artists is an opportunity to:
Find new clients and stand out from other tattoo artists;
Show your artworks to a global audience;
Receive an invitation to an International tattoo convention, Guest Spot, or become a part of the PRO TEAM of the leading manufactures of tattoo equipment;
Attract the attention of world-famous sponsors.
The magazine's advertising department employs marketers and designers to help you choose the best placement format.