Advertising for tattoo studios
The iNKPPL Tattoo Magazine has over 5 million of tattoo fans from around the world. Among them are your future clients, colleagues, artists, manufacturers of tattoo equipment, prominent figures of the modern global tattoo culture, as well as many others!
The entire global tattoo industry in iNKPPL articles
Over 1,000,000 articles views per month.
Publications about the most talented, bright and unique people on the planet.
This are the interviews with the best of the best, reviews of new styles and trends in modern tattooing, new equipment, a calendar of international tattoo events and much more!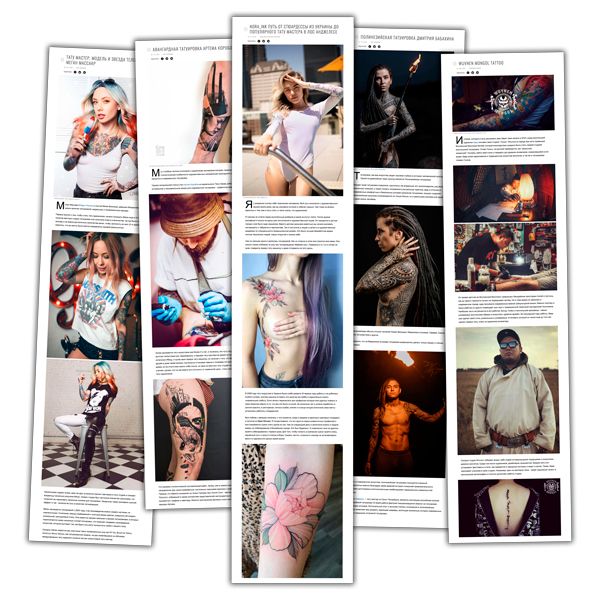 The audience
The audience of the magazine is more than
5 000 000 people from
217 countries
and more than 5000 cities
This is world wide audience involved in the tattoo industry:
- Tattoo fans (future clients of studios, artists and shops);
- Tattoo artists, from beginners to world-famous professionals;
- Owners and administrators of tattoo studios around the world;
- Manufacturers of tattoo equipment;
- Stores of tattoo equipment, accessories, clothing.
iNKPPL is available on all devices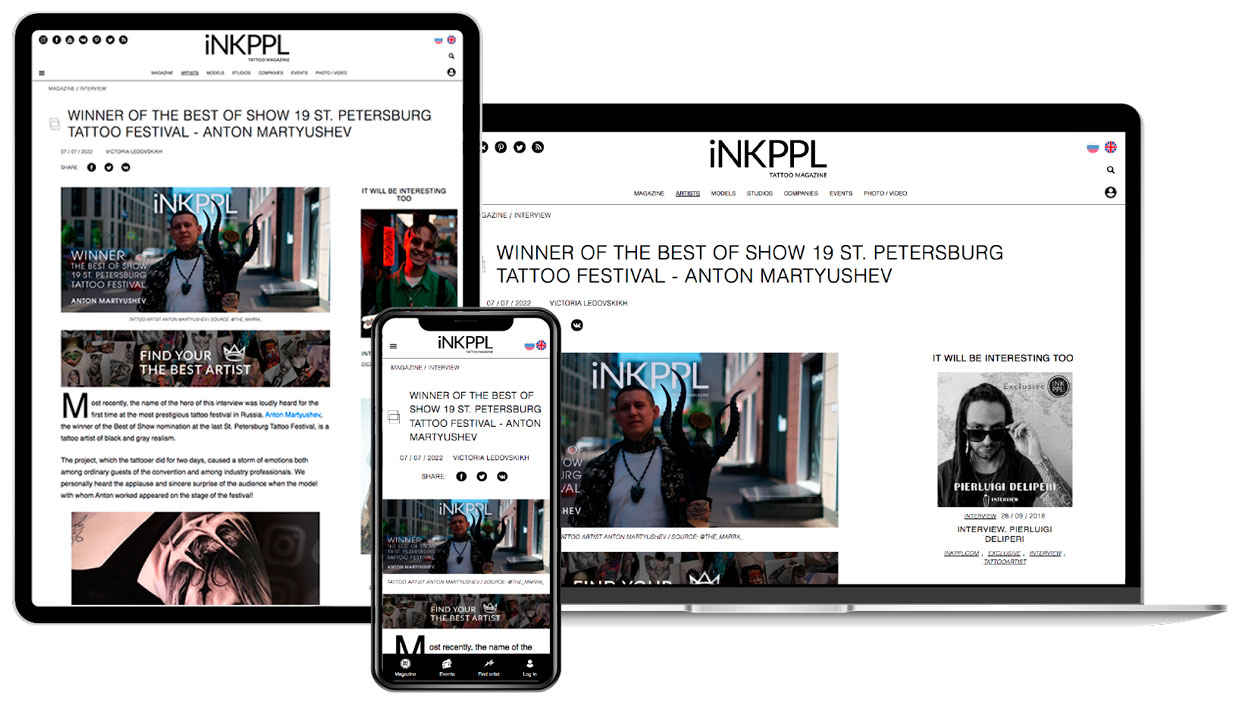 iNKPPL on Social Media
Instagram: More than 90 000 followers and more than 2 000 000 views of posts per month.
Pinterest: More than 240 000 followers and more than 50 000 000 views of posts per month.
All posts are posted once and forever, and are not removed from the feed.

Advertising options
Tattoo Shop Monthly Support
Supporting and promoting Tattoo Shop on social media (posts, stories);
Advertising banner on the TOP of the list of tattooists of your CITY;
All your tattoo artists on iNKPPL list of tattooists;
At EVERY page of your tattooist will be placed the LINK to your page;
Your shop will be placed at the TOP of iNKPPL tattoo shop/studio list;
---
1 month = € 200 3 months = € 500 6 months = € 900 12 months = € 1500
Tattoo Shop Introducing
Exclusive article about your tattoo studio, tattoo artists, training programs, guests, special offers, and more.
Each article is published on the magazine's homepage and remains permanently in the Tattoo Studio iNKPPL section.

The article is 3000 characters long;
Includes photo and video materials;
Provides links to your website and social media, as well as contact information;
---
€ 300
Advertising on iNKPPL
Advertising on iNKPPL.com for tattoo studios and tattoo shops is an opportunity:
To stand out from hundreds of thousands of competitors;
To tell to your future clients about the features of your work;
To turn the tattoo studio into a world recognizable brand;
Increase the number of new clients.
The magazine's advertising department employs marketers and designers to help you choose the best placement format.