Slowburn 2 | Tel-Aviv, Israel
04 / 03 / 2018
Svetlana RYBOCHKINA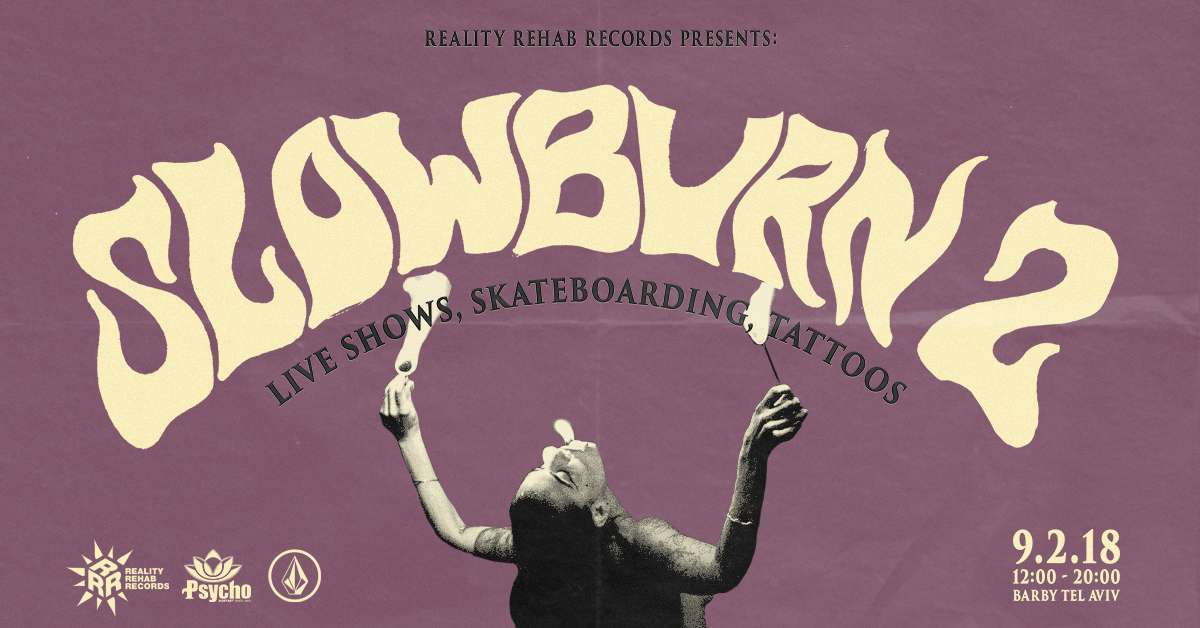 In the north of Israel, the festival "Slowburn 2" is known only through the links in social networks. Meanwhile, last year's "Slowburn" caused a lot of excitement and literally brought the most famous in Israel club "Barby" (Tel-Aviv) out of balance. If believe the reports, the hall with a capacity of 1000 seats was filled almost completely. Today, when the thoughts have calmed down a little, it is possible to do this report.
He said: "Let's go!"
My friend and I were want to go there from the moment when the first announcement of upcoming festival - on February 9 - appeared on Facebook. Moreover, one of the organizers of the forum, Aviram Shiker, regularly posted various advertisements about invited rock bands (four local and three from abroad), the sale of exclusive vinyl and silver, ride of skaters and about art-place for tattoo artists.
You can get to Tel Aviv on Friday in different ways, especially since the party was started exactly at noon. Any one knows that one of the main problems of Tel Aviv is the lack of parking spaces for cars. Moreover, there are not even enough paid spaces, because for free parking, citizens and guests of the city even can't dreamed. But some know one "military secret" of Tel Aviv: motorcycle transport! Six motorcycles occupy about the same place as one car. Personally, we arrived on a motorcycle! But just we had time to fasten our "Honda", as the other iron brothers immediately settled around.
There were most varied stories, which can be viewed for hours. In fact, the biker's fantasies do not have a limit: skulls, wolf tails, camouflage and moto-tattoos. One of the organizers of the festival was the motor club "FTW PILOTS MC SOUTHSIDE", whose members were distinguished by leather laconic clothes with the symbols of the club. Bikers can not be confused with anyone, it's not even the presence of a motorcycle, but a state of mind when people are connected by a common culture and love for two-wheeled iron horses.
Festival as a way of self-expression
Inside, we passed without problems, presenting a bar-code of their tickets, the queue was almost there. The security also passed quickly and before the first performance, we leaved to cafe. Returned back with special flyers just when the event began to gain momentum. I must say that a very useful thing at the festival is a company with which it is easier to pass time between interesting events, especially the first time.
The main dishes of the festival were ready from the first minutes: two masters from the salon of tattoos and piercing PSYCHO Pop Up Studio BODYART started tattooing by prepared sketches in the Hand poke style.
Many people immediately began to approach to the tattoo artists. But the joy of being able to make unique, and even free tattoos, quickly gave way to disappointment. And it's not surprising! Frankly primitive style of the Hand poke tattoos does not mean a flight of fantasy and a variety of colors or special equipment. It is not necessary, if the master has to cope with such a "difficult" task, how deliberately bending the inscription or monochromatic elementary motive? Not many people want to decorate themselves with such "rock paintings", when in any tattoo shop you can get a real picture? But fans of the Hand poke style were found among those who were on party that day.
We ourselves, being fans of tattoos, for a long time could not believe that we will leave just like that, without using the opportunity to get new tattoos. But the serious attitude towards the body modification, unfortunately did not allow us to choose anything from the proposed sketches.
In fairness, it's worth saying that some true connoisseurs of tattoos use primitive designs. In "Barbie" you could meet them, whose trying to tattooing maximize of body surface. And sometimes they really succeed in harmoniously combining various stylistic trends. In one sleeve or on the back, Old school, Tribal and the same simple Hand poke can peacefully coexist. Then they almost scream that their owner is not afraid to depart from generally accepted standards.
If Black Sabbath and Pentagram had a baby ...
A special guest of the festival and headliner of the program was definitely KADAVAR, a rock band from Berlin. Their songs, including psychedelic rock, clearly resemble hard rock and heavy metal of the 70s. In Israel there are many fans of their work and especially the retro sound.
Dopelord - is a Polish metal band, also pleased with the reference to the old movies, music of the 70's and to atmosphere of black magic.
Desert rock, stupidity and old rock'n'roll
Brothers from the local band The Great Machine demonstrated a strong and uncompromising stoner-rock. Metal band Cain & Abel 90210. also added fire and a powerful sound. Strange name? According to the automatic translator of the Israeli Wikipedia, this is "stupidity" between the biblical story of Cain and Abel and the youth series Beverly Hills 90210.
OPERATORS from Berlin shocked many people. Their innocent smiles from the stage and toasts in famous languages had some interesting effect. Because these guys really control their music and our mood! Artistic and plastic, with a clear retro-oriented intention, they demonstrated their own special punk rock. Listeners could get confused between blues solos and claims to energy of heavy rock, but these only made it more interesting!
Dust - performed specifically and harshly. Punk and metal beat on the most painful places, so that's why it remembered at the festival. As well as Fet - a young and promising band with such a sound etiquette, worthy of respect even the old metal fans. In short, for fans of spontaneous rock there was no place better. Is this not happiness to see and listen to so many bands in such a short time?
We continue the movement
Whole day, in addition to the music program, you could watch how the skaters makes their tricks. And no one was surprised that among the riders you can meet musicians who just performed on stage! A small ramp was installed right in the courtyard of the club. Neither participants nor viewers bothered to protect themselves from falls and flying objects. Many skaters managed to demonstrate tricks with a cigarette in their mouth, glasses on their heads and even drink beer (refueling in the air)! But the general positive attitude and alcohol saved from serious injuries and destruction. Overturned glasses and abrasions do not count!
I must say that there are no age restrictions on Slowburn. There are no restrictions at all! Among 600-700 people it was possible to meet small children and middle-aged people, punks, people in traditional rock-biker outfits, and just visitors from different parts of the country, including tourists. But with all the variety of entertainments - everybody united by a spirit of the festival, general friendliness and immersion in the Theme. The organizers received the most sincere words of gratitude, but they themselves hastened to thank all those who visited Slowburn, speaking about the powerful energy and emotional exchange.
It is possible to endlessly describe those superpositive emotions that prevail at the festival, but it's better to just go next year and see for yourself! We like to be here for rock and roll, for honest lyrics and drama in music, for color, emancipation and participation. No more additional or cheap tricks. Do not expect that you will entertain here with multimedia effects or shower confetti (they will not). You and your companions will be part of the atmosphere. After all, it's was tested too many times - it does not matter in what mood you came to an informal party, you will guaranteed leave it in good mood. Today it is difficult to say for sure when and where the next fest will take place. We can say with certainty only one thing: Slowburn has already announced itself too loudly to take and simply disappear. A lot of interesting things are ahead!
Text Svetlana RYBOCHKINA Photographer: Dov CHARNI