This is not a tattoo-artist, baby - this is a faker!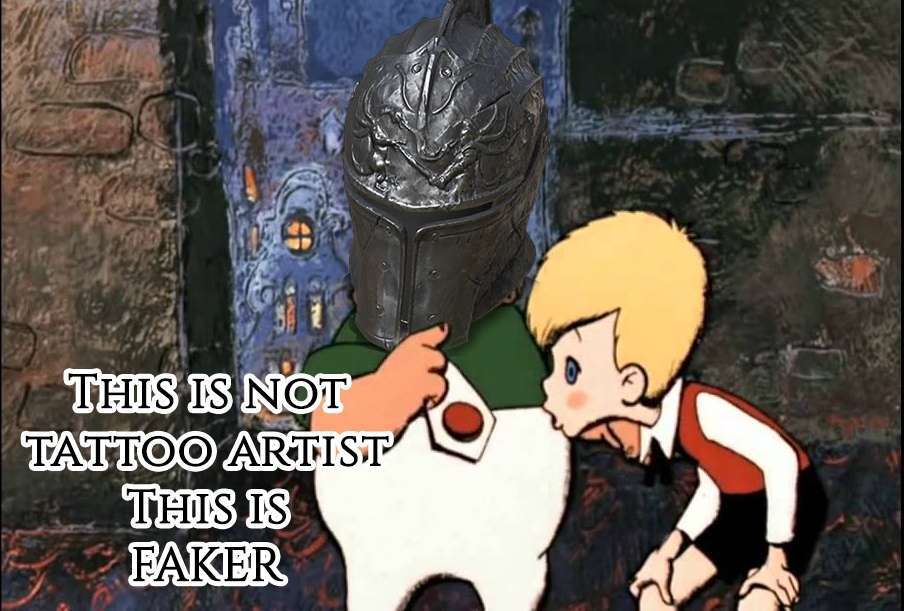 Hi everyone, my name is Konstantin Teil and I am the director of the Main Tattoo studio in Saint Petersburg and the founder of the projects Hateful Tattooist and Tattoo Guide.
Today we will analyze the main types of the "tattoo-faker". That is, all those cases when you, promising a cool job, will be left at best with a correctable bad tattoo and without your hard earned money.
Let's go!
Friend of John's brother from the neighboring courtyard.
He worked in a many studios, but to not feed the parasites and not pay for rent, he works at home now. In the Internet he does not posting anything, in afraid that his masterpieces may be stealing. But all his friends are very happy, and his tattoo works costs inexpensively. You just need to take the gloves along the way to him, a couple of needles, so, he'll throw off the full list ...
Immediately say no, this is a direct road to the bad tattoo.
The Master in the stage of chronic reflection and existential crisis.
The meeting him in the bar is more common than in the studio. Will you meet at the bar more often than in your sessions? Be sure.
He is usually may recognized at the stage of preparing the sketch. He tells about himself more than he asks about work, he spend all deadlines of sitting in a bar because of any problems. And he does not forget to share these problems with you. it's worth it? I guess no ...
Long term journey of doubtful quality is not our way, but in this case it's all like throwing a coin. If it stand on the edge - he will even do everything on time.
A tattoo artist with someone else's works in the portfolio.
He got a lot of quality works in all styles, but with radically different beetween lights and interiors on photos (and sometimes even logos). There is no one clearly marked author's handwriting, and the author himself, more often than not, does not have good photos and all personal ones are looks like made by on a sneaker or a sandwich.
If we have any suspicions, we use the search by pictures in the Google. Sometimes the such character can even cunningly select other people's works on his subjects, but then the level difference is even easier to mark.
The most common excuses are: "Well, this is a photo for an example, I can also do it" (Of course he can not and he is already caught in a lie! Run, Forest, run!
An important uncle-master.
The aunt-masters are less, but they are much worse at times. "I'll do cool, I have 20 years of experience, and the photos are so because I do not use your photoshop, people with my works are walk around the city, everyone knows me". Usually, after the bad tattoo has already been done, he begins to tell about the experience and authority, and in the end he will say that everything as in the portfolio, and you knew what was going on.
In addition to photoshop and a bottle of vodka instead of a camera, usually he does not use direct hands and artistic taste in 10-15 years.
He always wildly satisfied with his work. And yes, on the street you can recognize it.
The master of all professions.
Tattooing / shugaring / massage / piercing / development of business cards / macrame / nails with a discount. I think it's not worth explaining how everything will be done.
We are passing by.
Master with endless corrections and alterations.
He can be any from the above and he will delay the final conflict. The WHOLE work looks like a not quality painting and requires at first a couple of additional sessions, then five corrections and it will be EXACTLY NORMAL. Be sure, it will not normal. The such master can endlessly to beat the crooked contours and to fill the holey color (preferably for your extra money), waiting for you to finally back off.
How to identify him? By portfolio. Yes, your work will always be similar to what is inside his portfolio. It is on your limb that the hands of the master are not straightened out and a miracle will not happen.
THE MOST IMPORTANT
The similar characters are revealed even at the stage of searching for a master and stumble across on them mainly people who wish to save their money.
Correction is always more expensive and a miracle does not happen NEVER. It checked by the endless sluggish and very expensive cover ups.
All the best to you and please be adequate.