Andrey Afanasev, the founding father of scalp micropigmentation in Russia: "The effect of shaved head instead of baldness has already been appreciated by hundreds of my clients"
Tattoo artist Andrey Afanasiev
/ Source: @scalpmicropigmentation_
How can a tattoo help with hair loss? In the field where artistic tattooing reigns: self-expression and body adornment, the direction of aesthetic masking of any problems on the body with a tattoo is becoming more and more popular.
The moment when the hair begins to thin is noticed by every man, many are not ready to accept the situation and begin to look for a way out. It seems that mankind has invented ways to combat alopecia, but none of them solves the problem completely, and in each of them the number of pluses is balanced by the number of minuses.
This was the situation until 2013, when with the beginning of Andrey Afanasev's practice in Russia appeared hair tattooing, scalp micropigmentation, which has become a growing trend and a serious alternative to all other methods.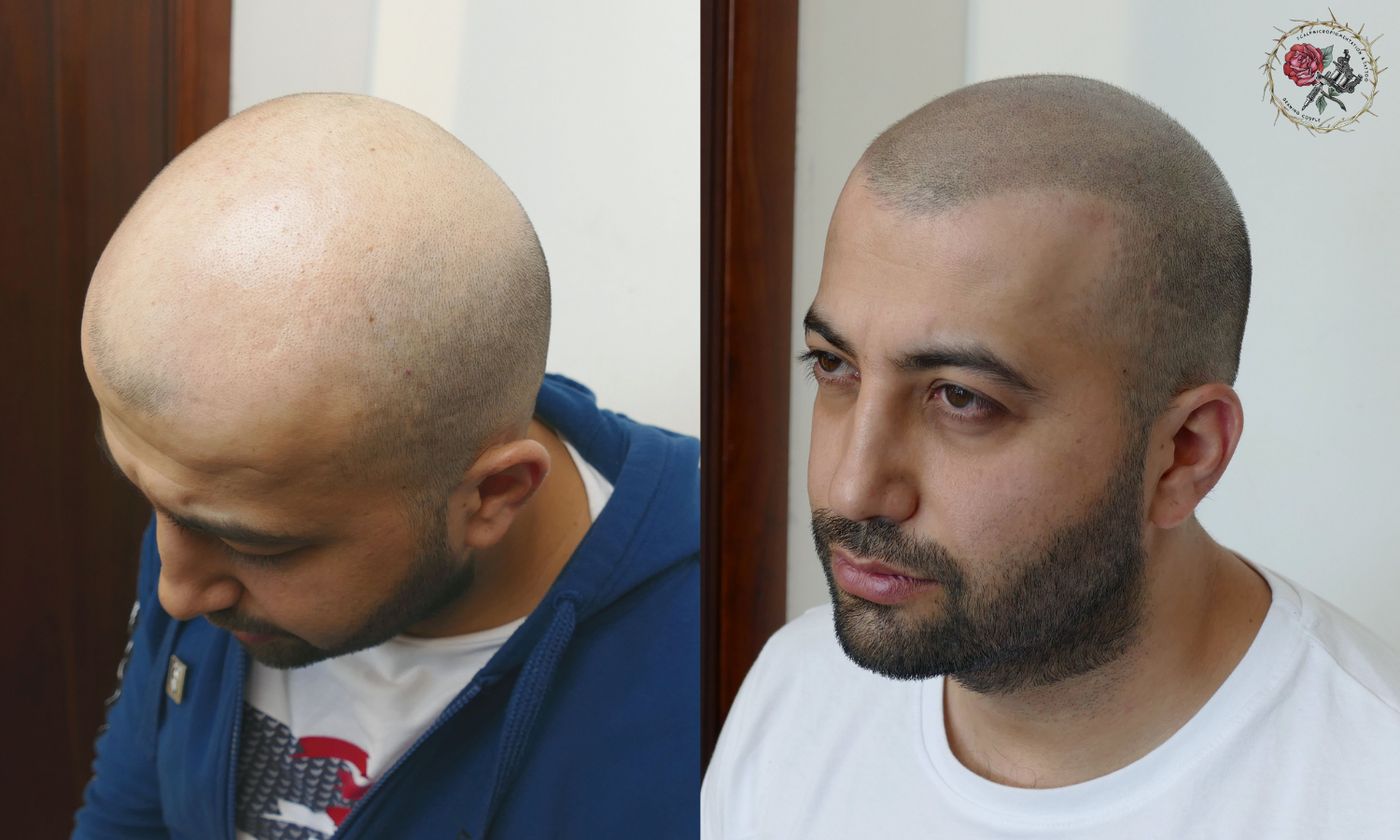 To understand the scope of Andrey Afanasev's work and contribution to the formation and development of scalp micropigmentation in Russia, it should be noted that the most important thing in hair tattooing is the way it is done, so qualitatively and realistically. The work is really jeweler's work, a skill that is honed through years of intensive practice. Since the beginning of his work, Andrey began to produce impressive results, both his art education and personal fine taste have helped. The works before and after are 100% realistic and excite the Internet. As soon as Andrey started his practice, people interested in the problem of baldness, started to sign up in exponential progression and began to follow the results and feedback of clients who have already had the procedure with Andrey, and seeing the excellent results, they began to sign up to social media accounts.
For many years, Andrey has held 90% of the scalp micropigmentation market in Russia, thanks to his own technique. Hundreds of men have become his clients, more than 7000 procedures have been performed.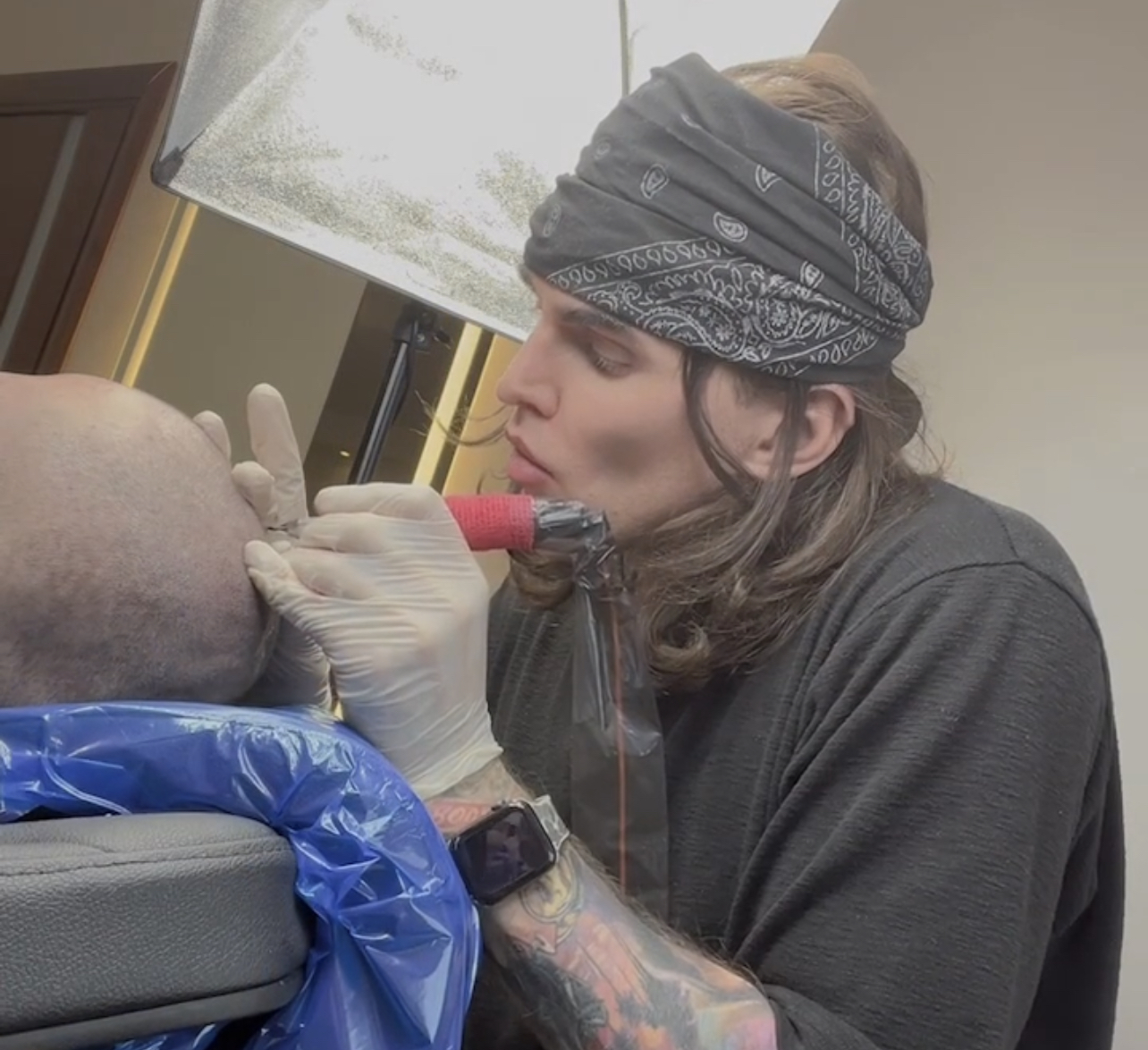 - Andrey, we'd like to know a little bit more about you: did you receive an art education? When and how did you first pick up a tattoo machine? Why did you choose this particular direction for your work?
- Yes, I graduated from art school, but I received higher education in another area. But I think the art school helped me to develop my own sense of style and craving for art.
Before scalp micropigmentation, in the distant 2012 I was interested in tattooing, at the very beginning of my work one of my friends jokingly asked if I could draw hair on his bald head.
I took this challenge seriously, started my web search and I found that in England, not so long time ago, appeared a salon specializing in hair tattoo. I looked at their work and started to act, bought the necessary supplies abroad and invited my friend as a model for this procedure.
As a result, in 2013 the first video about this procedure and the first full-fledged review and demonstration of the healing work of the Russian artist appeared on YouTube.
My first client was inspired by the result, positive changes began in his life, including his personal life, he got rid of a long-standing complex that motivated me to go further on this path.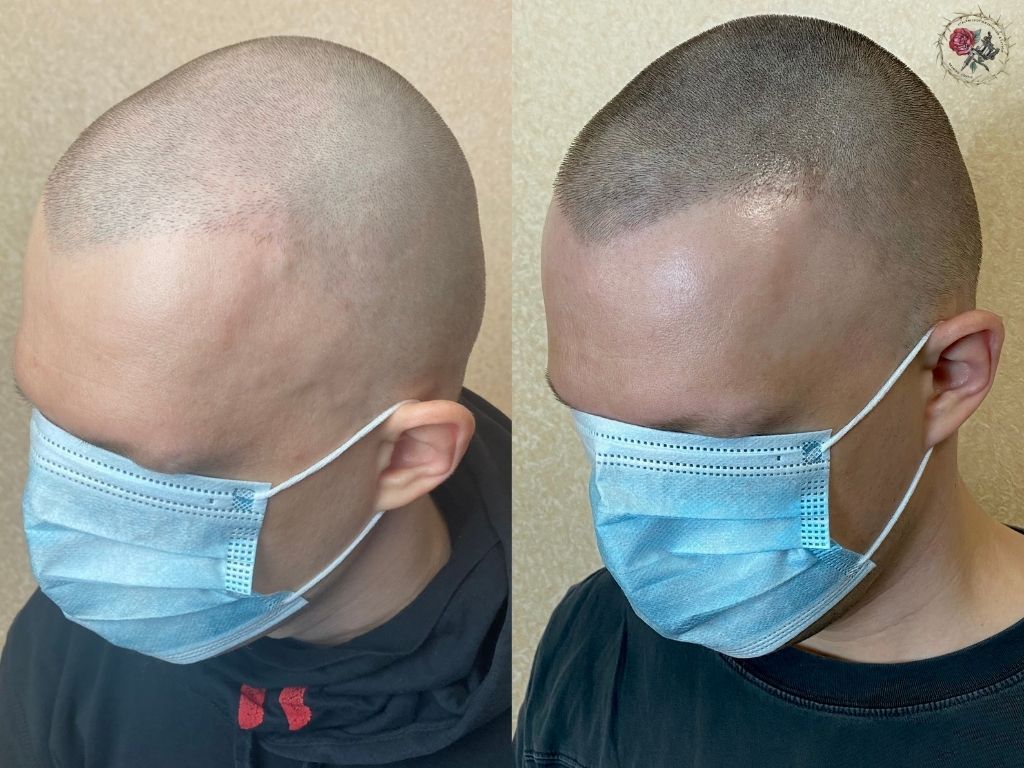 - So when you started your professional path, there was almost no information about such a field as scalp micropigmentation. How did you fight with the informational vacuum?
- I decided to start an honest dialogue with everyone who is interested in fighting baldness. That's why I created a channel with the first professional scalp micropigmentation video on all of YouTube, also this channel is the only channel with professional videos and real testimonials.
Clients share not only their results before and after hair tattooing, but also share their experience in hair transplantation, hair system wearing, using thickeners and means for hair growth.
Gradually this topic became interesting to the press, in 2018 the reportage about the treatment in my performance was filmed by Russia 1 channel, before that in 2013 the first publication about scalp micropigmentation in Russia was published in Perfect magazine, then such media as Mir24 and Mainstyle.ru wrote about my work.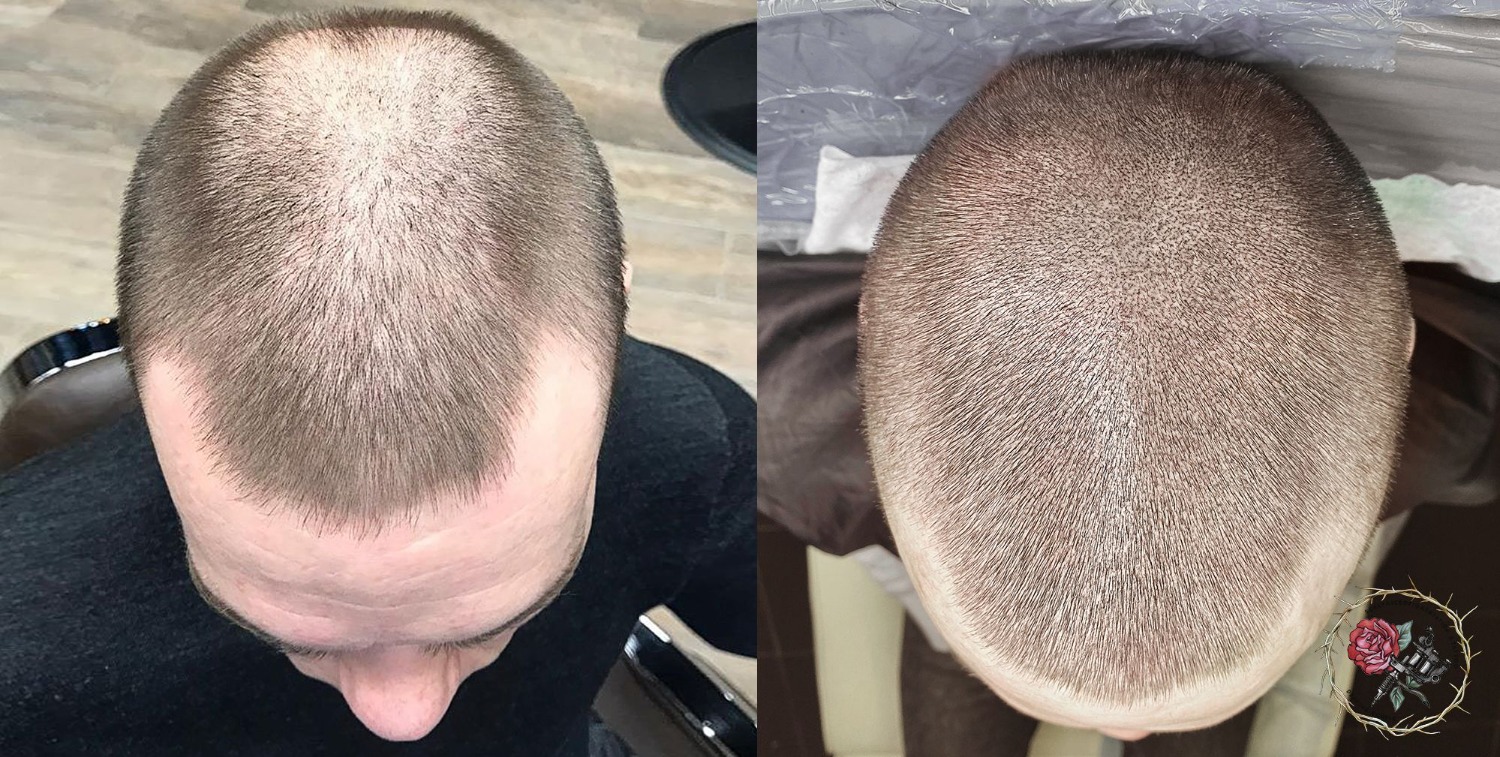 - How does the art tattoo industry differ from aesthetic tattoos, which could include scalp micropigmentation, in your opinion?
- The success of an aesthetic tattoo that masks flaws or imitates hair on the scalp, depends directly on the realism and quality of the work. Here, unlike artistic tattooing, it is impossible to refer to "that I work in such a style". The purpose of the hair tattoo is to be hidden, not recognized by others, but anyway it should create the "illusion of a shaved head".
The head, especially the head without hair, requires the most delicate and super professional work, because it is the most visible place and any flaw will always be noticed, it is simply impossible to "mess up". Regarding art tattoos, the quality of the work is easy to qualify from the photo. If the work is good, both photo and video look the same.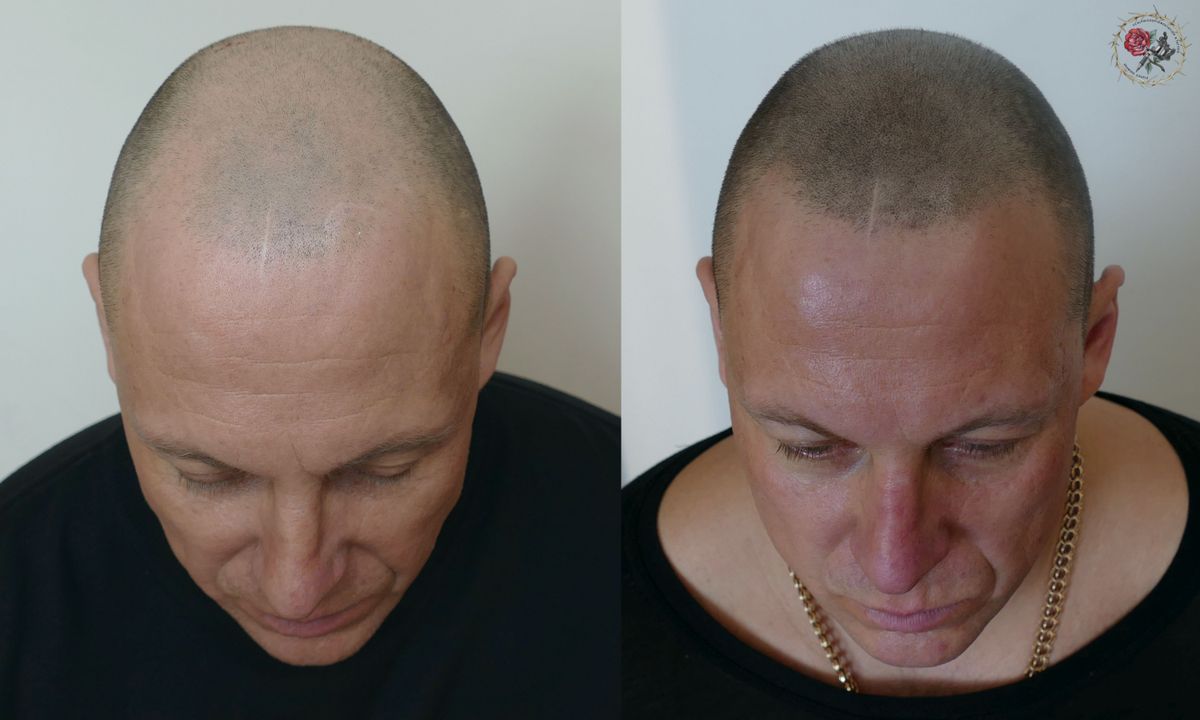 In scalp micropigmentation there are some masters from all over the world who sin with photoshop. They manage with sharpen, darkness and blur.
That's why you should look at a video portfolio to get an idea about quality of work, in video processing the percentage of masks and sharpening is much lower. I prefer to shoot video without any editing or processing, including macro version.
For me it's important not only to show the work, but also to ensure that my future clients understand what kind of results they can expect from my session.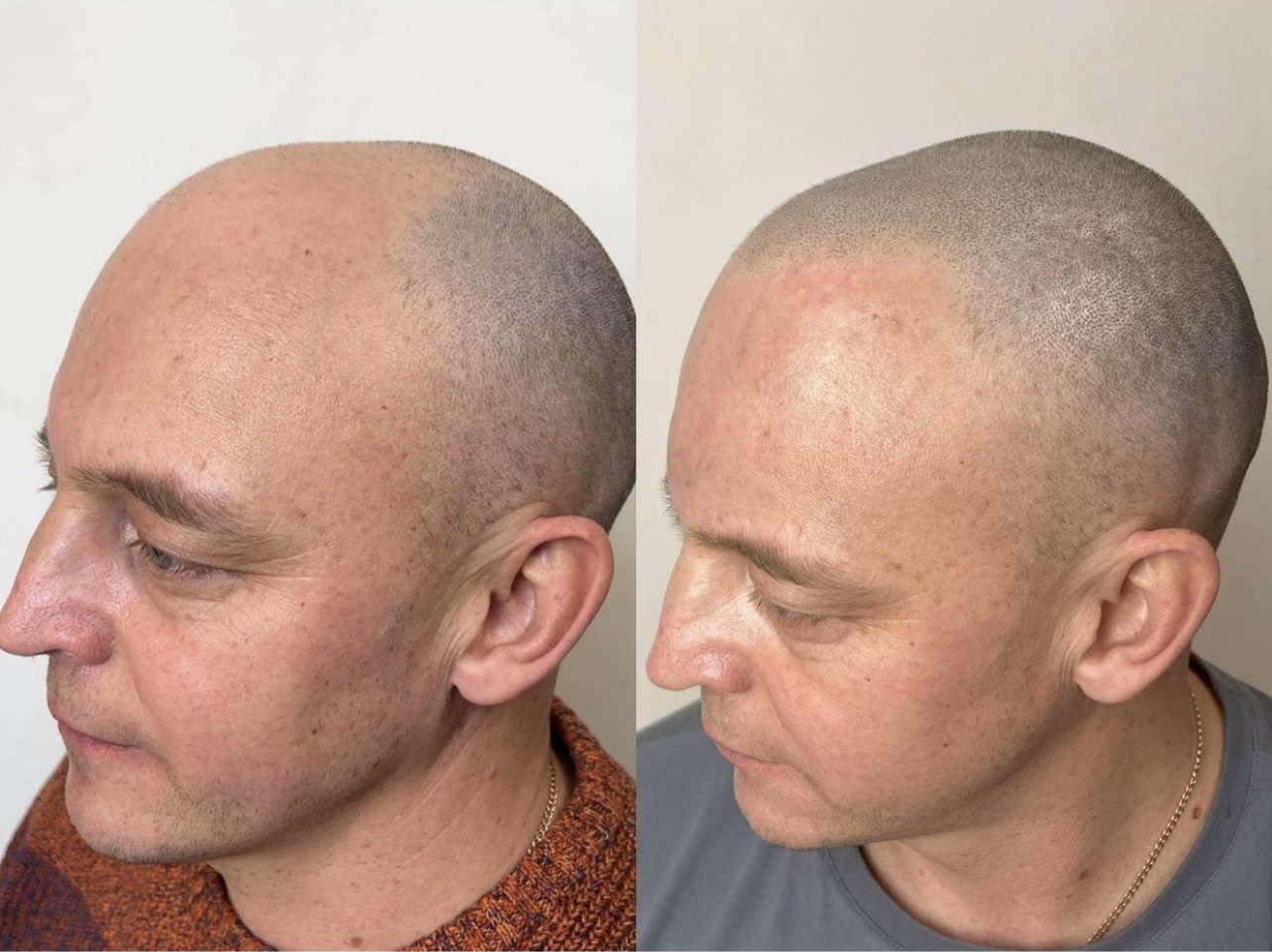 - Successful tattoo artists often become members of the Pro Team of large tattoo equipment and ink manufacturers. Tell me, have you received such offers from famous tattoo manufacturers?
- It is difficult to compare large and powerful tattoo industry, where thousands of masters all over the country are involved, and scalp micropigmentation in Russia at the moment, where the master performing only this service, having a developed site, YouTube with real reviews with faces of clients, as well as a busy booking for several months ahead is only me.
So I have to act according to circumstances and using my position I created my own Jet Colors pigment in 2016, together with a Russian chemist, who worked on my order.
And I can also note that the tattoo store Good Luck Tattoo, headed by the tattoo artist and owner of the brand Good Luck Needles, Kirill Putyatin, whom I have known for a long time, his company sponsors me and sends cartridges, and in my turn I share with them my opinion on the results of the tests, which cartridges to recommend to their customers who would like to buy the right consumables for scalp micropigmentation.
- Tell us more about the process of creation of your own scalp micropigmentation pigment.
- In the beginning I worked with all the scalp micropigmentation pigments available on the market and realized that none of them were perfect. Long-term practice and understanding of the process from all sides leads to the fact that a master wants to create for himself a tool that will meet all his requirements, especially this concerns the coloring substance - pigment. Jet Colors is the first Russian pigment created specifically for scalp micropigmentation.
This is not a template release of an existing formula under a personal brand name, but a careful work with a chemist, selection of coloration, density and density, as well as numerous tests of samples.
I provided the chemist with the exact specifications of what I wanted to see as the industry standard. We were able to combine the best qualities of pigments available on the market.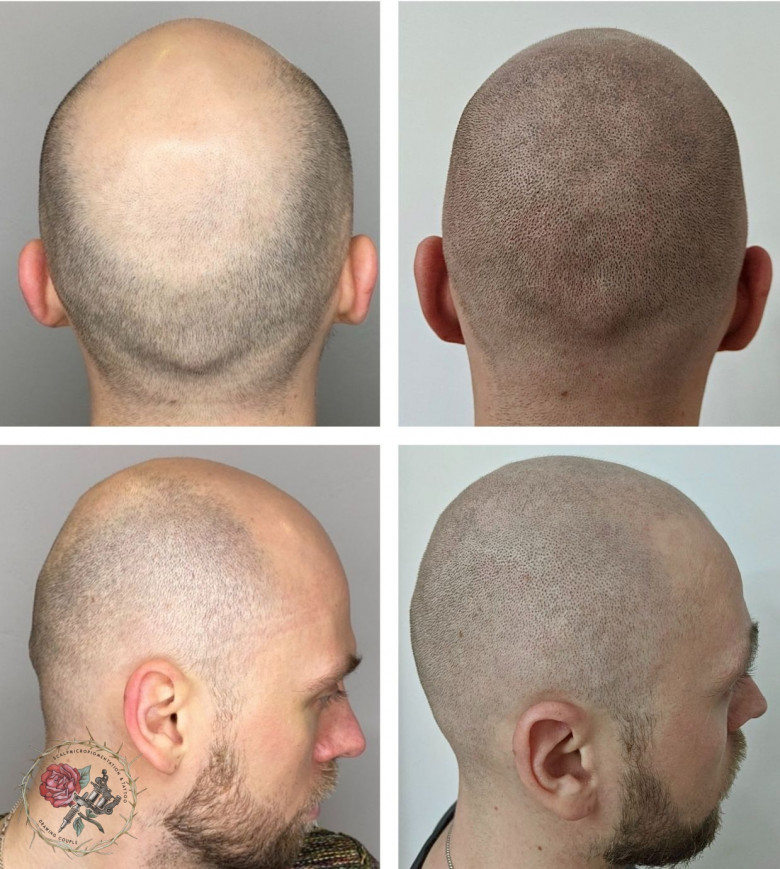 The scalp is a very capricious place, and the effectiveness of a pigment can only be evaluated after it has healed in the skin. This is the criterion by which I have worked with the pigment, making numerous tests, so that when it has healed on the client it gives the most natural shade.
After about six months, when the pigment was ready, I had to make sure that students and masters all over the world considered it to be the leading pigment in the industry. So it was introduced at master classes and studios all over the world. The greatest success was when other craftsmen in the field began to purchase and regularly use this pigment.
Now beauty schools all over Europe, such as the Nelly Kovash Makeup Institute, where more than 150 graduates use this pigment, and Ekaterina Yudina's studio, a network of specialized premium-class permanent makeup salons with more than 50 leading specialists in this field.
- You have held many master classes abroad, tell us more about it. Which of them was the most interesting?
- Yes, I have held master classes in South Korea at the Jessi Academy, in Spain at the Monroe studio in Lloret del Mar, in Israel at the Light Cosmetology studio, and in Moscow I have trained masters from the United States, Moldova, Belgium, Italy, Ukraine and many other countries.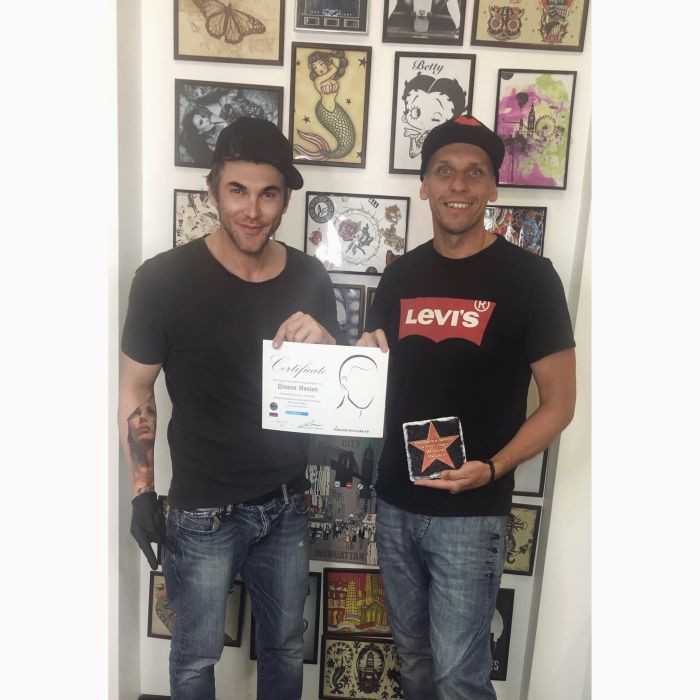 The most interesting of course was the master class in Seoul, Jessi company invited me to give a master class on their own brand of consumables and machines, I showed my technique on the model and then "put hand" to each student on the same model. I had a very positive impression of the company itself, a warm welcome, excellent equipment of their training studio, masters in stylish "Chanel" uniforms, all very polite.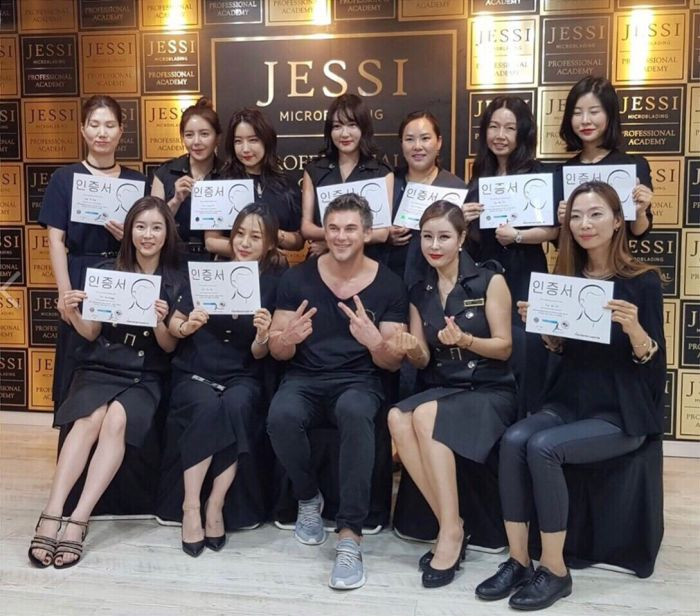 - The tattoo industry lives by conventions, it's all about communication and competition in the art of tattooing. Do you have any marks of distinction in your, albeit small industry?
- You are right, the industry is small even though it has existed for more than 9 years. There are no events in it yet due to the lack of enough artists.
However, I was awarded the international Dore Brand of the Year Award "Founder of Scalp Micropigmentation in Russia". I was invited as a judge of the online championship Dore Awards, which represents the top 300 companies in the Russian beauty industry.
And I received "The Best Scalp Micropigmentation Master" award from the Profi Performance project for the experience and contribution in the field of scalp micropigmentation. Profi Performance is an international project involving more than 20 countries and uniting successful specialists in the beauty industry, health and business. More than 1000 professionals, 100 businessmen and company executives, more than 50 media personalities, artists and bloggers participate in this project.
It is important not only to be a trailblazer, but to take your work to the right level and always maintain that level. To do something first but do it poorly is a dead end. In order for a whole industry to live and form, there must be someone who is like a locomotive pulling it along. And it just so happens that in scalp micropigmentation that share has fallen to me.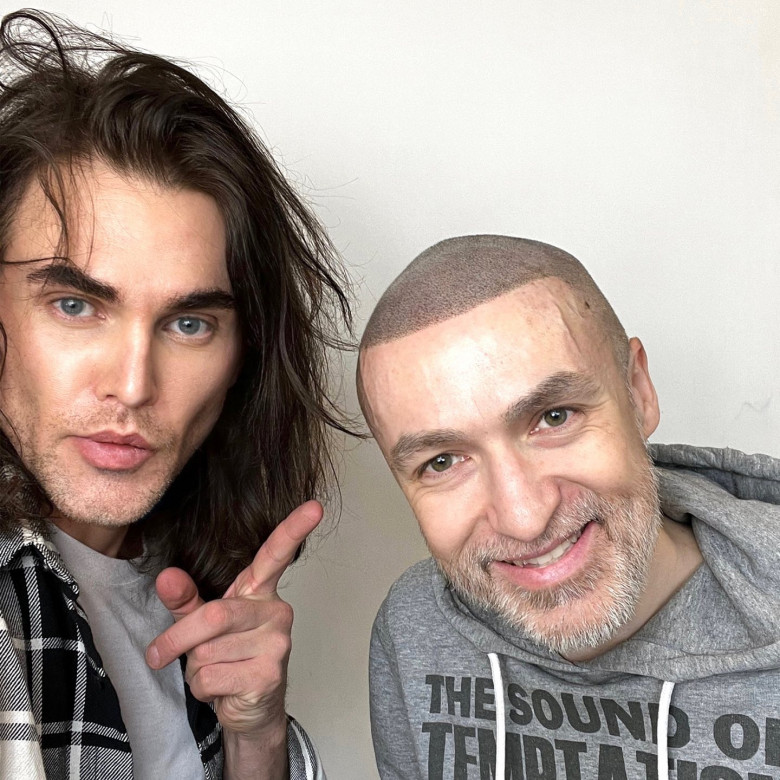 - What skills are the most important to be successful in the field of hair tattooing?
- I consider that the master should have excellent skills in working with skin, and it is reached by sufficient experience and sharpening of the fine motor skills for hair tattoo.
But what distinguishes an ordinary master from a successful and well-known master is perfectionism in details of his craft, wide experience in a narrow sphere and desire to always have satisfied clients. It is important to hear the client, to be in contact with him and take his wishes into account.
Scalp micropigmentation requires working with ultrafine elements, it is difficult both physically and technically, because the hand must "stand up" correctly and remember the movements. Just understanding the process with the mind won't do it.
- What equipment do you use?
- Each master has his own taste, there are no uniform recommendations on what to use, but it is better to use consumables designed specifically for scalp micropigmentation. For example, I use 5-7 different needles for each procedure and mix pigment individually for each client.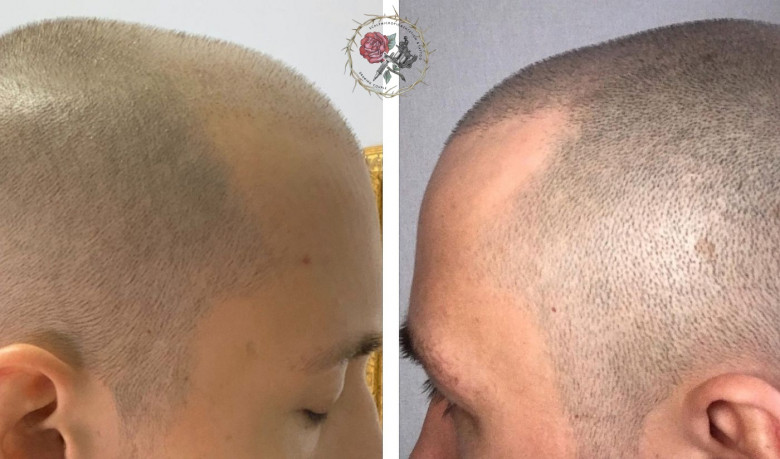 - We often talk to tattoo artists, and we know firsthand the most painful parts of the body for tattooing. How painful is the scalp tattooing treatment?
- This treatment is painless for most of my clients. I do not use anesthesia. Sometimes people with hypersensitivity come in, but this is extremely rare, in which case we make the session shorter in time and achieve the effect in more procedures, but with comfort.
- Is there a significant difference in care (immediately after application) for scalp micropigmentation and a regular art tattoo? We are accustomed to using healing wrap/tape/special cosmetics after the art tattoo. How do your clients care for their skin immediately after the session?
- On treatment we do not "open" the skin completely, around each point there is uninjured skin, so recovery and care is much easier than after art tattoos. After the session there is redness, but the next day you can go out in society and no one will notice anything. There is no need to cover with food film or diaper as there is practically no need due to minor trauma. For healing pharmaceutical products are used, it is possible to use some healing creams for tattoo, but I will not go into boring details, I give all recommendations to clients individually depending on their skin type and its reaction to the procedure.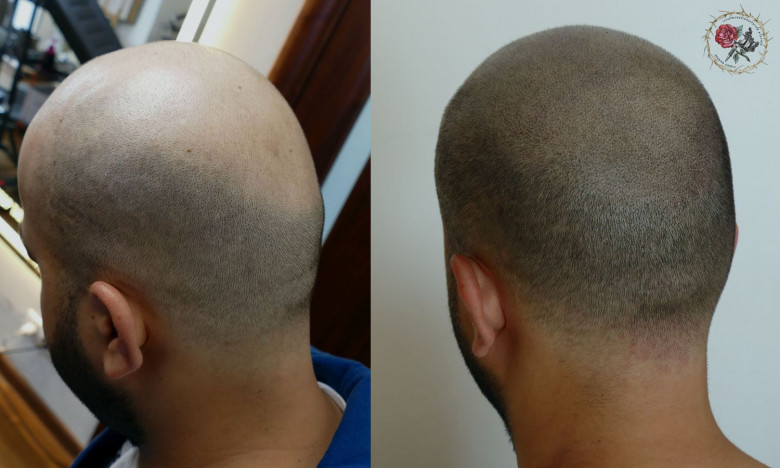 - Can you tell us about the most difficult cases you've had to work with? Or maybe you have a favorite job that you're most proud of.
- The most difficult is scalp micropigmentation for men or women with total alopecia. To recreate the bristle effect on a head completely devoid of hair is very responsible, you need to make soft transitions, a natural frontal line, maximum density at the top of the head.
I made the first scalp micropigmentation in Russia on total alopecia, at the moment I am the only master who makes complex work with total alopecia for men and women. Good results help people with alopecia to be independent from their hair system, to believe in themselves. There are videos on my YouTube channel with the results of scalp micropigmentation in alopecia for a girl and for a guy.
It's also not easy, but it's interesting to do non-standard work. Most clients want a very natural results, but not so long ago I was approached by a guy who loved American rappers hairstyles and wanted a graphic work with clear angles and a straight frontal line. We worked on it and I can say it suits him very well! The client was satisfied. By the way, a video review of this work has collected more than 100 thousand views on YouTube, so this video has become the most viewed on my channel and the Russian segment of YouTube on this topic in general.
- We would like to know more about you, not only as an artist, but also as a person. What else are you into besides scalp micropigmentation?
- I make oil paintings. Depending on available time in my schedule I sometimes do art tattoos.
- What advice would you give newcomers to your field to succeed?
- It is very important to find a good mentor who has done a lot of sessions by themselves. After training, you have to practice a lot, you have to work really hard to earn the trust of the public and industry peers. It's important to build a portfolio of top-notch work. It is also important to find and work with the most modern and in-demand equipment and supplies. You need to understand that the work will potentially take up all of your time to be successful, so it is important to have a passion for this field in order to succeed in it.