Brushes, Needles, and Tattoo Magic: Immersing into the World of Natalia Perrote
15 / 11 / 2023
Alexander Ledovskih
Today, in the cozy atmosphere of a conversation with tattoo artist and artist Natalia Perrote, we delve into her fascinating creative world. We will discuss her travels, inspiration from different cultures, experience at tattoo conventions, and her passion for painting. Natalia will also share her creative goals, the influence of different countries on her work, and how she balances being a tattoo artist with creating paintings. Immerse yourself in this multifaceted art world through the prism of her captivating stories and revelations.
---
Let's start with introductions and our traditional questions. Tell us a bit about yourself. Where are you from, and where are you currently working?
- My name is Natalia Perrote, originally from Russia, from Moscow. Eight years ago, I moved to the Czech Republic, and currently, I am the happy owner of my small studio in Prague.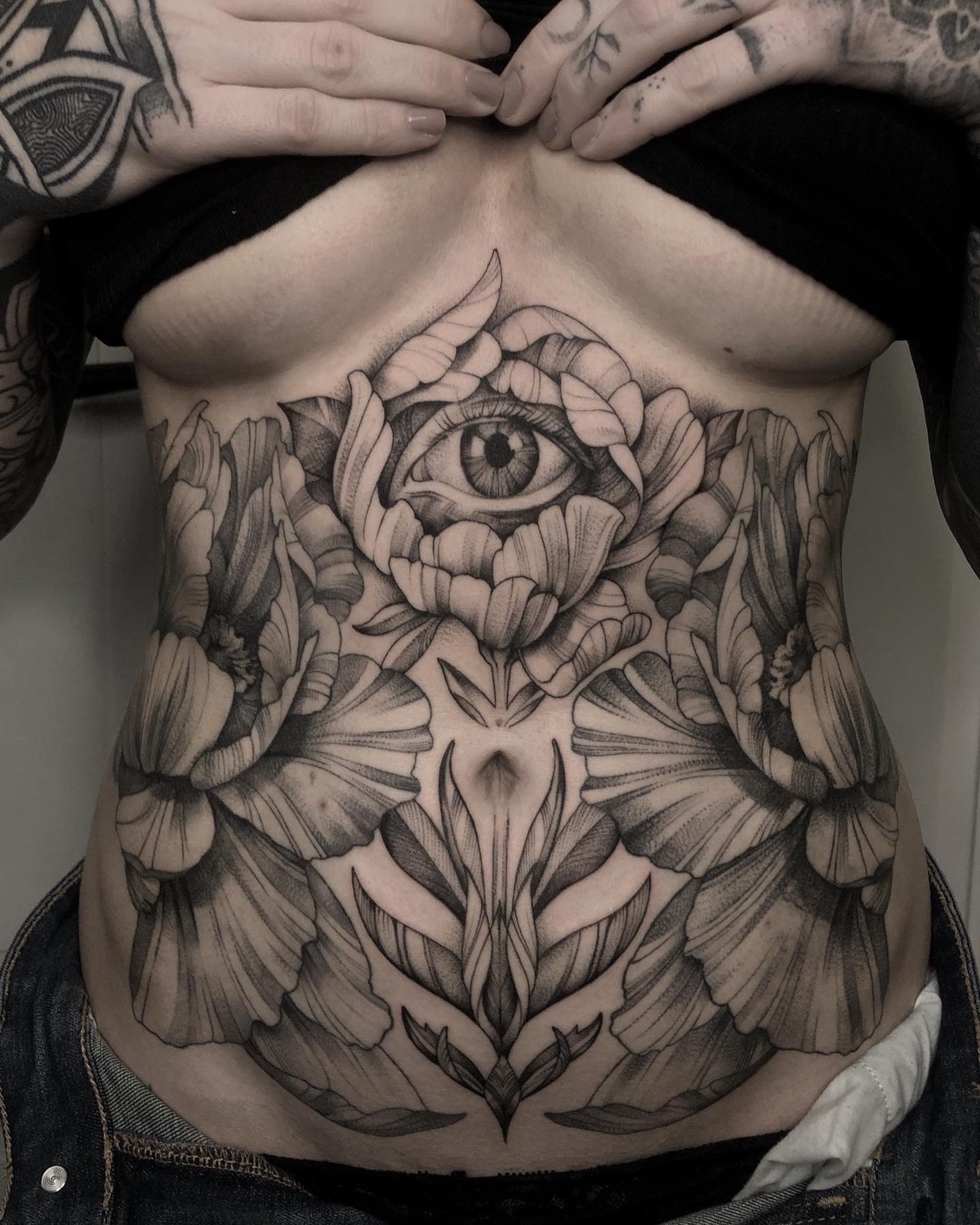 What led you to tattooing? Who was your mentor? Tell us how it all began.
- When I was a teenager, I, as it was called then, was a nonconformist. I had many acquaintances and friends with colorful hair, dreadlocks, piercings, skateboards, and, of course, tattoos. Some tried to do tattoos, some knew tattoo artists, and I was studying at an art school, where tattoo culture always fascinated me. Several times I found myself in different studios in Moscow, and I remember that all these tattooed people around me genuinely impressed me, even to some extent scared me. They all seemed unbelievably cool.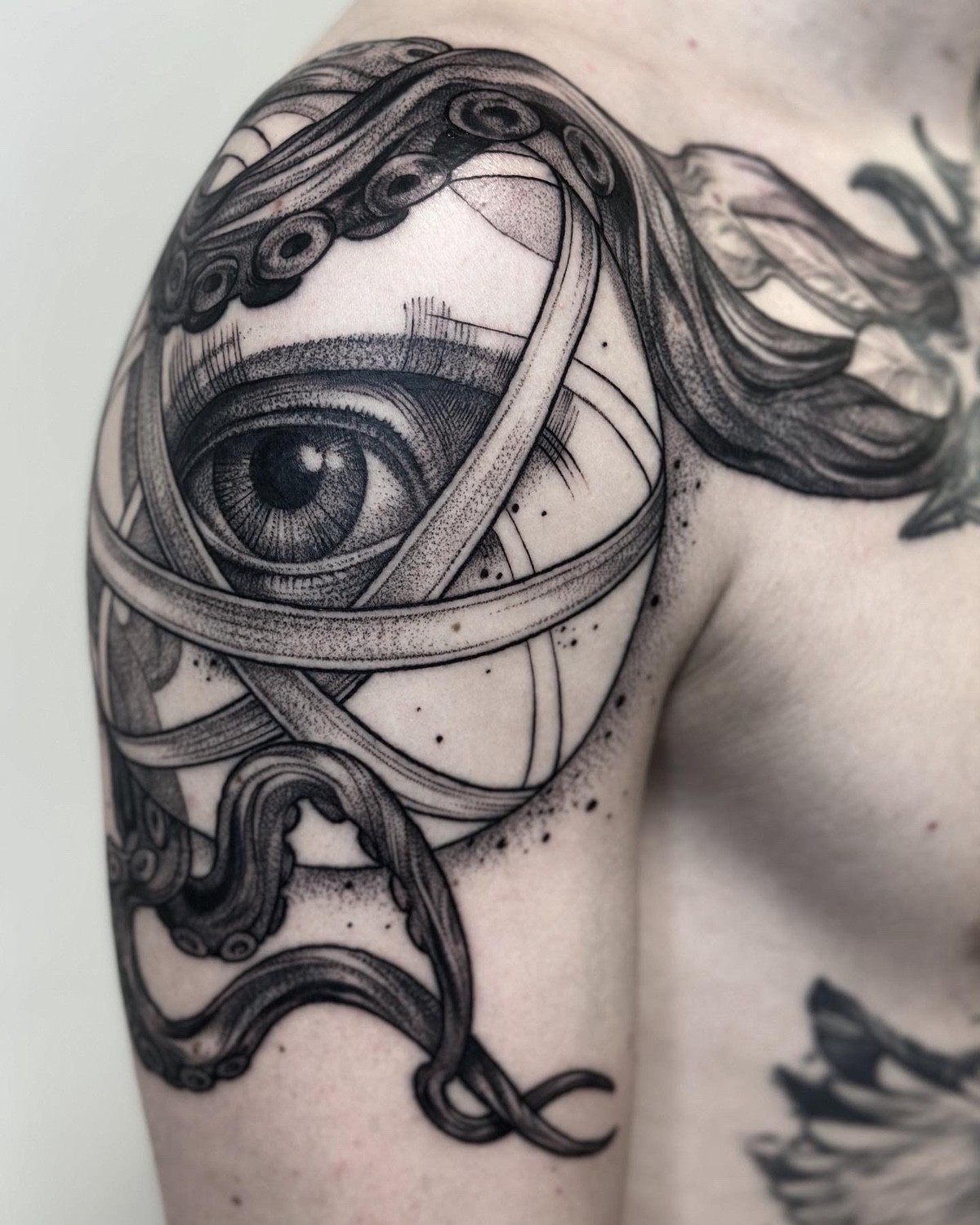 At 16, I told my parents that I would like to do tattoos. Like loving parents, they advised me to finish university first, and I went to the Stroganov Academy of Design. Tattoo artists and tattoo culture were always around me, but living in Moscow, for some reason, I didn't dare to pursue it professionally.
The first studio where I officially started working happened to me already in the Czech Republic. My main teachers could be called my drawing and painting teachers because, in my opinion, drawing a beautiful sketch is much more difficult than learning the technical aspects.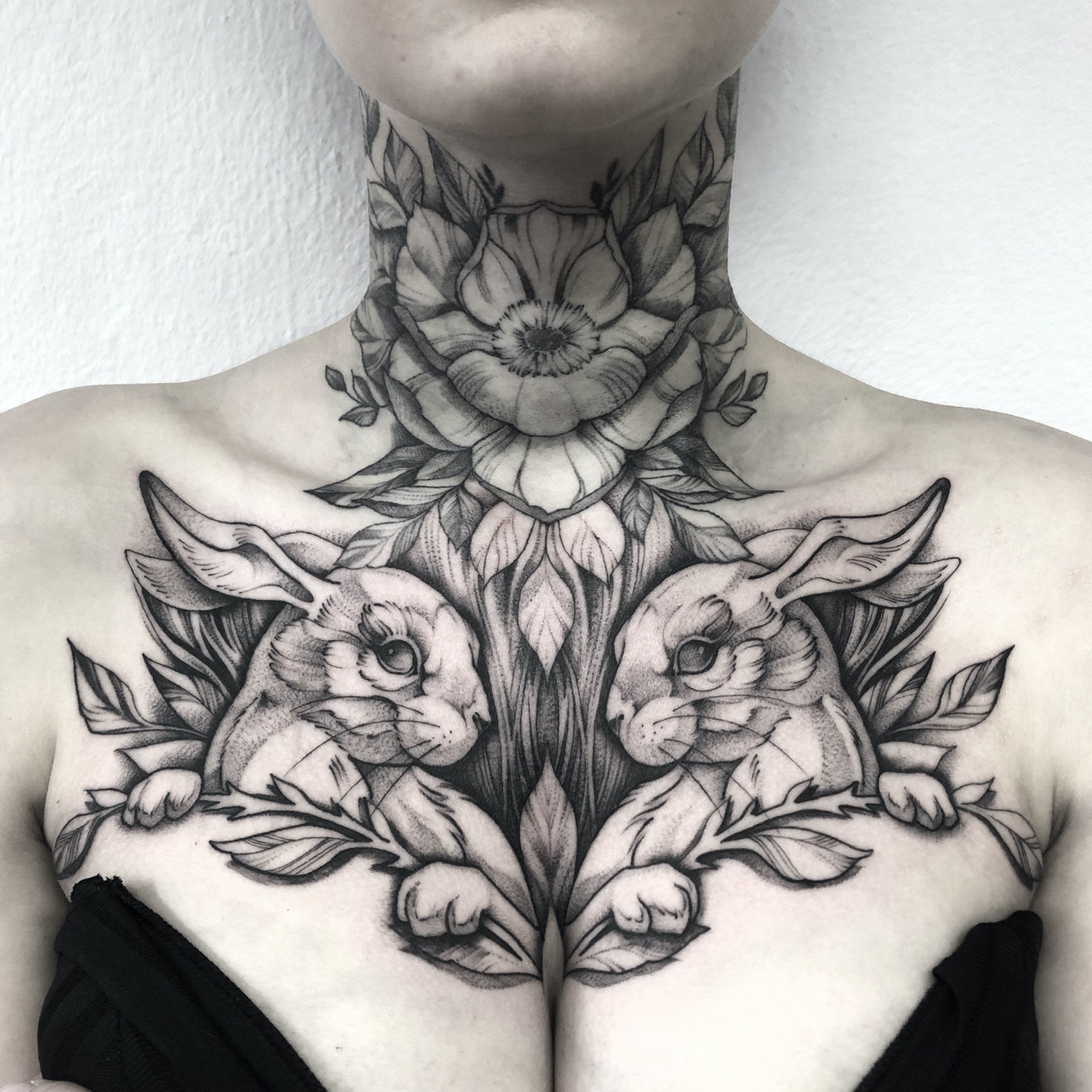 When I was just starting to do tattoos and posting my work on social networks, my favorite painting teacher from school, Timoshenko Daniil Alexeevich, would write comments pointing out some mistakes in my execution, construction, and similar nuances. The love that was instilled in me back in school for visual arts is still my main driving force in my work.
Is tattooing for you art, a job, or something else?
- For me, tattooing is creativity, magic, boundless creativity, love for people, and already a defined lifestyle and mindset.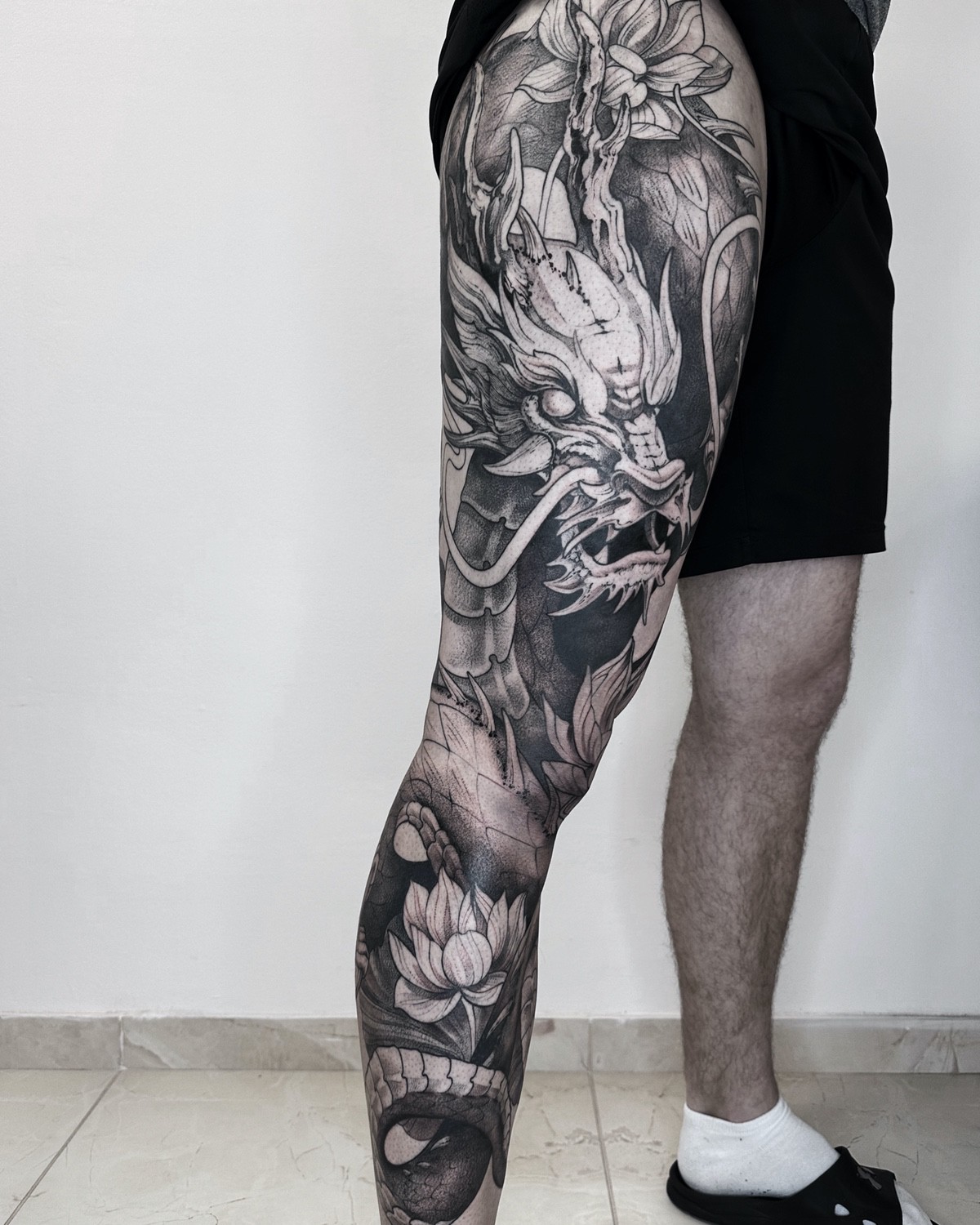 Why did you choose graphic tattoos? What attracts you to this direction?
- When I started doing tattoos, I experimented with different styles. I love painting with colors, and I've always loved watercolor. But at some point, I realized that I couldn't imagine anything colorful on my own body. I decided that it would be more honest and sincere to create for people the things that I would want for myself. Sometimes I think about introducing a few colors into my work, but I still want to stick to something more concise. I like graphic design for the opportunity to draw absolutely crazy ideas, experiment, and feel free in creativity.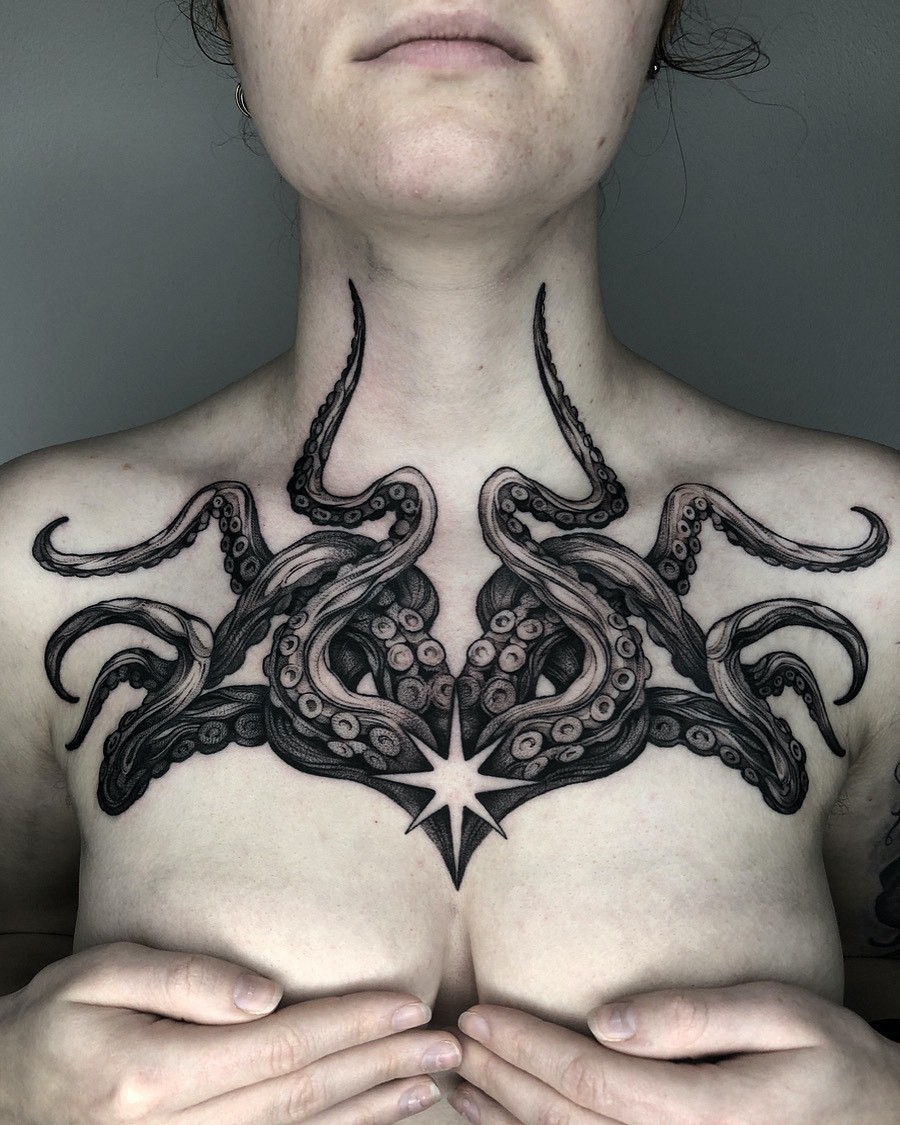 You have a very diverse portfolio. What are your favorite themes?
- I love flora and fauna, fairy tales, mythology, ancient art, surrealistic elements, eyes, cosmic elements... Judging by this list, I still can't choose a favorite. I like too many things.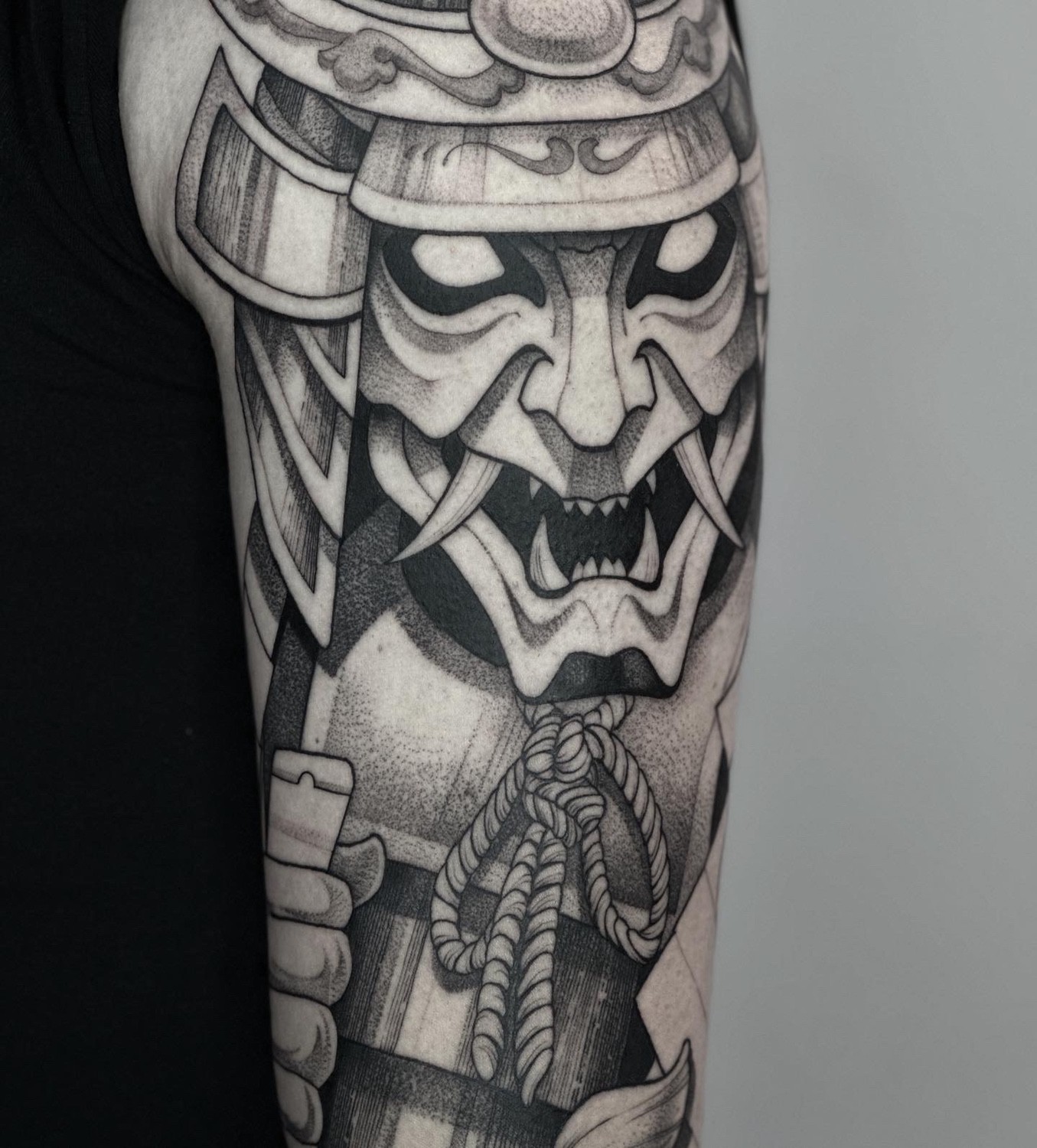 What is more important to you in your work: the client's idea or your own? How is the sketch for your tattoo born? Where do you draw inspiration from?
- Working with the client is always a collaboration. I love conducting personal consultations, discussing, trying to feel the person to understand what tattoo would suit them best. It is during consultations that we together come up with the future sketch. Sometimes a person comes with a ready-made idea, and we only need to figure out the right placement. Sometimes people come to me with no ideas at all, and I try to guess and feel what tattoo this person needs. It's like choosing a magic wand from 'Harry Potter': suggesting some ideas, and at some point, you catch that spark in their eyes and realize that's it. It's a very cool feeling.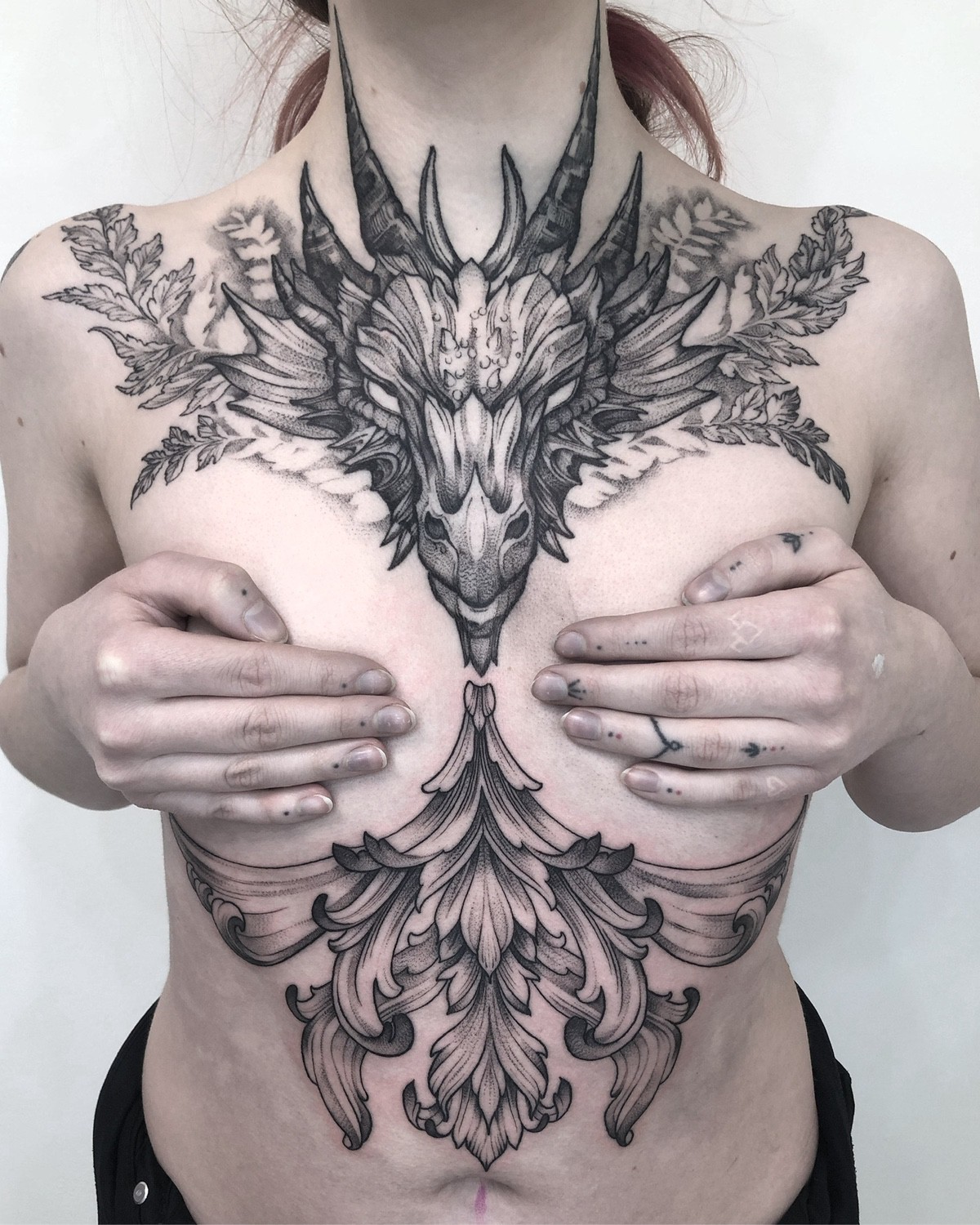 What is most important to you in tattooing?
- I might come across as a stickler, but looking at the tattooing sphere globally, my answer would probably be very practical: the most crucial aspect of tattooing is hygiene and sterility. Yes, we engage in art, but it's essential to remember that we create this art on someone else's body, and the primary concern is the health of both the client and the tattoo artist. Health and safety are the foundation. After that, we can talk about drawing skills, knowledge of anatomy for proper placement, technical details, communication skills with clients, and so on.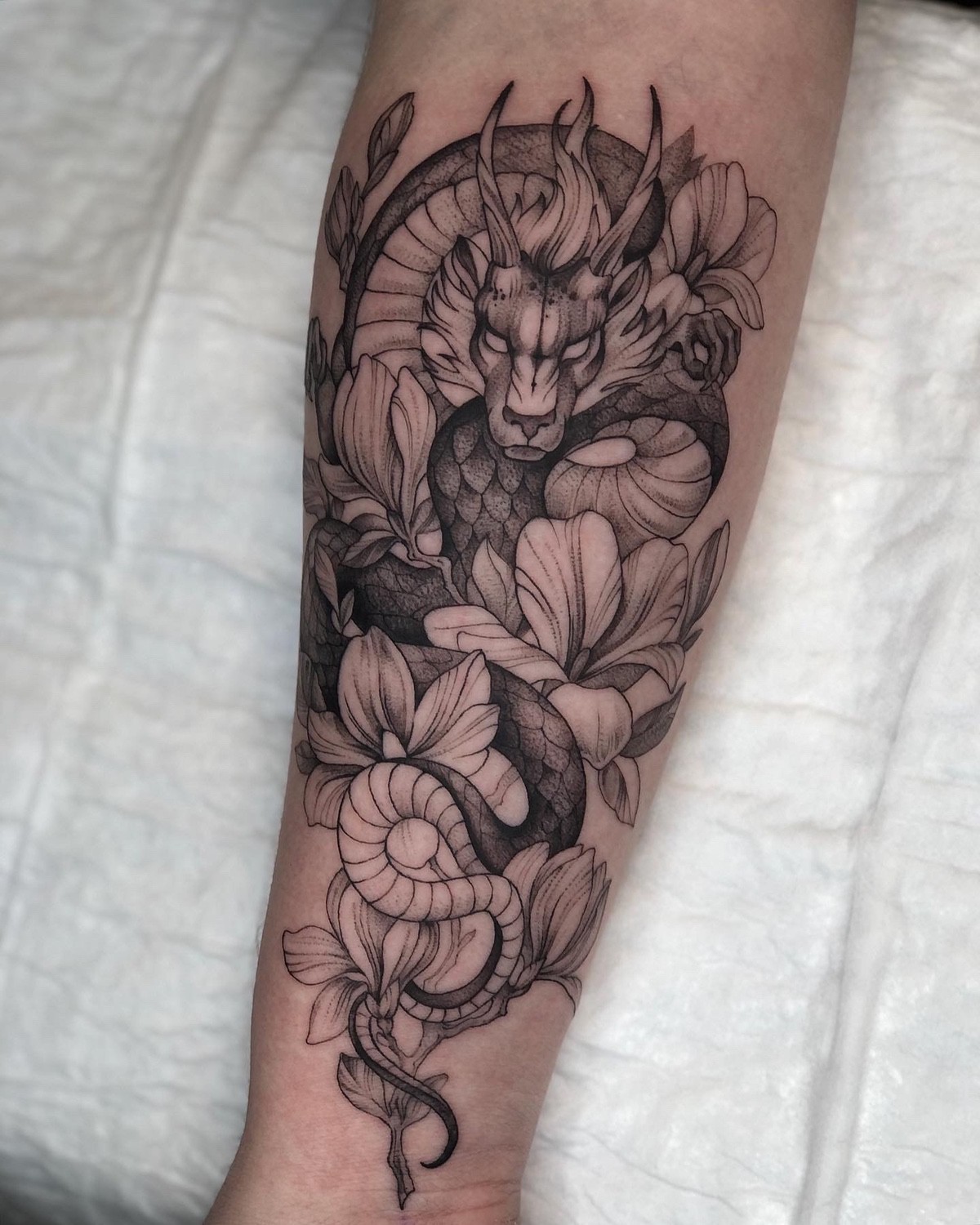 In every tattoo artist's career, there are unique projects or collaborations. Have you experienced such events in your career?
- I haven't had collaborations yet, although I've been thinking about it a lot lately. As for unusual projects, I don't know; all projects are unique and original in their own way. Each client is unique, making it challenging to highlight something specific. Perhaps what amazes me the most is when, in addition to a good tattoo (which I still perceive as my responsibility to the client), I manage to somehow help the person, motivate them, and give my clients faith in themselves. There have been cases where my clients, after conversations with me, changed their career path, moved away from jobs they disliked, found inspiration, and gained the strength to improve their lives.
Recently, a regular client told me that after our last conversation, she quit her job and spent six months writing a book, as she had always dreamed of becoming a writer. She is Italian, and the first edition will be in Italian, but she was already looking for a translator when we met, promising to let me know when her book could be read in English.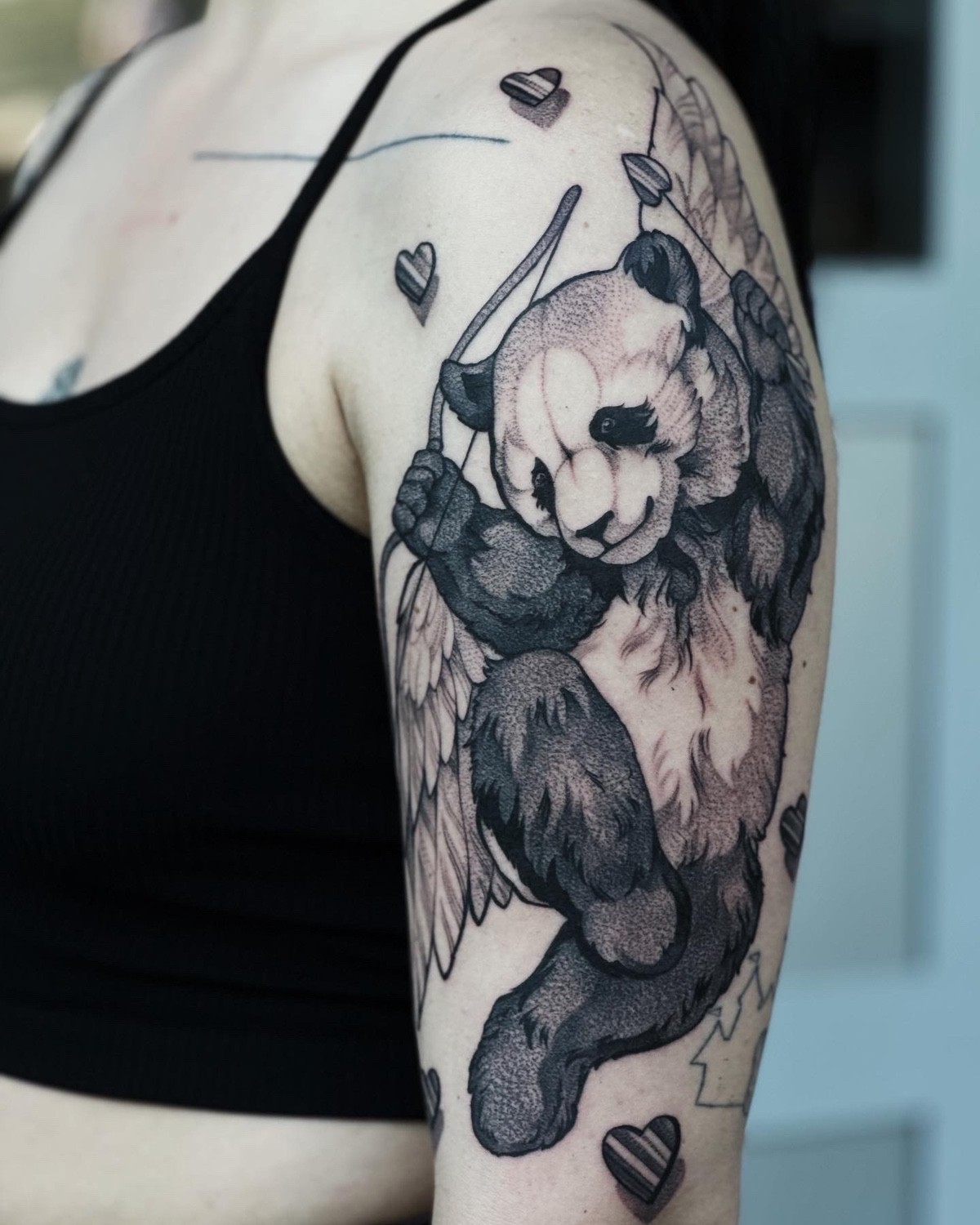 Do you travel frequently? Where have you been, and which country has had the greatest influence on your creativity?
- I travel a lot. For work, I often go to Germany, although I used to travel to Spain and Austria as well. I used to go to Moscow quite often, and I also worked there. Since I'm from Russia, Russian masters have had the most significant influence on me. It was easier for me to watch videos on YouTube in Russian, communicate in Russian, and learn something new in my native language. After moving to the Czech Republic, I tried to go to Moscow for conventions, communicate, and learn. Now, due to my work-related travels, my social circle has become very international, and I strive to continue absorbing knowledge in all available languages, no longer feeling such a barrier.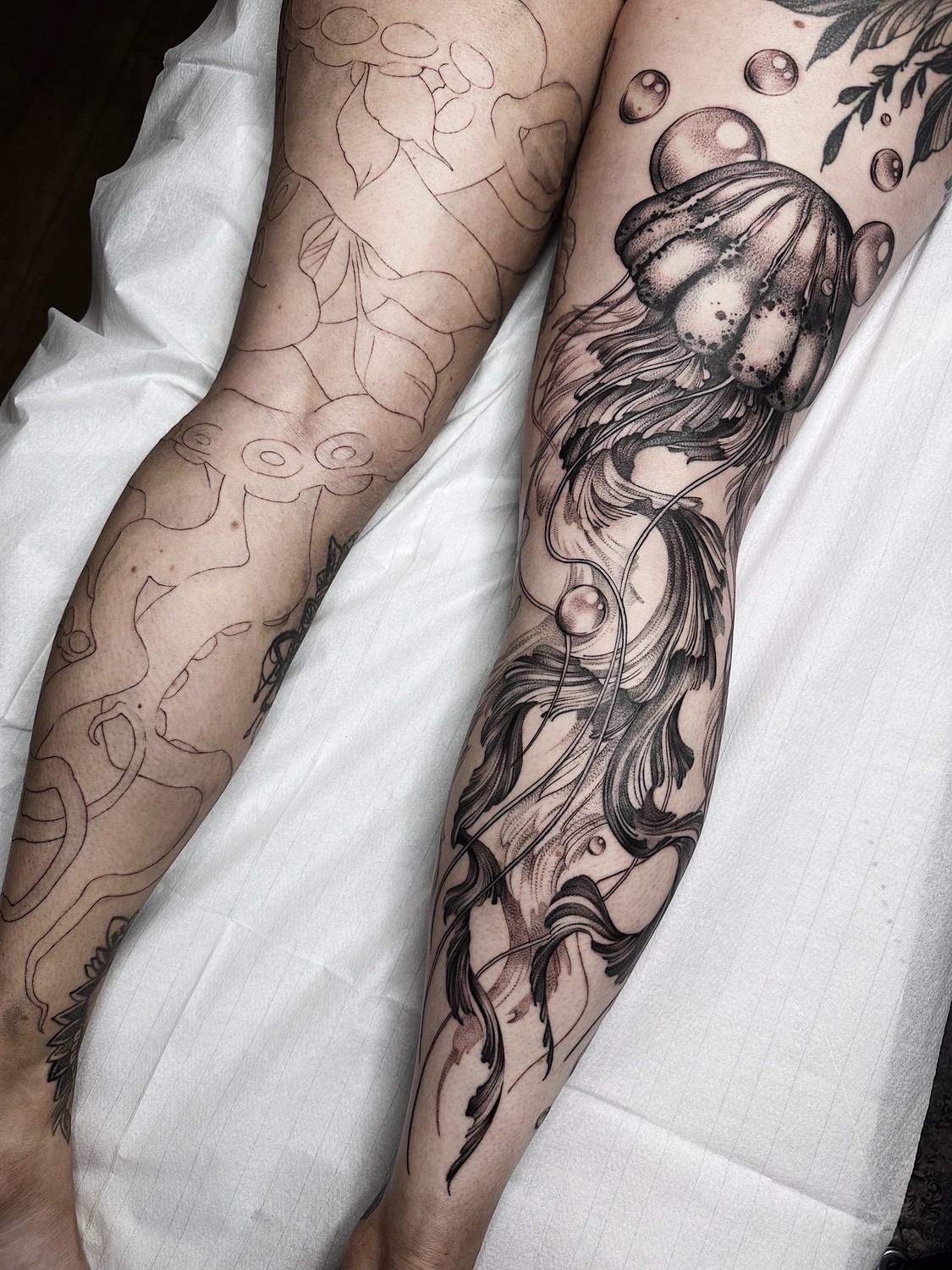 Do you regularly attend tattoo conventions? Tell us about your experience.
- Yes, I try to participate somewhere at least once a year, although it's always a tremendous stress for me. Setting up the workspace, moving furniture in the morning, the fear of not being on time, unappetizing fast food, and loud music – it's all not my thing. I understand that such stressful situations provide a significant push for development, and next year I've already outlined a list of European conventions I'd like to go to and work at.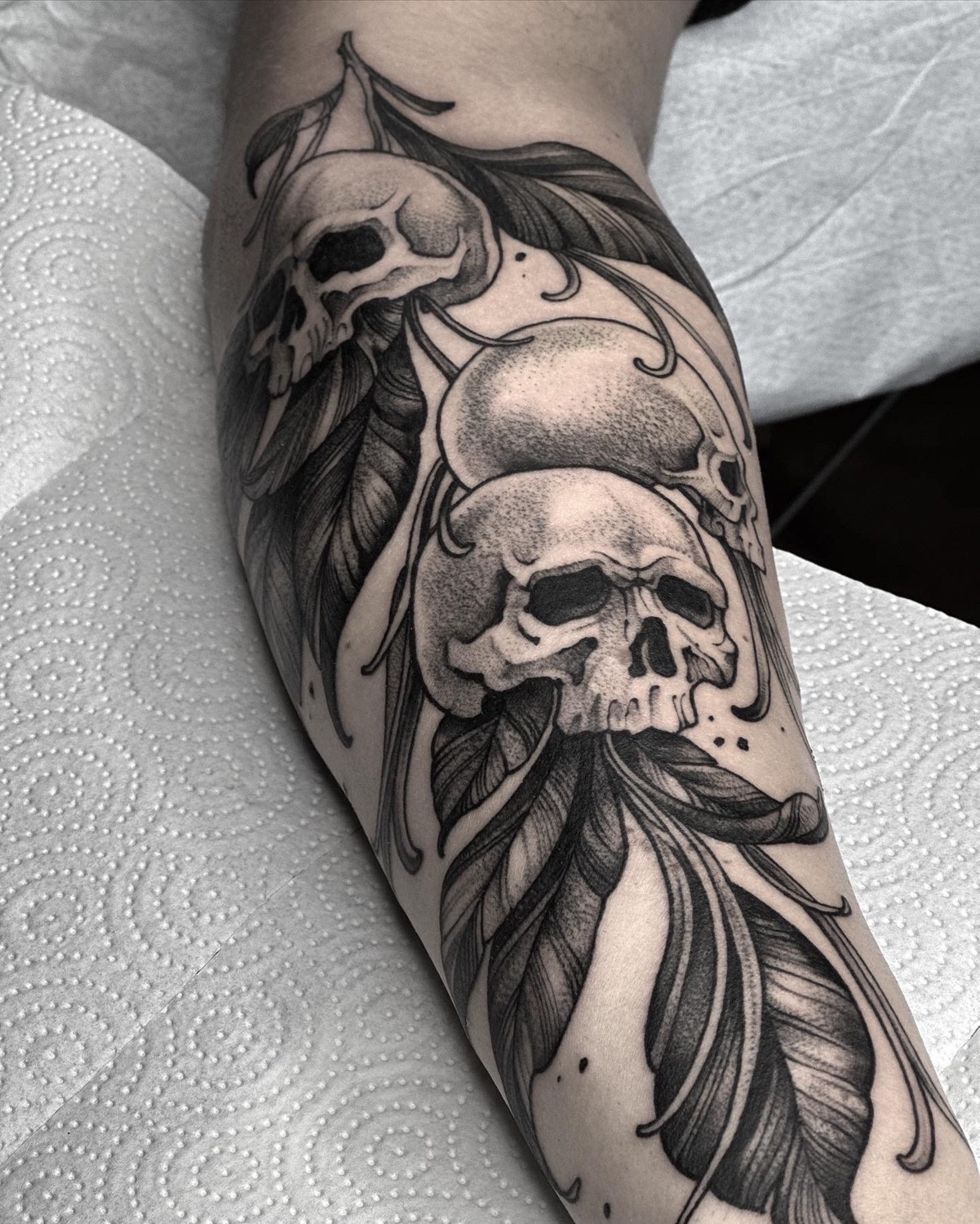 What else do you do besides tattooing?
- As I mentioned, I travel a lot. Additionally, I paint. I plan to finish my first significant series of paintings soon and am currently searching for contacts to understand how to exhibit, promote, and sell them, as this area is still unclear to me. In general, I'm a fairly quiet and homey person. I enjoy drawing, learning something new (currently learning Spanish), listening to audiobooks, cooking, and I also like just lounging at home on the couch.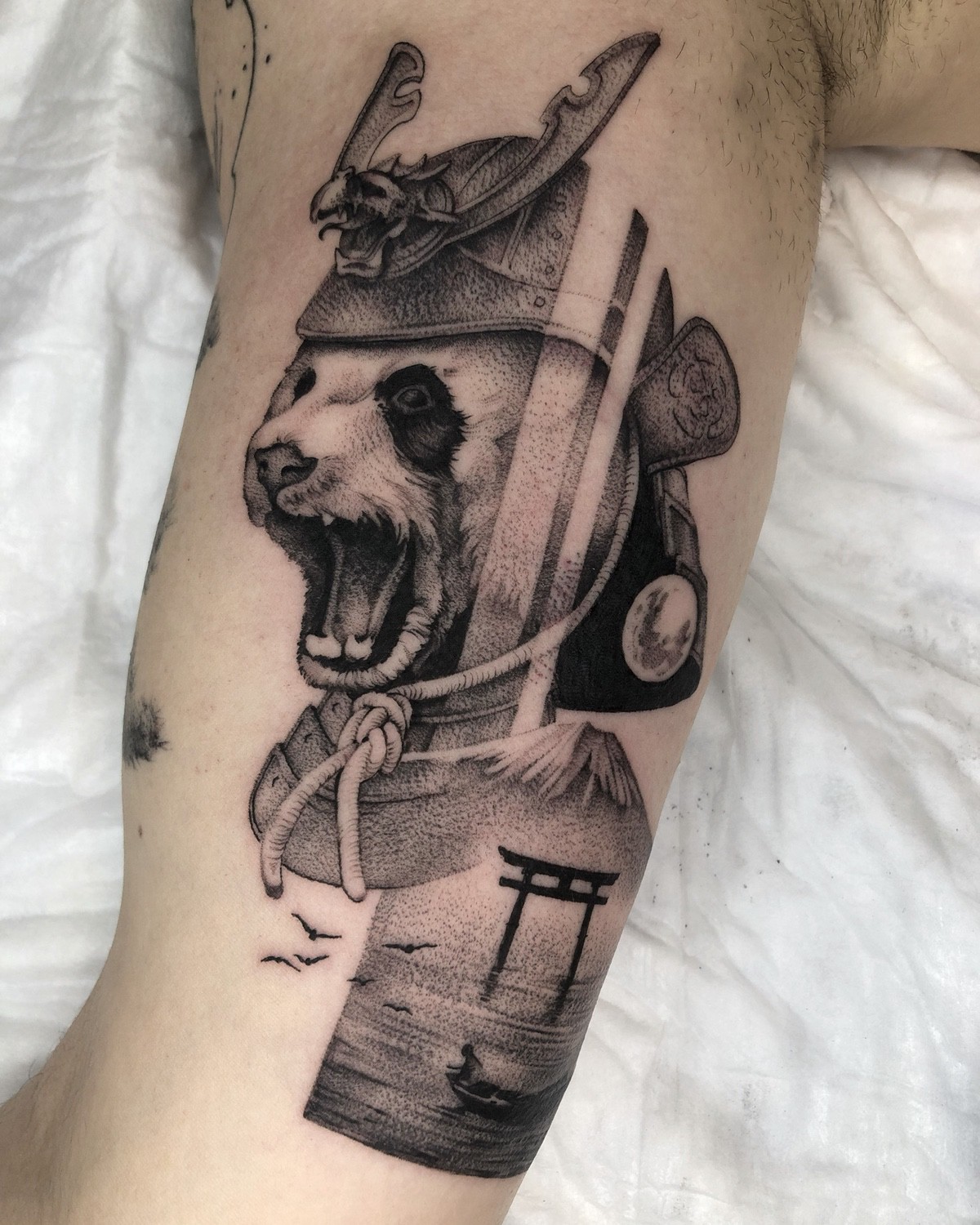 What is most important to you in a tattoo artist's career? What goals do you set for yourself? Can you share your creative plans for the near future?
- I really want to keep growing, evolving, exploring new possibilities in the visual arts, and trying different techniques. I want to communicate, share experiences, and learn new things. In general, the main goal for me is to love and continue creating.