Cazr Killz - Otaku tattoo artist from LA
Otaku tattoo artist Cazr Killz
/ Source: @cazrkillz
The army of fans of Japanese animation and comics is constantly growing, and with it the number of people who want to get a tattoo with their favorite character or scene from a popular animated series or manga is growing too.
Tattoo artist Cazr Killz from Los Angeles, who has specialized in anime and manga style tattoos for over 16 years, in this article told us who otaku tattoo artists are, how his style was born, and how Japanese animation became his main source of inspiration.
- Please, tell us a little about yourself. Where are you from, where do you work now?
- I was born and raised in Los Angeles California. I've been tattooing professionally since 2005. I'm currently part owner of Blackwater Collective in downtown Los Angeles.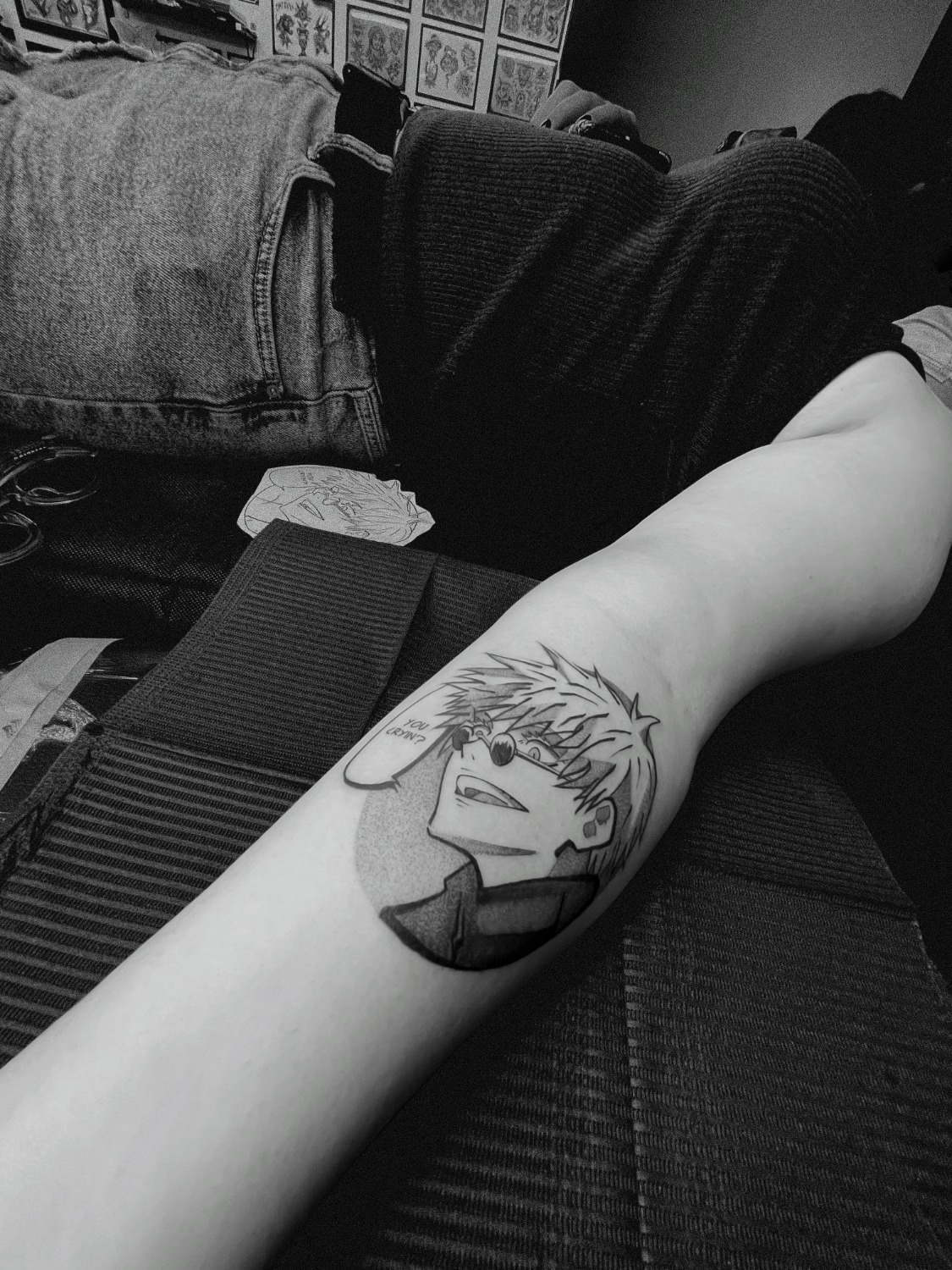 - Do you have any special art or tattooing training?
- I've been obsessed with art my whole life for as long as I remember I've been drawing.. by the time I was a teenager I was doing graffiti and painting throughout the city. The only special training I've had was a few years in art school which definitely help refined me as a person.. and of course I did have a formal apprenticeship that only lasted about a year and a half.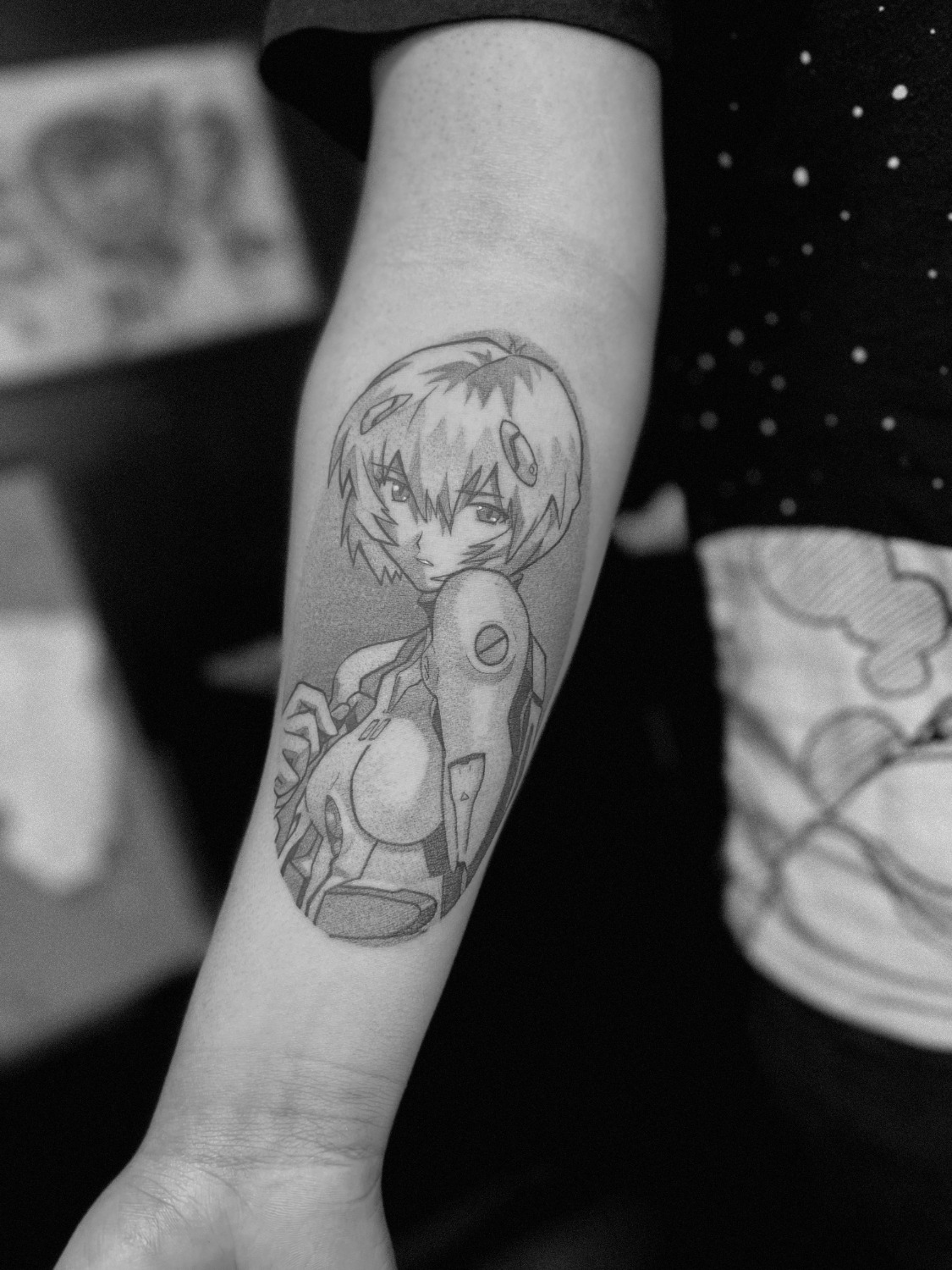 - Let's talk about your work. Why Anime tattooing? How would you describe your style?
- As you can see I do mostly anime/manga tattoos. To me anime including cartoons where my biggest inspiration as a child.. It was very magical realizing that whole world's were being created on a piece of paper.. for me as a child that was raised in the ghettos of Los Angeles.. art was my great escape..
On the subject of ghettos in Los Angeles.. I was highly influenced by the Chicano/gang lifestyle specifically tattooing.. and if you know the Chicago style tattooing is done using single needles and black and grey shading.. Are what I am doing right now is taking the techniques from Chicano style tattooing and applying it to anime designs.. for me it's all about the technique of tattooing clean crisp precise with nice solid black and smooth gradients of gray with a little bit of texture here and there.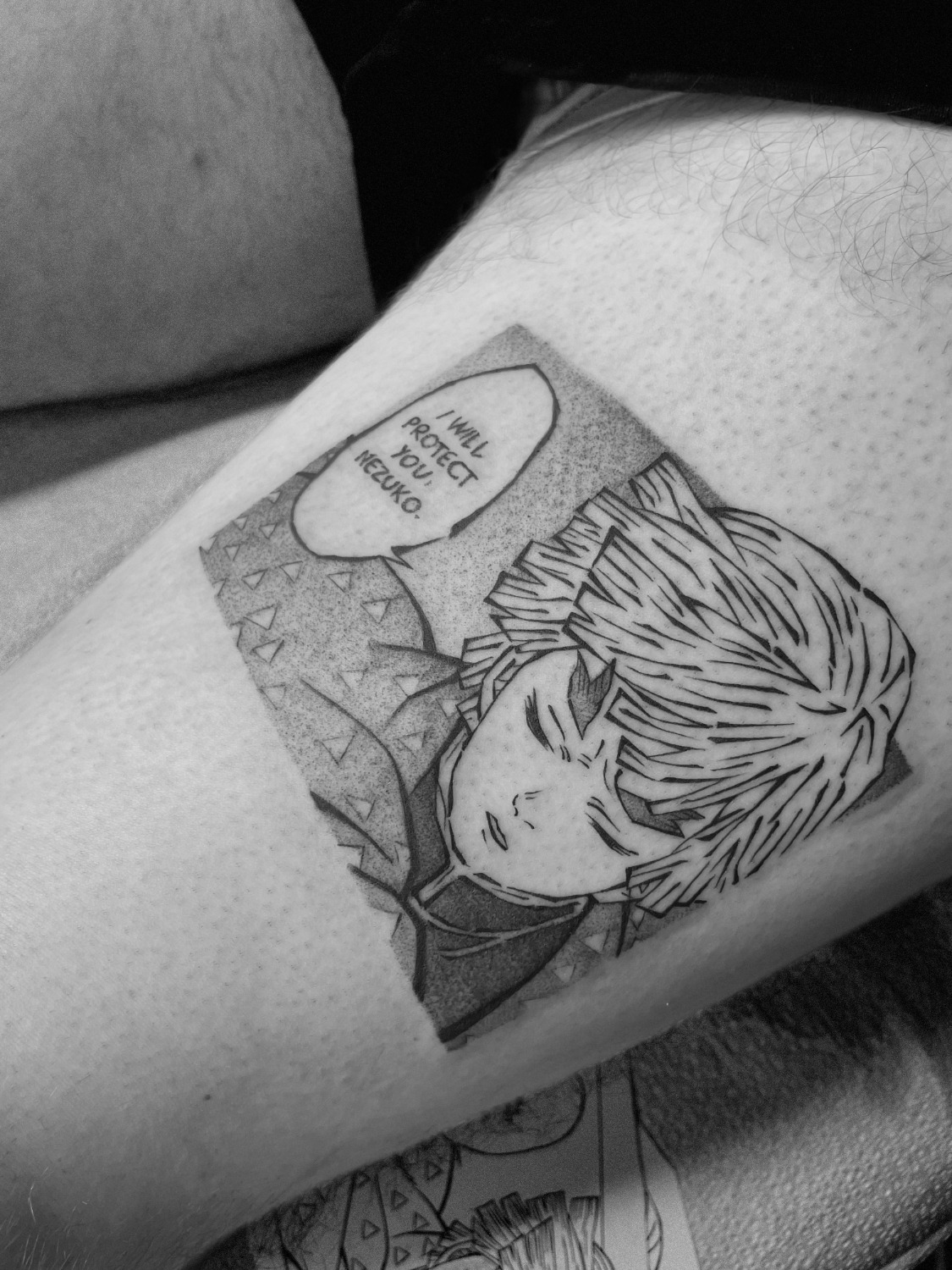 - Almost all the photos on your Instagram are black and white. What color do you actually work in?
- I prefer taking my photos in black white mostly because when a tattoo is fresh the skin is very irritated and red. А black and white photo gets rid of that redness. And on top of that I feel like the simplicity of black-and-white photos is Aesthetically pleasing to my eye. That being said.. I also do color but I'm very selective in the color tattoos I accept.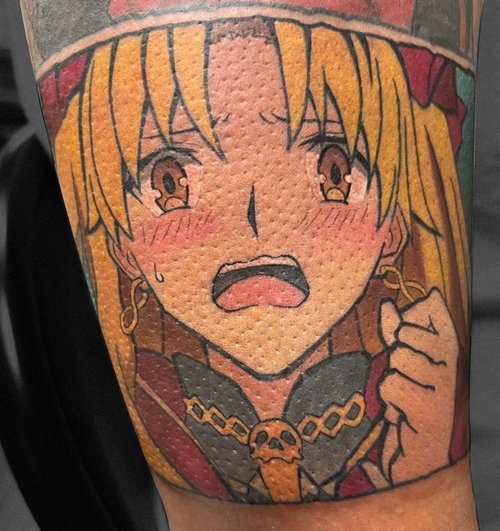 - How and when did you decide to become a tattoo artist?
- When I was in the seventh grade I did my first few hand poke tattoos.. when I was in the 11th grade I begged my dad for a tattoo machine.. he agreed on the condition that I don't tattoo myself until I'm 18.
I didn't technically start tattooing professionally full-time until I was 23 around 2005.. Prior to 2005 I was doing sign painting on buildings and honestly I think I would still be doing that till this day.. thankfully I chose the direction of tattooing.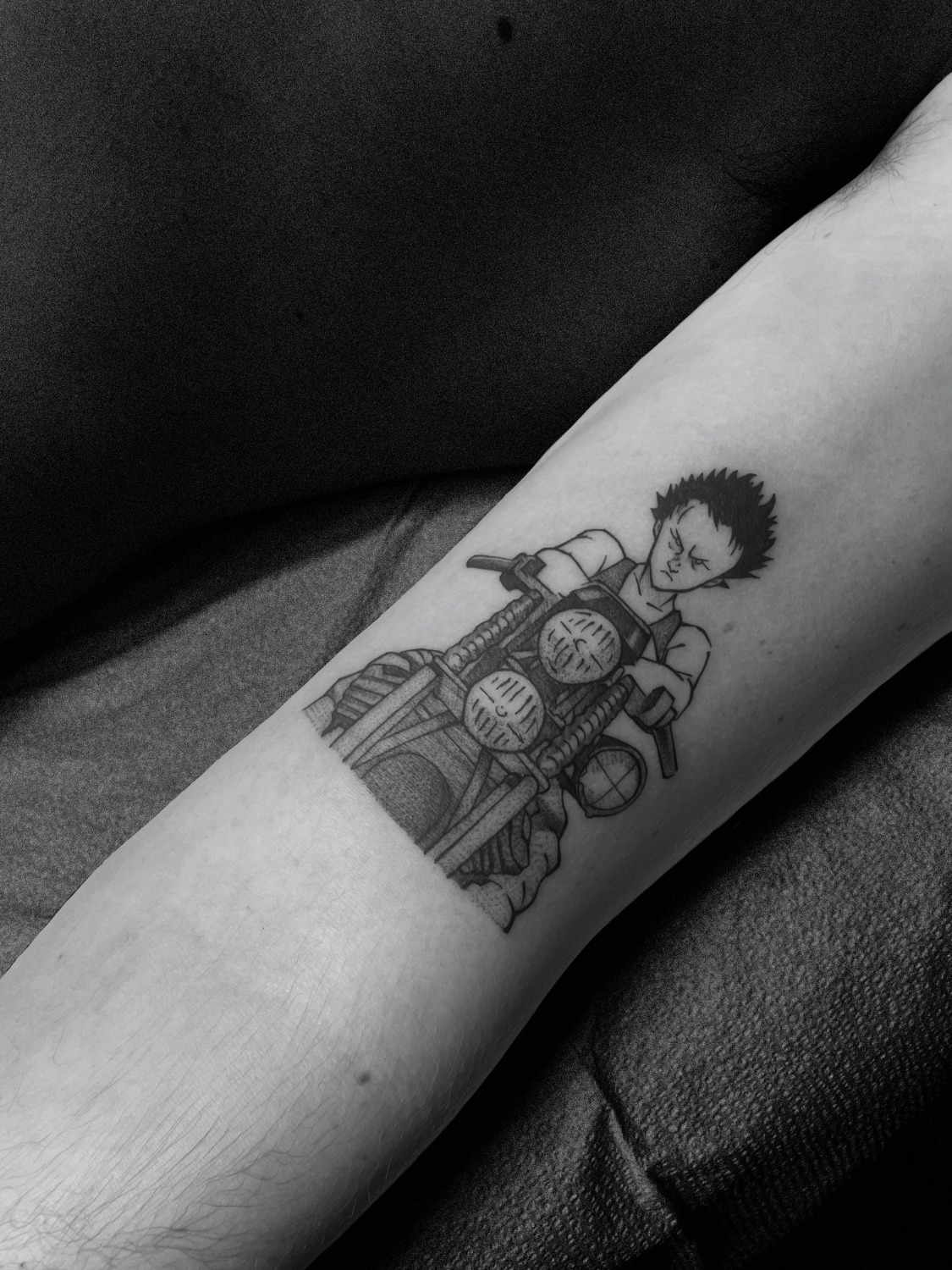 - You define yourself as an "otaku tattoo artist". What do you mean by this concept?
- I am absolutely a otaku tattoo artist..even though the term is not as popularized in the general tattoo community ..to me an otaku tattoo artist is someone that specializes in the anime/manga subculture..someone that understands the culture and can emulate the deep characteristics of a anime in a tattoo.
- What anime/manga has had the biggest influence on your work and life?
- It really hard for me to chose what anime has made the biggest influence on me..in terms of tattooing it is definitely dragon ball,naruto and demon slayer.. simply because these are my most requested tattoos.. so I've become deeply immersed in the art ..in terms of what has made the biggest influence would have to be Evangelion,Akira,berserk and vagabond.. and I would definitely say I love everything shonan and mecha.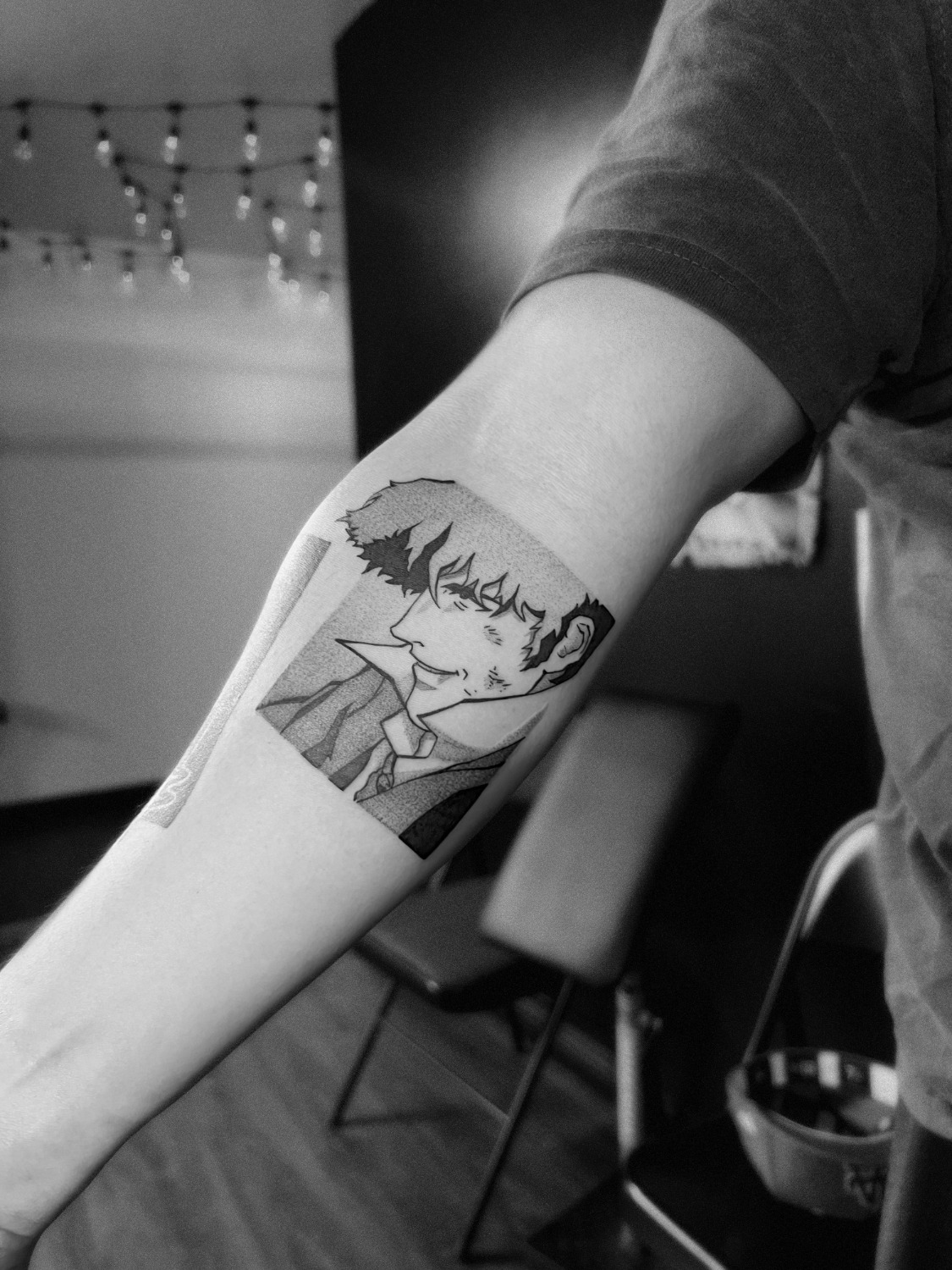 - Do you remember your the first client and your feelings as the tattoo master, when you did the first tattoo?
- As far as the first tattoo client I remember doing.. It was not a professional situation.. My older sister offered her skin for me to practice on.. I did a few designs on her. I am forever grateful For her sacrifice lol.
- What is the most attractive thing in the tattoo for you?
- The most attractive thing I find in tattooing is that it's on a living organism… it still fascinates me every time I put that needle into the skin.. for me tattooing is the act of it that's what I love.
- Do you have any real idols among tattoo artists? What inspires you as an artist?
- I've been tattooing for so many years now I have so many idols, so many artists that I admire.. and now the younger generation especially within the anime community are doing some amazing things.. I'm 39 years old pushing 40.. every day is a struggle to keep up with the younger artist. They learn quicker and quicker every year..
Let me give you my top five anime tattoo artists @horibenny, @simonkbell, @bunnymachine, @michelabottin.ackerman, @vadiknevadik...there are so many more over the years that inspired me.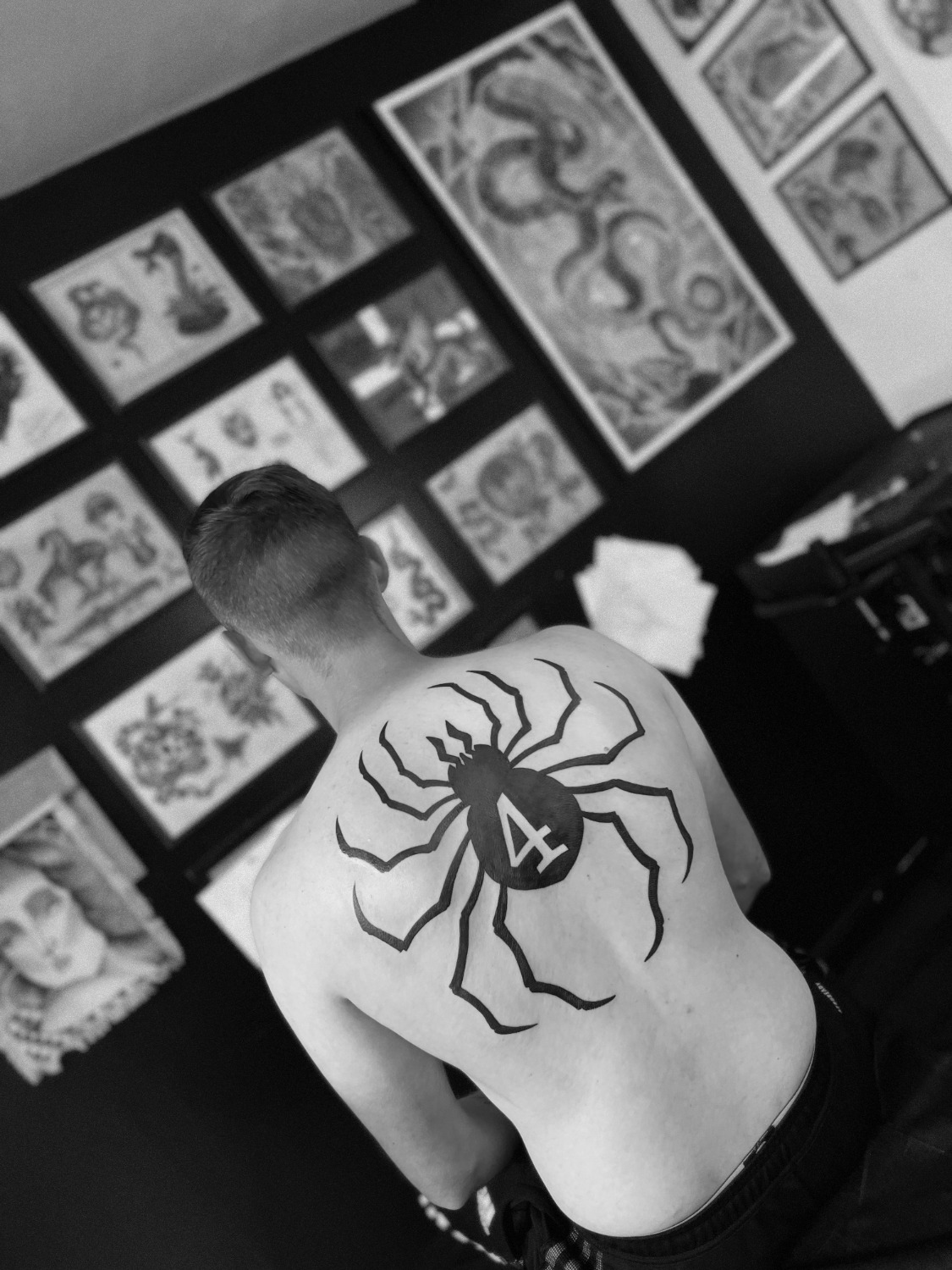 - Tell us a little about your studio in LA. How long ago did you open it? What is the atmosphere like in your shop?
- I opened the black water collective with @bubba.blkwtr and @mowgli.tattoos.. they are both former students of two of my former students.. it was kinda like opening a shop with my grand children lol..they are great passionate artist..they both love anime and tattoo anime.. but also do traditional and Japanese tattoos.. the environment is nice and calm.. good music, tattoo art and anime art everywhere.. always someone to talk to about animes.
Oh and I can't forget @archie.mota he's my student.. he loves doing the darker/horror animes. He a name to look out for in the near future.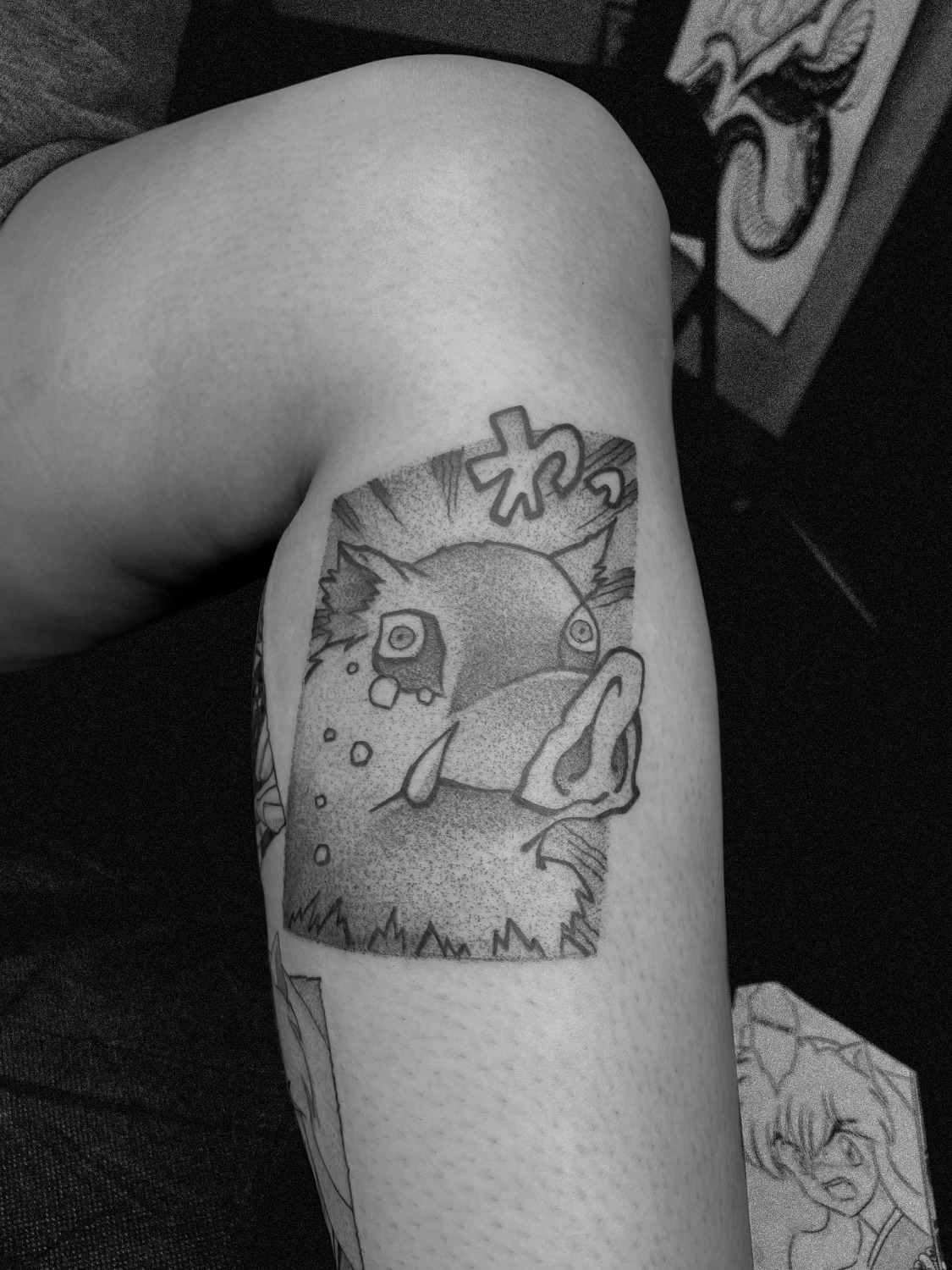 - Do you participate in conventions? Where can we see you in the near future?
- I spent the first 10 years of my tattoo career traveling but states doing tattoo conventions.. Right now I'm enjoying just being tied down in Los Angeles.. however I will be doing a few anime conventions starting with @animeexpo in Los Angeles.. These conventions have recently started allowing tattoo artist to participate. I'm very excited to be a part of it.