Cosmic cover-up tattoos by Sigak from South Korea
14 / 02 / 2022
Viktoria Ledovskikh
Tattoo artist Sigak
/ Source: @tattooist_sigak
This talented tattoo artist from South Korea creates entire cosmic worlds on the bodies of her clients. Being a professional painter, Sigak knows how not only to create a masterpiece with the help of needles and inks, but also how to save a person from old emotional wounds that are inflicted on him by memories associated with an unsuccessful tattoo. Based in Seoul, Sigak specializes in miniature cover-up tattoos depicting cosmic and sometimes terrestrial landscapes.
We talked to Sigak to introduce you to her work, which brings so much joy and benefit to people.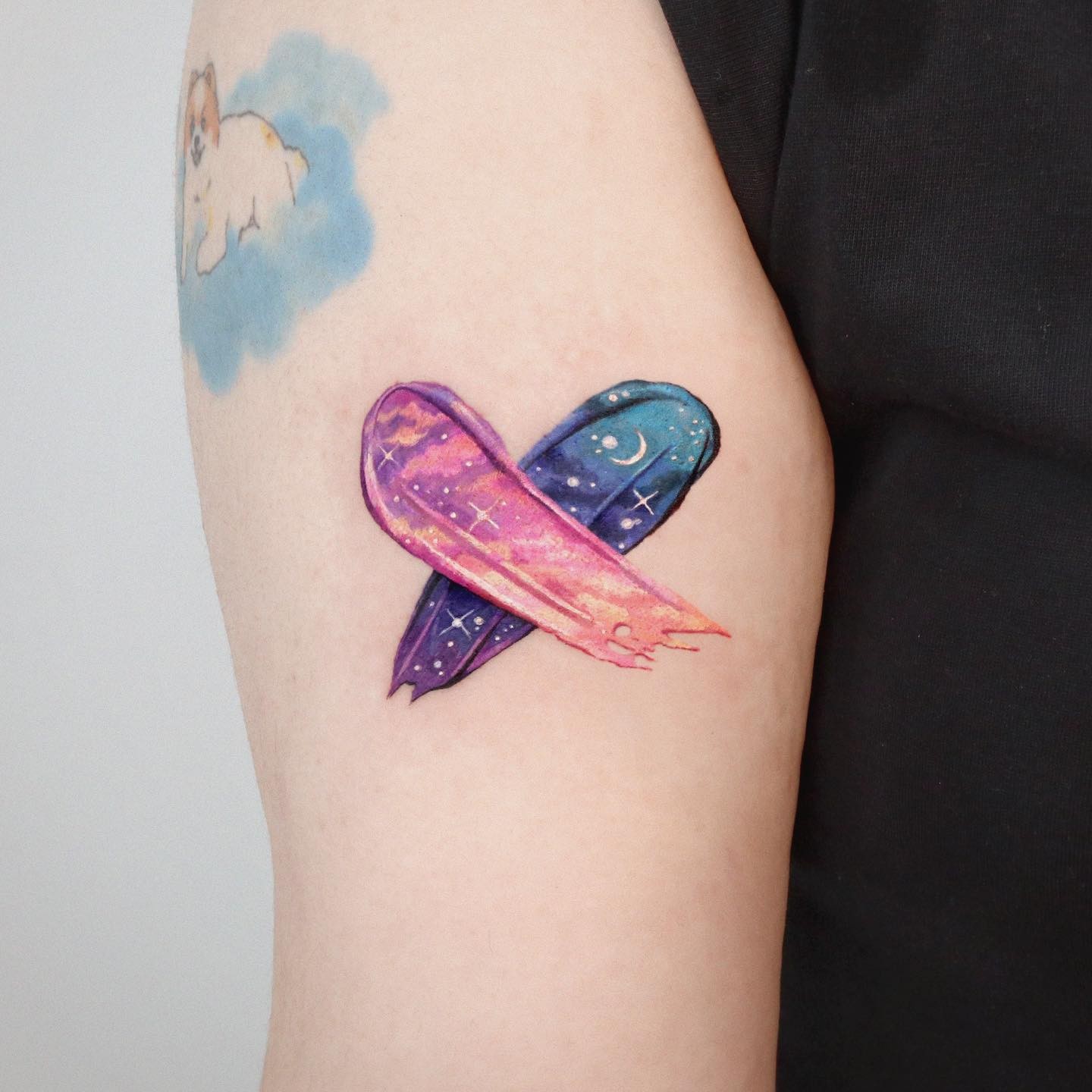 ---
- Sigak, tell us a little about yourself. Where are you from? Where do you work now, how many years have you been working as a tattoo artist? How did you start tattooing? Did you have any special training in the art field?
- Hello! I am based in Seoul, South Korea. I belong to a shop called StudiobySol. The owner of the studio is Sol. I learned tattoos from him about four years ago. I graduated from art middle school and high school and majored in fine art and art history in University. After graduating from university, I worked as an illustrator, and a friend of mine who is a tattoo artist suggested that I learn how to make tattoos. My friend told me about Sol, and I fell in love with his delicate tattoo and learned it from him.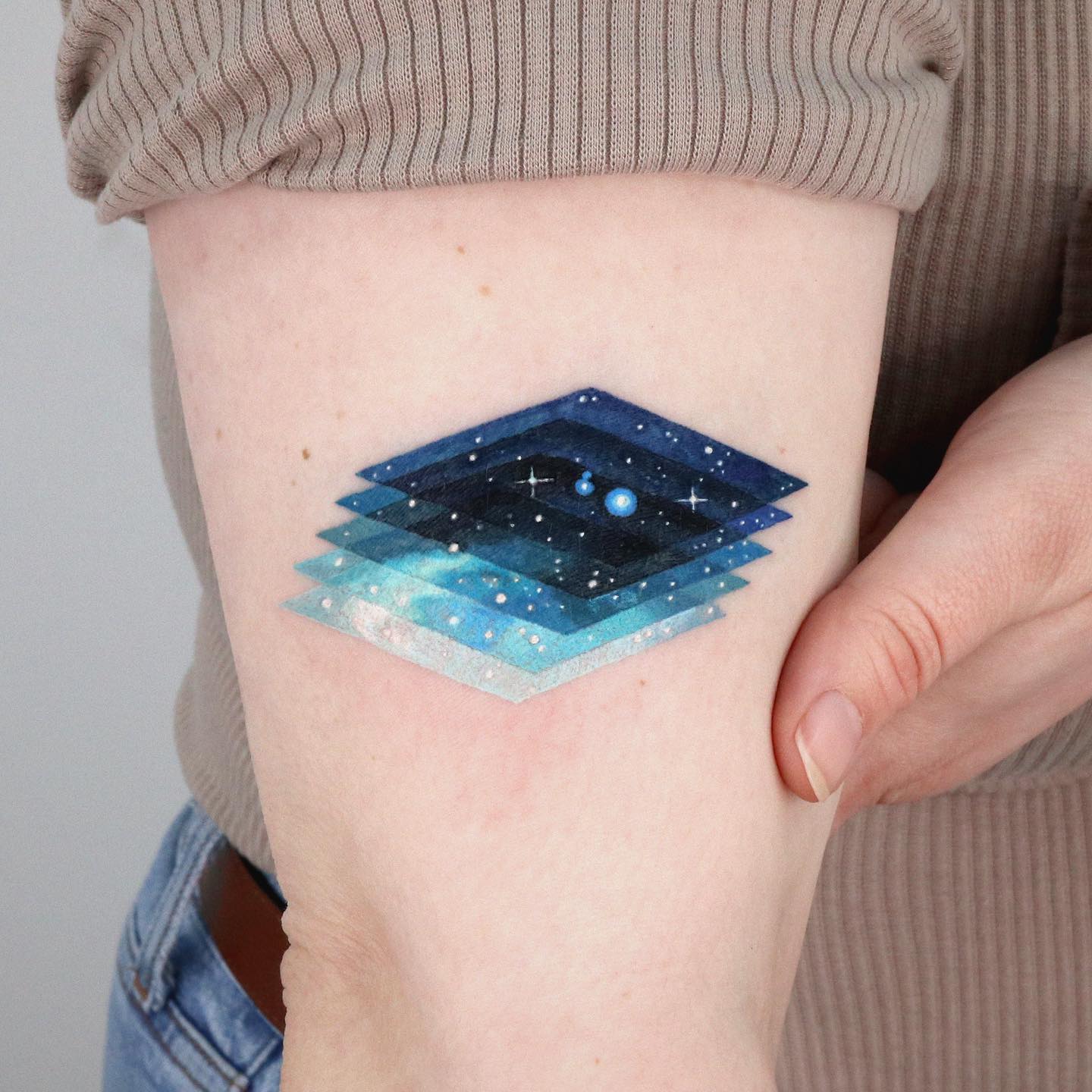 - Why did you decide to specialize in cover-up tattooing?
- The first start was a very coincidental opportunity. A client asked me for a small cover-up tattoo. I hesitated because I've never made a cover-up tattoo, but the client insisted that she really wanted to cover-up her existing tattoo. I accepted the request and successfully completed my first challenge. Since then, many clients have started asking me for cover-up tattoos. People who want to cover their existing tattoos or scars generally have bad memories of them. Cover-up tattoos often serve to heal such wounds. I am very proud of this.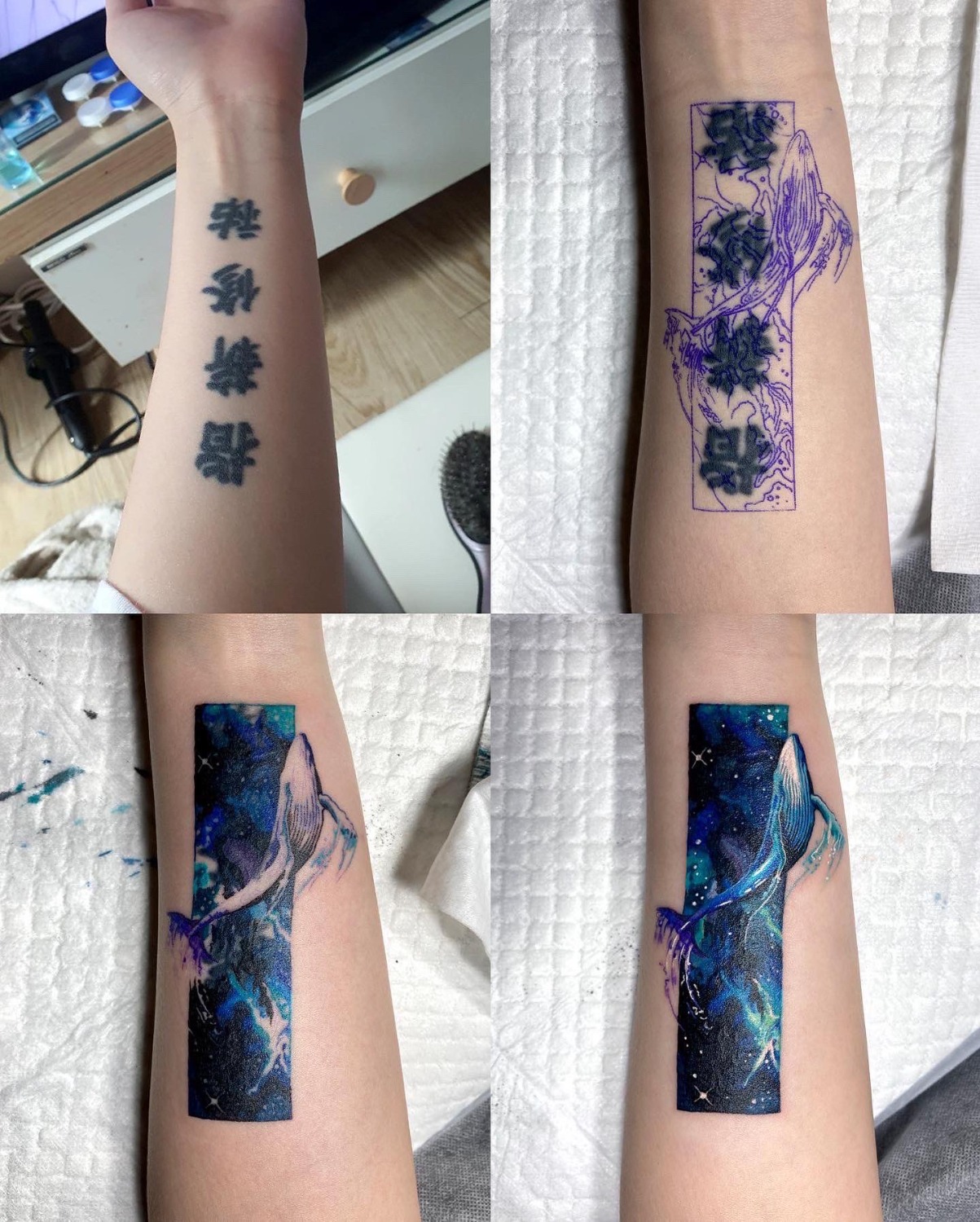 - How to choose the right sketch for a cover-up tattoo? How do you design a cover-up for an old tattoo?
- I ask the client to send me a picture of their existing tattoo. First, I make a rough layout on the picture. And make a design using dark colors in dark areas of tattoo and bright colors in areas of skin without tattoos. Since the skin is not completely flat, the picture is slightly different from the actual one. For this reason, the design may vary slightly on the day of the session. So when I create a cover-up design, I choose materials that are not awkward even if I change their shape, such as the night sky, galaxy, and botanical things.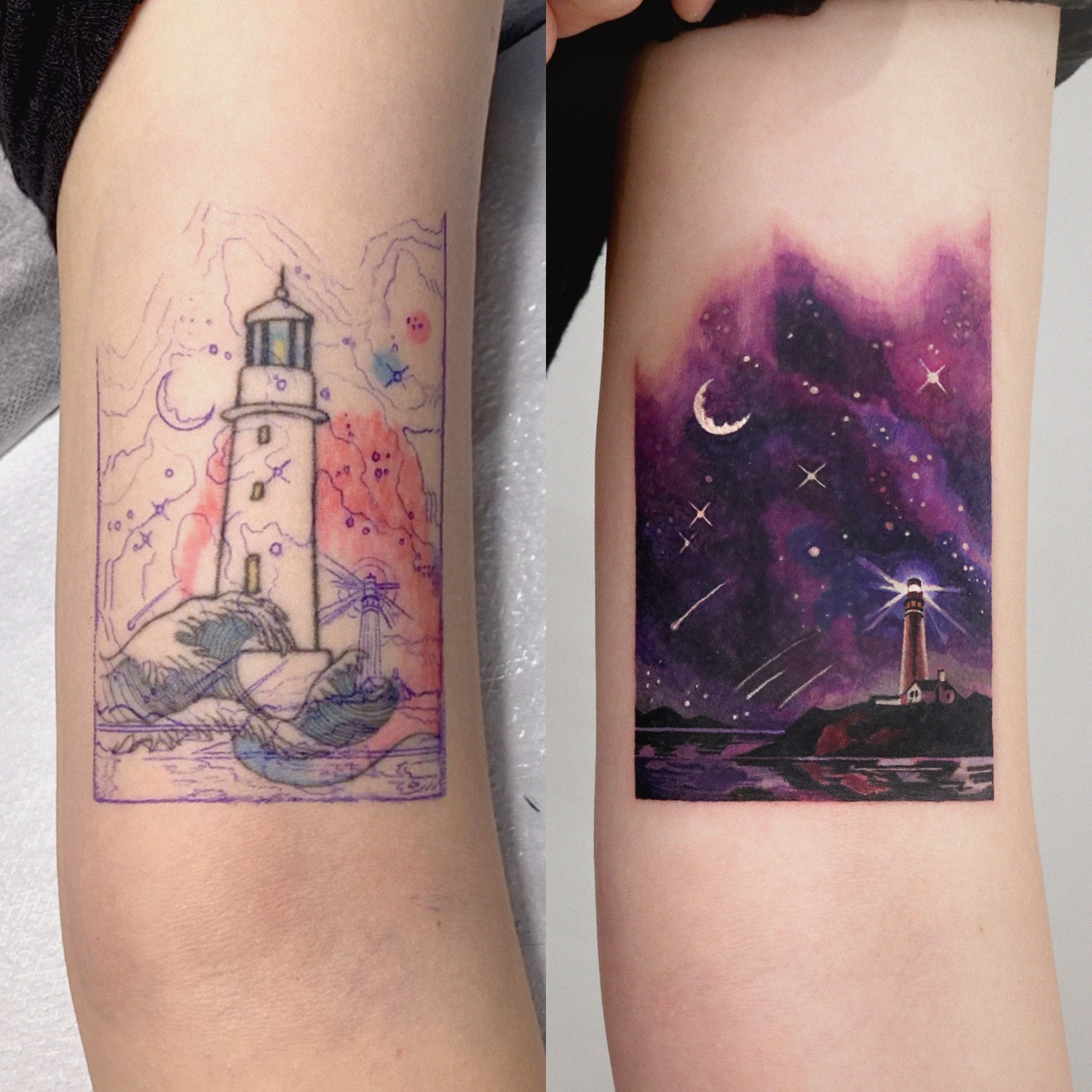 - ow is a cover-up tattoo different from a regular tattoo? Are there any rules or specifics?
- Tattoo is a technique in which ink is injected into the skin by making a shallow wound with a needle. Therefore, the color of the tattoo ink is affected by the background color, that is, the skin color. For example, If you got a tattoo with black ink and want to cover it, you should consider that the drawing paper you have is black.
First of all, you'd better choose a color similar to or darker than your previous tattoo when you ask a tattoo artist for a design. You can try covering your tattoo with a brighter color, but you need to know that you may see your previous tattoo after the cover-up is healed.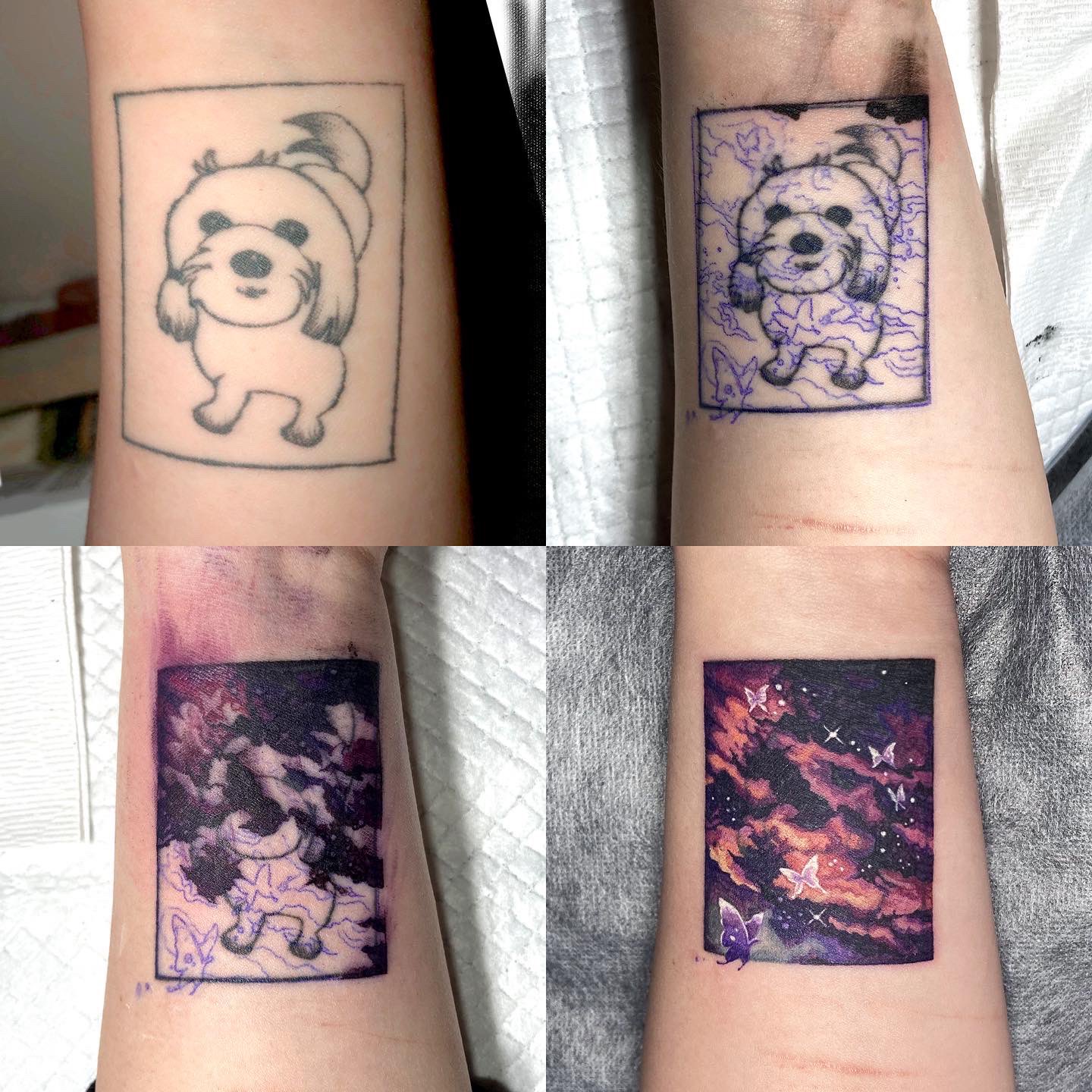 - Second, you should be aware that the cover-up tattoo should be bigger than your previous tattoo. Third, if you want to get a bright cover-up tattoo, remove the existing tattoo 1-2 times with a laser. After that, when your skin is fully regenerated, you will be able to choose a brighter color. However, it should be noted that sometimes laser removal can damage your skin. If your skin is damaged, you may have to wait another few months to get a cover-up tattoo.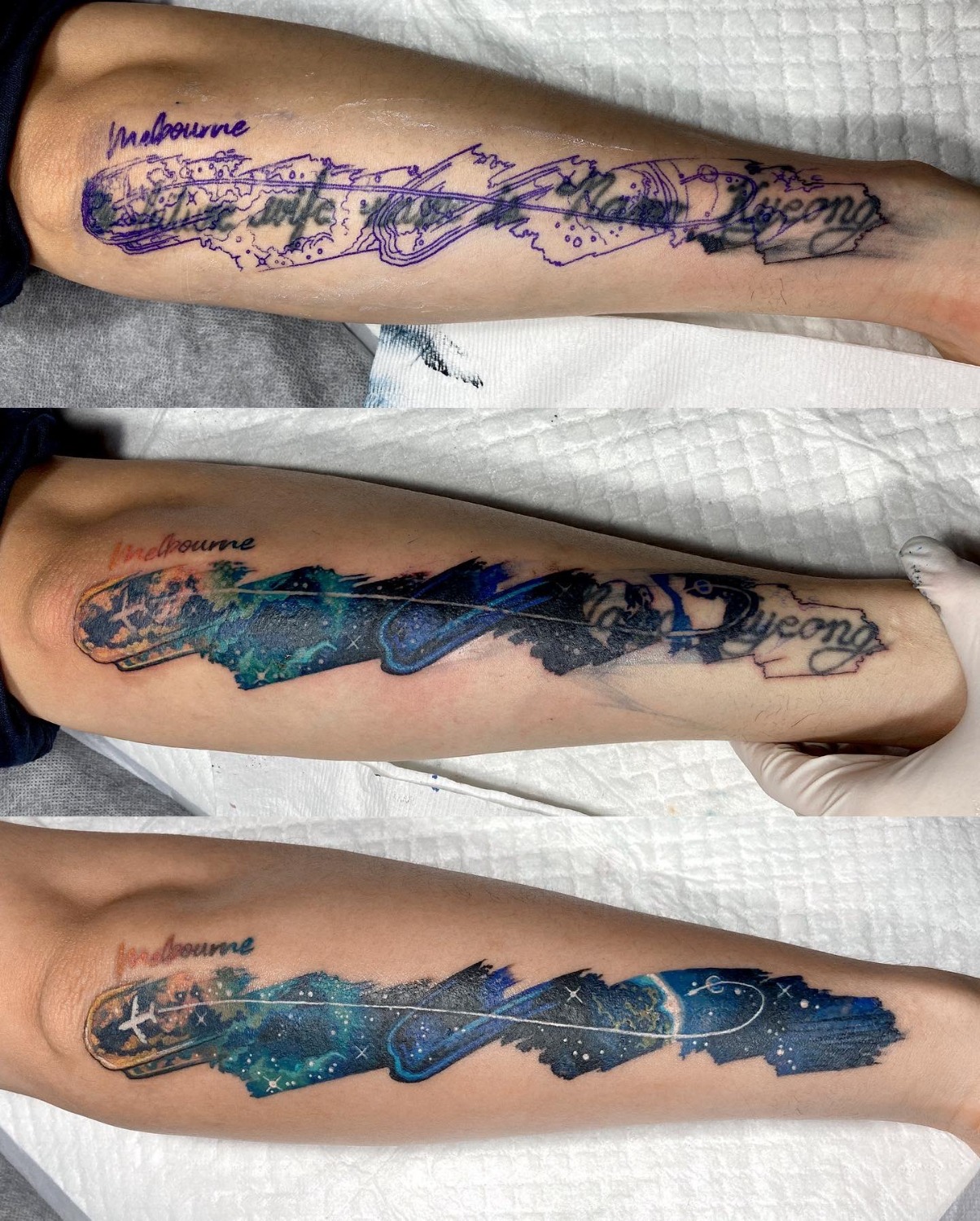 - Why are you so attracted to the theme of space and the Milky Way? How did you come to it?
- Since I was young, whenever I looked at the night sky, I thought it was marvelous. The universe was infinitely wide, and I felt infinitely small. I am instinctively attracted to Mother Nature such as galaxies, night sky, and sea. Mother nature is an unknown world that humans cannot imagine. Such Mother Nature is naturally out of reach. But when you tattoo it on your skin, you can have your own world, I mean space or galaxy.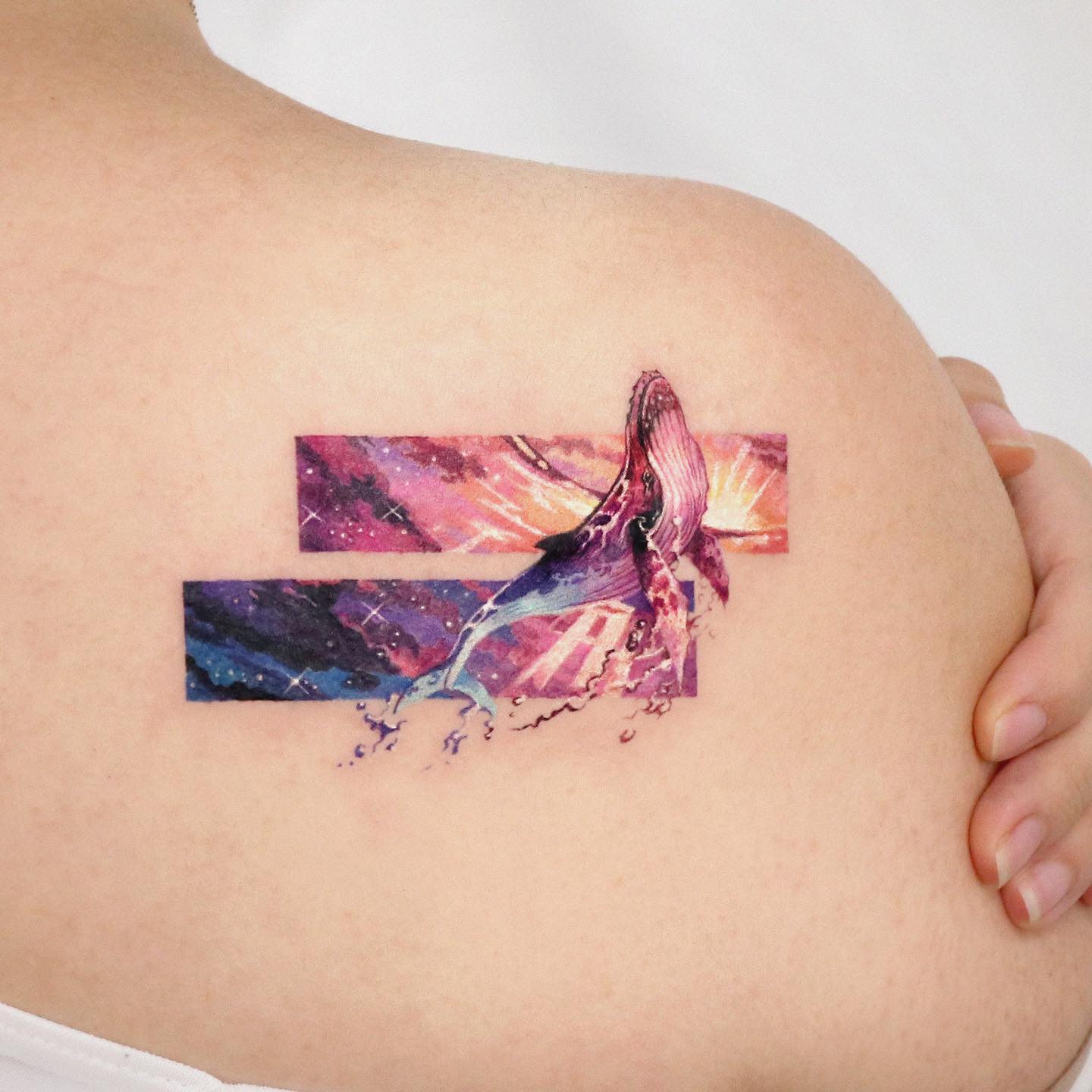 - Now, thousands of tattooers from other countries are trying to repeat the Korean style of miniature tattoo. What do you think is the secret of Korean tattoo success?
- In Korean cultures, older generations have negative perceptions of tattoos. Some of them think tattoos are related to gangsters and violence, and they think it's a dark culture. If you have a very big tattoo, some conservative companies in Korea may not hire you.
I think this is the reason for the development of small and delicate tattoo techniques in Korea. Those who wanted to have tattoos hoped they could hide them, and the demand for small tattoos increased. Korean tattooists polished up the technique of using single needles to satisfy those needs. In the meantime, Korean miniature tattoos seem to have become famous.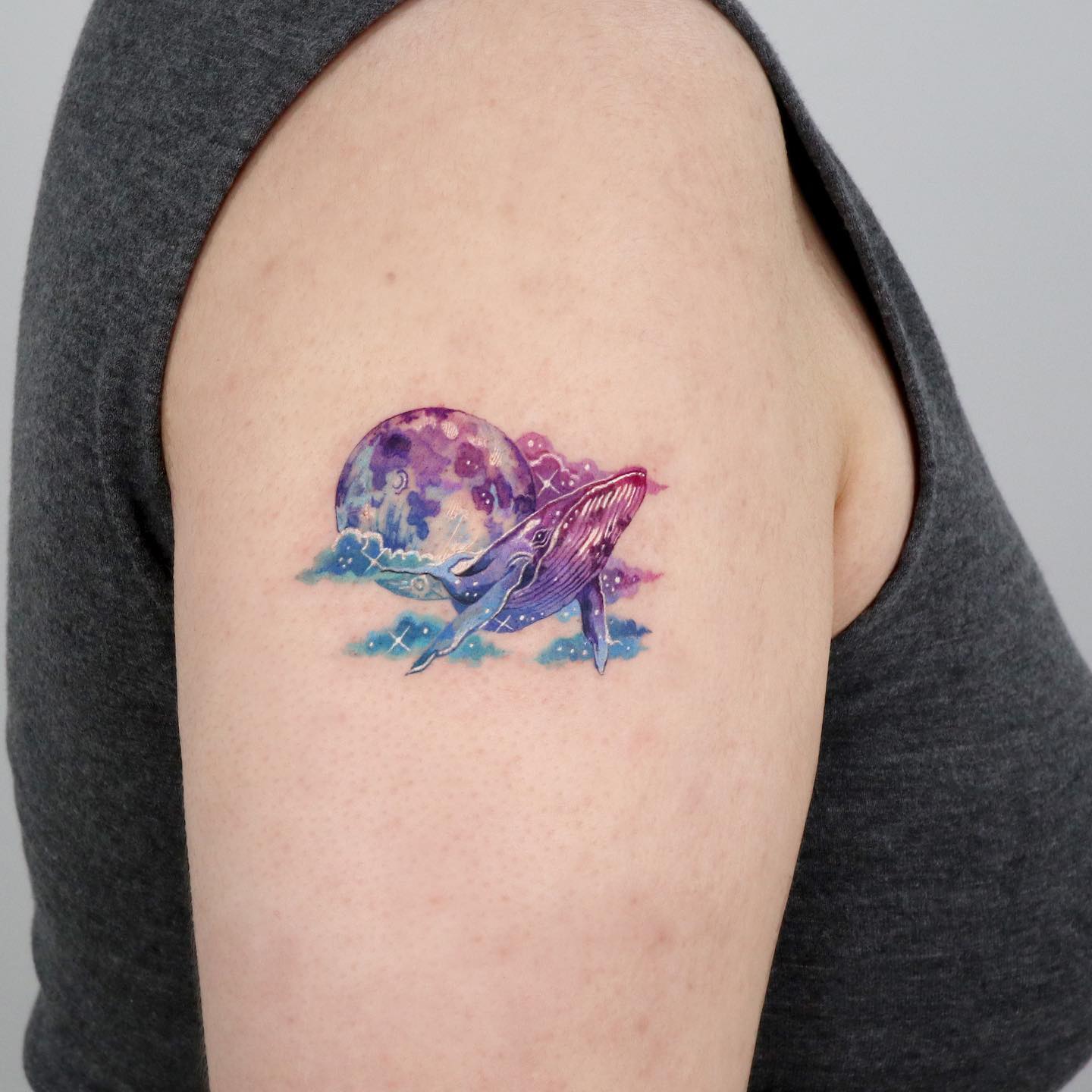 - Who are your clients? Are there many foreigners among your fans?
- Not only Korea but also people around the world are following my Instagram. Looking at the ratio, there are the most fans in the United States, Mexico, and France.
- Do you consider your subjects more suitable for a female audience or are your clients easily divided between men and women?
- It seems that female clients prefer small and colorful designs. Female clients account for about 70% of all clients. However, many male clients also want small and delicate designs. The most important thing in determining design is the individual taste of the client.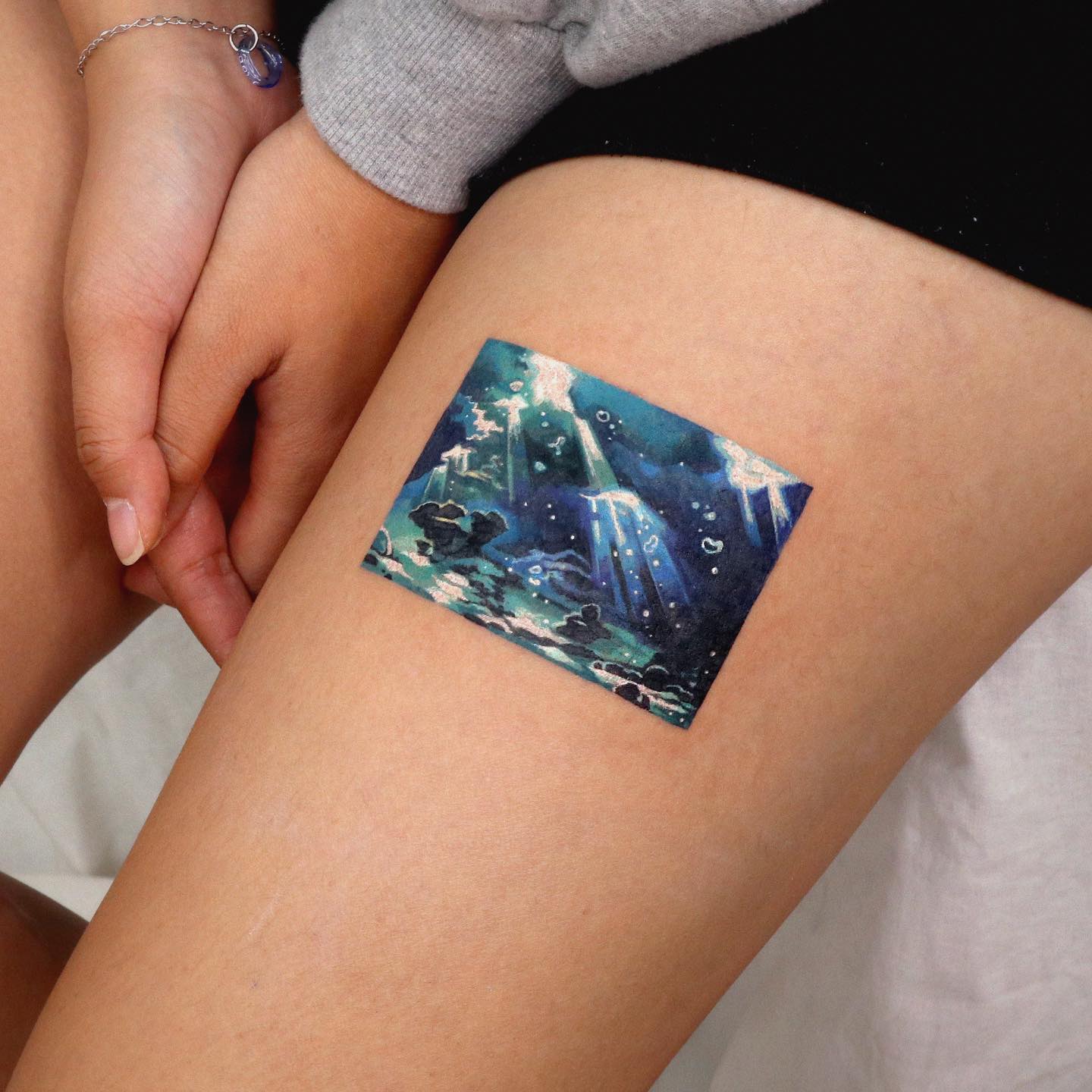 - What drives you to create and what keeps you inspired?
- Everything I experience inspires me. Sometimes I think of design from novels, plays, and any music. But the most important thing is to always look at various pictures. The type of picture doesn't matter. I try to encounter various arts because anything, such as modern art and commercial design, can inspire me.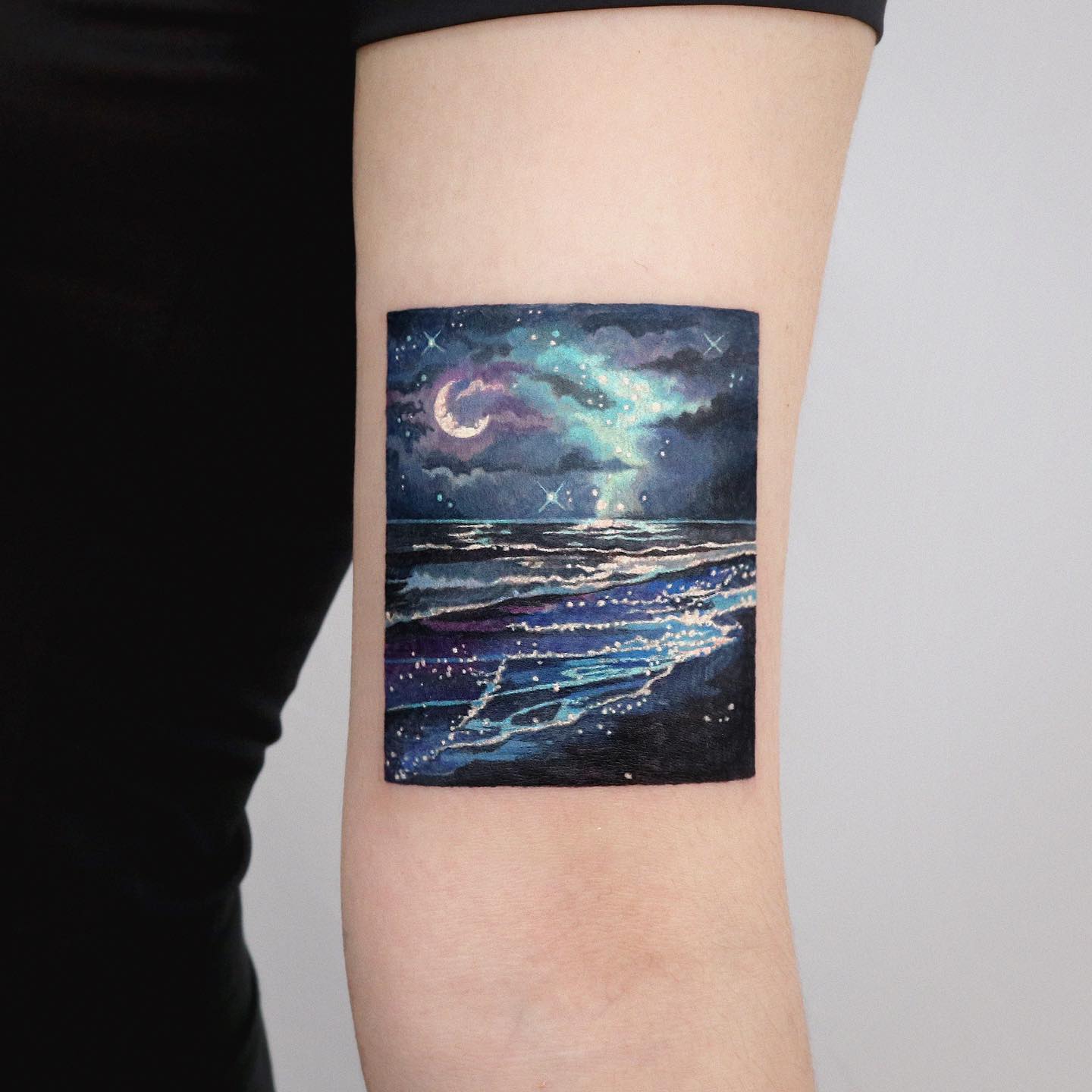 - Did you manage to travel the world before the Covid-19 pandemic? Where else have you been able to work?
- I often traveled before the pandemic. I visited the United States, Spain, Italy, Hong Kong, and Japan. I didn't work there, but I hope someday I can meet my fans around the world.
- Do you have any creative plans for the near future?
- I don't have a specific plan yet. I want to develop and grow further as a tattooist, so I want to focus on tattooing for a while. But one day, I will be able to work in more fields with my design and illustration.