Delicate flower tattoos for girls by Roman Itchev
Tattoo artist Roman Itchev
/ Source: @itchev_
St. Petersburg tattoo artist Roman Itchev creates stunningly light and delicate tattoos that emphasize the most feminine features of each of his clients.
Tattoos for girls can be in absolutely different styles, but let's not dissemble that nothing can compare in popularity with botanical motifs. Black and thin flowers, with smooth lines, repeat the beautiful curves of the female body, and just emphasize femininity, while not transforming the whole look.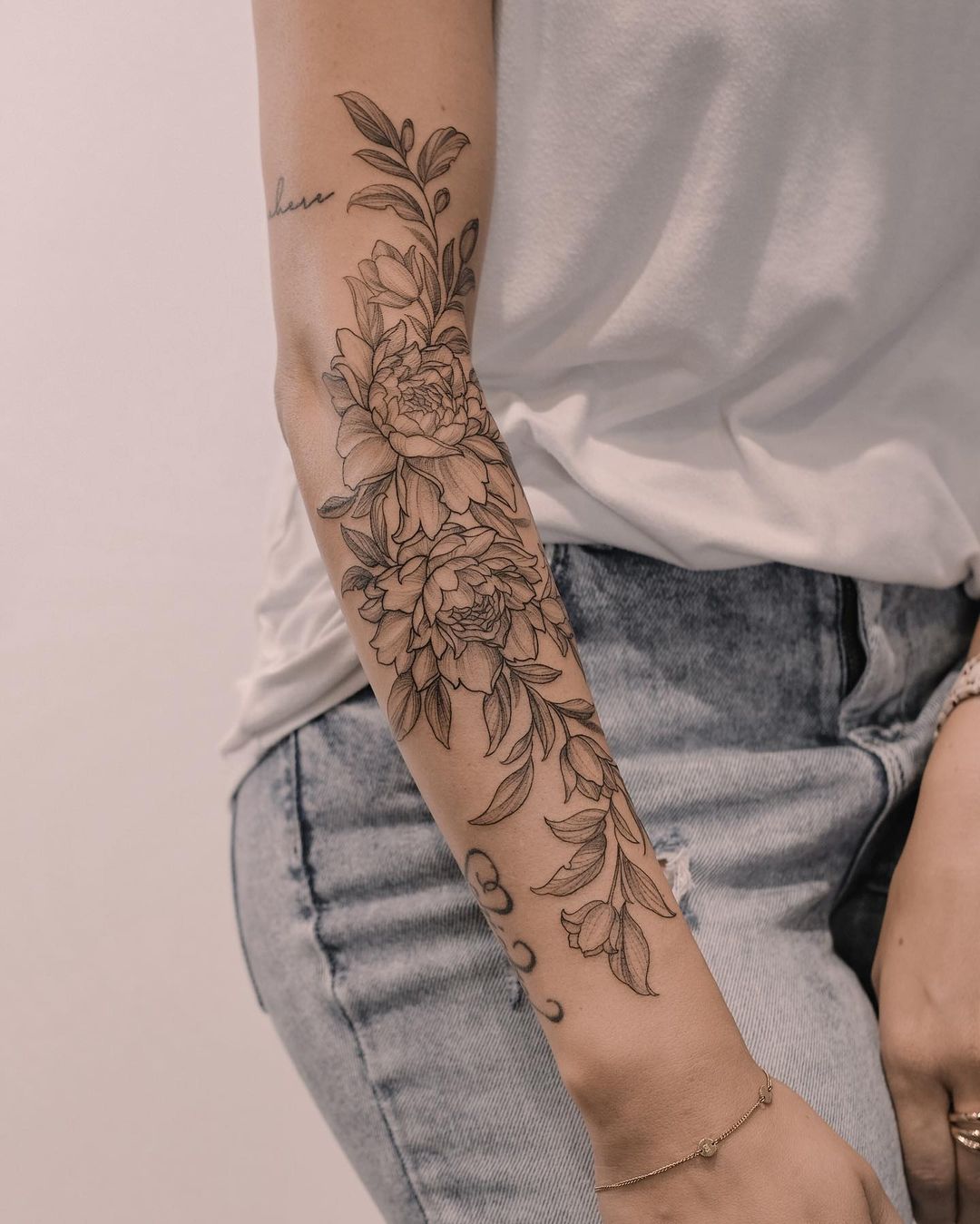 Beautiful large buds of flowers, leaves and branches wrapping around hands - Roman's works, meanwhile, are chosen not only by girls - guys are not shy at all about using flowers to decorate their bodies.
Today we have a great opportunity to chat with tattoo artist Roman Itchev, whose work has already fallen in love with more than 60 thousand botanical tattoo fans around the world!
---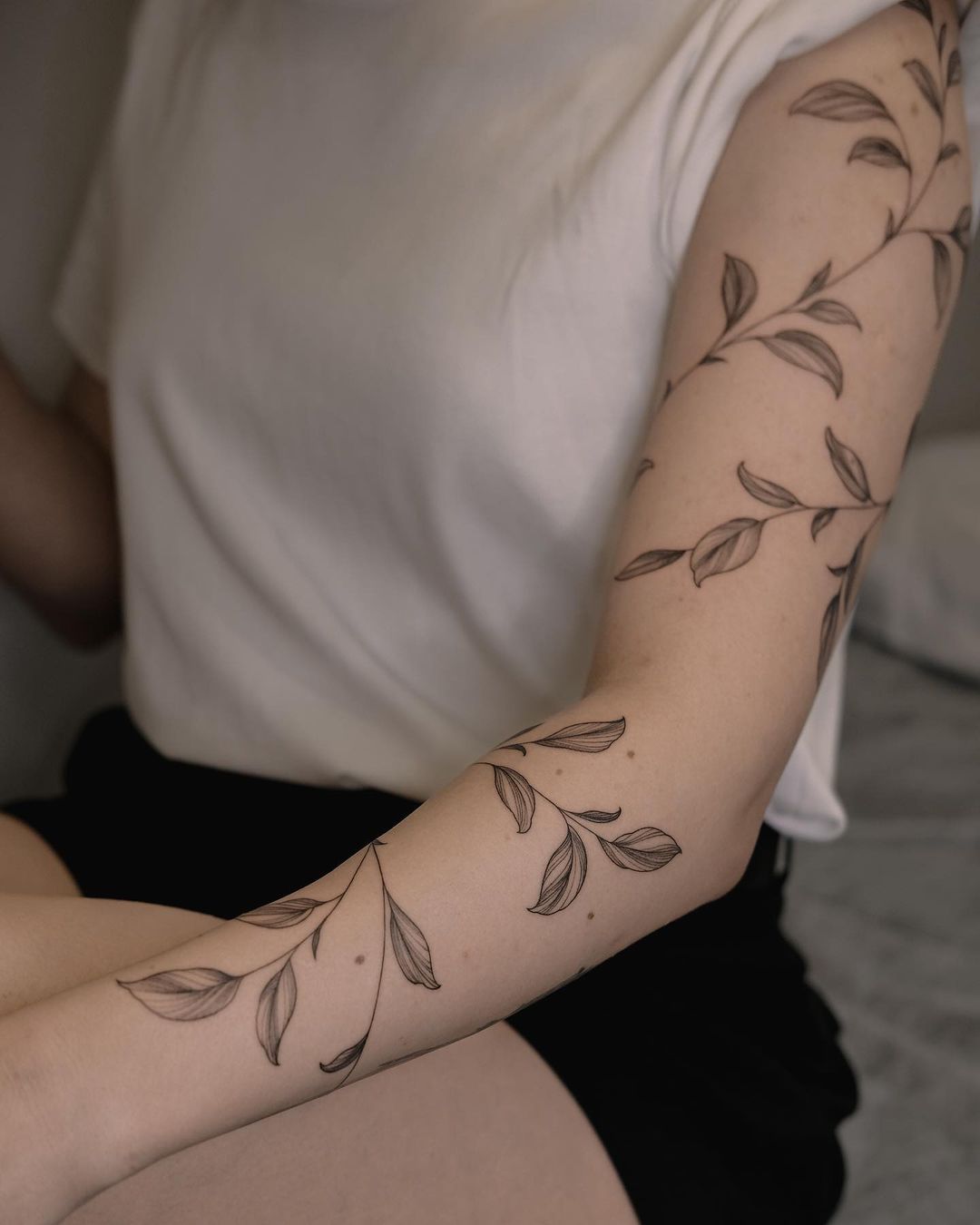 - Roman, tell us a little about yourself: where are you from, how many years have you been tattooing?
- I was born in Krasnoyarsk, Russia. I started tattooing there in early 2015, and then moved to St. Petersburg. I have no art education, I learned to draw myself, all of course from childhood. For the first 7 years of my life I lived in a deep village, and I had an uncle who drew graphics with a blue ballpoint pen, various equipment - tractors, trucks and everything that he saw around. It is still a mystery to me what inspired him to draw all this, but I know for sure that it was he who inspired me to take my first steps in drawing. I looked and I wanted to do the same.
- How and where did your tattoo journey begin? Why did you choose this profession?
- When I was 8 years old, my stepfather tattooed his friend. He was not a tattooer, but apparently he knew the technology from army times. They did it all according to all the canons of a home-made tattoo - a self-made machine from a motor, pens and strings, ink from a gel pen. I even remember that it was such a creepy wolf on the scapula. Naturally, I was very impressed, and then I decided that I would somehow be connected with this in the future. After many years, having a job that I don't really like and a depressed state, I suddenly remembered my childhood dream, bought equipment and went ahead.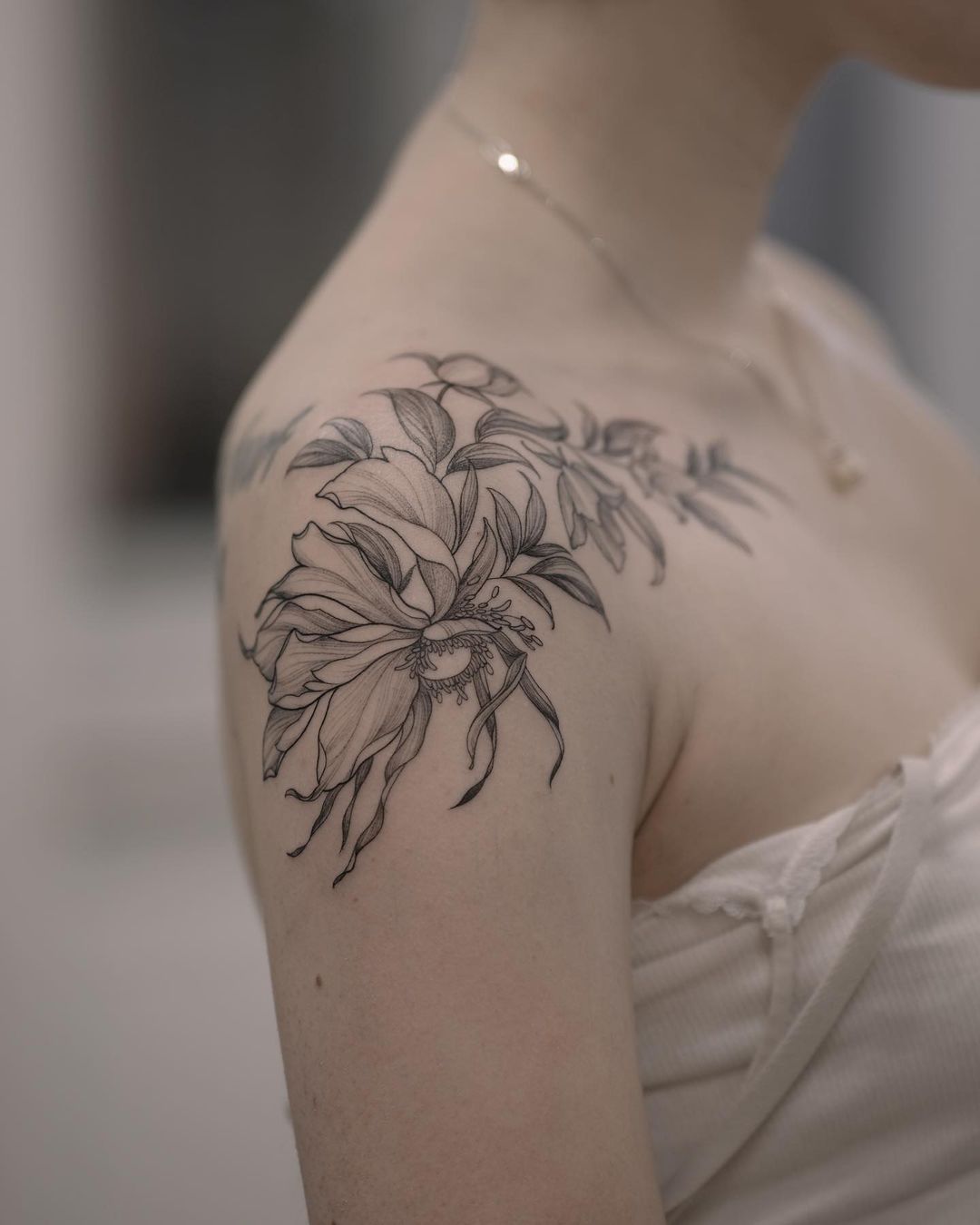 - Why did you choose this particular style? What attracted you to botanical motifs so much?
- At the beginning of my career, I did different things. At the request of clients I drew their ideas in graphics and made tattoos, but for some reason it was always difficult for me to draw flowers. I thought that we need to focus on this, practice and study, especially since then it was already in demand.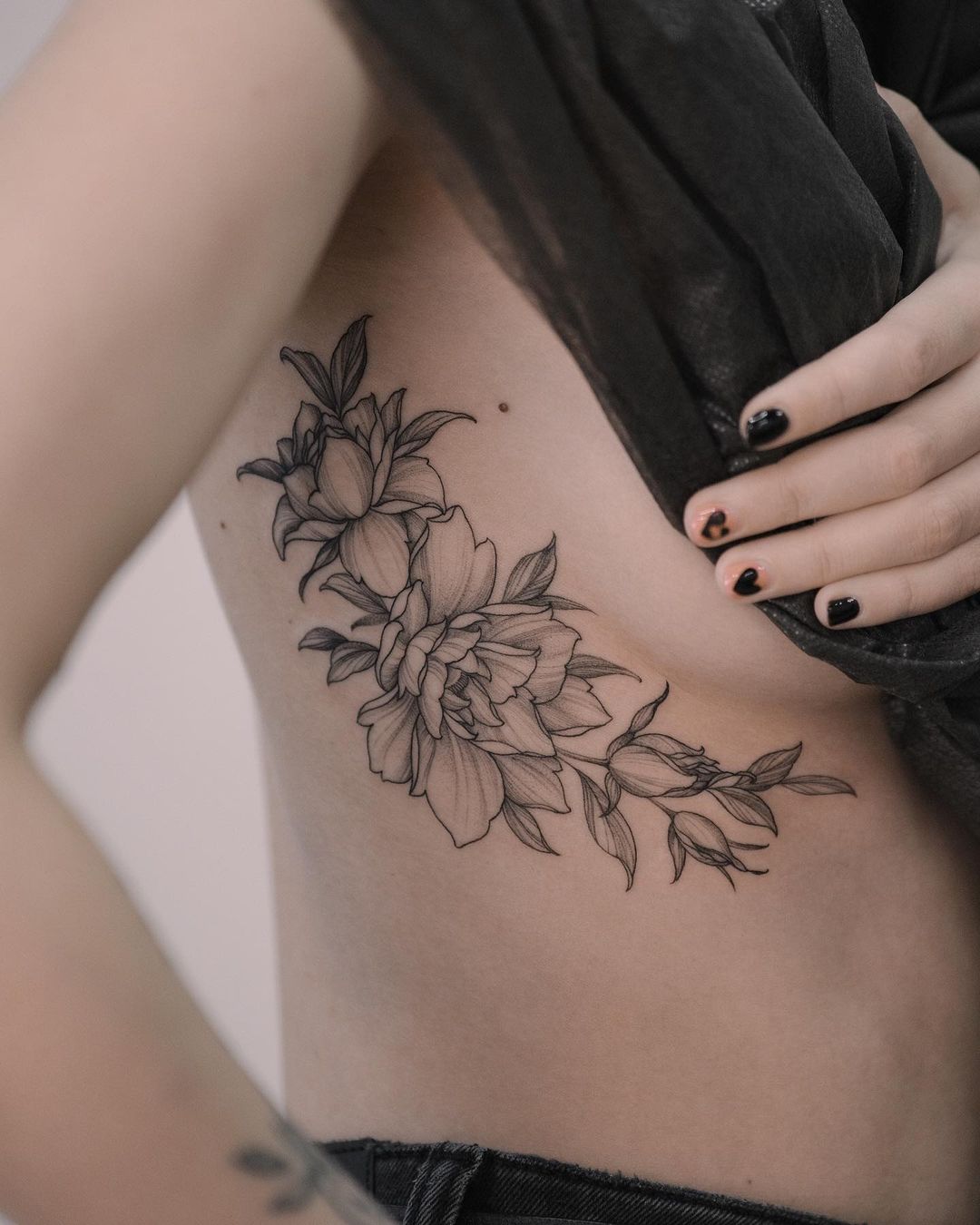 - How often do male clients choose floral motifs?
- Not so often, after all, I do delicate things that seem to be more feminine than masculine. But I made flowers for the guys a few times, it looks very cool, I think.
- In your experience, what are the most painful places to get tattooed for your clients?
- Everyone thinks about ribs, for some reason. Feelings depend on various factors: well-being, how you slept, even on my mood, I know from myself. But always the most unpleasant places are near the folds of the arms and legs, and in places where the bone is not far from the skin.
- In your Instagram you have a lot of sketches in color, but in the tattoo you stick to black, and sometimes red colors. Will we see colored tattoos in your portfolio?
- I like to paint with watercolors and colored pencils on paper, but it doesn't get to the skin. I had an idea to start making color miniatures, but so far everything is at the level of ideas
- Where do you look for inspiration?
- I get ideas from different sources, most of the time it's not even related to flowers or botany. For example, I can watch a series, and some moment sets the beginning of a chain of thoughts, and as a result, all this is converted into drawings. I really like various kinds of designs. I also often take inspiration from there, and then I apply it in a tattoo.
- What other forms of art do you master / would like to master?
- In addition to tattooing, I'm doing music. By the way, much longer than tattooing, I'm trying to write techno. I also love photography, and have recently become interested in motion design.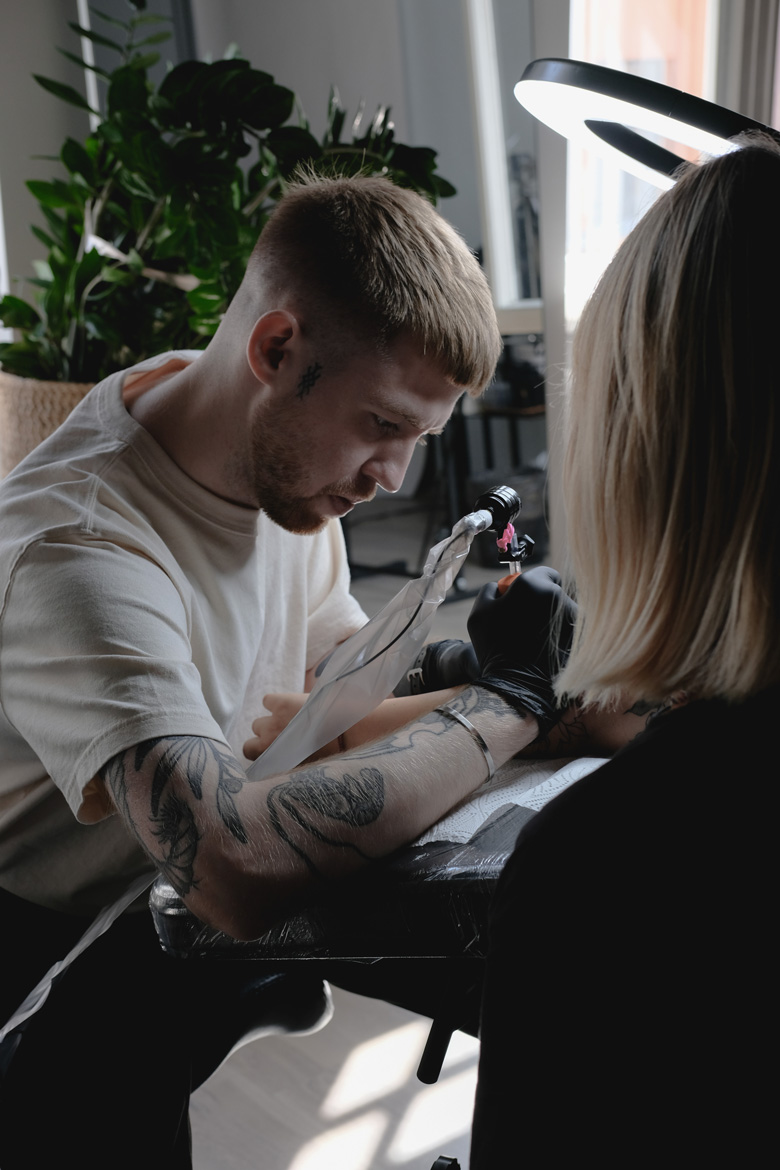 - Do you have many tattoos yourself? What style do you prefer and why?
- Tattoos always seem to be few, there is always a piece of skin that you want to get tattooed. My back and almost my entire arm are tattooed, and some little things are scattered all over my body. I have always loved dark and bold tattoos, these are the only ones I see on myself.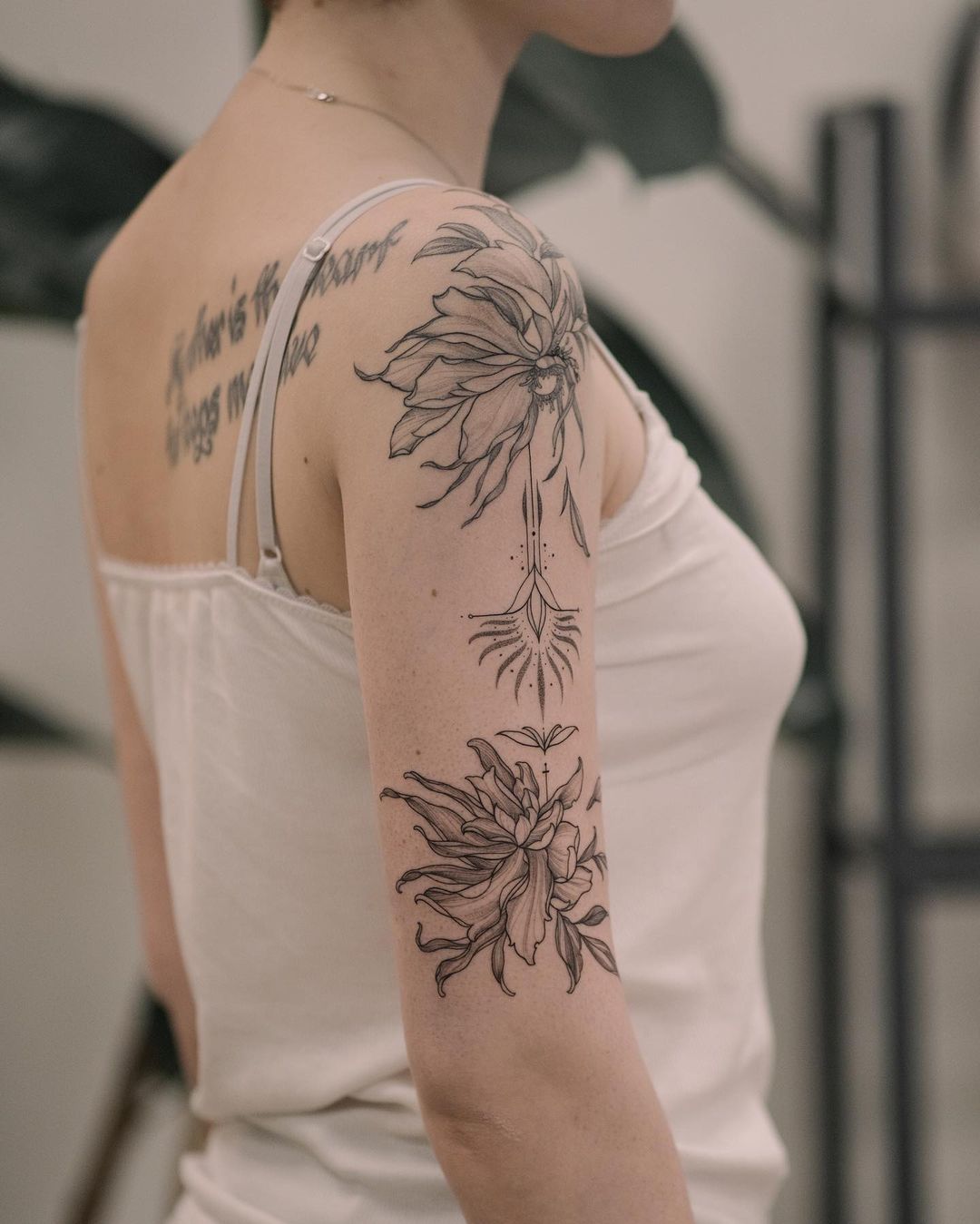 - How would you describe yourself as a person? Why would a client be comfortable getting a tattoo with you?
- I am an open mind person, and I can find common topics for conversation with almost everyone. So it turns out that my work attracts people who are really on the same wave with me. Many common interests that are excitedly discussed at the sessions. In addition to quality work, a person also receives pleasant communication.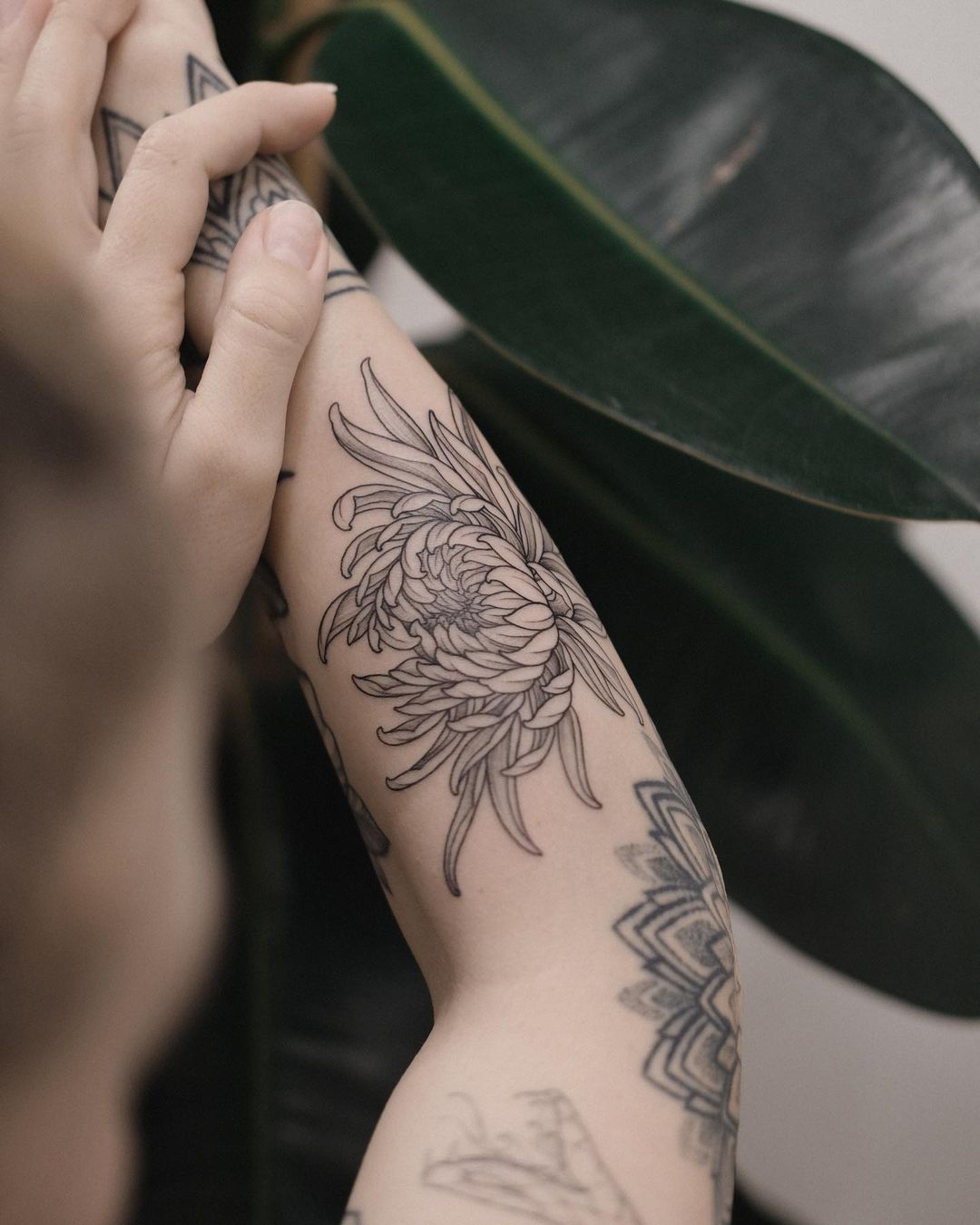 - Tell us about your commercial projects using your prints.
- It can hardly be called something commercial, my merch is pure performance. An idea arises - I do it. Usually this is a limited edition of 5-10pcs, the last drop was sold out in 40 minutes. I like doing it, but I don't want to stream it just yet, let it be exclusive. And yet, I myself do not like clothes with prints.
- What projects do you plan to implement in the near future?
- I have an idea to develop my merch, but not just make prints, but come up with something more complex, the actual design of clothes. And I want to try to work with leather. Well, further develop in tattooing and drawing.