Elegant botanical fineline tattoos by Zee from Seoul
18 / 02 / 2022
Andrey Novikov
Tattoo artist Zee
/ Source: @zeetattoo
If you are crazy about delicate and feminine tattoos, then first of all, you should think about fine line tattoos! This style has been driving millions of women (and not only women) around the world crazy for several years. But despite the visual simplicity, not every tattooer can work in this style. There are many subtle details involved in such tattoos, so only a true professional can perform such a tattoo.
We want to introduce you to one of the tattoo artists working in this amazing style. Zee, from Seoul, South Korea, decorates the bodies of girls and boys with delicate, fine line botanical designs. Inspired by flowers, this Korean artist gives hundreds of girls confidence in their femininity, tenderness and attractiveness.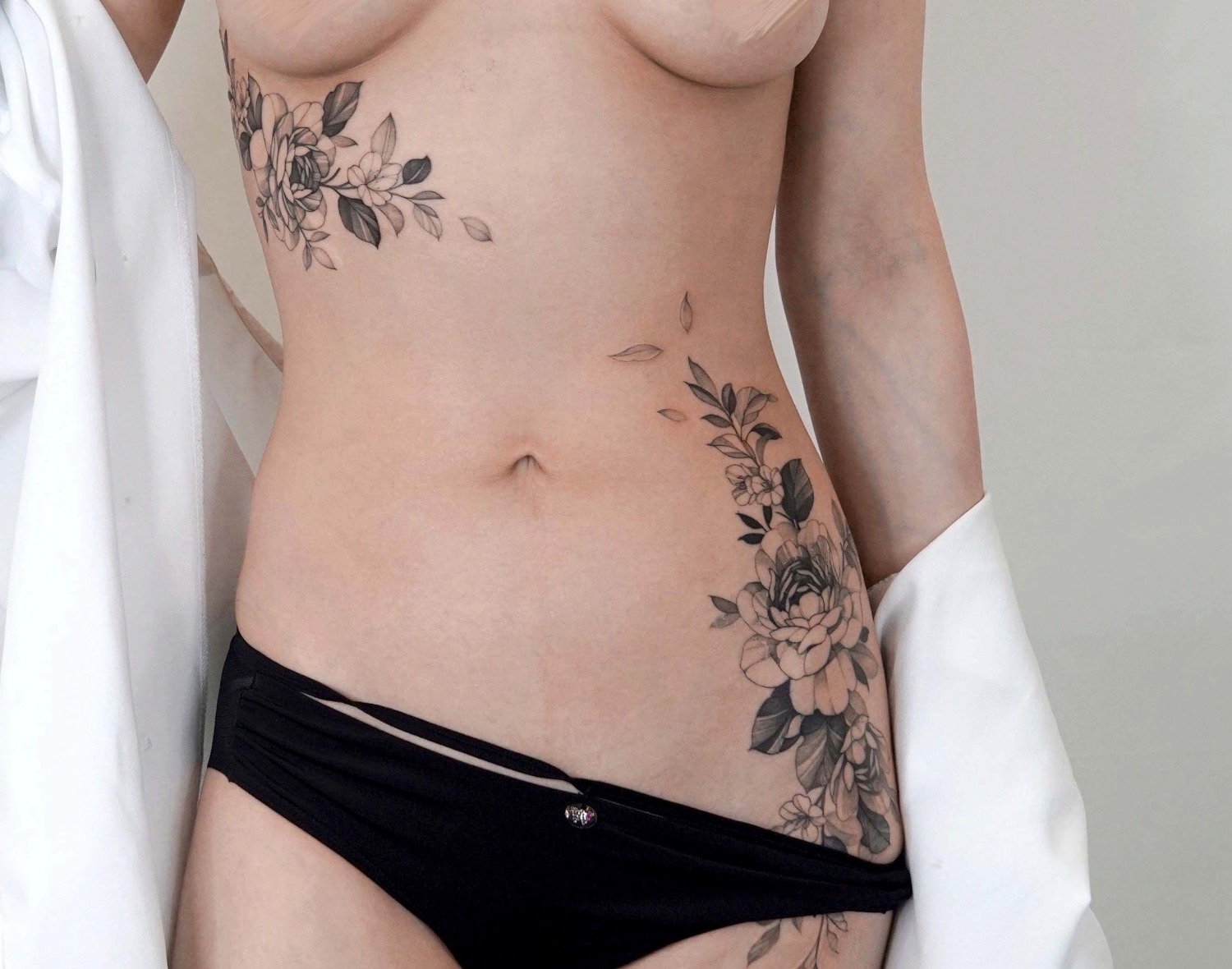 Zee's portfolio is currently followed by more than 160,000 subscribers from all over the world! We wondered how he came to the profession of a tattoo artist, and why he chose this particular style, which has become so popular among tattoo lovers!Delicate botanical fineline tattoos by Zee from Seoul.
---
- Zee, tell us a little about yourself. Where are you from? Where do you work now, how many years have you been working as a tattoo artist?
- Hi, I'm from Korea. I'm promoting in Korea right now. It's been 6 years since I made the first tattoo.
- What did you do before the tattoo? And how did you start tattooing?
- All it began then I wanted to get a tattoo on myself. At that time, my job was in the Navy and I had to live under the rules.
After meeting a tattooist who lives the opposite life of me, I became curious about how I could remain in human memory for a long time, and I started learning tattoos. I'm proud of my four years in the Navy. Now I'm living the exact opposite life, but I'm also proud of that tattoo that I can keep for the rest of my life.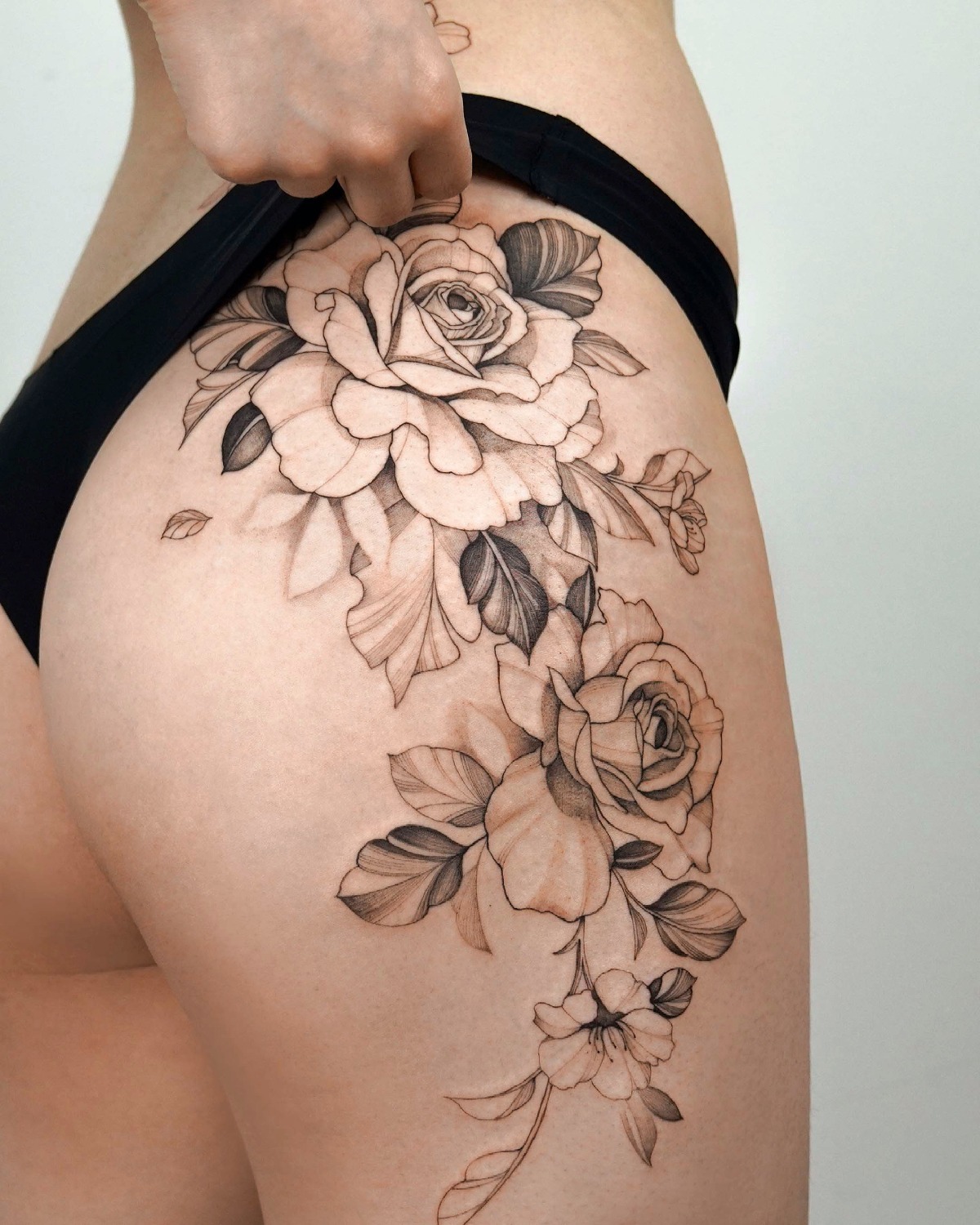 - Did you have any special education in the art field?
- I didn't have any special education in the field of art. But my colleagues who worked with me taught me a lot. And my teacher, who I met while tattooing, taught me a lot too.
- Tell us how your style was formed? What features would you highlight in your work?
- I make tattoos of various sizes, but I try to make them using the curves and flows of the human body.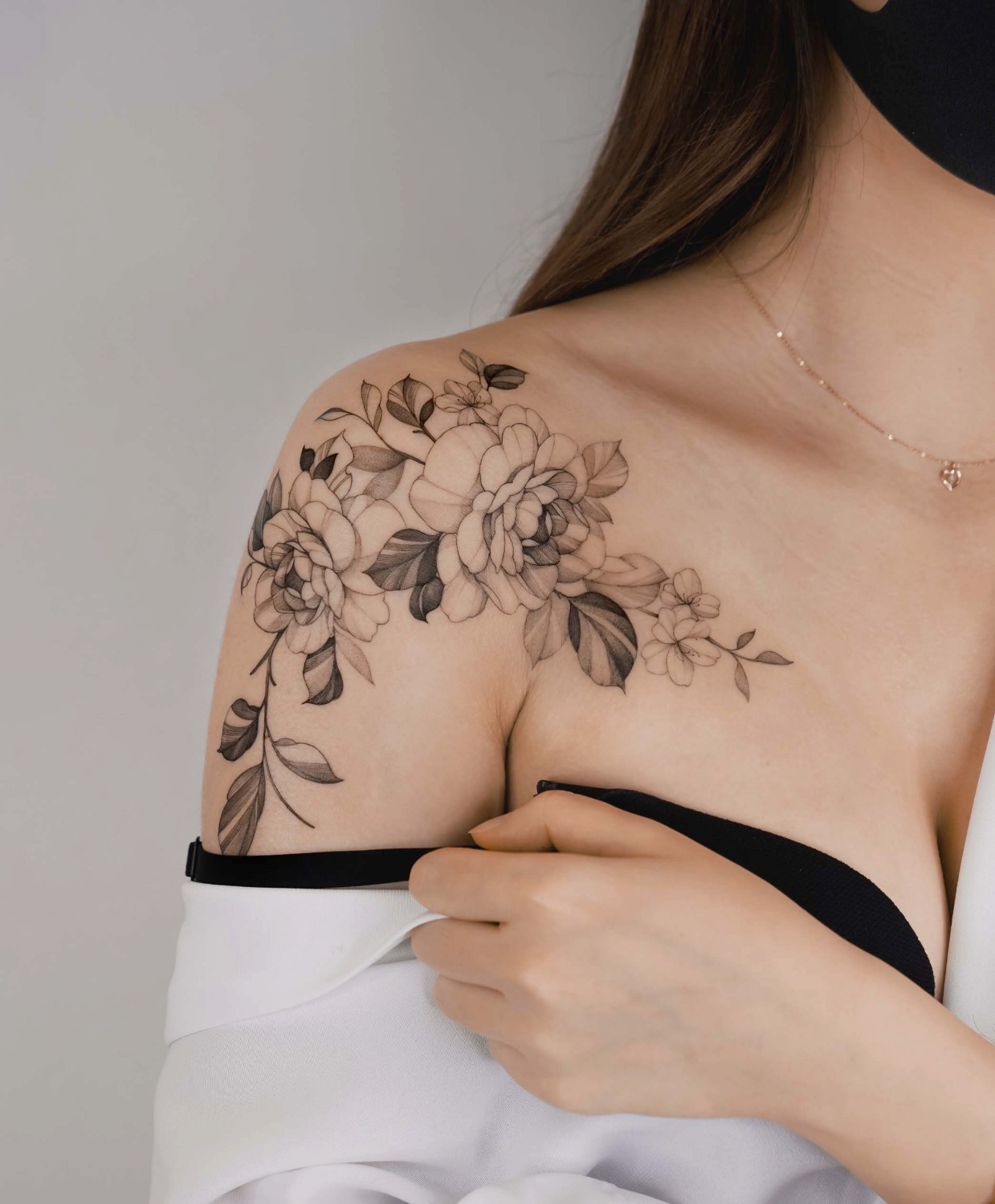 - Why did you decide to specialize in fine-line tattoo? What do you like about this style?
- It is more delicate than using a thick line. I wanted to make a detailed work, and I had to use fine lines to make it.
- Do you always work with black ink only? Have you had experience with color tattoos?
- I usually use black ink. If my guest wants a color ink tattoo, I do it. But I don't like to use many colors.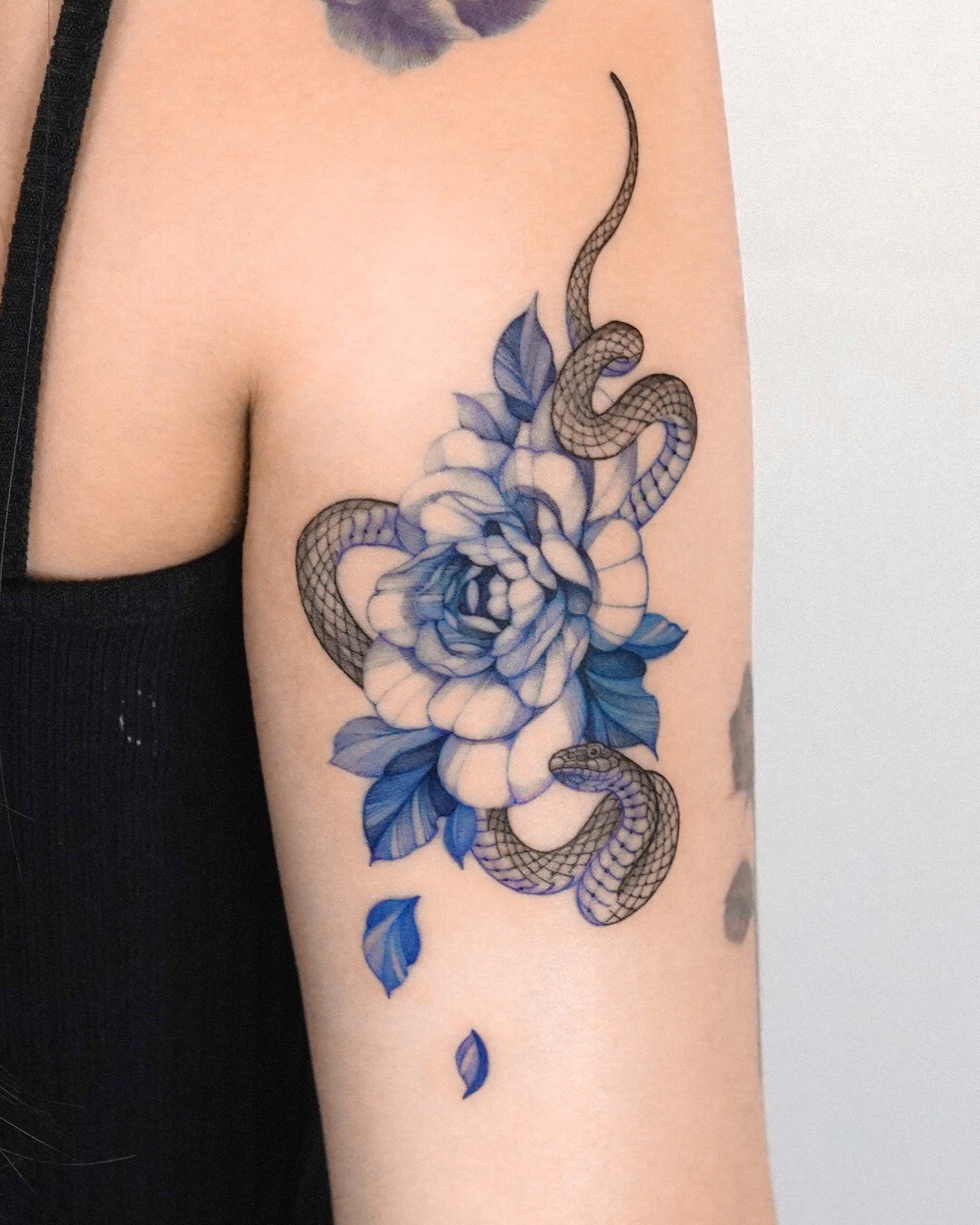 - Where do you get inspiration?
- I usually go to the flower market in Korea to see a lot of real flowers and buy them.
There are many pictures of flowers on the internet, but I like the uniqueness of real flowers.
- Who are your clients? Do they have something in common?
- My guests are diverse. A man or a woman. American, French, Singaporean, Russian, etc. But they all love flowers.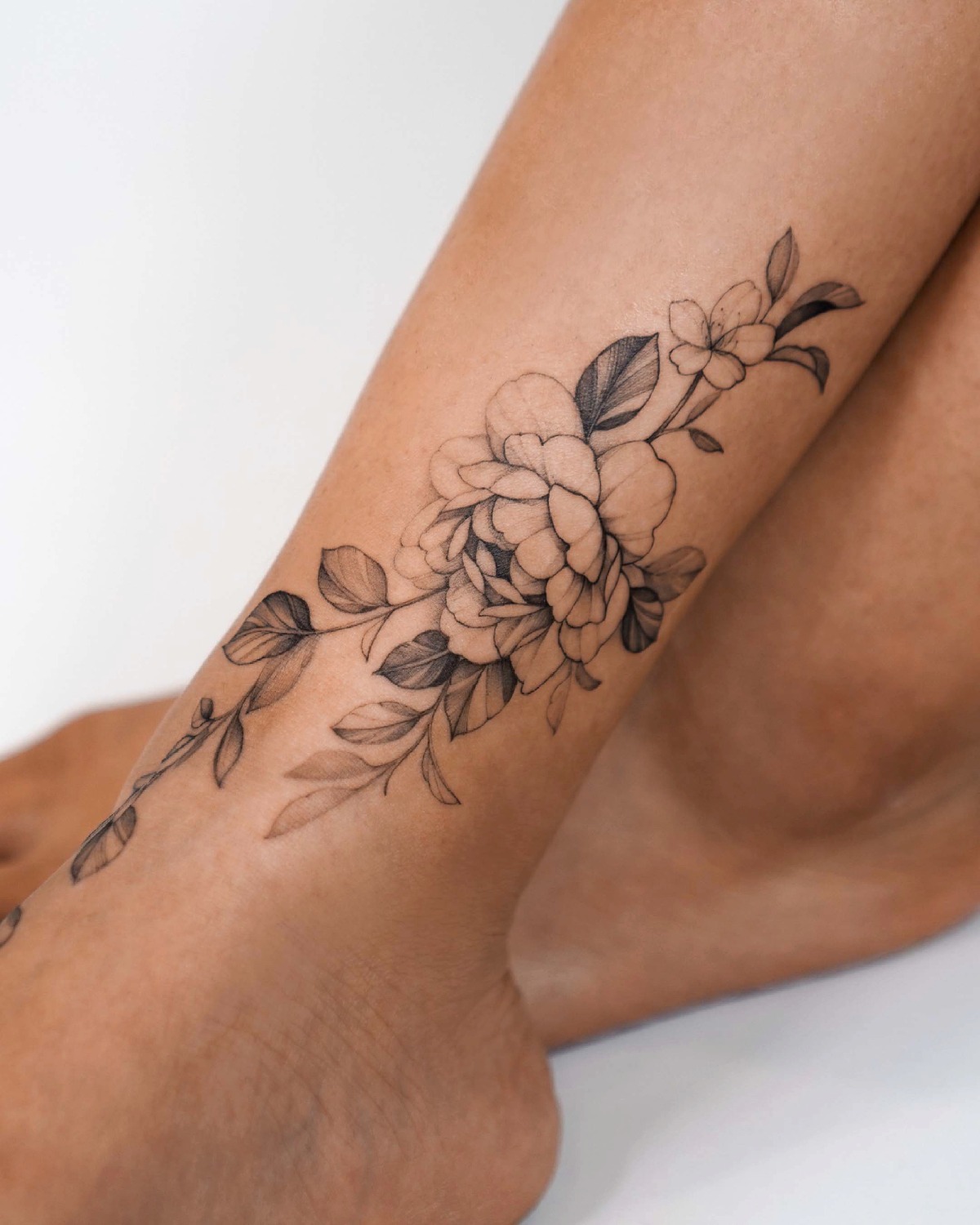 - Did you manage to travel the world before the Covid-19 pandemic? Where else have you been able to work?
- I couldn't go around many places before the COVID-19 pandemic. I thought I had to grow more and focused on it. When I thought I was ready, things had already happened.
- What about your life besides tattoos? What do you do in your free time?
- I usually listen to music that I like, and meet my friends. And my hobby is collecting perfume.
- What do you aspire to in the development of your style and career?
- I am planning an exhibition in March. And I plan to travel abroad.