From Self-Taught to Studio Owner: Discovering the World of Patrick Fumfar
05 / 07 / 2023
Andrew Novikov
Introducing Patrick Fumfar, known as @pats.ink - a tattoo artist and studio owner from the heart of Bremen, Germany. Patrick began his tattoo career six years ago, teaching himself the craft. Quickly immersing himself, he aimed to turn his hobby into a profession. Eventually, fate led him to a mentor who helped elevate his skills to new heights. Opening his own studio in 2021 was a bold step, but thanks to the loyalty of his clients, it turned out wonderfully. Currently, Patrick strives to find his unique style and travel the world, drawing inspiration and learning from fellow artists. Join our interview to discover more about his creative journey and future plans.
---
Can you tell me a little about yourself? Where are you from, and where do you work now?
- Sure! My name is Patrick Fumfar, but I go by @pats.ink. I'm a tattoo artist and the owner of a studio located in the heart of Bremen, Germany.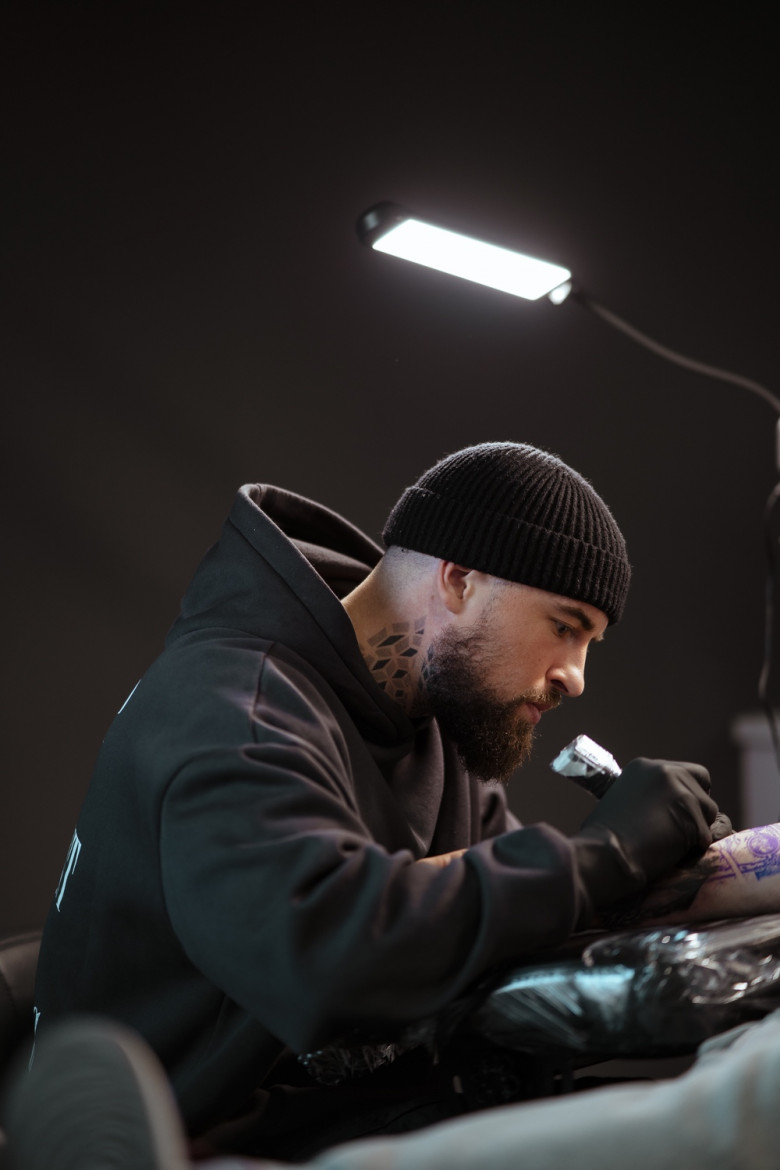 How and when did you decide to become a tattoo artist? Who were your teachers? What was it like in general?
- I started tattooing from home about six years ago and have been self-taught ever since. I picked it up pretty quickly, and the ability to see my own art come to life on my own skin motivated me to pursue it professionally. After three years, I met a man who helped me take my self-taught skills to a professional level. He ran a studio here in Bremen and happened to have an available chair. He invited me to work full-time, and that's when I began learning from other artists and earning money through my creations, which made it a lot more fun. However, since I entered the industry later than others, I had a lot of catching up to do. But this pushed me to learn quickly, and I improved with every tattoo. I opened my own studio in 2021 during the Covid pandemic. The timing wasn't perfect, but surprisingly, everything went well. I have all my customers to thank for this success.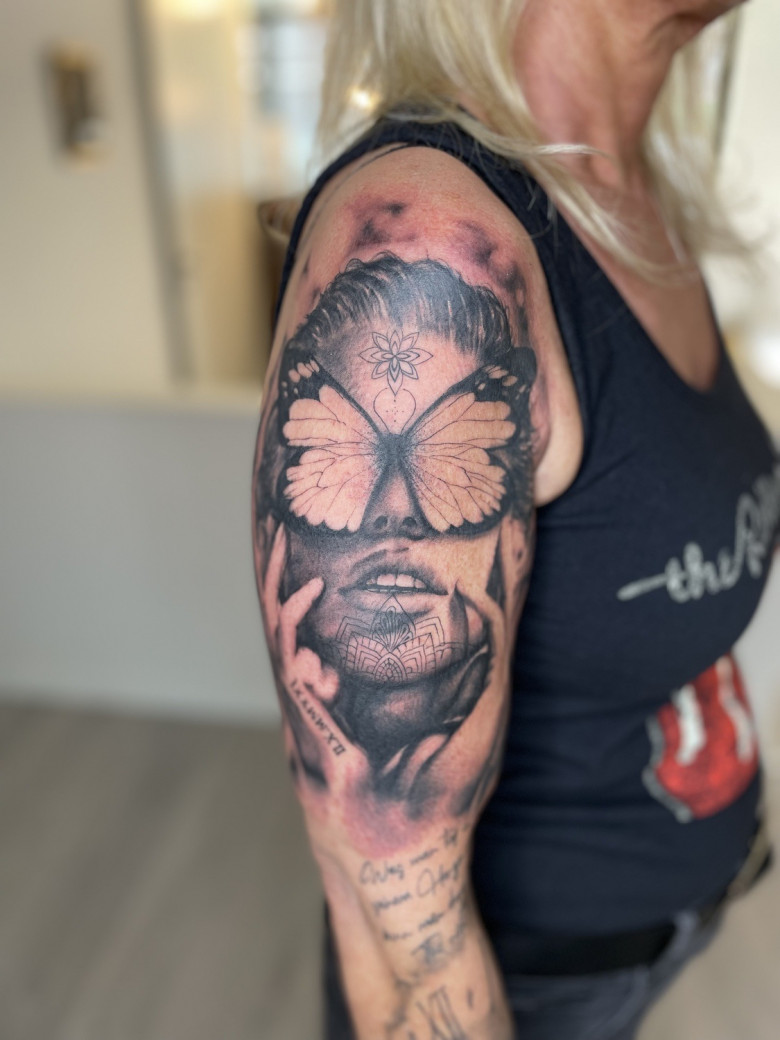 Do you have a professional art education?
- No, instead, I decided to learn from artists whom I really look up to. I took seminars by some of the best in the industry, such as Oscar Akermo, David Tautenhahn, Thomas Carli Jarlier, Mark Wosgerau, and others. Every seminar inspired me in a different way, and I highly recommend them.
Why did you choose black and gray realism as the foundation for your work?
- I'm actually still in the process of finding my unique style. There are so many amazing artists all over the world who inspire me to try something different and explore styles I've never attempted before. For now, I find black and gray realism the most attractive because I feel it's one of the hardest styles to master, and that challenge pushes me.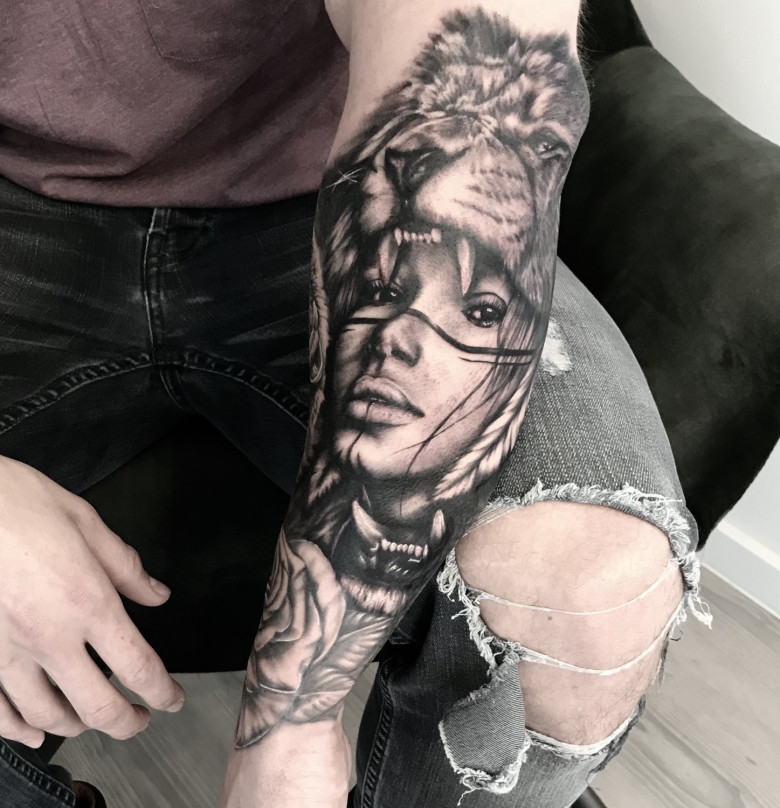 What unique features of your work can you identify on your own?
- I'm particularly drawn to the works of the old masters and ancient mythologies. I always try to incorporate them into my work and create designs with a mystical atmosphere.
Can you tell us about how you create your projects? How can a realism tattoo artist express themselves in this style?
- That's actually one of the hardest questions for me to answer. I'm definitely my biggest critic. I've always had the urge to create something that has never been done before, so I strive daily to improve my designs and make them more unique and reflective of myself. My main goal is to find my very own expression of art, one that fulfills me completely and ideally contributes to the history of art.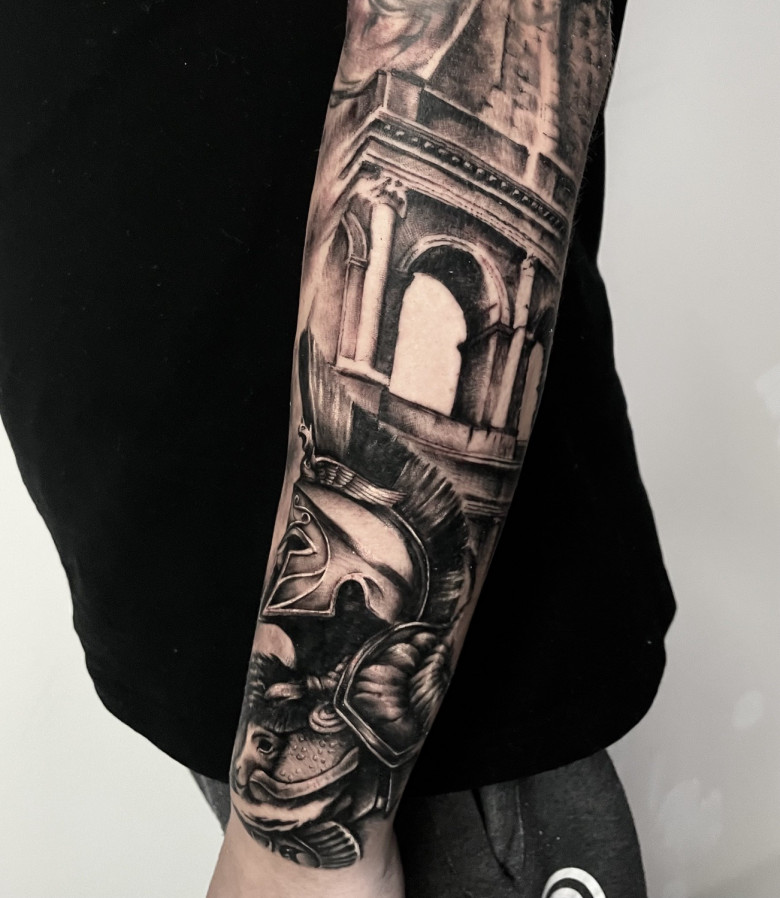 What tattoo themes do you enjoy working with the most?
- Mythologies and fables are my passion. As a kid, I was attracted to nerdy things like playing Magic cards and Greek mythologies like Hercules. I love incorporating these old memories into my work.
Where do you draw inspiration for your work?
- I extensively research stories from old mythologies such as the Nemean lion, Medusa and Perseus, and others. Lately, I've also been intrigued by AI, as it offers an entirely new way of creating references that have never existed before. This is a fascinating concept for realistic artists.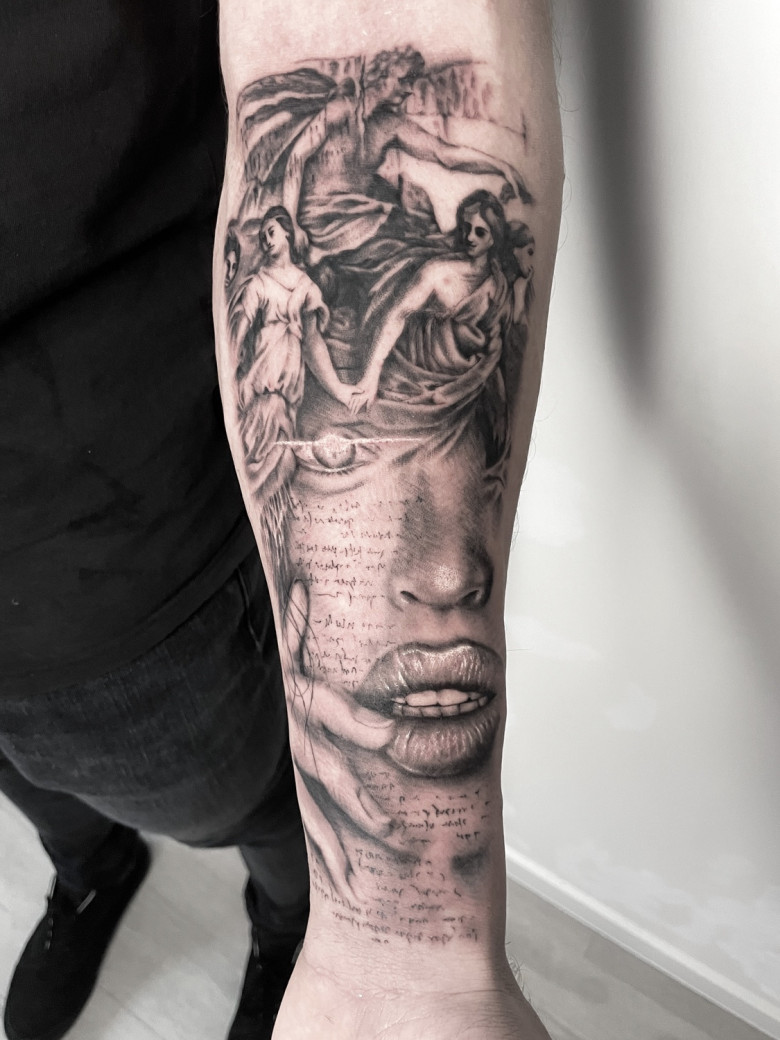 Is tattooing for you art, work, or something else?
- Tattooing is a way for me to express myself and define who I am as a person. It encompasses art, work, and therapy. I couldn't imagine living without it.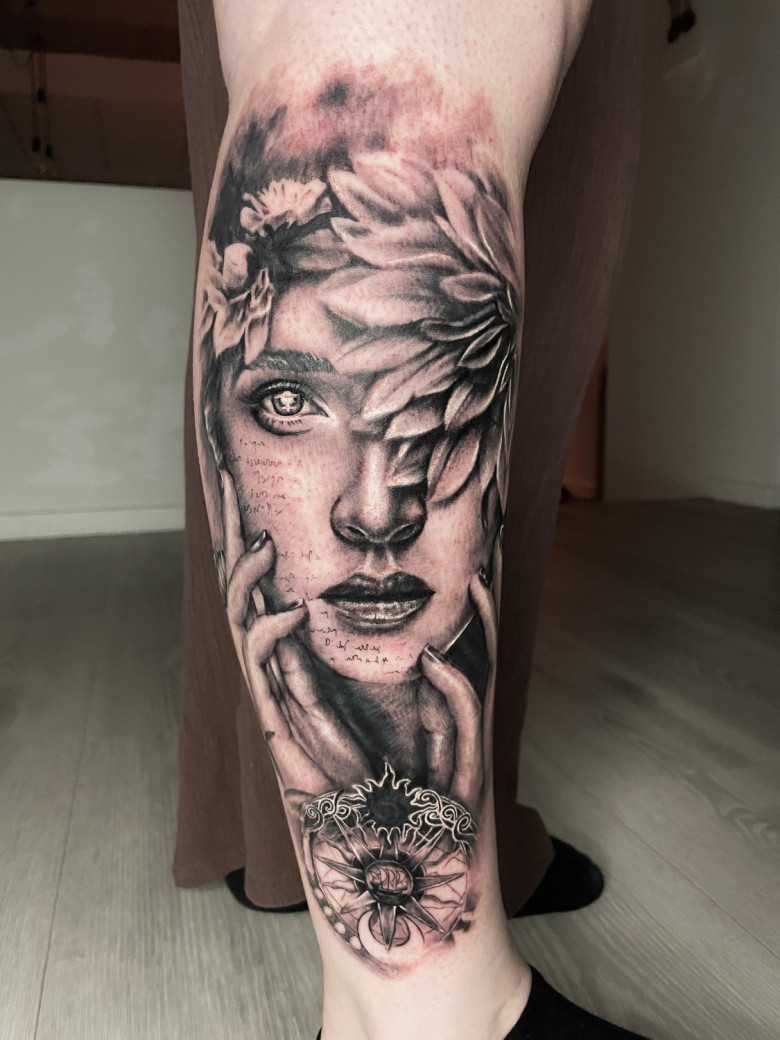 Do you have any projects that you are most proud of? Can you tell us about them?
- I'm proud of every piece I create, but there is one special project I did for my friend Andy. He gave me the opportunity to tattoo his whole body and allowed me complete freedom in designing everything. He didn't set any boundaries and trusted in my work. We have been working on it for a year and a half now, and we are nearly finished. The bond you develop with a piece like this, and the customer who wears it, is truly special.
Do you travel a lot? Where have you been to? And do you have a favorite place on the planet?
- I've always been fascinated by other cultures and exploring the world. When I was younger, I traveled extensively and visited 20-30 different countries. It's difficult for me to pick a favorite place because each one holds unforgettable memories for me. Whether it's the Brazilian Amazon - where I almost had a close call - Mexico, North Africa, Asia, North and South America, Europe, the list goes on. Every place is attractive to me for different reasons.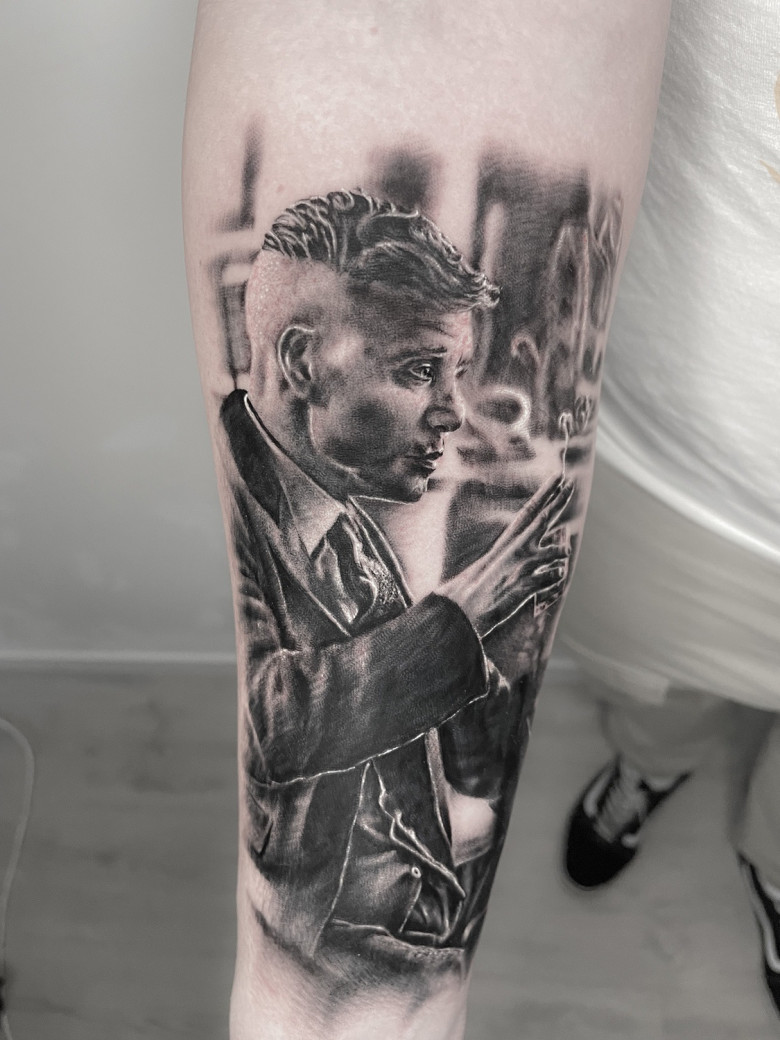 What about tattoo conventions? Can you share your experience?
- I've attended some tattoo conventions as a visitor to meet other artists and have a good time. Recently, I was invited to my first convention as an artist, and it was a cool and special experience. I definitely plan to participate in more conventions in the future.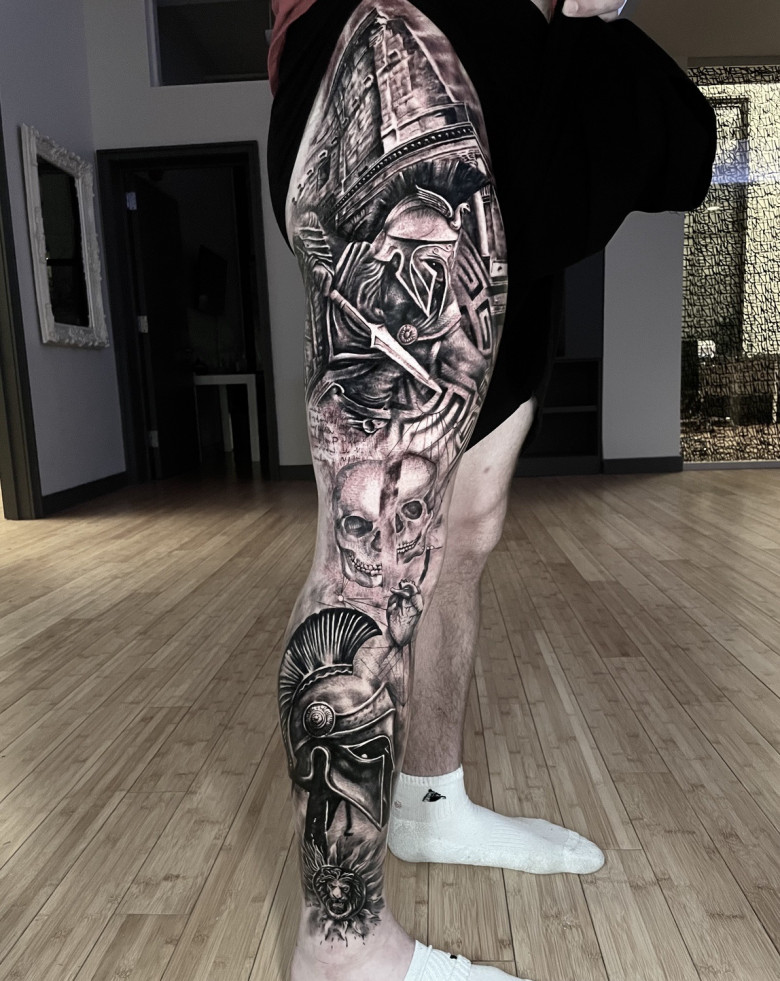 Who are the tattoo artists that you actively follow and consider as examples in your work, and who is in your personal top?
- For me, it's really important to have idols in the industry for both style inspiration and as artists to look up to. People like Mark Wosgerau, Inal Bersekov, Valentina Riabova, Oscar Akermo, and Thomas Carli Jarlier have had an impact on how I think about art and the tattoo industry. Outside of our industry, people like Daniel Arsham, Virgil Abloh, and Jeff Koons have also significantly influenced me.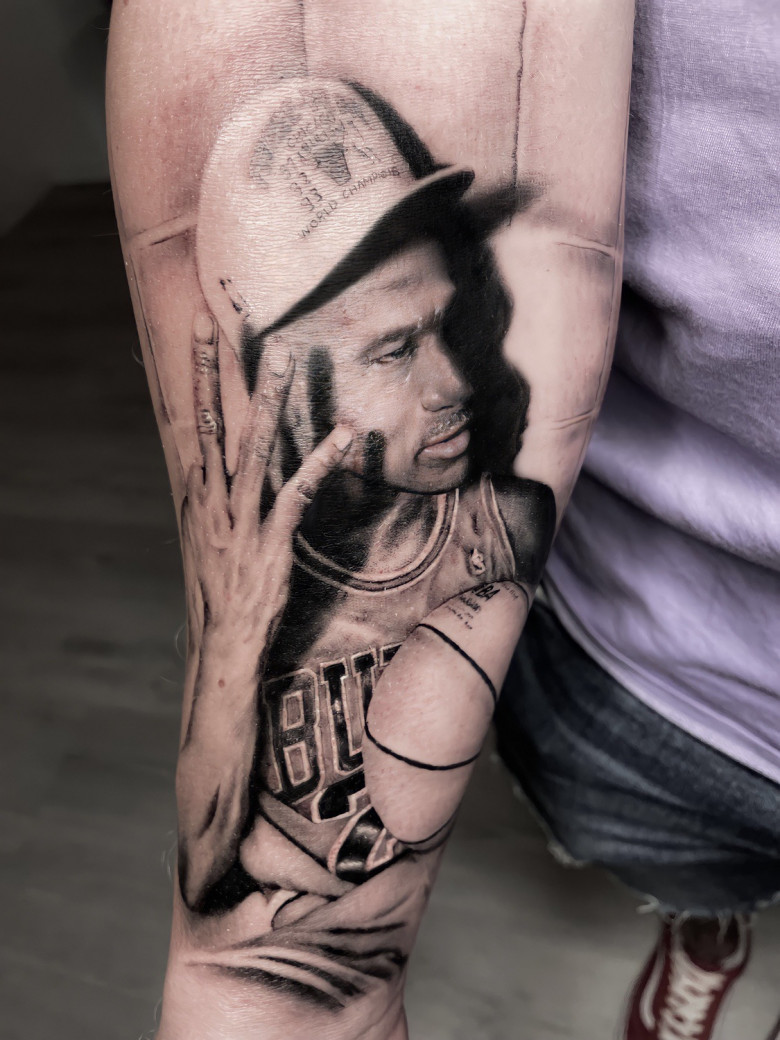 Can you share your plans for the near future?
- In the near future, I plan to travel even more. My hope is to connect with artists from all over the world, learn from them, and eventually find my unique artistic path.