At the Nonconvention 1RS, we were able to talk with one of the most productive Russian tattooists - Andrey Kolbasin. In addition to the fact that Andrey has achieved considerable heights in tattooing, he discovered his teaching talent and founded his own tattoo school. It was very interesting for us to find out about Andrey's life and, of course, find out the reasons and details of his school. This interview was the largest in the history of iNKPPL, so we divided it into two parts. In the first part, we tried to reveal the identity of Andrey, and the second part is devoted to his school, plans for the future and forecasts regarding what awaits the global tattoo industry.
Well then, let's get started!
---
- In the tattoo industry everyone knows you, but among our readers there are people who are not directly related to it, so tell us a little about yourself.
- Hello! Since someone does not know me, my name is Andrey Kolbasin. I have been tattooing for a long time and despite my young age, I'm 28, I started at 12.
I was coming home, my friends charging me: let's make tattoo and we were making something until night. After that, I was getting up in the morning and going to school, and so it went on. I am a tattoo artist till now.
Someone counts their professional experience from the induction, someone from the rotor, but I started counting as I started tattooing. Now my experience is already about 14-15 years. All this time I was immersed in the study of tattoos. I wanted to become a professional in my field, I had big ambitions that I needed to realise somewhere and I decided to do it in a tattoo.
I actually never had any other hobbies, the only thing I did was sniffing glue (laughs). We, like street children, ran through the basements, sniffing gasoline or glue, and the tattoo was an accompanying entertainment, and this entertainment was me.
- And how did it happen that at the age of 12 you started to tattoo?
- In fact, everything happened quite unusual. You know, this is such a story about a tattoo artist who did not choose his profession. I always painted, the first smear, the turd on the wall - that was my creativity. Since then I have been drawing enthusiastically and no matter on which surface and material. And tattoo for me is the same fine art, certainly with its own rules and canons, but all the same for me it is drawing, creating a certain image.
I lived in a distant village located in a forest. This was a working village. When the Soviet Union collapsed, people still remained there, and my parents still extracted peat there and turned them into briquettes. Everything was built around the Peat Briquette Plant for 300 people, which was located in a forest on a peat deposit. This is in the Pskov region, on the border with the Baltic states. My childhood passed there.
How did it actually turn out that I started to tattoo? The ex-convicts came to me, those guys came who needed tattoos and asked me. I said that I won't and don't know how, but since I was the only person who draws within a radius of 200 km, this burden nevertheless fell on me, a 12-year-old child. A week before my 12th birthday, after being hit in the nose, I became a tattoo artist (laughs).
This does not mean that I was not interested, or that they kept me under the hood - no. But at that moment I had to push a little. And since I was a child, I was interested in all of this. I went home in the evening and tattooed adults.
Partly because of this, I have a more mature character, since I was brought up not only by dad and mom, two adults, but by a whole society of adults. I practically did not communicate with my peers. I was coming to school, making some troubles, fighting with my peers, runing away and returning home to get tattoos.
But no, I lied, I studied at a music school before the 9th grade.
- Which instrument do you play?
- On guitar. But I always did not like this occupation, despite the fact that I have a red diploma. In my understanding, a guitar is hard rock when you stand on stage, shake your head, and at that time I played classical music. I like the classics in itself, but replaying Bach and Beethoven on the guitar is somehow not very fun (laughs).
Therefore, I realized myself in a tattoo. There simply wasn't a steeper guy in the village than me. Despite the fact that of course no one paid me, I was absolutely safe. Only mom and dad could scold me and this was the limit of the danger of my life. In any company, I was an honored guest, because I was a tattooist, and everyone respects and treats him. So my the noughties passed in this way, it was an amazing time. Later my brother and I were moving from city to city, and now I am here in St. Petersburg.
- How long have you been living here?
- 7 years. I used to come here to work, changed cities, traveled the whole Pskov region, but always returned to St. Petersburg. Nice city. And when my friend suggested that I move here, I immediately agreed. Moreover, I already had an invitation from Nikolai Vinogradov. He invited me to work in the studio "It will hurt." This studio is quite known for all the old tattooist of Russia. But in fact, I could not reach the studio and got a job along the way to another studio.
- And what does the word "tattoo" mean to you?
- Oh, without exaggeration, tattoo is my life. At the moment, this is my way of thinking. Fate decided for me that I would become a tattoo artist. For me, this is not a profession, my choice or something like that, this is fate. It so happened that I did not choose tattoo, but it did not let me go. Once you tattooed someone, and that's all, it will remain with you until the very end. You may not be bound by a profession, but you will never forget this moment, the moment when you became a tattooist.
- Great! Do you remember your very first tattoo experience?
- Sure! It is unforgettable. This was just that moment, that start, when the guys came to me, knocked on the door, invited me to their house. I'm sitting, I'm afraid, I'm shaking, around me men, women, someone drinking, smoking.
No one there collected any equipment. There was a tattoo machine that was a relic. So, the machine gets out of the package, but I don't understand what kind of piece of shit it is, wrapped in electrical tape. I can't imagine where they took it, on which garbage dump they found it.
At that time I had a bicycle in this form, assembled with a hammer and electrical tape. Nevertheless, they gave it to me and said: "Make a tattoo".
No training, go straight to battle. The guy had some kind of tribal, but rather, like some bushes, and he needed to be updated. I asked what to do, they repeated to me again: "Make a tattoo", and I started tattooing.
Made a contour. For me, as a person who draws, there was no problem drawing a straight line or circle by hand, so I did not even find any difficulty in tattooing technically.
It was just a contour, and inside it had to be painted over. I didn't understand what I was doing, there was a lot of blood, because everyone was drunk and that very night I made a lot of tattoos. Along the way, they poured alcohol to me, I smoked cigarettes, simultaneously listened to talks and looked at interesting beautiful women. For me, it was a certain door to Narnia (laughs), I entered it and ended up in a completely different country.
When I tattooed, I did not understand how to do this. Neither about the thickness of the skin, nor about its resistance, I did not hear then. It was just a string that entered the skin like a red-hot knife in butter and left behind not just a trace, but a real cut with blood clots.
In the process, I was pushed into the back of my head, saying that what you can't do there, the ink woudn't remain, go deeper. Therefore, I had to spend many times in the same place. It was a good school indeed.
These men, although they were not from good families, but they taught me a lot. It was not difficult for them to explain to me how to assemble a socket or sharpen a knife so that it cuts a newspaper on the fly.
- Were there any difficulties in mastering this process, or did it seem easy to you?
- No, of course it wasn't easy. I understood what I could not to do, but at that time I was very limited in information. I did not even know that there was such a profession - a tattoo artist.
6 years I made the contour and painted it over and I did it good. Then I realized that I need to become a professional. Probably about 16 years old, on TV they began to roll videos about the St. Petersburg tattoo festival.
And my mother says to me: "Look, there are yours these - ex-convicts come forward, run, watch the replay". I watched. It was literally a 30 second video in which the tattooists showed their work and for me it was an inspiration.
I could not imagine that what I could draw on paper can be done in a tattoo. The first person I saw was Misha Tatu, he was tattooing some beautiful tiger by some red machine. I was able to make the tigers, but the red machine, alas, was not.
I immediately ran, bought a red electrical tape and wrapped all my machines. I tried to repeat what I saw, and as a result, I realized that it was time for me to get out of my village. I traveled around the cities, went into the tattoo studios. I was pleasantly surprised by the existence of the tattoo industry in principle. They refused me a lot, someone helped, but on the whole the path to mastering the technical side of the process was very, very difficult.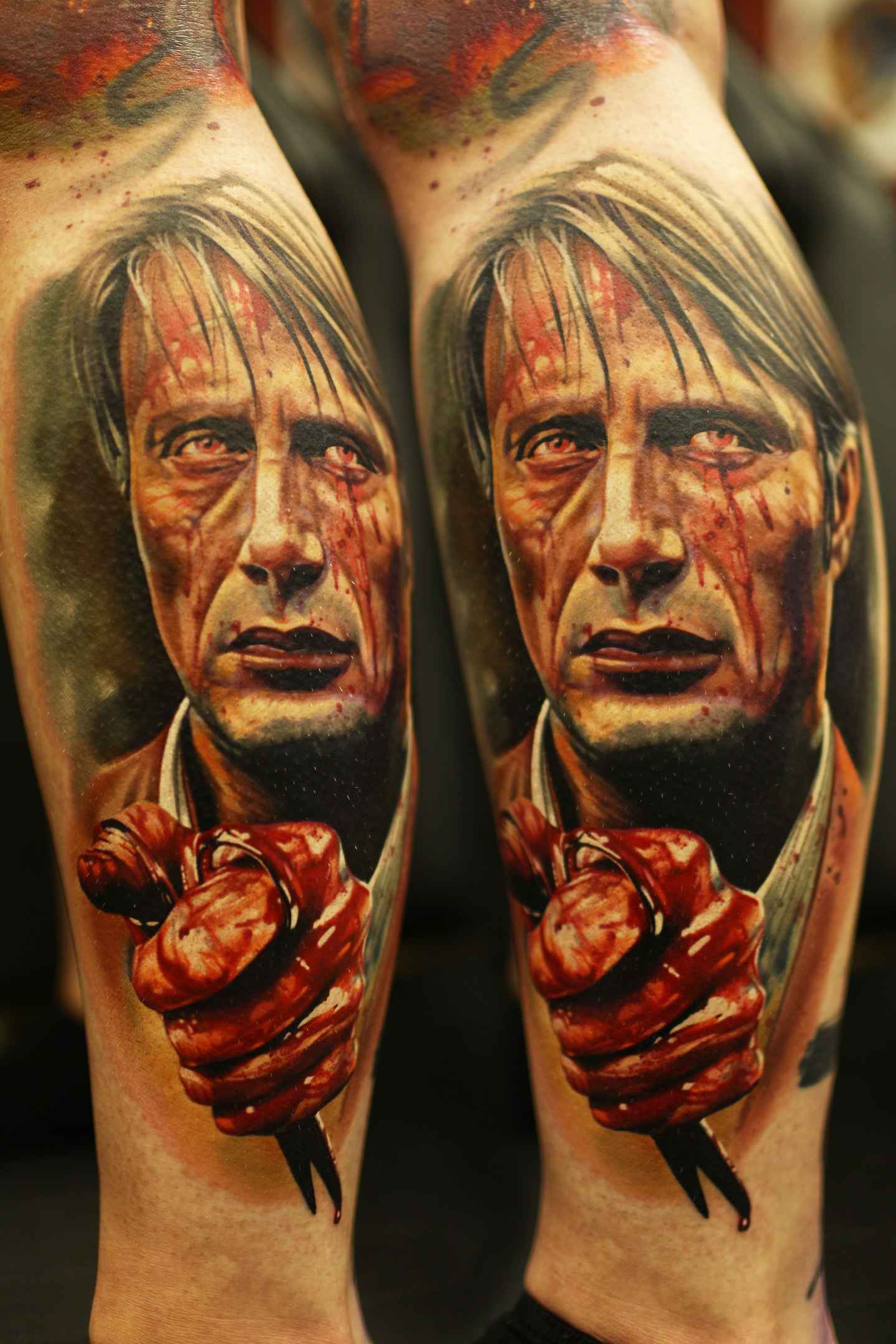 My first less professional set cost me like a car. Friends told me, you need to buy a car, but I already knew that there was a liner and a shader, and I was clearly sure that this should be bought and tested, even if it costs like a car.
In that time I worked illegally on Russian Railways, a minor conductor on the Moscow - Saint Petersburg route. I made money, bought a set of equipment, and here the problems started.
Machines did not work as they should and I started to figure out why. I twisted something, set it up and as a result, everything became normal. These were professional Zak's tattoo machines, they cost like a car, but then I decided that I shouldn't have a car now, but these machines will bring me a lot of money in the future and I will buy 10 cars.
I still adhere to this principle. These machines I still keep with the string, like a relic.
- Tell me about how your professional career started up.
- The formation of my professional career began with the advent of professional equipment. Although, in my opinion, I could not do something supernatural at that time.
And at that time there were few tattooists. Information about the Kiev tattoo convention appeared in the public domain and from there I found out who is Taras Shevchenko, Dmitry Samokhin, Evgeniy Ivanov.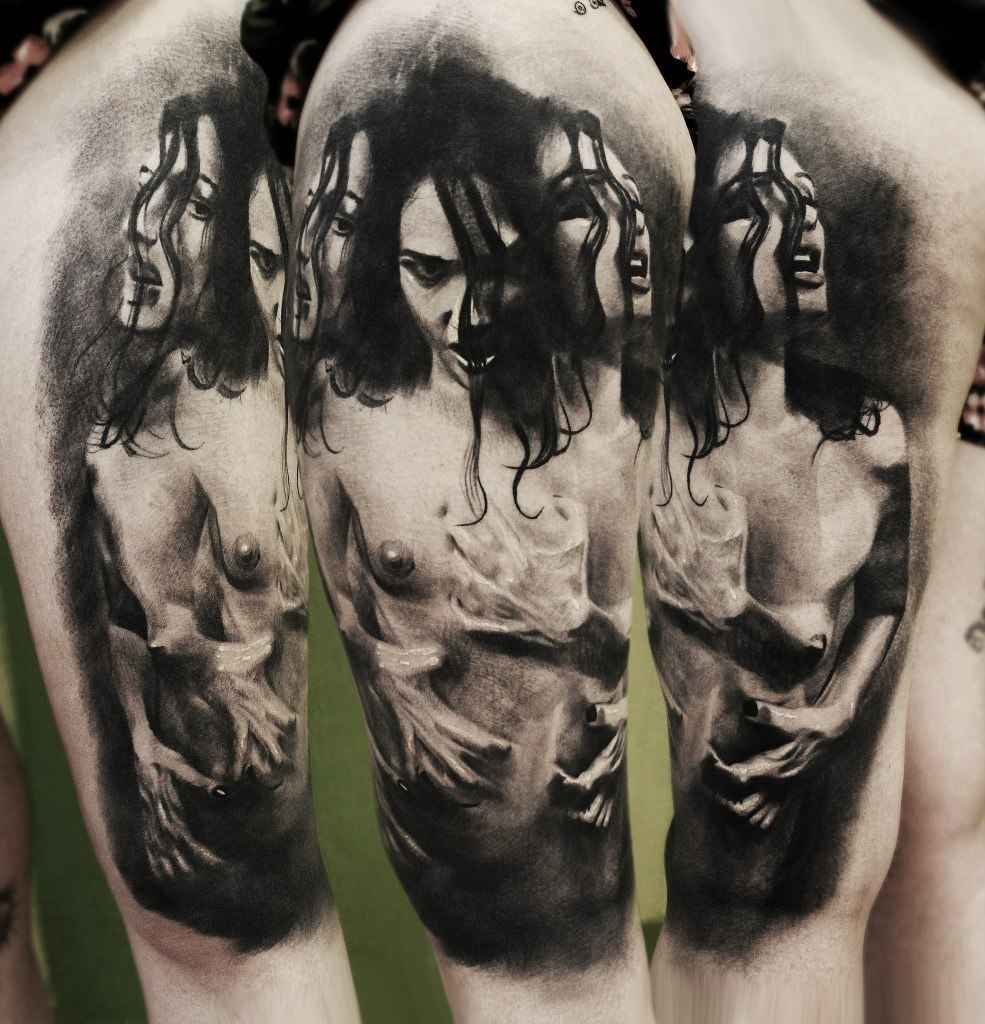 A numerous of cool Siberian tattooists came to my attention like Saigon, Chikay. From the Moscow tattooists, I knew only Turyansky, Oreh, Anton Aleksenko and Pasha Angel.
These were my role models, and I was in the general mass of those who had several machines and made some tattoos. But day by day, my technique began to get better and better. This did not happen because time passed and hours of practice were accumulating. No, I was looking for any information.
If any book about tattoos appeared, I bought it, if in it there was nothing useful for me, I did not give up hope that in the next one it would be. A forum appeared on which I was looking for information, did not communicate with anyone and did not ask questions, because at that time the tattooists in Russia were as aggressive as possible. Now everyone is competent and polite, ready to share their experience with each other for free. And at that time you had to pay even for advice.
Mom forced me to understand the medical aspects. I came to her work at the hospital, and talking with doctors. I received information about the skin device, sterilization. She even brought me sterile sheets from the hospital, which I used as napkins.
- How did you come to realism and what inspires you?
- My concept of realism is drawing, painting and nature. What you see is what you do. Each bottle, thrown sloppy, or a chair that is not in the place where you can usually become the subject of your creativity.
If for example you don't have money for a poster, you can take it, redraw it and hang it on the wall, if you don't have money for a cassette, you can rewrite it and draw the cover yourself. That was my childhood. It was an instrument for enriching myself. There was no need to act up and beg my parents for money for what I could do myself.
So it was in everything, including the tattoo. When I gained a certain technical level, allowing me to realize what I like - I became a realism artist.
This did not mean that I was doing only realism. The time was difficult and the very concept of a tattoo artist implied that you must do everything in a quality manner. The top of the "food chain" was a man who could make a quality portrait. That is, he does everything and a portrait. If you do not know how to make a portrait, then you are already a little lower. These were the rules of the Noughties.
The moment of the formation of realism was universal. There were old progenitors who had already achieved some success and served as examples for all of us. And we all looked at them and tried to reach their level and do better.
I improved my technical tattoo skills in parallel with the artistic part. It was impossible to drag me from museums. Now that the tattoo has gone out of the underground and turned into a large creative community, I am very glad that I can go to the museum with the boys.
I can drunk, play the guitar and at the same time during a tattoo session discuss some picture with the guys. I am pleased! Nobody supported me in this before, they even wondered how you can exchange a fun party for a museum - are you a fool?
So slowly everything came to realism. Do what you see and saturate it with as much information as possible. Here I would like to note that maximally does not mean to draw out every pimple in the portrait, but to express my vision, the volume of an object, its structure.
If there is any interesting texture on the object, it certainly needs to be highlighted. But now, in fact, modern realists have one problem - they are licking everything that the camera captured. Previously, there were no digital cameras, and the film does not capture so many details. The figure - on the contrary, there are a lot of details, it looks spectacular, but from an artistic point of view - this is not fine art.
Photography is photography, and creativity is creativity.
I also tried to keep up to date, detailed the images as much as possible and did it fast enough, but in the end I did not like everything. Therefore, I decided that my realism would be only mine. I am well versed in this and will do it as I like. And about 4 years ago, I finally found myself and exhaled. I unsubscribed from all the tattoo artists on social media and finally became myself.
- That is, you have no idols among tattoo artists?
- I really like one tattoo artist. I consider him the only real realist - this is Dmitry Samokhin. He is the founder of some right movements. I also really liked the work of Chikay, Oleg Turyansky, to some extent I admired the works of Taras Shevchenko, but they didn't make some kind of imprint on my formation.
For all realists of the world, Dmitry Samokhin is the only dad. Which by his existence gives an example of classical realism.
All other idols are artists. Renaissance, some canonical images. The strongest, despite the fact that I do not really like impressionism, in my opinion are Caravaggio and Rembrandt. After them, probably Rubens.
- Do you have a classical art education?
- No, I have not graduated, and I can even say that I did not even study. There was an attempt in childhood to go to an art school, but it was rubbish. Later, when I was a tattoo artist and worked at my hairdressing salon (laughs), and I had a certain break in my studies, I decided to go to medical college.
But later I realized that I can't take full of this study out, although I brought really many knowledges out of there. I absorbed everything like a sponge, but apparently not the biggest sponge for such an amount of information (laughs).
Then there was a college of art, but this attempt was in vain. I was already much older than my fellow students, and they themselves were very weak, and the teacher was picked up for them, too weak. I realized that they would not teach me anything there. I dropped it out and went to St. Petersburg. Then everything spun in full.
- Listening to you now, I can notice that you are going your own way almost on a hunch, it is very interesting.
- Yes, I'm generally an anarchist by nature. There is a funny fact from my life. I almost never was on duty (in this sentence "duty" means in Russian schools pupils clean up classrooms after study), neither in school nor in colleges.
Because I had a minimum of visits prescribed by the state, and if someone tried to attract me to something in my legal free time - let them pay me money for this (laughs).
I explained to my mom that if I didn't go on duty in the classroom, I would go to the sawmill and earn money for a new schoolbag, and if I was on duty, the school would save money on hiring cleaners and they will be able to buy the schoolbag.
And this schoolbag was supposed to be mine. So my mother supported me and my brother in this, always letting us go to work, because we had to get out of that ass where we were born. Therefore, I wanted to become a tattoo artist - I became one.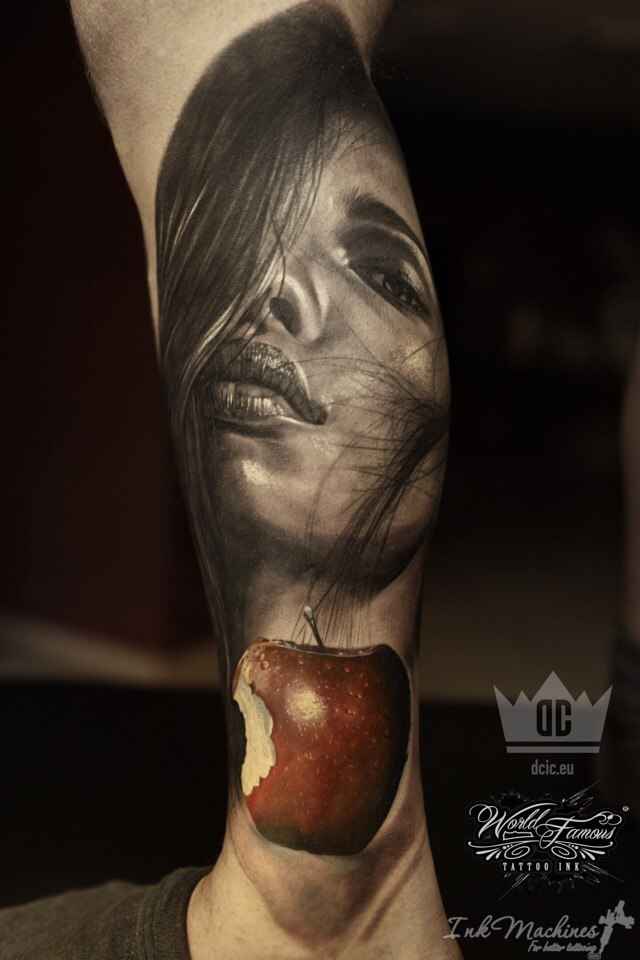 - When did you realize that you became a popular tattoo artist? And how do you think it can be measure?
- I was popular. Now, I would even say that I am so unpopular than at the time I started that it does not even compare. The whole city knew me. And now you are walking through a big city with your thousands of followers, and nobody knows you. Nobody takes pictures with you and doesn't say hello.
Today's trend is that you should have a certain number of subscribers and these subscribers should visit you one way or another. You should arrange meetings for them, and then they will say others people that they were at Kolbasin's studio today. From the point of view of such a commercial move, I'm not quite certainly popular.
There are guys who organize truly global seminars, for example, Valentina Ryabova. The only one that gathers a huge number of people around herself and hardly anyone will collect more.
Moni Marino, which was also quite popular at the time and gathered large classes, but she could not surpass Valentina. According to my personal feelings, now I'm not as popular as I was 6 years ago. Then I just arrived in St. Petersburg and I had two publics Pskov's and Petersburg's.
In Pskov I was the king and left beautifully from there. There I made myself a person and the only thing I did not have time to do was get a medal from the city (laughs). At 21, I received a job from the state as a young talent. They said to me: sit down and make tattoos. But I didn't take it, because it's not the true way (laughs). Then I could already make my own cool studio.
So I came to St. Petersburg, where people were waiting for me. Then there was neither Dzhangirov, nor Okharin, nor Ryabova, and it impressed me that I was the youngest and everyone knew about me right away. Nevertheless, we somehow began to grow equally with Dzhangirov, keeping up from each other.
People talked about him, but they will always talk about him. He is a human legend for life. His language is of course the property of mankind. He is a very cool guy and this is his huge advantage. No matter how bad he did tattoos then, he was always well-spoken about. If he took a small step forward, everyone said that it was a long staircase to the future.
And so I came with my ambitions to bend Petersburg, but at first he bent me. I dealt with this and gradually began to bend it. Now everything is fine.