Last weekend, in Moscow (Russia), on the territory of Sokolniki Exhibition Center, the Barber Connection Russia / Russian Tattoo Expo event was held, bringing together representatives of two modern trends: barber and tattoo art. One of the main guests of the festival was Nikko Hurtado - one of the most famous tattooists of the planet, working with numerous stars of musical stage, cinema and show business.
For more than 16 years of tattooing, Nikko visited Russia in first time, and we in turn could not miss the opportunity to ask him a few questions personally.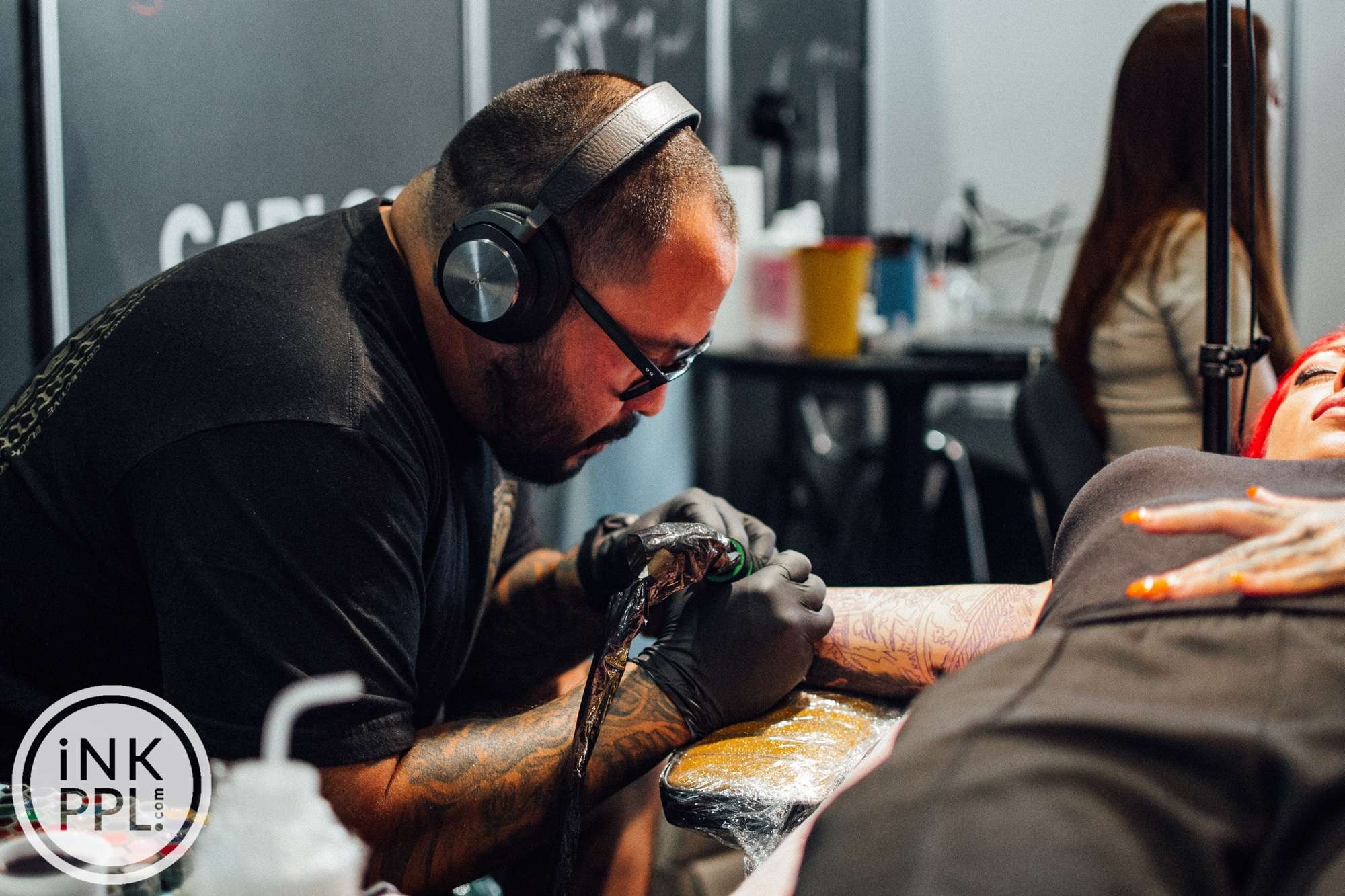 Hi Nikko! First of all, I want to say that this is awesome to see you in Russia and to talk with you today!
- Thank you very much! I excited to be here, in Russia. Russia is being awesome!
Is this your first time in Russia?
- Yeah, it's my first time in Russia.
How do you feel here?
- I really feel cool man. Russian people amazing. They meet me very well. I had a great time and really grateful.
People here, look at you at the living legend of tattooing!
- Oh man, it's crazy. Really. It's crazy to think about me like that.
So, can you tell me how it all started to you? How and when you decided to be a tattoo artist?
- I started tattooing about 16 years ago. You know, I didn't really set out to tattoo, one of my friends opened a tattoo shop and I went in there to get an apprenticeship and then I worked there for 3 years. I pretty much just worked, man, that's how it started. I just went into say hello to my friend and he offered to give me an apprenticeship, so yeah just went from there.
I know that your first portrait tattoo was a portrait of Batman.
- oh yeah yeah, the first portrait tattoo I did was Batman yes.
And as far as I know, it was the tattoo that gave birth to your dizzying career.
- Yeah, I mean it wasn't big deal. I just, I was supposed to do black and grey portrait of Humphrey Bogart - an old actor. And my buddy came in the day and was like: «I really want this Batman», and then I was like: «Yeah, fuck it, let's do it». And it was going to be in color. And I've done some color, like pin-ups, and things like that, but I never did anything like that. You know, I won my first award with it and it really set the bar for my career.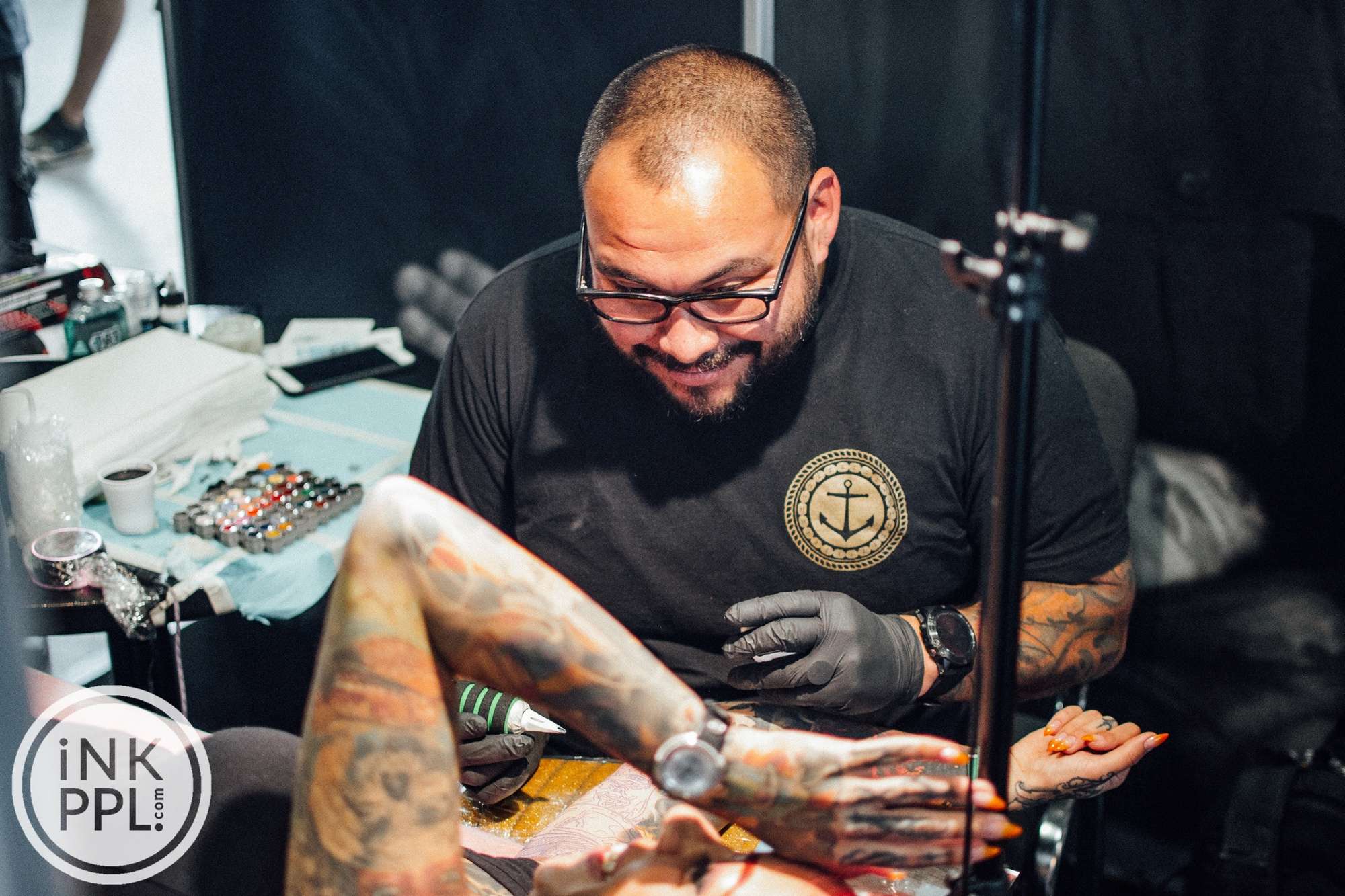 What happened after millions of people saw your tattoo art?
- After people seen my work, I mean, all kinds of new doors open, you know. I kind of blew up, and you know it kind of happened very fast, so yeah it was crazy, it's been a crazy ride for me. I'm here in Russia and I never expected any of this, you know, so I'm really grateful to be able to tattoo and go around the world and tattoo and just be and learn from people and see the amazing art everywhere, and it's cool!
Now you work with world famous stars of cinema and show business. The last, as I remember, was Dwayne Johnson. And who else from the stars wears your tattoos?
- I tattooed a lot of celebrities, I tattooed a lot of band people like: Limp Bizkit, Incubus, people from those bands. I'm trying to think, let me think what else, I mean I tattooed Kat on her TV show Kat Von D a long time ago, Dwayne Johnson like that, a lot of rappers like Drake, The Game, Wale, Ric Ross' face I tattooed. I tattooed Jenna Jameson - the world famous porn star, like a lot of people. Do you guys know who Jenna Jameson is here? Yeah a lot of these people are really good people I've been able to be in the room with them. You know Puff Daddy Sean Combs I did a back piece on him and yeah it's been very crazy!
In 2015, the Inked magazine published an article about the end of your tattoo career, but today you are here. It was a joke?
- Oh yeah, Inked magazine, it was joke. So, but you know a lot of people seen it, so I fucked up by going along with it :)
You inspired million people. And what is inspiring you?
- A lot of people inspire me. Right now, I get inspire by people like Dwayne Johnson. You know, being around that guy, his positivity, thinks like that. Hard work ethic. But you know, for me, when I started tattooing, a lot of tattooers like, you know, Bob Tyrel, Robert Hernandez, you know, a lot of those people are the people that really inspired me for tattooing, but the artists like John Singer Sargent or even modern painters like Michael Hostetter. These people all really inspired me, they are really incredible and talented.
Tell me how you see the future of the tattoo in the next 5-10 years?
- I think tattooing is going to blow up even further, you know, I think that it's going to become more and more accepted. I believe that there will be a tattooer that sells, you know, a tattoo for an incredible amount, I think that one day, it will be just like artwork, like paintings you know. I really hope that it goes to a point to where we're really respected and I taken more serious.
And what advice can you give to novice tattoo artists whose want to following your path?
- I just think anybody that wants to have any dream just work hard you know be smart about it and don't listen to people around you people try to be negative and put you down but don't listen to that stuff.
Thank you, Nikko!
- Thank you very much!