Interview: Starting Fresh with Elena Basky
15 / 06 / 2023
Alexander Ledovskih
Today we have a unique interview with one of the most recognizable figures in the contemporary Russian tattoo industry.
Elena Basky is a talented tattoo artist, blogger, and activist who has found her true calling in helping people regain confidence in themselves and their bodies through the cover-up of postoperative and traumatic scars with tattoos.
She has developed a charitable project called "Starting Fresh with Basky," where she provides free assistance to individuals with complex scars from surgeries, helping them restore their beauty and self-esteem through tattoos. Her exceptional talent and compassion allow her to create amazing and inspiring works of art that transform people's lives and help them heal emotional wounds.
She is also one of the most popular YouTube bloggers in the Russian tattoo industry. Her channel, "Basky About Tattoos," has become a platform that brings together tattoo artists, enthusiasts, and anyone interested in the world of tattooing. On her channel, Elena shares her knowledge, experience, and inspiration, helping other artists and tattoo fans broaden their horizons and reach new heights in their creativity.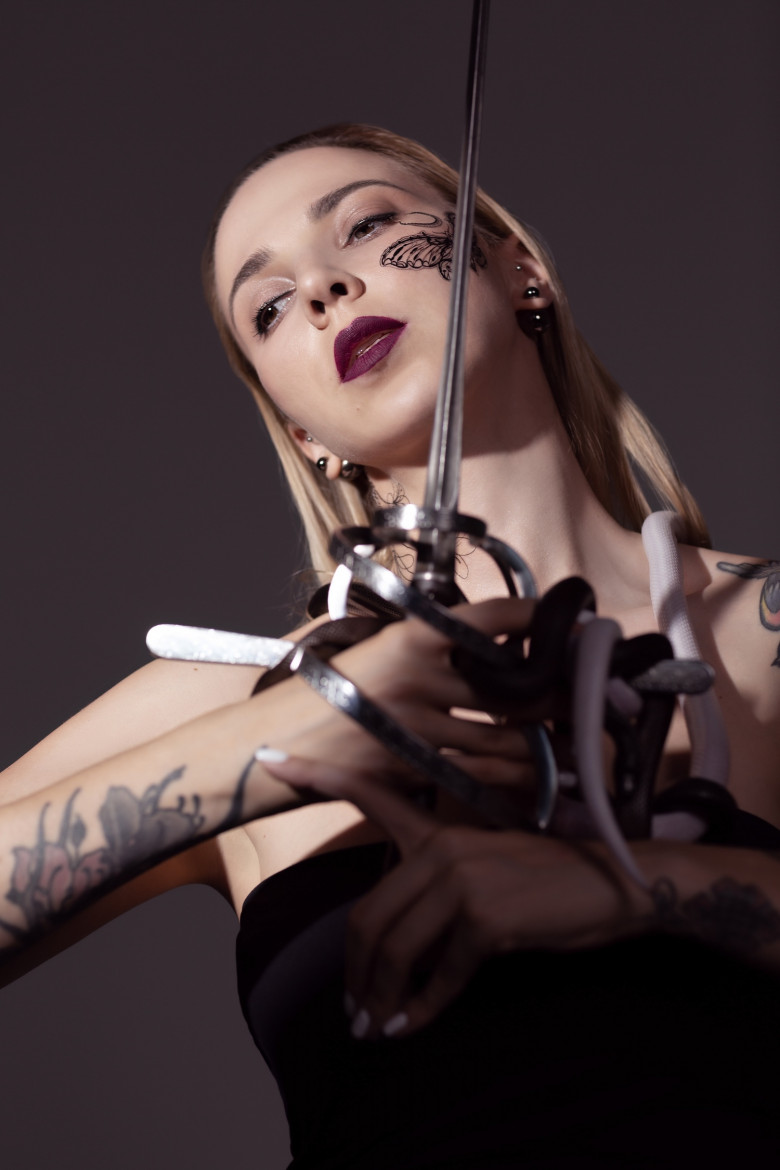 In this interview, we will learn more about Elena's work in covering scars with tattoos and how she found her calling in this field. We will also discuss her charitable project, its significance, and its impact on people's lives. Additionally, we will talk about her popularity as a YouTube blogger and how she utilizes this space to exchange knowledge and inspiration.
Of course, we won't overlook tattoo conventions, where Elena regularly serves as a jury member. She will share insights on what to pay attention to when preparing projects for tattoo competitions and what mistakes to avoid.
Get ready to dive into the captivating world of tattoos and inspiration with Elena Basky!
---
Elena, you don't need a special introduction for all fans of Russian tattooing, but for those who are just taking their first steps into this culture, tell us a little about yourself. Where are you from and where do you work now?
- Hello, everyone! My name is Elena Basky, and for the past 19 years, I've been involved in everything related to tattoos. I have been working in Moscow all this time, and currently, I work at my own studio called Wisdom Tattoo. I also have an educational platform called Baskyworkshop, and I'm the author of a YouTube channel about tattoos called "Basky about Tattoos."
What led you to tattooing? Tell us about your journey.
- In general, beauty and medicine have always attracted me throughout my life. I always say that if it weren't for tattoos, I would have become a plastic surgeon! But tattooing combined my second passion: creativity and craftsmanship. I adore everything that can be done with my hands, from working with a jigsaw and cross-stitch embroidery to meticulously painting epoxy pictures with a brush.
When I was around 13 or 14 years old (I don't exactly remember), I started doing piercings, braiding Afro hairstyles, and got my first tattoo at a very significant tattoo salon at that time. Somehow, they didn't ask for my passport, and it turned out to be a fateful mistake on their part.
I was deeply fascinated by the atmosphere of the tattoo studio: cool music playing all around, and everyone constantly drawing. That's when I set a goal for myself to become part of this creative collective.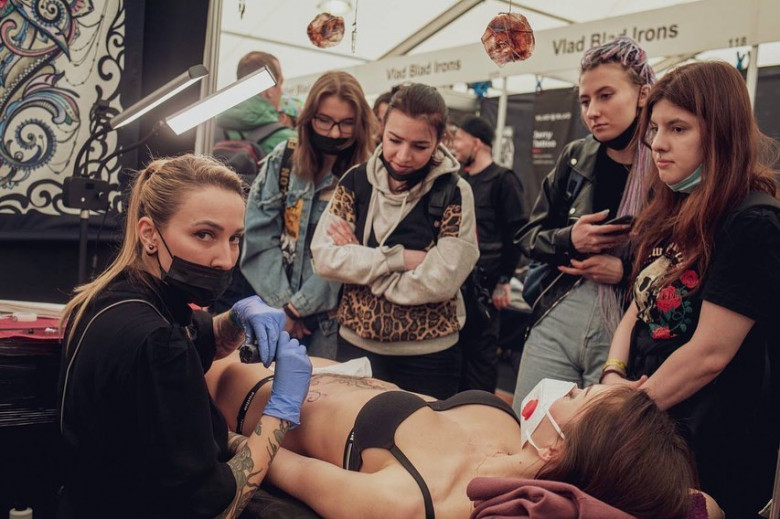 It took about 7 years for my dream to come true because after I started tattooing, I had to reach a certain level, and my portfolio was rejected the first 3 times... But my time eventually came!
I'm very glad that at the time, I had the opportunity to work with tattoo industry masters who are now working all over the world. It can be said that thanks to their work, they influenced the tattoo industry in the 2000s.
Is tattooing art, work, or something else for you?
- Tattooing is a way of life for me. When I started, I couldn't even imagine that it would become my job. I simply did what I enjoyed, and I would say that tattooing was a way of communication for me at that time.
As I immersed myself in this culture and delved deeper into it, I came to the conclusion that despite the fact that many people deny it, tattooing is indeed an art. After all, art is the imaginative interpretation of reality, and as a result, it expresses the inner world of the tattoo artist and their client to the external world, and tattoos correlate with that perfectly.
I realized that it was my job only when I applied for documents at the bank, for a mortgage (laughs).
Let's talk about your tattoos. You have often said that your style is the quintessence of what you love about tattooing. How would you describe it? And how did you come to develop it?
- It is more like the quintessence of what I love not only in tattooing but also in the world of art. If you examine my works closely, you will see elements of Art Nouveau, Tibetan thangkas, Russian woodcarvings, a bit of mehndi, and many fairy motifs. All of this stems from my sincere love for these elements since childhood.
I also place a strong emphasis on how the tattoo will look over time and how the person will live with it. Therefore, I draw inspiration from images and styles that remain relevant throughout the years. Perhaps in today's reality, many may not support my thoughts and say that touching up tattoos every two years is normal, but I belong to those old-school masters who believe that a tattoo should live with you for your entire life and even a little longer.
I remember your performances at conventions. You always had impressive models, mostly women. Was it a marketing move or just a coincidence?
- In my life, I place a strong emphasis on the aesthetics of the space around me. It's important to me that everything around me is beautiful. And perhaps, like attracts like, so striking women and young people naturally gravitate towards me. By the way, at the upcoming convention, I will be showcasing an impressive young man.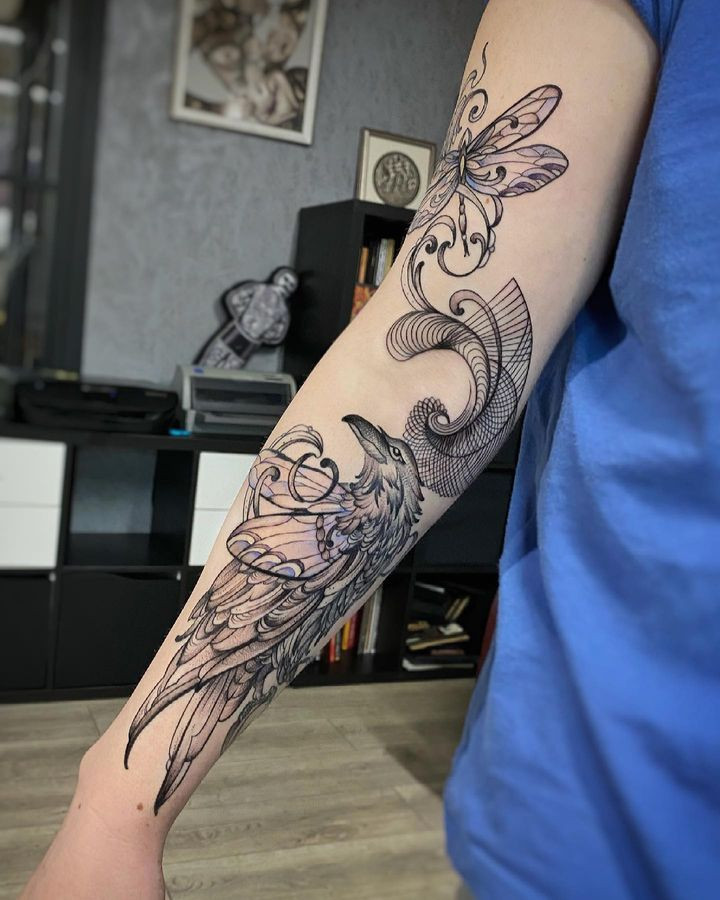 An important part of your portfolio consists of cover-ups, not just traditional tattoo cover-ups, but scar cover-ups. Why did you start working in this direction? And in your opinion, how does tattooing help people who have experienced traumatic events?
- When I was 18 years old and just starting out as a tattoo artist, a woman came to me with a scar from a mastectomy. She was deeply frightened and would have never considered getting a tattoo if it weren't for the scars.
During the cover-up process, I witnessed a significant transformation in her attitude towards tattoos (as art) and her internal changes. She became more confident, as if the tattoo provided her with a protective shield.
After a year, she said that her life had changed dramatically, and people no longer pitied her or pointed fingers at her scars. The only thing they often asked about was the meaning behind her tattoo (laughs).
I've encountered many such women and men in my career, and it's amazing to see how tattoos help them embrace their bodies and feel stronger!
Currently, modern cosmetology offers various methods for removing post operative scars and marks. However, despite these options, scar camouflage through tattooing remains a relevant and in-demand procedure. Can you explain why?
- Because the truth is, no single scar removal procedure can fully restore the skin to its original pre-scar condition. No matter what anyone says or shows with magical pictures on the internet, even if the scar is normotrophic, it will be visible from certain angles.
It comes down to personal perception: some people can live with it peacefully, while others suffer and seek ways to conceal this flaw. Nothing handles it better than a tattoo, not even scar camouflage in the color of the skin.
You have a charity project called "Starting Fresh with Basky." Tell me about it. How many people go through it each year? And what does it mean to you?
- The charity project emerged after people with extensive scars, covering 70% of their body, started reaching out to me. I realized that scars, especially from burns, have highly unpredictable textures, which means I couldn't accurately predict the number of sessions required for tattooing. Additionally, these individuals shared their stories with tears in their eyes, expressing hope that tattoos could change their perspective on their past and even alter their future. Most importantly, many of them had no idea that tattoos could cover scars or that someone was even willing to take on such a task.
This led me to believe that a charity project could help more people learn that they can live without suffering from their scars and start their lives anew. I provide one free session per month for the project, as some people may need 4-6 sessions, while others may only require one. It's difficult to say how many individuals I assist each year, but the waiting list is currently several years long.
As I mentioned earlier, you have extensive experience participating in conventions both as a featured artist and as a jury member. Have there been any changes in conventions over the years? Is it necessary for modern artists to participate in such events?
- Unfortunately, the changes happening in conventions do not align with the times. Some things do change, but too slowly. In other fields, there has been tremendous progress in event organization, and it seems logical to adopt the best practices and show that tattooing is not just for outsiders. However, convention organizers may not be financially interested in adopting such practices. Participating in these events is an excellent opportunity for artists to work in so-called field conditions and engage with a vast number of incredible tattoo artists!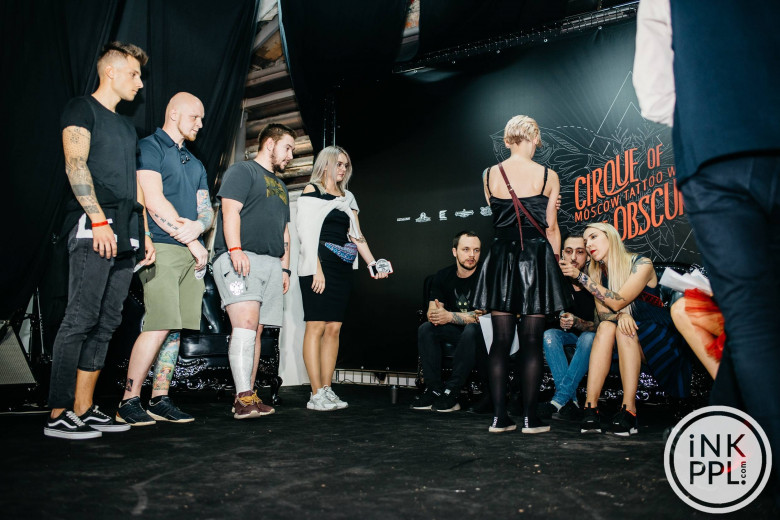 Even if you don't have the funds to purchase a booth yet, I recommend simply attending and experiencing it firsthand.
Which convention has been the most significant in your life, and why?
- The most significant convention for me was in 2013. I placed second in the "Ornamental" category with a small piece. What struck me the most at that moment was that among the large-scale back pieces, legs, and sleeves, my small work stood out and earned a prize due to its precise detailing, high-quality shading, and unusual placement. This victory made me realize that excellent technical execution, a unique perspective, and style can lead to success.
What preceded your participation in tattoo event juries? And how many personal awards have you received?
- It's hard to say for certain. I can assume it was due to my experience and expertise. At that time, I had been involved in tattooing for about 10 years. I worked in various styles and received awards in different categories, primarily in "Graphic," "Ornamental," and "Cover-up." By the way, I still regret not submitting a piece for the "Japanese" category back in 2014 due to self-criticism and withdrawing the model at the last moment. I advise against making such a mistake! (laughs) Participate until the end! I don't allow myself to make such mistakes anymore.
As a permanent jury member, what should a tattoo artist who genuinely wants to compete for an award focus on in their project?
- First and foremost, pay attention to the description of the category at the convention. Usually, the conditions that the work must meet in a specific category are described in detail (these conditions may vary across different conventions).
If you're participating in any of the categories (except "Small tattoo"), try to showcase large-scale works that cover a substantial part of the body. Anatomy is crucially important in judging a tattoo! Judges meticulously examine the composition and execution technique of the work. I would also emphasize the uniqueness of the tattoo—something that catches the judges' attention and makes them study your work for longer than usual. When you're in a category and see 20 lions in a row, they all blend together, but if, at that moment, a "laughing hyena" with an unusual placement appears, it will definitely be memorable (laughs).
You are the founder and face of the popular YouTube channel "Basky on Tattoos," which covers almost all topics related to tattooing. You also have the educational platform for artists called BASKYWORKSHOP, a tattoo studio, and I'm sure there's more. How do you evaluate your popularity? And in your opinion, what can it be measured by?
- Of course, there's a bit more (laughs).
We are currently launching an application for tattoo artists and clients called "Want a Tattoo." In a nutshell, it's an app for clients who are looking for their tattoo artist. It incorporates a built-in testing system that helps clients determine their preferred tattoo style and choose their artist accordingly. We're currently making some final adjustments because the initial database of artists was built entirely "manually."
As for measuring my popularity, it can be gauged by the number of people who either respect or hate me simply for being who I am. And there are plenty of both (laughs).
As a popular blogger and jury member, you come across an incredible number of tattoo artists' works. Can you highlight 5 "veterans" of the scene who have maintained their relevance over the years, as well as 5 bright newcomers that everyone should pay attention to?
- I couldn't come up with 5, but I have 4 for each category.
Newcomers: @pittakkm, @sou.ttt, @kropkiijaje, @oozy_tattoo
Veterans: @guyletatooer.one, @alexandergrim, @emily_rose_murray, @gakkinx
What do you do in your regular life apart from tattoos?
- In my everyday life, I'm a workaholic. Recently, I've been searching for ways to relax my mind, and I haven't found anything better than the card game MTG [Magic: The Gathering]. I also spend a lot of time in the gym because my back hurts a lot due to work, and workouts help alleviate the pain. I recommend it to everyone. I've recently started running and do some boxing, which helps with client-oriented work (laughs).
I also seriously study psychology, sociology, and various forms of visual arts. All of these can be wonderfully incorporated into tattooing, by the way.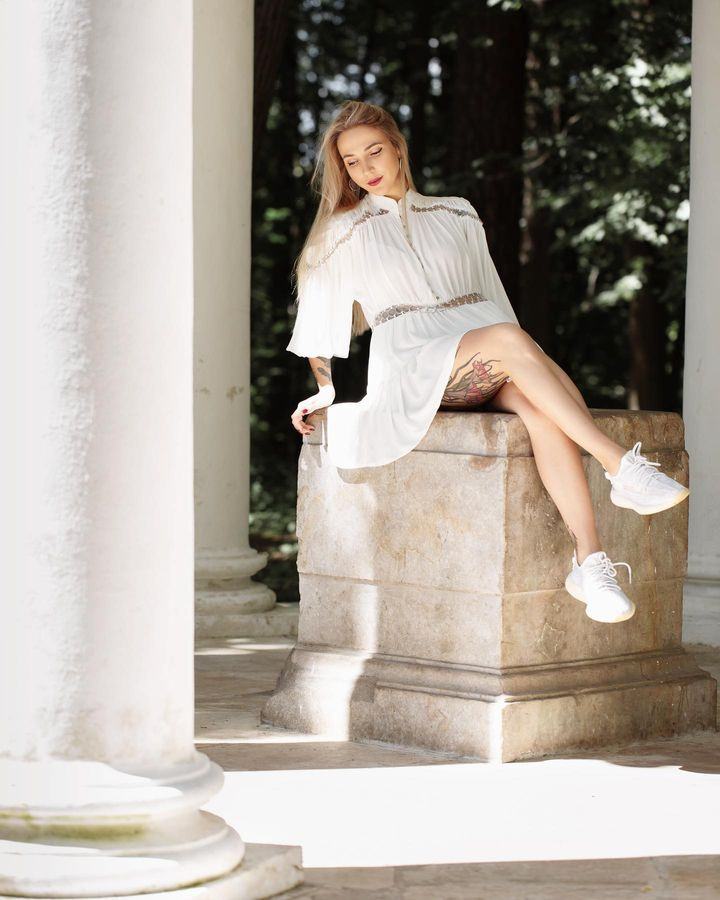 Do you have a main life goal?
- My main goal is to make the world around me more beautiful and aesthetic. Whether it's through tattoos, scar cover-ups, or interior design doesn't matter. What's important is that there is harmony around me, and I'm not just talking about the material world.
Can you tell us about your plans for the near future? Where can we see you? Are you preparing any new projects?
- In the near future, I plan to become the best scar cover-up artist in the world, as surprising as it may sound. So, hopefully, you can see me in different corners of the planet. New projects are constantly brewing in my mind, but for now, I'm focusing on the ones I've already started and aiming to perfect them as much as possible.