Kenni Andresen, also known as Kenni Poke: An Artist with an Impressive Track Record
16 / 03 / 2023
Alexander Ledovskih
Mr. Poke, a tattoo artist with 15 years of experience, has left his mark in the tattoo industry. Throughout his career, he has participated in numerous conventions and won various awards in different categories.
One of the most notable conventions he has participated in is the Ink Bash Convention, which is known as the best convention in Scandinavia. This convention invites the best tattoo artists globally and has attracted some of the best artists from the US as well. Mr. Poke won third place in the Black and Gray category in 2022, which is a testament to his sustained talent and skill.
In addition to the Ink Bash Convention, Mr. Poke has also participated in the Nordic Ink Festival. This international tattoo convention is held in Arena Nord, Frederikshavn, Denmark, and is attended by 200 of the best tattoo artists from all over the world. Mr. Poke has won several awards at this convention, including first place in the Best Nordic Artist and Best of Show categories in 2013, as well as first place in the Best of Color and Best New School Tattoo categories in 2014. He also won third place in the Best New School Tattoo category in 2014.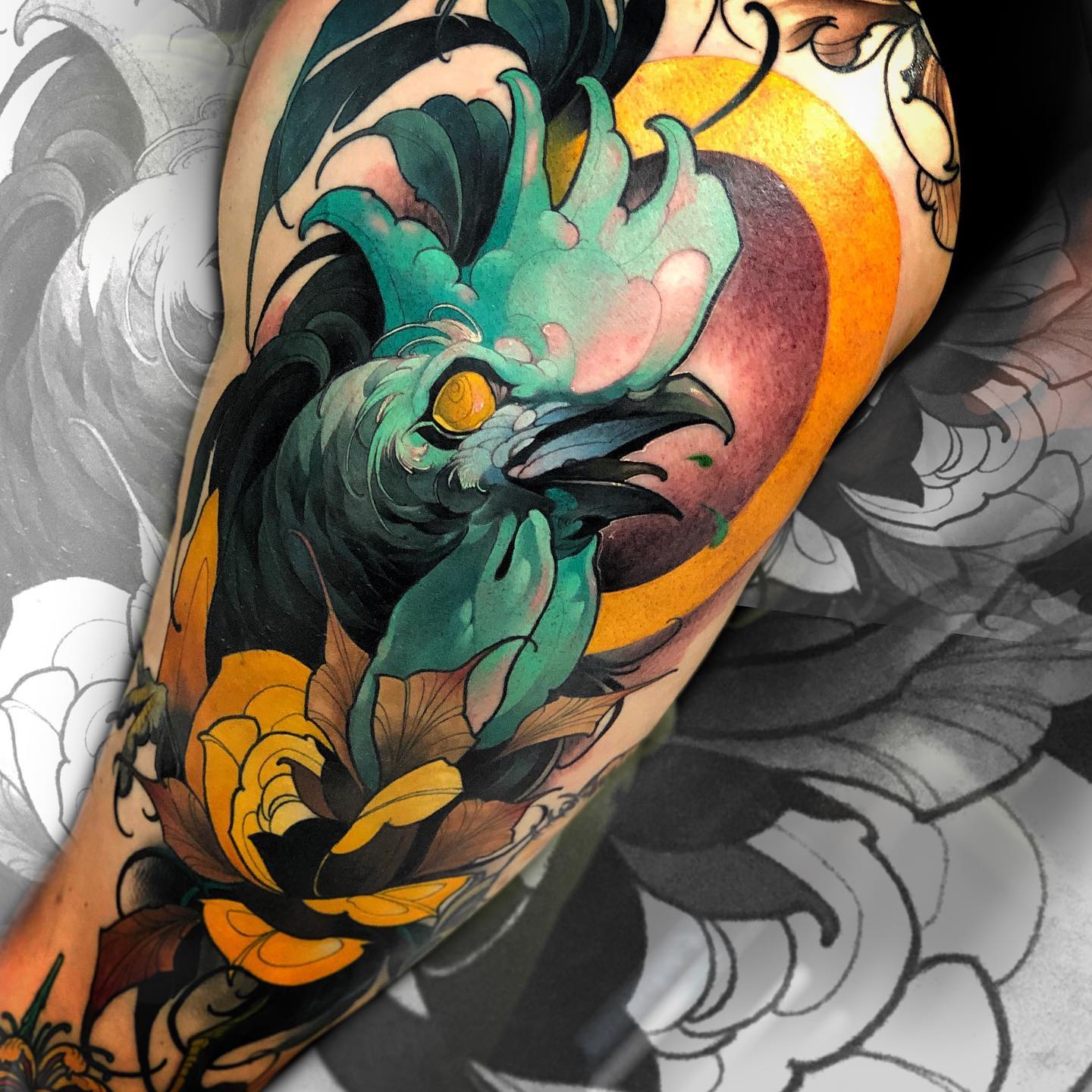 Mr. Poke has also left his mark at the Aarhus Art Convention, where he won first place in the Best New School category, Best of Show category, and Best Color category in 2014.
Another notable convention that Mr. Poke has participated in is the Freetown Tattoo Convention. Here, he won second place in the Color category and Best Biomechanic category in 2013, as well as first place in the Best New School category in both 2013 and 2014. He was also the winner of the prestigious 'Best of Day' at the London Tattoo convention in 2018, which was widely considered the best tattoo convention in the world prior to it ceasing to exist.
His experience and skill make him one of the most sought-after tattoo artists in the industry.
Apart from sharing his knowledge through seminars in Denmark, Mr. Poke has also served as a jury member at different conventions. He was a jury member at the Aarhus Art Convention in 2014 with Mark Wosgerau, a fellow tattoo artist. Kenni was also a jury member at the Prison Ink Tattoo Festival in 2022, In the same year, he was also a jury member at the HCA Ink Convention.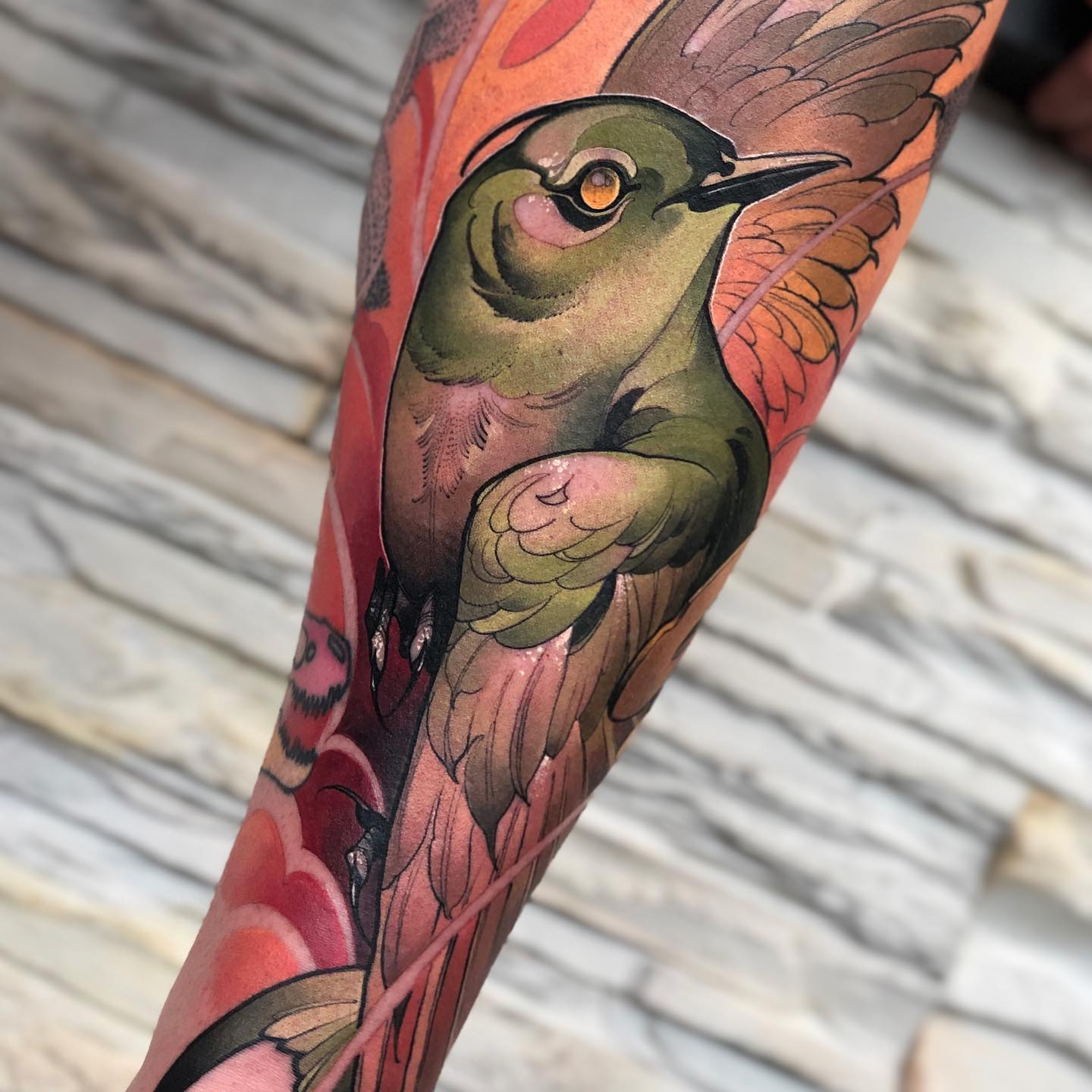 ---
Please, tell our readers a little about yourself. How did you decide to become a tattoo artist? and what were you doing before the tattoo?
- My name is Kenni Kjærgaard Andresen, also known as Kenni Poke. I live in Denmark, am 34 years old and have 3 girls and a girlfriend. We live in a town called Holbæk and I work in the studio "Timeless art" in Roskilde.
I have had a messy childhood and have also felt rootless myself for many years. I have always been creative and for as long as I can remember, I have used creativity as my refuge and my "safe zone" in life. I was the kid in kindergarten with the biggest collection of drawings! Before I became a tattoo artist, I never really found "my shelf" in an actual working life. I tried different educations, but each time I dropped out because I couldn't settle into a "real" job, school, etc. I spent all my time creatively, and since I was 12 years old, I've been painting graffiti and painted paintings.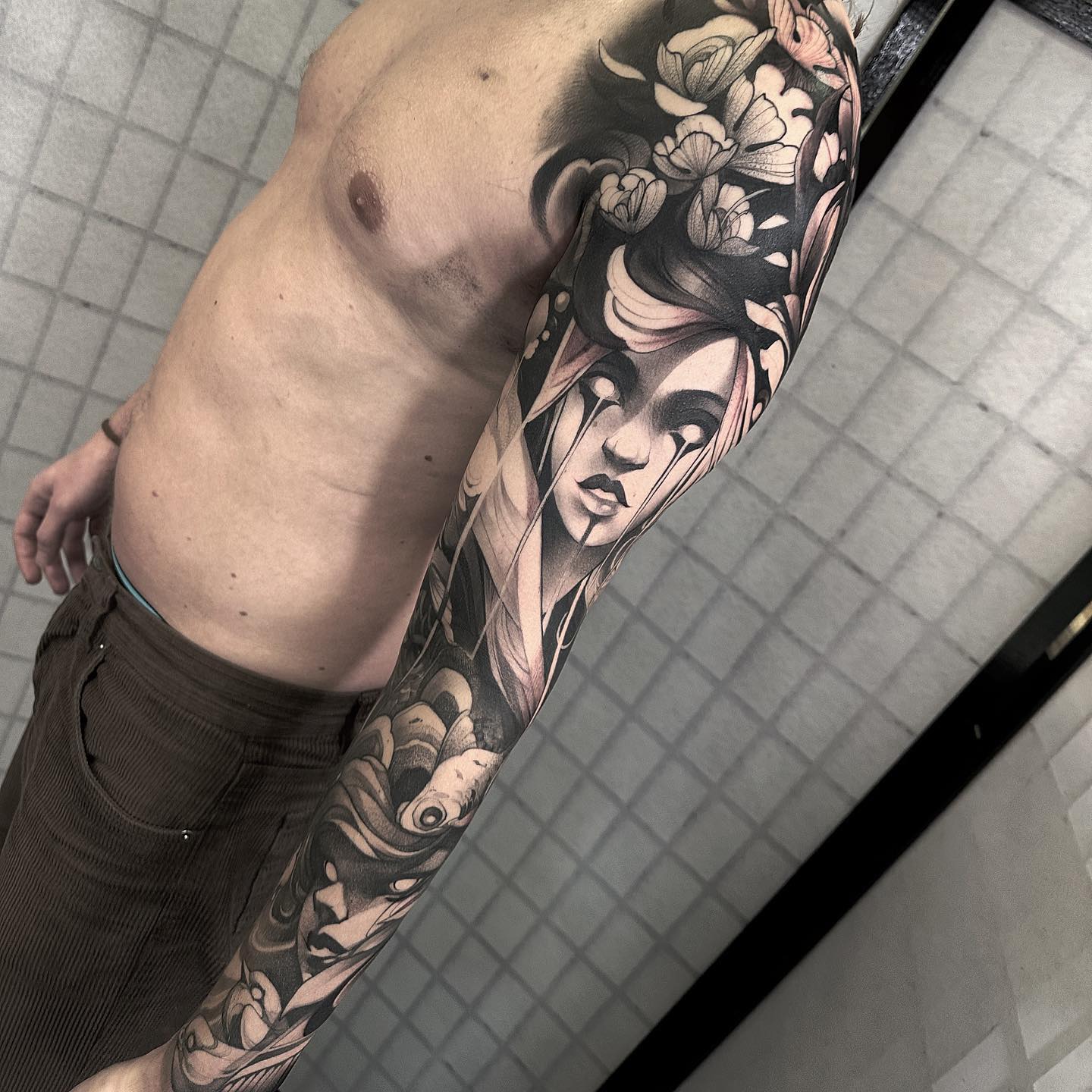 As I got older and after a rather turbulent youth period, something else had to happen in my life. As 18 years old and very young, I therefore sought out a tattoo artist in my hometown, "Hugo tattoo". I was taken under his wing and that was to be the starting point for my career in this industry.
Who was your teacher? And who inspires you now?
- My teacher was, as I mentioned before, an old school man called Hugo from the studio "Hugo tattoo" in my hometown. At that time in my life, he was my master teacher in the art of tattooing, but also a kind of father to me who taught me about life and who gave me discipline and an urge to prove and learn constantly. My time at Hugo has really given me the right foundation to be able to develop in the direction that I have done.
I have been inspired by many talented people over time and will continue to be so. If I have to mention anyone by name at this point it would be Kasasink, Fibs and Steve Moore.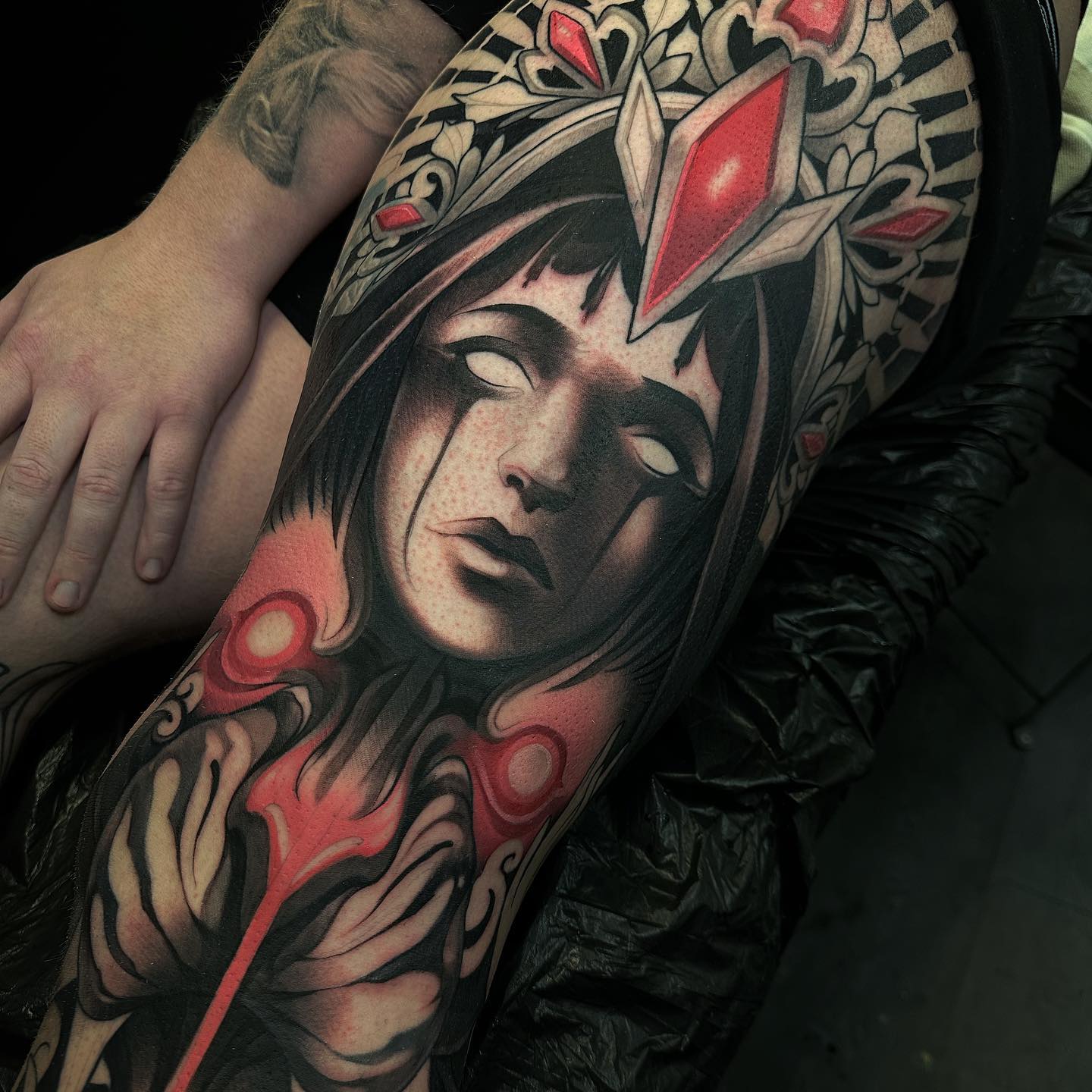 What does the word "tattoo" mean to you?
- It's hard to put into words actually! If you look it up, the word "tattoo" means to mark oneself or to draw a line, which actually makes a lot of sense. The tattoos are in some way a mark of who I am and where I am in my artistic expression, right at the time when the work is done. It is fluid and constantly evolving. Tattoo for me means and implies a way of expressing oneself and is a combination of art, lifestyle and culture.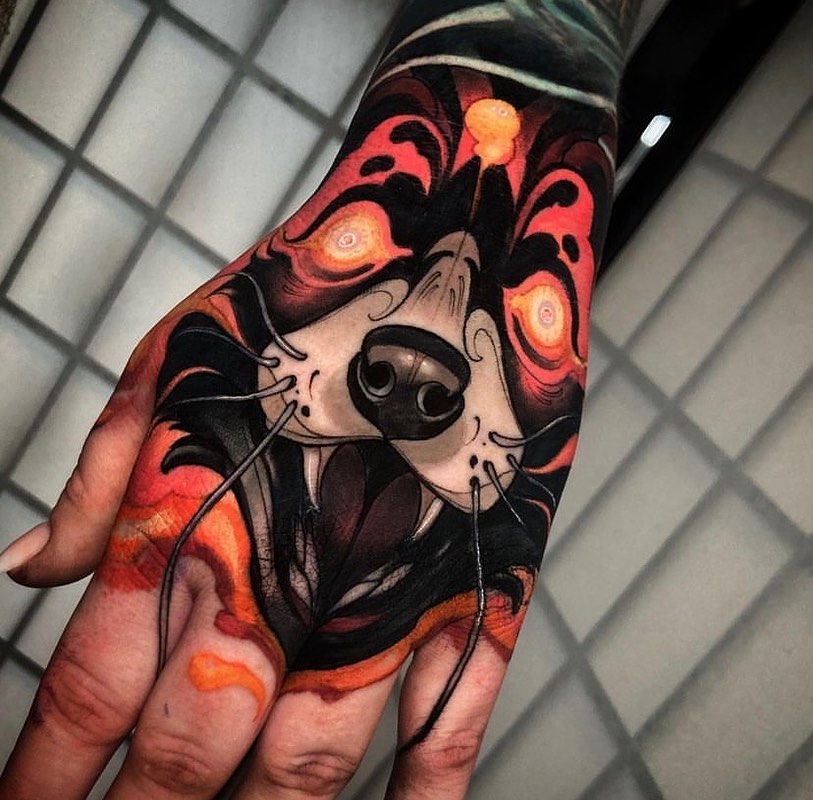 What are the main features of your tattoos that you can highlight on your own?
- I would say that my tattoos have main features from the new school genre combined with a more traditional way of thinking. I have my "stroke", which has been created throughout my creative life, and which is actually difficult to name. I find it difficult to describe it, as for me it is more of a mindset, an expression and a feeling.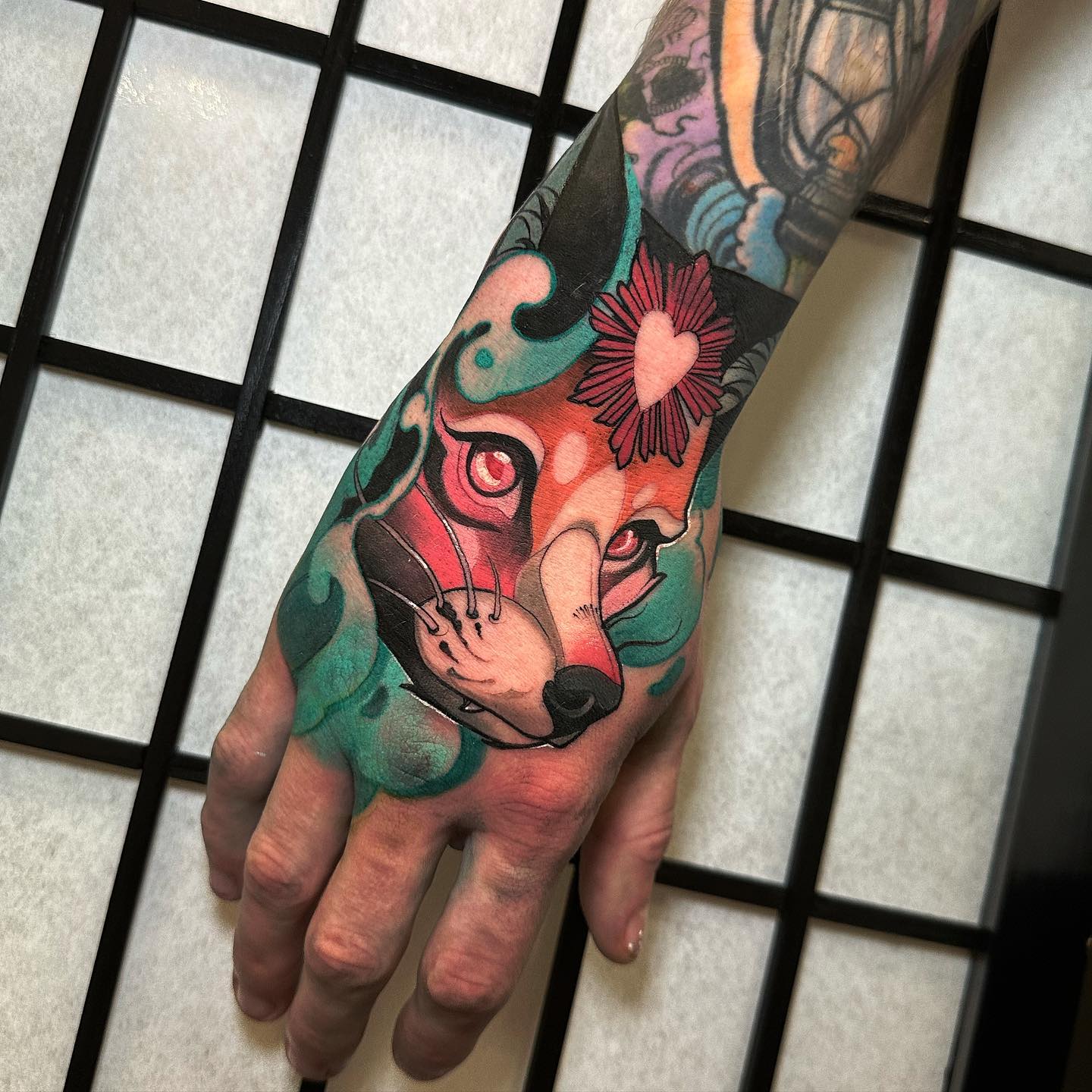 You love big tattoos, don't you? Are there any works that you are truly proud of?
- Yes, I absolutely love big tattoos and projects! I'm working on a few big projects with bodysuits right now, and it's the coolest thing to be able to decorate such large parts of the body! I'm quite fond of the way you can use the shapes of the body when the projects get some size. When you work with the whole body, it requires a certain overview and a lot of experience to be able to see a work in such a size. I personally love the challenge of it. For me, it's about the balance between the large, simple expression and the small details. The first thing you notice intuitively when you look at a person with tattoos is shape. Shape is the first thing you observe and then you can dive deeper into the simple tattoo and the details. That's why I love working with such large works, because form can really be expressed in the anatomy of the body.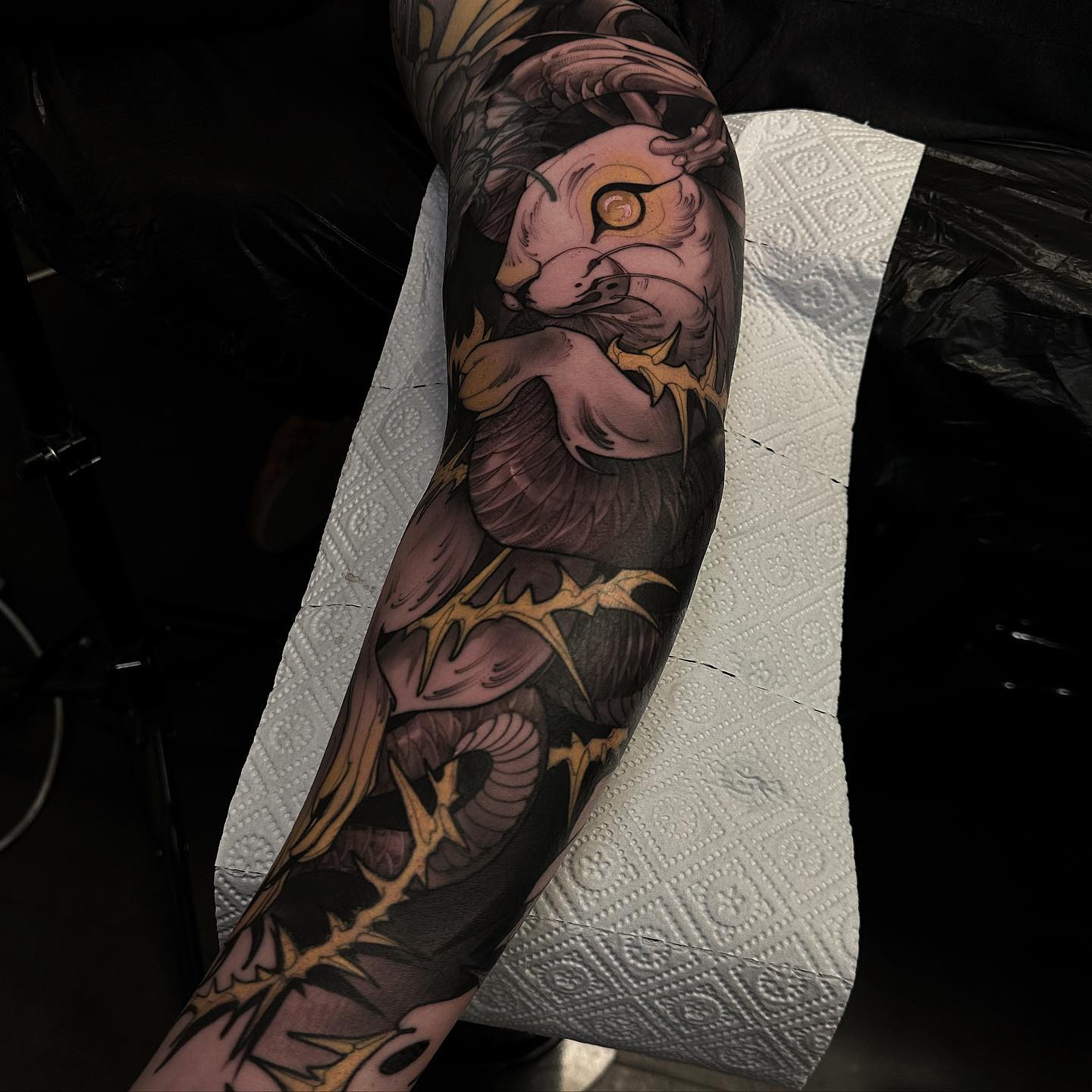 Do you travel a lot for work? Where have you been? Do you have a favorite place on this planet?
- I love to travel! Both in my private life, but definitely also in my working life! I have had guest spots in various places in the world, but have also traveled around to participate in conventions. If I had to choose two places that have had the most influence and impact on me, it would definitely be Sumatra in Indonesia and Iceland. They are both fantastic places to be and experience!
How many conventions have you attended and how many victories do you have in total?
- I have attended a few conventions, where I was able to show off my skills and win some awards. In 2018 I was at the London Tattoo Convention where I got 2nd place in the best Friday and Saturday category. During Nord Ink Festival I won:
1st place in Best Nordic Artist 2013
1st place in Best of show 2013
1st place in best of color in 2013
1st place in best New school Tattoo category in 2014
3rd place in best New school tattoo category in 2014
Aarhus Art Convention:
1st place in Best New School category in 2014
1st place in Best of Show category in 2014
1st place in best color category in 2014
Freetown Tattoo Convention:
2nd place in Color category in 2013
2nd place in best biomechanic category in 2013
1st place in best new school category in 2013
1st place in best new school category in 2014
The most recent convention I participated in was Ink Bash in 2022, where I left with 3rd place in Black and Gray category.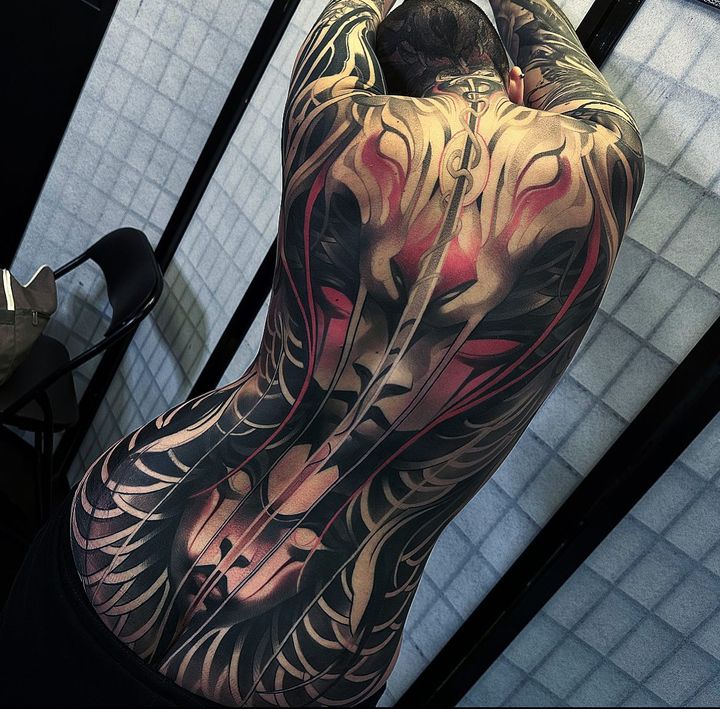 What career goals have you set for yourself?
- I don't know if I would say that I have ever set a definite goal in relation to my career. I make a living from what I love and stay in this industry as long as I think it's fun and I want to improve and develop. It sounds pretty cliche, but as long as I get up in the morning and I'm happy, I'll keep going. At one point in my career, it was very important for me to prove a whole lot. Participating in many conventions, winning many awards and becoming bigger on social media. Over time, my focus has shifted quite a bit. Of course, you want to show when you do a good job, but the most important thing is that I myself am involved, have a drive and want to develop myself all the time. I would like to continue to be inspired by other talented artists and hopefully be able to inspire others myself.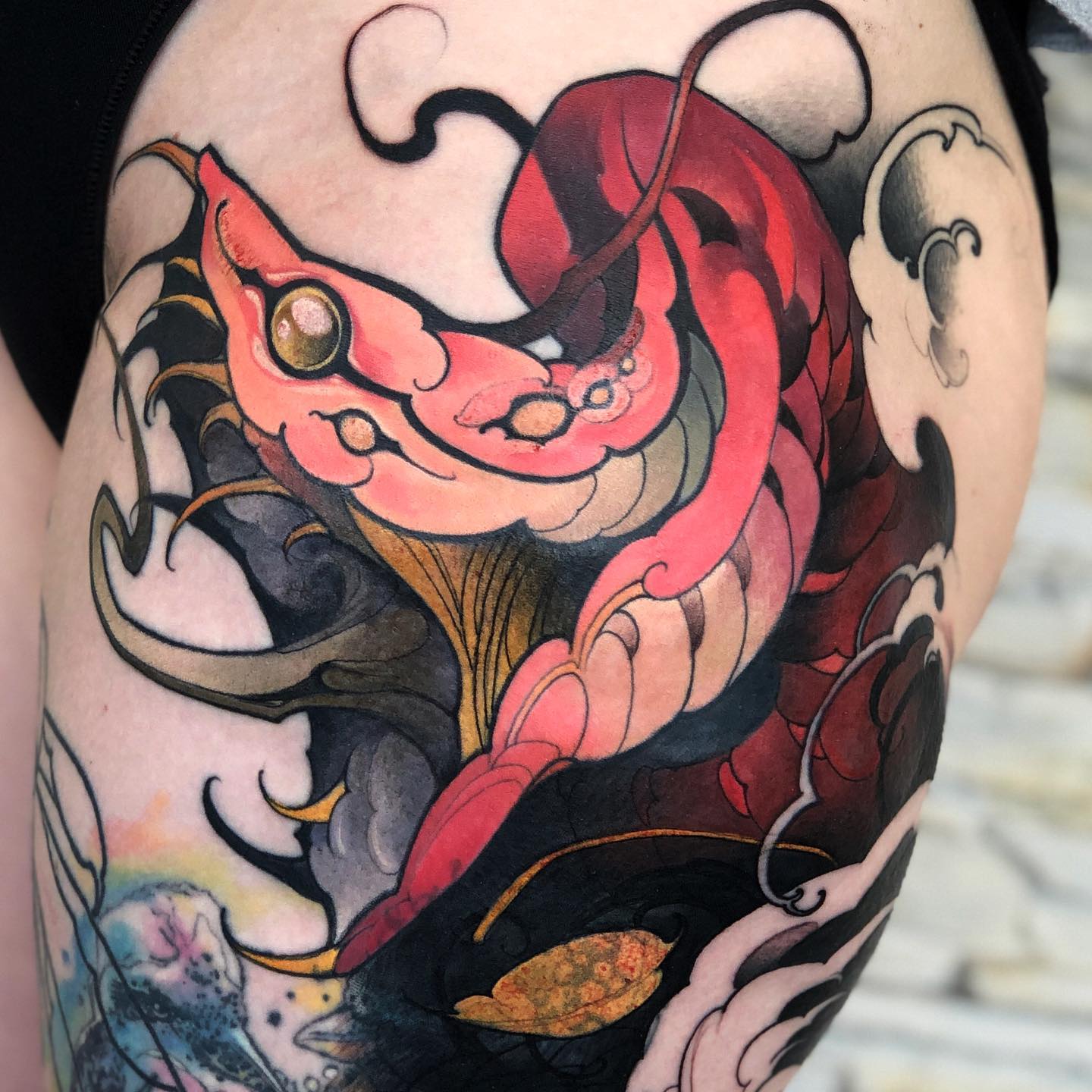 Where does your love for neo-traditional tattooing come from?
- I love the expression you get when you are allowed to "break" the rules, which otherwise lie in the old ways of thinking about tattoos. In the neo-traditional, there is an opportunity to mix the new school and the traditional, and I like the result.
Where do you draw inspiration for your work?
- I do that from nature, other artists and from my own head... haha
What really inspires me the most are probably the shapes that I see in things and that are found everywhere. I always think in pictures and shapes. Again, it's a bit difficult to answer because for me it happens very naturally and is very intuitive.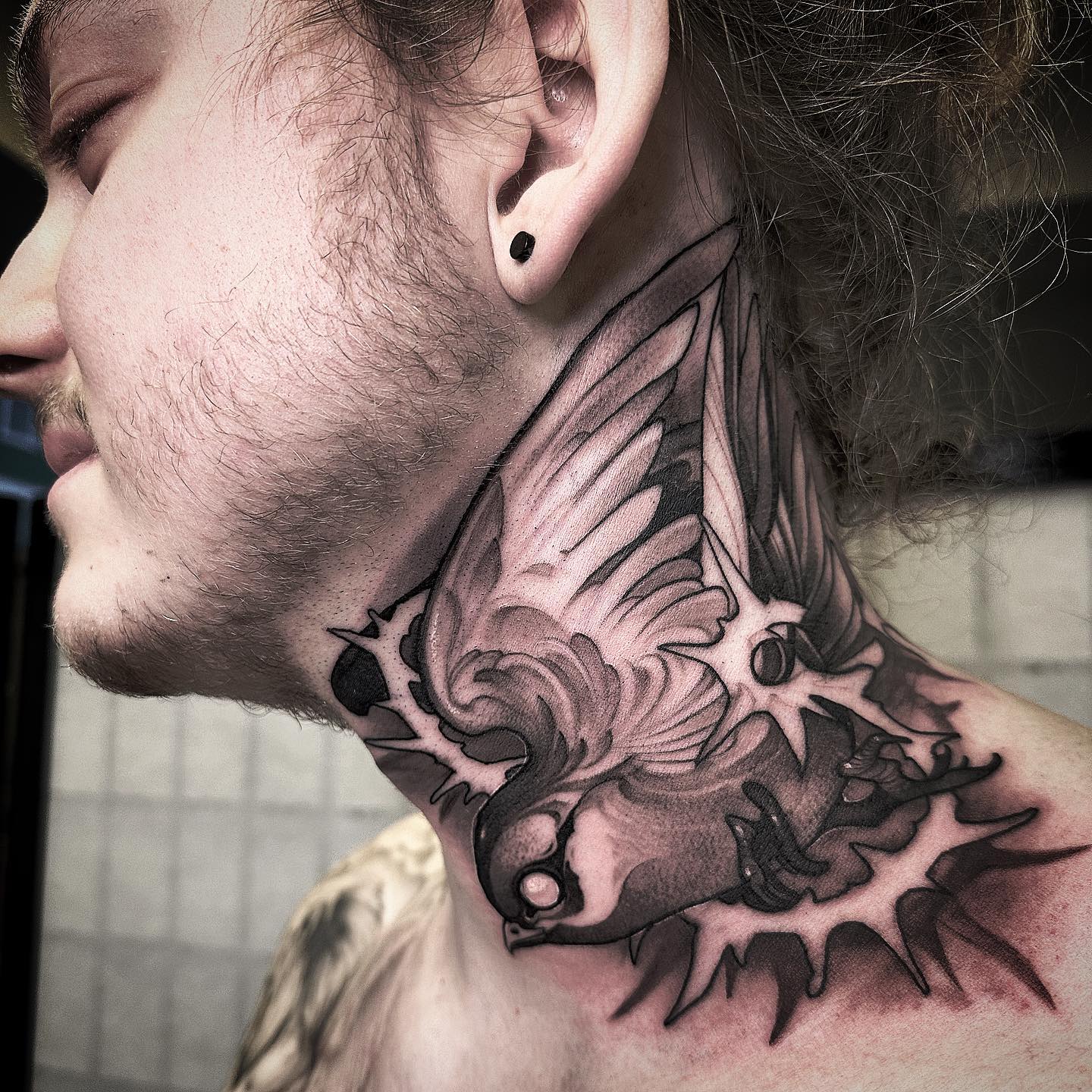 How often have you collaborated with other tattoo artists? Tell me about the most memorable one for you?
- I have done about 10 collaborations with other tattoo artists. There are a few that stand out more strongly in my memory than others. One is a collaboration between Dennis Wehler, Mads Thill and me. We made a piece together on a guy (a collector) who came all the way from Australia. The day before he had been in the Netherlands and had half his back done. From there he then drove in a rental car to Denmark, to have this collaboration done by us. We started at 10 in the morning and Dennis finished at 5 in the morning. The man from Australia slept on a mattress in the studio and the morning after when Mads and I woke him up, he was scared out of his wits knowing that there was one more day in hell. After another 10 hours under the needle on the second day, he drove the rental car back to the Netherlands to catch the plane to Australia. He was a tough one!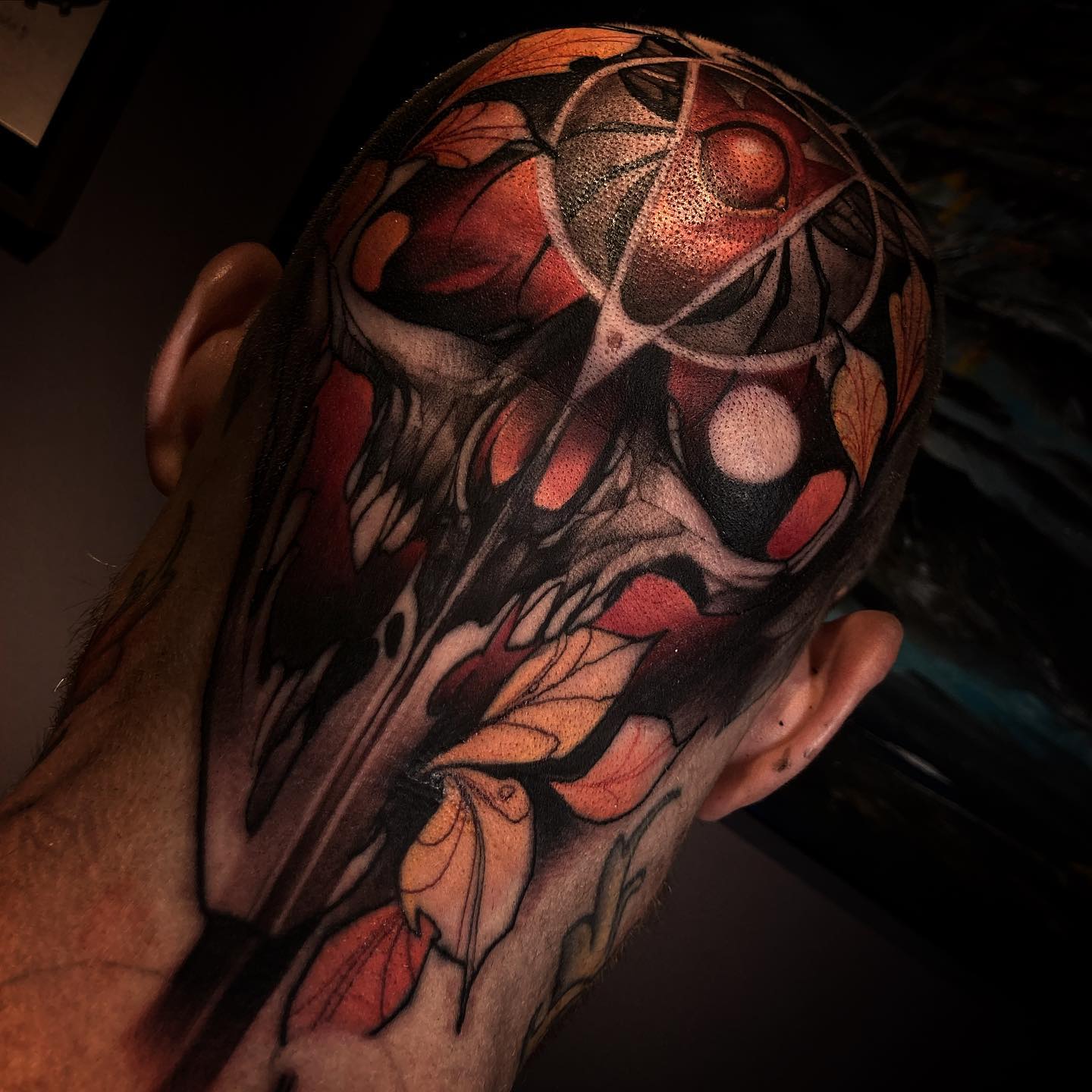 The other collaboration that I will certainly never forget was in the Costa Rican jungle during an event for artists called The Remote Tour. I made a collaboration with my good friend and colleague Nicolai Venøe. We did the whole back on a Canadian guy, Lars, who didn't want to see the piece until it was completely finished. It took us 5 full days. Lars fasted all the days, lay in cold baths and was generally very spiritual. I have never in my life seen a tattoo heal up as quickly and beautifully as the one Lars got on his back. It was all a fantastic experience, and especially with such good people!
How do you evaluate your popularity, and what can be measured by it?
- Well, that's a good question. Of course, we have social media today, and in many ways, they can give a good indication of whether people like what they see and therefore press "follow", give you likes, etc. In addition, a good indication is also the extent of good criticism and feedback that you get when you share something, and especially what your colleagues in the tattoo industry give in terms of feedback. After all, they know what they are talking about!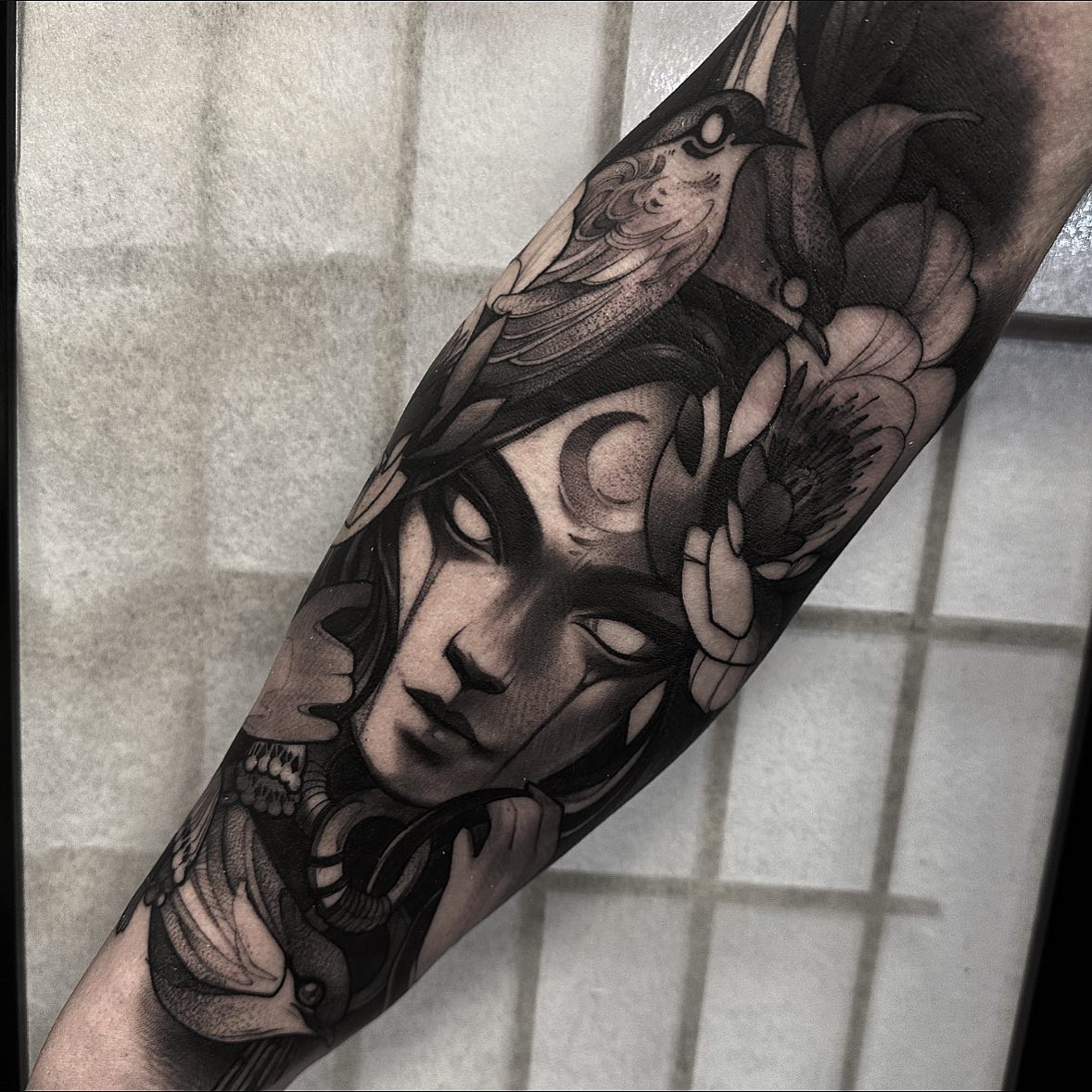 I often get messages from people who tell me that I inspire them in their work, and that's the coolest thing! Just as I get inspired and want to develop myself by other people's art, I love being able to do it the other way too!
Over the years I have been invited to a lot of conventions, guest spots, seminars, collabs, interviews, etc. and for me this is also a good sign that one's career is on an upward curve in terms of popularity and recognition in the industry. Someone actually thinks you're good at something, and that's a really good feeling!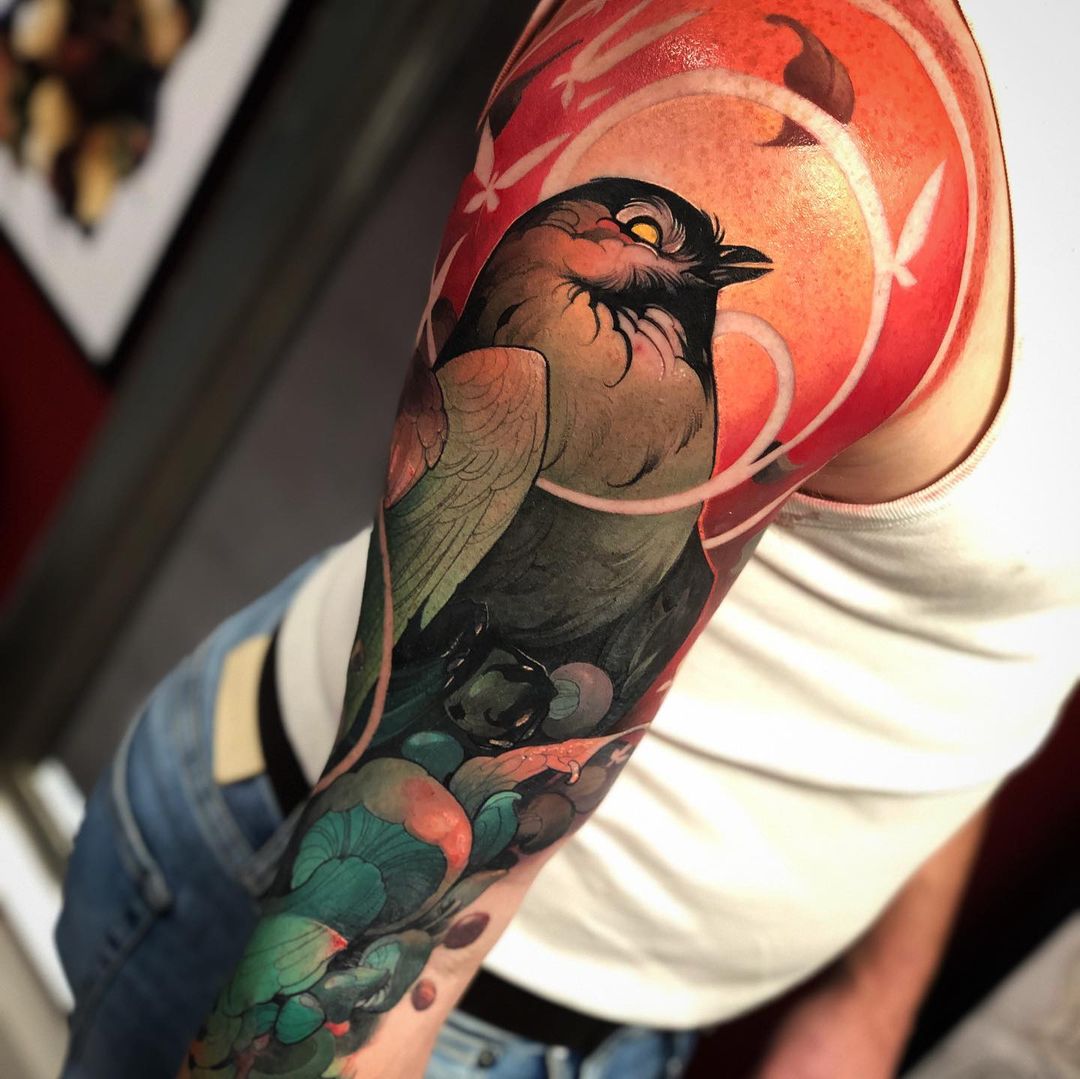 Is tattooing for you art, work or something else?
- For me, tattooing is everything. It is of course my work and the way I earn my living, but I also see tattoos as an art form and a way to express one's creativity. I cannot be present in this world without creating something. And one of the places where my artistic expression comes to light is on the human body. The human body can be seen as a blank canvas. I definitely think that for some tattoo artists it's just a job and a way to make money. This can be seen in the work that is delivered. The tattoo artists who stand out in the industry, for them, tattoos are not just tattoos. It is rather a part of themselves, a passion and their way of thinking creatively, and it can certainly be seen!