More than just a tattoo artist Elena Fedchenko
Tattoo artist Elena Fedchenko
/ Source: @lena_fedchenko
Botanical tattoos are one of the relatively new but rapidly growing trends in modern tattooing. By this style, of course, we do not mean all the images of plants that are found in almost any style of tattoo, but about a clearly defined direction, which is preferred by more and more tattoo fans around the world.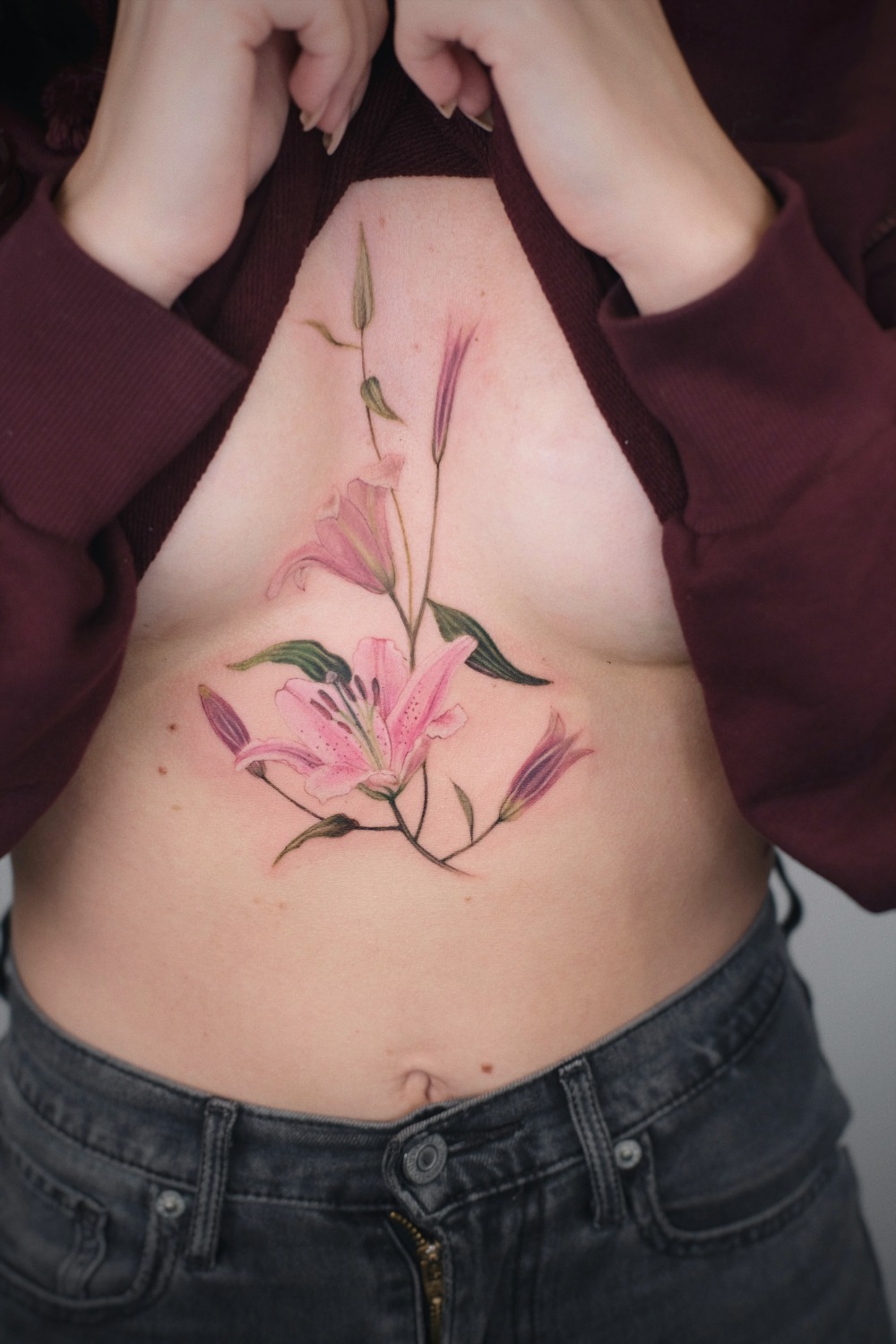 We are talking about realistic images of flora, reminiscent of a herbarium, or even illustrations from the pages of botanical literature. These light and romantic tattoos, covering all representatives of the plant kingdom, have become the calling card of the guest of this interview - Elena Fedchenko. The tattoo artist has been specializing in this elegant style for many years, which is chosen by more and more people, inspired by nature, its shapes and colors.
Elena will talk about how such tattoos are created, how she works with clients' ideas, and of course, about her creative path and plans for the future. So, let's go!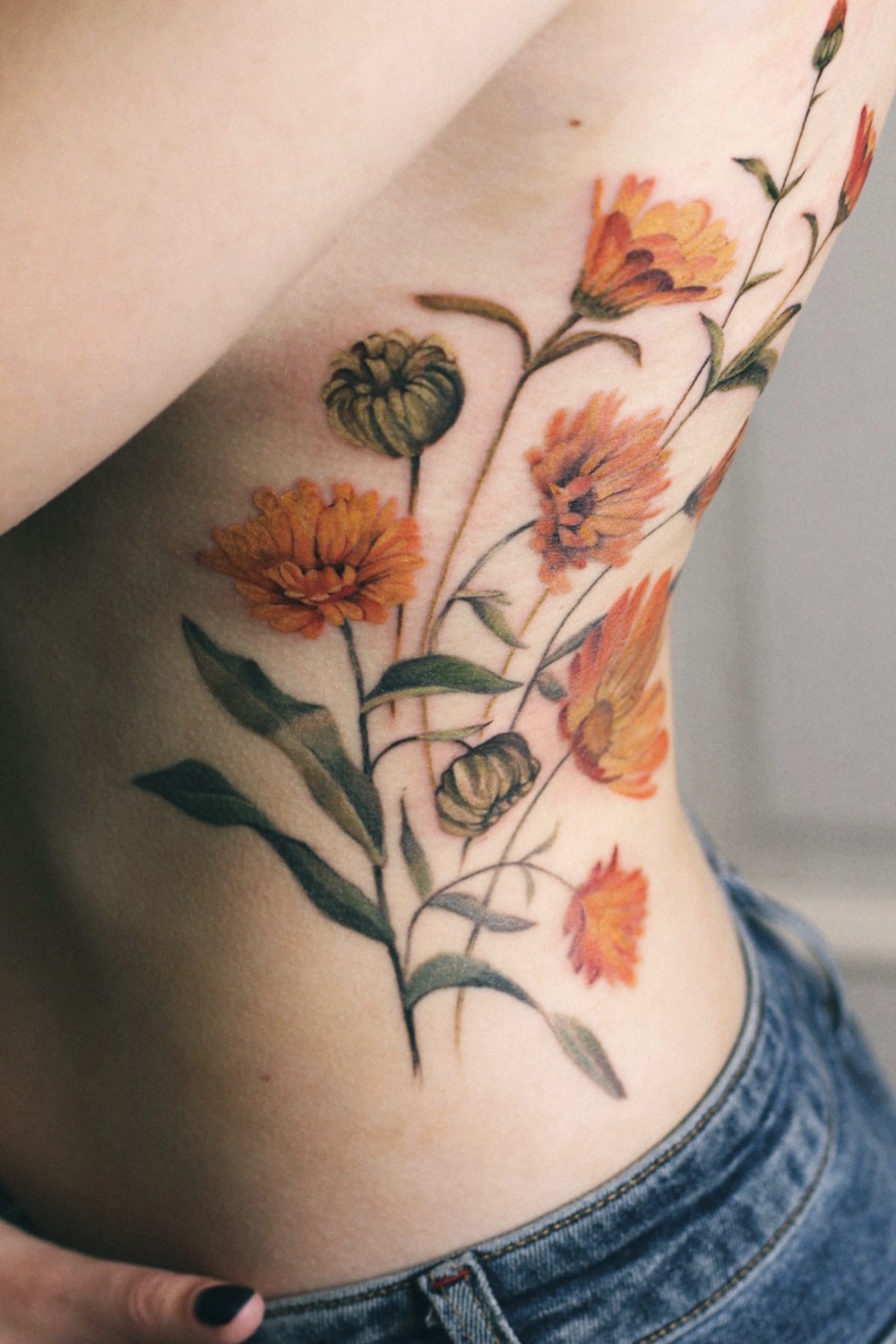 ---
- Elena, tell us a little about yourself. Where do you work now?
- I am from a small town in the Smolensk region of Russia. I moved to Moscow while studying at the university, worked here for a long time, first time in an office in various positions, then left it and became a tattoo artist.
- Tell us about your portfolio. What kind of work do you like to do? What features of your work would you highlight?
- It is easy to see that there is a lot of botany in my portfolio. When I was looking for my style, I noticed that the botanical theme resonates more with my clients. Apparently, even then it turned out to be especially atmospheric, and I myself liked to come up with sketches of such themes.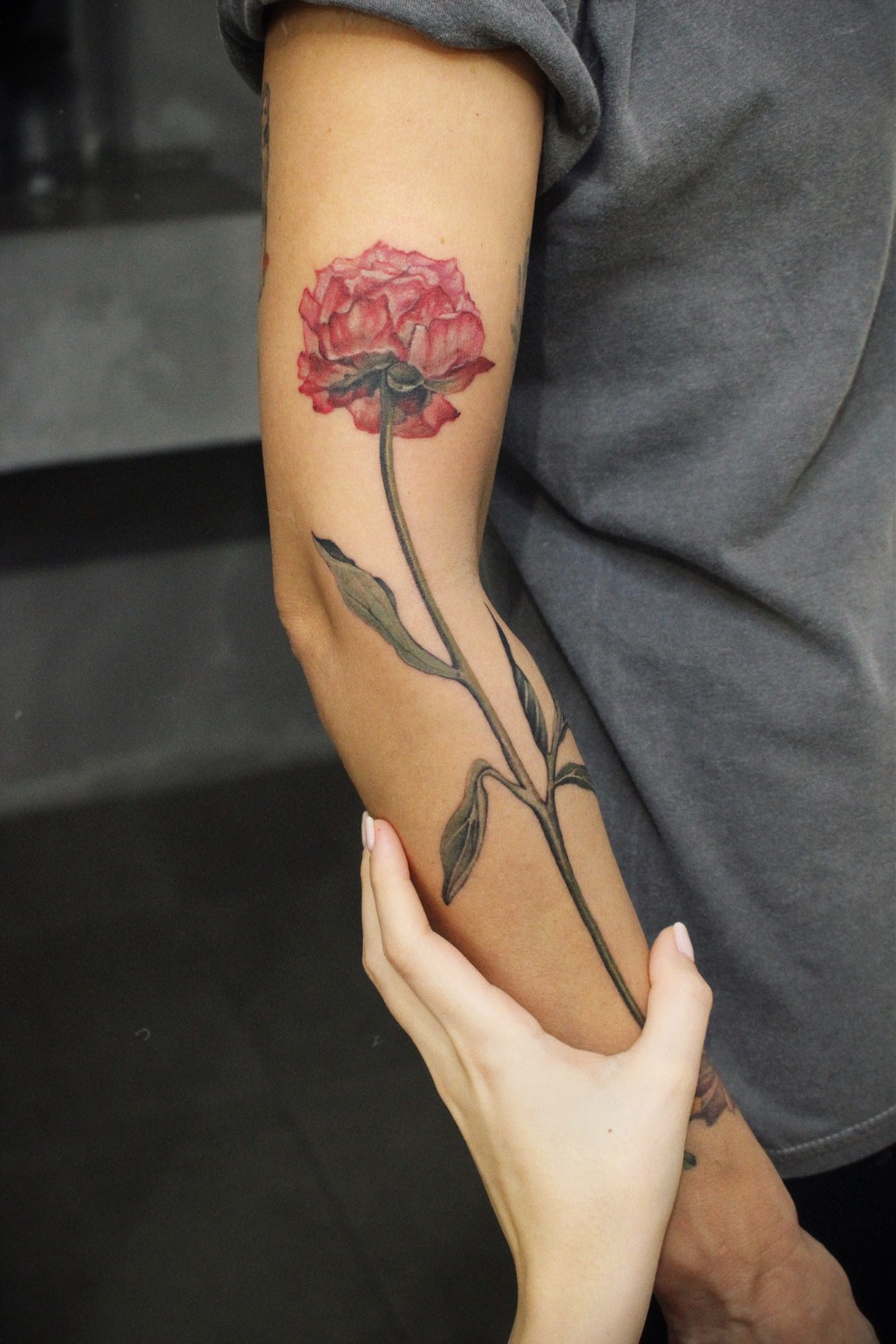 I painted a lot with watercolors, I have so many folders with sketches. Now flowers are my calling card. At first, I liked doing small-scale projects in the spirit of Korean artists. Then I gradually found my own: when plants emphasize the lines of the body by shape and size. I can do it freehand.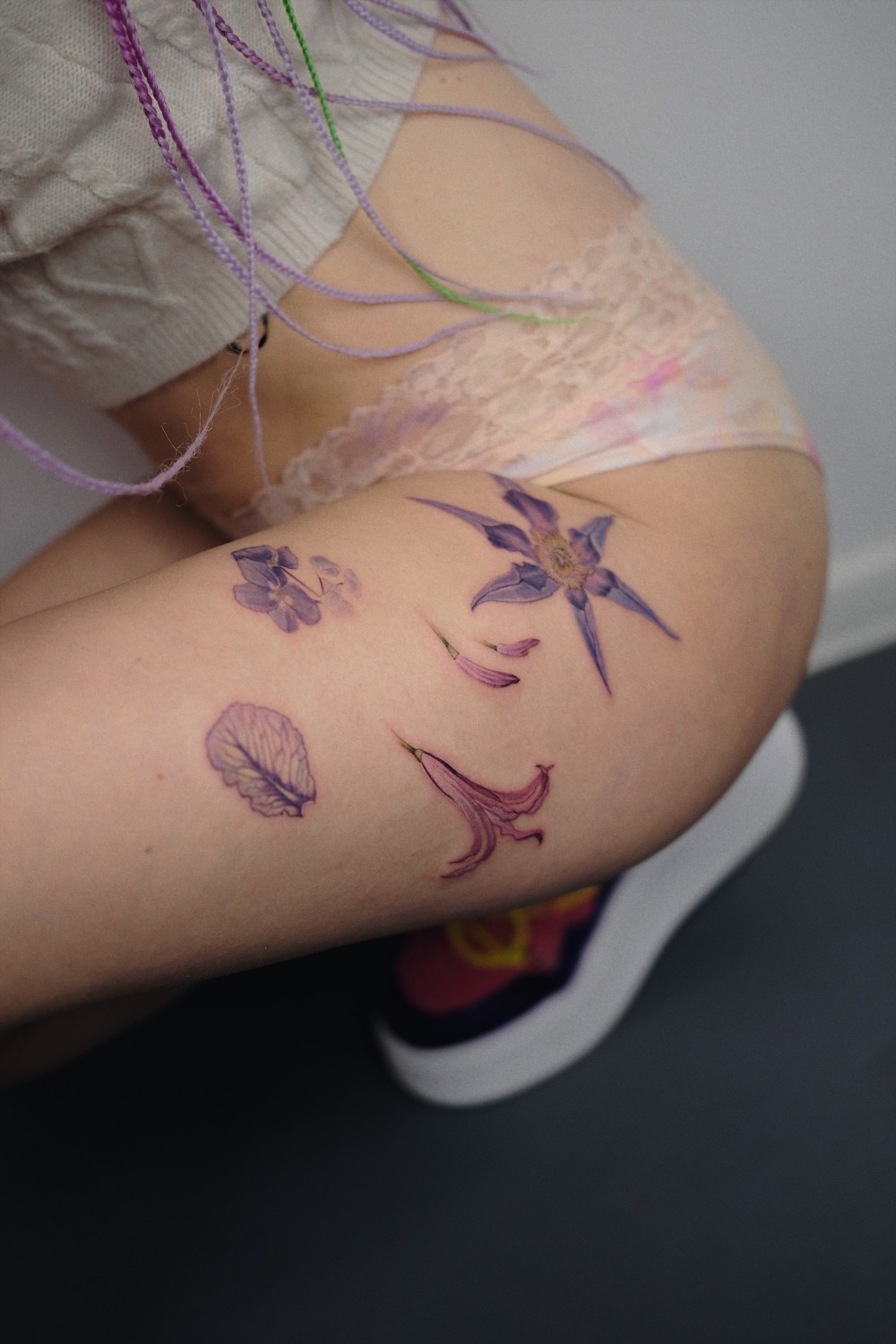 Sometimes I draw directly from live references. I make various compositions from flowers. I like to look for non-standard placement on the body. Often I see plants as some sort of abstract element that doesn't even need leaves. I like to change the tattoo technique from time to time, the presentation of my work.
I like to take a break from botany and make miniatures with landscapes or still lifes, animals. Or draw sketches of fabulous creatures.
I have a very flexible and lively audience. They generally always respond very well to my ideas and suggestions.
- Tell us how and when the tattoo came into your life? How did you turn it into your profession?
- Once upon a time, when I was 14 years old, a friend showed me a magazine with sketches of tribal tattoos, you know, all kinds of lizards, rays, turtles. Such Polynesian stories. And then he showed a lizard for the whole calf. This was my first introduction to tattooing. I would never have thought then that it would become my profession in the future, although I drew all the time, graduated from art school.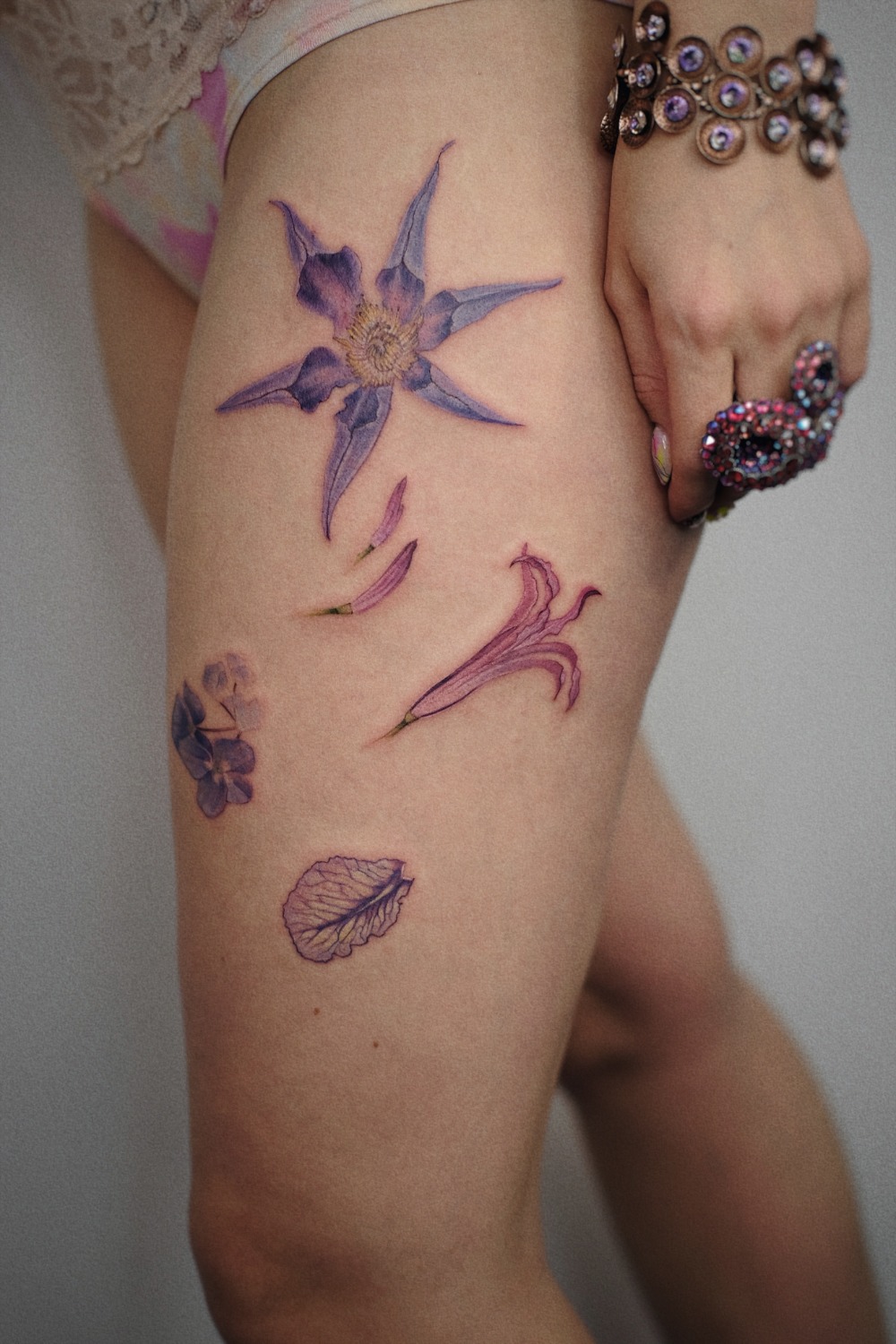 Then, already studying at the university, I saw tattooed models on the Internet and thought - this is cool. I went to the tattooer and got my first tattoo. But even then I did not become a tattoo artist, but my partner did. Only a few years later I took up the tattoo-machine and began working in my first studio, the Banana tattoo Moscow. I combined it with work in the office, but then I decided that I needed to make a choice. In the tattoo, it's impossible to give a little energy and be a good tattooer. And I have always seen myself as an artist. This is the main reason why I am in the industry.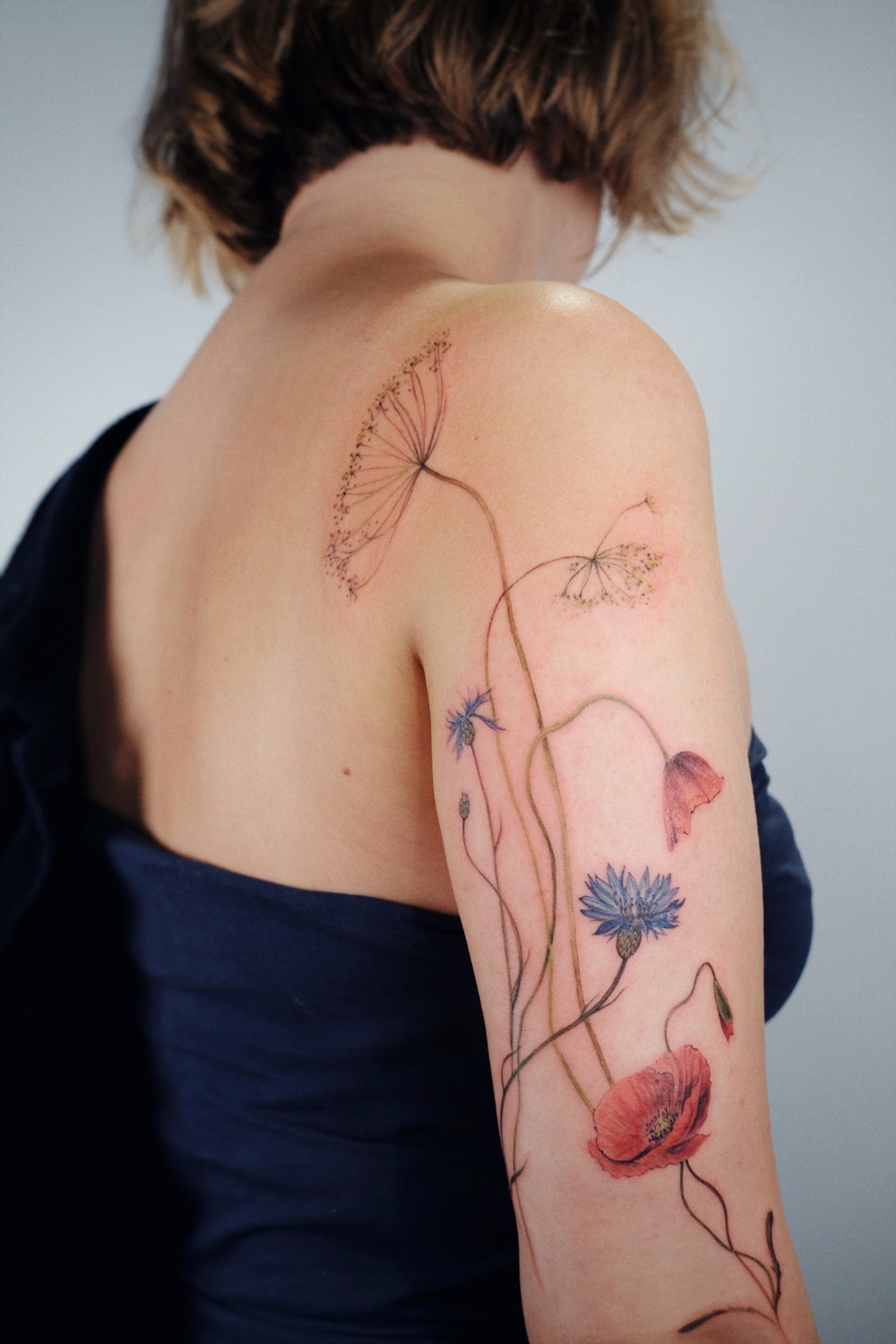 Then there was the experience of a home studio, then in 2018 I found a new cool Moscow team that reflected the modern spirit of tattoo artists - Oeuvre ink. After that it was time for my own studio Campanula artspace. It lasted three years, and only recently I completed this project.
- What comes first in your work: the client's idea or yours? How is your tattoo sketch born?
- The client's idea is the starting point. In principle, it is enough for my guests to name at least one flower that they definitely want to see in the composition. Then I do everything myself, I select plants that will look harmonious. I do most of the work freehand, I use the transfer when there are complex elements in which I would not like to make a mistake. I see the composition right away, draw it and practically do not change it after. I know from experience that the first option is the best.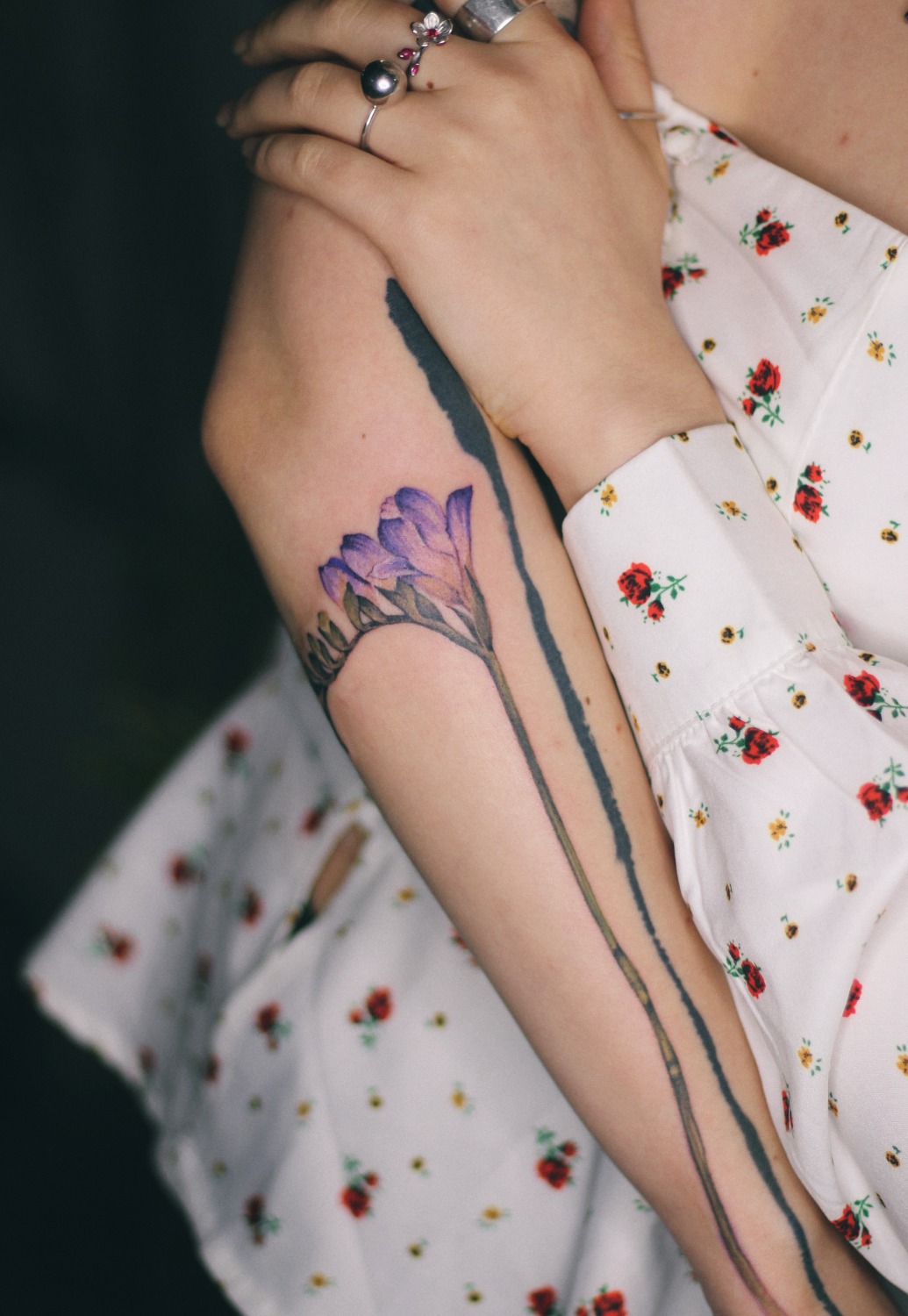 In general, in all my work I come across a great trust of clients. That is, the guys come in advance with the mood to get a cool tattoo and are open to any of my suggestions and vision.
- In the header of your profile on Instagram there is such an entry "More than just a tattoo artist". What are you putting into it?
- I limit the definition of a tattoo artist, as a person who mechanically applies pictures to the skin. And with this statement, I break this border. Because the profession contains much more: a psychotherapist, a manager, a marketer, a photographer, a specialist in the spine (just kidding).
In general, such a profession is multifaceted, it requires the improvement of different skills. Many tattooists are also philosophers. We are constantly in reflection about work, development and how to continue. Now a tattooer is chosen not only by his skills, but clients also look at what kind of person he is, what his beliefs and values ​​are.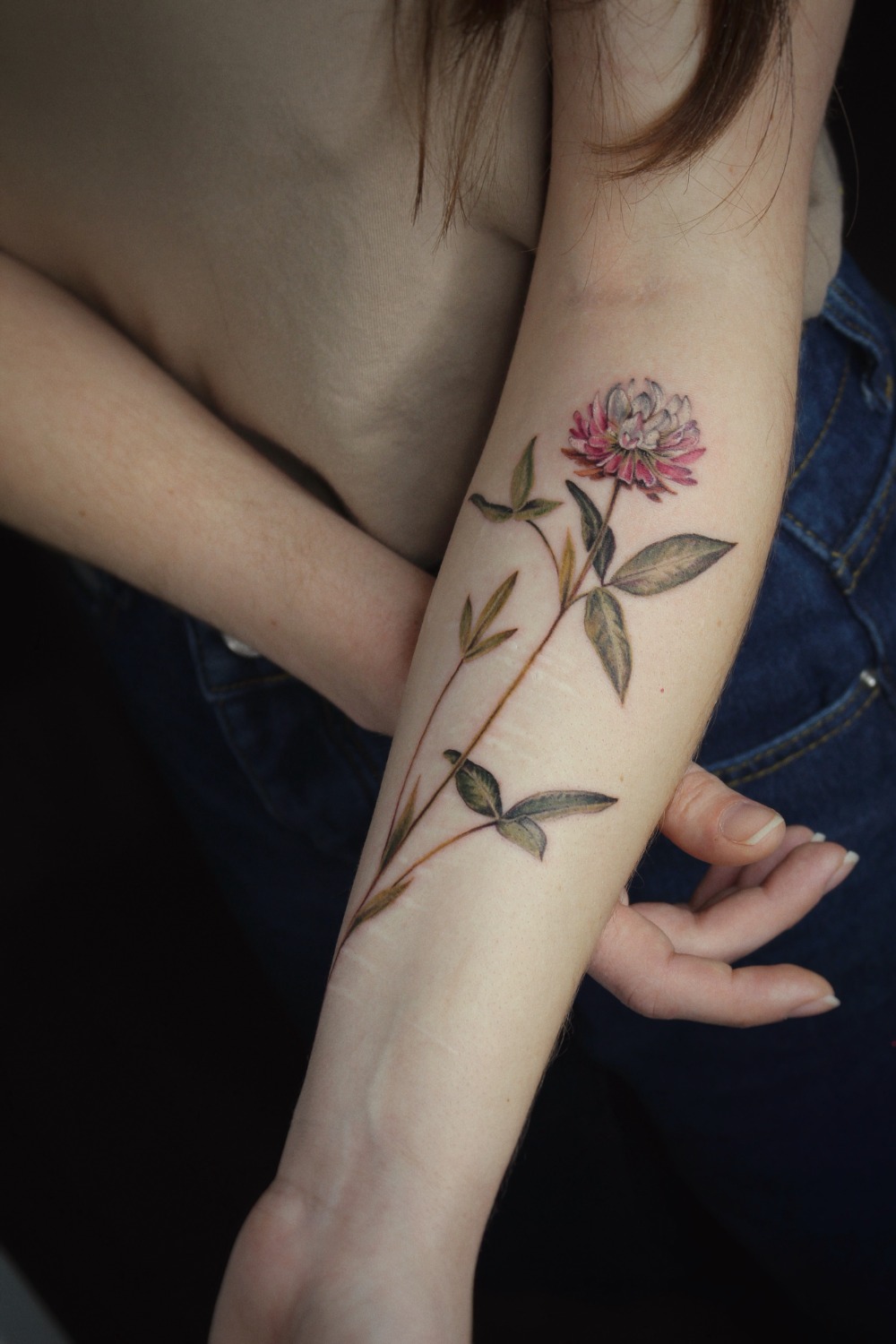 - What inspires you as a creator?
- The ideal image of yourself that is in your head. I have such a picture of myself, of what I do. And I constantly turn to it and ask myself, am I moving towards this state, or have I gone astray or stand still. I resolve this issue internally and, based on it, I act.
If not so globally, then the people who come to the sessions inspire me, a lot of good guys with excellent energy. Rest is very inspiring when there are several days of free time, not just one or two (this is not enough for recovery, getting tattoos is very energy-consuming), there is a desire to watch movies, listen to music, yourself, do sports, and, finally, become a resource for your ideas.
- What is the most enjoyable part of your job as a tattoo artist?
- To take a photo of the finished work, especially when you and the guest are not too tired, the skin calmed down after the session. There is an opportunity to be creative, look for interesting angles and poses for shooting.
- In one of your posts, you shared with your subscribers that your work does not fully reflect your inner world. How would you describe yourself as a person?
- I am a very emotional person with a wide range of interests. I don't understand why this is still so little reflected in my work. I love history, mythology (not Greek and Scandinavian, but Sumerian), horror movies, modern still life, electronic music, fashion, RPG games, food, and of course travel.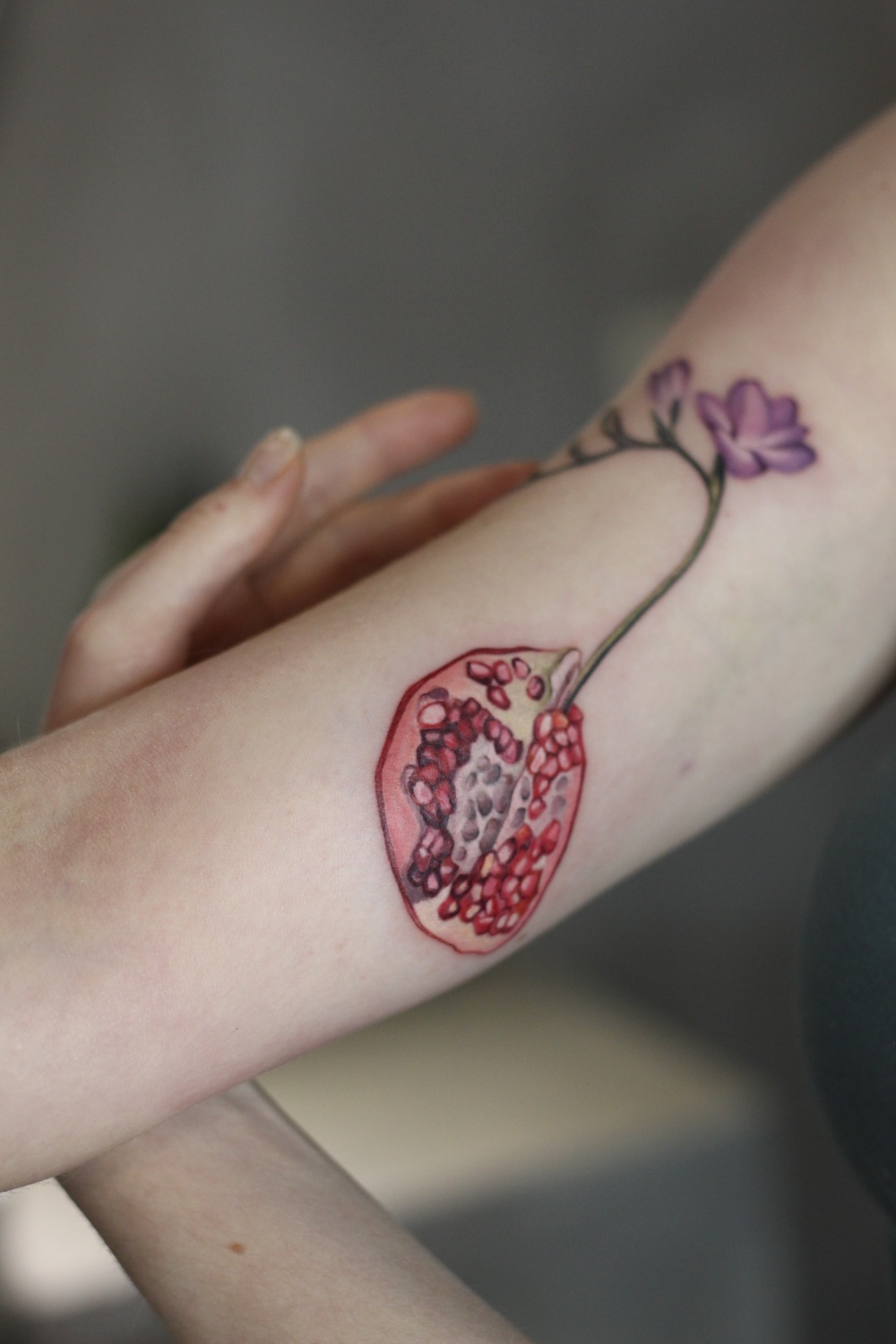 - How do you manage to combine these two passions - a tattoo and travel? Where has the tattoo industry impressed you the most?
- Actually in recent years I spent a lot of time outside of Moscow. I like to come, get to know the guys, find out what's new in the industry, who breathes what, what they do, what equipment they work with.
I am constantly updating equipment and supplies. I appreciate the feedback from my colleagues. Plus, I'm just a tireless explorer. I'm interested in everything when I travel: food, places, people, exhibitions, parties, nature. I often return to places where I especially liked.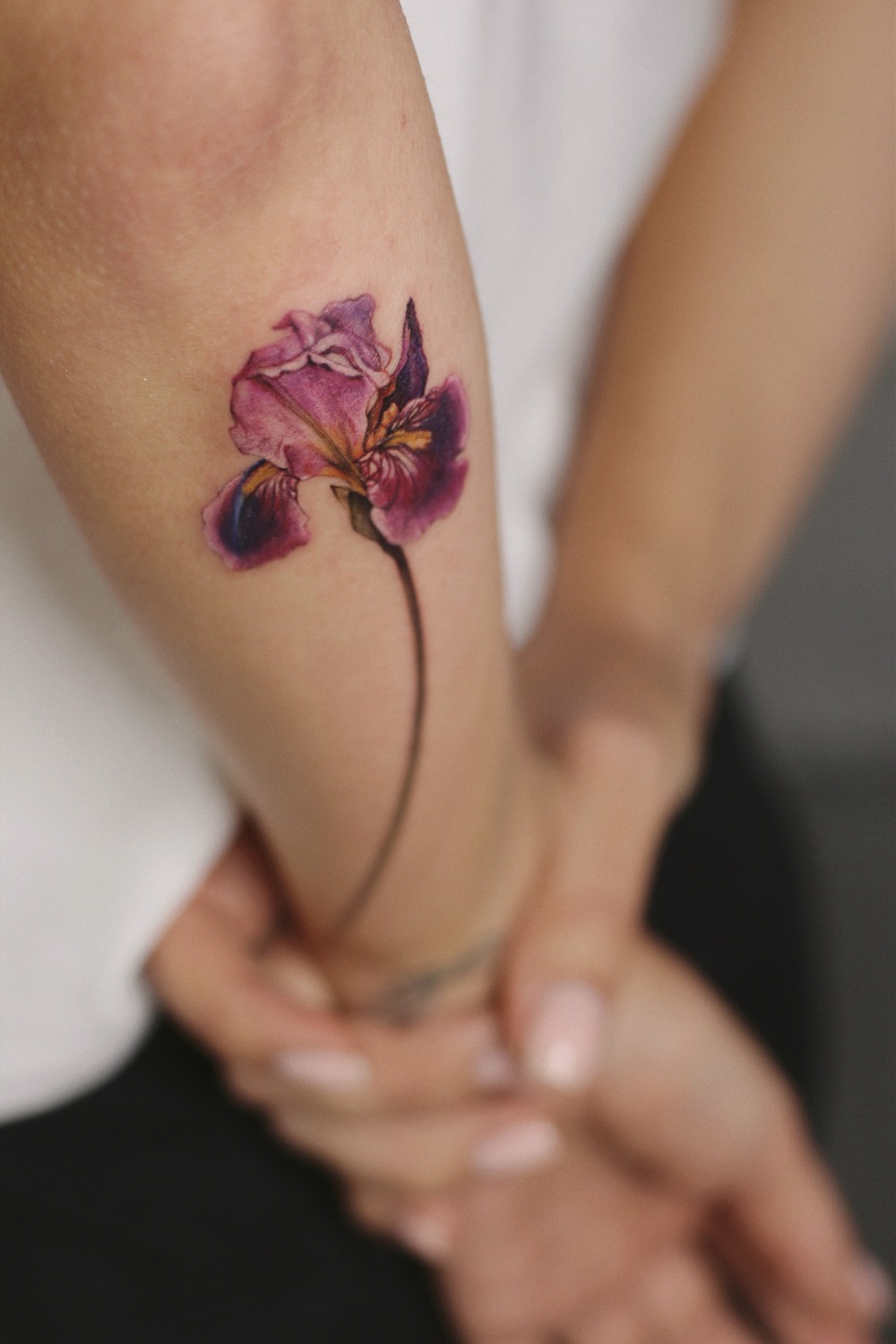 Each place has its own unique vibe, everywhere the tattoo industry impresses, because it is still a unique profession in which, with certain strict rules, there is also freedom for creativity.
I love Berlin, Amsterdam, and New York. The latter for being a very promising city, since a few years ago very strong tattoo artists gathered there, which have a significant impact on the industry. They are now developing projects for their own studios, and they are gathering good teams. This is interesting.
- Are there any other arts besides tattoos that you devote your time to?
- I paint in watercolors and oils, I like botanical illustration and everyday life. Too bad I don't do it very often these days. During quarantine, I drew a whole artbook with watercolors, then almost all of it was dismantled into sketches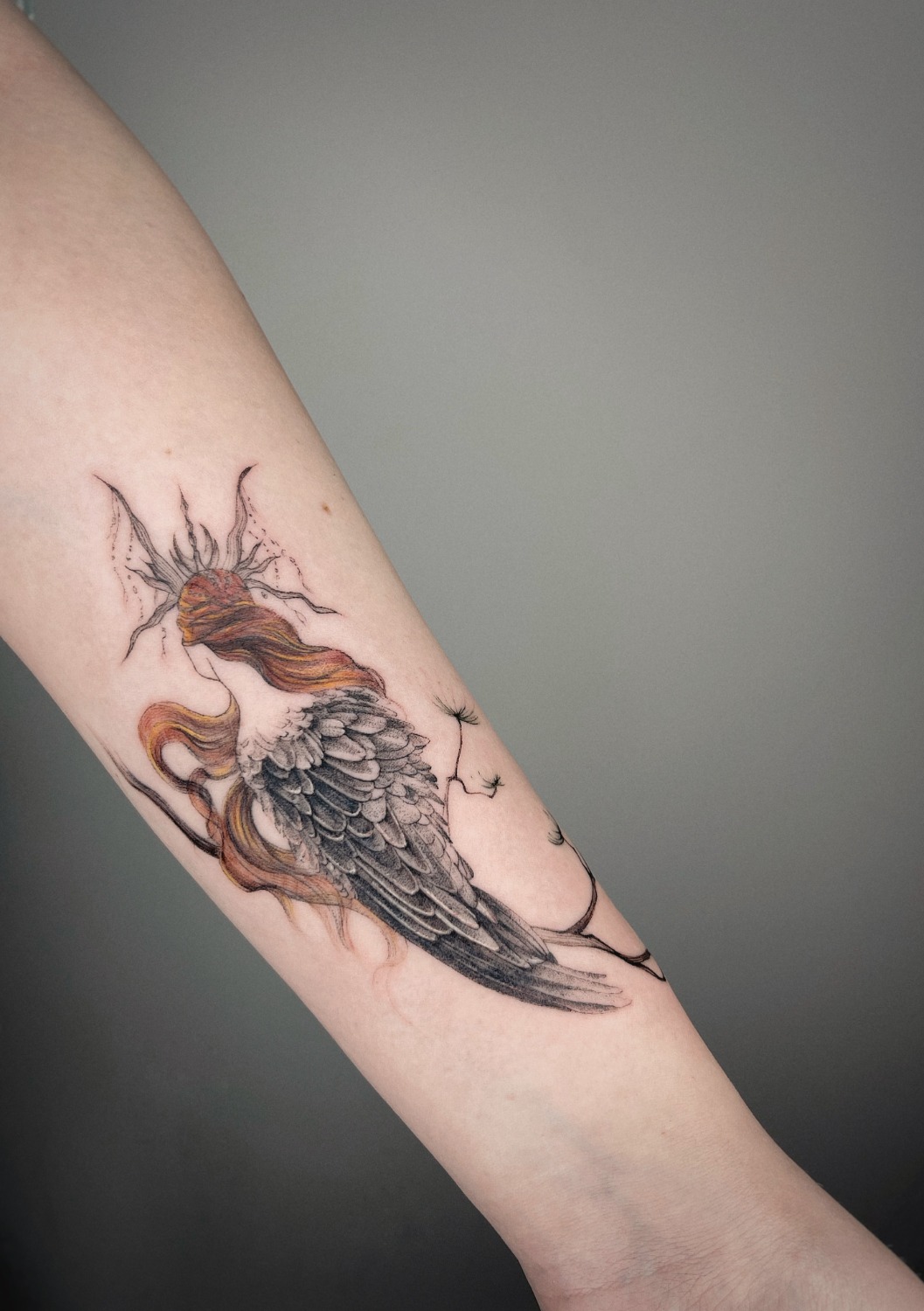 - Are you planning any personal activities, projects?
- Yes! I am planning to launch a new line of my transfer tattoos, with new designs. I cooperated with one European company, and for several years we used my old designs. I want to add new ones.
Regarding conventions: I participated in the Moscow convention several years ago and now I come there just as a guest. I do not support the format of their holding (small boxes are embarrassing, it is hard for me to work in such a space), and a limited number of nominations, which does not change over the years, although new styles and young artists appear. I have an invitation to the New York tattoo convention, I don't know if I can get there this year.