Serenity in colorful Tilda's tattoos
31 / 03 / 2022
Andrey Novikov
Tattoo artist Tilda
/ Source: @tilda_tattoo
Check out the charming style of Korean artist Tilda, whose work is already followed by over 60,000 tattoo fans from all over the world. This talented tattoo artist lives in South Korea and works at the famous StudiobySol in Seoul.
The world of butterflies and flowers combined with the colors of famous impressionist artists is Tilda's calling card. Her works are real island of serenity, tenderness and bright colors, so loved by girls from all over the world.
---
Tell us a little about yourself: where are you from, where did you study? When and how did you decide to become a tattoo artist?
- Hi! I'm Tilda, a tattooist. My real name is Sunyoung Kim. I work at StudioBySol in Seoul, Korea. When I was in my third year of college, I saw my teacher, Tattooist Sol's fineline for the first time and I was very surprised. This is because he expressed my favorite paintings of Van Gogh and Monet beautifully in tattoos. It was shocking that tattooing can express small but delicate and pretty ways. It's because I've only seen black works or bold lines. In particular, it was surprising that many colors could be used for tattoos. I thought tattoo ink was only black, or only red and blue with high saturation.
I like to use many colors when I draw, so it was most attractive that there were many colors of tattoo ink. When I was in college, I had a chance to learn tattoos, but I hesitated because of the conservative perceptions around me. After graduation, I worked as a fashion MD for about a year, but it didn't suit my aptitude, and what kind of work can I do better? While thinking about it, I remembered my college days when I was interested in tattoos. From then on, I started wanting to learn tattoos seriously.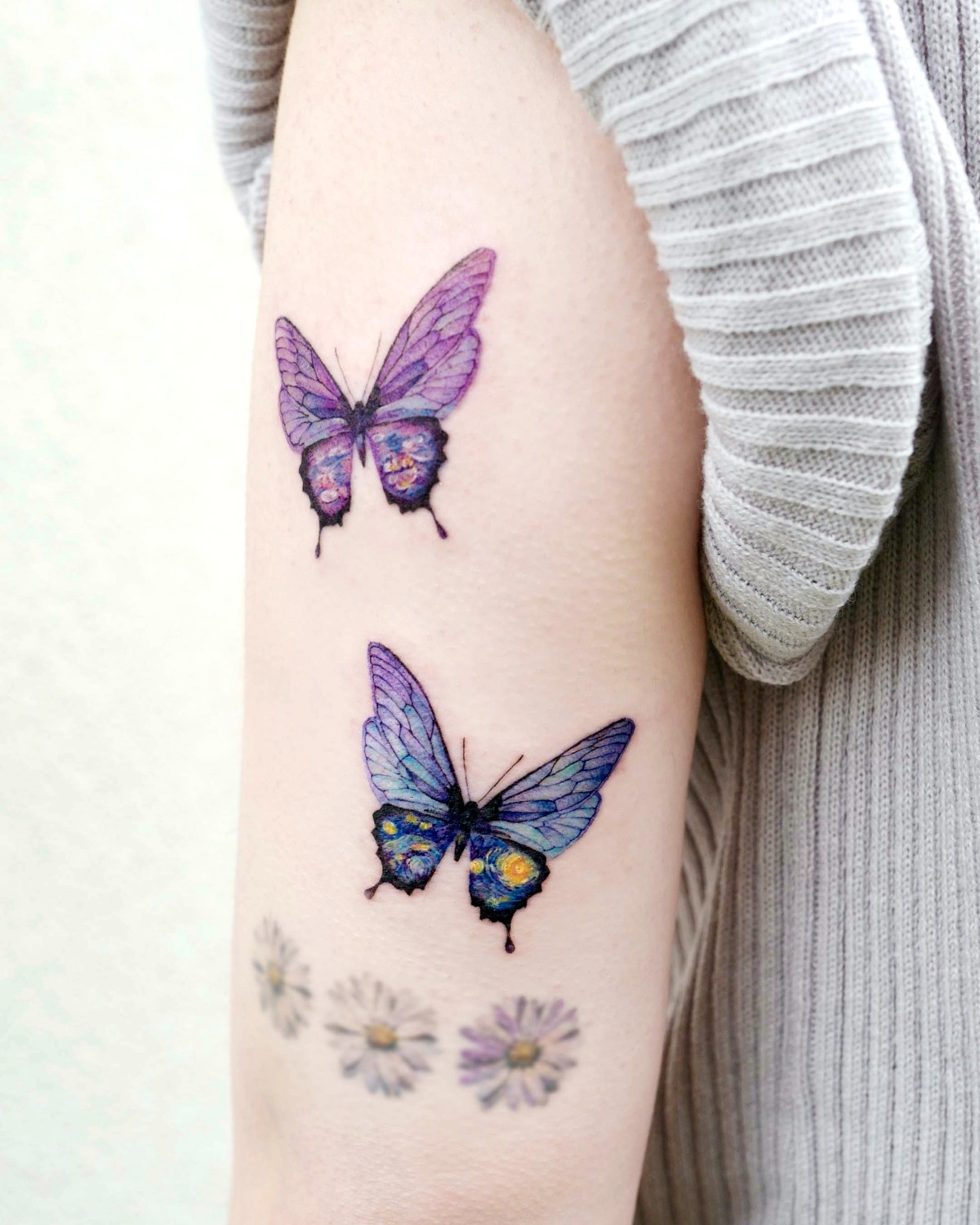 - Tell us about your tattoo style. Why do you think your clients love your tattoos so much?
- I have a so-called "fineline" tattoo that mainly uses small and delicate lines. My tattoo has many natural materials such as flowers, birds, and butterflies in various colors. As tattoos are illegal in Korea, tattoos seem to have more negative views. In particular, many women in Korea like small-sized tattoos because they are not noticeable and can use tattoos like fashion accessories.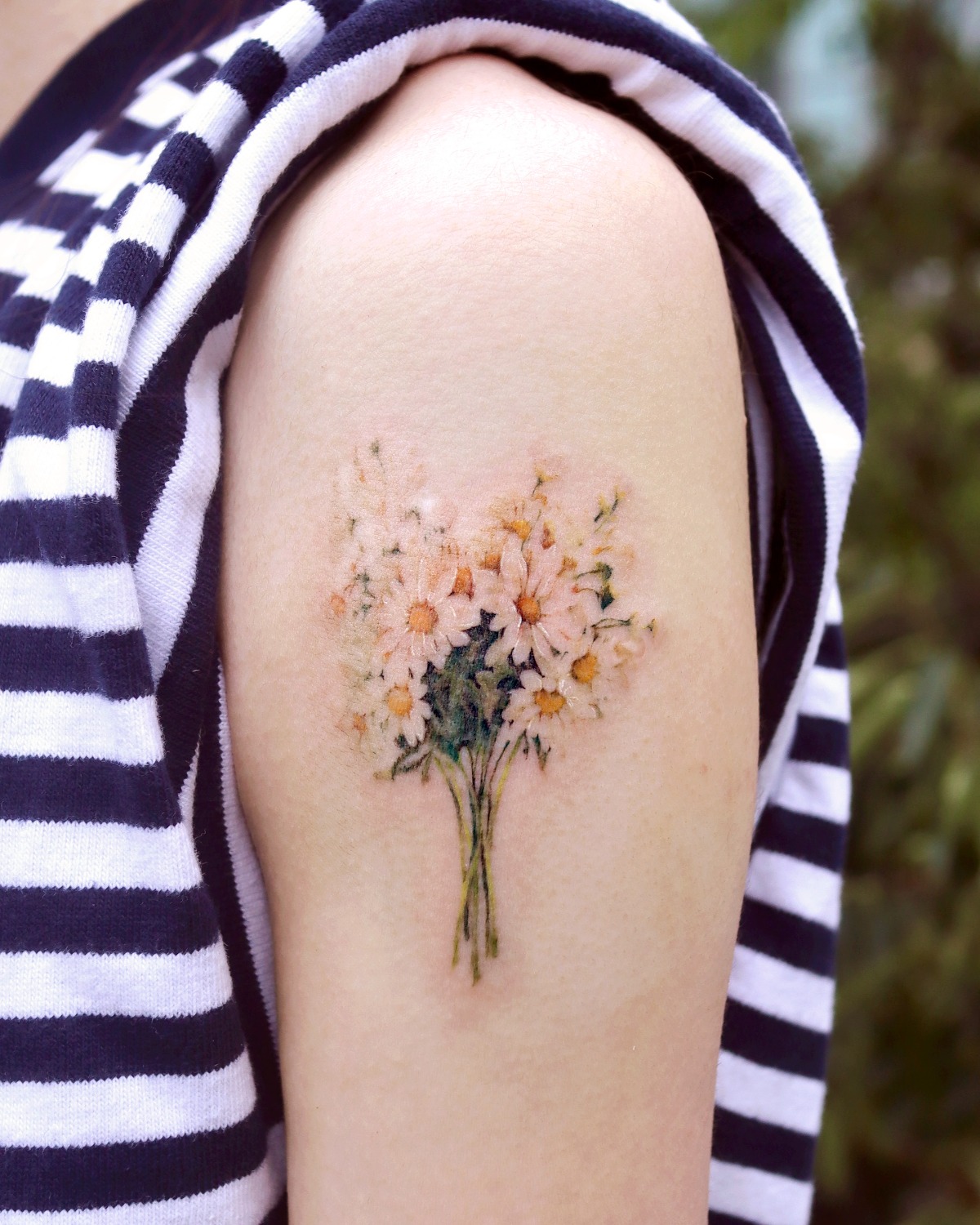 - Tilda, you mentioned flower tattoos, which are associated with birth in Korea. Can you tell us more about this tradition? (We have never heard of this before).
- Birth flower tattoos are not unique to Korea, but it seems to be a trend among young Korean women to tattoo birth flowers. It seems that they want to keep their precious existence forever by engraving the birth flowers of themselves, family, friends, or pets on their bodies. As mentioned earlier, tattoos are not a positive atmosphere in Korea, so they seem to like small and colorful flowers.
- Why do Korean girls like butterfly tattoos so much?
- Recently, y2k is in fashion, and butterflies are one of the representative materials of y2k. Butterflies have become a trend not only in Korea but also in many countries, and people seem to like them steadily because the variety of shapes and colors of butterflies is beautiful and colorful.
- Please tell us more about your work, which combines butterflies and paintings by famous artists.
- My butterfly and masterpiece combination work was first created at the request of my client. The combination of butterflies and famous paintings was more beautiful than I thought. In particular, I mainly combined Monet, Gogh, and Renoir's paintings with butterflies because the beautiful color expressions and materials of these artists look especially good with butterflies.
- What famous artists inspire you?
- I love the works of Gogh, Renoir, and Monet. I love the color expressions of these artists. The combination of Gogh's starry blue and yellow night, the warmth of Renoir vase red and orange, Monet's water lily pastel-toned purple and blue, etc. And I love using the soft pastel colors that refer to the interior design of Daphne's house of Bridgeton, which expresses my favorite pastel tones in soft pinks, blues and yellows.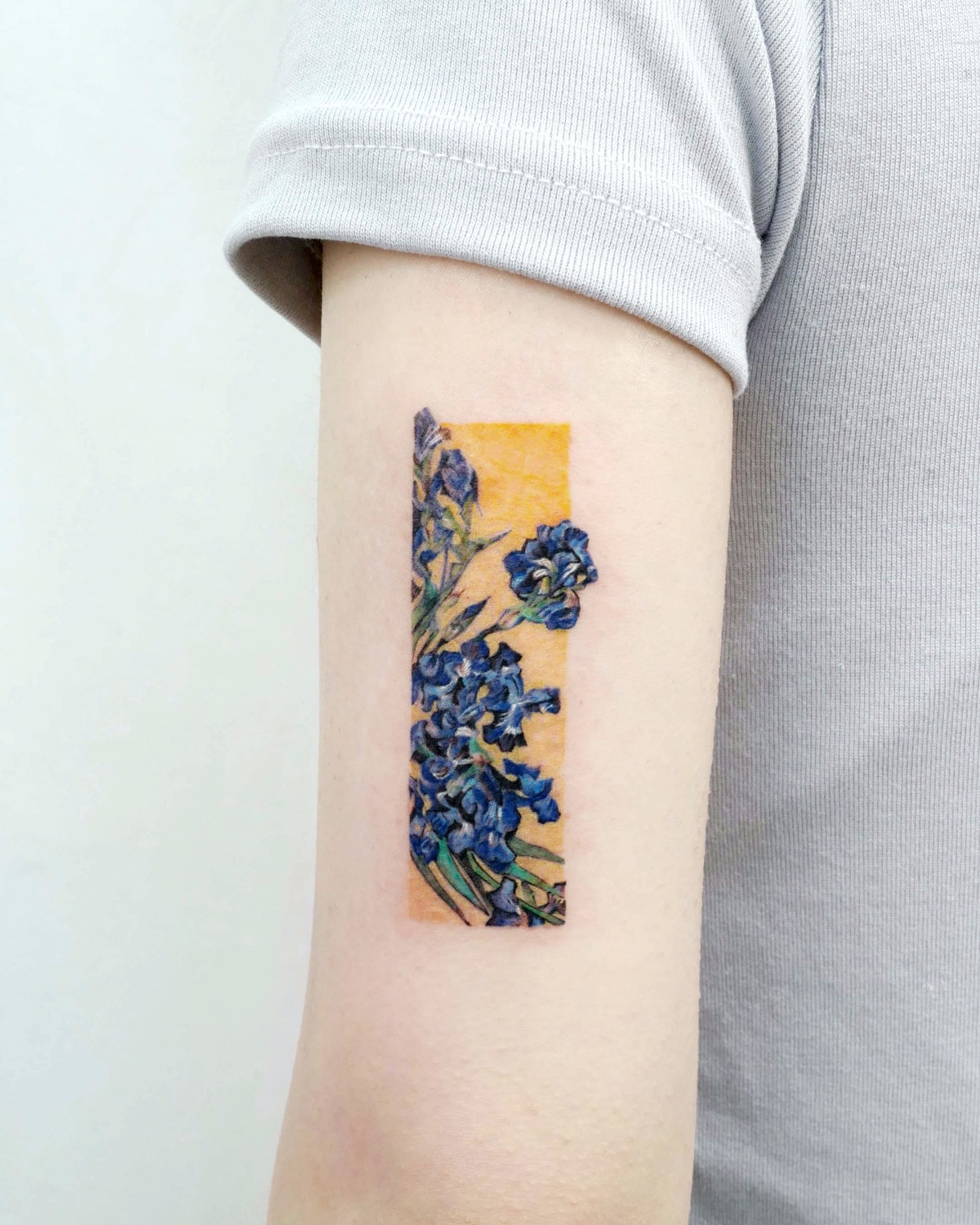 - Do you have favorite flowers? Are you looking for inspiration in vibrant colors, or do you focus on pictures?
- I like drawing roses the best. I like the variety of appearances from rose buds to full bloom, and roses have various colors. Also, I find it attractive that roses bloom the prettiest in the hottest summer.
- You work at the famous studio in Seoul, Studiobysol. How did you get there? How long have you been working there?
- I've been working at Studiobysol for almost two years. I wanted to work here before I learned tattooing. So I worked in this studio after learning tattoos at Studiobysol's Academy for about three months.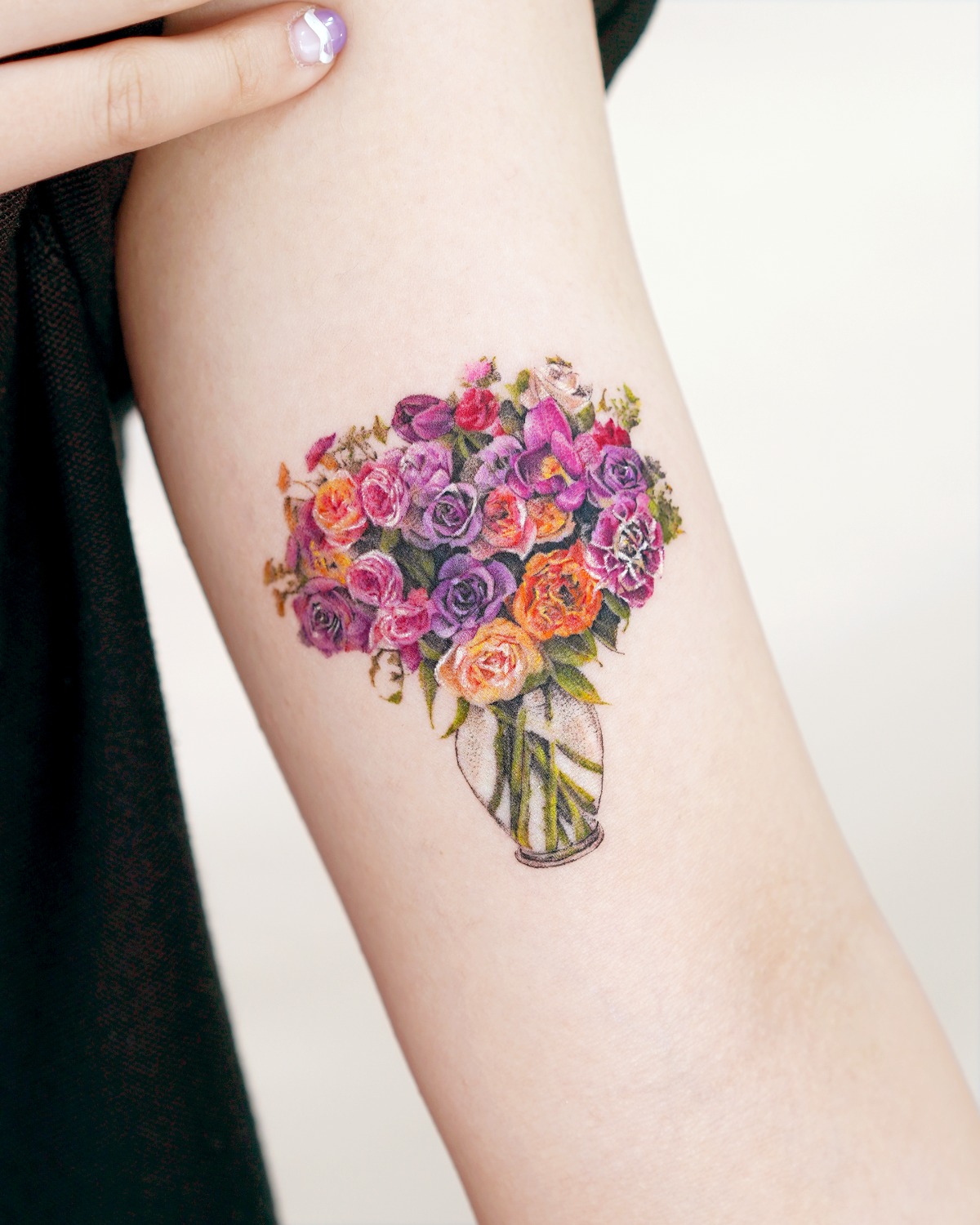 - Do you have tattoos? Can you tell about them?
- I like flowers, natural objects, and famous paintings, and I also have tattoos of this material on my body. My favorite tattoo is Monet's Water Lilies work by my teacher, Tattooist Sol. This was my first tattoo, Monet's beautiful blue and purple color remained clear after two years.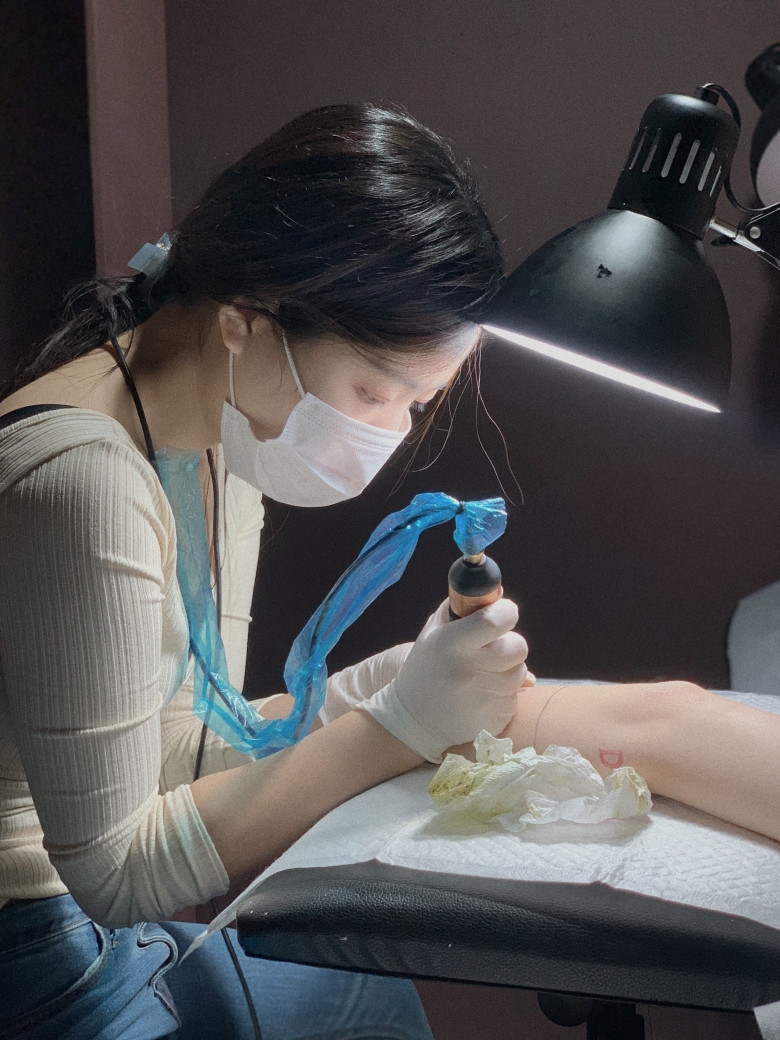 - Do you have any other passions besides tattooing?
- I like fashion. I feel better when I see or wear pretty clothes. I don't draw now, but I used to like drawing fashion illustrations in the past, but from now on, I want to draw fashion illustrations whenever I have time.
- How do you assess the tattoo industry in South Korea today?
- There are many unique and stylish tattooists in Korea, but Korea is the only country where tattoos are illegal. The world has changed and there are many great tattooists, but Korean law is not keeping up. I am very sad for this situation. As the status of Korean tattoos is increasing, I hope the day comes when Korean law respects it and Korean tattooists can work safely and joyfully.
- Are you planning any personal events?
- There is no specific event at the moment, but if I have a chance, I would like to hold a personal exhibition related to my tattoo work.