Sergei Fish: Tattooing is a Way of Life and a Part of Who I am
11 / 04 / 2023
Oleg Zarvsky
Tattoo artist Sergei Fish
Today, we have the pleasure of interviewing a tattoo artist who has made a name for himself in the traditional American tattoo style - Sergei Fish. He is passionate about creating works of art that will stand the test of time and be treasured by his clients for years to come. We'll learn about his journey to becoming a tattoo artist, his formal education in art, his experiences as a tattoo artist, his lifestyle, his meeting with Blink-182 and much more. So let's get started!
---
Why did you decide to become a tattoo artist, and what did you do before?
- Since childhood, I have been passionate about drawing. I would draw a little men on a ship, war games, and pirates. When I was 15 years old, I chanced upon a music video by the American pop-punk band Blink-182 on television, and I was fascinated by their colorful body art. That was the moment when I realized that I wanted to look like them, and more importantly, that I wanted to create tattoos like theirs on other people.
After I graduated from high school, I worked as a decorator in cinema, theater, and advertising layouts in Moscow for 10 years.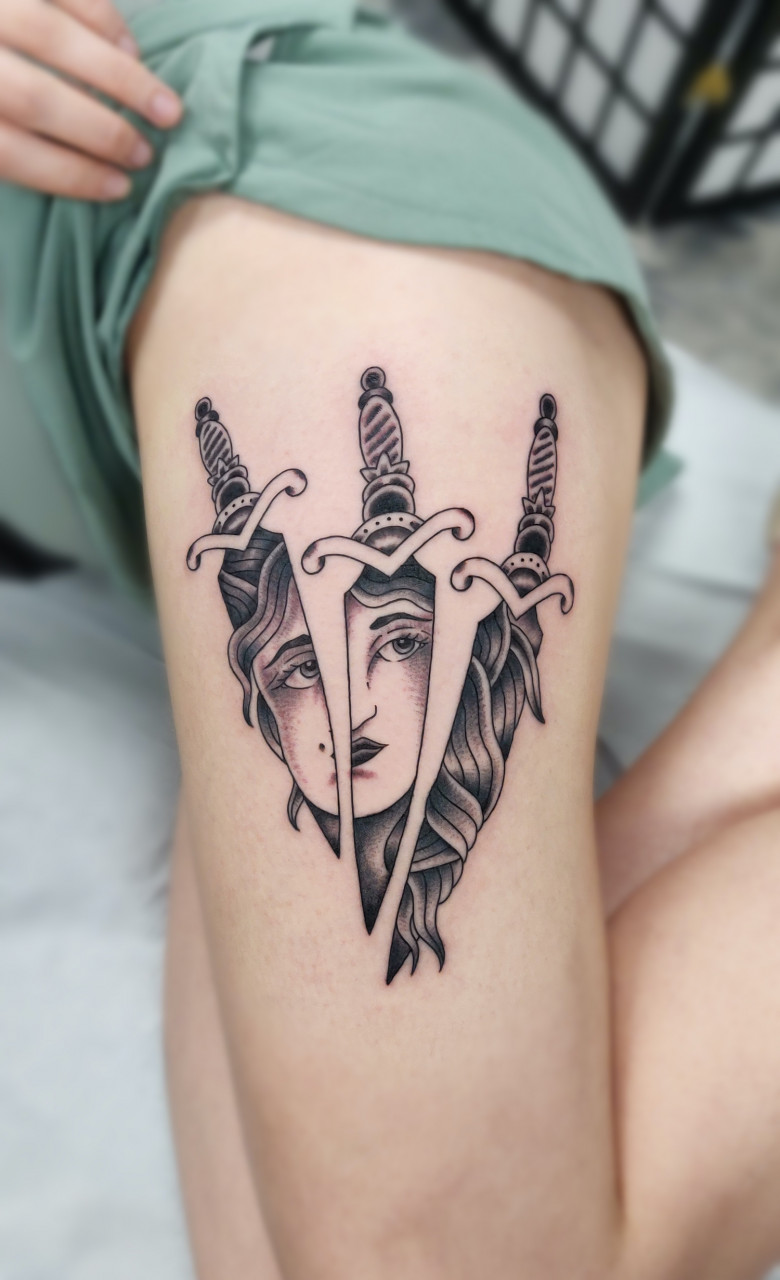 Do you have formal education in art?
- Art has always been my passion, and I have been painting for as long as I can remember. I had always aspired to attend art school, hoping it would help me hone my skills further. However, due to various circumstances in life, such as work and immigration, I was unable to pursue this dream until I turned 30.
Finally, I enrolled in the art department at Santa Monica College in California, and I graduated in 2021. While I am proud of my achievements, I have aspirations to continue my education and attend a university to further my skills in the future.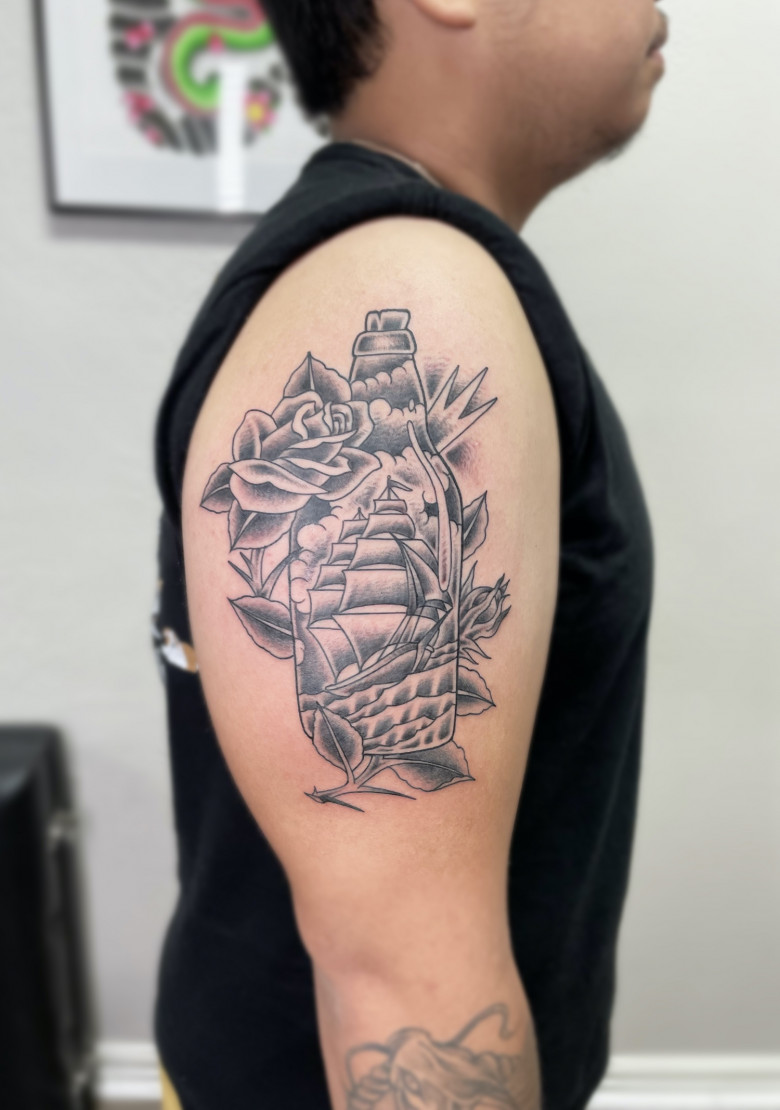 How did your career as a tattoo artist begin, and were there any challenges that you faced? Did you have a mentor to guide you?
- My career as a tattoo artist began in an unconventional way. When I was still in high school around 2005, I wanted to get a tattoo but couldn't afford it or legally get one due to my age. So, I decided to take matters into my own hands and tattooed a small fish on my wrist using a sewing needle and red ink from a gel pen. That was my first experience in tattooing.
In 2015, I finally saved up enough money to purchase my first tattoo equipment, and I began practicing on fruits like oranges and bananas before trying it out on myself again. After gaining some confidence, I started tattooing my colleague, who suggested I try tattooing on him.
In 2016, I fulfilled my childhood dream of moving to Los Angeles. My career as a tattoo artist hit a snag at this point, and it wasn't until a few years later that I was able to resume working in the field.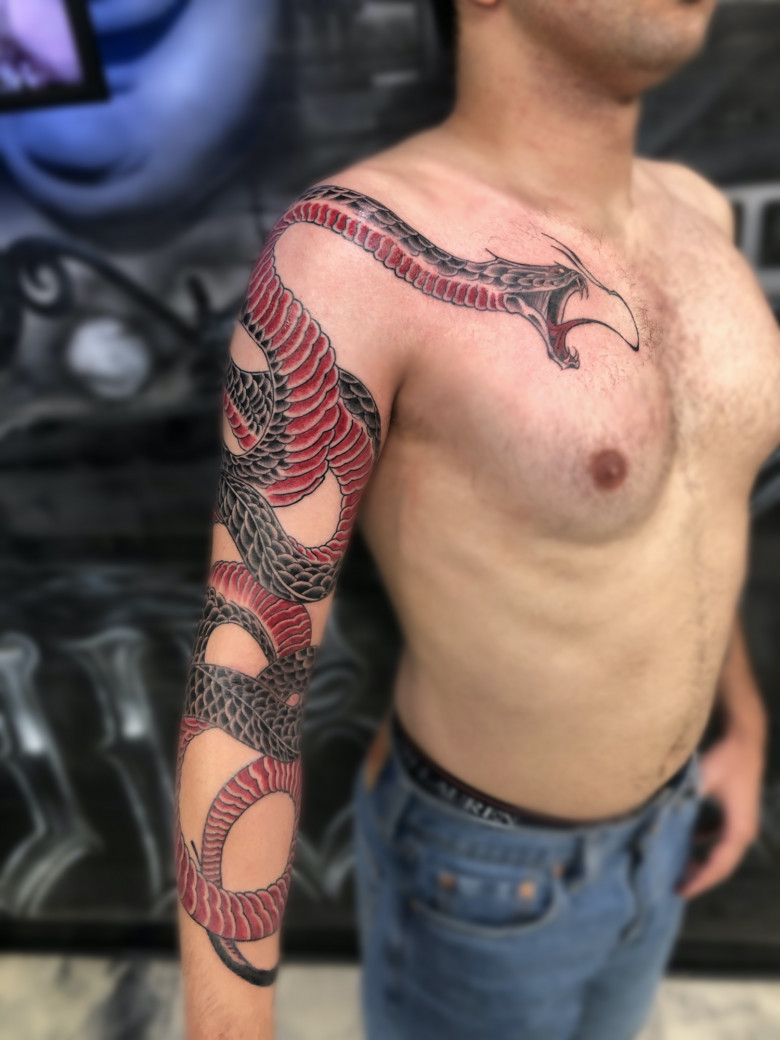 What led you to choose the traditional American tattoo style, and what appeals to you about it?
- Initially, when I started exploring the world of tattooing, my favorite style was new school. I was drawn to the vibrant colors and unique designs that it offered. However, as I delved deeper into the art form, I began to appreciate the simplicity and timelessness of the American traditional tattoo style.
A traditional tattoo is well-suited for skin inking, as it is durable and withstands the test of time. A complex design might look impressive in a tattoo artist's portfolio, but over time, it can fade, blur, and become unreadable on a person's skin. As a professional tattoo artist, I place great importance on creating works that will continue to look good and please their owners for decades to come.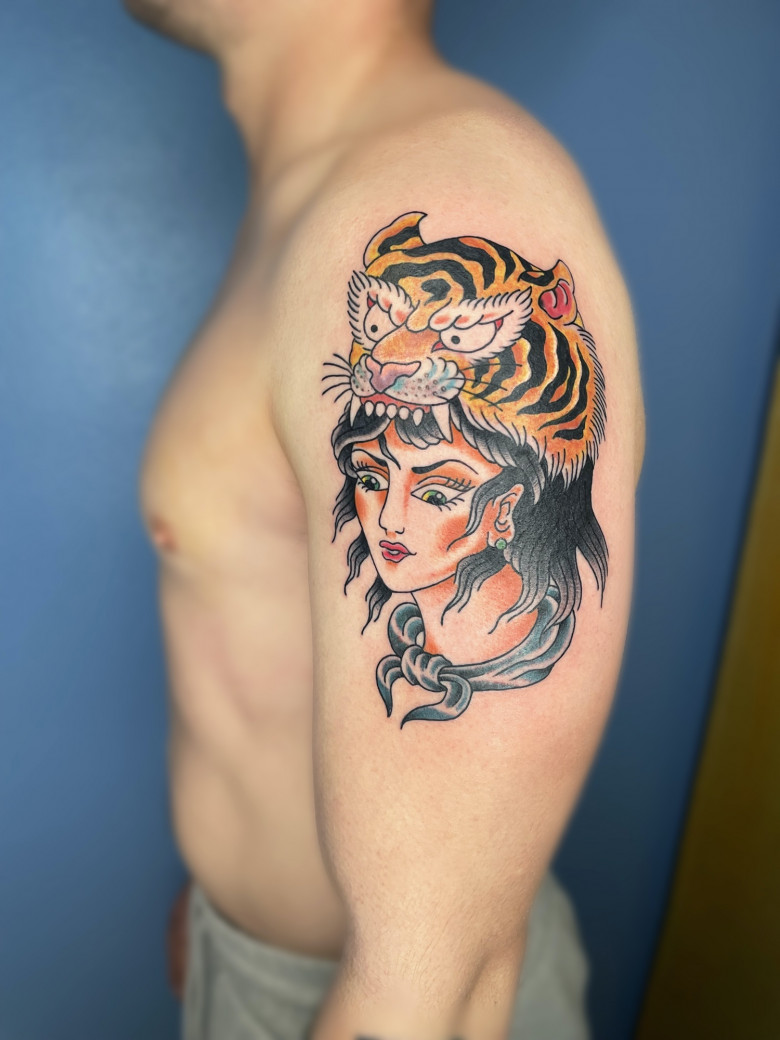 Is tattooing art, work or something else for you?
- For me, tattooing is not just a form of art or a job; it is a way of life and a part of who I am. Tattooing is a medium through which I can express my creativity and connect with people on a deeply personal level. It is a privilege to be able to create works of art that people will carry with them for the rest of their lives.
Usually traditional tattooing or old school is not just a craft, but a lifestyle. Do you, have it? Tell us about yourself: what are your hobbies, musical preferences, etc.
- For me, tattooing is definitely a way of life. I have a passion for tattoos, both receiving them on myself and giving them to the others. In my free time, I spend a lot of time sketching new flash designs and developing ideas for future tattoos.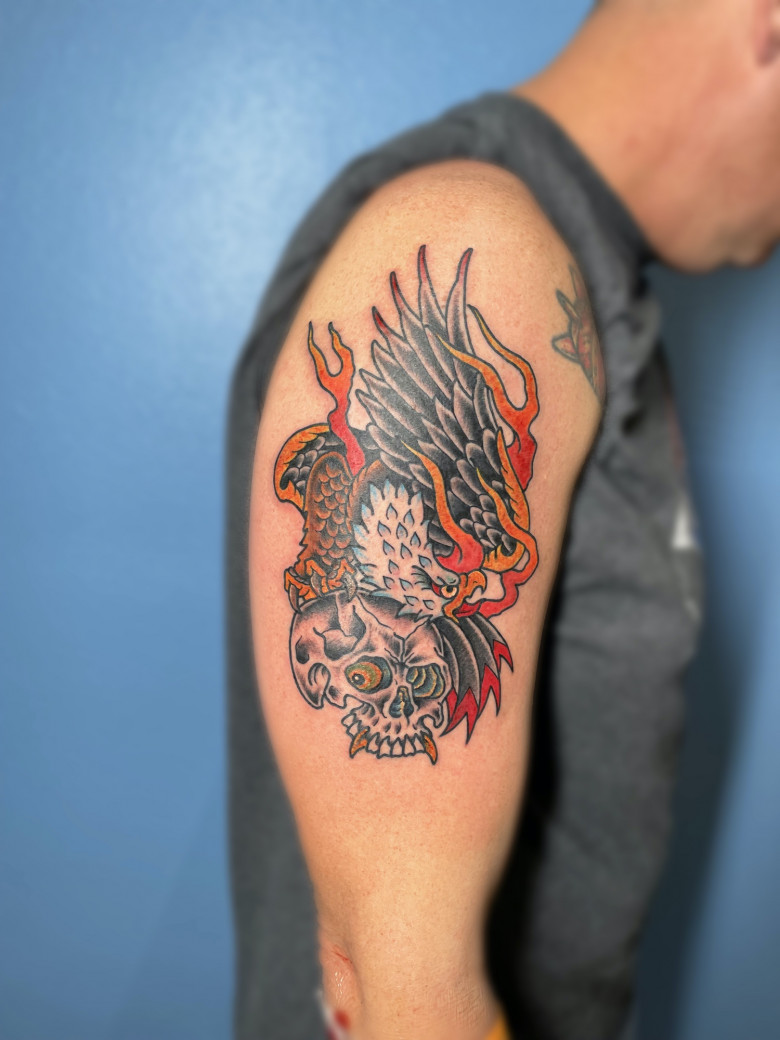 When it comes to music, I'm a fan of American pop-punk and my all-time favorite band is Blink-182. I attend all their concerts when they're in town, and I've even had the chance to meet Travis Barker and get a hug from him at one of their shows.
Recently, I fulfilled another dream of mine and bought myself a motorcycle. I love riding it from my home to the studio, and on weekends I enjoy riding along the scenic highway by the ocean.
Overall, I feel incredibly grateful for my job as a tattoo artist, my amazing clients, and the fulfilling lifestyle that comes with it.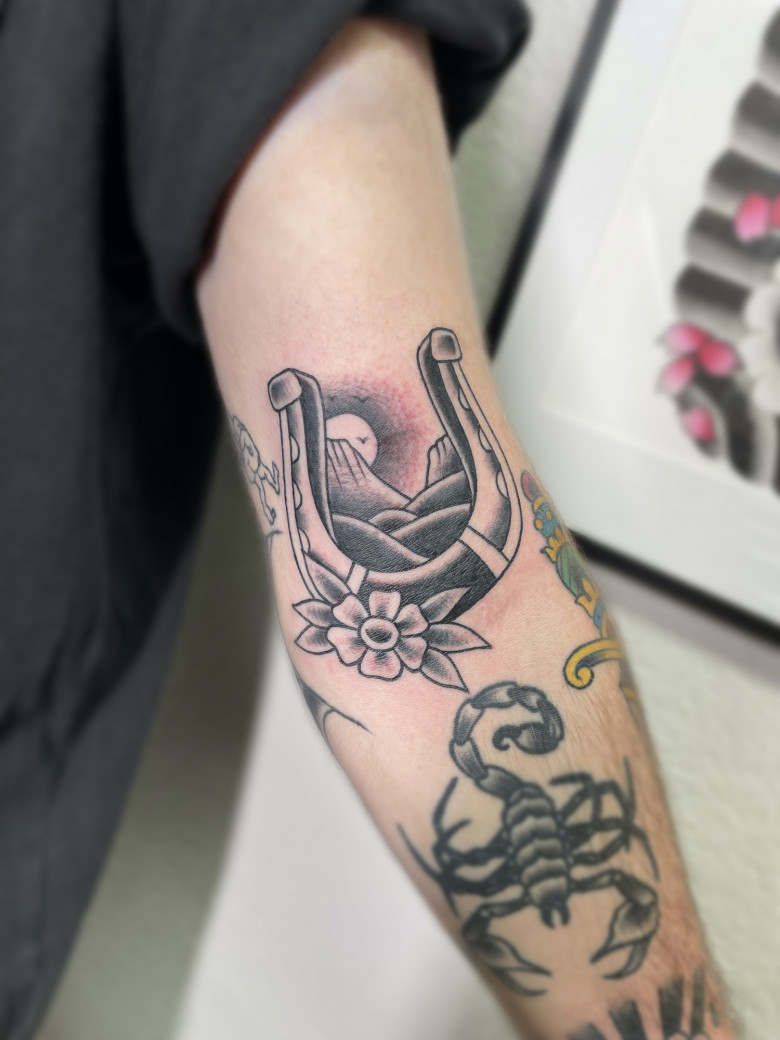 Why do you think that tradition and old school do not lose their popularity over time? What tattoo designs do you like the most?
- I believe that the traditional and old school tattoo designs have stood the test of time because they are simple yet striking, and they hold a certain nostalgic appeal that resonates with many people.
Personally, I enjoy tattooing animals the most, as they offer a lot of creative possibilities and can be customized to suit each individual client. I also appreciate American and Japanese classic designs, as they have a rich history and cultural significance that adds a unique depth to each tattoo. Overall, I believe that the key to creating a great tattoo is to listen to the client's vision and preferences, and to bring it to life in a way that is both aesthetically pleasing and meaningful to them.
Do you travel a lot? Where have you managed to visit? And do you have a favorite place on the planet?
- During my life, I have had the fortunate opportunity to travel to many countries and live in some of them for extended periods of time. I spent several months living and working in Malta and also spent a winter in India. For the past seven years, I have been residing in the United States.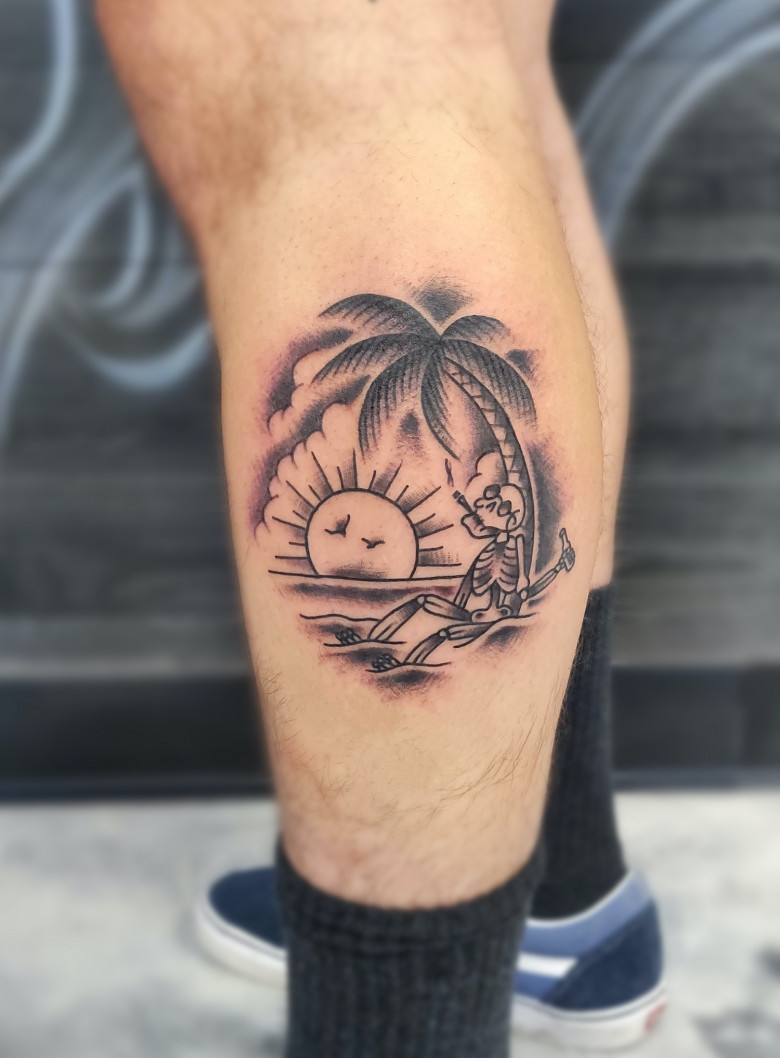 My favorite place on the planet is Southern California, which is why I chose it as my home. The weather is ideal, with only two seasons: warm summer and cool, rainy winter. The natural surroundings are breathtaking, with the ocean, hills, and desert all within reach. Additionally, there are a plethora of talented individuals residing here. Southern California is a hub for the film and music industries, and everything that we saw on TV growing up. Since I grew up in Russia during the 90s and 00s, I feel fortunate to have witnessed the American wave that swept over our country, and everything became available.
Where do you work now?
- Over the past couple of years, I have worked in several tattoo parlors in Los Angeles and San Diego. In 2022, I opened my own studio in San Diego, and now I work only there.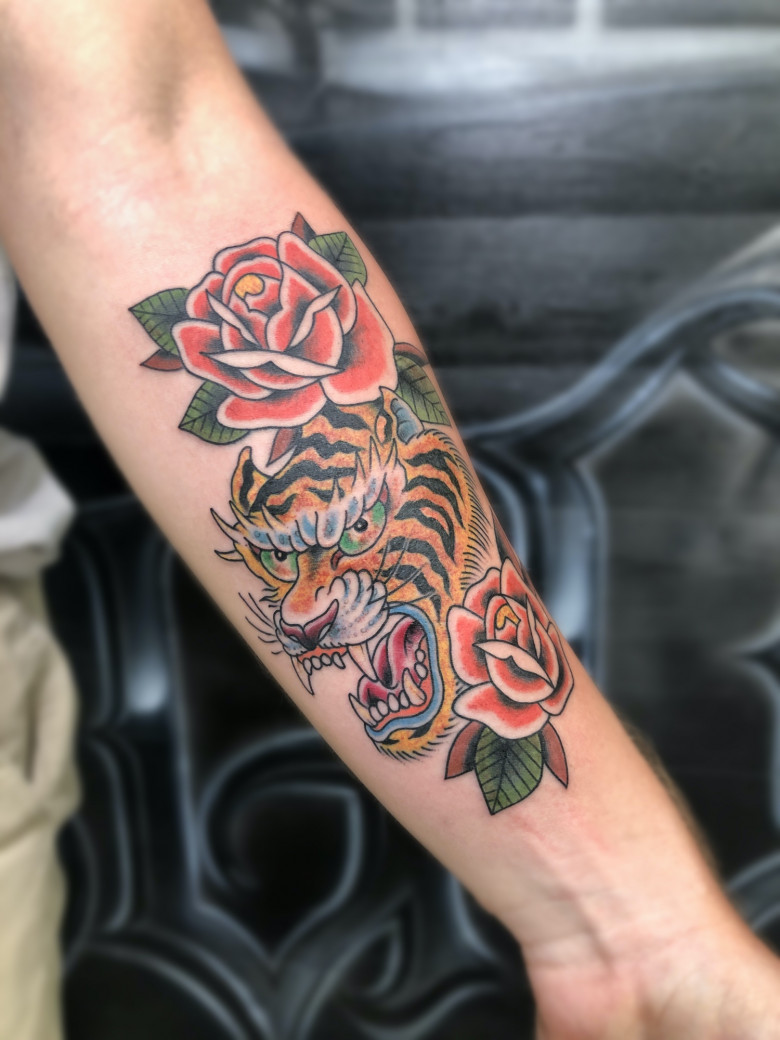 What about participating in conventions? Could you share your experience? Do you think it is necessary for a modern artist to take part in such events?
- Thus far, I have only participated in one tattoo convention, which took place in 2022. I enjoyed the atmosphere, and I worked non-stop for three days in a row. Moving forward, I plan to participate in one or two conventions per year.
And of course, the most pressing issue at the moment is your plans for the future.
- My immediate plan for the future is to open my own tattoo parlor. I also aim to continue learning and developing both as a professional and as an individual. I believe that staying up-to-date with the latest techniques and trends in tattooing is crucial to remaining competitive in the industry. Lastly, I have another childhood dream of going on tour with Blink-182. I will definitely try to work on it.