Sergey OM: «To put it in one word, the tattoo is History»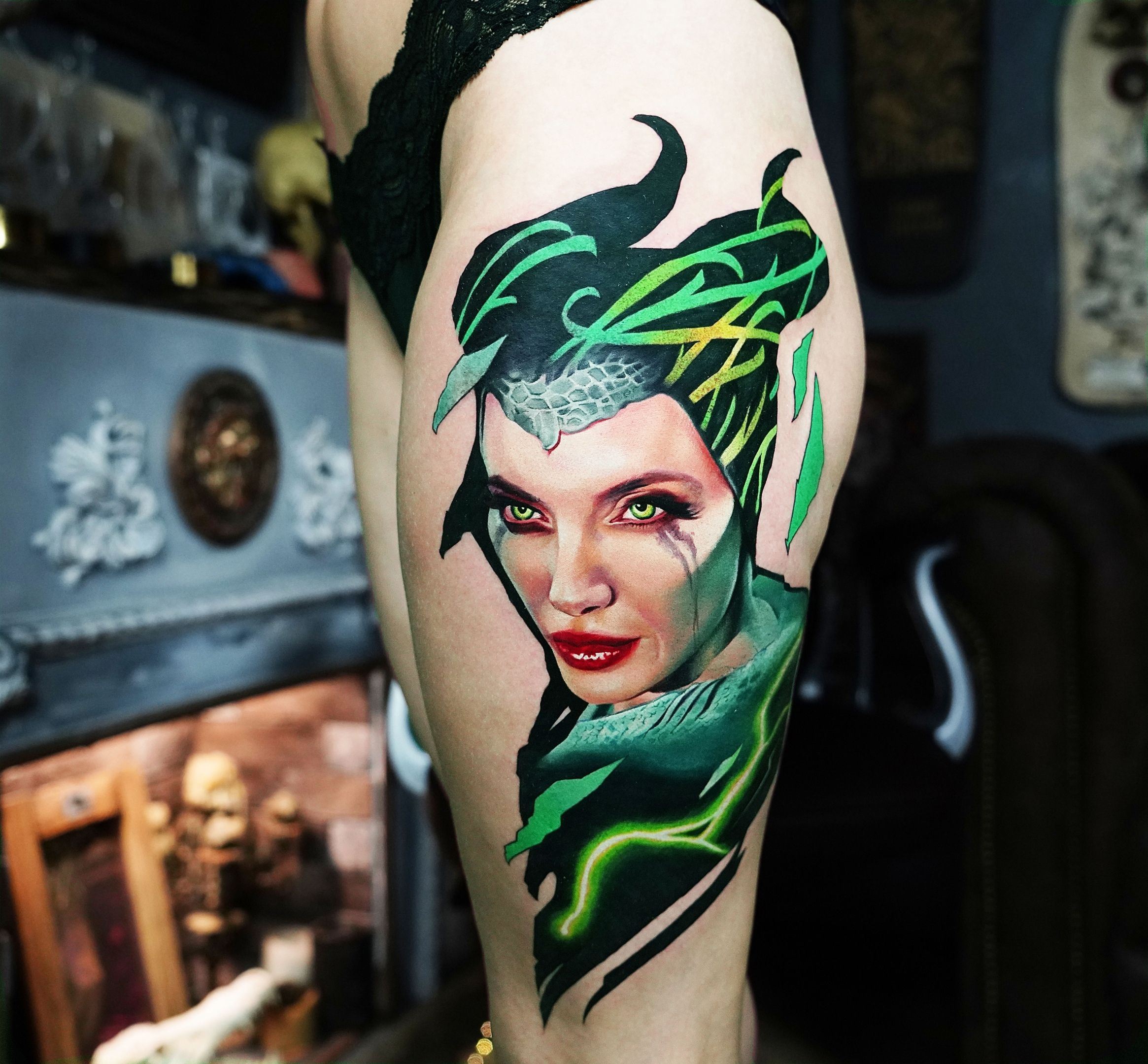 Tattoo artist Sergey OM
/ Source: @sergei_om_tattoo
We are constantly searching for new names and new styles in the tattoo industry, and every time we are pleasantly surprised that our eyes more and more often involuntarily stop at the works of Russian tattoo artists. This time we paid attention to the very juicy, contrasting and expressive tattoos of the tattoo artist from Russian Rostov-on-Don - Sergey Orlyak (better known in the tattoo community as Sergey Om).
In this interview, Sergey shared with us not only his history of becoming a tattoo artist, but also talked about the specifics of the industry in the Far East of Russia, his experience of participating in Chinese conventions and amazing ideas for the development of tattoo culture in Russia.

- Hello, Sergey! Tell us a little about yourself, where are you from?

- Hello! Most of my life I have lived in the Far East of Russia in the city of Vladivostok. It is a wonderful city by the sea, located close to Asian countries, and its entire culture is saturated with echoes of China, Japan and South Korea. This is probably why, since childhood, I have been interested in religious issues and various practices of self-knowledge. I grew up in a creative environment, among talented people, because my parents are artists and designers. The smell of oil, canvases, the opportunity to try various art materials - this is how I grew up - in the workshops together with my parents and their like-minded people. I am very grateful to them, because it definitely shaped certain attitudes towards life in me.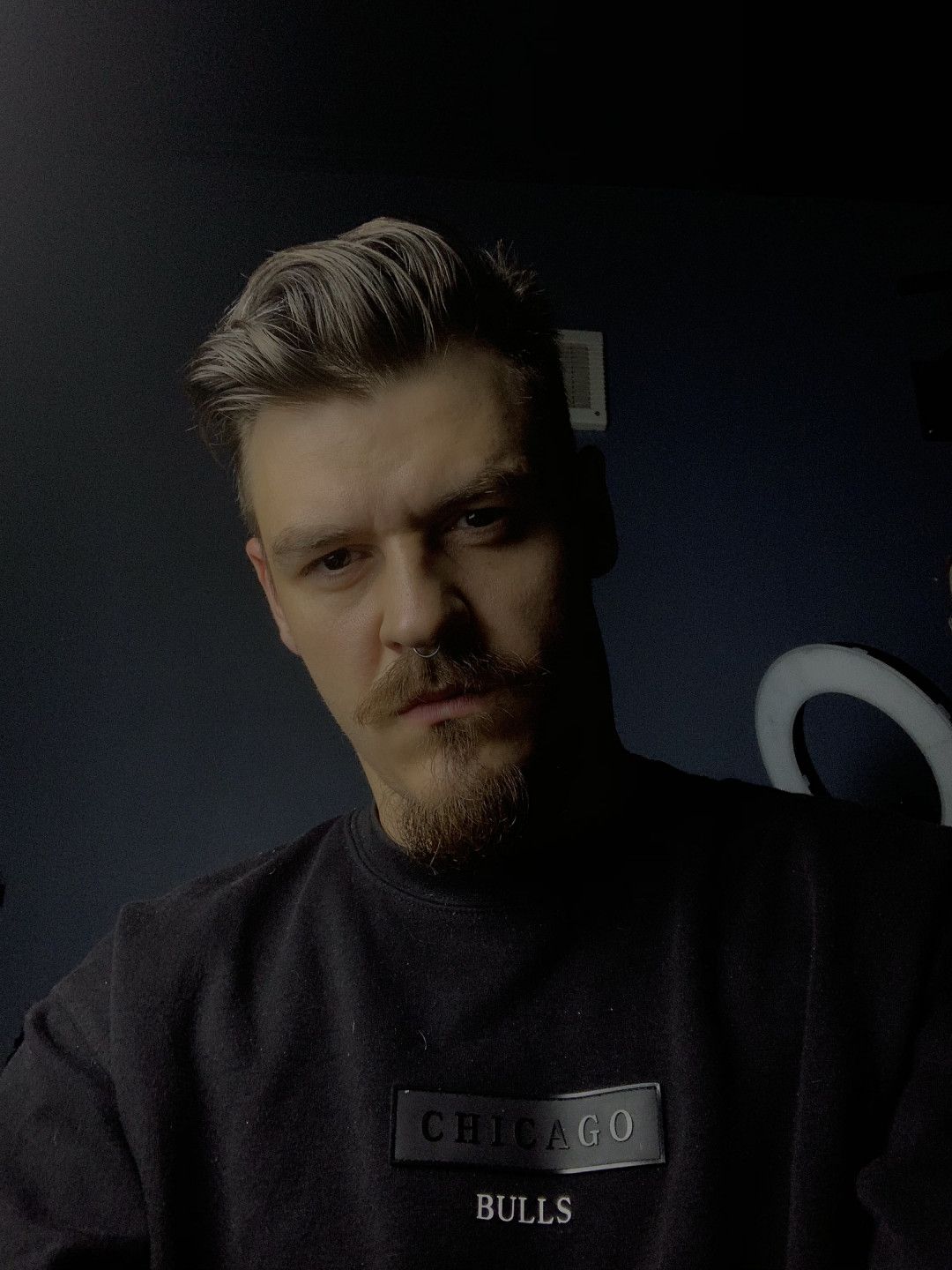 - How did you get into tattooing? What prompted you to become a tattoo artist? What did you do before?
- This is a very good question, I think it was a foregone conclusion from childhood.

I'll tell you one story. Since childhood, I drew a lot and my parents sent me to a camp for gifted children. When I was there, other guys asked me to draw on them some tattoos of various comic book characters, insects. I drew with an ordinary pen, and our whole camp went with drawings of a different nature. Of course, then I did not attach any importance to this, but many years later, when I began to engage in artistic tattooing, this story made me smile.

When I graduated from school, I went to study at an art institute, and a guy who was engaged in tattooing studied with me - I became interested. I decided to try it too. At first, I tattooed my friends and acquaintances, and, of course, the first works were not of excellent quality. Then my father, noticing my hobby, said: «Either learn to draw, or don't do it at all. Don't spoil people's bodies.»

I continued my studies, at the same time drawing on walls and doing interior design. After graduation, I realized that the work in the field of tattoo attracts me the most. I always liked the contrast that a tattoo can carry, when daring drawings could appear on a cute-looking girl, or, conversely, emphasize the elegance of her character and body.
In general, I always had a deeper attitude to tattoos - as to an initiation rite, in some sense. I believe that tattoos help change people's lives. Over the years of practice, I noticed that people come to get a tattoo at the moment when they either want to change something, or «anchor» a certain moment in their lives.
From a purely technical point of view, I am attracted by the complexity of achieving the desired result, making a portrait on the body or on canvas - things that are completely different in terms of laboriousness. Of course, I do not want to say that painting on canvas is easy, but human skin is a more complex material, and each client needs its own approach, and this requires a huge store of knowledge and skills.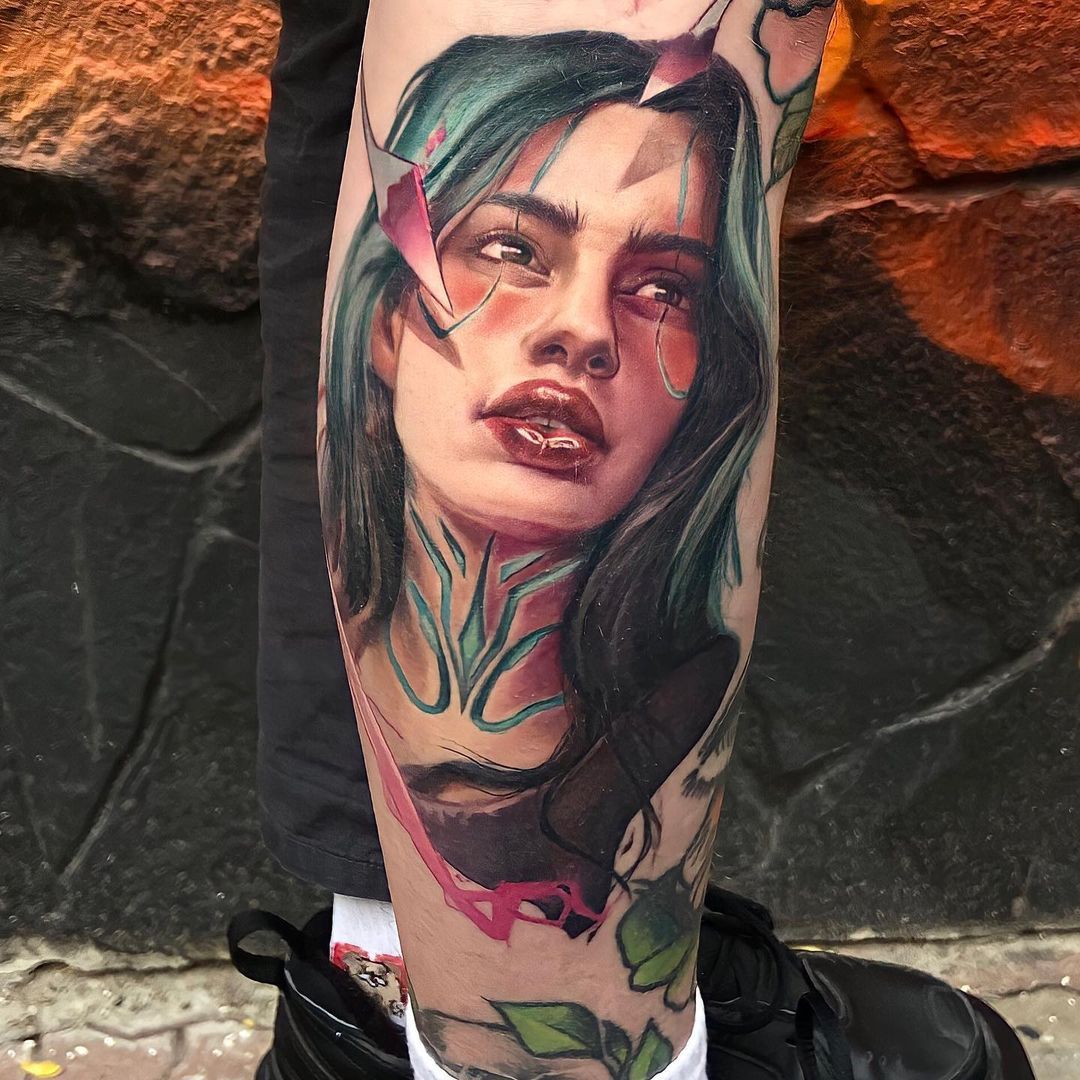 At the very beginning, when I picked up a tattoo machine, I found a forum on the Internet. There was a gallery of the participants' works, and if until that moment I perceived the tattoo as something homogeneous, ornamental, then after that moment my world turned upside down. I saw incredible portraits, realistic animals, black and white and color, I did not even imagine that this is possible. Of course, I wanted to learn how to do something like that.
- What difficulties did you face during the formation of your career as a tattoo artist?
- Vladivostok is a far distant city, and the tattoo culture there has always lagged behind the European part of Russia, and the first thing I encountered was a lack of information and the inability to learn from someone. Many masters at that time were reluctant to share information, and I had to collect knowledge bit by bit from the Internet, Instagram and YouTube, constantly analyze actions by pieces of stories or spend hours looking at videos of top masters from the United States, thinking about how it was done.

Of course, I was lucky, I found a like-minded person - my friend, an excellent graphic artist Sergei Malkavian. Together we pondered what kind of needles, paints and technique this or that work was done, tried, and shared our experience.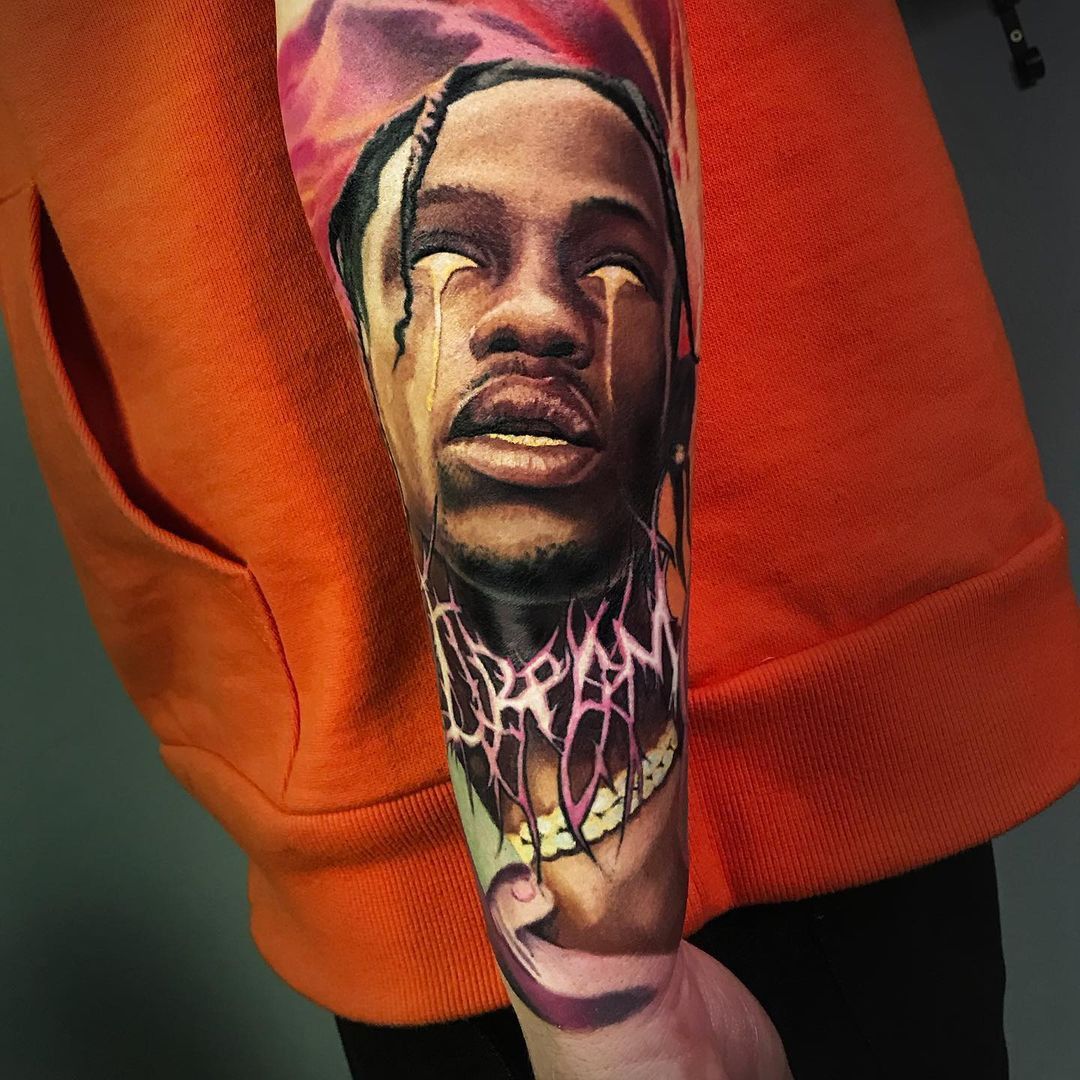 Another important problem is the remoteness from Moscow and St. Petersburg, where at that time there were much more tattooers who tattooed cool and stylishly. Tickets from Vladivostok to Moscow are still not cheap, but in that time there was not much opportunity at all to fly and learn.
At some point, I paid attention to Asia, and the first trip was to South Korea, in order to see and learn from the experience of our hardworking colleagues. In Seoul and Busan, I was amazed at how scrupulously and efficiently they did their work. I was very inspired and it changed my approach to tattooing - I started experimenting, looking for shapes, drawing my own realistic sketches.
Also the difficulty was with consumables. The stores were far away, and I had ordered all the paint and equipment online. There were a lot of situations where the color or configurations did not match my expectations, and I had to order everything again.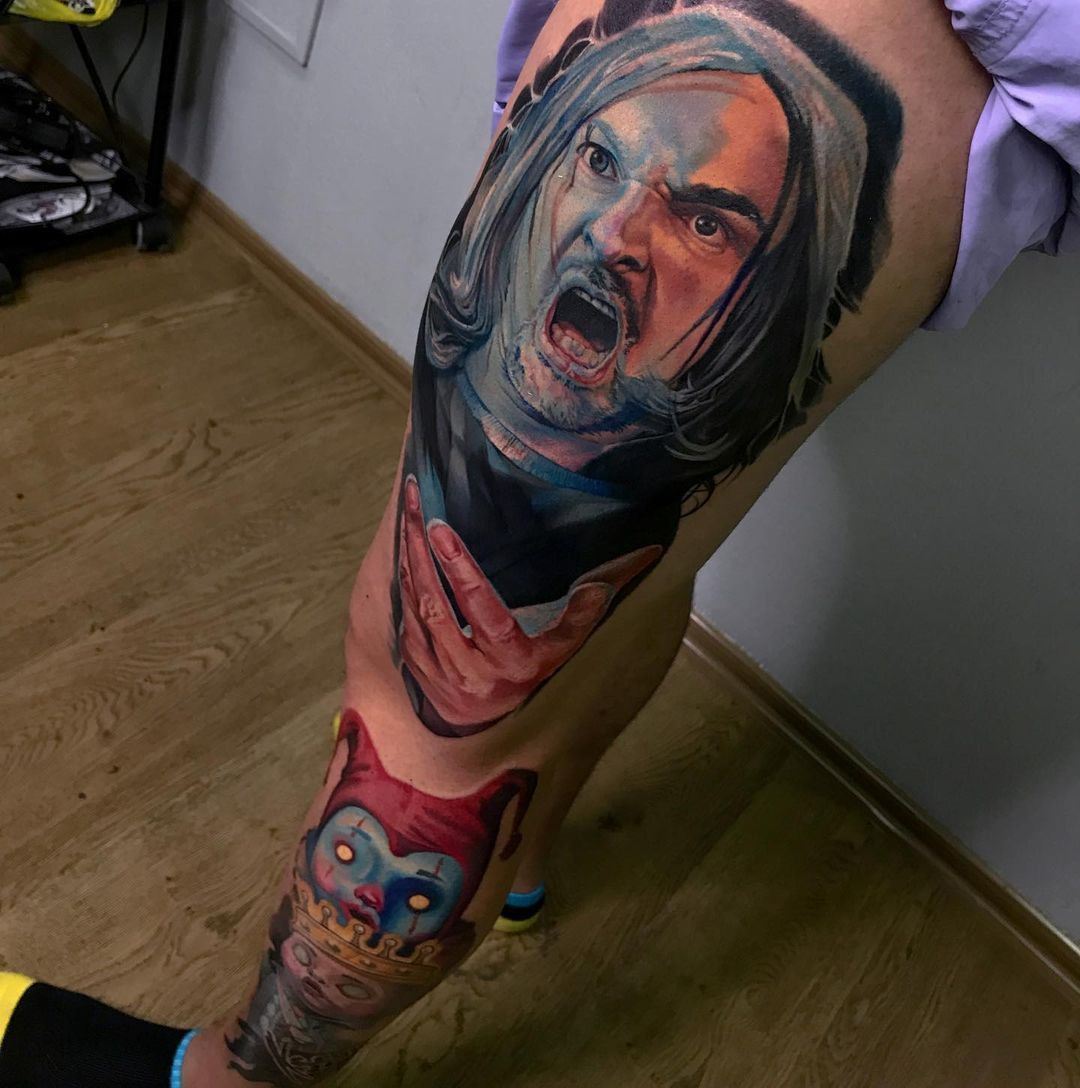 Another important factor is the mental perception of tattoos. It's no secret that the Russian older generation has a negative attitude towards tattoos. Only in the last couple of years has it become easier to perceive. Vladivostok is a port city, and despite the openness to new things, in this respect people were squeezed and were not ready to implement my bold ideas. But I am glad that everything is changing, and now the willingness of people to carry interesting projects on themselves has increased.
- What style do you work in now? What features of your work can you highlight? What equipment and paint do you use now?
- Now I am developing in realism and drawing the author's realistic works with graphic elements. I work in black and grey and in color. The atmosphere is important to me, and often black and grey works cannot convey any visual effects or character, and vice versa.

I like to make surreal scenes, mix painterly accents and flat dynamic ornamental elements. I paint most of my work from scratch to make it look vivid and unique. At the moment, I cannot say that I have found the style in which I want to develop. I am still in search of my forms and motives. It is important for me that my works, in addition to visual beauty, are filled with an idea of ​​ artistic nature.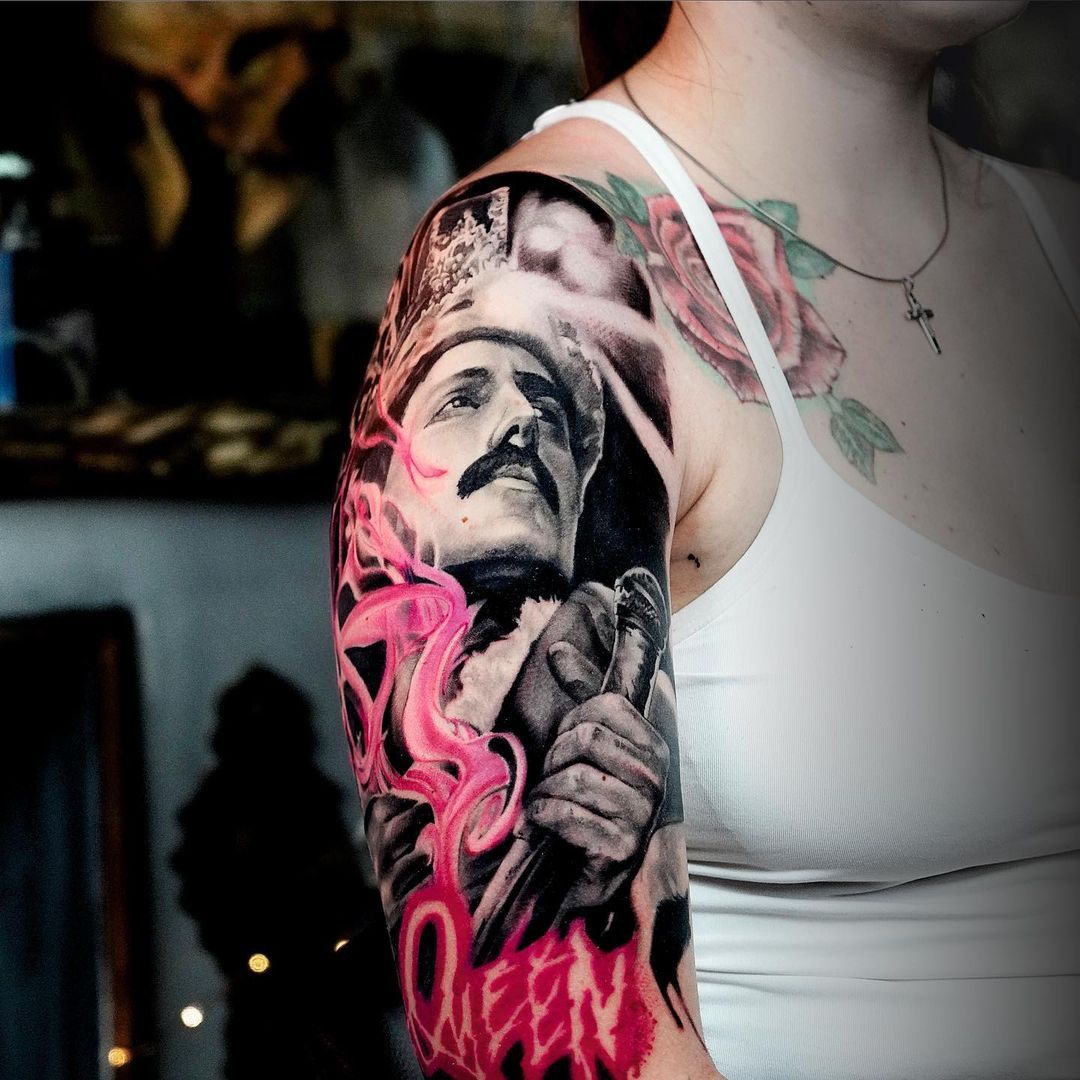 My idea is to create my own reality, within which the plots of my tattoos will be embodied, the characters of which will be connected with our reality, religious and social overtones.
2020 was a difficult year for everyone, the whole lockdown I formed ideas in this direction - for almost six months I drew art dedicated to my vision, but unfortunately, due to a system failure, all the drawings were lost, and now I am restoring everything again.
The peculiarities of my works are that they are bright enough - I try to bring in the pigment as tightly as possible so that my works look juicy even after 10 years.
As for the equipment, I work with different machines: from Fkirons, Inkjecta, Kwadron, Cheyenne to Russian brands, for example, DM mechanics. I can't say for sure about the needles either, it all depends on the configurations. I like Kwadron, Ez, Envy, Cheyenne, Kiwi, Ambition. As for paint, mainly World Famous and Radiant Color.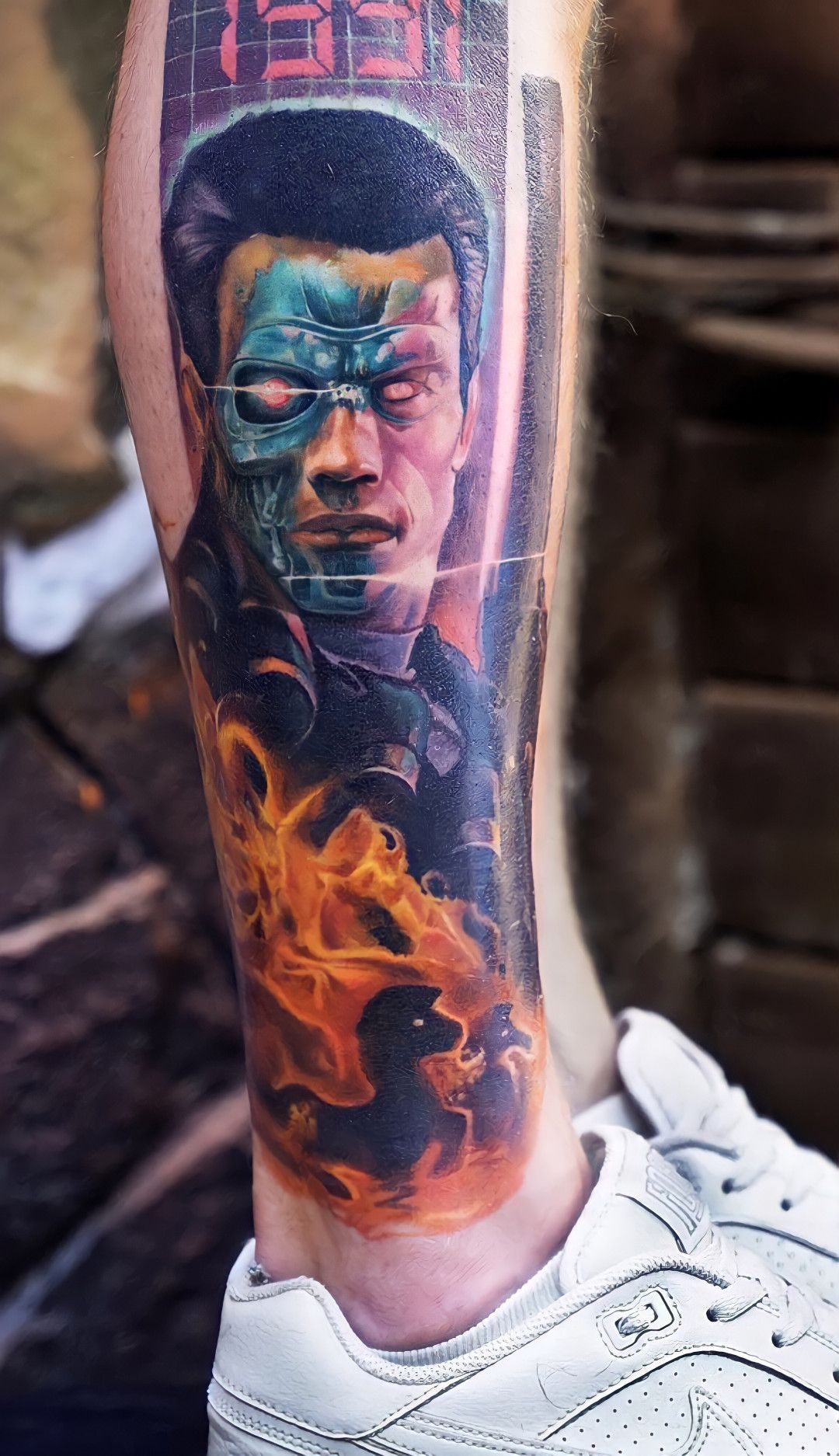 - What does the word "Tattoo" mean to you?

- Tattoo, if you do not take into account its technical definition, I associate with the visual expression of the inner: freedom, art in public for people, overcoming not only physical, but also mental. Realization that the body is not attached to consciousness at deep levels. Tattooing is a way to explore yourself, discover, overcome fears or liberate yourself. It often happens that during long sessions of 6-10 hours, people struggle with pain and learn to accept it, and this is an important experience in life. To put it in one word, this is History. I think this is the most appropriate word.

- Where do you get your inspiration from? Are there tattoo artists who inspire you?

- Inspiration is everywhere. The first source is the people, my clients, with whom I communicate in the session. They often share their observations or hobbies. I also look at paintings by old artists, Caravaggio, for example, but contemporary art is also very close to me.
Of course, most of them are just artists, digital artists and classical artists. In my opinion, in addition to works, an artist should be interesting as a person.
You know, I like to combine something established and something new in my mind. To recycle and get a taste of these two things. I love going to exhibitions. The gaming industry is also not indifferent to me, especially the Indie genre. Street Art also did not pass me by - the social subtext of Banksy is divine.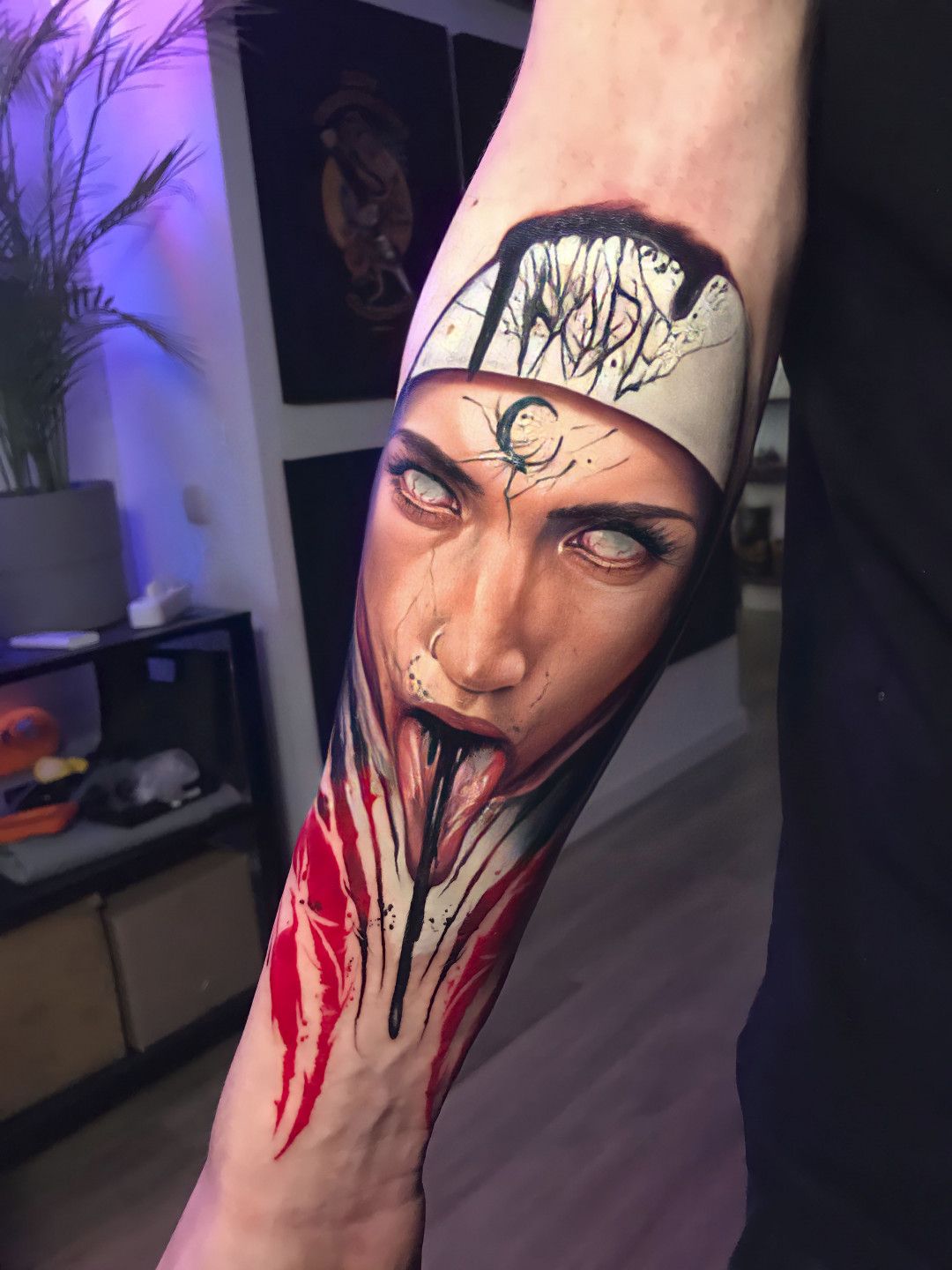 At the beginning of my journey, I constantly watched the tattooers, and now, of course, most of all I look at trends in design and contemporary art. Tattoo artists who inspire me? Yes, of course there are. I'm afraid the list is too long and I don't want to offend anyone. These are mainly my colleagues with whom I work, my friends, but perhaps I will point out four of my favorite tattoo artists: Dmitry Samokhin from Odessa, Alexey Mashkov, Alex Sorsa and Stas Gromov.
I am also inspired by travel, outdoor recreation, extreme hobbies: snowboarding, rock climbing.
- Do you think talent exists?

- Regarding talent, I think that of course there is, but without labor talent easily disappears. There is a predisposition to this or that thing and this decides how quickly you can develop your skills. It is believed that talent is what one is born with. I think this is a controversial issue - the environment in which a person grows can definitely influence his talent, but there are a bunch of examples of tattoo artists who had nothing to do with drawing. The quality of the environment, multiplied by time and labor, produces stunning results. I believe that a genius can be born, but rather impossible to become.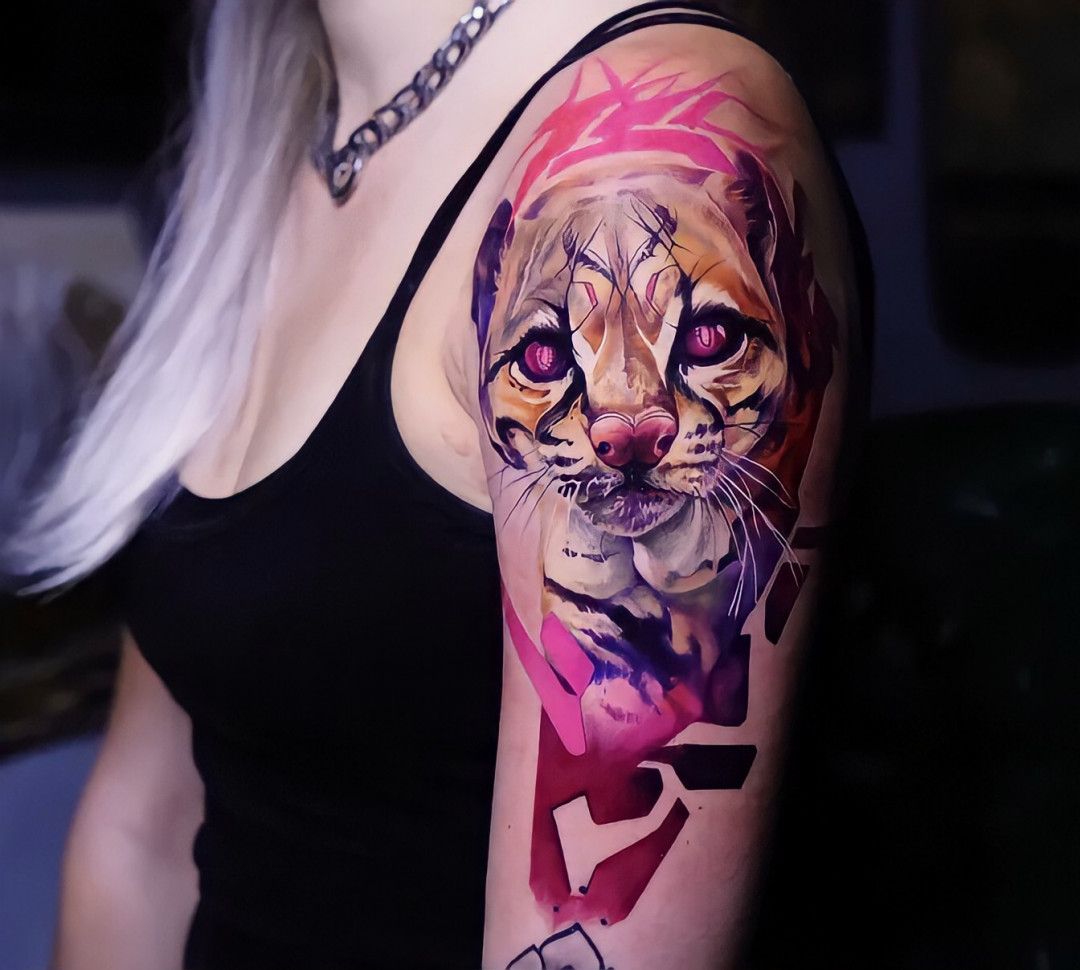 I would like to say more about inspiration, I mean, that legendary state in which you want to draw and create something. You definitely shouldn't wait for it, because it is more mythical than real. Even if it does appear, it disappears very quickly, so the best thing, of course, is not to wait for anything, just sit down and work hard on your own ideas.
- Are you a member of any Pro Team?
- I'm not a member of any Pro Team, but of course I have a desire. Not because I would like to receive support in the form of consumables, paint or machines, but because I want to improve the tattoo industry, share my observations and ideas, and promote my favorite products as a guarantee of quality work. I see Pro Team as a collaboration and involvement in the common cause of the team. I am open to suggestions, and I have a lot of interesting ideas on how to promote certain products in the tattoo industry.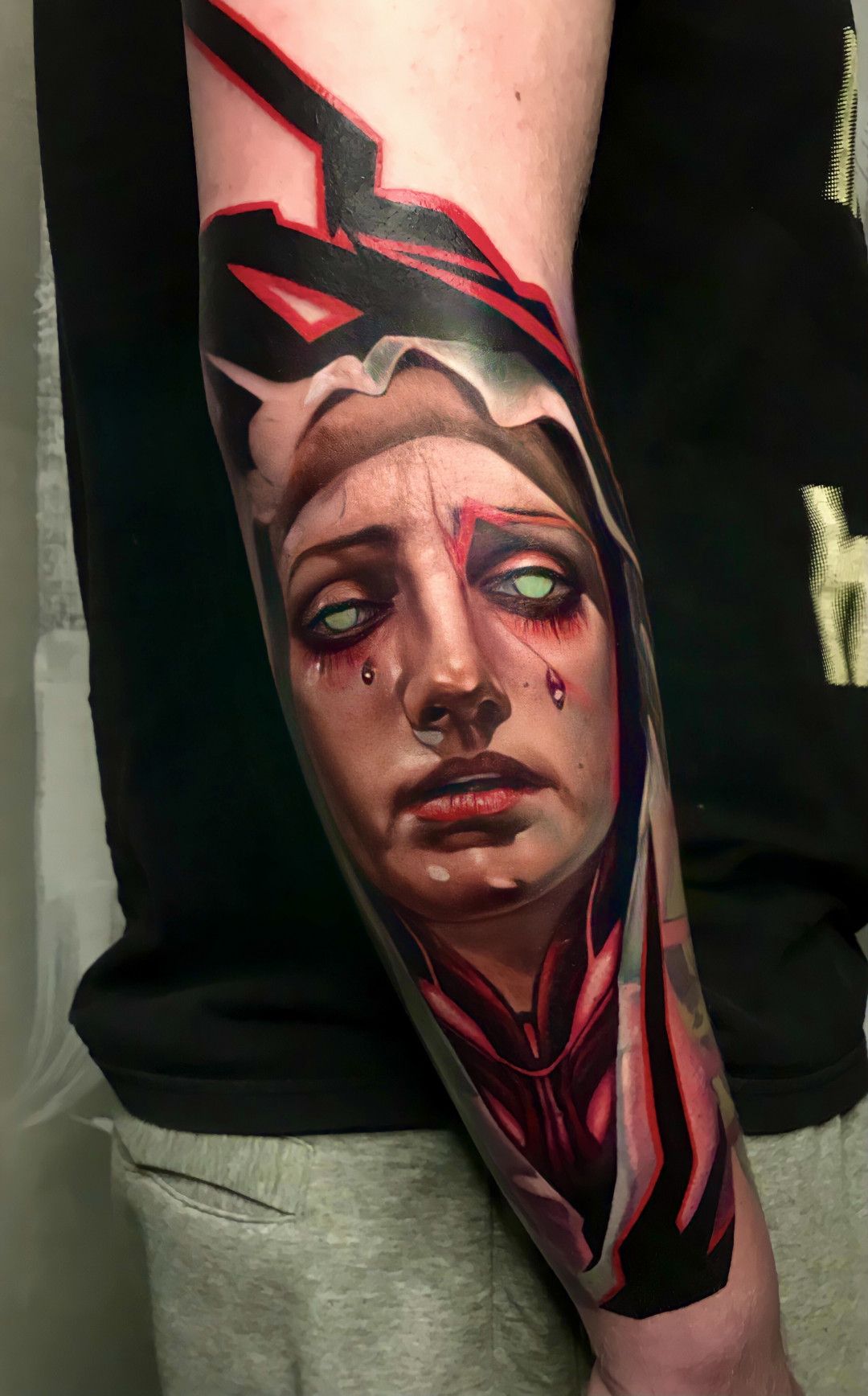 - What are your plans for further development?

- Plans for the future, of course, are grandiose. At the moment, I am engaged in the embodiment of my concept and the formation of a recognizable style that will most accurately convey my views and reveal my vision of the world. I also have plans to organize my own exhibition of paintings that will strengthen and reveal the idea of ​​my tattoos. Visit as many conventions as possible in Russia, Europe, the USA, get acquainted with the culture of different countries, meet new people and ideas, win and take first places.
Of course, I am a person with creative ambitions, and I want to take my place among the best tattoo artists in the world. As for me, collaborating with interesting artists who work in completely different styles to create new interesting designs, it's great - mixing styles is always fresh.
I want to appear more in the media space, very soon I will start a YouTube project dedicated to tattooing, the channel will reveal the behind the scenes of the life of tattooists, both in the comic genre, and it will raise more serious questions of finding a style and oneself as a creative unit. The channel will also feature podcasts with tattoo artists, painters and designers. My idea for the channel is to help artists who are looking for themselves, and exchange experiences with artists who have already excelled and found their own style.
I also have my own product - this butter for tattoos, which helps a lot in my work. I want to promote it to the masses, perhaps in collaboration with some brand.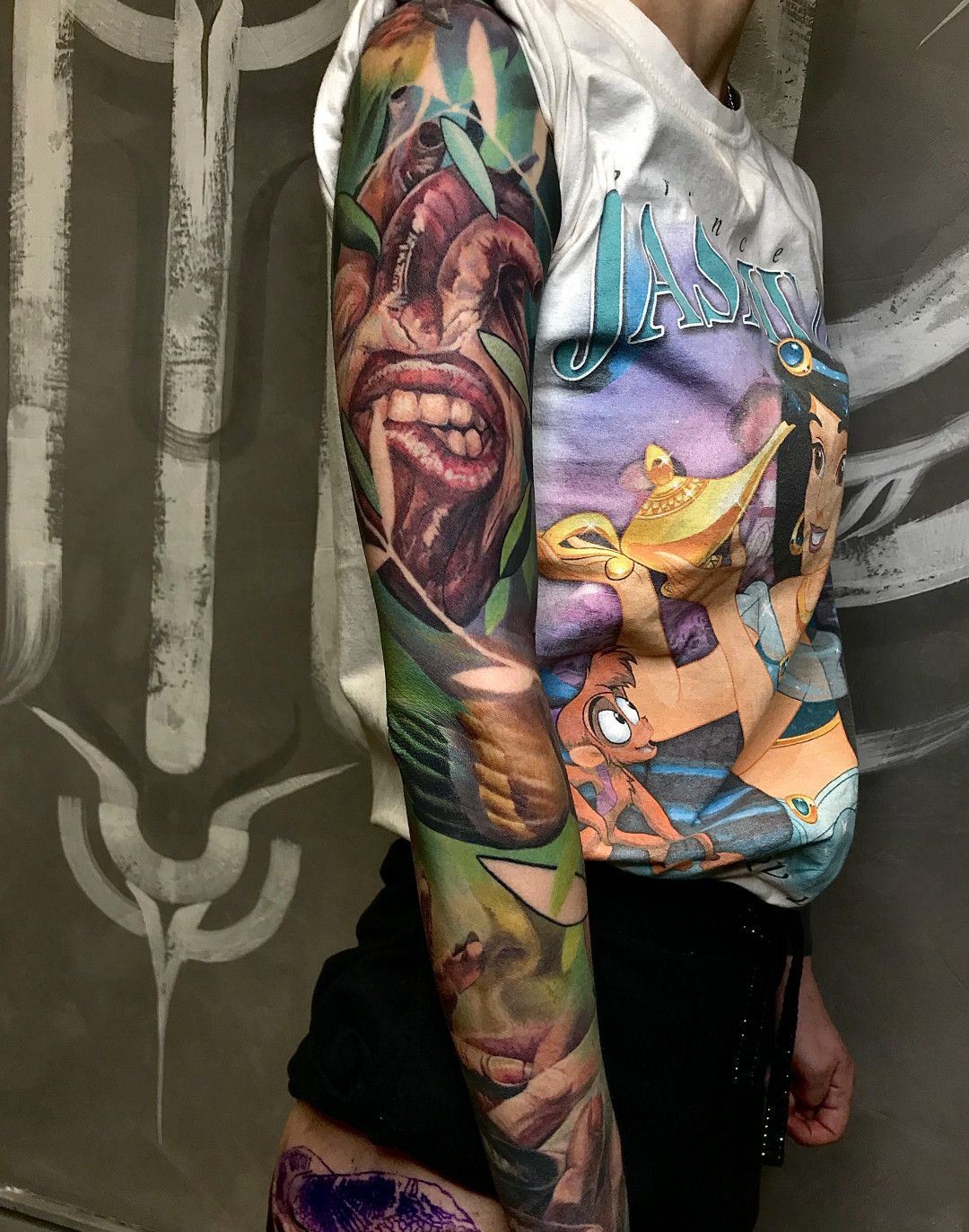 - Tell us about your experience of participating in tattoo conventions.

- I participate in conventions, and there are many other events that I would like to attend. I would like to tell you more about some of them - most of the conventions there I attended were in China, these are very large events that were held in huge exhibition pavilions.
Chinese conventions are the quintessence of talented tattooers from all over the world. The first time my friends and I went to participate in an international convention in Beijing. This trip made a strong impression on me and gave a strong impetus in my development precisely technically. At that moment, I was able to see how really top tattoo artists work. About 500 different tattoo artists worked at the convention, the variety of styles just went off scale. It was the first overseas convention in my life, and it was incredibly huge.
The grading system surprised me - it's a point system, like in figure skating or swimming. Each judge gives a score for personal reasons without collective consultation. In addition to tattoo artists, there were shops with jewelry and all kinds of handmade souvenirs, striking in their originality and detailed elaboration. The spirit of competition was in the air, but despite this, everyone was very friendly and easily made contact, although most of the Chinese did not speak English and of course no one speaks Russian.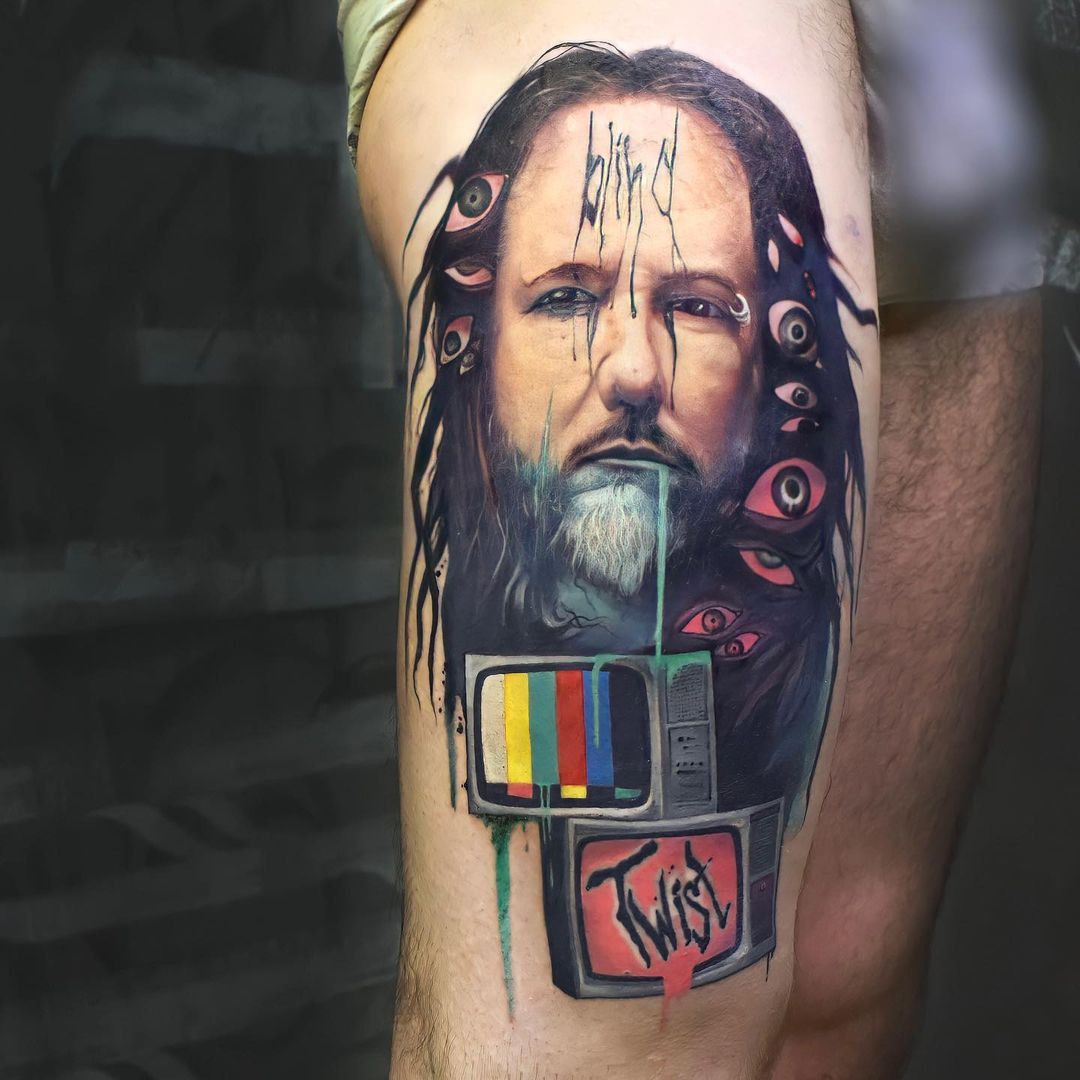 I would like to say a few words about the convention held by the guys in Novosibirsk - this, of course, is a completely different format. It takes place outside the city in a calm forest area with a friendly atmosphere. In the evening after a working day, everyone is relaxing in the fresh air near the fire or taking a steam in a real Siberian bath. Tattooers from all over Russia come there, and foreign guests often come too. In terms of the constitution of judges and participants, this convention is very strong, where you can talk with top Russian artists. This is a very unusual atmosphere, it reminded me a bit of a surf camp, I remember this convention with warmth and I hope that in the near future it will be possible to hold such events again.
I also participated in the conventions that were held in our city, in Vladivostok - these were small events, but a huge plus was that after the conventions many artists began to communicate and make friends, which was rather rare before. Of course, I did not leave without awards. In my collection there are awards for 1st and 2nd places, but I think that conventions are, first of all, an opportunity to communicate, share thoughts and ideas with different people, spend time in good company and laugh from the heart.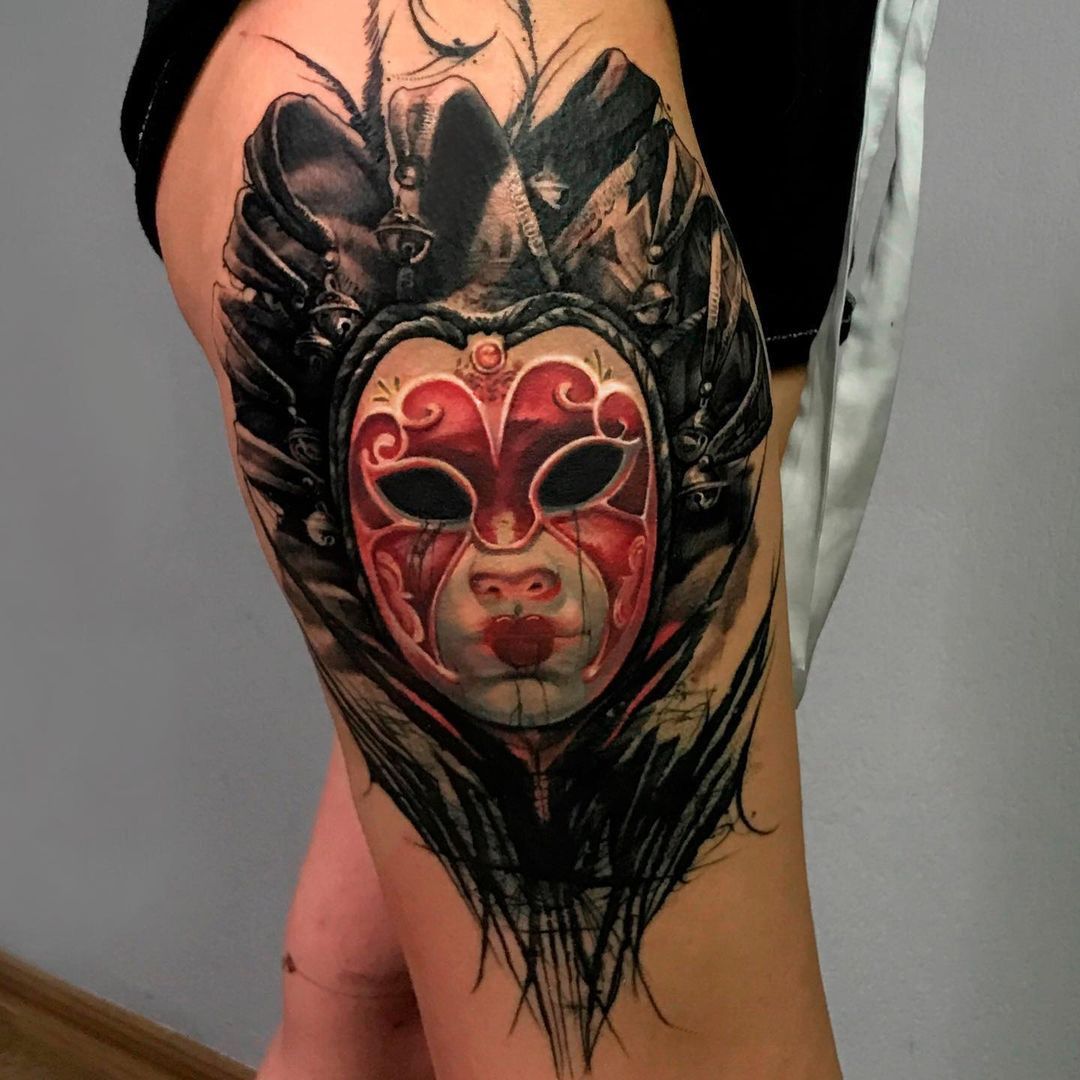 - Do you travel a lot for work?

- As I said, I went to Asia: Korea and China. For the most part now I work in Russia: in Moscow, St. Petersburg, Vladivostok and Rostov-on-Don. Travel, in addition to positive impressions, also has another side. For example, I don't really like flying, I always worry before flying. I don't really like packing paint that spills from time to time in a suitcase, which is not the most pleasant surprise at the end of the flight.

- What advice would you give to novice tattoo artists?

- Of course, in addition to standard advice - draw more, study the rules of academic drawing and anatomy. I would advise: experiment more; not chasing something popular; try different techniques or mix styles; look for inspiration not only in the tattoo industry; not be afraid to promote your thoughts; properly allocate your time - look for a balance between work and rest, so as not to burn out ahead of time; believe in your cause; meet and communicate with artists, designers and tattoo artists; evaluate other people's work less; analyze and do not devalue your achievements; being bolder and always taking a little harder work than was the previous one; and, of course, maintain a creative hunger for new knowledge.
We all know the story of 10 thousand hours. It consists in achieving some kind of mastery, you need to devote 10 thousand hours to one business, and then success awaits in the end. In fact, I think that it is not always exactly 10 thousand - for everyone in different ways, but the fact that you just need to give time to yourself, work, and this will sooner or later bring results - is a fact.
In conclusion, I want to thank you for the opportunity to share my thoughts and plans. This is a very interesting experience for me. I would be glad if my experience helps someone. I am always open for communication and assistance in tattooing, so feel free to write - I will help as much as I can. Thank you very much to the iNKPPL.com magazine!