Sicko Black - No Color Inside
22 / 07 / 2023
Alexander Ledovskih
The hero of today's interview is Alexey Trunov, better known in the tattoo community as Sicko Black. His works combine strength and beauty, capturing attention with his unique style. Inspired by traditional artwork and Eastern culture, the artist creates amazing fantasy characters and creatures, full of mystique and depth.
Over the years of his career, Alexey has journeyed from being a classic tattoo artist to a drawing instructor, clothing designer, and creator of Japanese masks. His talent is highly appreciated not only by clients but also by colleagues in the industry. He is a regular participant in numerous international tattoo conventions, a partner, and a jury member of top Russian tattoo events.
What lies behind such overwhelming success in his career? Let's find out firsthand.
Meet Sicko Black.
---
To begin with, as tradition dictates, let me ask you to tell us a little about yourself. How did you get into tattooing and what were you doing before that?
- Hello everyone, my name is Alexey Trunov, and my creative pseudonym is Sicko_Black. I am a tattoo artist and a drawing instructor for tattoo masters. Currently, I work in Moscow and St. Petersburg. In tattooing, I work in my own signature style, preferring black compositions primarily based on my own themes, which involve mythical characters, female figures, and demonic animals. The style can be described as "illustrative tattooing" with a whip-shading technique.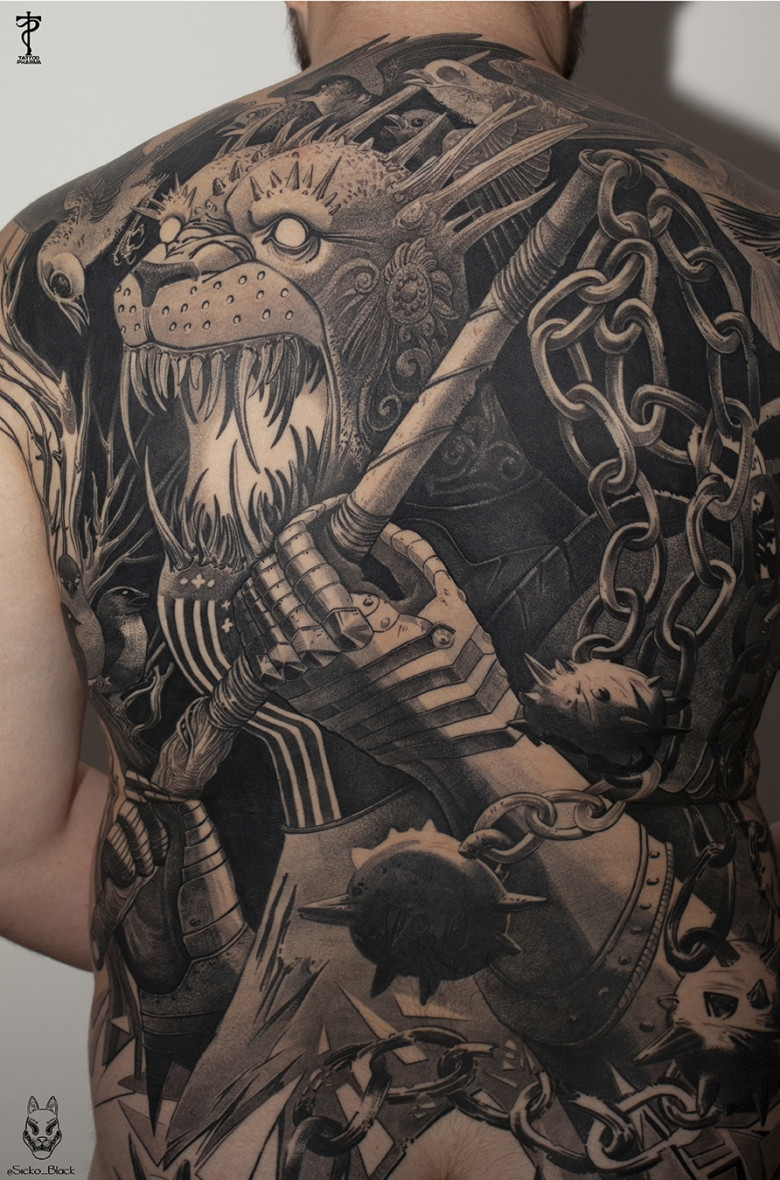 Before tattooing, I pursued higher education in engineering, but parallel to that, I always had a love for visual arts. I dabbled in drawing, mostly for myself, but there was a sense that this could evolve into something greater.
Technical disciplines came naturally to me, but without much excitement, simply as a given. On the other hand, I was genuinely interested in immersing myself in drawing and exploring everything related to it.
Do you have an art education?
- Yes, I studied at the Stroganov Academy. Prior to enrolling, I also took private lessons from instructors.
The thing is, at a certain point, I felt the need for comprehensive education and wanted to fully immerse myself in this world.
I didn't have any artists among my relatives or friends, and I myself entered this profession relatively late by conventional standards. Partly for this reason, I wanted to learn how artists from different specialties are trained, what their peculiarities are, and the narrow specialization of each direction. It was a very useful experience and an excellent foundation for my future work.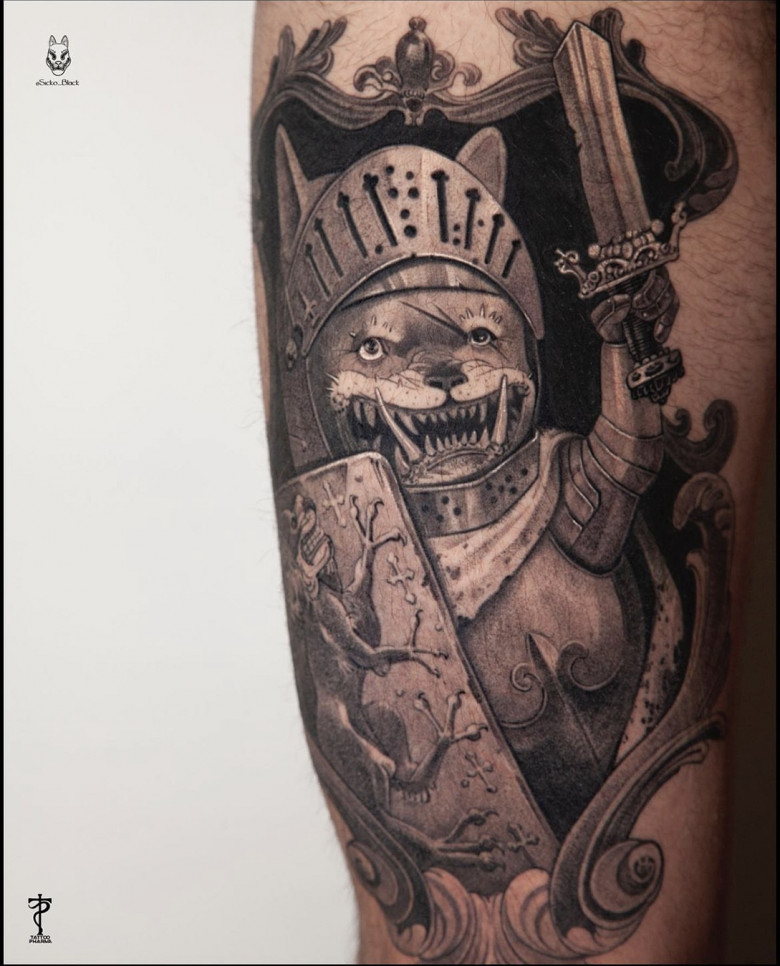 How important do you think having an art education is for a modern tattoo artist?
- It is important. However, it should be understood that it is quite individual and depends on specific tasks and styles. The primary factor is experience, which can be gained in an institution or from a specific master.
Studying the existing experience accumulated over generations and adapting it to our profession is extremely beneficial, rather than reinventing the wheel.
An educated person in a professional sense definitely has certain advantages over self-taught individuals. Moreover, in art institutions, there is a lot of practical training right from the first day of classes. Depending on the institution, people spend 3 to 6 years practicing visualization on a daily basis. Typically, this is done in groups, which is also highly productive, as each group member solves similar tasks in their own way with their own skills. You can also attend classes of senior students or visit other departments to interact with students and professors. So, it's up to you to decide whether such experience is important or not.
Why Sicko Black?
- Well, you can't come up with anything better (laughs). Previously, I did colorful tattoos, and it was a complete madness to abruptly abandon color and switch to black. It was a difficult decision with serious reasons behind it. I thought for a long time about what to name this project, and then I had a black cat named Psycho. I didn't have any other options left (laughs).
Your sketches and tattoos are amazing! The way you bring to life whimsical yet captivating fantasy creatures using elements of traditional drawing skills is just mind-blowing! Could you tell us more about your style? How was it born?
- Thank you so much. I firmly believe that styles are not born but rather formed. In any case, it is a symbiosis of who the artist is, their inner sensibilities, thoughts, perspectives, preferences, and technical skills.
It is a long graphic search, the formation of one's visual language. It's very much like speech: at first, there are unintelligible sounds, then words, sentences, and then we start putting together something interesting from those words and sentences.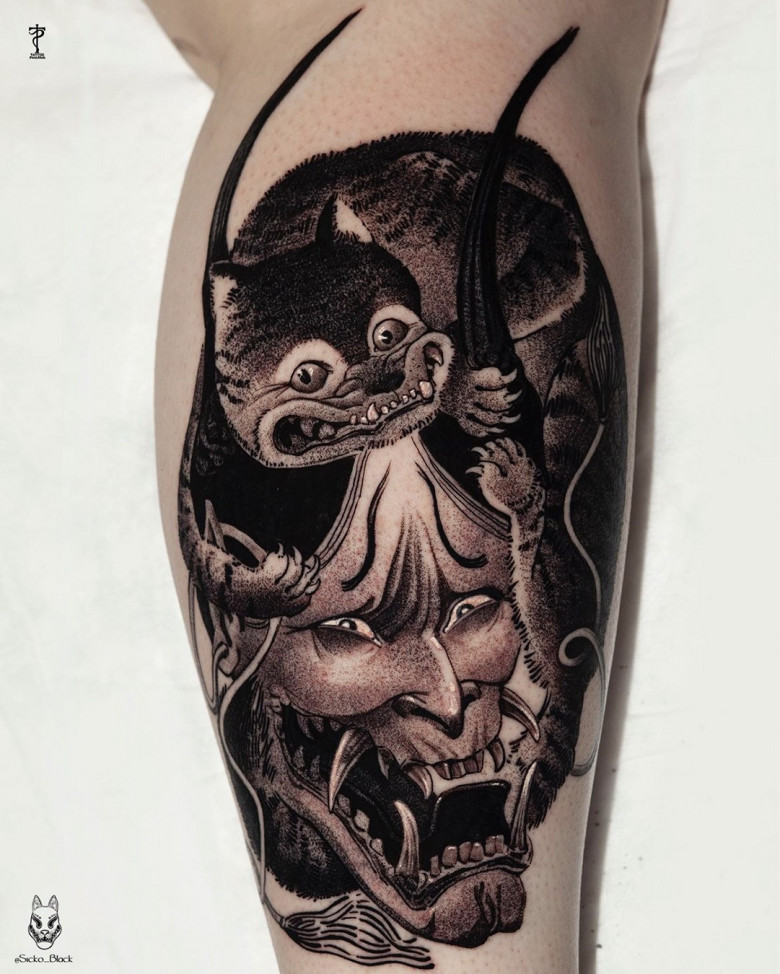 From your portfolio, it's clear that you work based on your own sketches. But here's an interesting question: how often do clients come to you with their ideas, and how do you work with them?
- I have a lot of sketches and doodles with various ideas - sketchbooks filled with developments on topics that interest me. I can take a ready-made sketch and adapt it to the desired placement, but if a client comes in with their own idea, that's fine. My task is to interpret it in my style.
First, I develop several sketches with different compositional solutions. Then we have further discussions with the client to finalize the design. The next step is to complete the design. This is often a lengthy but fascinating and crucial part of the process because the client ends up with a unique artwork, not a copy from a photo or Pinterest. And that is very valuable, in my opinion.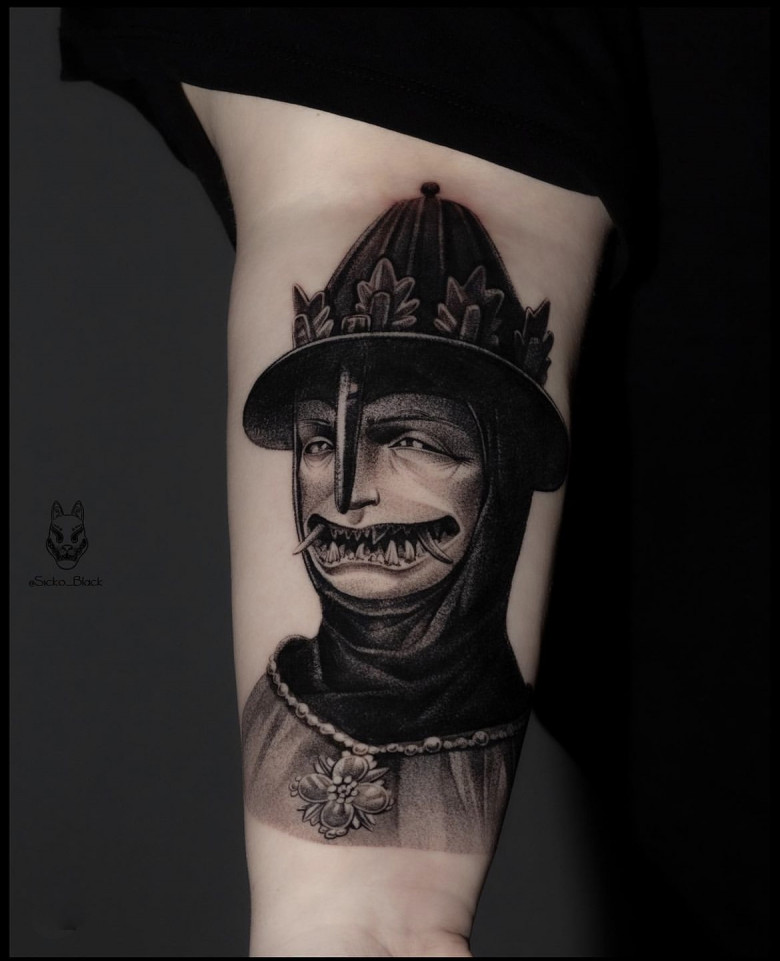 Where do you draw inspiration for your work?
- There's no specific source of strength or ritual - everything around can be a source of inspiration. There are immense opportunities for creation, exploration, and realization of new works all around us. You just need to learn to see and find time to capture your ideas. Then there won't be any problems with inspiration - it manifests itself in the process of work. At least that's how I was taught, and it's the same in my case. I teach the same to my students.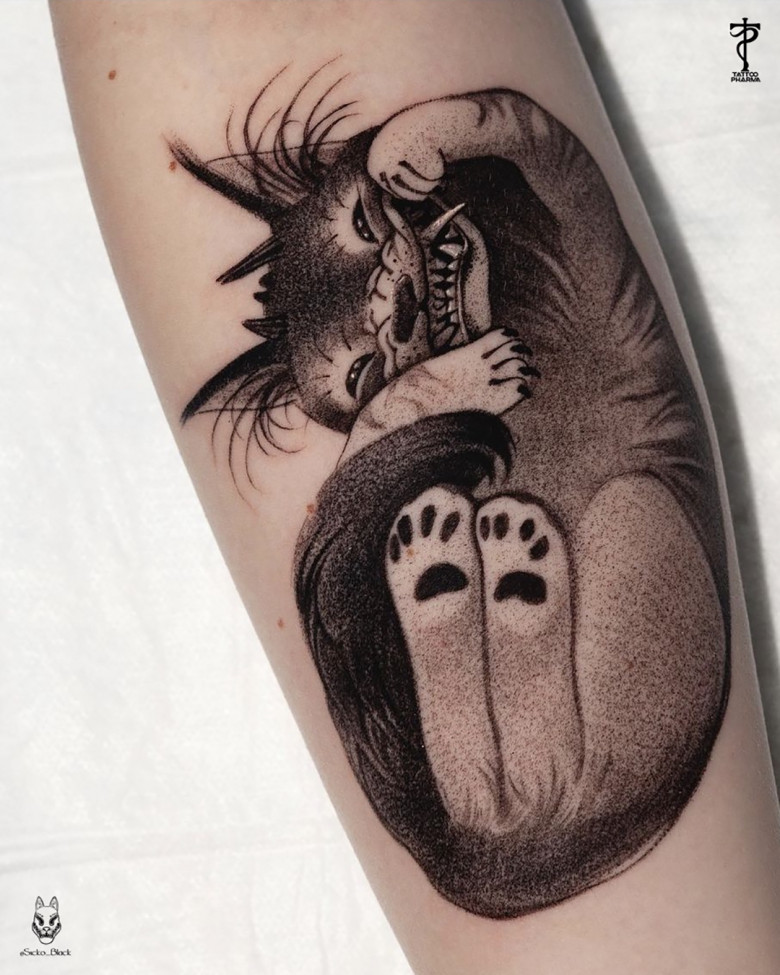 We know that you have a serious educational project called "Drawing for Tattoo Artists," which has been used by many top artists in Russia. Could you tell us more about it?
- Yes, within this project, I have developed several courses designed for experienced and seasoned colleagues, as well as beginners. I tried to adapt the experience of classical education for tattoo artists. We have our own specific needs and tasks, and it is within the framework of these tasks that we work with our students. We study the process of creating tattoo designs, fundamental artistic knowledge in drawing and composition, and various methods of execution.
Many artists, not only from Russia, have benefited from this project, as evidenced by their positive reviews on the website and their own artwork. I am very pleased that there is an opportunity to improve skills for those who are truly dedicated to serious work.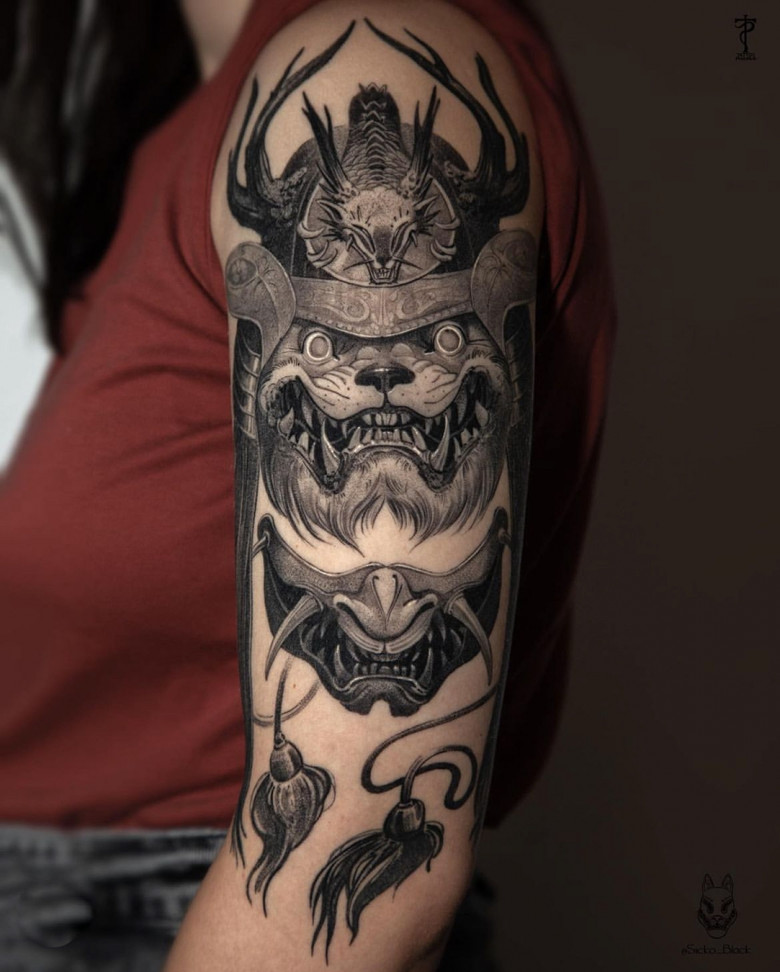 We see you at work at almost every convention, among the nominees and winners, as well as giving lectures and conducting seminars. Tell us about your experience. How many awards do you have in total? And which ones are particularly valuable to you? How important do you think such events are for artists?
- I enjoy participating in tattoo conventions. Besides our own conventions, I have participated in many European ones. At first glance, everything seems very similar, but each one has its own unique atmosphere.
I really liked the conventions in England. I have been to several, and the most impressive one was definitely the London convention. In addition to that, I have participated as an artist in conventions in Leeds, Brighton, and Newcastle. I also enjoyed taking part in conventions in Brussels, Milan, Berlin, and Frankfurt. Those were also great events. Being an artist at major conventions is always interesting. The number of spots is limited, and participants are selected based on portfolio reviews rather than just anyone who wants to join. It gathers a great community of professionals. It is very valuable to be able to interact with people face to face, and so on.
Regarding awards, I don't consider myself a trophy hunter. Many artists go to great lengths to win awards at conventions and then display them in their studios, but for me, they are just a pleasant bonus. I have received awards from international tattoo conventions in Moscow and St. Petersburg for Japanese tattoos, miniature tattoos, evil tattoos and Russian tattoos. I also made a mark this year in the categories of Black & Gray and Miniature Tattoo.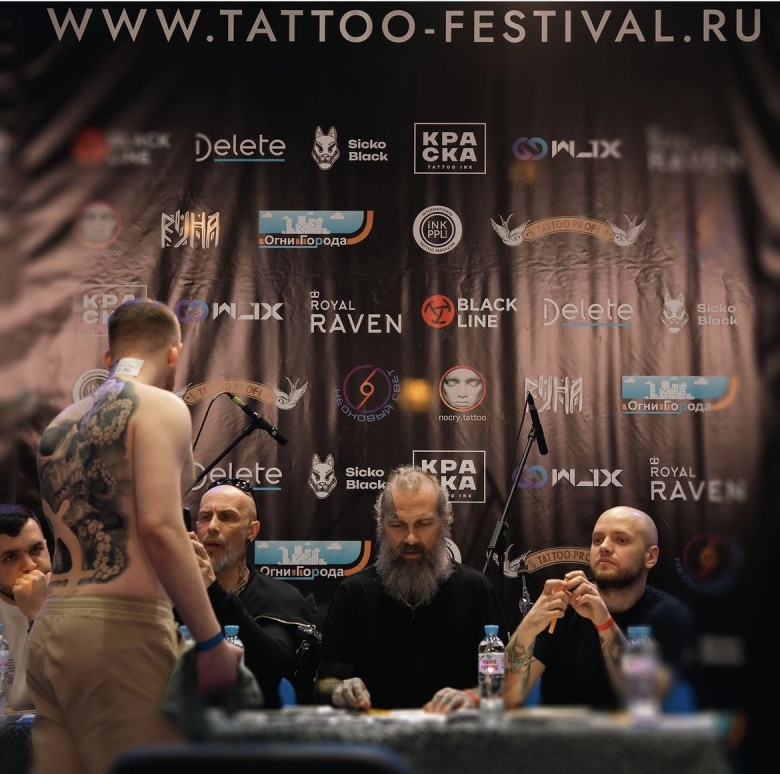 As for judging, for the past four years, I have been invited to be a part of the jury, usually to evaluate illustrative styles such as graphics, black and gray, Japanese, and to judge the best tattoo of the day. This year, I was awarded the title of "Honorary Judge" (laughs).
Tattoo conventions are also educational platforms with their own lecture programs. Last year, as part of my educational project, I conducted a masterclass on drawing in ProCreate, focusing on my favorite theme, "Creation of a Demon." I demonstrated different methods of starting a project from scratch. This year in Moscow, I gave a lecture on "Common Mistakes in Tattoo Design Development." There will also be an interesting lecture in St. Petersburg titled "How to Learn to Draw Faster and Not Waste Time."
Speaking of St. Petersburg, I have planned my own solo exhibition called "No Color Inside." Please come, as it will have a unique format and interesting presentation.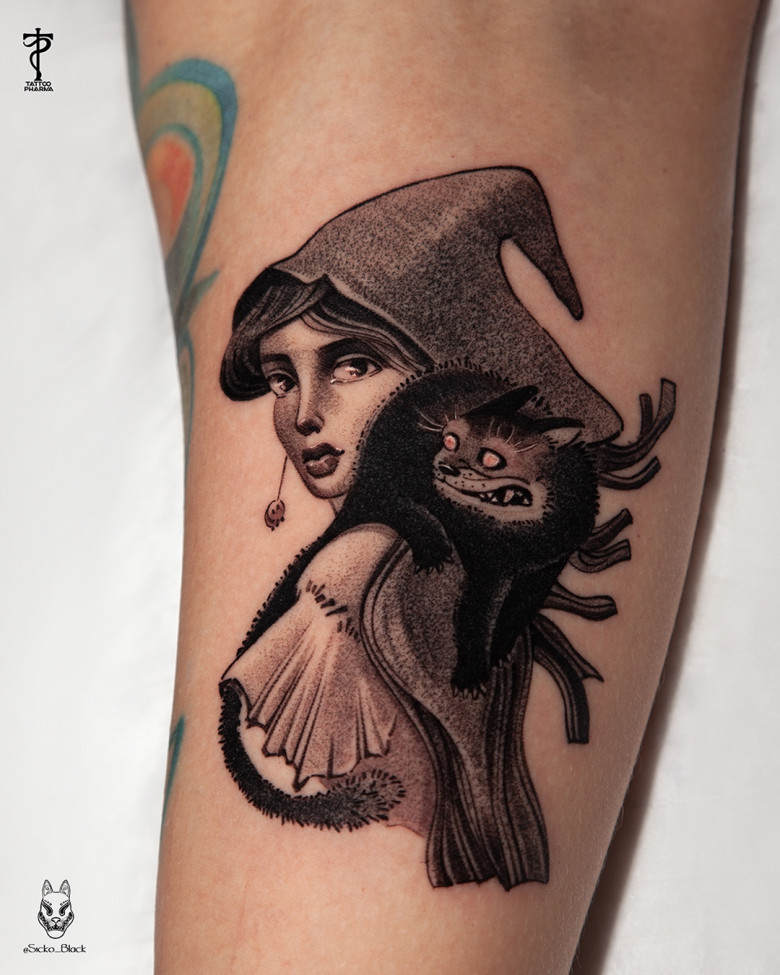 This year, I am also an official partner of the tattoo festival in Moscow and St. Petersburg, preparing part of the awards for the tattoo convention. It's a series of limited-edition sculptural pieces that I have created. It's great that the prizes I made will bring joy to the winners of these festivals. They are not just signed frames; they are sculptures in the form of Japanese demons, each with its own story corresponding to the location and nomination of the festival.
We have seen your designs on clothing multiple times. How do you feel about this manifestation of your style? Have there been any interesting collaborations?
- Having designs on clothing is great, but it is very energy-consuming for me at the moment, so I create limited editions very rarely. The last time I had a cool collaboration was with StayCold Apparel from Germany. I created several designs for them.
There was also a great collaboration with the Moscow-based Japanese cuisine restaurant, KODO. I was responsible for designing characters for their menu and creating the main logo, which later became a sculpture displayed in their establishment. It turned out to be very impressive.
Additionally, I had a collaboration with the English brewery, Anarchy Brew. They had a limited line of craft beers, among which the Russian Imperial Stout was very popular. I was in charge of designing the artwork for this series.
You also make Japanese masks. How do you manage your time, and what else do you have planned?
- Regarding Japanese masks, it is more like the pinnacle of my sculpting activities. We didn't have a sculpture course at our academy. It so happened that monumentalists do not have sculpture in their program, and in the last few years, I have felt the need to develop three-dimensional thinking. I was also curious about how quickly I could technically adapt to a related but completely different craft in terms of sculpture and do it in the format of private lessons with a master. I am infinitely grateful to my mentor and sculptor, Alexey Vikulov. I have been studying with him in his workshop for 2 years now.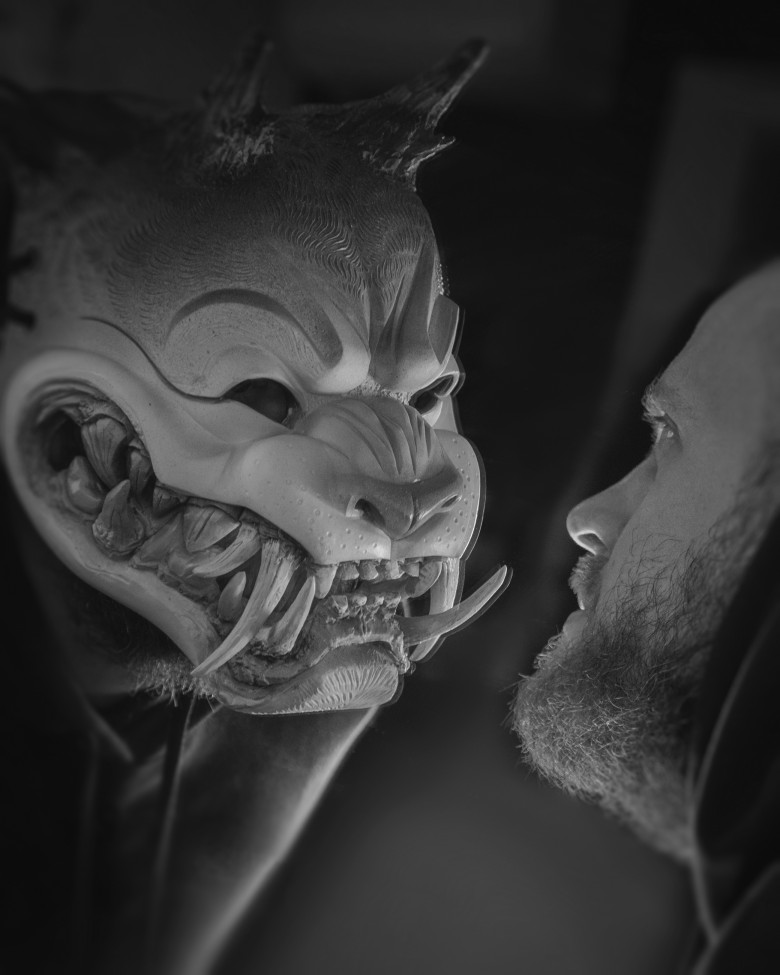 As for time, it is not always sufficient, and it is extremely difficult to accomplish everything one would like to. That's why I try to focus on 2-3 main directions and concentrate on them. If something else works out, it's great; if not, I have enough with what I am currently involved in. I try to concentrate on what is a priority for me in the foreseeable future and not waste time on trivial matters.
Regarding plans, I can only say that there are plenty of them, but I would prefer to talk about them once they are completed.
Do you travel often? Where have you been, and what specifically did you enjoy about your trips?
- For work, I have visited most of Europe. Before COVID, I would usually spend 2-3 months abroad each year. As I mentioned before, I really enjoyed my time in England, Ireland, Germany and Spain. I was very curious to see how the tattoo industry operates in other countries, what styles are popular, and how tattoo artists and studios exist there. It's all extremely interesting and fascinating.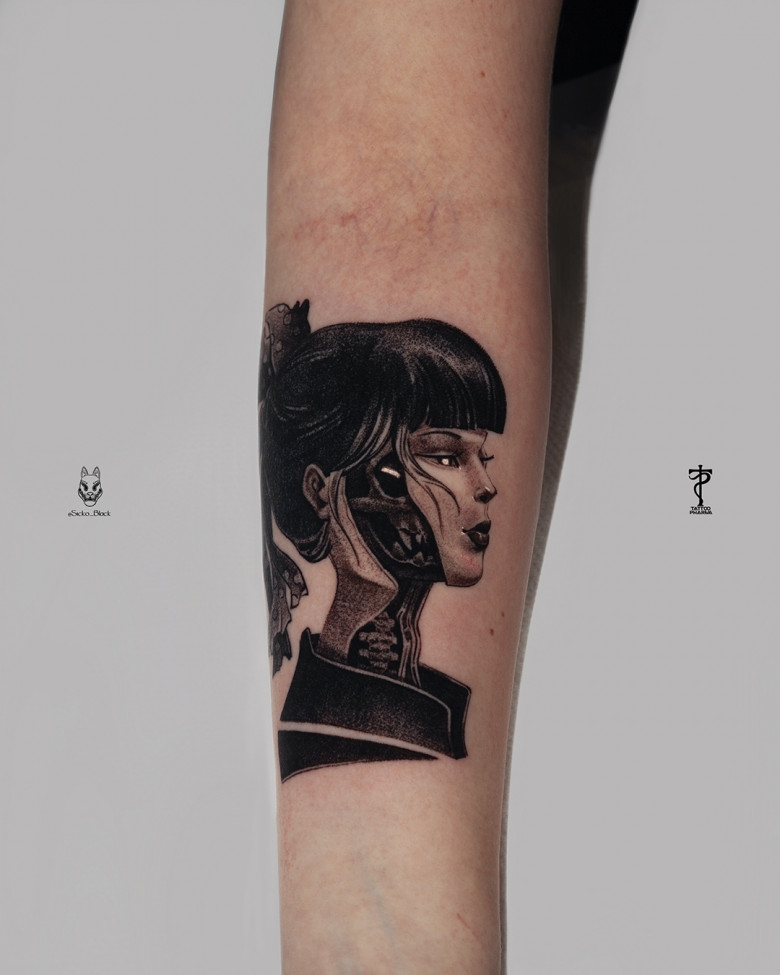 If we talk about non-work-related trips, going out into nature brings me immense aesthetic pleasure, especially trips to the mountains. Wherever I go, I'm not very good at simply relaxing and doing nothing, so I always bring my iPad or sketchbook to draw something. It has become a part of my life. But I still hope that someday I'll learn how to relax as well.
Can you name your top 5 tattoo artists or artists?
- I can't name just five. There are far more than that. If you want to see tattoo artists specifically, you can visit my Instagram @sicko_black and check out the accounts I follow. There are many great tattoo artists there. If you want to see contemporary artists/sculptors, you can explore the accounts I follow on my sketchbook Instagram @nocolorinside.
There is also a vast number of old masters who have passed away and aren't present on social media. It's highly beneficial to study the history of art. Each of them had their own path and contribution, so please look broader — it's very interesting.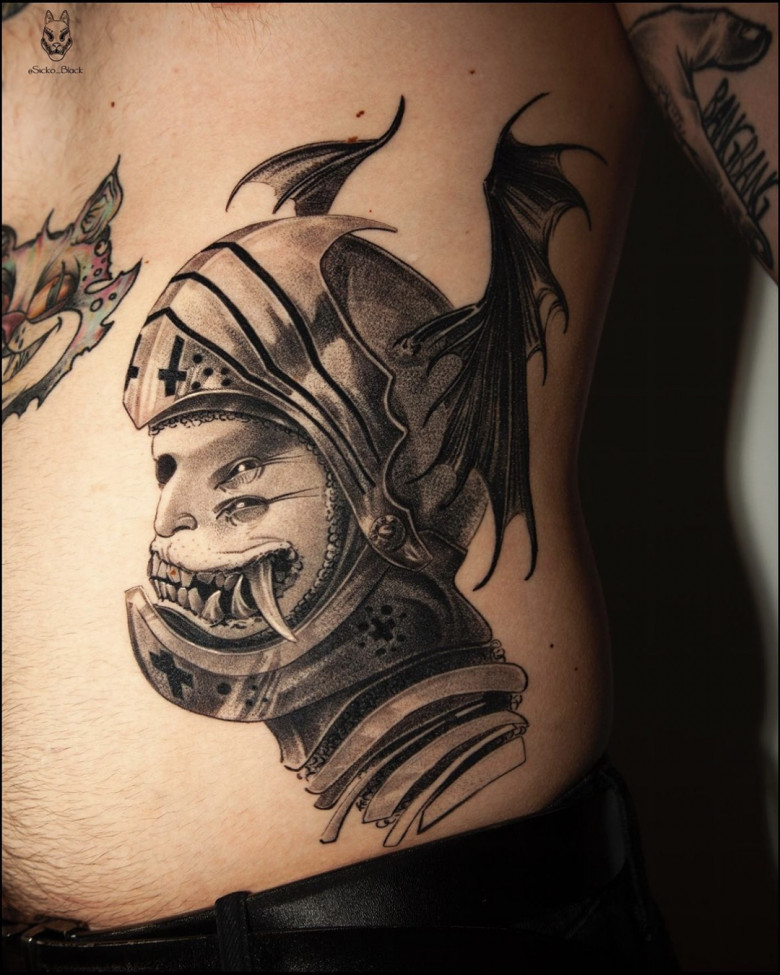 What is your main goal as a tattoo artist?
- There is no specific main goal; there is a path that I am following. I try not to fall into a pit, if possible, and if it happens, I quickly find my way out. At least, that's how it is for me at the moment.