The magic of black and grey realism: a conversation with Grigorii Butrin
01 / 05 / 2023
Andrew Novikov
Today's guest on our interview is a tattoo artist who has conquered the world tattoo community with his strikingly contrasting, cinematic tattoos. They are complex, detailed, and literally bring the picture on the clients' skin to life. His work is known in almost every corner of our planet and has been repeatedly highly praised by judges at international tattoo conventions around the world. He is a member of several professional teams and understands how to make black and grey realism truly spectacular. Meet, Grigorii Butrin.
---
Why did you decide to become a tattoo artist? And what did you do before?
- I was always interested in drawing since childhood, participated in school contests, and already in high school, I knew that I would pursue artistic tattooing. After school, I enrolled in a medical college, and by my third year, I developed a hobby for tattooing.
Do you have an art education?
- No, I have a medical vocational education and several courses in artistic tattooing.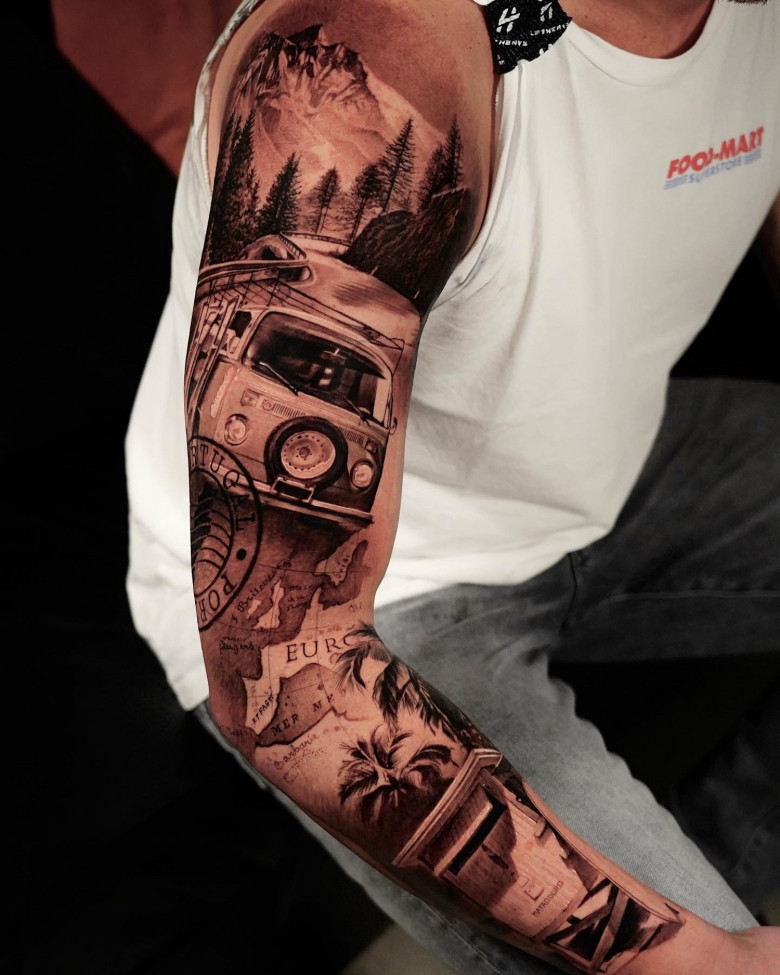 How did your career begin? Were there any difficulties? Who was your mentor?
- I have been working since around 2014, but as a hobby. I began to take tattooing more seriously after graduating from college in 2015. On my last year, at a more conscious age, I decided that I wanted to link my life with artistic tattooing, where the knowledge gained in medical college would come in handy. After that, I went to master classes with other artists, and that's how I met my first teacher Alexander Oberov. Then, in 2016, I joined the tattoo studio "ZABITYE," where I learned a lot from Timur Bulatov и Konstantin Alekseev.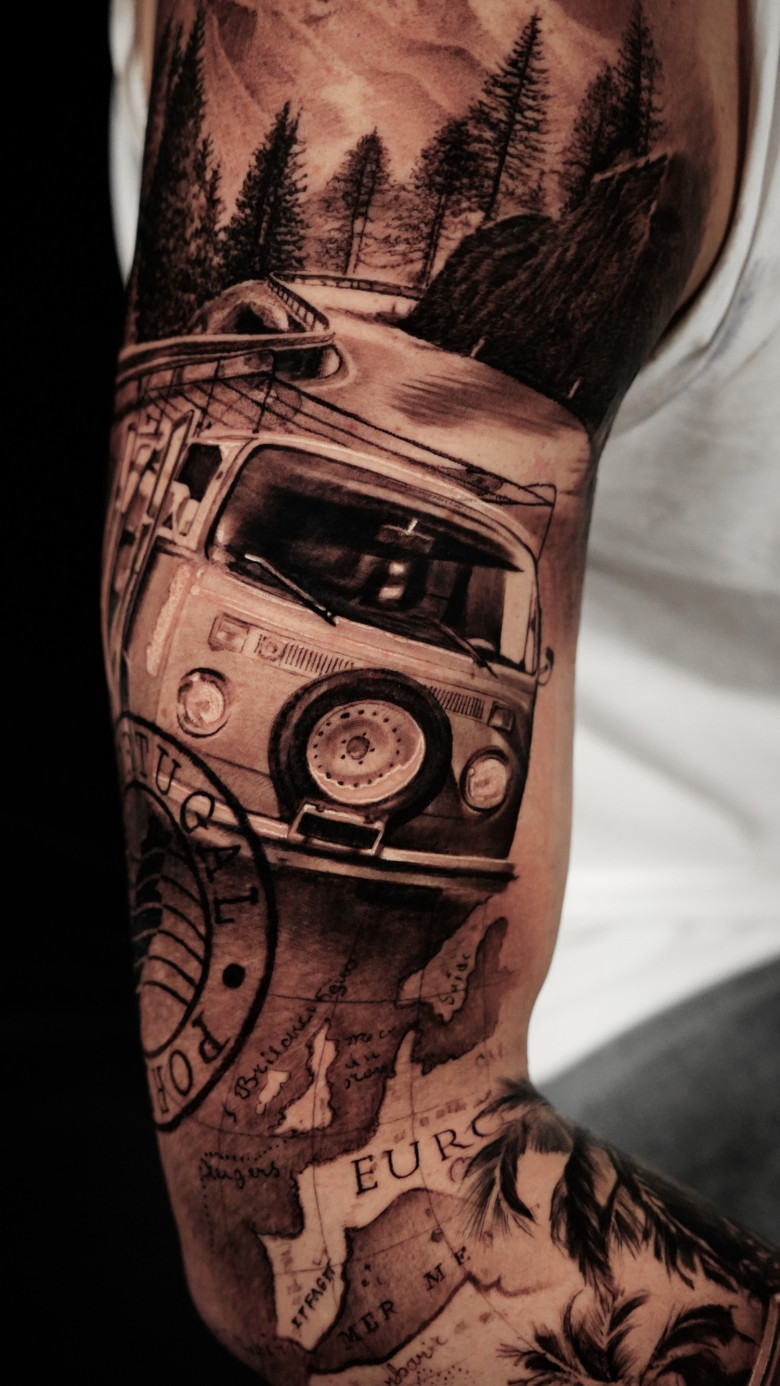 Why did you choose black and gray realism as the foundation for your work?
- Because it looks very beautiful, and since childhood, I have always tried to use one color in my drawings. I think it's very expressive. And, besides, black and white works remain high-quality for a much longer time compared to colored ones.
What are the unique features that you personally highlight in your tattoos?
- Contrast and detail. I pay a lot of attention to composition.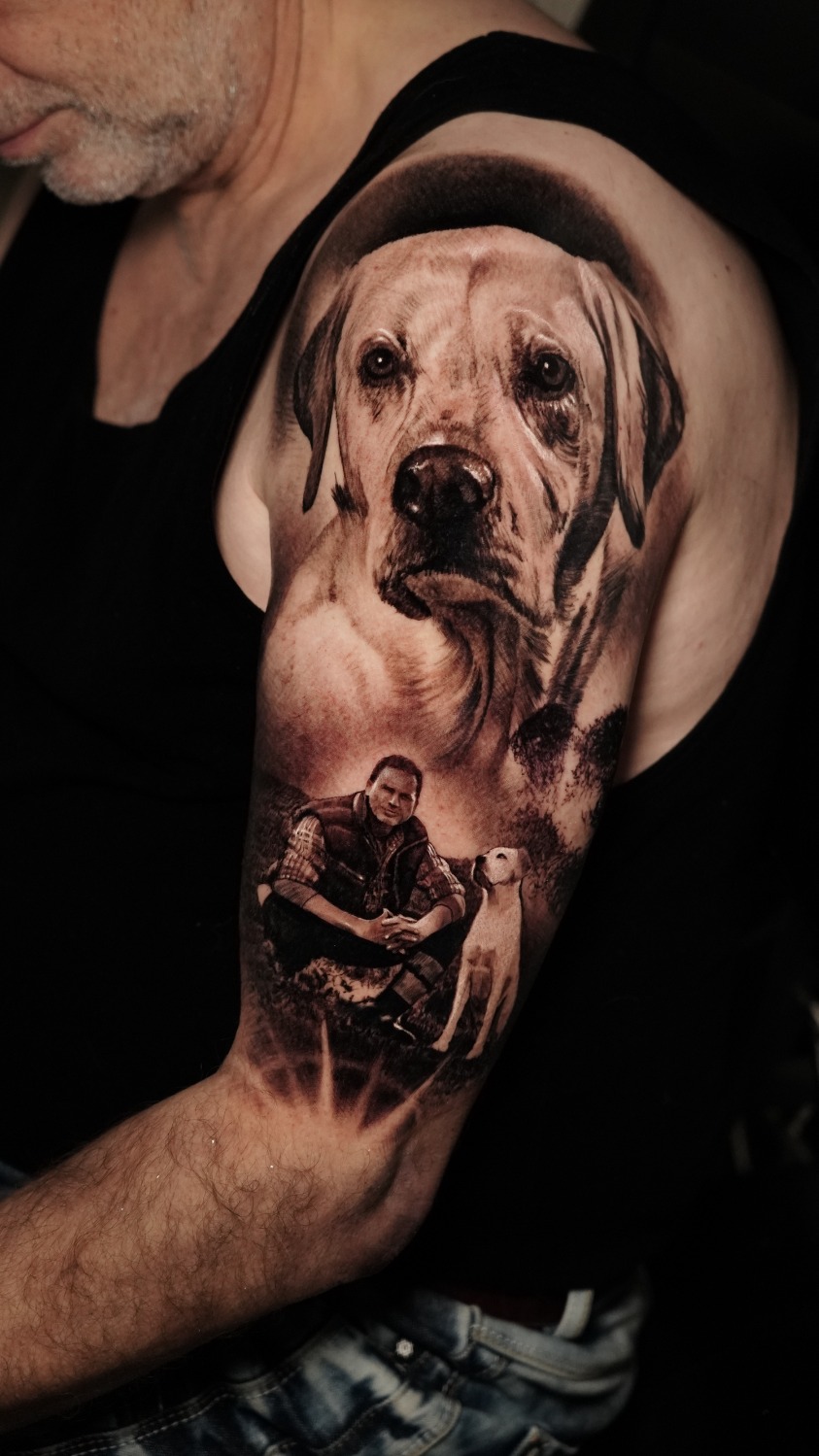 Can you tell us about how you create your projects? How can a realism tattoo artist express themselves in this style?
- I create my projects individually for each client, always in person, since it is impossible to create a good (large) project remotely without making mistakes. Usually, I use Procreate to create a sketch, after which I place them on the body parts and mark corrections with a marker before proceeding to the final version.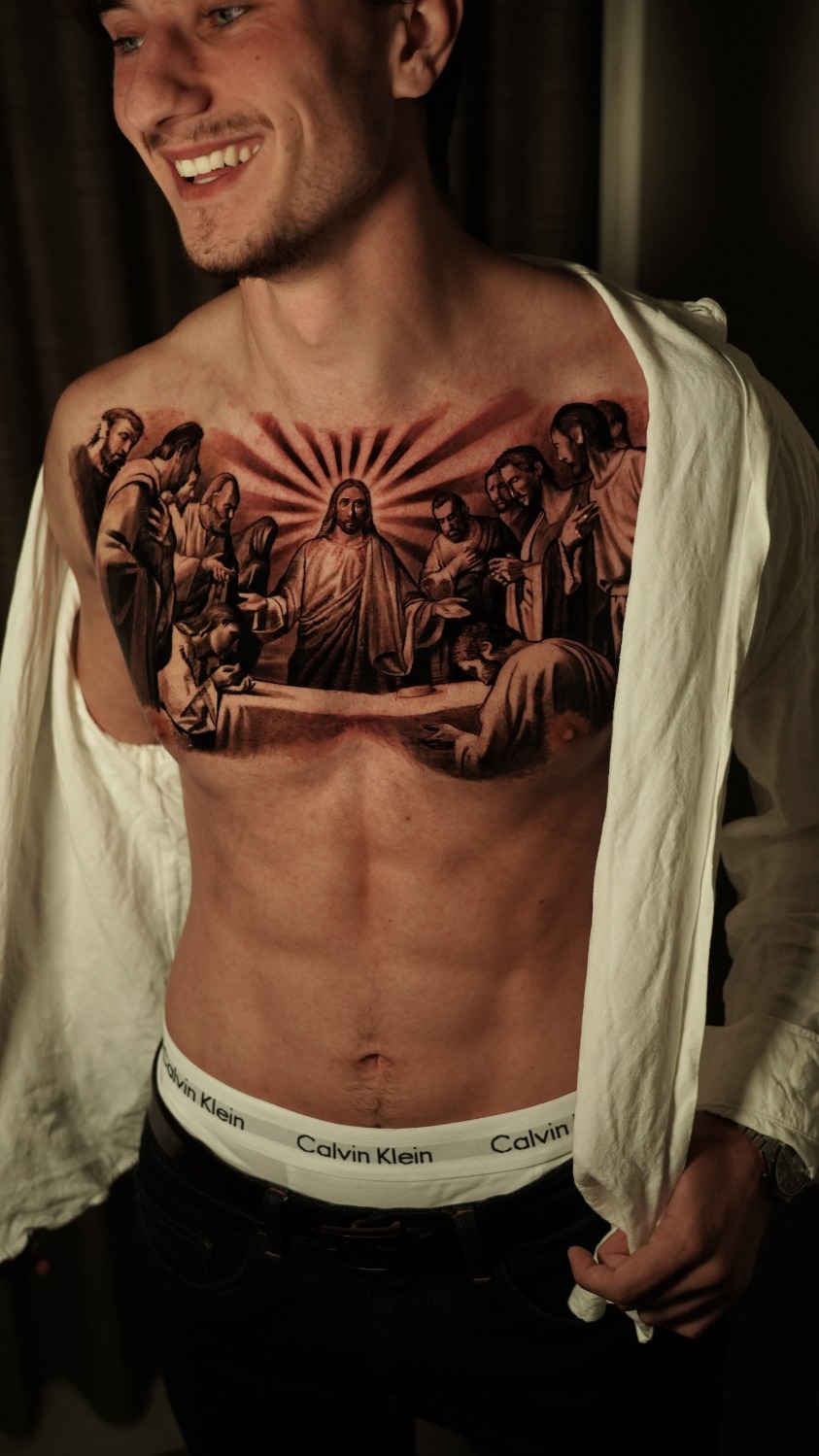 Depth and detail in your work are very pleasing to the eye! Can you tell me how you achieve this? Are there any tricks?
- Thank you. I try to choose appropriate source images in terms of quality and contrast, so that they don't stand out from the composition, and carefully and gradually execute them on the skin.
What tattoo themes do you enjoy working with the most?
- I always find it very interesting to work with themes from movies or games. Creating a project sometimes feels like creating a movie poster.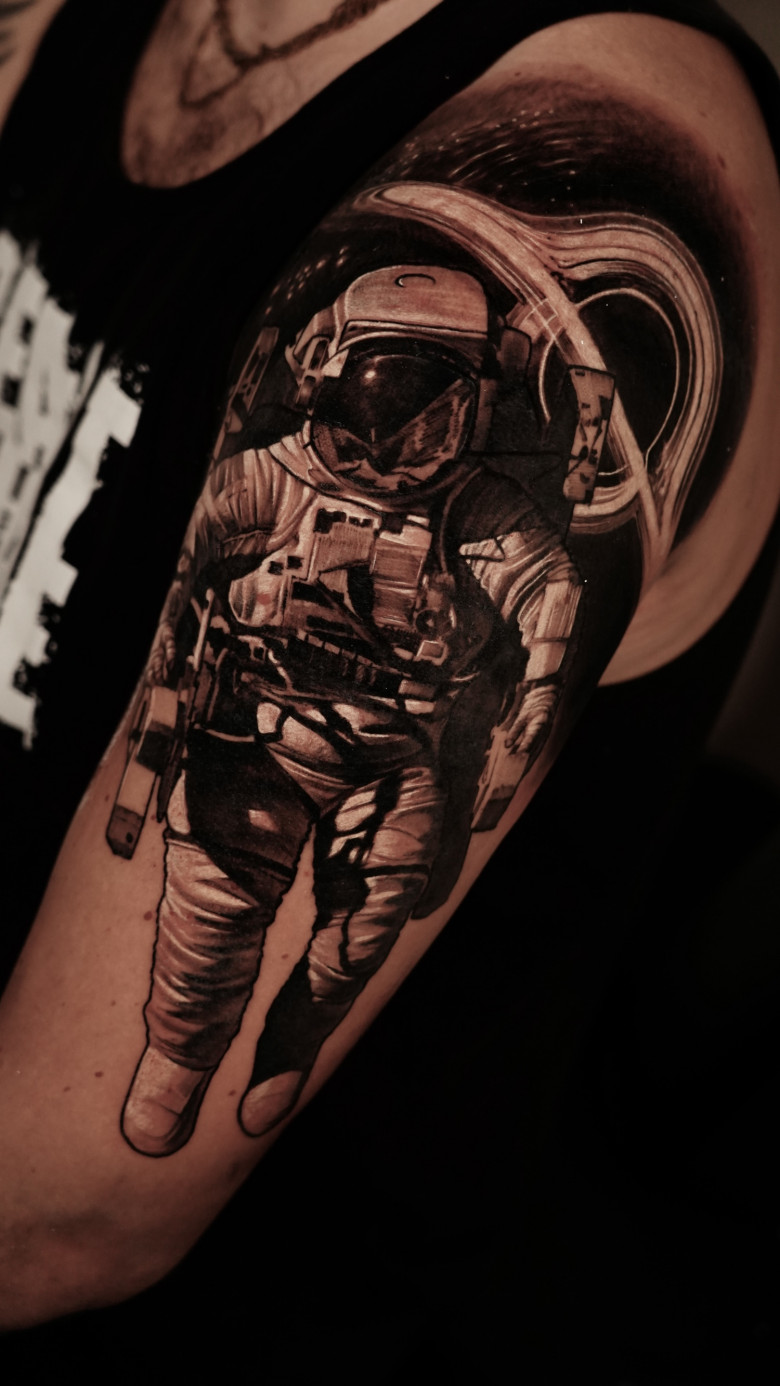 Is tattooing art, work, or something else for you?
- It's hard to say. I've been doing it my entire conscious life, and I can't come up with a short definition. It's a part of my life.
We've seen you as a participant in several conventions. Can you share your experience? And do you think it's necessary for a modern tattoo artist to participate in such events?
- Yes, I participated in the Moscow Tattoo Convention in 2016 and TATTOOMENTA 2018-2019 in Kassel. It's a very unusual but very important experience. At conventions, you can communicate with many representatives of the industry and make new connections. Participation in conventions is very important for a modern artist, as it helps to objectively evaluate their level and determine which direction to continue their development. But working at a convention is very inconvenient compared to working in a studio.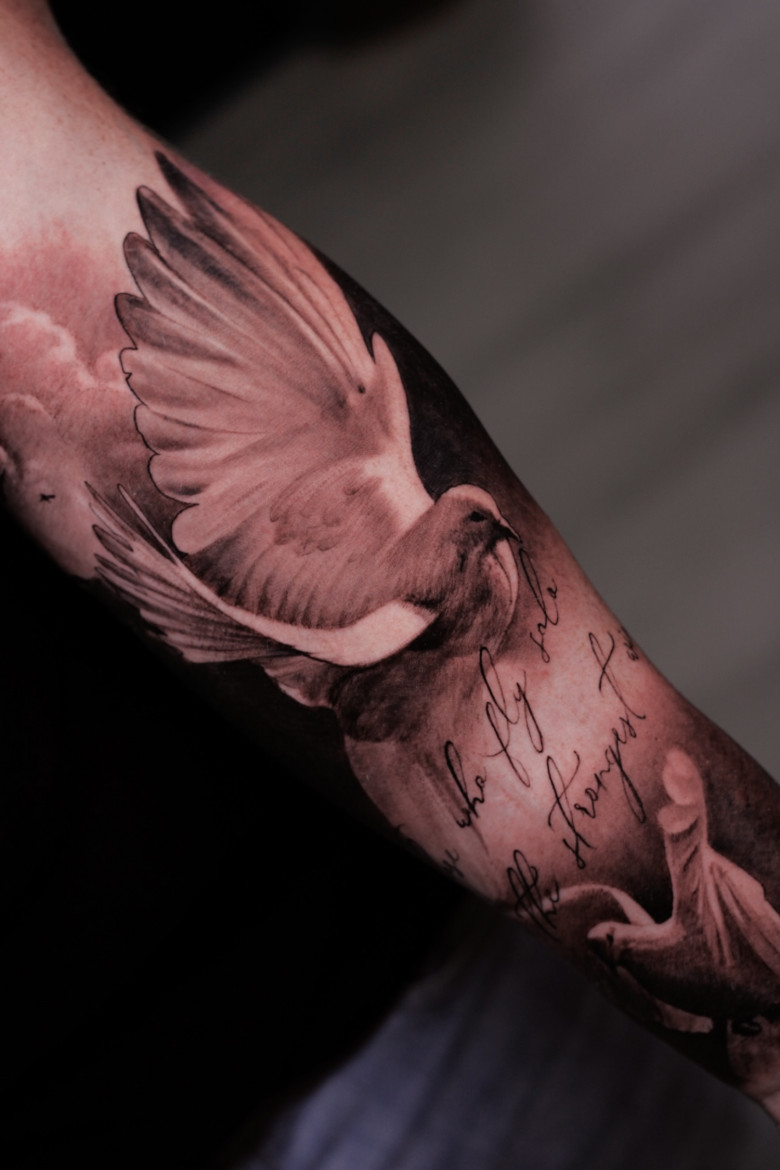 You are a participant in Pro Teams of Jconly and Druid. Can you tell us what this gives you as an artist? And in your opinion, how important is it for a modern tattoo artist to be part of such professional teams?
- It is important because these companies provide their consumables. If you want to promote a truly good product that other artists can use, then being a part of "Proteam" is a good option for both you and the manufacturer.
Do you travel a lot? Where have you been to? And do you have a favorite place on the planet?
- Yes, I love to travel. I've been to Israel, Turkey, Germany, Italy, Czech Republic, Poland, and the Netherlands. But my favorite place so far has been Norway.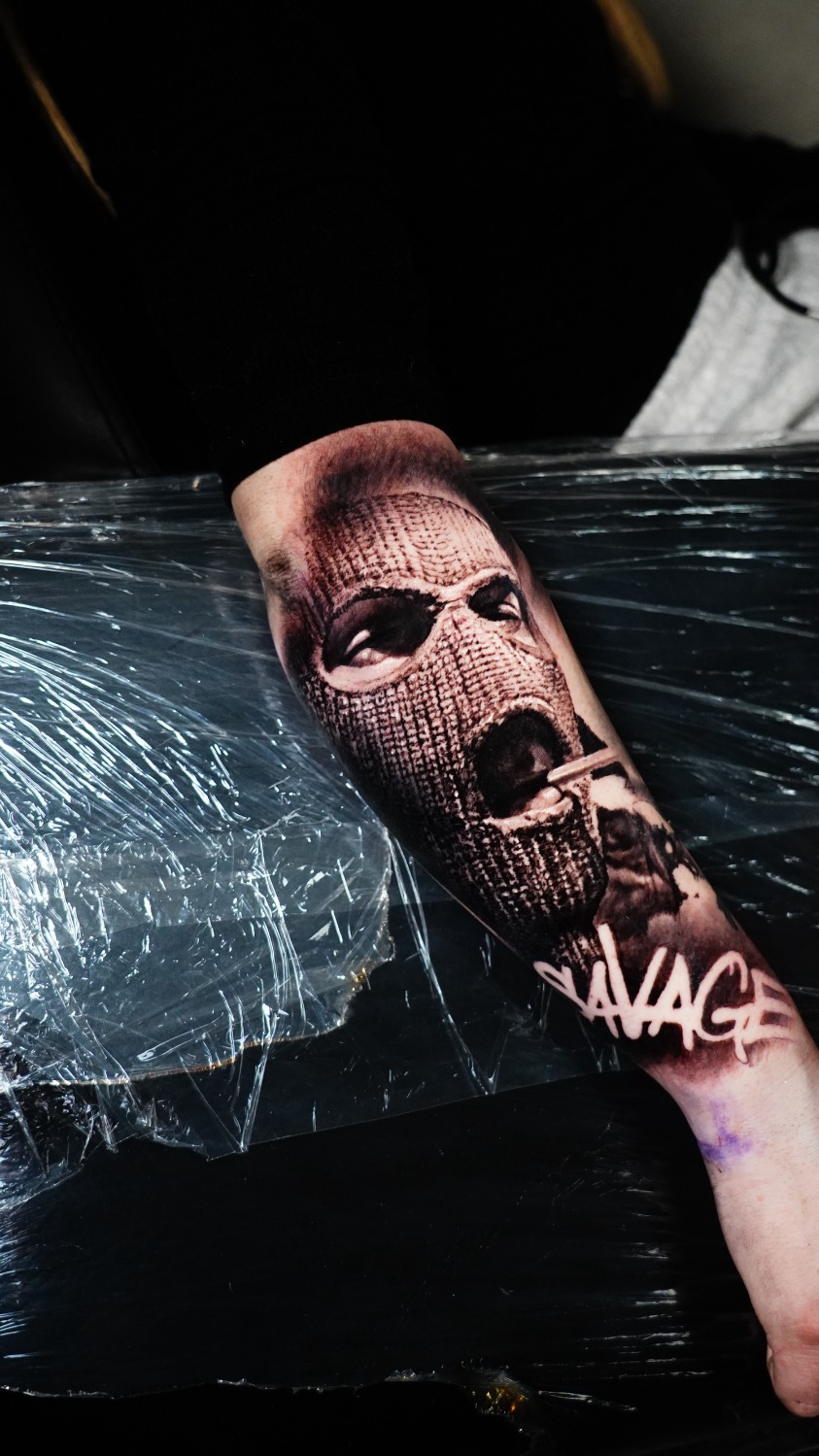 Who are the tattoo artists that you actively follow and consider as examples in your work, and who is in your personal top?
- There are many examples, I'll name just a few recent artists: @kodatskayatattoo, @oberov.tattoo, @alexsorsa, @_kindamo_, @timurbulatov_.
And of course, the most relevant question at the moment is about your plans for the future.
- My plans never change - to continue honing my skills, to continue traveling, and to continue creating.