The Universal Language of Ornaments: Xéu Jean's Passion for Tattooing
26 / 02 / 2023
Yaroslava Green
Introducing Xéu Jean, a master tattoo artist with over two decades of experience in the industry. From a fresh art school graduate to a seasoned professional, she has seen the transformation of tattooing from an ego-driven affair to a revered form of art and ceremony. With a diverse portfolio, Xéu takes inspiration from universal symbols and patterns to communicate the individual experience through ornamental tattoos. In this interview, the tattoo artist shares their journey as a tattoo artist, the struggles and triumphs, and their philosophy on tattooing as a legitimate art form. Join us as we delve into the world of tattooing with Xéu Jean.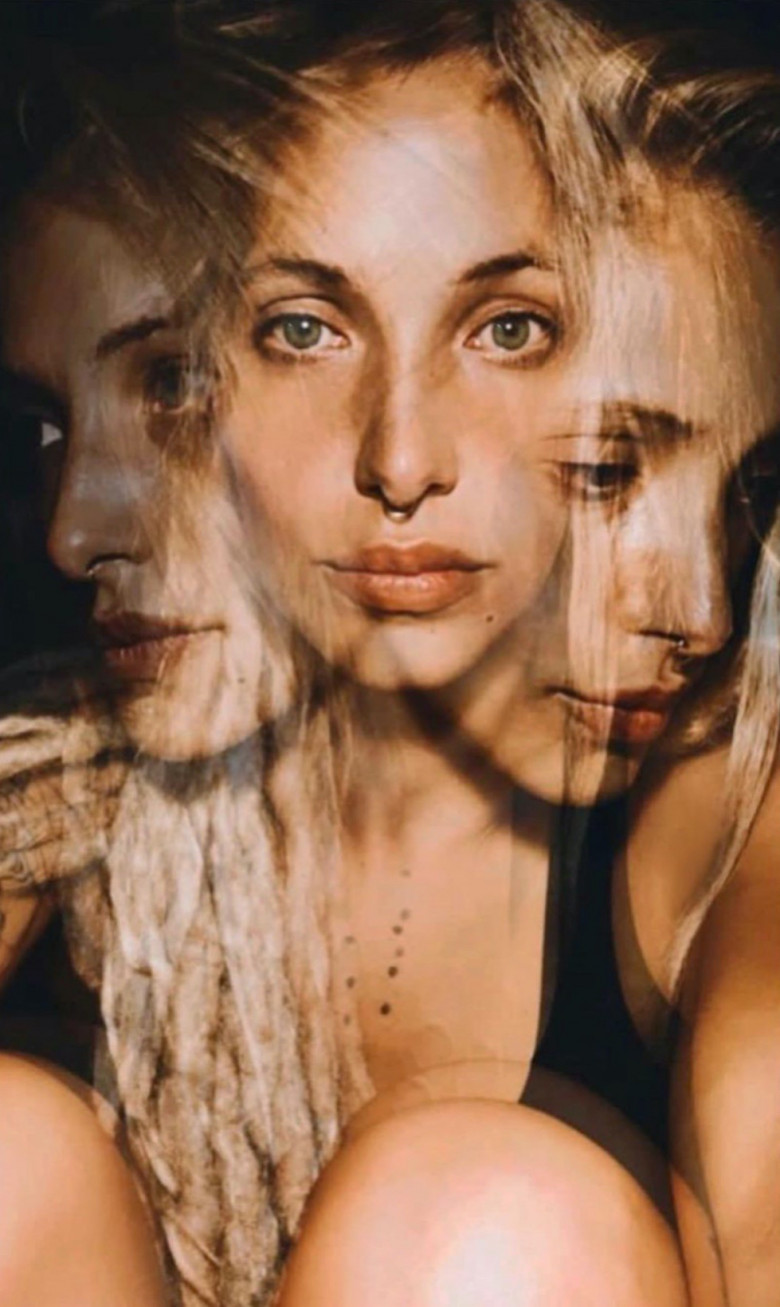 ---
Let's start with the classics: Why did you decide to become a tattoo artist?
- I like to say that tattooing found me. It wasn't a conscious choice, it was offered to me. Now, after so many years, I've come to see it as an intrinsic part of my creative story. It's so diverse, and contrary to popular belief, it is one of the most complex forms of art in all aspects.
How did your career start? What were the difficulties in learning the profession? Who was your teacher?
- I was fresh out of art school, and 22 years ago, there weren't many viable options for me in the art world as I lived in a squat-like scenario on my own. Lisbon, at the time, had very few studios, and I was offered an apprenticeship. I believe, at the time, there were only two more women tattooing in the country, and this seemed to me like a good opportunity to change perceptions, but in a male-dominated industry, the struggles were typical.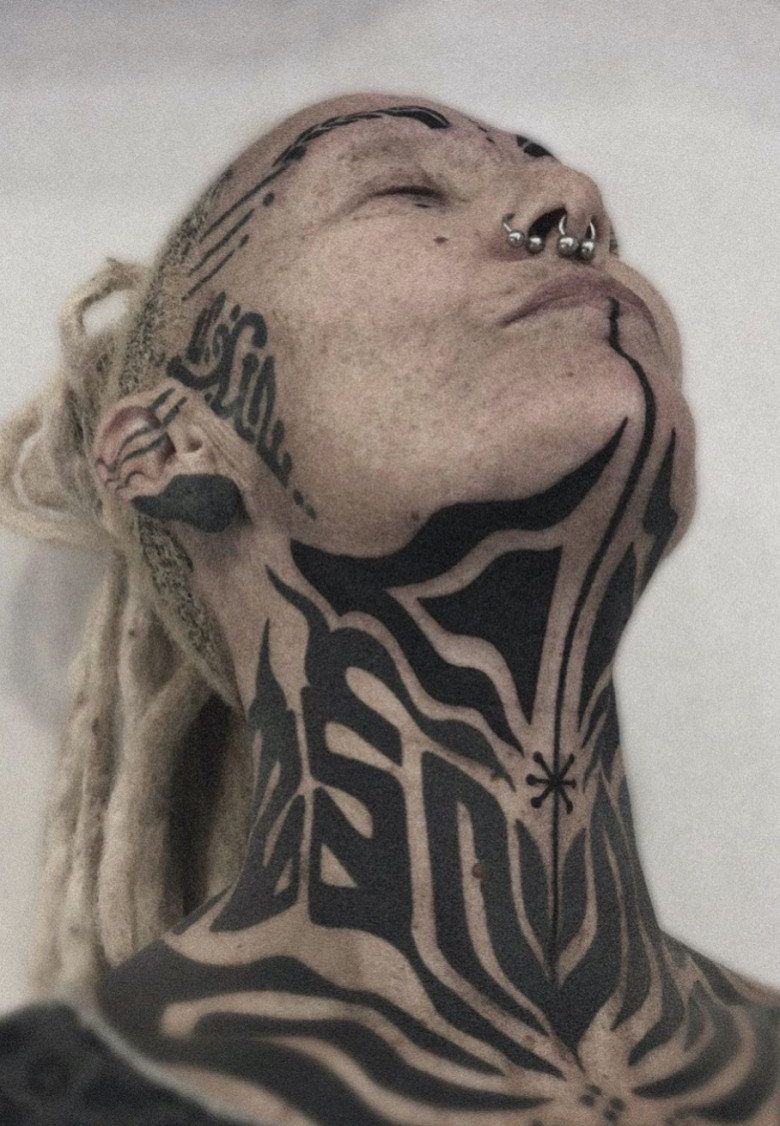 The apprenticeship was difficult at the time, and the environment was very different from my education in arts - it was a very old-school, hands-on approach. However, I learned a lot about many aspects of the industry because of this - from machines to needles, ink, and skin anatomy. I now find I was privileged to be part of the more underground movement with these more manual practices.
My first tutor is no longer alive - he died of an overdose a few years later, because of the 90s. Through the next seven years, I ended up learning with various artists as I traveled.
Tattooing for me began as an ego-driven affair - it was perceived for rebels and people on the sidelines of society. But eventually, and with a good shift in the industry into an artist-driven one, my practice became a ceremony of days. I managed to grow through the years, not only educating myself about its history but adding to it in my own way, creating art with intention, and creating experiences for others that transcend your typical tattoo experience.
It stuck and became more than a job, one that I can say has had its ups and downs, but I could not imagine my life without - it's an intrinsic part of my story.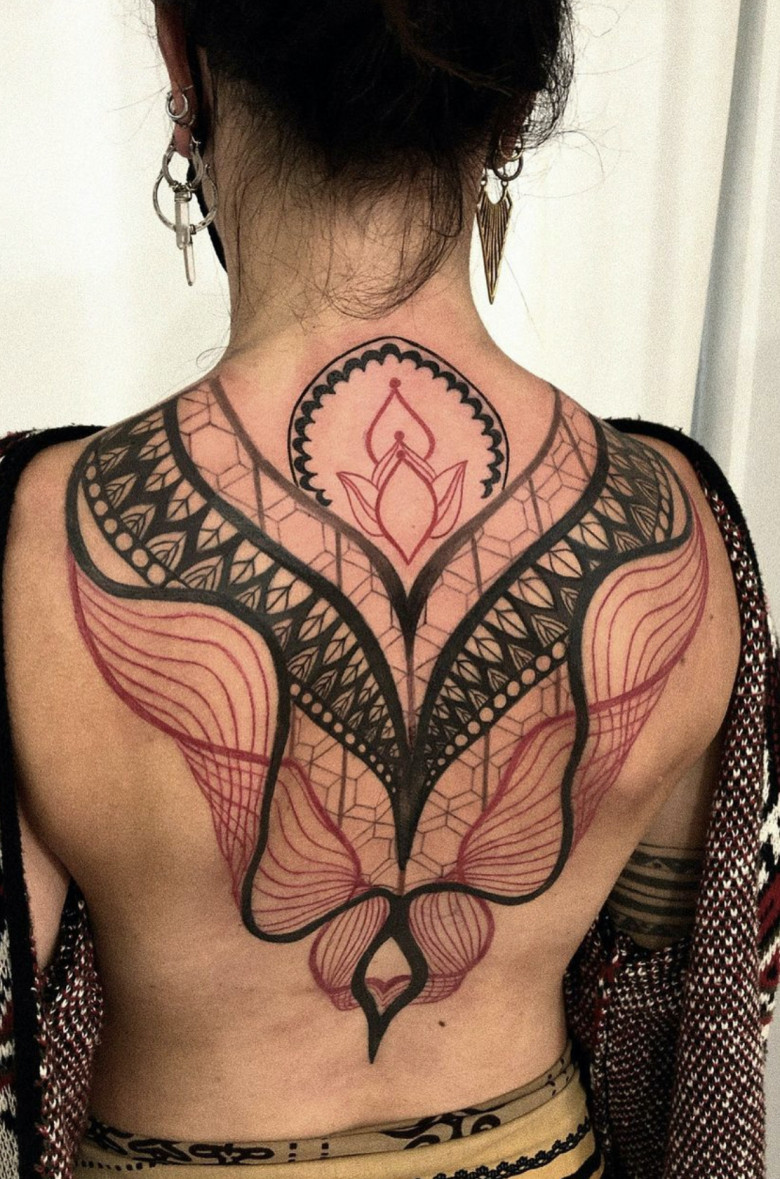 Is tattooing for you an art, work or something else?
- I view tattooing as an art and a ceremony. Many view the industry as a simple service, mostly due to the commodification of art in general. It is an art form with a unique status, as you cannot hang it in a gallery or on your walls - it is constantly moving, evolving, and alive due to the canvas - so in a sense, it is more similar to performance art.
It holds not only the manifestation of eras in a visual sense (trends and such) but also a historical and ceremonial legacy of thousands of years. To say that tattoo art is not so, for me, is an uninformed statement. It ticks all, if not more, criteria for legitimate consideration. I believe the only thing that is missing for it to be considered in high regard is education, a real arena of information, and intellectual discussion.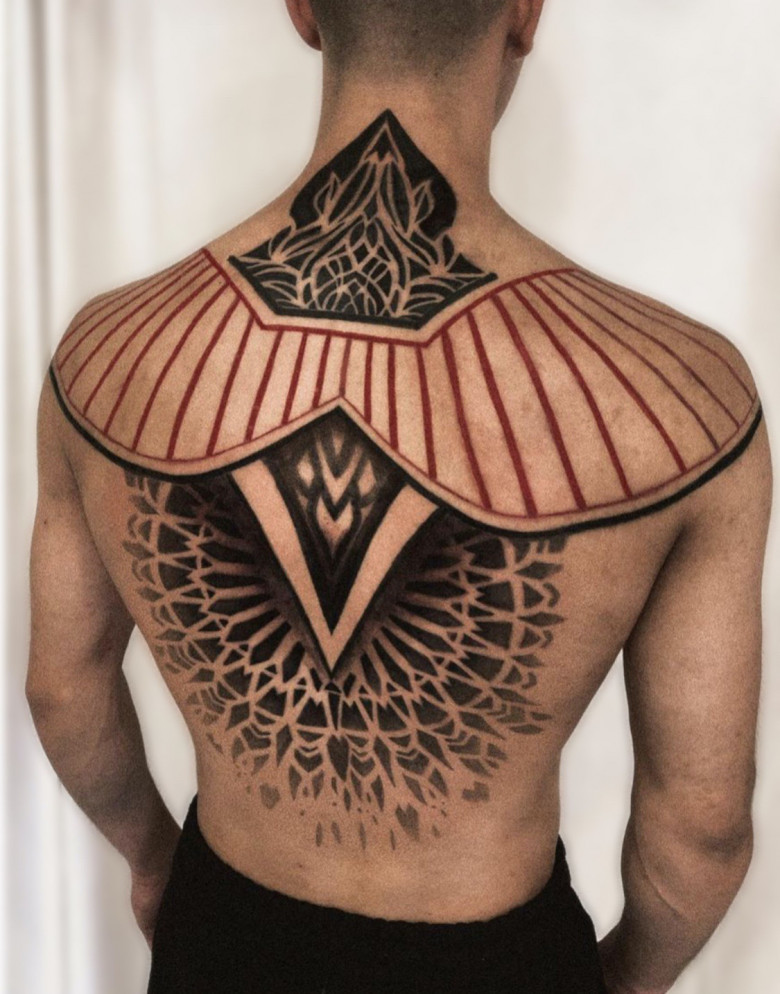 Your portfolio is diverse, but the majority of it is ornamental tattoos. Where does this passion come from? And what do all these patterns mean to you?
- I believe in art as language and the search for individual expression. Symbols and patterns evoke profound emotions and memories, and have been used since the beginning of language. Many are used simultaneously throughout cultures, and ornaments are a universal language. Often, without making rational or conscious connections, they are a primal imagery that iconically expresses all visual and non-visual things. This is the basis of how we as a species have always communicated. With tattooing, I am interested in communicating the individual experience. So, it makes sense to me that I use these universal images to create individual symbols and "words" to mark and give grandeur to the individual story I am telling. In essence, I am ornamenting the body with universal poetry.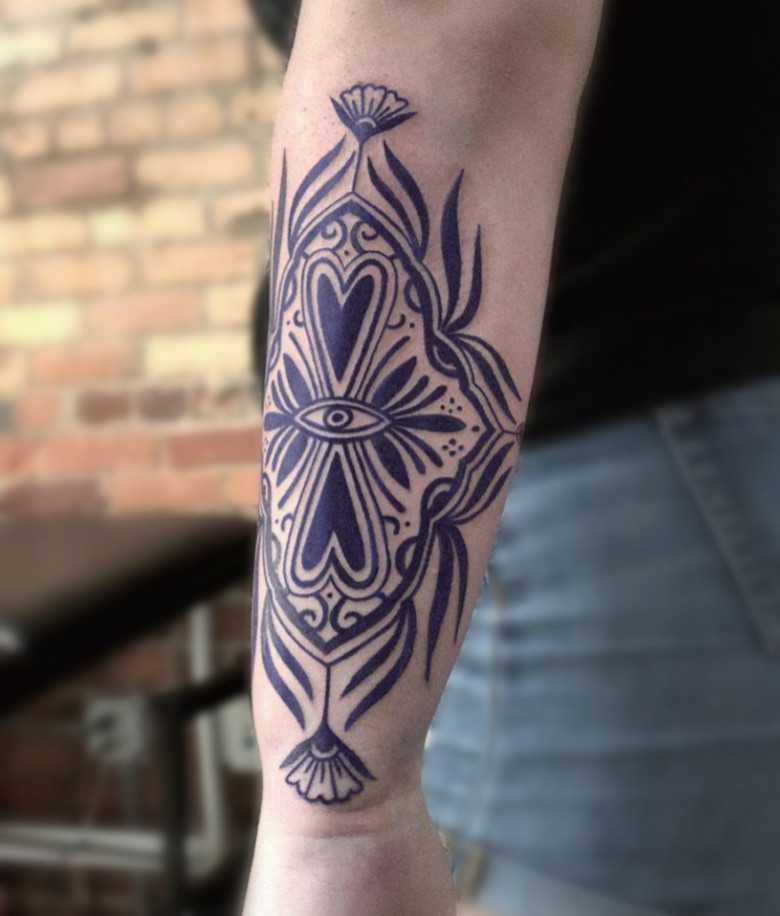 Where do you find inspiration?
- Along the years, inspiration becomes a fluid thing. You find out what you are good at and what you aren't, what you are asked to do and what is easiest to visualize. Then comes experience and the compiling of images and gestures in your mind. It can't be forced, so after the supplies and method struggle, you are most likely to create a visual path, and it becomes a natural process where inspiration can come from all things visual.
I am a very visual person, and I can find inspiration from most places as long as I attempt to understand and/or visualize them in a different way. Working with people's stories moves me into new perspectives. I also read a lot of philosophy, poetry, and art theory, which also helps me understand what I see in a different way. Nowadays, I find inspiration in words and stories. When looking at any piece of art, I try to understand what is being said and in what way.
Visually speaking, I am inspired by anything that seems avant-garde in modern art, but I also love the simplified tattoos from most indigenous, nomadic, or ancestral cultures. I am interested in all art that attempts to elevate the inner human experience in a raw and primal way.
What is the most important thing in tattooing for you?
- The experience has become the most important. Obviously the image and method is important. But after you have struggled with perfection for so many years and have integrated all information from your tutors- you realize that at the end of every session- that moment of creation with another being, the present moment is of the utmost importance.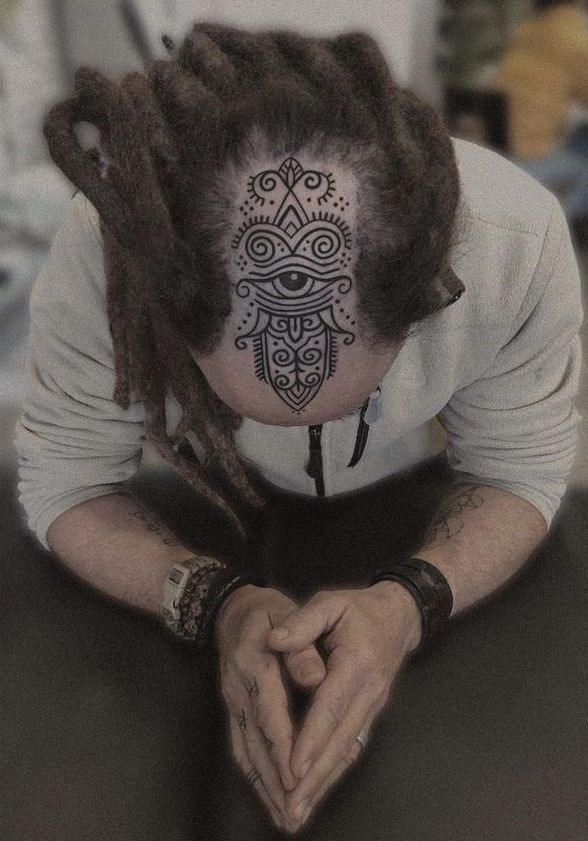 It's always interesting to know the perspective of the artist. What are the unique features of your work that you identify yourself with?
- The search. The constant search for something new and still maintaining a certain line. I think that through the body of my work there is a certain freedom of cultural boundary and the attempt to combine all inspirations from fine art to ancestral tattooing.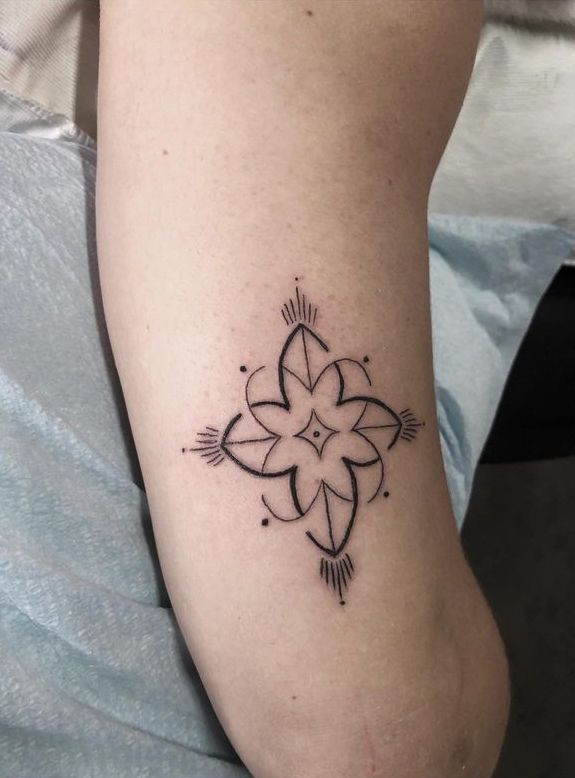 Ornamental tattooing is often a sacred process that unites the artist and the client. Have there been any cases in your practice when the client became a friend?
- I believe this. In most of the profound work I create, when given artistic freedom over the story, I become connected to the individual I create for. There have been many tears, love and connection shared. It is inevitable that when a story carries emotional weight, and in the moment of pain you are asked to manage those emotions. It really does become a ceremony of presence as you are asked to not only manage your physical pain but share it with the memory you are marking. As a tattoo artist if you are open to this, the process becomes more than about you and your art. I can easily say that most clients become friends, even if just for that moment.
Are there any tattoo artists or artists who inspire you? Whose work do you follow? Can you name your TOP-5?
- My top 5 would definitely be Xoil, Nazareno Tubaro, Artem Koro, Andrea Scollo, and Winston the Whale.
Do you travel a lot? Where have you been already? And is there a place on this planet that you're always ready to return to?
- I have tattooed in several countries in Europe and have my studio in Portugal. I have also worked in Canada and Hong Kong. I have yet to find a place that I am always ready to return to. I have plans to travel to the US soon and I believe it will be a great addition to my story.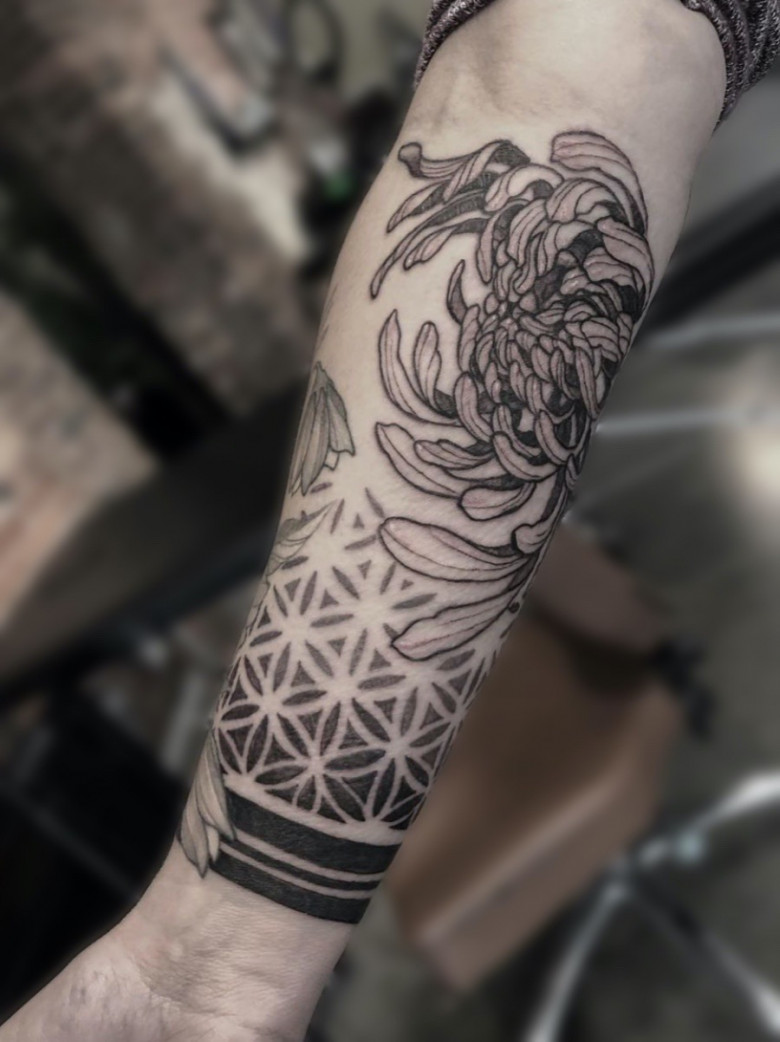 What does the word "tattoo" mean to you?
- Tattooing is ultimately the telling of stories and marking of moments through permanence.
What do you do besides tattooing? And what is your main goal in life?
- I am an illustrator and painter as well. For years my goal was to have my own studio, having achieved that, I don't take it for granted, the truth is it gave me very little peace and sometimes took away from the time I enjoyed as just a creator. So now my ultimate goal is to maintain and create more of a quality of life that allows space and time for this.