Thomas Piñeiro - Traditional Japanese Tattoo
25 / 08 / 2021
Andrew Novikov
Tattoo Artist Thomas Piñeiro
We just love the classic tattoo. A tattoo saturated with a thousand-year history and retaining its relevance to this day in its original form. This is incredibly cool!
Today we want to introduce a tattoo artist from sunny Brazil who continues the tradition of classic Japanese tattoo with incredible success. When looking at his work, it is difficult to resist the desire to communicate with their creator. Every outline, every color transition, composition - everything looks perfect!
---
Please, tell us a little about yourself. Where are you from, where do you work now?
- I'm a Brazilian born in 1991 in São Paulo, the biggest city in Brazil. I've lived in São Paulo till 2014 and after that, I've moved to Europe. I currently live and work in Erlangen, south Germany.
How and when did you decide to become a tattoo artist? Who taught you? How it was?
- My parents have tattoos since before me and my brothers where born, we were always in contact with the tattoo culture. Later on, my older brother Caio Piñeiro became a tattoo artist, he was the one who taught me. Around 2007 I've quit school and became his apprentice, I would go everyday around 5am to my brother's shop and do all the classic "apprentice stuff". After I would have the day to draw and watch him working. In 2008 I've done my first tattoo.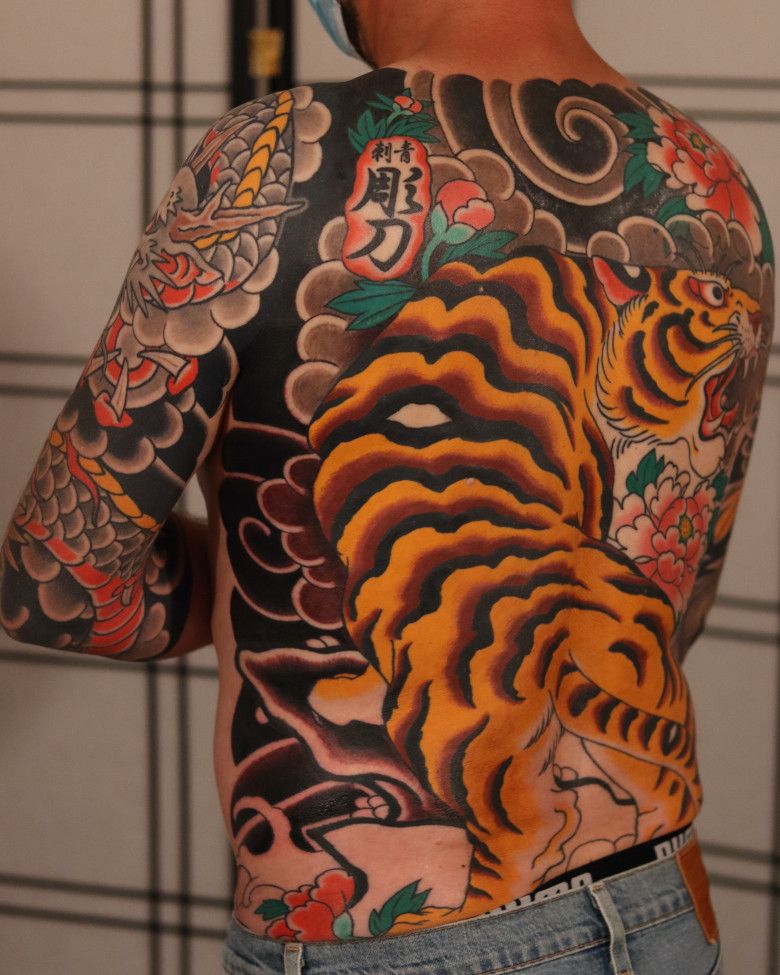 What does the word "tattoo" mean to you?
- Tattoo for me is a way of expressing ourselves. Is when our skin reflects our spirit, our mind.
Let's talk about your work. Why Japanese tattooing?
- Since I can remember, I was always surrounded and fascinated by Japanese culture. We have a very strong Japanese influence in São Paulo. Was just natural that as soon as I've got in contact with the tattoo world, that I would fall in love with the Japanese Tattoo.
Are you studying the history of Japanese tattoo culture?
- I always try to learn as much as possible, is a very deep and interesting culture. As more as you learn, the more you see how deep you still can go.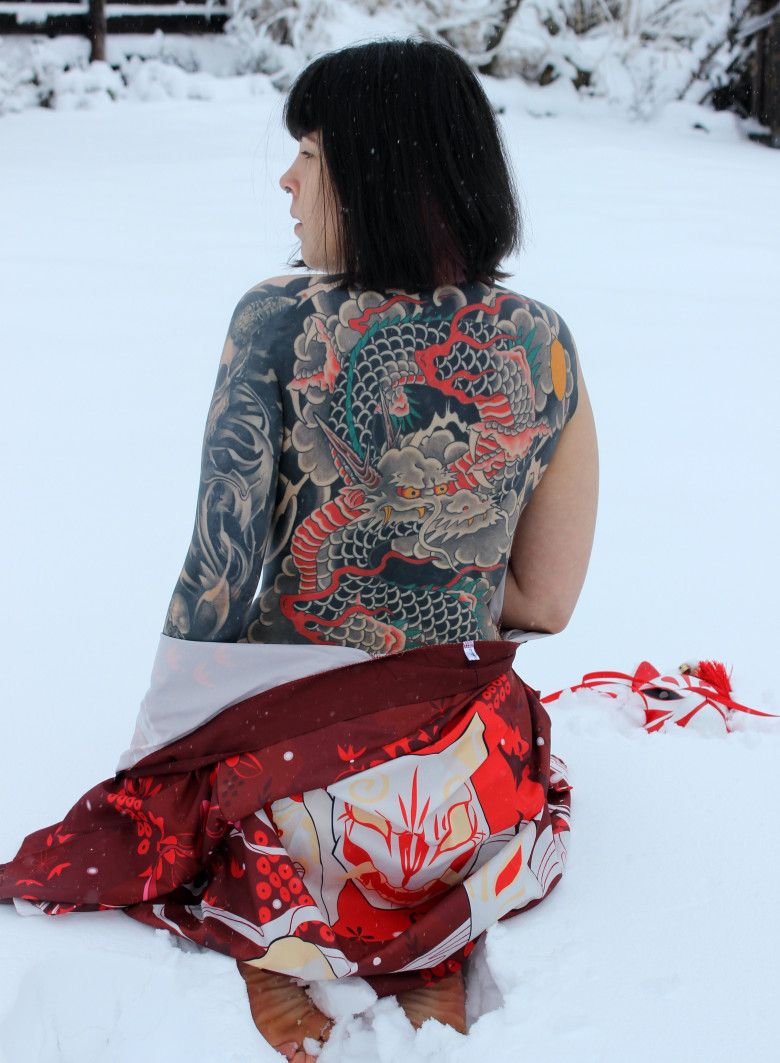 What kind of Japanese tattoo do you prefer?
- I love Irezumi (traditional Japanese tattoo) and all the classic subjects like dragon, tiger, flowers and snakes.
Japanese tattooing is a real classic. It has a large fan community, many other tattooers follow the same way. So, what features of your work would you highlight?
- I try to be as authentic as possible on my work. For me, a good Japanese tattoo need to be clear and strong! For the past 10 years I've tried to fully understand what a traditional Japanese tattoo would be, so I could finally start to add my own touch and a bit of my personality to it. I'm still learning tough.
Where do you get inspiration?
- From ukiyo-e (Japanese wood block prints) and from the old tattoo masters. I also like to study the natural subjects like flowers, snakes and tigers from real photos, I believe it helps to understand the thought behind the master's drawing.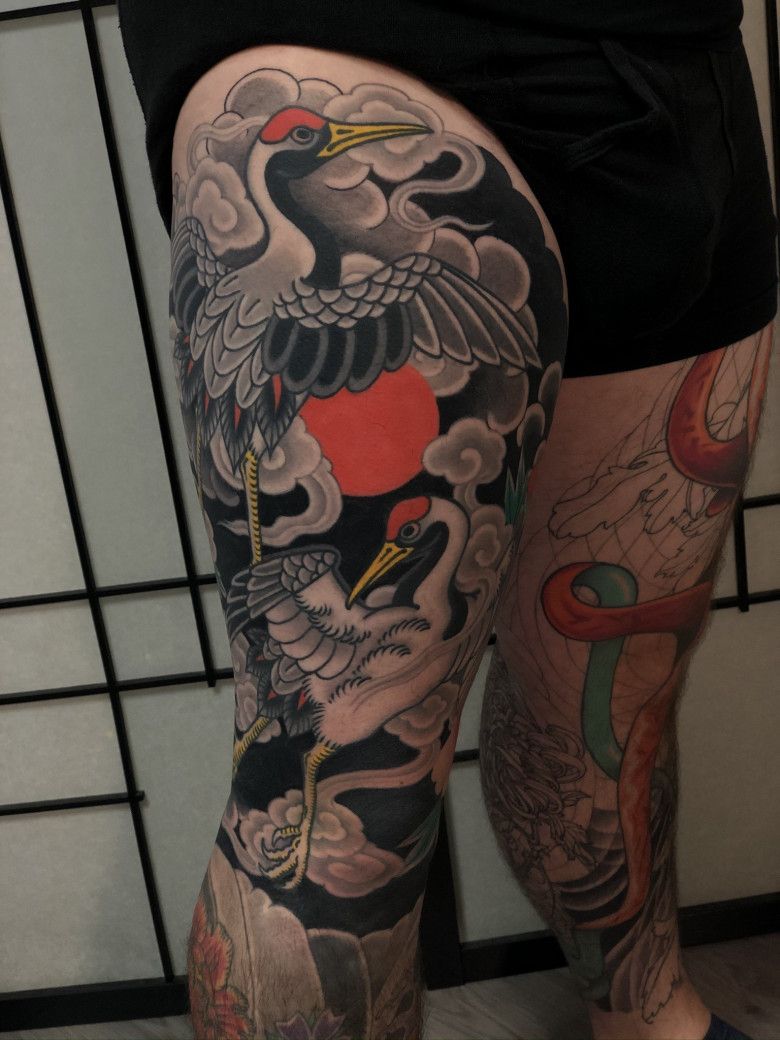 Tell us how you create sketches for all these large-scale projects that you have in your portfolio. Is it hard?
- It takes a lot of study. From the beginning I've always tried to challenge my mind and draw in every size. In my experience the fear we have from fail, stop us from reaching our potential.
How do you transform a client's ideas into a tattoo?
- I'm very lucky with my customers. They give me a lot of freedom to work and create. In any case I always try to talk and get to know the person, or at least their wishes. I consider myself on this point of the process as a bridge, between the tattoo culture and the customer goal.
Who are your clients? Can you highlight something in common among them?
- I have clientes from all around the globe and therefore, very different people. But perhaps we could say that mostly they are authentic people, searching to express themselves in a unique, but still classic way.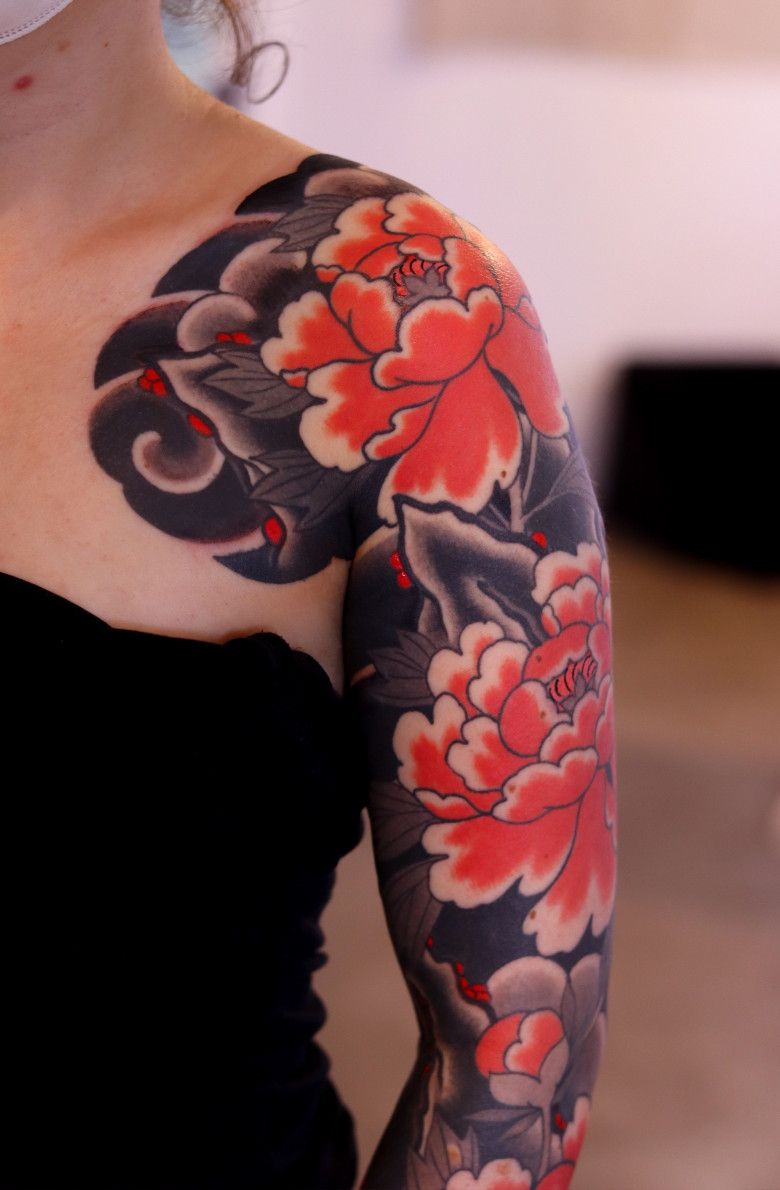 You travel a lot. How many countries have you visited? Where do you like to work much more? Is there a difference between people in different countries?
- So far I've been to 15 countries. My favourite places to work so far are São Paulo, London and Erlangen. People are really different, in many ways. But still is awesome how you can always find many things in common, learn a lot with the different habits and cultures.
What about tattoo conventions? Do you participate in them?
- Nowadays I don't go to many tattoo conventions anymore. I've been to many in the past. Before the COVID, for example, I've used to attend the Kaiserstadt Tattoo Expo in Aachen, Germany.
Do you have any real idols among tattoo artists?
- Besides the old tattoo masters in Japan, I have many people that I really admire in the tattoo world. My brother Caio, Ivan Szazi, Mauricio Teodoro, Bunshin Horitoshi, Shion, Rico, etc…
What about the tattoo industry? What equipment do you use in your work?
- At the moment I use Cheyenne machine and mostly Solid ink for colours.
Do you follow the news about the ban on a number of color pigments? How do you think this could change your work and the industry as a whole?
- Like everything that the government tries to put their hand on, I think it sucks haha! Tattoo was always underground, I'm sure we gonna keep finding our way to deliver a good result to our customer, doesn't matter what.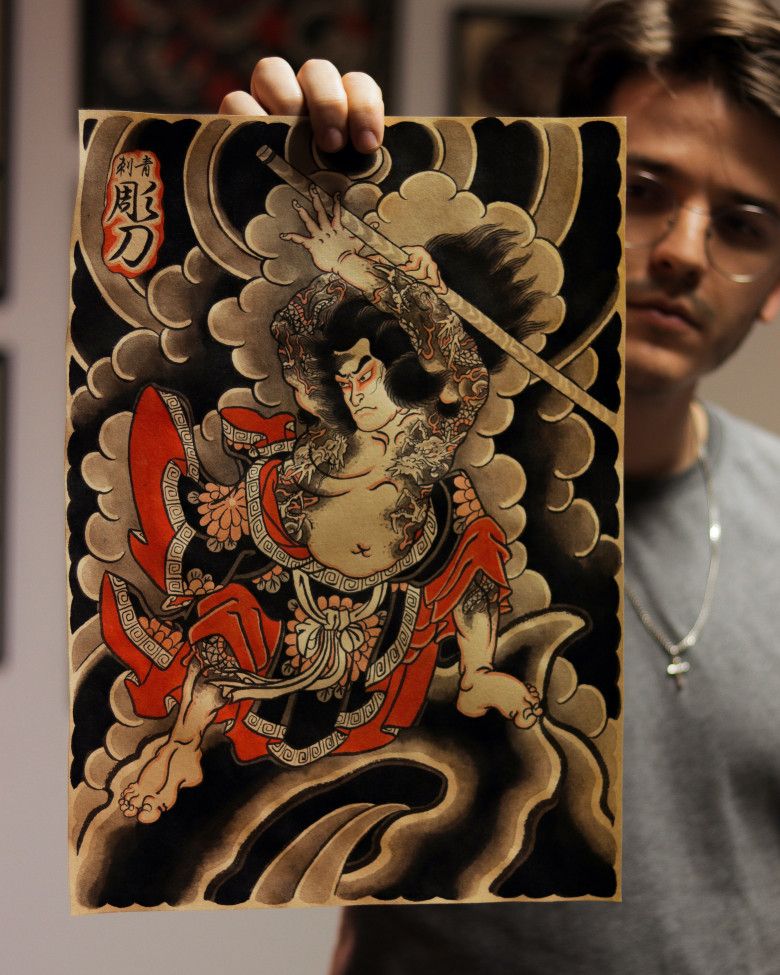 What future for the global tattoo industry do you see in the next few years?
- Sometimes I'm very excited about it and sometimes, a bit scared! There is a lot of information out there. If we are not careful, something amazing like internet and social media, that can connect us and help in so many ways, can create a lot of trouble. But I like to think that we gonna find our way around all this and keep improving the quality of work.
What advice would you give to yourself if you could go back 5 years?
- Trust yourself, keep pushing, it will work!