Unveiling the Soul of Tattoos: An Interview with Italian Artist Nicolas Agus
31 / 07 / 2023
Alexander Ledovskih
In this interview, we will talk with Nicolas Agus, a tattoo artist from Italy, whose art combines graphics and sketching. He will share with us his journey into the world of tattooing, his unique style, and sources of inspiration. Nicolas will give us his perspective on tattooing as both an art and a profession, and he will also discuss how his creativity comes to life on his clients' skin. We will discover what lies behind the images of the female body in his portfolio and explore the future plans of this talented artist. Get ready to immerse yourself in the captivating world of tattoo art with Nicolas!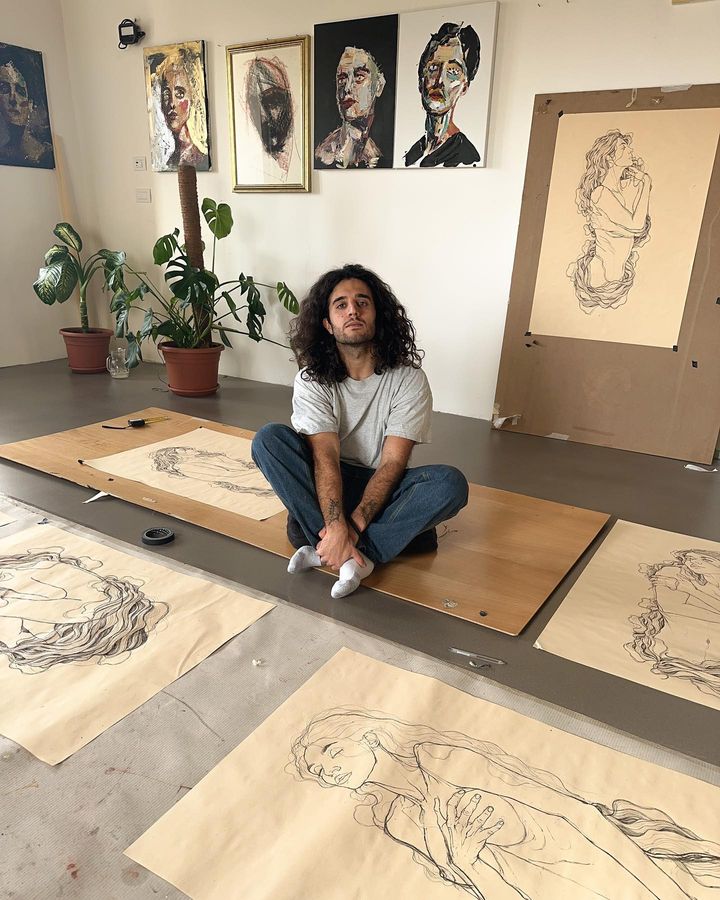 ---
Can you tell me a little about yourself? Where are you from and where do you work now?
- Hi, I'm Nicolas. Nice to meet you. I'm from Italy, from a small town called Acquasparta. I've been living here since I was born, but I travel a lot for work. At the moment, I have a private atelier where I create all my projects for tattoos and painting. However, as I mentioned before, I travel a lot, so I usually work in the main cities of Europe, such as Amsterdam, Paris, Berlin, Zurich, etc., especially in Milan.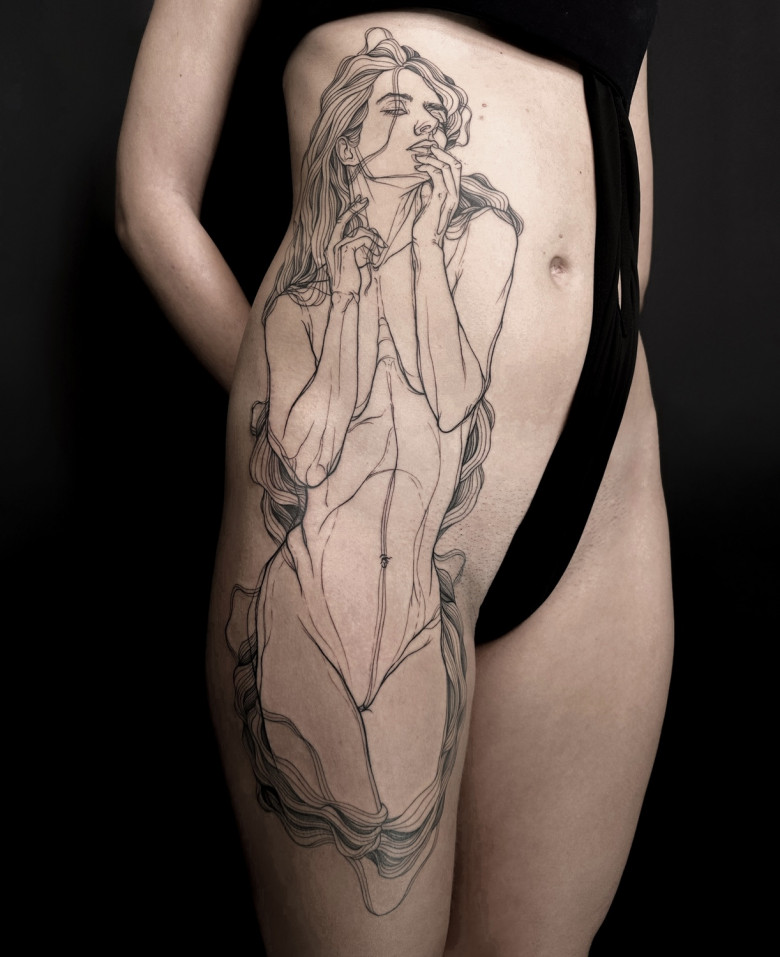 How and when did you decide to become a tattoo artist? Who were your teachers? What was it like in general?
- I started drawing when I was very little, probably around 3 years old, and I immediately fell in love with this discipline. Over the years, I've never stopped drawing, even though I attended economics studies and never went to art school. That's why I can define myself as self-taught. During high school, I began to approach the tattoo world and got to know it a little better, but it was only during my university period that I decided to become a tattoo artist, focusing all my energies on tattooing and drawing. Doing this has helped me a lot during a dark time, so I'm super grateful to art.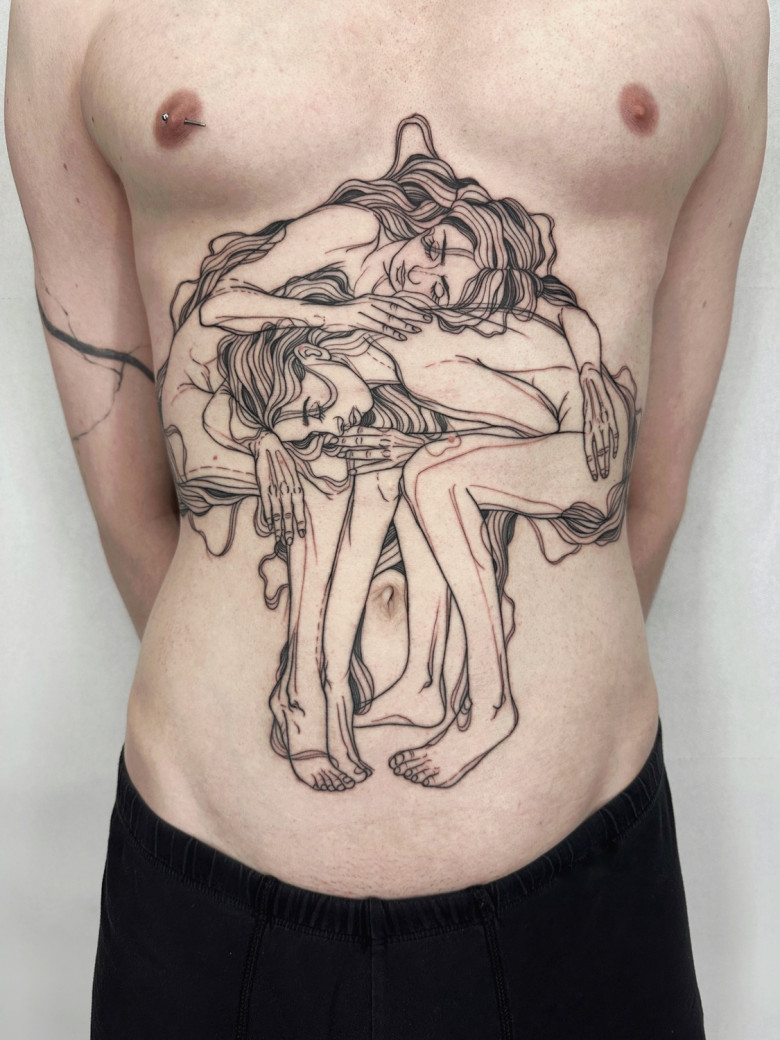 You are working in an academic technique at the intersection of graphic design and sketching when it comes to tattoos. Do you have a professional art education?
- To be honest, no, or at least my academic studies started during the pandemic period. I began taking private classical painting lessons to improve my technique and study oil painting in-depth. My style, if we want to call it that, is based on direct and sincere expression. For this reason, in my drawings, I never use a pencil but pen directly. In this way, errors cannot be erased and become the strength of the final work. So, my works are based on a direct and unfiltered creative flow.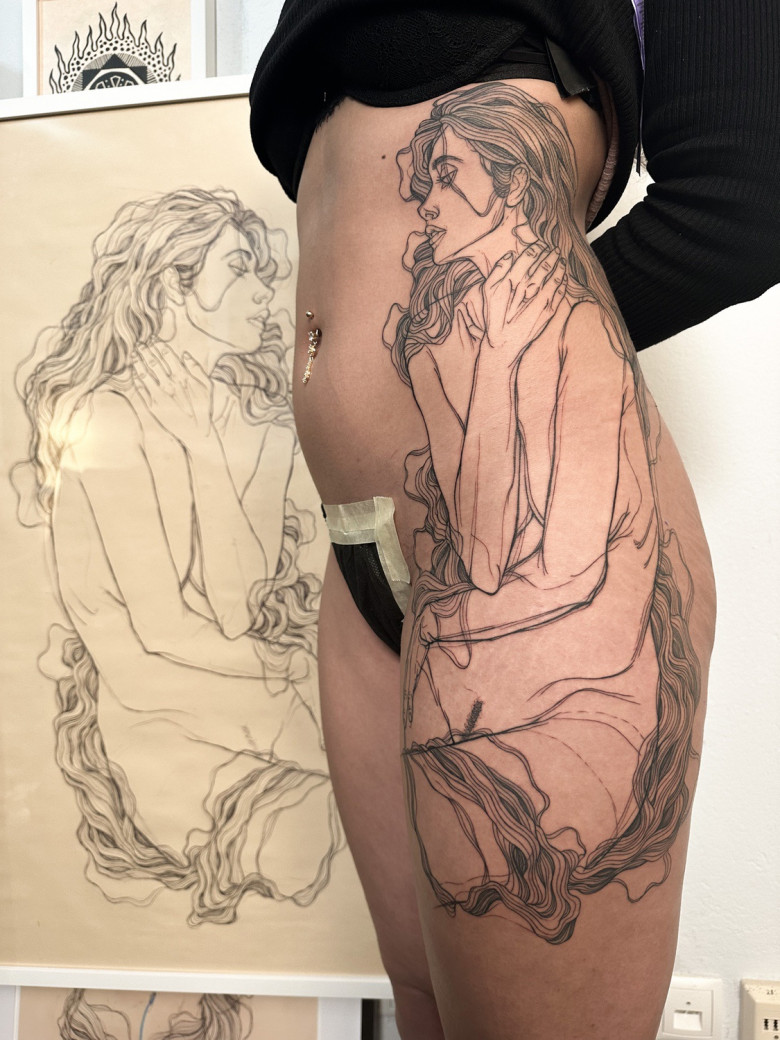 A significant portion of your portfolio features images that highlight the beauty of the female body. Who are these women, and why did you choose this theme for your tattoos? Where do you draw inspiration for your work?
- I use these bodies to communicate life itself, made up of men and women of flesh and blood, of bodies that feel and experience the urgency of things. Bodies are souls.
To draw them, I always use references taken from photography books or created by me through a life model.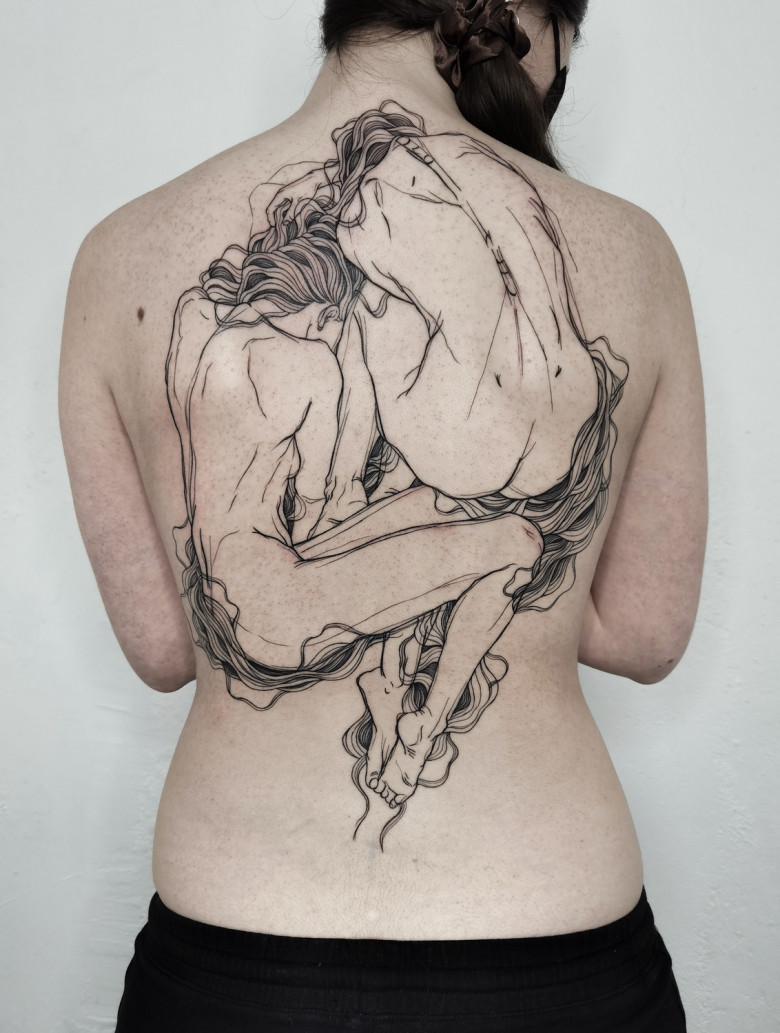 How would you describe your own style, and how did you arrive at it?
- An immediate and intense style, I hope. I really like the spontaneous and experimental approach. As I said before, in drawing, I never use a pencil but pen directly. This causes spontaneous errors, double lines, and correction lines to be created. The error, therefore, becomes a fundamental part of the final work, making everything unique and genuine. In practice, there are no erasures or corrections in my drawings: it is a single flow of thought and action. Mine is just the immediate gesture of the hand on the paper.
And "how did you arrive at it?" Easy. Drawing every day since I was a child.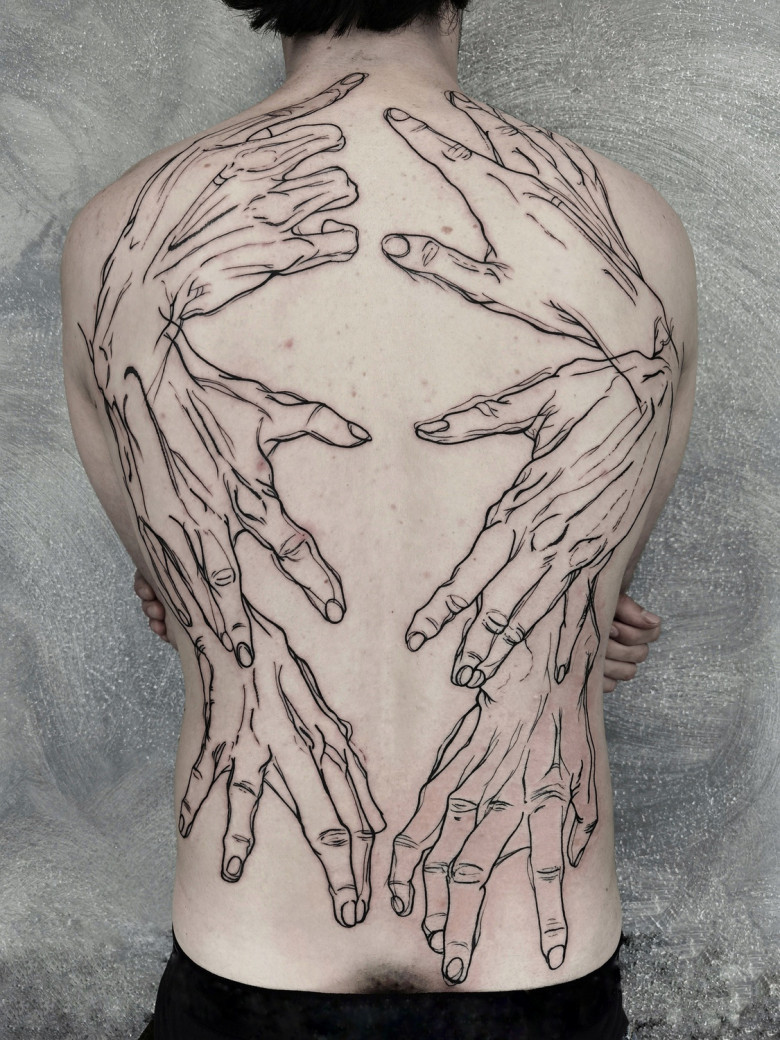 What unique features of your work can you identify on your own?
- I think it's a very personal style. On an aesthetic level, I would tell you the use of non-ordinary lines and subjects in the world of tattooing. After that, there is all the history of the creative process and content.
Your works seem very emotional. Can you tell us how your tattoos come to life? What stories are hidden behind them?
- It depends; every time it's different, there isn't always a precise story to tell. Sometimes it is simply a decoration, other times something more heartfelt.
Very often, people find themselves in my drawings, thus creating a situation of sharing and empathy that allows us to work together.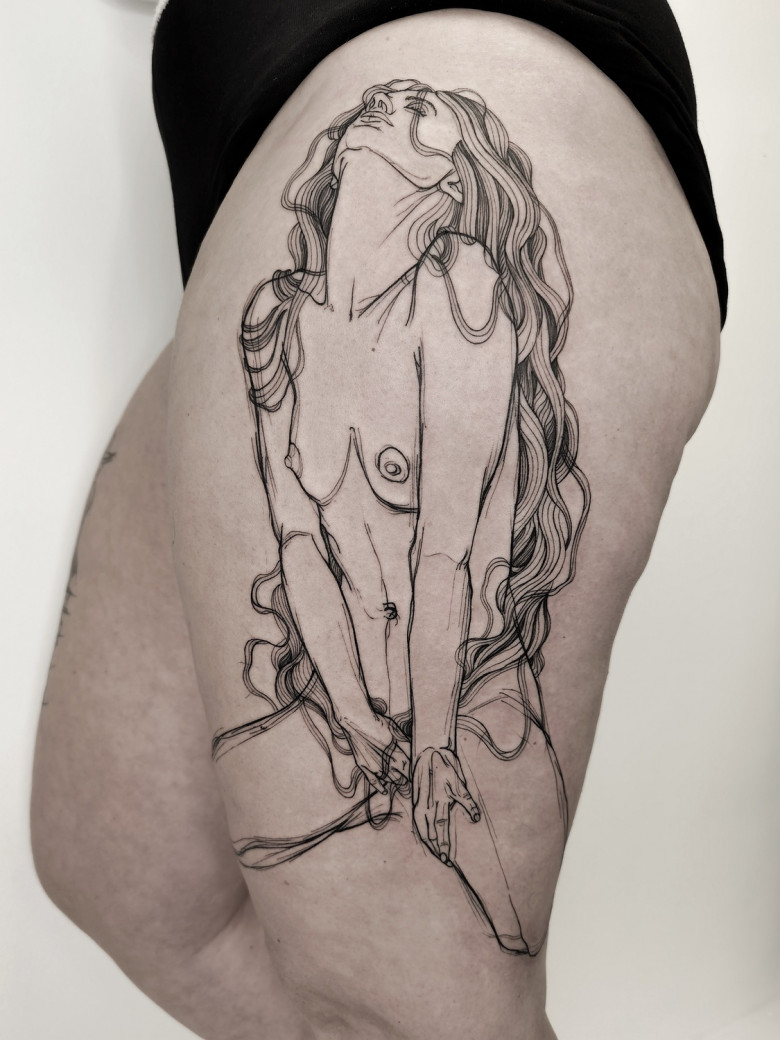 Sometimes I create something custom based on people's requests, other times people choose from my ready designs.
I am convinced that once the work has been created, it detaches itself in part from me to acquire new meanings thanks to the encounter with other eyes, different from mine.
Is tattooing art, work, or something else?
- It's a very difficult question. I don't know what art is for me, and I also don't know what work is for me. I can say both, art and work. It really depends on each person's approach. For me, tattooing is very different from painting, especially in the creative process. The tattoo is done on two people and on the skin, so there are many things to take into consideration. On the other hand, drawing is much more selfish; it only concerns you and the sheet or canvas. I do both, so I don't think I have an exact answer to this question.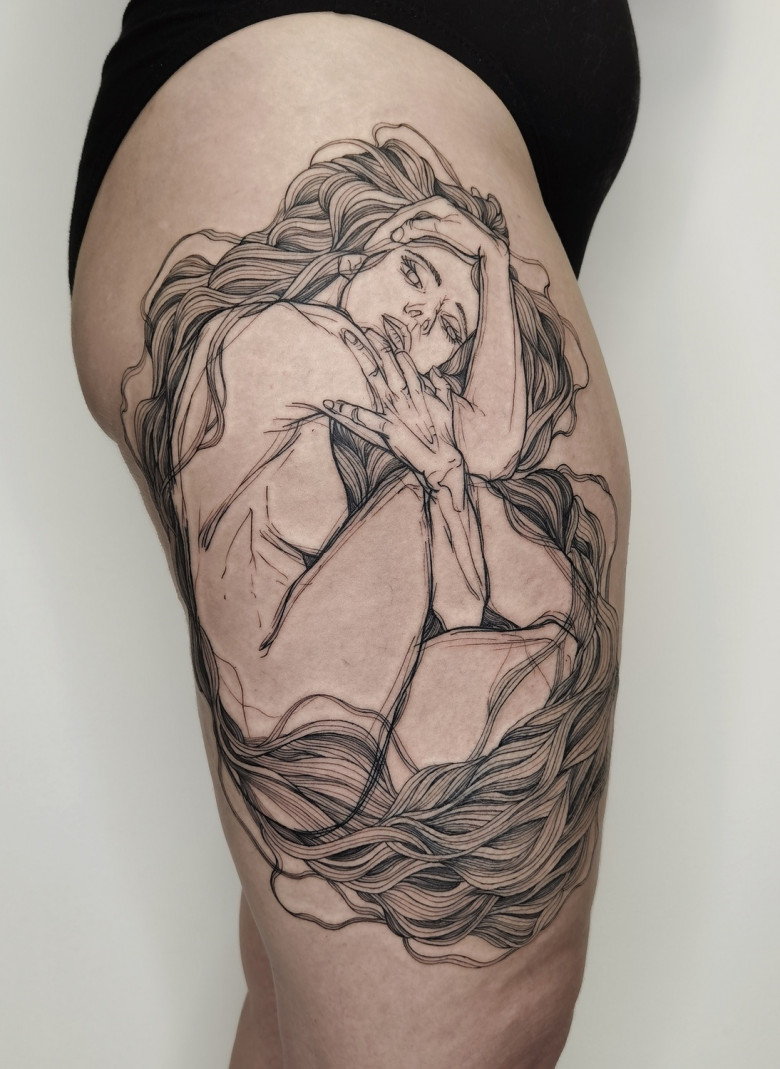 Do you have favorite tattoos, clients, projects, or any unusual stories in your career?
- Not at all. I'm just trying to do my best and to evolve as far as possible. I'm grateful to all the people around me.
Are there any tattoo artists or artists who inspire you? Whose work do you follow? And do you have any favorites?
- As for the drawings and the "style," I was inspired by the artists of the Viennese secession and the early 20th century. As far as tattoo artists are concerned, I have many favorites, and I wouldn't know where to start.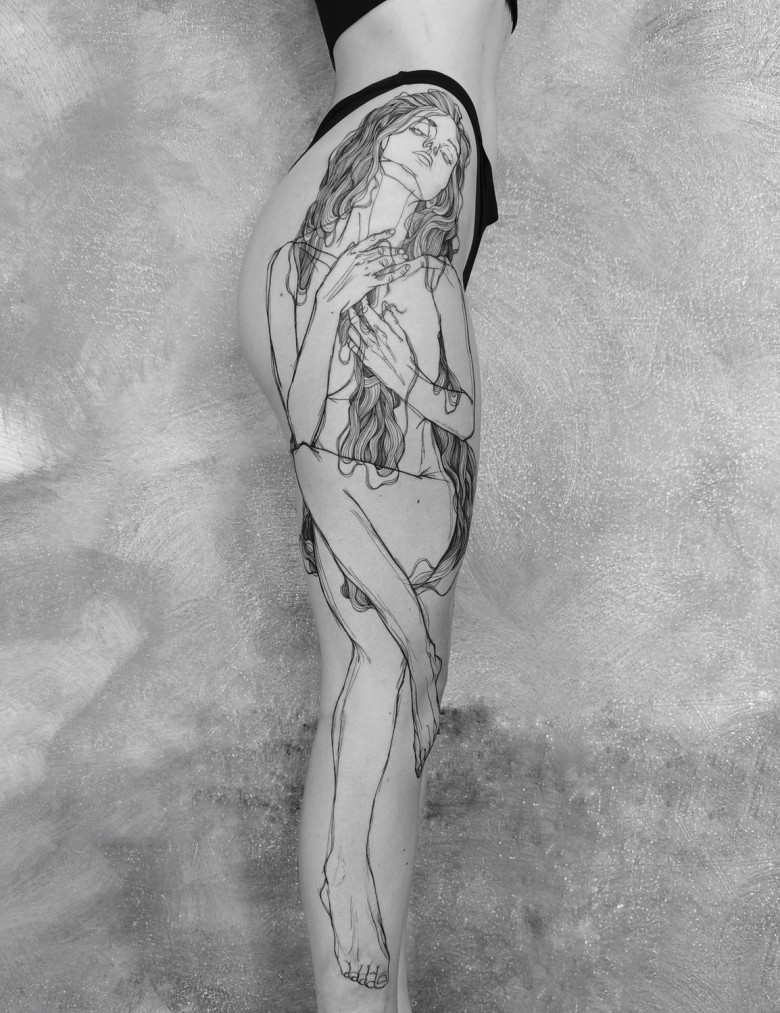 Do you travel a lot? Do you have an understanding of which country your tattoos are more popular in?
- Yes, of course, I travel a lot. I did 18 guest spots all around Europe last year. It was fun but also very stressful. I work a lot in Milan, Amsterdam, Berlin, Zurich, and Paris. But people come from all over the world to get tattooed, so I also work in my small town (5k people hahahaha).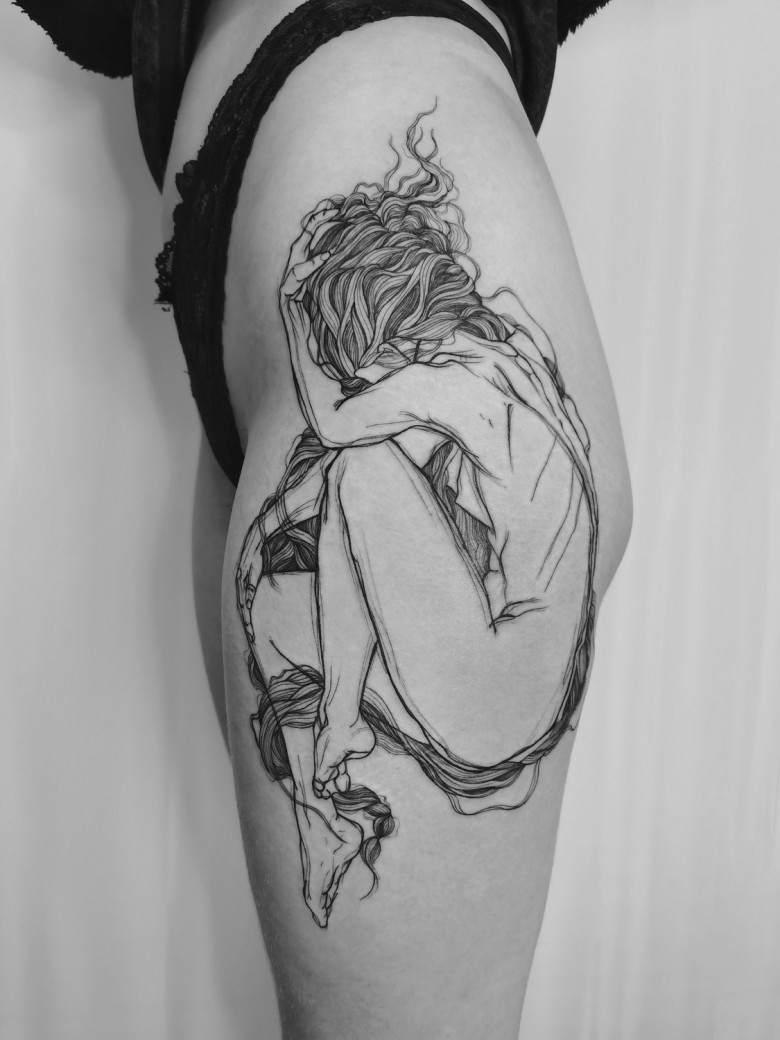 Can you share your plans for the near future?
- I want to continue doing what I'm doing by giving my all. I'm working on a new personal exhibition of my paintings, and I want to continue evolving as a person and as an artist.