Vladollla: «I hope that my efforts will lift the tattoo industry of Kazakhstan from its knees»
Tattoo artist Vladollla
/ Source: @vladollla
The hero of this interview was a young and incredibly promising tattoo artist from Kazakhstan - Vladislav Shuvalov. His spectacular black and gray works with bright color accents resonate with tattoo realism lovers not only within the CIS, but also overseas.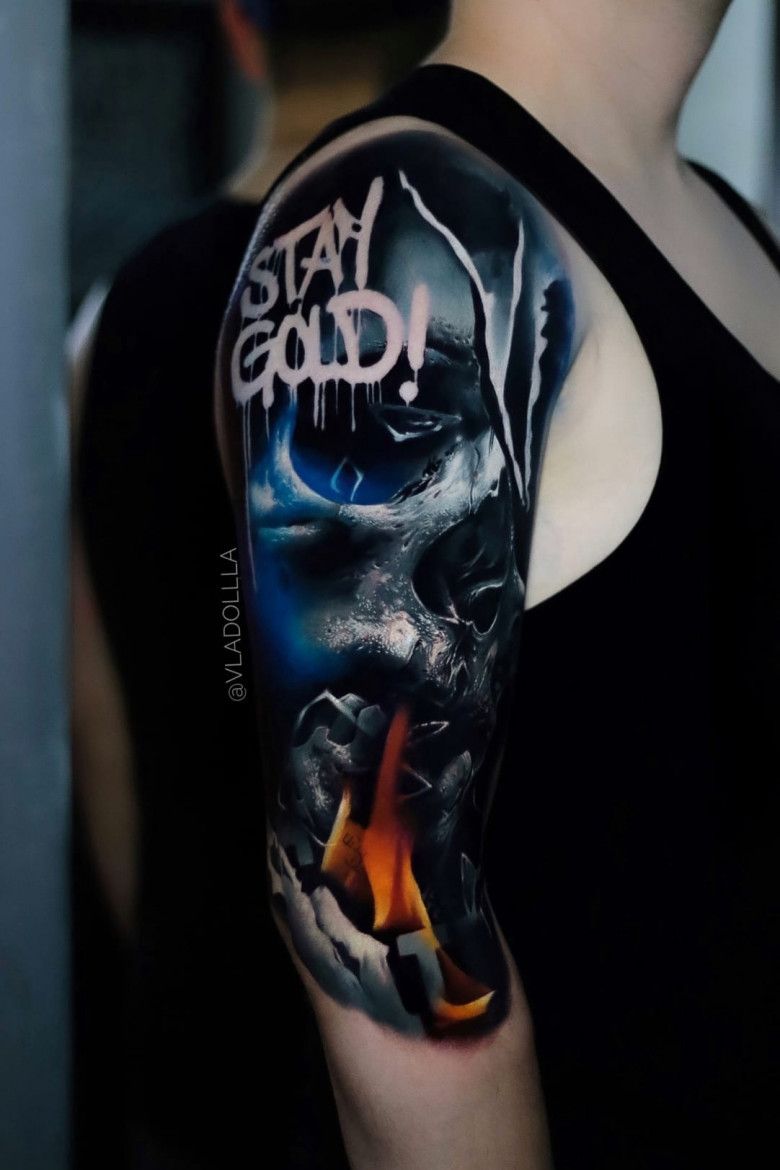 23-year-old tattoo artist Vladislav, also known as Vladollla, now lives and works in Almaty. In just less than 4 years, the young tattoo artist was able to achieve international recognition: he is already a member of the Pro Team of the largest American company FK Irons, and several of the largest foreign tattoo magazines told about his work.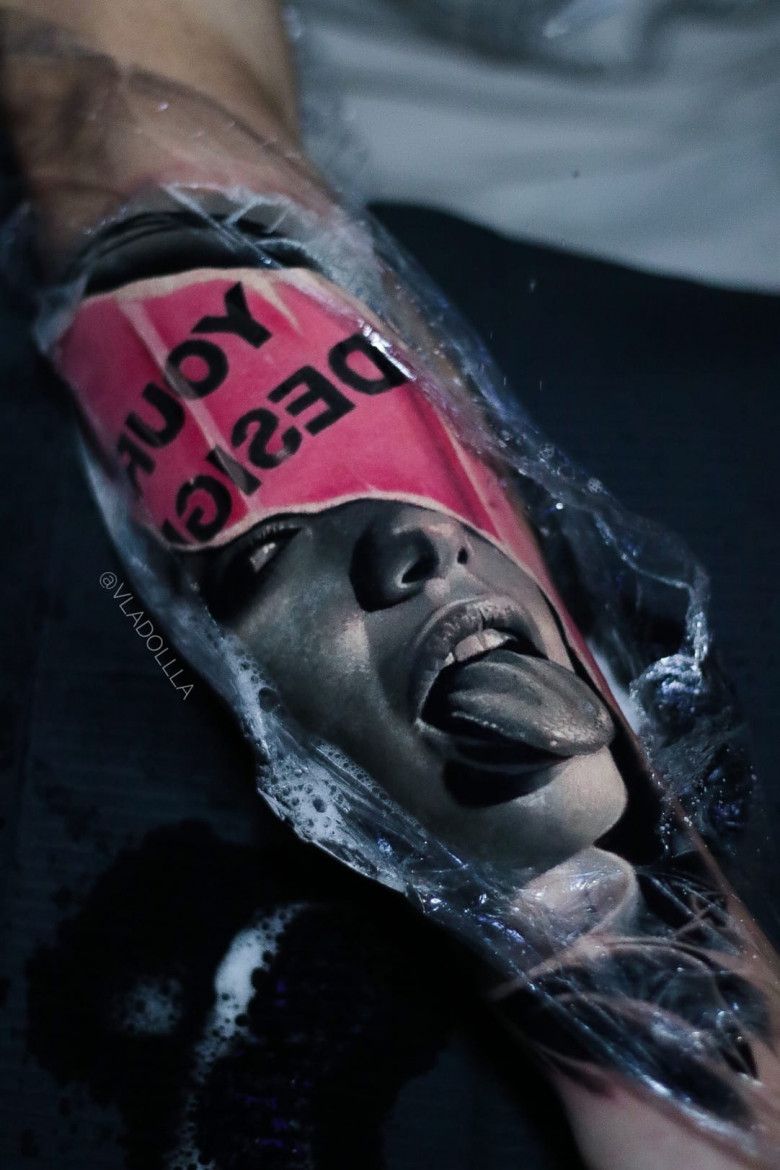 We paid attention to the tattoos of this artist about a year ago, and with each new work in his portfolio, the interest for an interview with him grew more and more. And finally, we got an opportunity to talk to Vlad, who, most likely, will soon join (if not yet) the list of top tattooers in the post-Soviet space.
- Vlad, hello! Traditionally, let's start with a short story about yourself: how and when did you decide to get tattooed?
- Hey! I have been tattooing since the end of 2017. A dream brought me to a tattoo. From the very childhood I loved to draw, many thanks to my wonderful parents, who instilled in me a great love for this occupation. When I turned 18, I decided to get my first tattoo. I came to the studio, got my first tattoo and realized that I also want to create such tattoos on people. An important factor that played a big role at that time was the atmosphere in the studio - then I realized that it was mine. And who would have thought that once an old dream, and then the goal - to become a tattoo artist - will come true, and I will have the best job ever.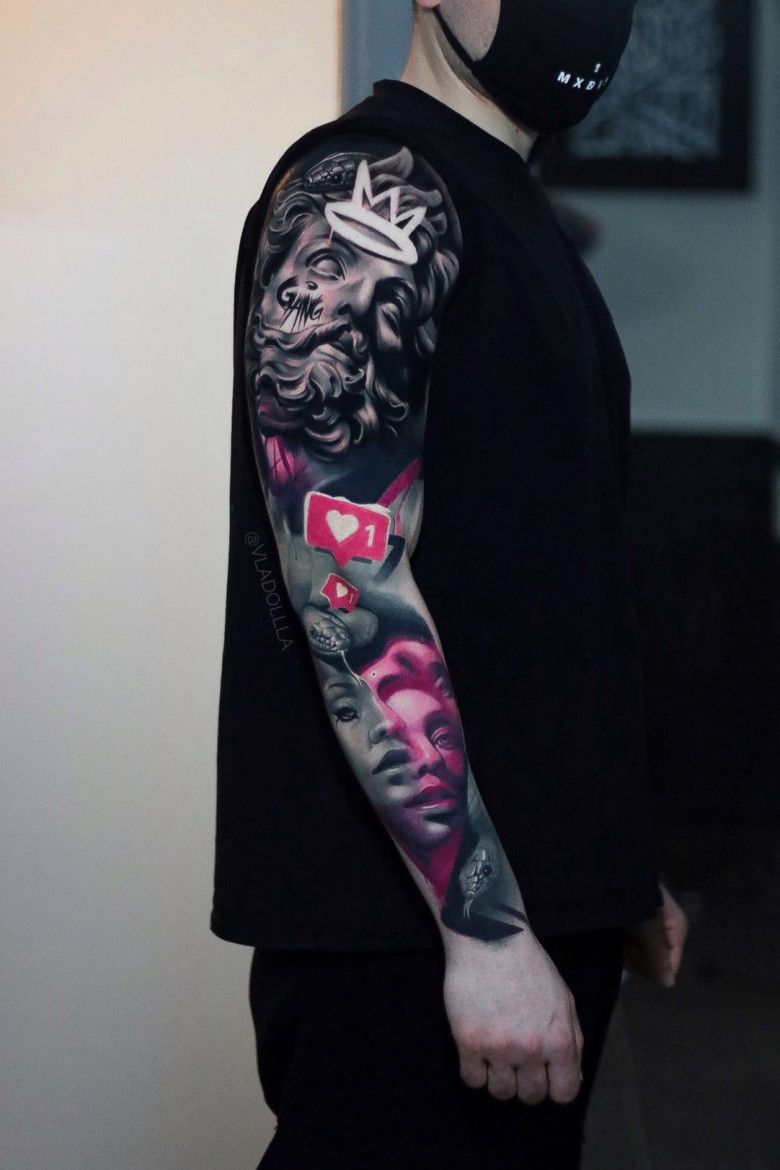 - How would you describe your current style? How did you come to it?
- At the moment I work in black-and-gray realism, in my works I prefer to use color accents, as well as graffiti. I love to combine incongruous and achieve unusual results. I came to realism in 2018, before that I worked in graphics for a year and realized that this is not exactly what I would like to do, I wanted something more complex, more detailed. I have always tried to set myself more complex tasks and goals.
- Where do you get your tattoo designs from? What inspires you as an artist?
- I try to take plots from everyday life, I love making portraits of beautiful girls, diluting them with graffiti or some textures: a plastic bag, torn paper, etc., and I try to add a little color to emphasize the work.
I also like to walk around the city and take pictures of fallen plaster, for example, and then insert it into my work (laughs). I have a lot of such examples. But most of all I am inspired by people who live by their favorite business.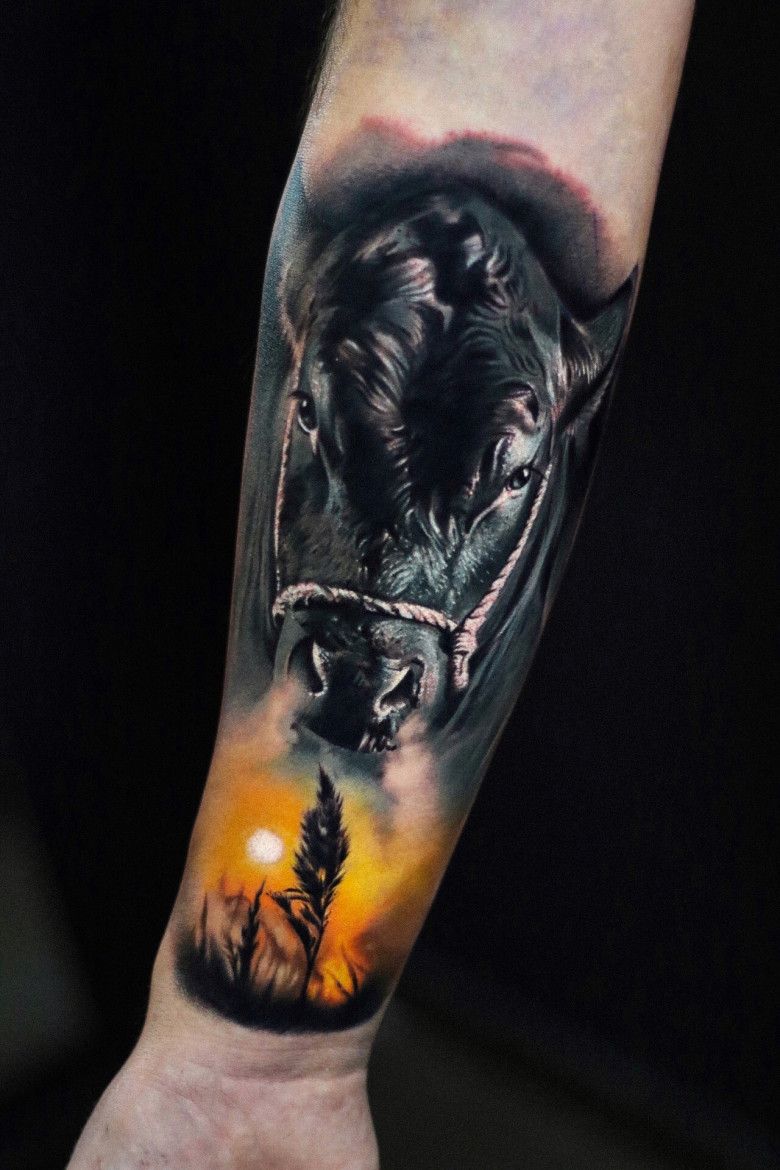 - Were there any difficulties on the way to mastering this profession?
- There were many difficulties, since I am self-taught and I did not have any art education, I did not have enough knowledge. Plus, there was really no one for me to tell how to work and what mistakes should not be made. I went all my way myself, on my own. For the last couple of years I have been actively developing myself, attending master classes and festivals. I advise everyone.
- Who of the tattoo artists inspires you now?
- I follow many tattoo artists, both foreign and Russian. I can single out these guys: Walter Montero, Alexey Mashkow, Alex Pancho, Alex Sorsa, Eliot Kohek, Sasha O'Kharin, Natasha Animal and others, there are a lot of them.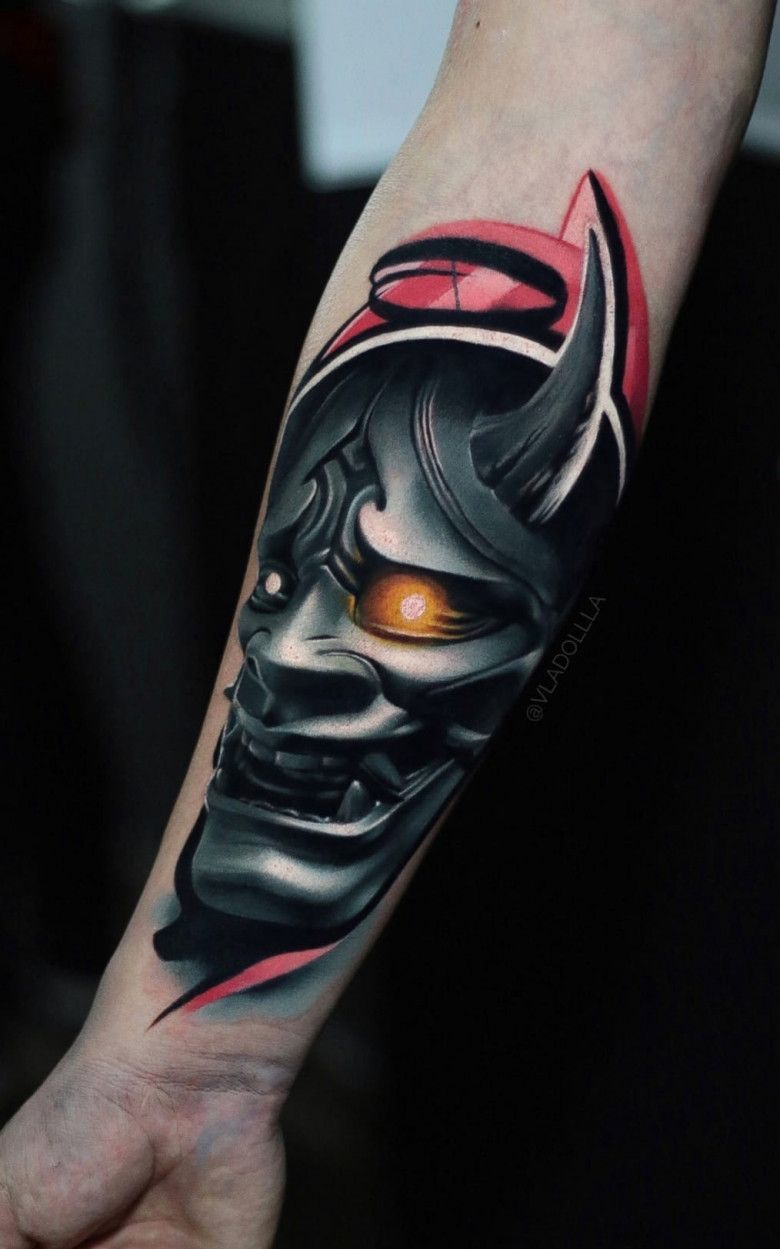 - Let's talk a little about the tattoo industry. What features of it in Kazakhstan could you single out? Is it somehow different from the Russian one?
- There are no peculiarities as such, I can only say that the tattoo industry in Kazakhstan appeared not so long ago (people get tattoos, but not at the same level as now), it has just begun to develop. There are practically no differences from the Russian one. I really hope that my efforts and my love for this business, at least a little, but lift this industry from its knees. By the way, there are only two tattoo artists from all over Kazakhstan who are sponsored by the largest American company FK Irons, and I am one of these artists. I am very proud of this.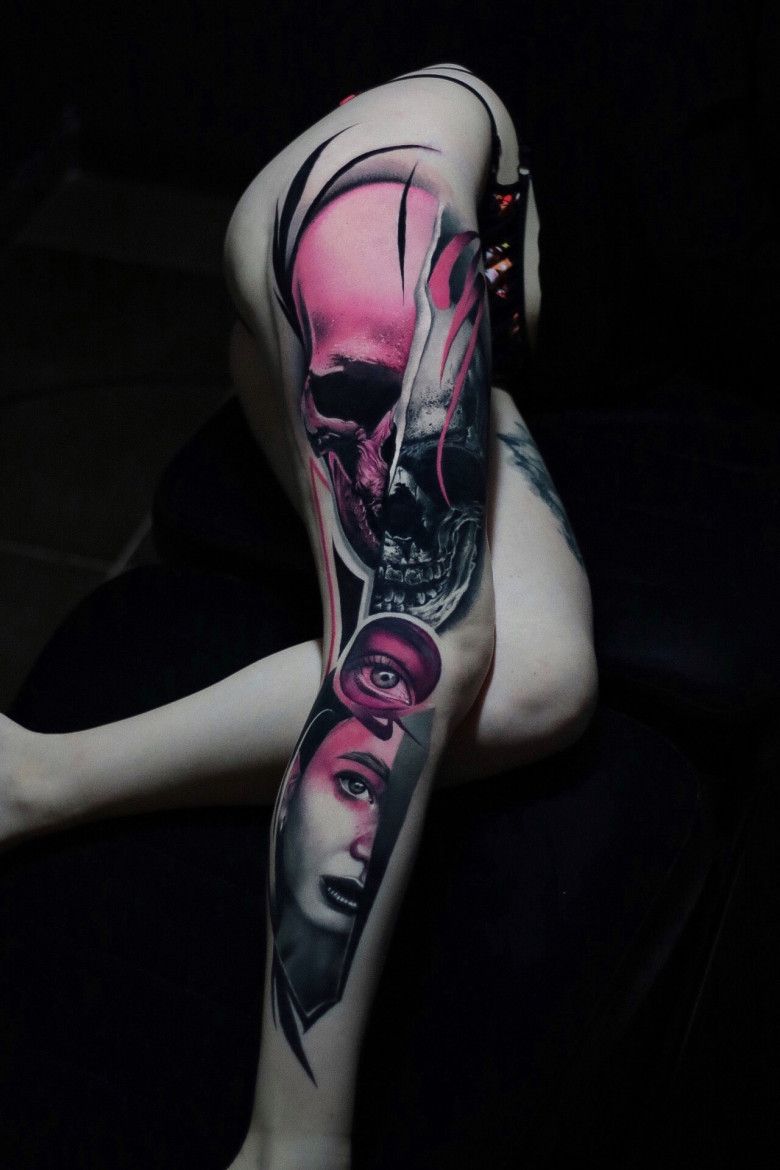 - Have you had any experience of collaborating with other tattooists? Please tell us about the brightest one for you.
- I love collaborations, it's very cool. It's incredibly interesting to work with a person who has a radically different style and vision from yours, and you are trying to do something mega bombing together. A colossal experience.
The most striking experience for me was at the tattoo convention in Moscow, which took place on April 17-18, 2021. Me, Christina Taylor and Yegor Nemshevich did the whole back to the girl in 2 days. It was something unreal, I have never seen so many people behind my back, a very cool experience. The girl we got the tattoo for is a terminator, a very strong girl, not everyone can withstand such huge loads from 2 men and one green-haired lady for 2 days (laughs).
- Since we're talking about conventions. Can you tell us about your experience?
- Unfortunately, I still have little experience in conventions. My first serious participation was in the tattoo festival in Moscow, where we did the whole back of a girl in 2 days and were nominated for the Best of Show.
I believe that it is very important to attend tattoo conventions, it is also important to take part in them, because tattoo festivals are probably one of the best ways to show yourself, tell who you are and what you are. There are a lot of tattooers in the world, the only way to reach a new level, to become more recognizable is to take part in tattoo festivals.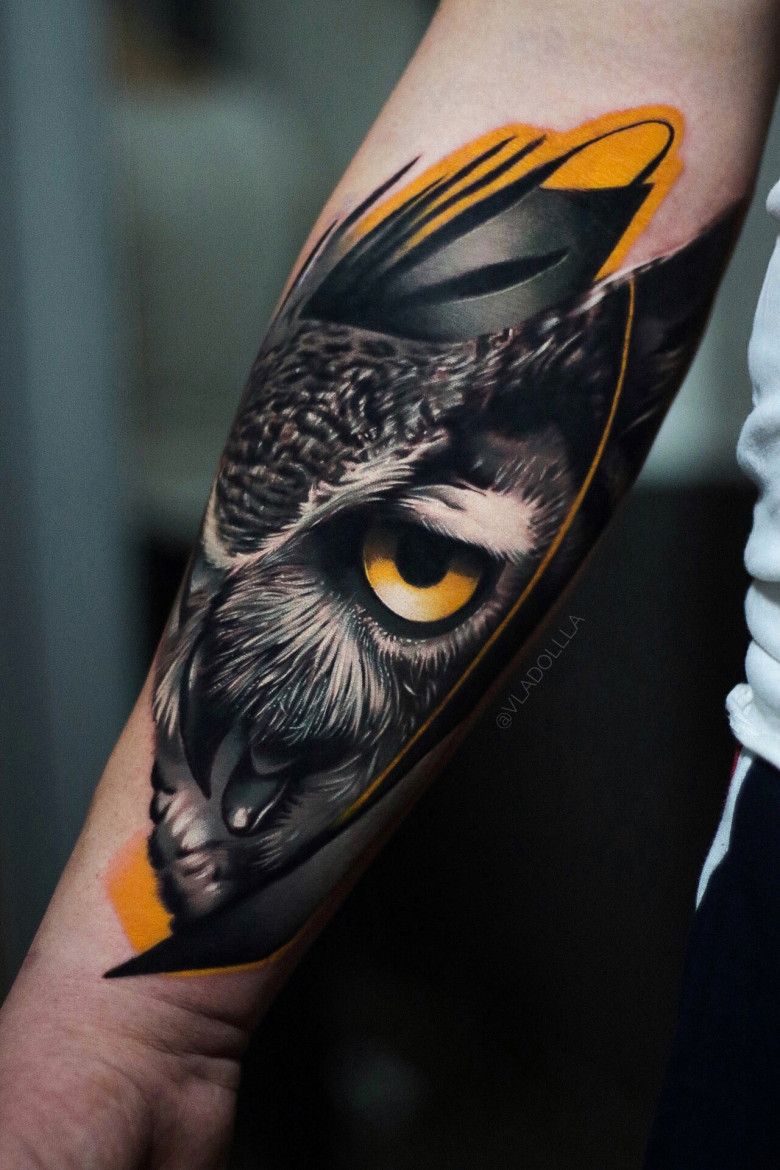 - Who are your clients? Do they have something in common?
- My clients are the best people. In fact, I really appreciate each of them, because it is only thanks to them and their trust that I am now telling you all this. In general, I have a very reverent attitude towards my clients. I appreciate their choice, that from such a huge number of tattooers they come to me, that they are ready to endure unbearable pain for hours, and then see their delight from the result! There were times when clients almost with tears in their eyes expressed their gratitude to me. I want to say that it is worth a lot. This is what I work for. Thank you very much, my dear client! Thanks to you and my hard work, we will make this world a little more beautiful.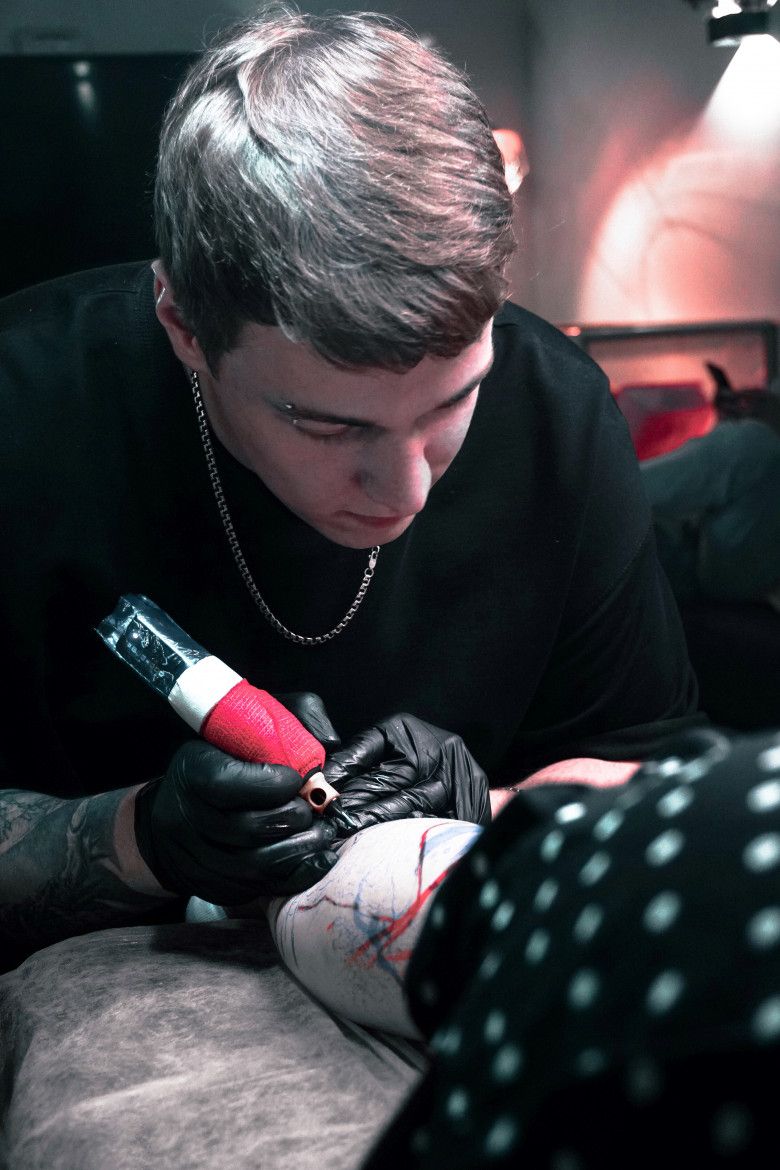 - Do you prepare any personal events, activities?
- In the near future I plan to conduct a couple of individual master classes for advanced training. I hope that my knowledge gained over these few years will be useful to someone.
- Vlad, what advice would you give to yourself as a tattoo artist if you can travel for 5 years to the past?
- Do not listen to anyone that you will not succeed, believe in yourself and in your dream. Work hard on yourself, try to get into a strong team, and you will start to grow much faster. Constantly analyze your work, work on mistakes. Tell yourself that you can do better with every job, and that this is not the limit. It is very important to be self-critical, you should not like your work, you always need to find something to get to the bottom of, if you don't see it, this is your ceiling, you cannot jump higher. Do not forget to set high goals for yourself and quickly move towards them. Good luck!