Weightless fine line tattoos for girls by Anastasia Green
Tattoo artist Anastasia Green
/ Source: @pionobedrist
Decorate a part of the body, emphasize the natural attractiveness, without changing the image and style entirely? Tattoo artist Anastasia Green knows how to use neat lines, graceful botanical shapes and a thin needle to create a pattern that does not detract from the natural beauty and personality of its owner.
Anastasia is a tattoo artist and owner of the Horoshie Devchata (the Good Girls - translate in English) studio in St. Petersburg, specializing in delicate fine line tattoos of flowers, inscriptions and patterns. After talking with Nastya for this interview, we had no doubts that the girls who signed up for a session with her fall into the hands of a real professional who takes a very responsible approach to work, which, frankly, is a rarity in the creative and tattoo environment.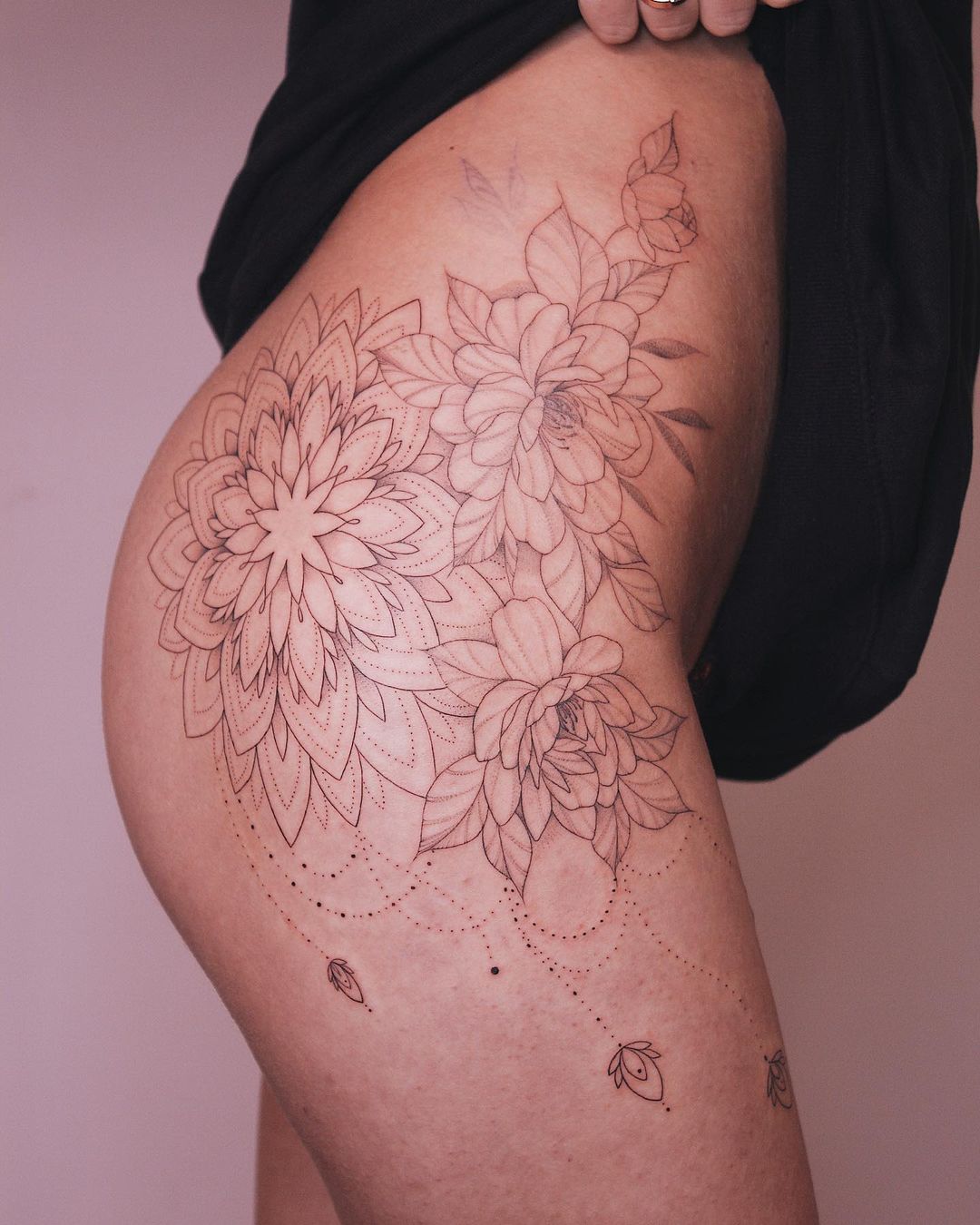 In this article, Anastasia spoke about the features of covering scars, the growing popularity of brown pigment in tattoos, and the features of the successful work of a modern tattoo studio using the example of the Horoshie Devchata.
Let's get acquainted!
---
Anastasia, can you tell us a little about yourself? How did it all start for you? How and when did you decide to become a tattoo artist?
Anastasia: I have liked tattoos since childhood, and this has always been close to me, I loved to draw and went to art school. My close friend advised me to become a tattoo artist, at that time I was thinking about something new. I had friends who were tattoo artists, from whom I learned how to enter the profession, where and how to study, what equipment is better to choose and where to start, I watched their work during the sessions. It was decided to go to a trial tattoo lesson, where I made my first tattoo on artificial skin. At that very moment I realized that I needed to buy equipment and start practicing. I felt absolutely in my place and doing my own thing.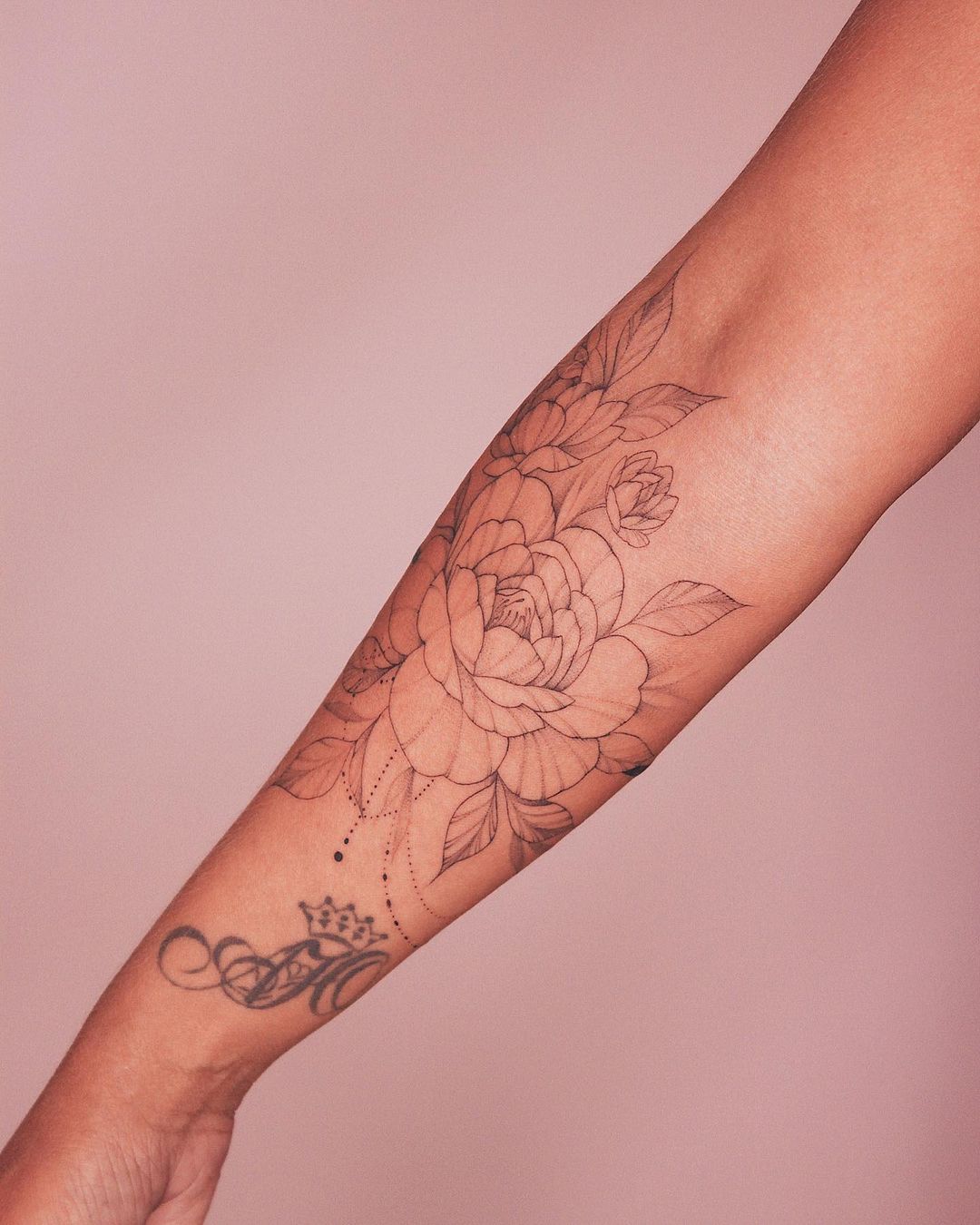 Very soon I realized that I was ready to take on live models and their search did not take much time. One of the advantages of living in St. Petersburg is that it is easy to find clients here. My first client agreed to make one of the flowers I painted on a brush. After the session, I went home with a feeling of absolute happiness, there was a feeling that I had found my life's work.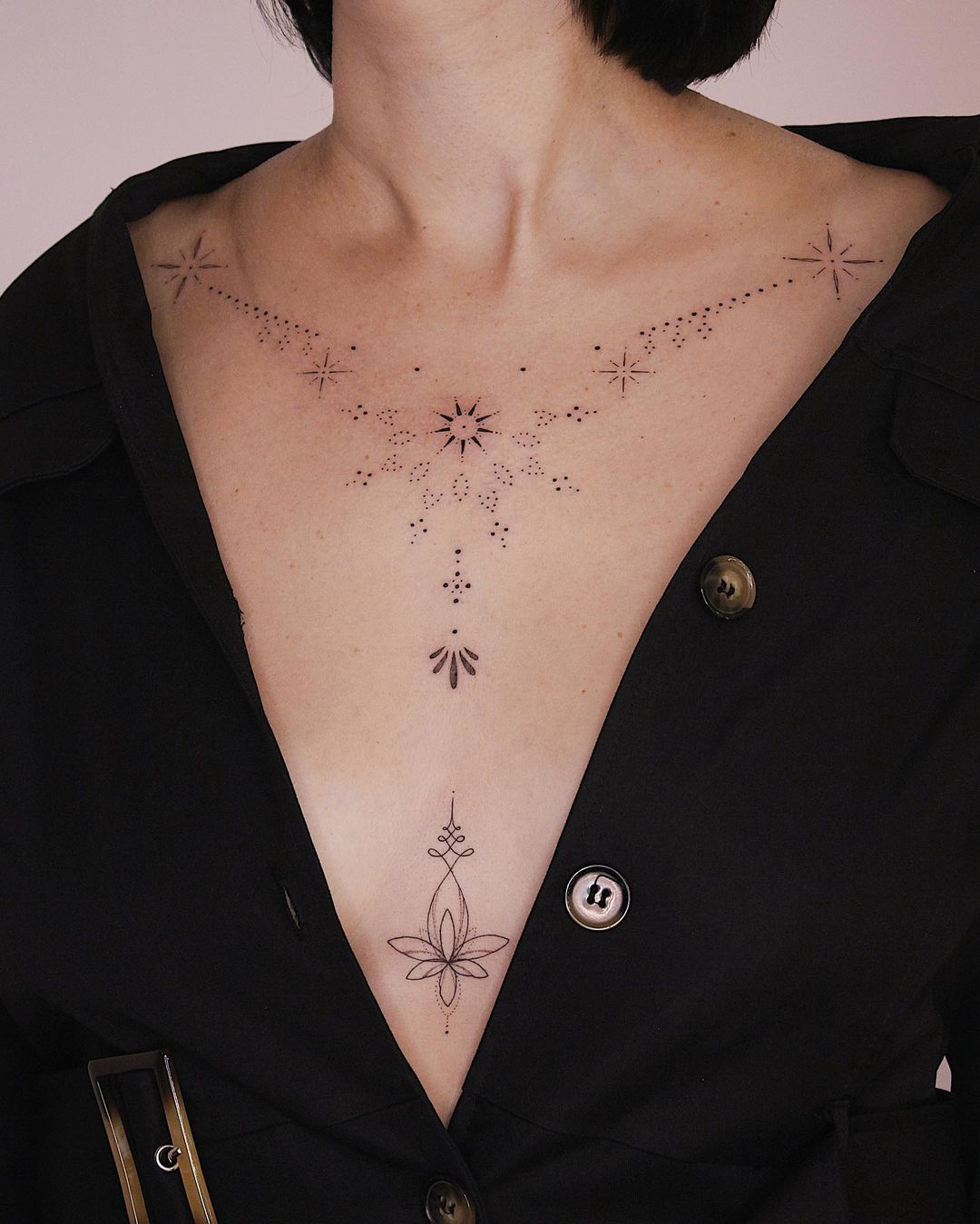 Tell us more about your tattoo style. Did you start getting fine line tattoos right away? Why do you like this style?
Anastasia: From the very beginning I knew that I wanted to make flowers. I like thin and delicate tattoos with peonies, especially because they do not capture all the attention, you can see the skin and the person behind them. I like it when a tattoo becomes part of its owner, as if it were a feature of the skin, a pattern on it. I like the large amount of empty space between the elements when the design looks like lace on the skin. That is why I focused on thin lines and delicate shadows.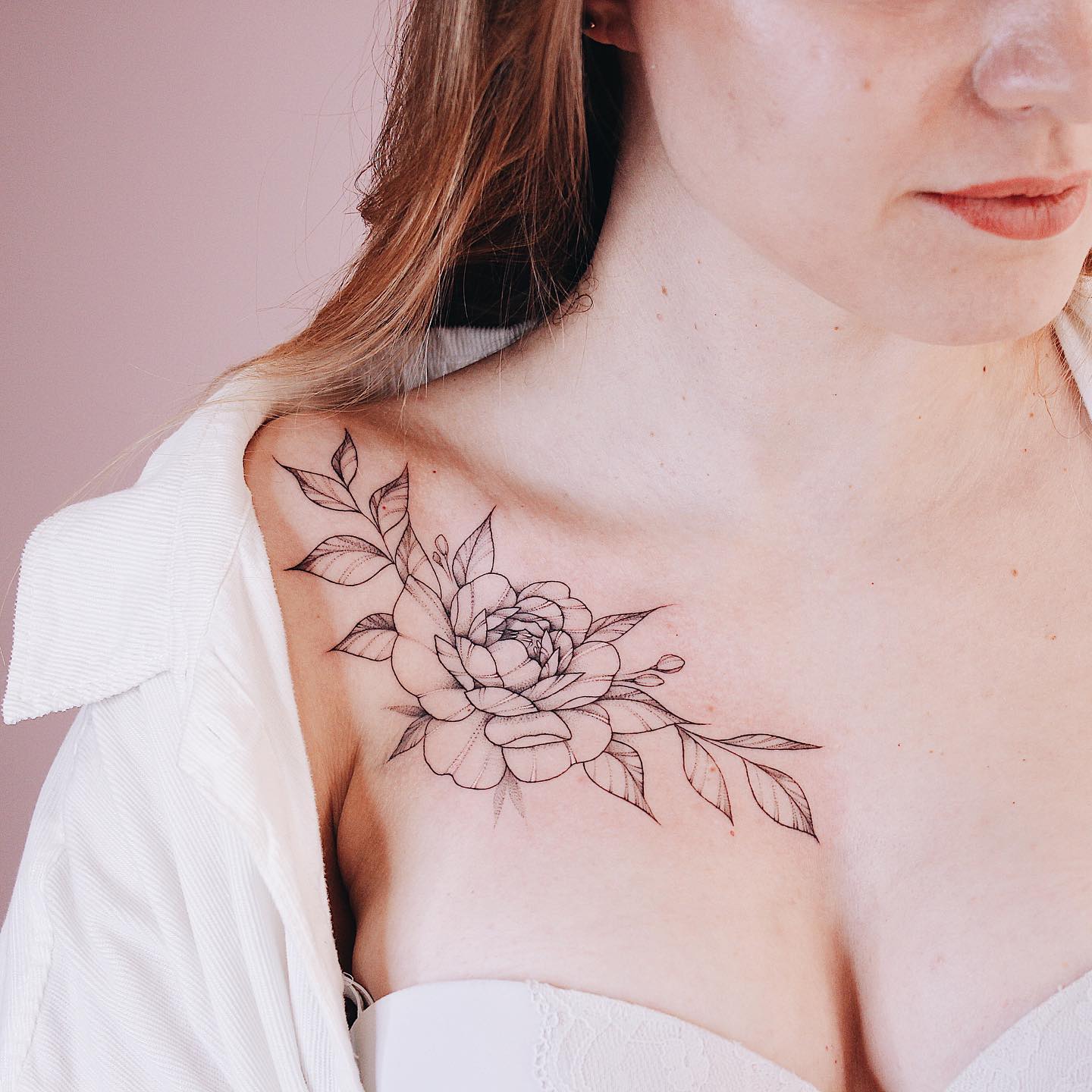 To further develop this idea, I started making tattoos not with black pigment, but with brown, it is more difficult to work with, but when it heals it does not have a cold shade, it looks like lighter and warmer lines on the skin, similar to a henna pattern or a mole. Brown pigment is suitable for those who do not want the pattern on the body to look contrasting, foreign or strongly focused on themselves. Such tattoos have become an innovation of our studio and have gained great popularity, now I do about 10% of my work with brown pigment.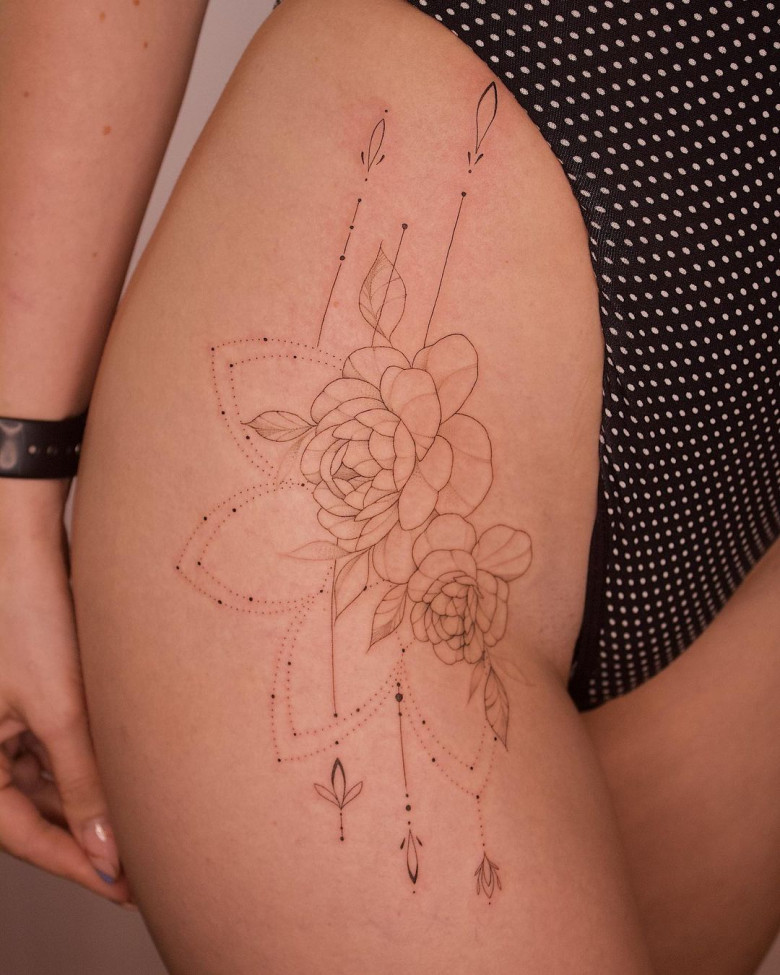 I also like to make portraits of animals and ornaments. My favorite combination of plots is dot patterns or mandalas and flowers. I like to make symmetrical ornaments, they fascinate me with their smooth lines.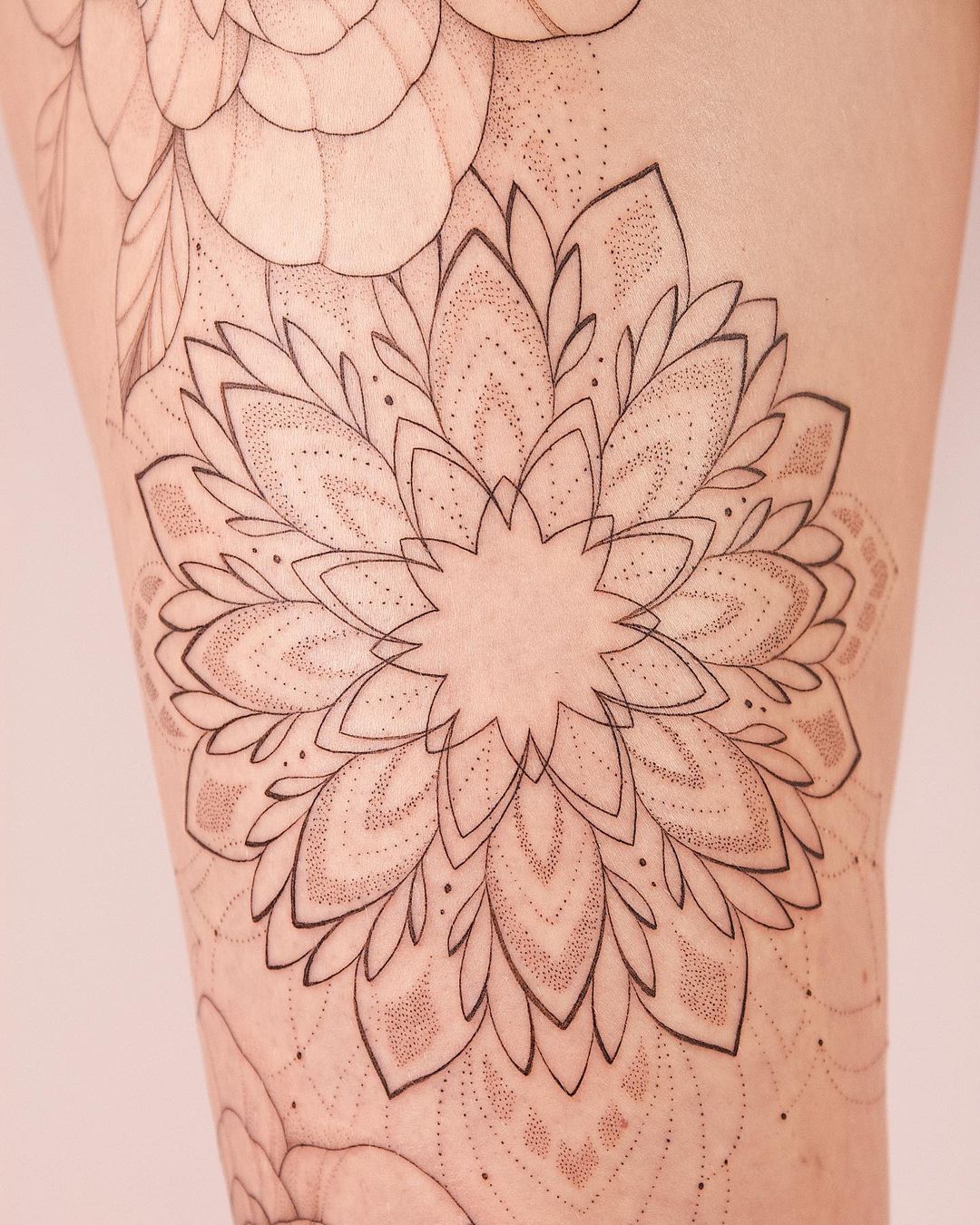 Are there any special secrets on how to make lines as thin and neat as yours?
Anastasia: In my sessions, I try to create a comfortable environment for the client, so that he lies comfortably, and therefore motionless. It helps a lot.
I love making inscriptions. They are the best way to learn how to work with small needle configurations and fine lines. Accuracy, perseverance and experience play a big role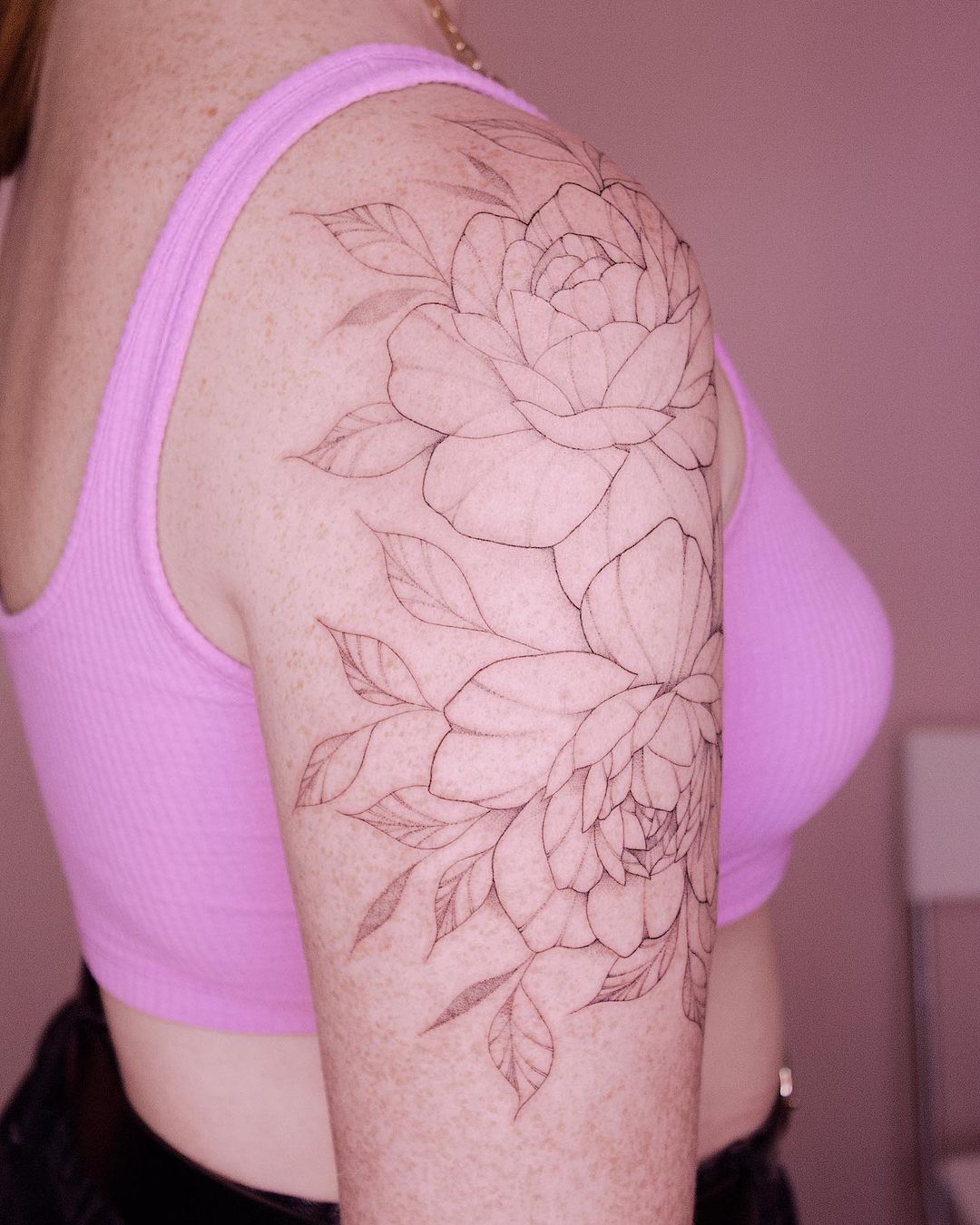 You are also working on covering scars. Can you show and tell about 1-2 similar projects? What is special about working with such tattoos?
Anastasia: Yes, this is one of my favorite areas of work. I am very inspired by how happy the girls leave after the session. I don't consider scars or stretch marks to be something terrible that needs to be covered, but sometimes they interfere with life, attract attention and looks that you don't want, or remind you of something sad.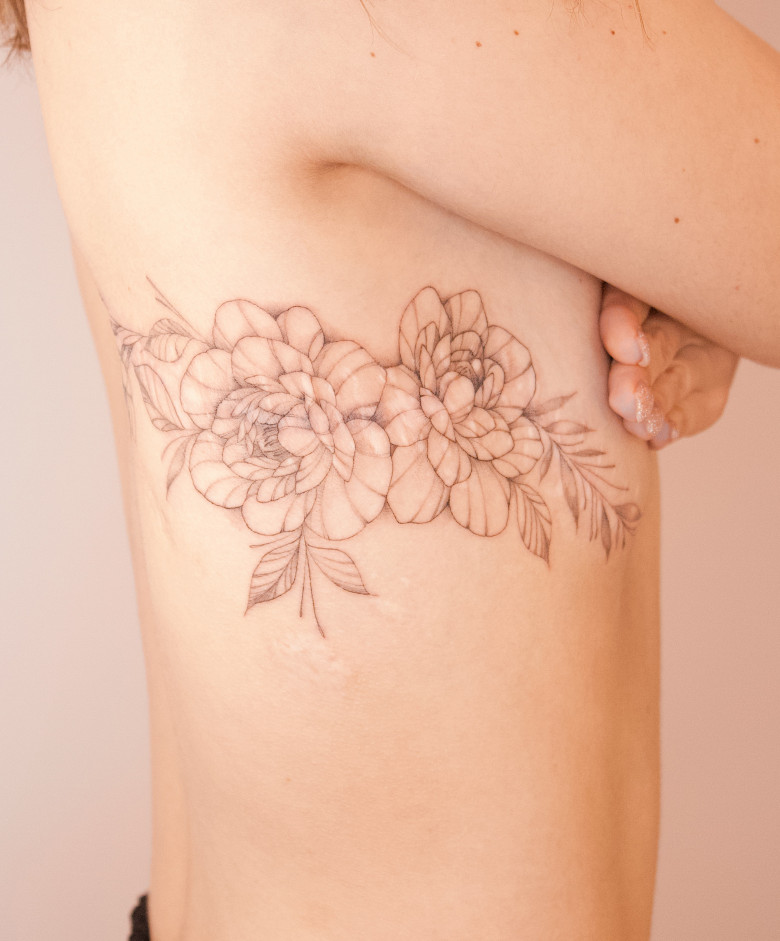 We cannot change the texture of the skin, but we can divert attention, for many of my clients even light drawings are enough so that their eyes do not cling to the scar when they look in the mirror.
Coming to the session, such girls already know exactly what they want, because for years they have been hatching an idea that will suit them and close the scar issue not only visually, but also emotionally.
I only suggest adding more black and white flowers that have texture on the petals and leaves that make it easier for the scar to get lost. While healing, the white elements of the scar become, as it were, highlights on the flowers.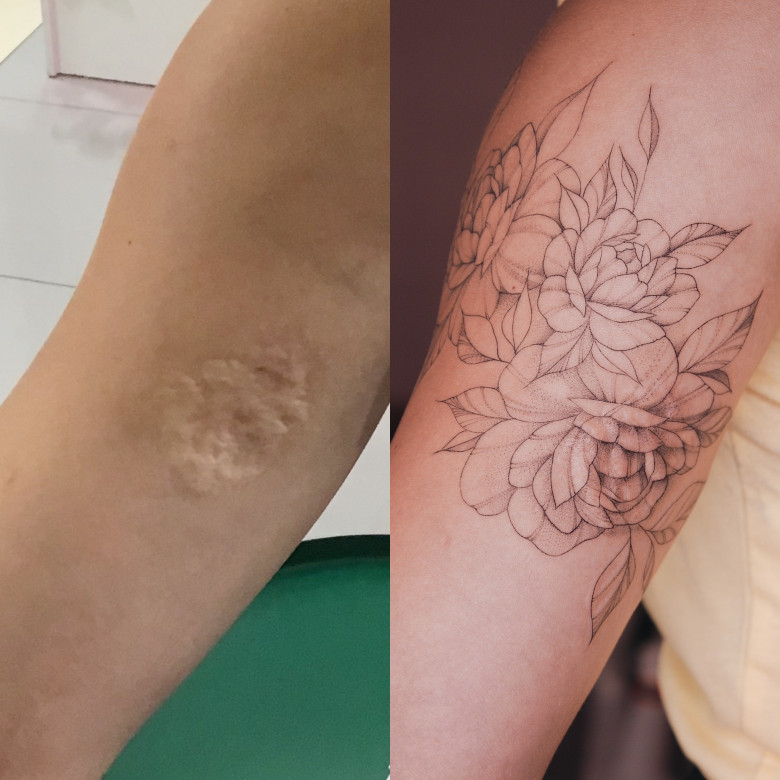 Here, for example, we covered a scar from a horse bite. The girl was engaged in equestrian sports. At one point, the horse lifted her arm with its teeth, leaving a large scar. The bite is quite uneven, and the ornate lines of flowers just help to hide it.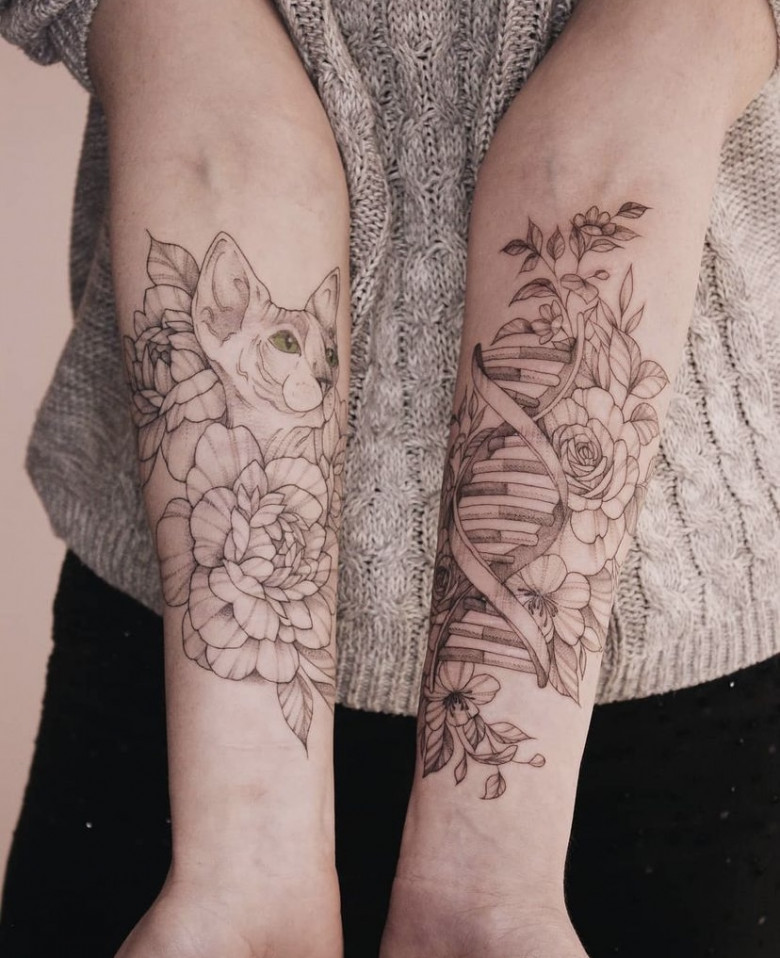 And here we covered multiple cuts on her hands for a girl who works in an ambulance, her hands are often in sight and the scars interfere with her. On the tattoos, she wanted to depict a portrait of her beloved cat and a DNA chain, as a sign of her love for medicine.
In working with scarred skin, the main thing to know is that it has an altered texture, in addition, each scar is individual and has a special thickness or depth, sensitivity and density, and the usual application techniques are not suitable. Psychological discomfort is also common, touching the scars can remind the client about the procedure of the past operation, about his loss or pain. All this is important to take into account in the work and act very carefully. Be both an experienced tattoo artist and a psychologist.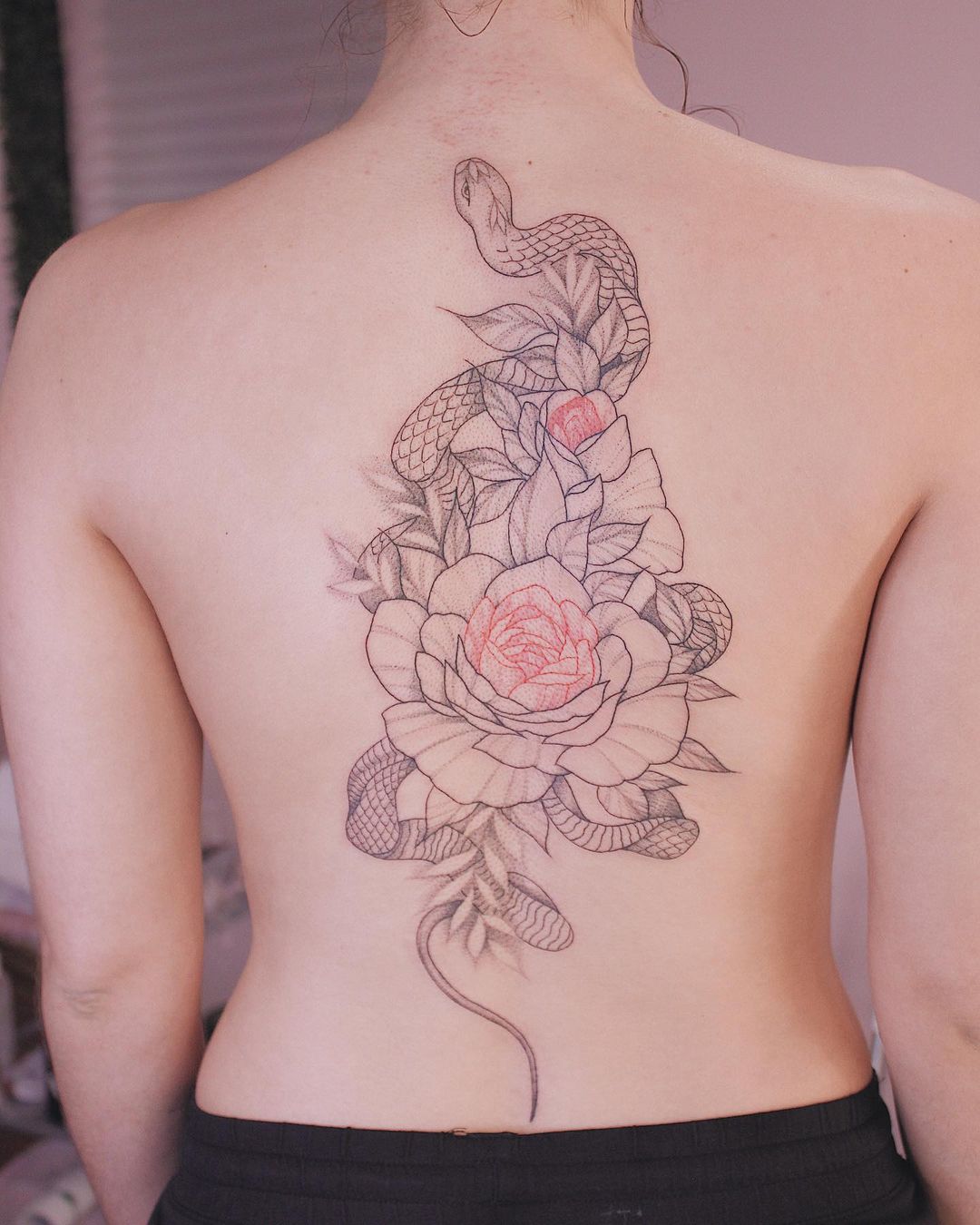 Tell us about the studio where you are currently working.
Anastasia: Often faced with such situations, that I talked about before, we came to the concept of a female tattoo studio.
The main idea was to create a place where all the tattooers are girls who specialize in working with women's skin and its features. Each of our working days is like warm women's gatherings, where clients feel comfortable to stay for a long time, especially if their visit is associated with a long stay in a naked state. Also, one of our main principles is to treat every idea and wish of the client with respect.
The main mission of the Horoshie Devchata studio is to dispel the aura of marginality around a tattoo, to show that a tattoo is not necessarily an attribute of informality, but a way of self-expression for everyone, whoever he is, whatever his idea and message.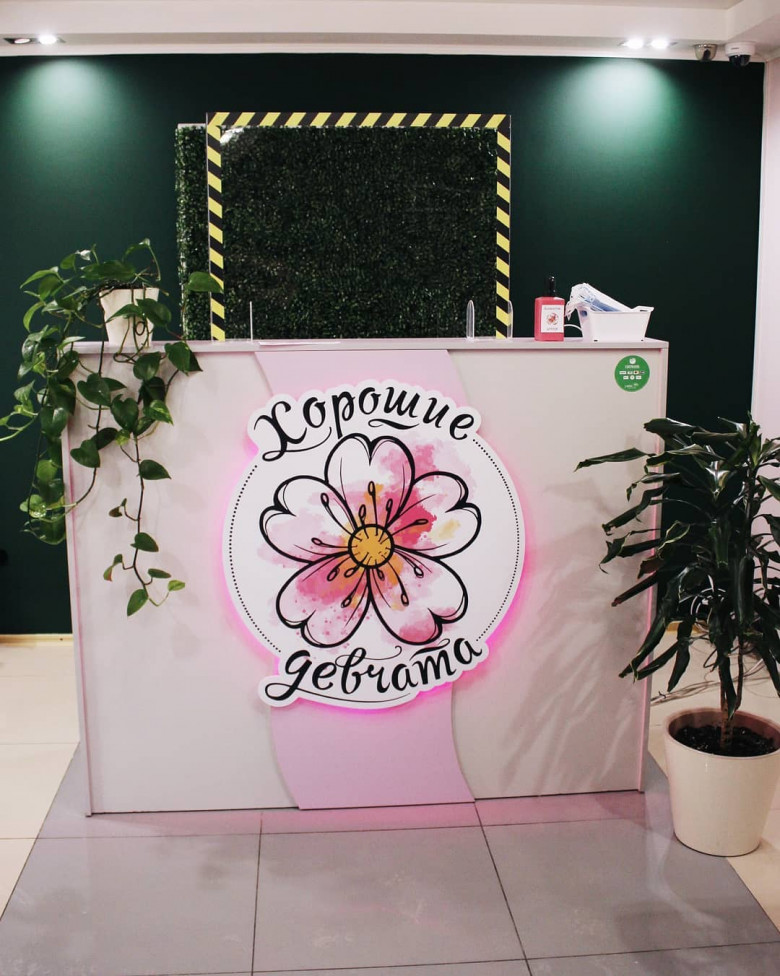 It is also very important for us to maintain high process safety standards. As the manager of the studio, I make sure that all artists have qualified knowledge of asepsis and antisepsis, comply with all SanPiN norms, and treat equipment sterilization responsibly.
We care about the safety of not only our clients, but also other people. Therefore, all hazardous waste is taken out by a special service company. People or animals in contact with garbage will not be harmed by needles that are simply thrown into the trash.
In a nutshell, we try to be an example of a modern studio where not just artists work, but qualified professionals in their field. In Russia, it is still rare to have the position of "master of artistic tattoo" in the work book, to have a health book in hand and to work officially. For us, this is the norm.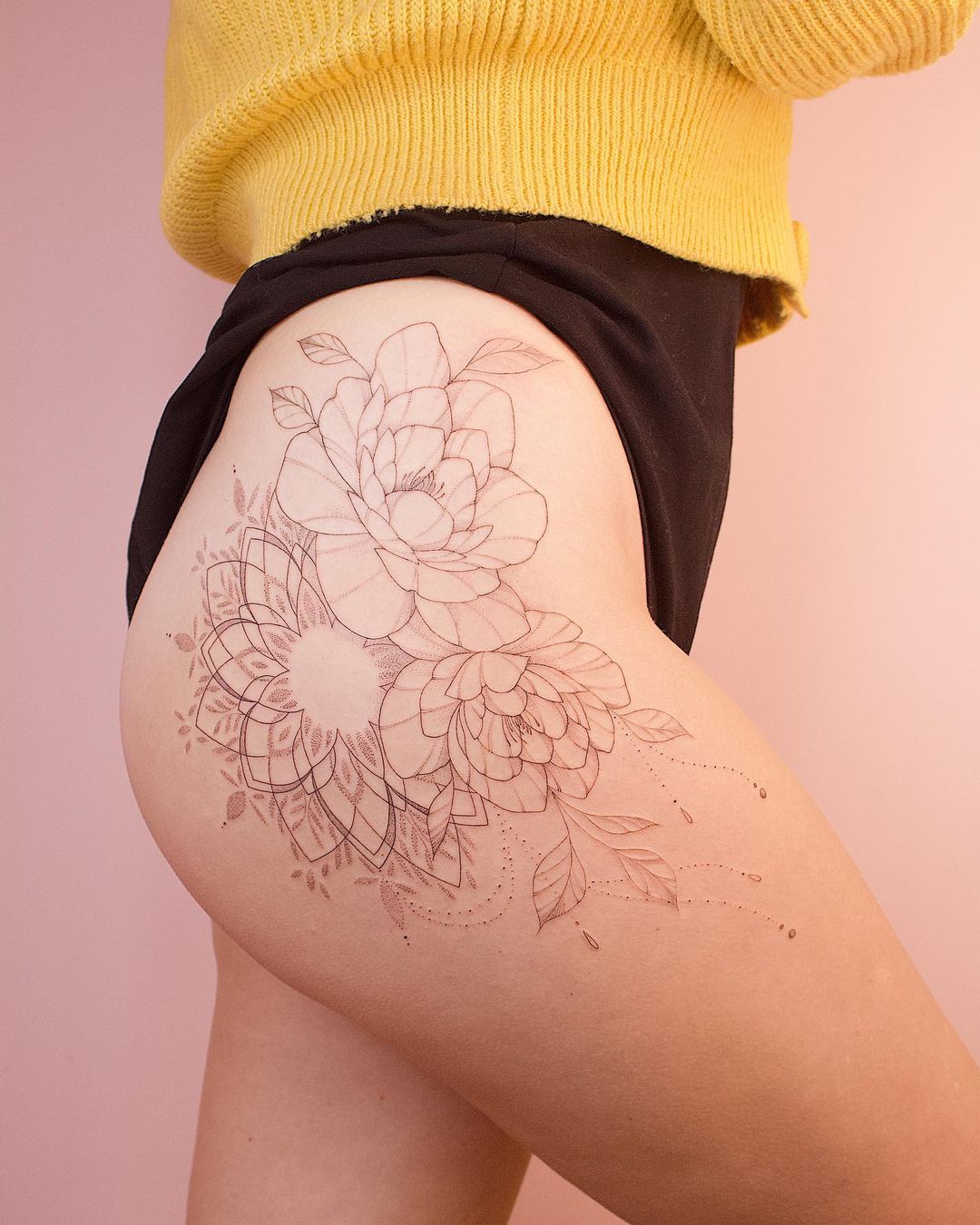 Are tattoo conventions a part of your life?
Anastasia: It so happened that during the pandemic, many tattoo conventions were not held, and I only recently managed to visit my first tattoo festival.
There I took two awards - this is Best of Day, the best tattoo of the day among black works and second place for a graphic style tattoo. I am very happy with such an award, and in the future I am going to take part in tattoo conventions not only in Russia, but in other countries.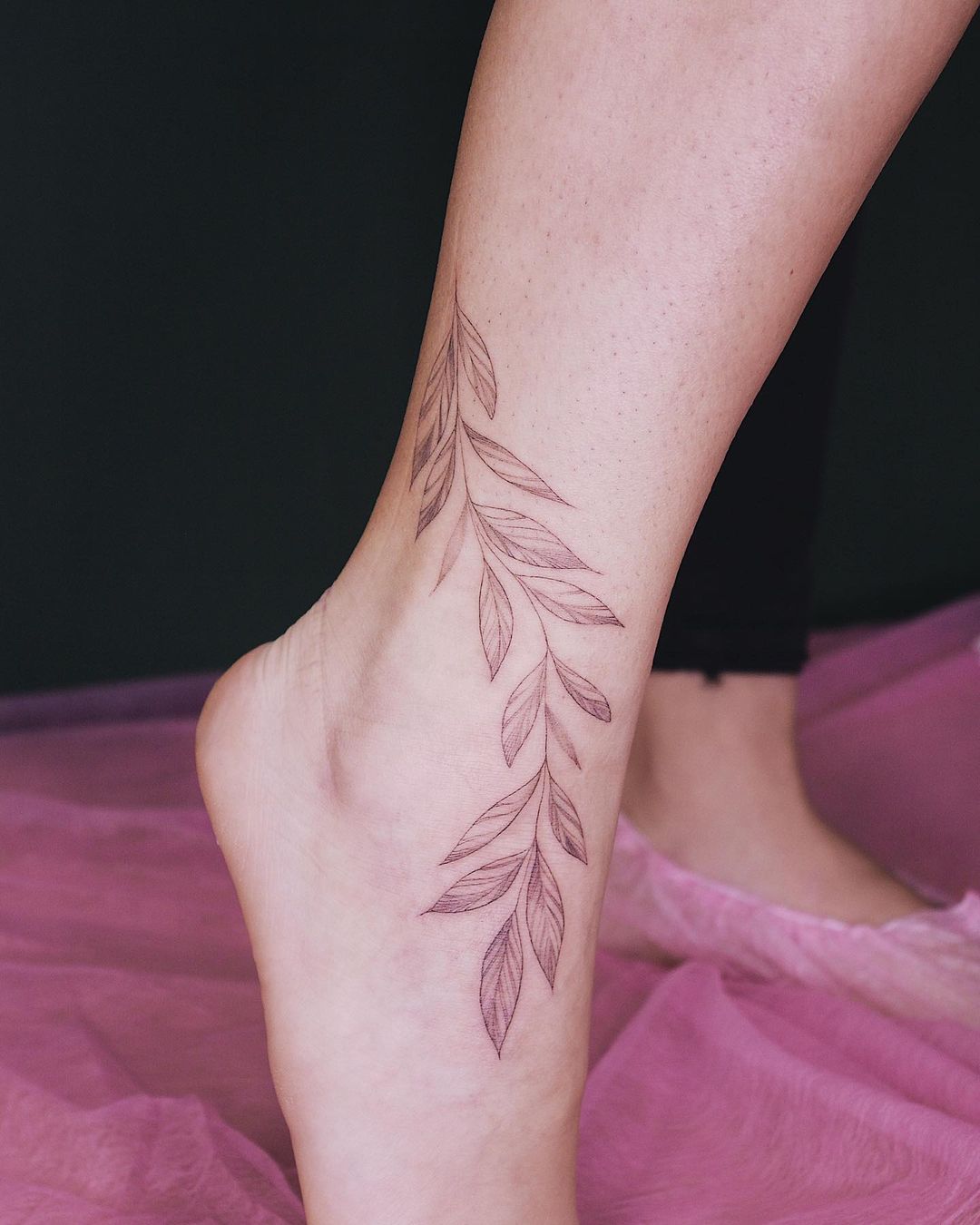 What is your main goal as a tattoo artist?
Anastasia: My main goal is to make a significant contribution to the development of the industry, its culture and popularization. I dream of living in a world where anyone, regardless of their profession, status or age, can get a tattoo without fear of being misunderstood or judged.