Tattoo Convention Piacenza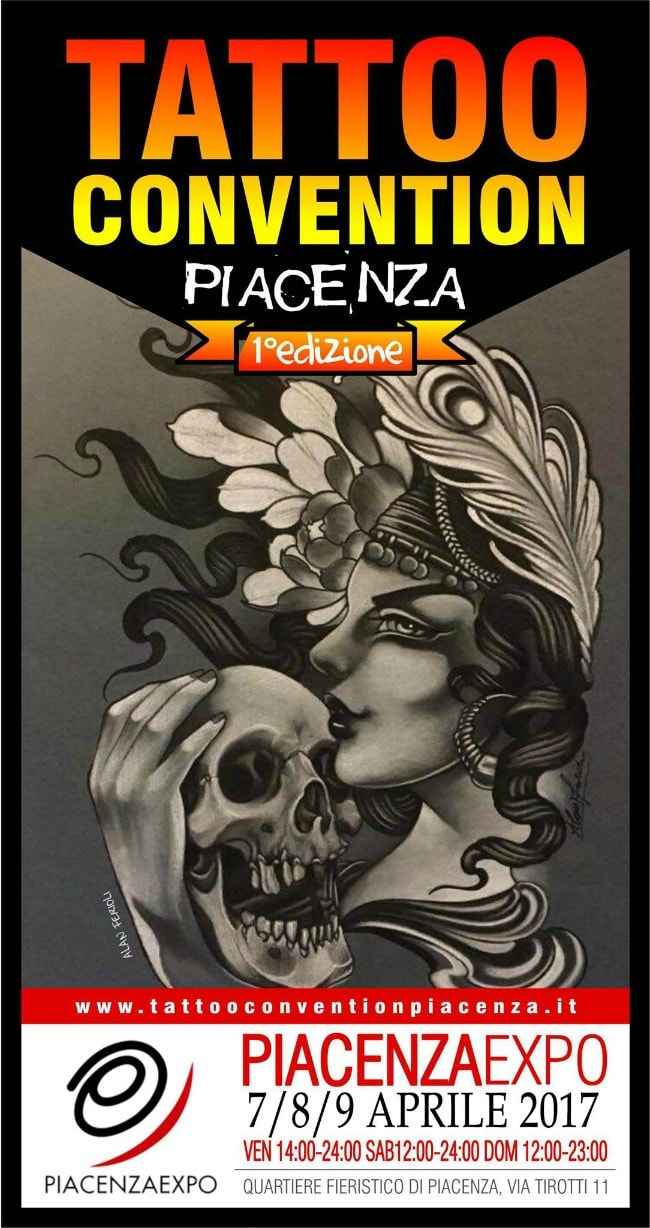 La TATTOO CONVENTION è un viaggio di tre giorni dedicato all'arte dell'inchiostro su pelle, che mette in contatto gli appassionati con l'universo dei professionisti di questa disciplina. Da tutta l'Italia e dall'estero i più grandi tatuatori si danno appuntamento per presentare la loro abilità al pubblico, sfidandosi in numerose gare suddivise in categorie. La convention è fatta di incontri, performance, interventi di ospiti legati al mondo del tatuaggio, ma soprattutto racconta la grande arte del tattoo "in diretta", con i protagonisti dei diversi stili e tratti. Mattatore, come da tradizione, al microfono della manifestazione Alberto "Pernazza" Argentesi
La Convention vede ogni anno ritrovarsi migliaia di fan di questa forma d'arte e cultura e altrettante migliaia di curiosi. Nella tre giorni è possibile sperimentare e conoscere il mondo del tatuaggio, ammirare le creazioni dei migliori studi italiani, inseriti in un contesto dove il corpo tatuato con le più disparate tecniche ed immagini è la norma.
Negli stand sarà possibile sperimentare tatuaggi, venire a conoscenza di nuove tecniche, entrare i contatto con ciò che ruota attorno all'arte dell'incisione. Gli ospiti della fiera, come da tradizione, possono inoltre decidere direttamente in loco come e da chi farsi tatuare, i tatuatori sono a disposizione del pubblico.
La manifestazione dimostra, anche grazie al grande afflusso di pubblico, come l'arte del tatuaggio sia ormai diventata largamente oggetto di culto e di moda; non è più infatti da considerarsi come una pratica rivolta ad una piccola nicchia di appassionati, ma ad oggi è una vera e propria passione per molti.
Sul fronte gare, a fare gli onori di casa sarà Alberto Pernazza, già protagonista al "Chiambretti Night", cultore in materia di tattoo. A scegliere i vincitori, sarà una giuria di qualità, composta da addetti ai lavori. Le gare si sviluppano nelle 3 giornate, possono partecipare tatuaggi eseguiti al massimo al 50% in studio.
I concorsi si dividono in diverse categorie e danno origine a un vero e proprio live contest.
Venerdì si elegge il Best Tattoo of the Day, premio dedicato alla miglior opera realizzata in convention nel corso della giornata, mentre sabato tocca alle varie categorie: Tradizionale (Old School e New School), Etnico, Giapponese Tradizionale, Figurativo e Realistico. Domenica invece sotto con Altri Stili, Tatuaggio Pazzo ed il più atteso Best Tattoo of the Show, premio dedicato al miglior tatuaggio realizzato in convention nell'arco delle tre giornate.