«Rick and Morty» is the most tattooed TV show
17 / 02 / 2022
Compare the Market
Tattoo Artist @tater_tatts
For some of us, the TV is the most important appliance in the house. We all have that one TV show we love or character that we identify with, but which fans have gone far enough to have their favourite TV shows or characters inked on them for life?
To find this out, Australian company Compare the Market dived into Google search data and Instagram hashtags to discover which TV shows and characters have the most fervent fans.
Most Tattooed TV Shows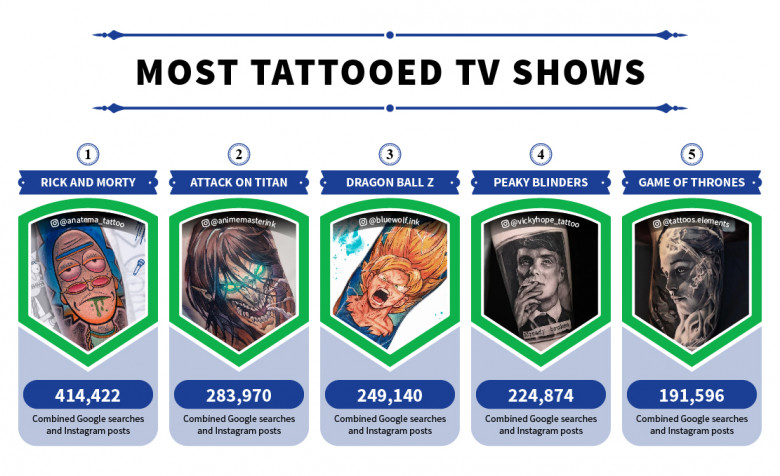 Rick and Morty: 414,422 combined Google searches and Instagram posts
This animated sci-fi sitcom centres on the interdimensional adventures of cynical mad scientist Rick Sanchez and his nervous grandson Morty Smith. It has received universal acclaim, holding a 94% score on Rotten Tomatoes (which could explain its popularity amongst fans to get ink inspired by the show) as well as receiving numerous awards including several Emmys.
Attack on Titan: 283,970 combined Google searches and Instagram posts
The most popular TV show on our list to be based on a manga is Attack on Titan. It has since been adapted into an anime series and achieved worldwide recognition. Attack on Titan tells the story of humanity's battle with giant human-like creatures called Titans. Despite having relatively few Instagram posts for tattoos, coming in fifteenth place on that score alone, it's bolstered by a high number of Google searches, coming in second place.
Dragon Ball Z: 249,140 combined Google searches and Instagram posts
Another anime show takes third place. Originally running from 1989 to 1996 and spawning two sequel series, Dragon Ball Z kickstarted the genre's worldwide appeal and has contributed to global pop culture. The main character, Goku, is an underdog and outsider, which could lead fans to identify with his story to the extent they get Dragon Ball Z tattoos.
Peaky Blinders: 224,874 combined Google searches and Instagram posts
Peaky Blinders, the first drama on our list, obviously inspires fans to have a permanent reminder of this show as it comes in fourth place for the most tattooed TV shows. The drama also holds a 94% audience rating on Rotten Tomatoes. Set in post-World War I Birmingham, the series comprises an ensemble cast of Cillian Murphy, Helen McCrory and Paul Anderson as well as well-known actors who have had recurring roles such as Sam Neill, Tom Hardy and Anya Taylor-Joy.
Game of Thrones: 191,596 combined Google searches and Instagram posts
This fantasy drama, which aired from 2011 to 2019, is set in the fictional continents of Westeros and Essos. It partly focuses on families wrapped in a web of political conflicts vying for either the Iron Throne or independence from its control, as well as the Night's Watch which defends the kingdoms from threats at the northern border. Critically praised for its complex characters, production value and story, the series has inspired such dedication from fans that it comes fifth on our list.
Most Tattooed TV Characters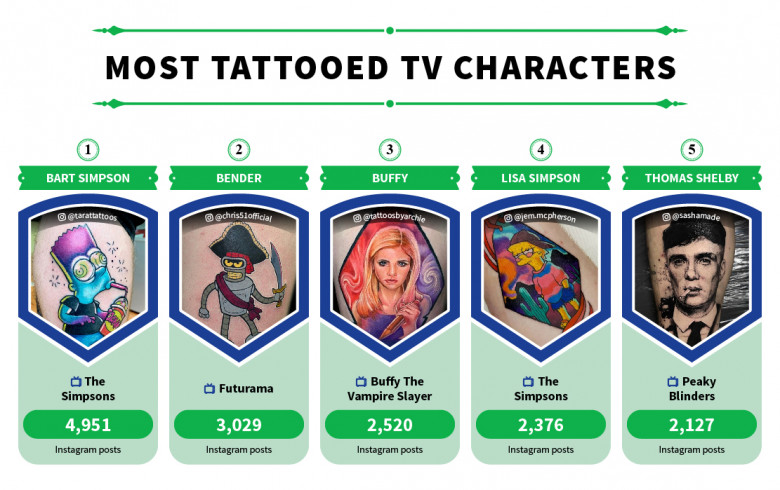 Bart Simpson: 4,951 Instagram posts
The world-famous animated character is known for his rebelliousness, disrespect for authority and causing mischief. Ranked as one of the world's most influential people by Time in 1998, the global popularity of this character due to his appeal as a rebel could be the reason he is the most tattooed character on our list.
Bender: 3,029 Instagram posts
The second comic anti-hero on our list and from the same creators as number one, Bender is one of the main characters in the animated show Futurama. Arguably the most popular character amongst fans due to his hard-drinking and foul-mouthed personality, he ranks second, 1,922 Instagram posts behind Bart Simpson.
Buffy: 2,520 Instagram posts
Played by Sarah Michelle Gellar, this character is the main protagonist of Buffy the Vampire Slayer. She is characterized as upbeat, stubborn and a natural leader. These aspects of her character could lead people to identify with her, resulting in the high number of tattoos of the character.
Lisa Simpson: 2,376 Instagram posts
The second Simpson on our list, Lisa is a child prodigy and more concerned with world affairs than life in Springfield. Like her brother, she rebels against social norms, but in a constructive and heroic way. This could be the reason so many fans identify with the character, leading them to get permanent reminders of her.
Thomas Shelby: 2,127 Instagram Posts
Another anti-hero on our list, this Peaky Blinders' character is admired by fans due to the fact that he is ruthless, fearless, honest and charismatic, as well as the fact he wears immaculately tailored herringbone suits. The fact that he is such a complex character could be the reason so many fans are drawn to having his image inked on them.