Contrasting photorealism in spectacular tattoos by Sergey Vinni
Tattoo artist Sergey Vinni
/ Source: @serjvinni
The name of this Moscow tattoo artist is probably familiar to every tattooer in Russia working in direction of the portrait tattoo. Sergey Vinni has long earned a reputation as one of the brightest representatives of Russian photorealism. His work annually took fair awards at the largest tattoo festivals in Russia, and in recent years has led him to the judging team at the Moscow International Tattoo Convention.
At one of these conventions we personally met Sergey, and agreed on this interview, in which he will talk about the features of his work, artistic skills, attitude to work and creativity.
Please enjoy!
---
- Sergey, tell us where and how did your relationship with the tattoo begin? Where did your career start?
- In general, I was not a fan of tattoos and would never have thought that this would become my main hobby and work (laughs). I drew portraits to order with a pencil for about two years, then I tried airbrushing, but it didn't work out, and I decided to try the art of tattooing.
Before practice, I studied a forum about tattooing on the internet for a long time. I had a lot of questions about how to start, and on it I found answers to almost everything. Fortunately, now there are videos / articles from cool tattooers who will tell and show everything. Then I was working at the art shop at Kitai-Gorod (one of the central districts of Moscow), so there was a lot of time to study the forum.
I picked up a tattoo machine in the summer of 2015. I started with a small tattoo (a miniature, mountains with a forest in a semicircle, I specially drew the simplest sketch of lines and dots so as not to screw up too much) on a leg for a friend under the supervision of a familiar tattoo artist who started tattooing much earlier.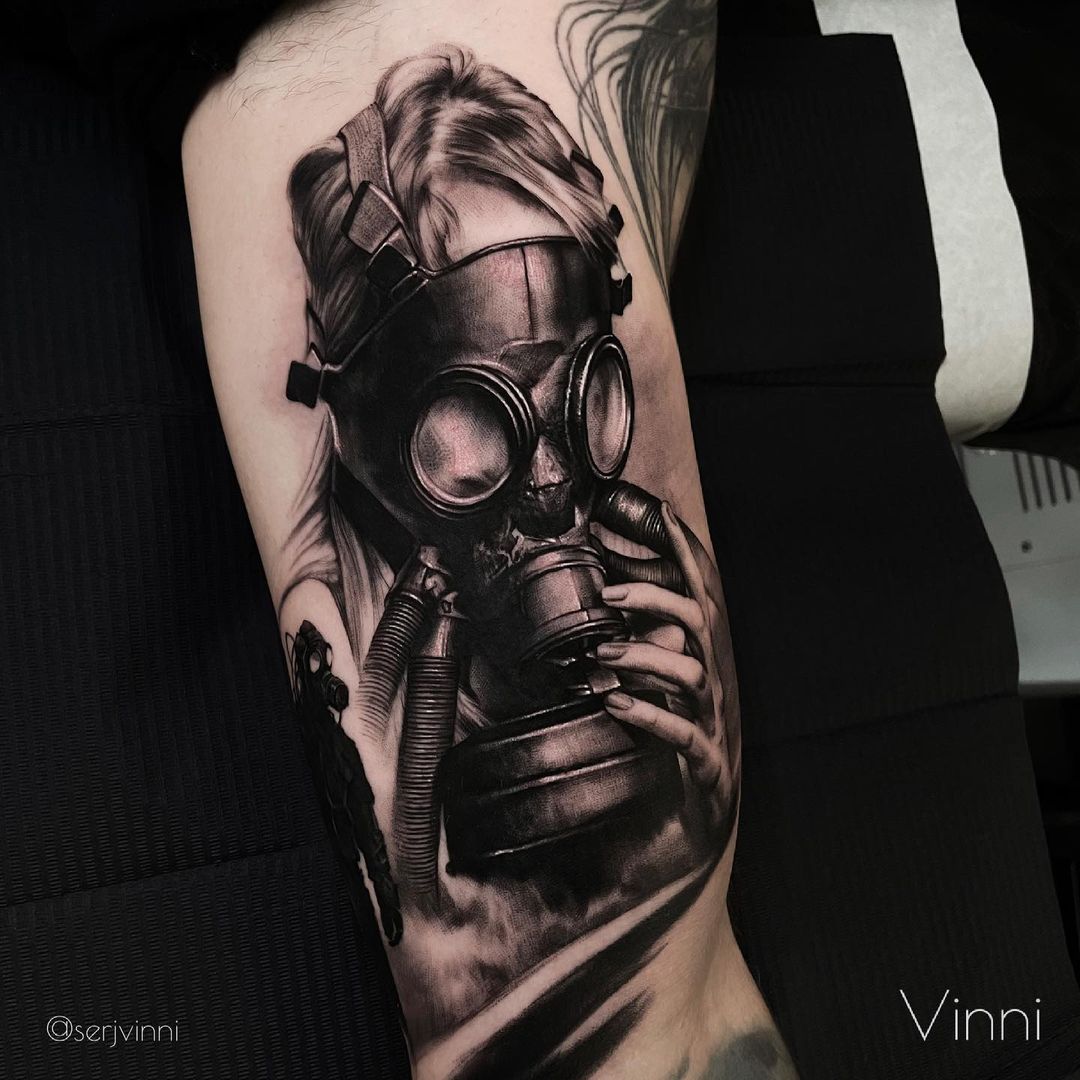 I still remember how worried I was, holding an induction machine in my hands, not daring to draw the first line. But as soon as I started and worked for 15 minutes, I realized that this is what I want to do! I can say that I immediately fell in love with the process of tattooing.
Then I began to get friends and acquaintances to sessions at home in a room, then I lived with my parents in a house near Moscow. I am pedantic and therefore even at home everything was organized at the highest level, even better than in some studios now (don't forget, I studied the tattoo forum). The technique of using the oven as a dry heat to sterilize holders, I think, will be familiar to many tattooers (laughs).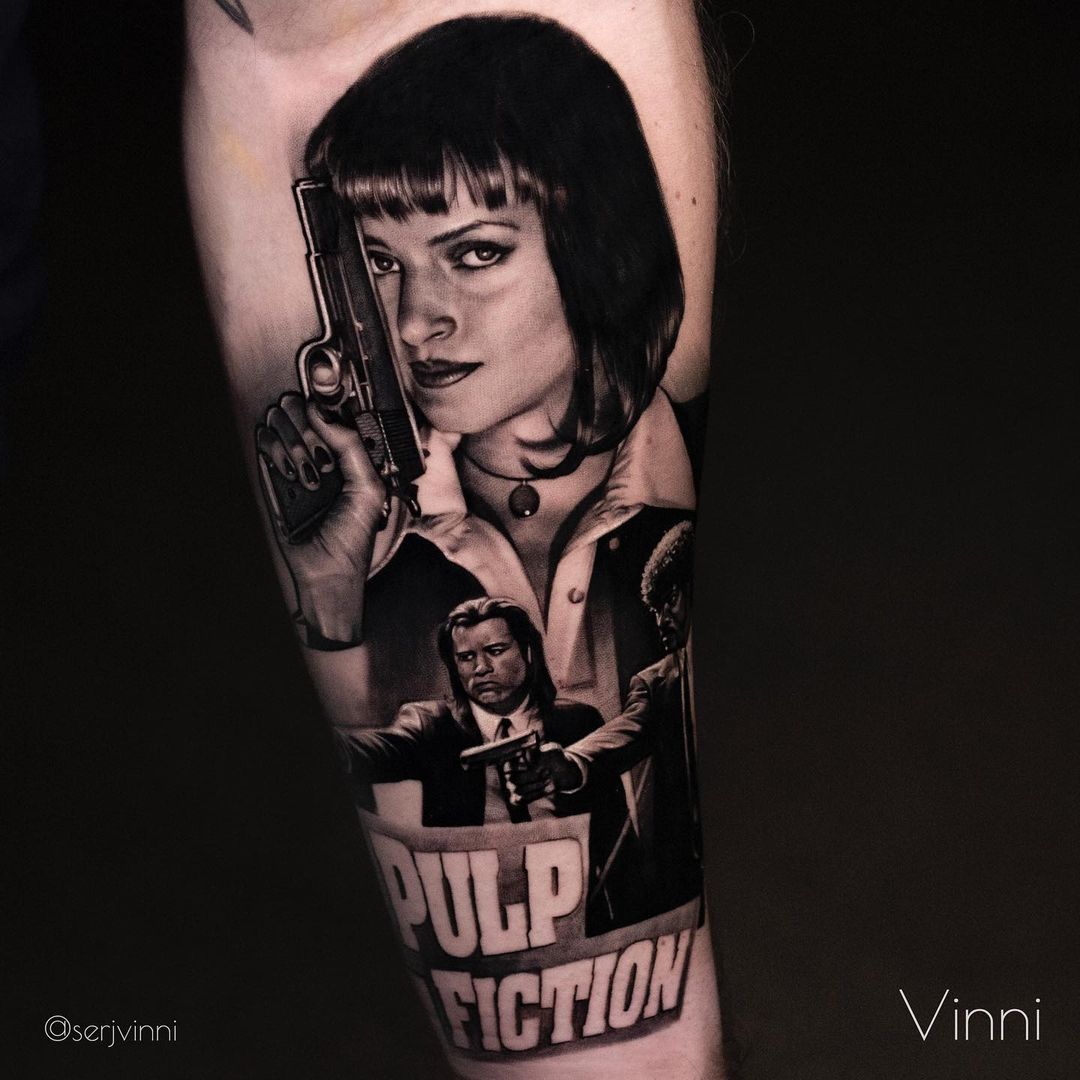 - Do you have art education?
- I've been drawing for as long as I can remember. As a child, my parents forced me to go to an art school, but I constantly skipped it, and in the class I was not particularly successful. Then I did not pay due attention to this, well, I draw and draw, what's wrong with that. And in 2013, I began to enthusiastically draw portraits with a pencil, again without studying in any special institutions.
I tried to work in photorealism, to copy photographs with maximum accuracy. Drawing a lot of objects and portraits, I began to understand how everything works in terms of anatomy, chiaroscuro; at the same time independently I studied teaching literature on drawing.
At the moment, I have enough of my skills to work in realism, I can finish / improve the photo myself. But I still want to start studying academic drawing with a teacher, to start creating something from scratch, and not just copy and combine photos but to go to another level, because sooner or later such copying can get boring. So study, study and study again, and then draw again!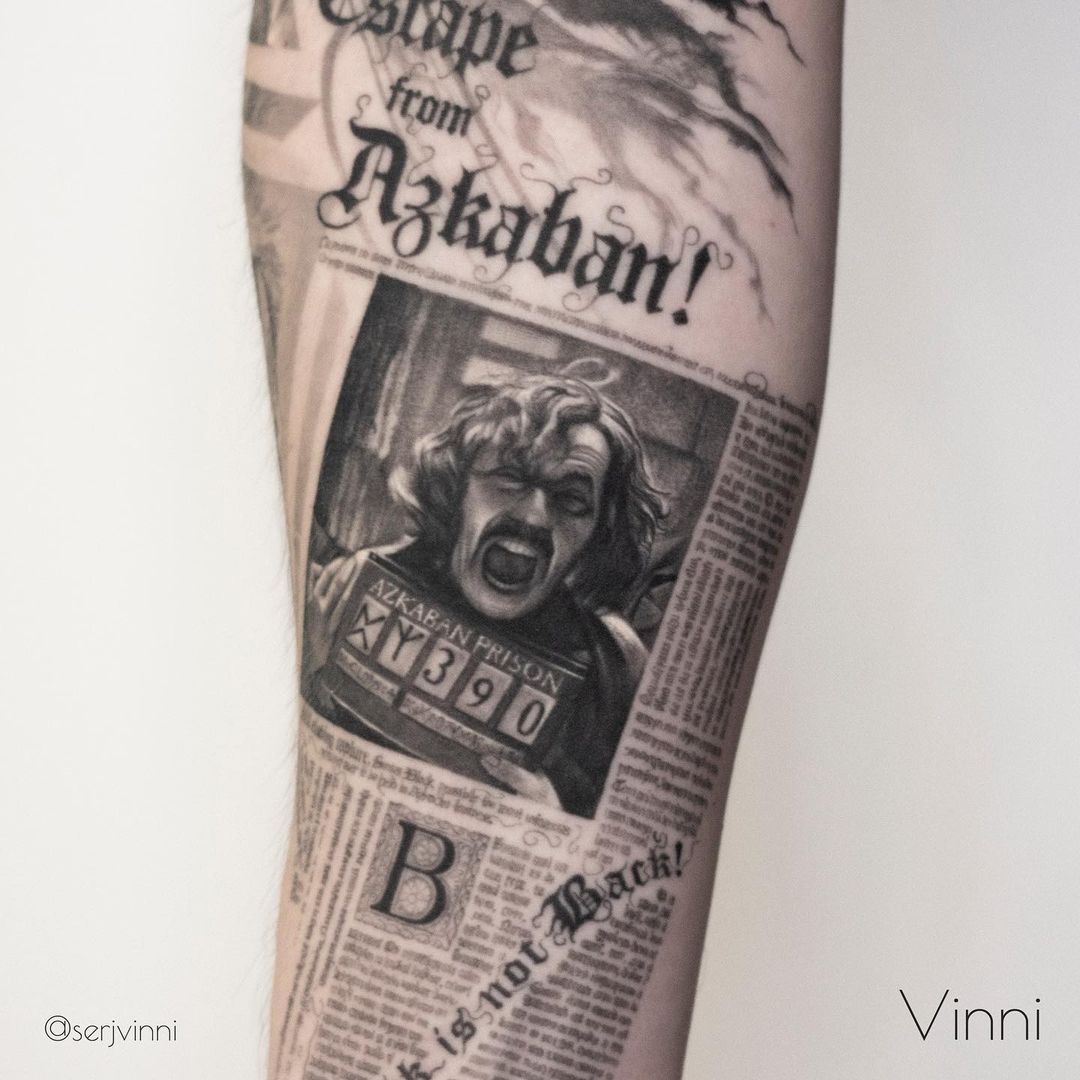 - Why did you choose realism? What features of your portfolio would you highlight?
- I started with graphics and ornaments: dots, lines and that's it. I didn't understand how the tattooers use greywash, it was important for me to know and understand how it would settle down so that it would look presentable on the skin when I just got a tattoo. So I put off the opportunity to try my hand at realism.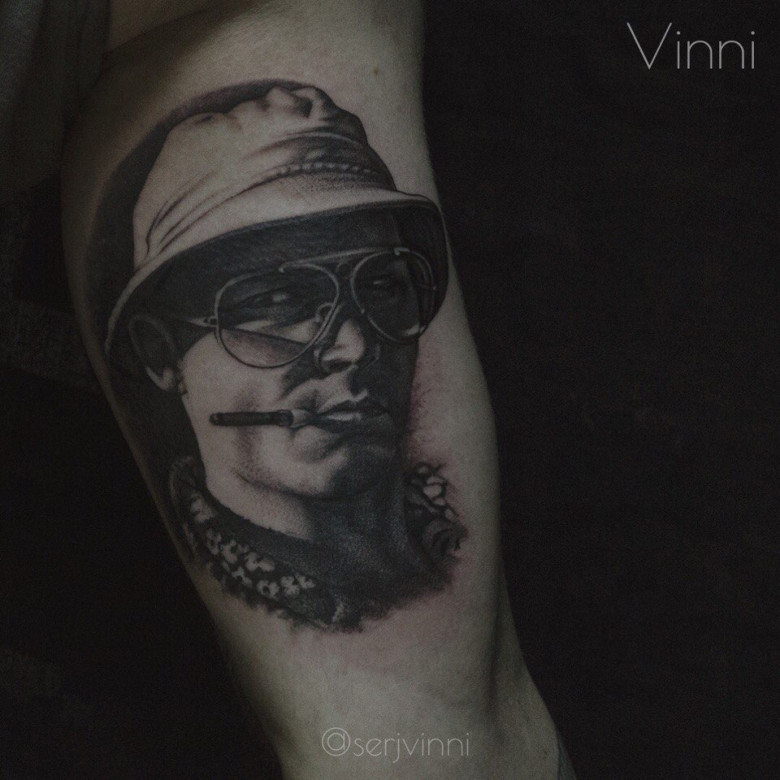 But one day, in the process of making a portrait in graphics, I decided to take a soft magnum needle and then everything immediately fell into place: I really liked it, the speed of work changed, the transitions became smoother.
I like realism, because I like to convey the volume of objects, detailing of different elements and, of course, facial expressions and emotions of portraits. High-quality and contrasting realism looks very impressive.
Of the advantages of my portfolio, I would single out the way I build the composition and try to make the project contrast, so that in a few years the tattoo does not turn into a black or gray spot, while not forgetting to work out the details that can be examined closer. I like to make miniature portraits so that these portraits are recognizable after healing.
Now I am more careful in choosing a place for such work, especially the hairline, and what kind of exposure to the sun will be on this area of ​​the skin. I consider it my advantage, and an honest attitude towards clients, to have healed works in my Instagram portfolio. I will not dissemble, and I will say that not all works are healing perfectly, especially in such a direction as realism. It all depends on the skin, how the person cares for the tattoo, and what sources/photos you work from.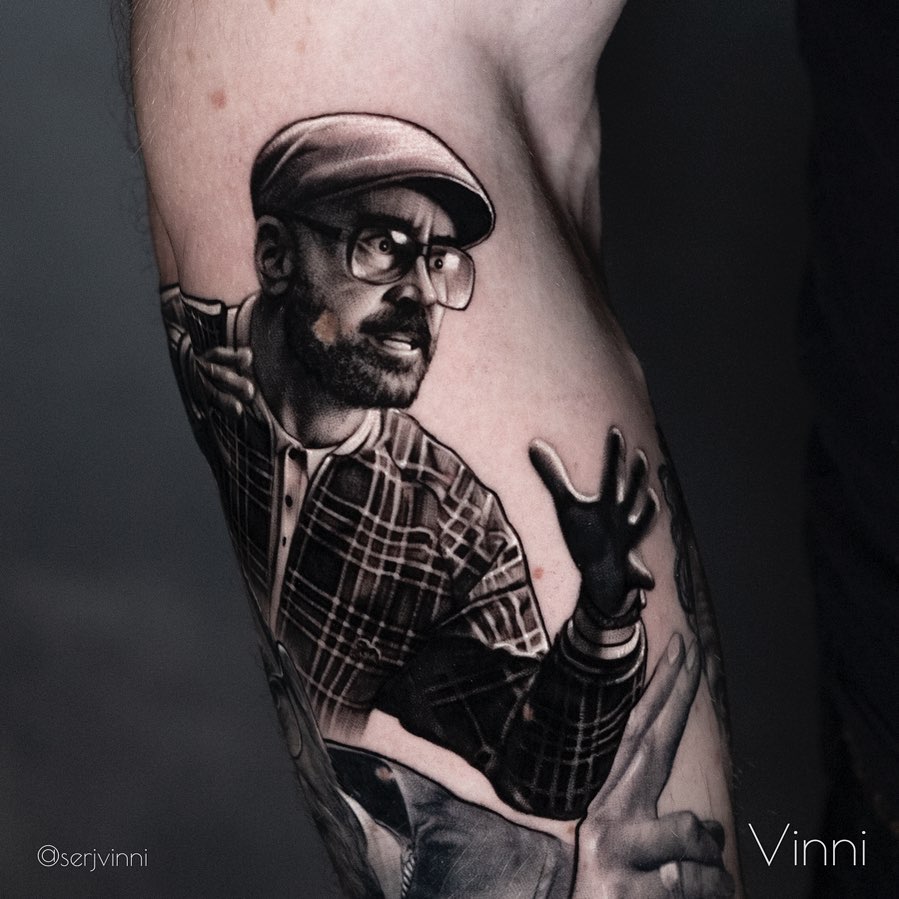 - What skills/features should an artist have to work in this style? What is the biggest difficulty in working in realism?
- I can say that realism itself is not very difficult, as most tattooists think. I found the picture, transferred it to the skin and just copied it. Many people cope with this task quite well, but this, as a rule, is a low or medium level of work.
I believe that to do work at a good, top level, you need an understanding of forms, you need to feel what you are doing. You need experience in drawing or education, but rather all together.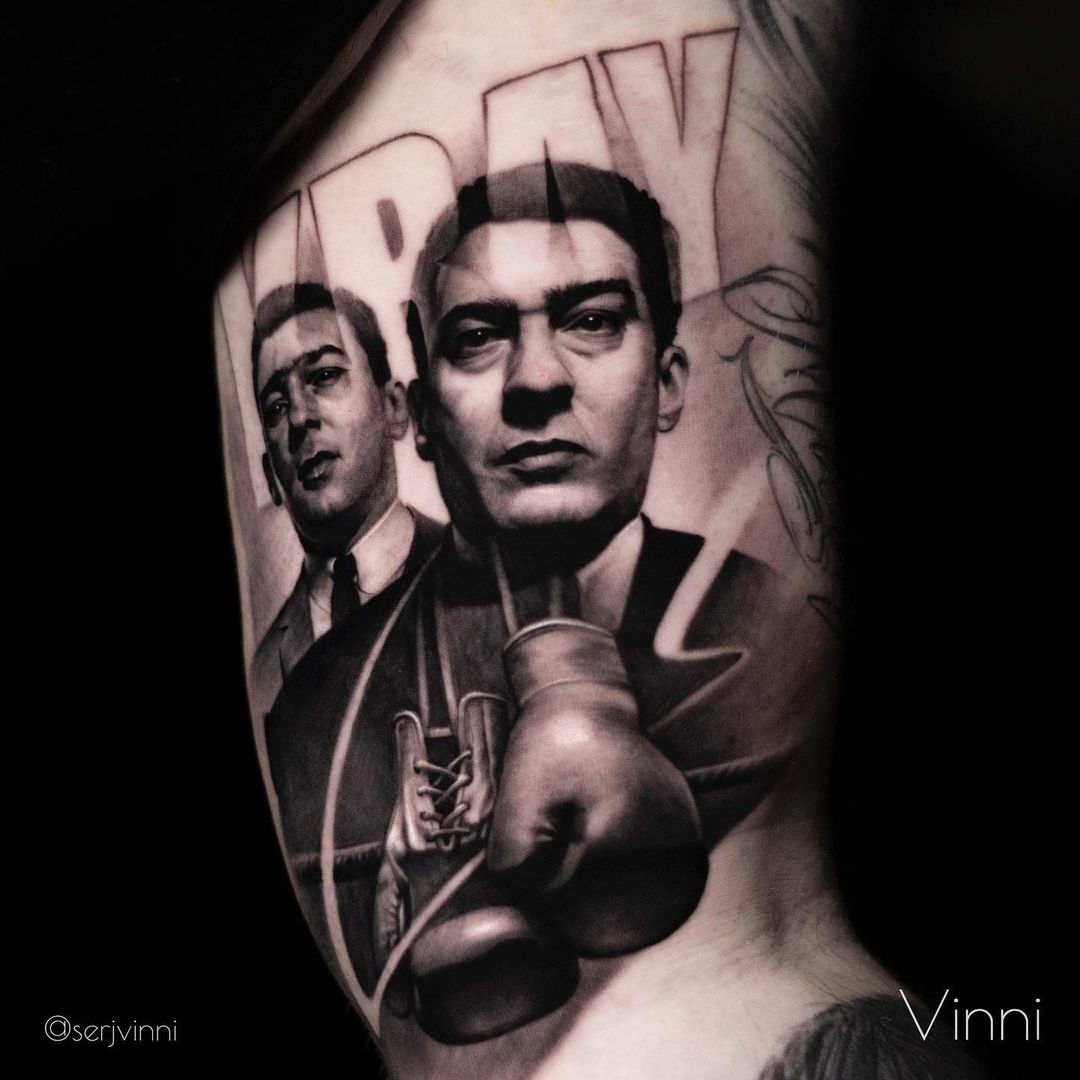 I can't say that perseverance is needed, as there are those who work quickly and efficiently, not missing details, and those who do everything painstakingly at a high level. I most likely belong to the first category.
The complexity of realism lies in the name itself - you need to convey the realism, recognizability of the object. If on canvas or paper it is enough to copy everything from a photograph onto a plane, then in a tattoo it is necessary to correctly position the image / project on the body, fit it into the anatomy so that the "wow" effect is even stronger and the tattoo retains its presentable appearance for many years.
- How often do you manage to work with your ideas? Most often the client comes with his own idea?
- In fact, often, people understand in which direction I work and what projects I do. Even if initially the client writes to me with his idea, I try to find common ground and find an option that suits both of us. I always explain how and in what style I work, so that there are no misunderstandings in the future. If you write to me with an idea related to famous personalities, movie plots, then be sure that we will find a common language with you.
I can not take on some projects, and it's not a whim, but the fact that I don't see the point in wasting time on work that is not interesting to me, and I know that the result will definitely not suit me. I am very glad that I do not have the need to take on everything.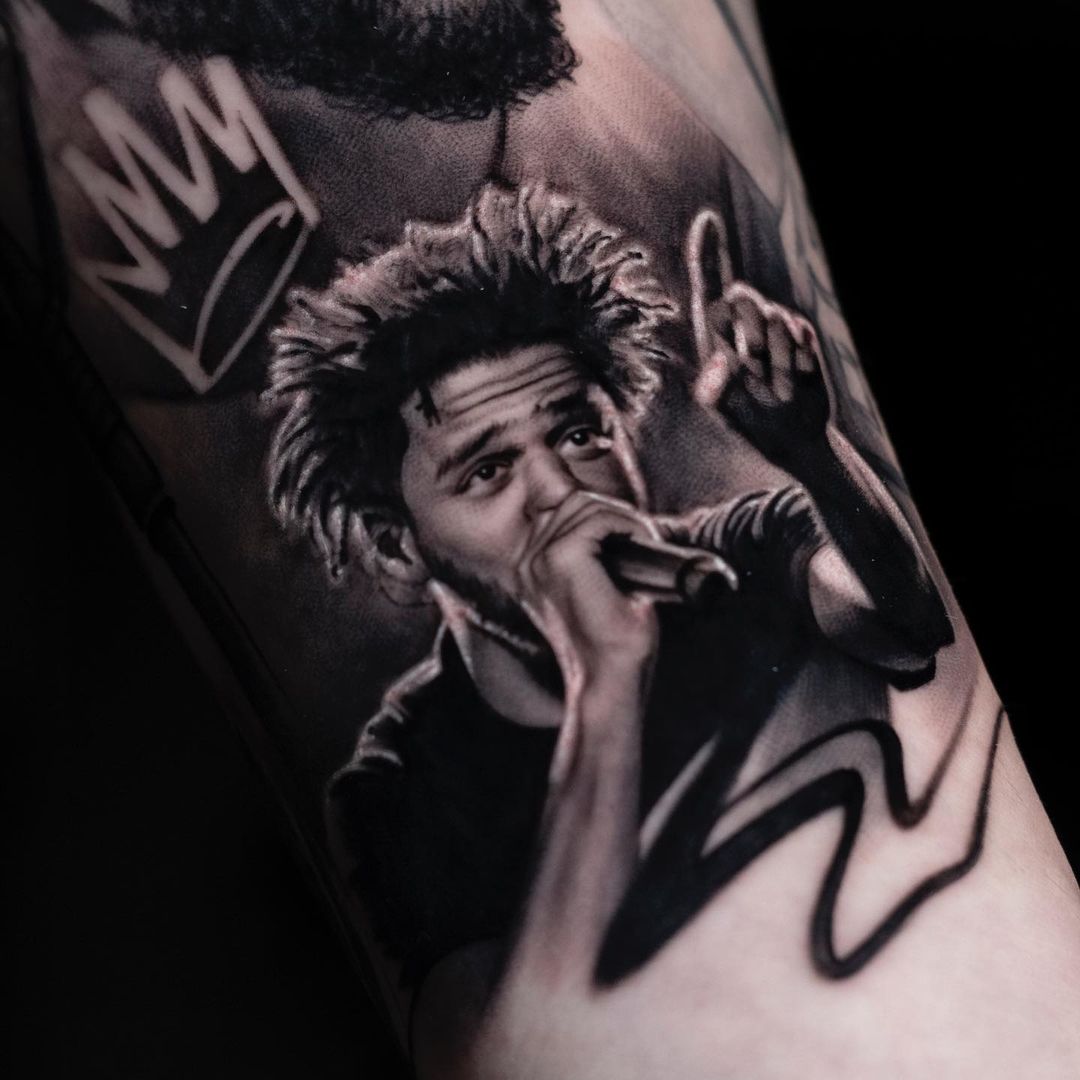 - Is tattooing art or work for you?
- At the moment it is rather work with elements of creativity. It doesn't matter to me how to position myself in the tattoo industry (I consider myself more of an artisan than an artist). The main thing is that I get great pleasure from the process of tattooing and people like what I do. Perhaps in the future I will immerse myself more in the creative component, invent and draw projects from scratch.
- What is the most attractive thing for you in the work as a tattoo artist?
- I think it's freedom of action. Not to be tied to one place, to be able to travel, to see the diversity of the world. It inspires and broadens one's horizons. Of course, to meet and communicate with different people at the sessions, listen to their stories, and with some of them experience the moment of the first tattoo that is important for them.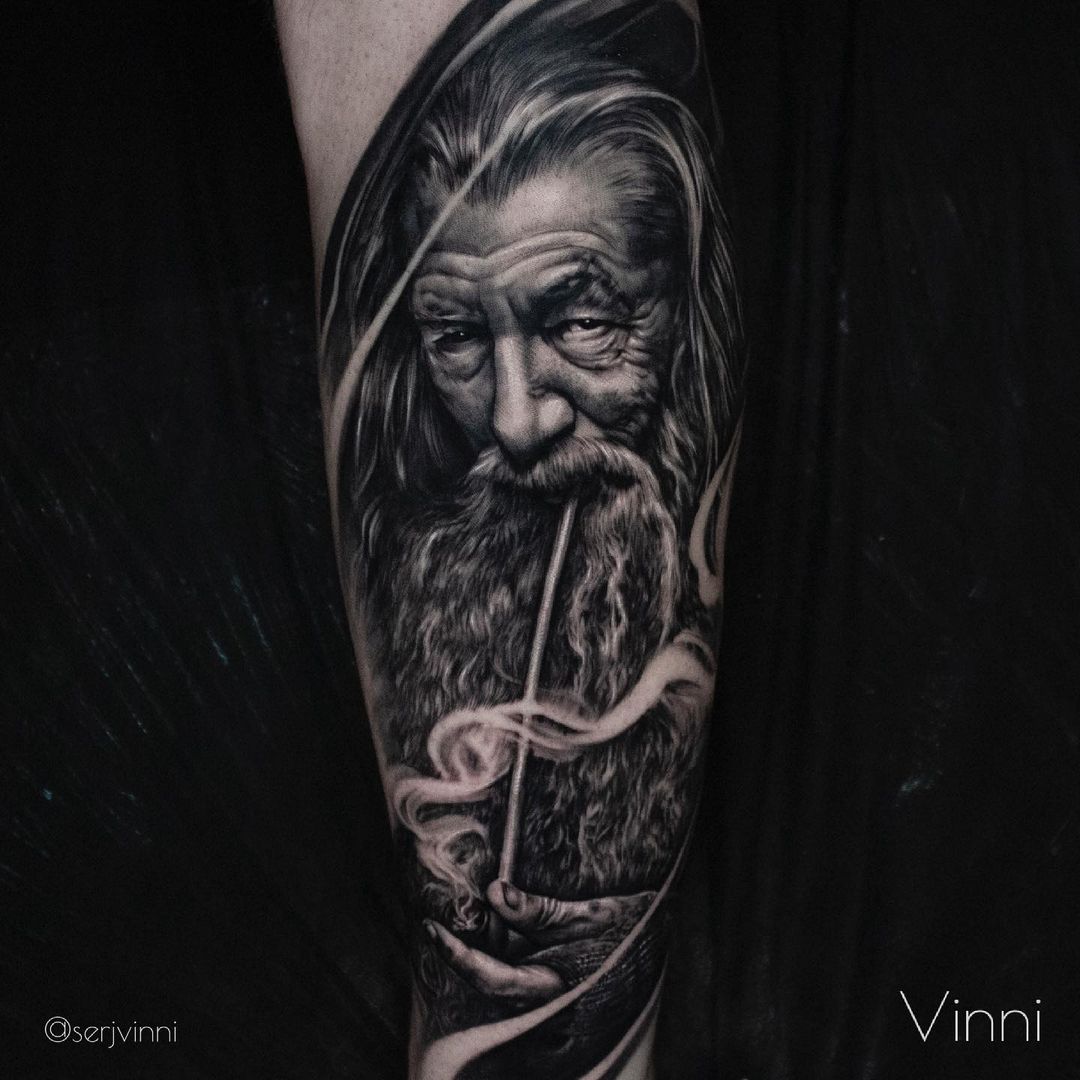 - Are there any painters or tattooists who have influenced your portfolio?
- As we know, there are a lot of the coolest tattoo artists, and it's quite difficult to single out someone, but for me personally, the name of Alexei Mashkov stands out, namely his creativity and creativity. The only person who inspires me creatively, he is a real artist!
- How can you rate your popularity in the tattoo industry? And how do you think it can be measured?
- The concept of popularity is relative. As long as there is an appointment for sessions and people who show interest in my work, you can safely consider yourself popular (laughs).
- We met at one of the tattoo festivals. Tell us, did you manage to take any awards? In general, how would you rate your experience of participating in such events?
- I received my first award a year after the start of the tattoo activity, it was 1st place in the "Portrait Tattoo" nomination at Moscow Tattoo Week 2016.
I'll tell you about my emotions, because it was the most important victory for me and for the future development as a tattooer. When they started announcing the winners, I had a rough idea of ​​who would win, because there were very cool works in realism, and at that time I was still working in graphics and exhibiting 2 portraits: Bowie and Dali.
Third place went to a color portrait, second to a vibrant portrait of Hellboy. And for the first place they announce the winner of Bowie's portrait and call my name! I never thought that I could take a prize at my first convention. To say that I was extremely happy and surprised is an understatement.
In subsequent years, I exhibited at Moscow tattoo conventions and consistently won prizes every year.
I believe that the format of the convention is not suitable for all tattooers, or rather, the tattoo contest. For me, participating in conventions is, first of all, a challenge to myself. You need to prepare, decorate the box beautifully, present your work correctly, and make an interesting project for the convention itself.
I really appreciate the opportunity to communicate with people, meet familiar tattoo artists, see how others work, give advice to beginners and learn something new myself.
I would also like to add that if you make cool and high-quality work, and you exhibit at conventions, then this work will definitely be noticed and appreciated with a high score. I have experience in judging and I can say that cool works immediately catch the eye against the background of mediocre ones, because we look at them live, at already healed works, and it's funny to see how some of them are very different from what is presented in social media.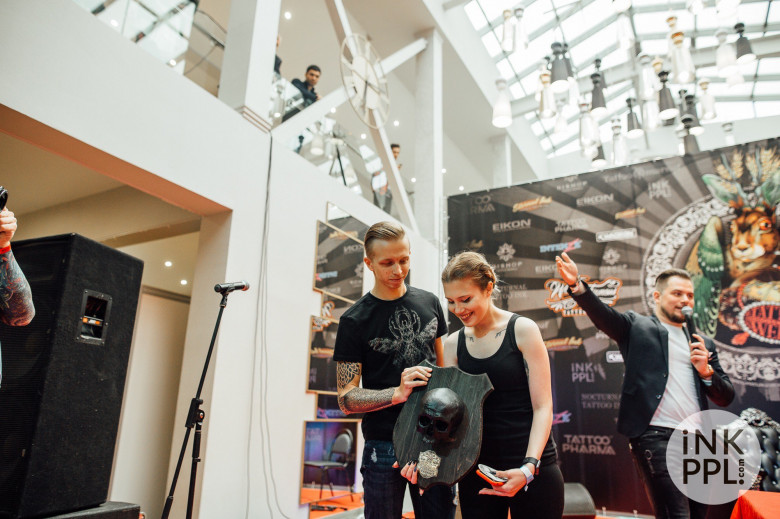 I have 13 prize awards:
2016 - 1st place portrait tattoo at Moscow Tattoo Week
2017 - 2nd place portrait tattoo Moscow Tattoo Week
2nd and 3rd place miniature tattoo at Moscow Tattoo Festival
1st and 3rd place portrait tattoo at Moscow Tattoo Festival
2nd place miniature tattoo at Moscow Tattoo Festival
2018 - 2nd place portrait tattoo at Moscow Tattoo Festival
3rd place miniature tattoo at Moscow Tattoo Festival
3rd place best of 2nd day at Moscow Tattoo Week
2019 - 1st place Black and white tattoo at Moscow Tattoo Festival
1st place Best of Saturday at the 10th International Moscow Tattoo Convention and judging in the portrait tattoo nomination at the 10th International Moscow Tattoo Convention
2021 - 2nd place Realistic tattoo at the 11th International Moscow Tattoo Convention and judging in the portrait tattoo nomination at the 11th International Moscow Tattoo Convention
- Share your experience: how to find inspiration and strength for work when there is none?
- I am very inspired by music, it sounds corny, but it is. And if you don't have the strength to work, then you just need to switch to something else, do other things, do what you want. Sports or outdoor activities help me. Firstly, it charges, and secondly, it unloads the head well. Well, if strength or inspiration leaves you before the session or even at the session itself, then let's not get through it, get it together, and get to work, everything will work out!