Egor Khimz: «I made one of the biggest mistakes - I started to invent and develop my own style»
Tattoo artist Egor Khimz
/ Source: @khimz_tattooer
Now, when every second tattoo artist tries to experiment with a variety of styles, it's nice to remember how it all started - of course, from a high-quality traditional tattoo. The wizard, which will be discussed below, knows the recipe for its creation. Meet Egor Khimenkov, who is known by many in the tattoo society as Khimz.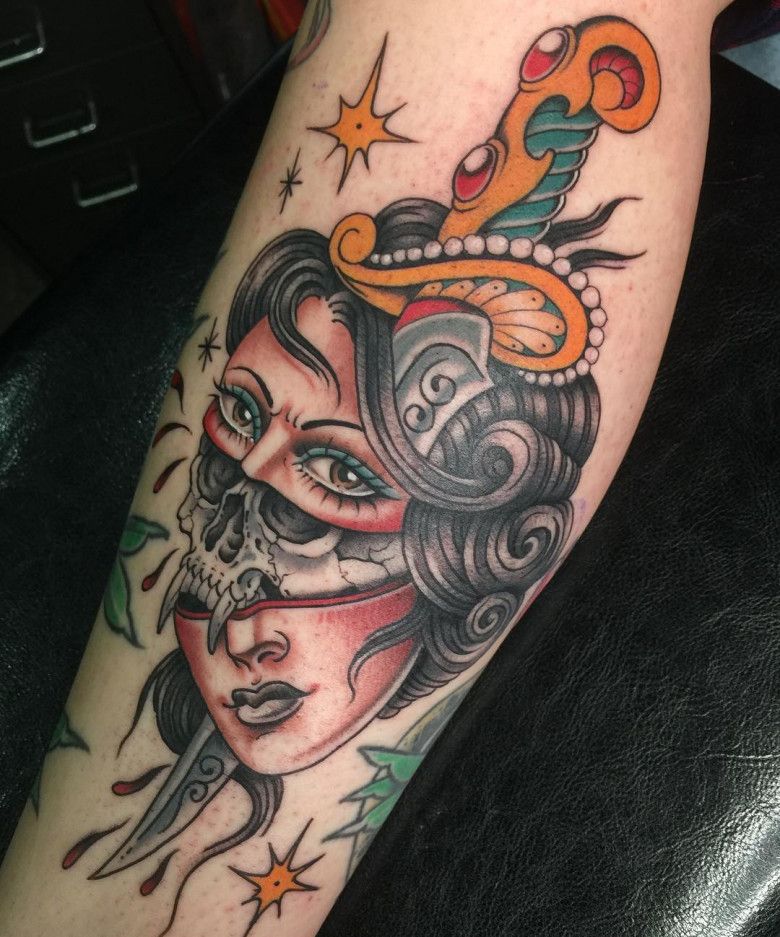 If for some reason you are not yet a fan of this classic trend, it's time to fix it! In his portfolio, you will see everything that you love so much about traditional and old-school tattoos: girls, tigers, girls again, and, well, a few men (and even women) with mustaches.
The attractive and mysterious images of the heroines of his tattoos intend to either become your guiding star, or to open the doors to the other world for you, the choice is yours. But we know for sure that these are some of the best works in classical technique that we have seen in our vast Motherland.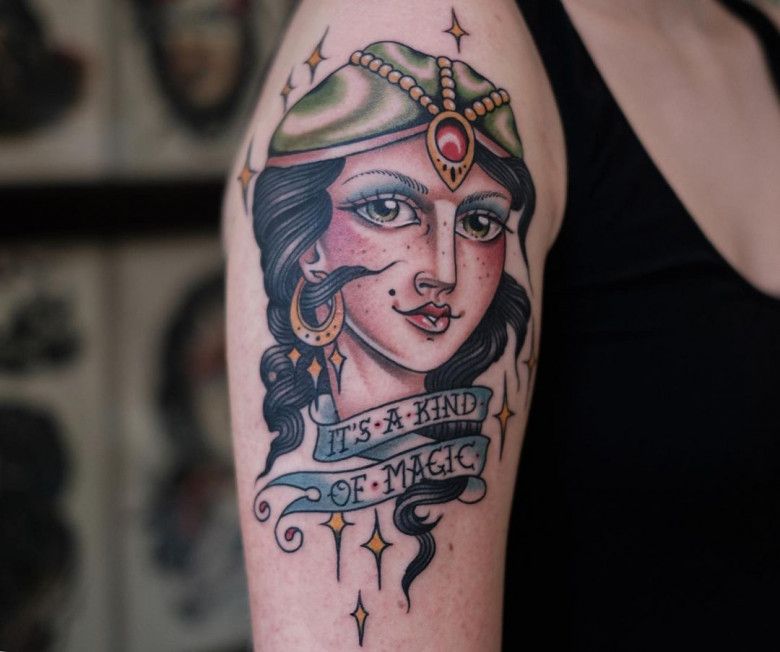 - Egor, tell us a little about yourself: how many years have you been tattooing, what city are you from, where are you working now?
- I started learning tattoo and the craft of tattooing in 2015 and continue to study ever since. I am from the city of Gomel, this is in Belarus, but the tattoo «happened» to me when I already moved to Moscow after graduation. I have always tattooed in studios and I also started in a studio, which probably contributed to a good practical training. After changing several studios in my short career, I ended up in XK Tattoo Shop. This is an excellent traditional tattoo studio, which focuses on classic tattooing. There I work to this day, there I try to gain more and more knowledge and acquire practical skills and form my philosophy.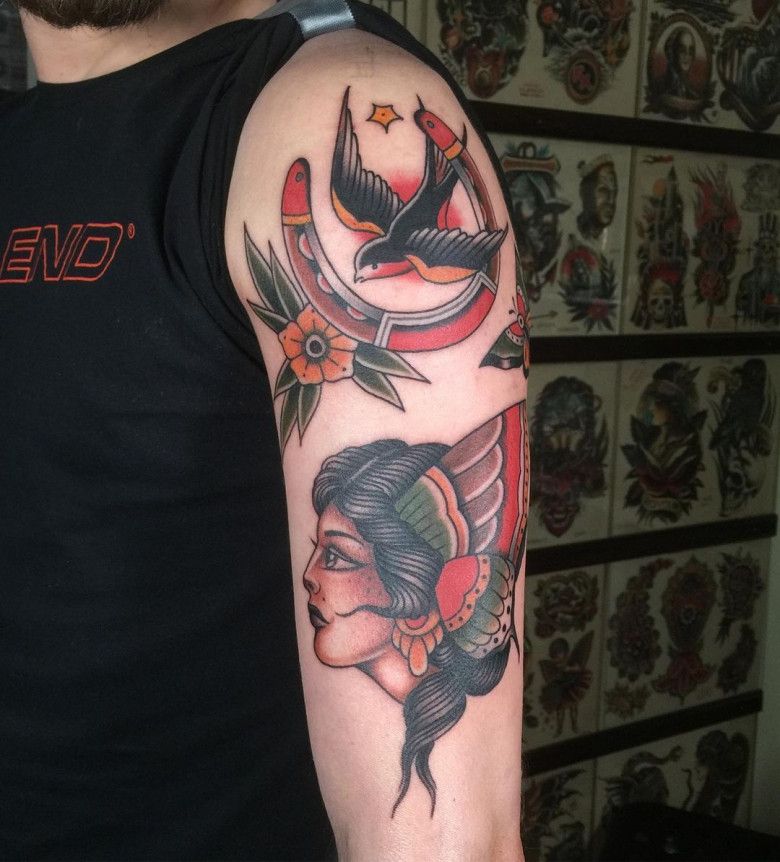 - How did you get into tattooing?
- I like to think that the tattoo has been waiting for me for a very long time. It called, hinted and opened its doors in front of me many times since the early 2000s. I was always very interested in it, collected magazines, drew tribal designs from childhood, painted friends in children's summer camps. Strange, but at the same time, I never thought to start learning to tattoo. Even when my father offered me to buy the tattoo equipment in 2005 in all seriousness, I did not take it seriously.
The first time I seriously thought about mastering this profession was in 2014. At this time, a certain series of events took place, and my life took some very sharp turn that allowed me to do it. It was a rather difficult choice for me and my environment, because in 2015 I was a practicing architect with a higher education, work experience and tried to build a career in this field. But apparently the tattoo "decided" that this is its last chance to pull me into itself, and if not now, then probably never.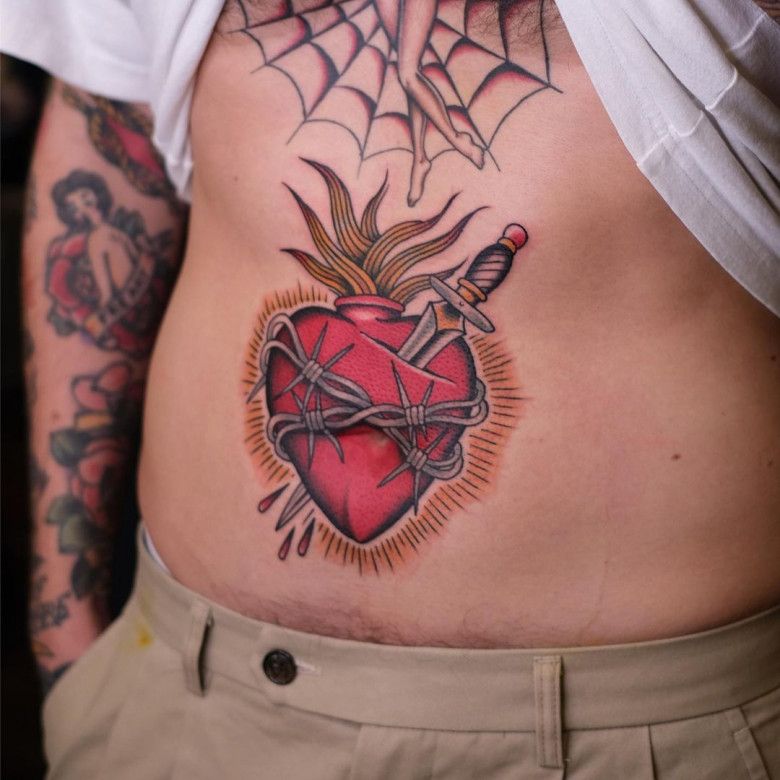 - Why did you choose the Traditional styles? Have you worked in any other styles before? Are there any features of your work that you would highlight?
- I did not immediately begin to study old school and, in general, traditional tattooing. When I only took the very first steps in tattooing, I drew some kind of mixture of new school, neo-traditional and realism. Initially, it seemed to me that the more I use artistic techniques, the cooler my tattoos will be in the end. And also, like the vast majority of newbies, I've made one of the biggest mistakes. I began to invent and develop my own style. Why am I talking about this as a mistake? Simply because you always need to start with reinforced concrete foundations and common truths.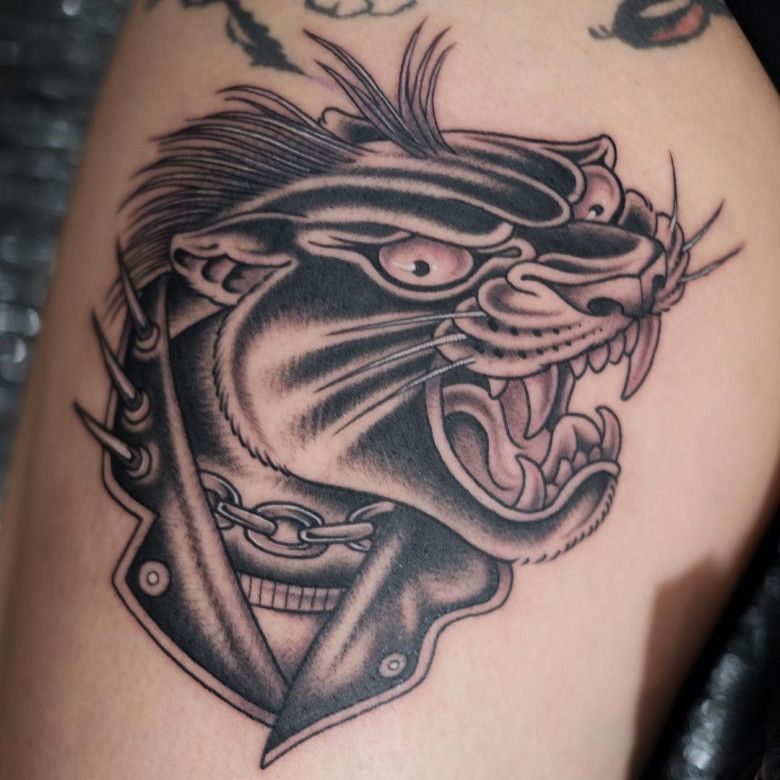 Old school is the basis of modern tattooing, both in application technique, design and philosophy. It is almost impossible to become a good surgeon without studying the basics of medicine for 6 years at a university. So why should tattooing be an exception? I am very glad that over time, I realized this. But, if I understood this at the beginning of the path, then I could achieve more than now. Now I turn to old school much more often so that from this knowledge I could already create my so-called «style». Now, I guess, I'm somewhere between old school and neo-traditional.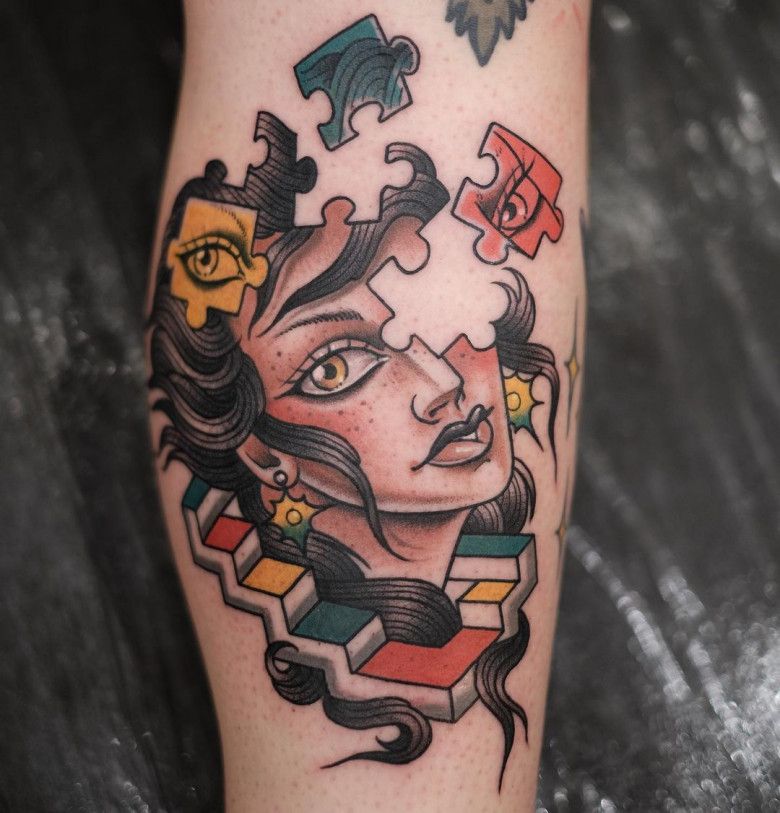 In addition to old school and traditional, I very often do graphics and do not disdain some commercial work in other styles. It helps me practice more, develop my skills, improve my technical knowledge, and meet new people.
I really want to replenish my knowledge of traditional Japanese tattoos and Polynesian Maori tattoos. But these are areas that should not be taken lightly. Therefore, there is always not enough time for them.
- How would you describe what a «Tattoo» is for you personally?
- Sometimes a tattoo is just a tattoo, just an image on the skin. But I prefer to think that without human emotions, experiences, lived experience, a tattoo does not make much sense. Each person who receives a tattoo defines its value for themselves in their own way.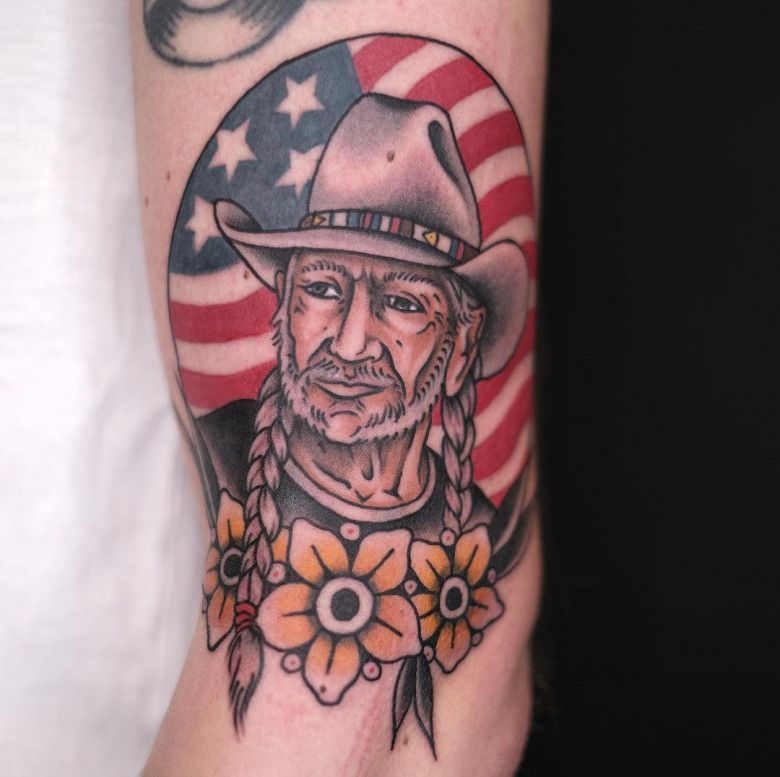 In this matter, I could not speak for other people, only for myself. Each of my tattoos carries certain information, each of them is important to me and tells about certain things from my life. That is why there is still a lot of free space on me, and this suggests that I still have my whole life ahead, and free places are for capturing future life stages. This is what I mean when I say that a tattoo must be earned. I could have tattooed my entire body 10 times already, but that would only indicate that I wear not my own, but «someone else's» tattoos.
This is what a tattoo is for me personally, personally my philosophy, and I do not extend it to other people. Everyone has the right to their own interpretation.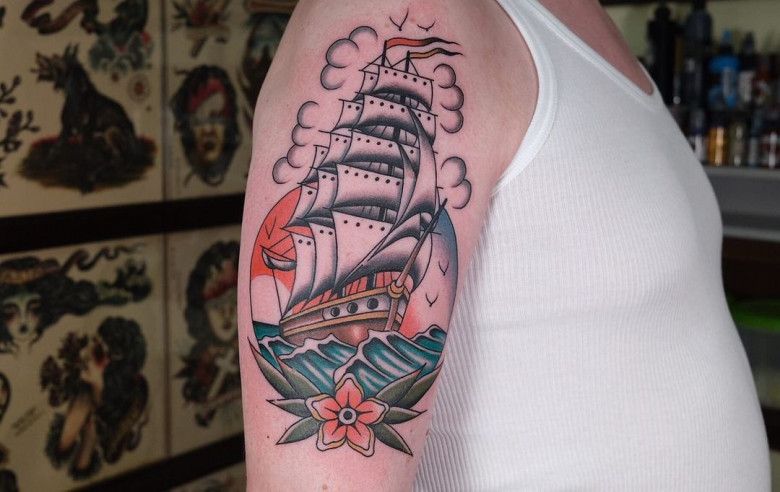 - Do you have a favorite project?
- I think one of my favorite projects is the back with the classic Sun Dance motif on it. Any self-respecting traditionalist should know what it is. This motive is very old, and it was developed by one of the «fathers» of the golden age of old school - Bert Grimm.
I like this motif so much that at one time I really wanted it on my back. I wanted to redesign and get this big and complex tattoo on someone. I spent a lot of time on it and I even managed to exhibit this project at conventions. I can't say that everything worked out for me, since there are a lot of technical errors and problems with healing, but I am satisfied with my work on the design.
I really enjoyed working in this format, so I am now thinking over a couple of equally large-scale, but classic motives in order to eventually tattoo them to some lucky one.
- Have you had any collaboration experience? Tell us about the most striking or important one for you.
- If we are talking about one joint tattoo with another tattooer, then - no. I have no such experience, although I have received similar offers. I just didn't want to do a collaboration for the sake of the collaboration itself. In addition, I was embarrassed by the moment that the client himself, or the bearer of this tattoo, remains "in the shadows", his personality is strongly pushed into the background, and the ego of two tattooists protrudes to the front.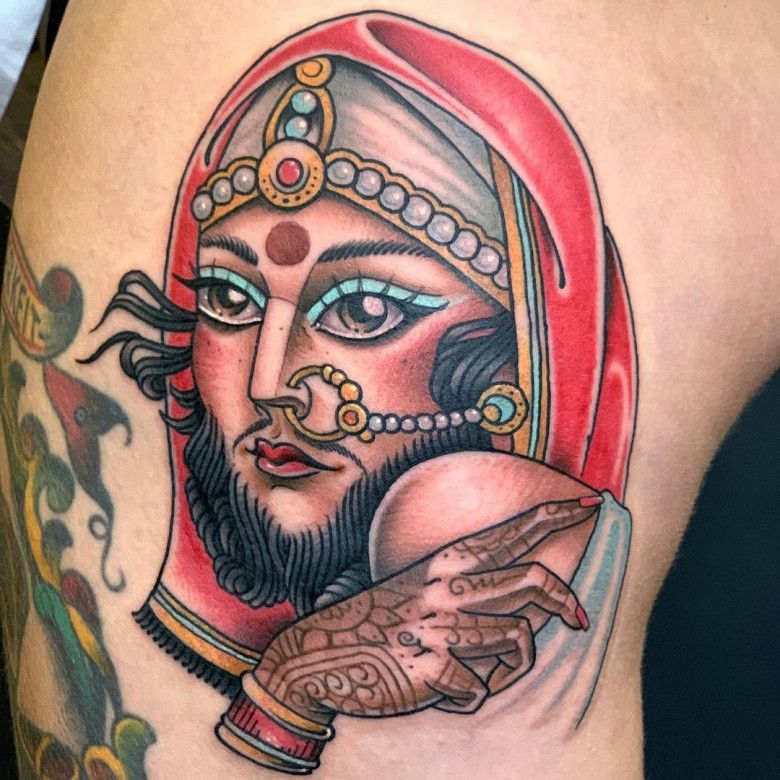 I can tell you about another version of the collaboration. At the moment, my colleague Nikita Hardcore and I are making a joint sleeve for one person. This sleeve will be in the old school format, and each of us will make certain tattoos on this sleeve.
The principle of our collaboration is that we try to develop each of the designs so that it fits the previous one, we use the same elements, we use the same palette and needle sizes. This is done to ensure that the sleeve is made to traditional standards and conforms to certain rules, so that it is holistic and looks like a single project.
This version of the collaboration suits me also because none of the tattooists "pulls the blanket" in terms of design, but tries to fit into the overall concept.
- What are you inspired by? Are there any artists who have influenced your work?
- At this point, I'm probably inspired by the classic tattoo and how other modern tattoo artists are reworking this classic. 70 percent of the coolest classic designs you won't find on the internet, but they are in traditional tattoo books. It is these books, at the moment, that are a source of inspiration.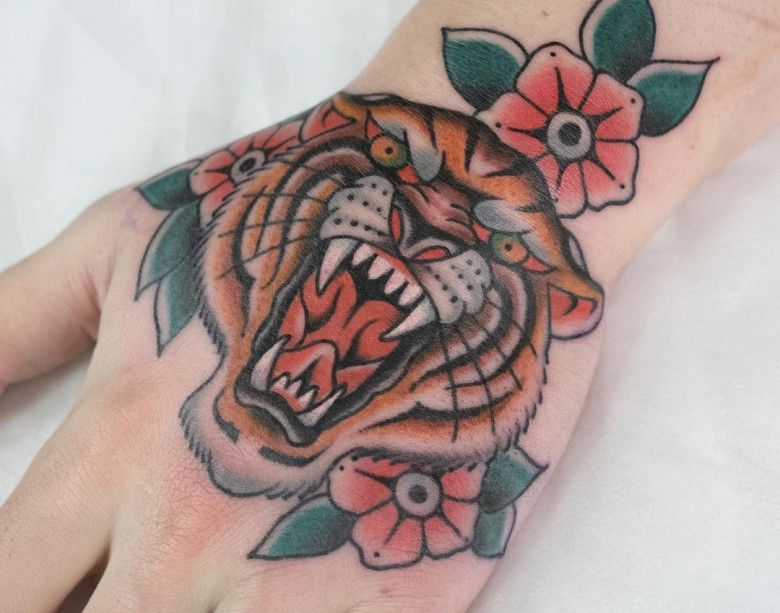 Of the «fathers» I am probably most attracted to Bert Grimm and Ben Corday and Ed Hardy. I am also very impressed with how some tattoo artists work with this material. Among the old school, my favorites are El Bara, Kim Anh Nguyen, Becca Genne-Bacon. Among my favorite modern classic are such representatives as Valerie Vargas, Heinz tattooer, Marc Nava, Chris Garver, Xam. Of course, there are many more cool and eminent tattooists, but personally I am now interested in these particular ones.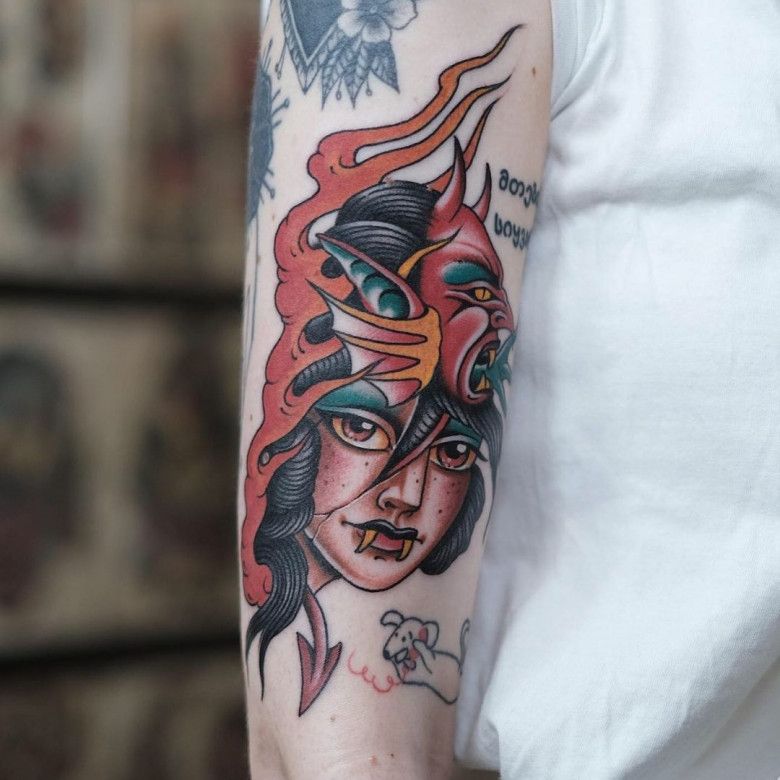 - Do you prepare any personal events, activities?
- The last events belonged to the studio where I work now. It was a screening of a documentary about Sailor Jerry, after which there was a small party with invited artists and studio friends. We spent a great, educational and fun evening surrounded by colleagues and friends. We also sometimes arrange the so-called Flash day or Walk-in day. This is a format of work in which tattooists exhibit designs of interest to them at discounted prices. Basically, these are of course classic designs or motives, but modern pieces are also present there. Thus, we would like to introduce people to traditional tattooing, to awaken their interest in this culture, and also to show clearly what it is.