Fascinating black and grey realism by Maksim Melnik
Tattoo artist Maksim Melnik
/ Source: @tattoo_mel
Today we want to introduce you to a Belarusian tattoo artist who is experimenting with expanding the scope of a standard black and grey tattoo - Maksim Melnik.
In the artist's huge portfolio, you will find works that fascinate with their composition, scale and detail. And although his work cannot be attributed to horror in the classical meaning. Mysterious portraits, saturated color and competent use of shadows create a truly gloomy picture that catches the eye.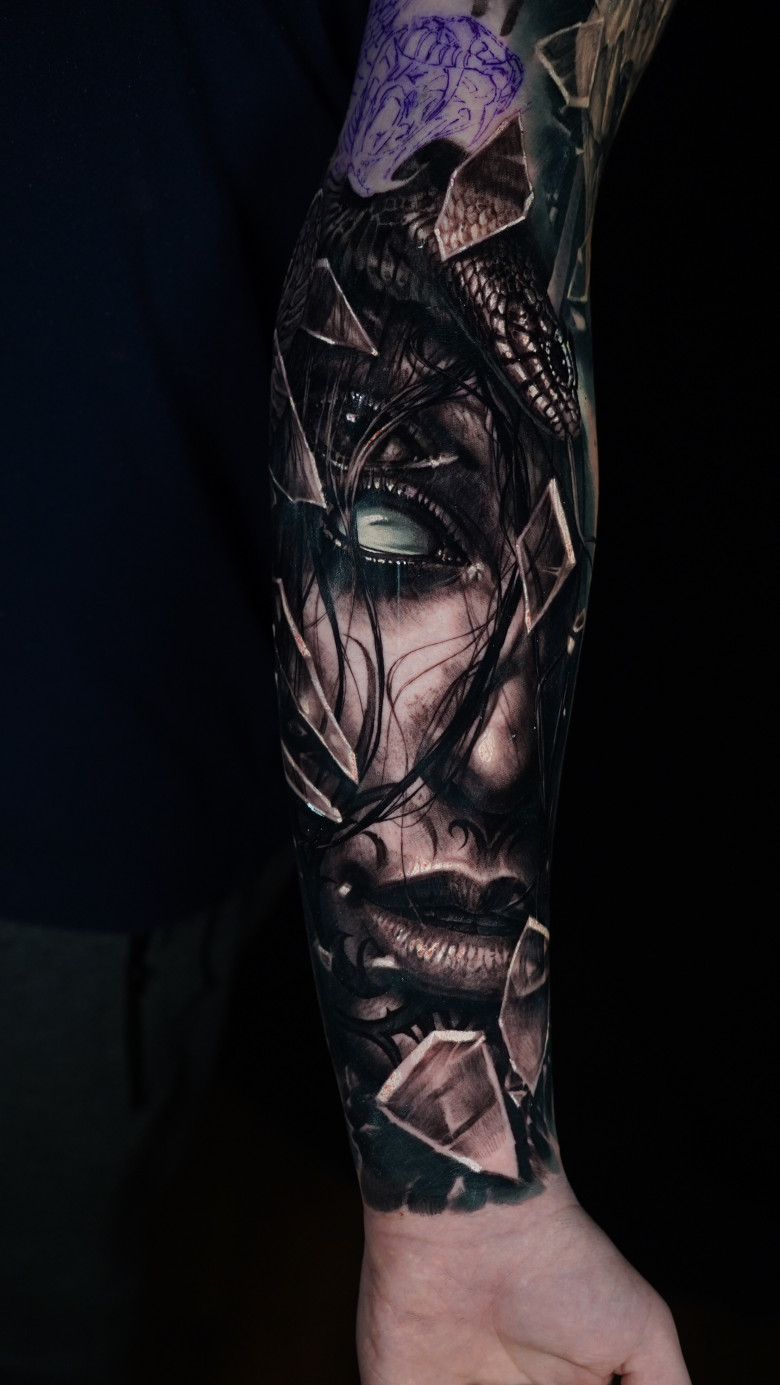 Maksim complements his work with many details that add zest to each tattoo. Pay attention to the interweaving of fragments, mirror fragments and lettering details, which as a result make the picture so rich and voluminous.
We were pleasantly surprised and interested in his works, and now we would like to share our conversation with you, as well as to introduce Maksim to those who have not yet been lucky enough to get to know his works personally.
---
- Maks, let's get to know each other first. Where are you from? Where and how did your tattoo career start?
- Hi, I'm from Belarus, Minsk city. My creative path began right here, in Minsk. It was around 2004, at that time I was about 17 years old, then I was in my final year at the College of Electronics.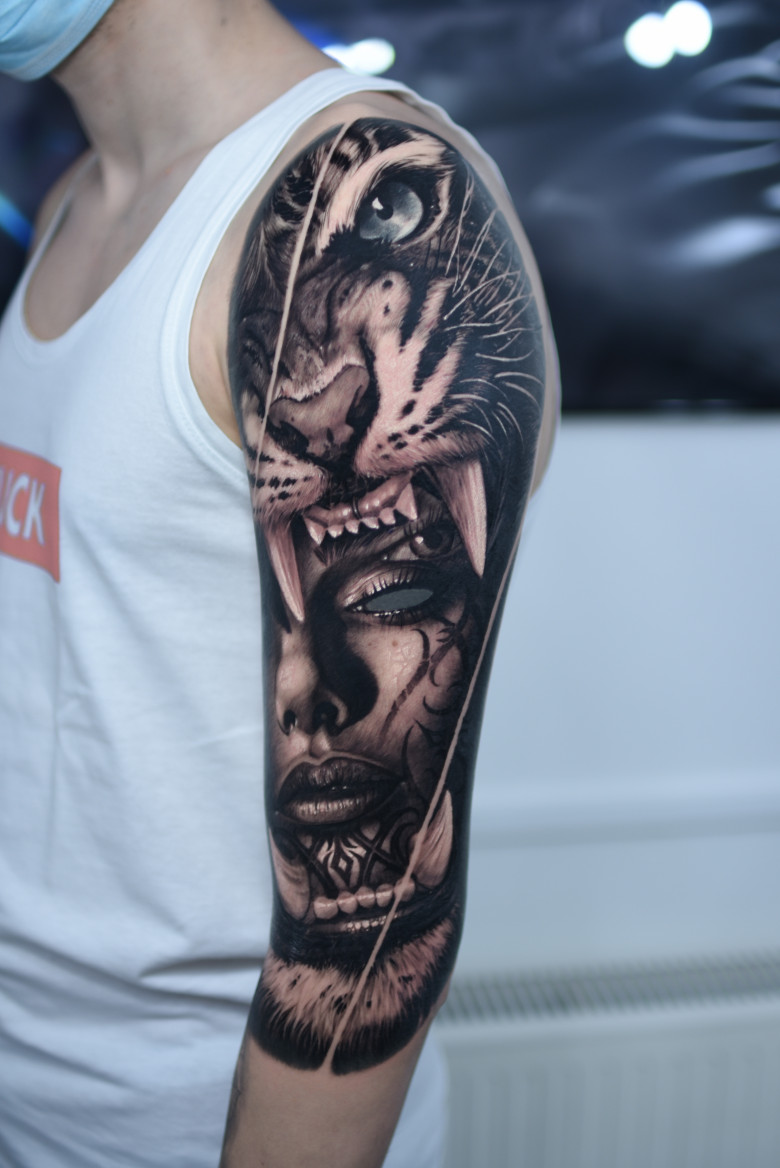 I was fond of drawing, but I never paid attention to it, but at one point I was told that I was good at drawing and that I should think about starting to make tattoos. This thought settled in my head, and I began to think about it constantly.
A friend of mine was doing tattoos at the time, and I asked him to make a tattoo machine for me. He made it from a helium pen, a syringe and a motor from a player and suggested that I make him a Chinese character a little larger than the palm of his hand on his shoulder. I did it for him for two days - since then my thoughts were only about tattooing, and I tried to find as much information as possible about the tattoo, but at that time there were no social media and there was very little information. I remember when my friends gave me a CD of 1000 colored tattoos for my birthday - it was a ray of light at the time.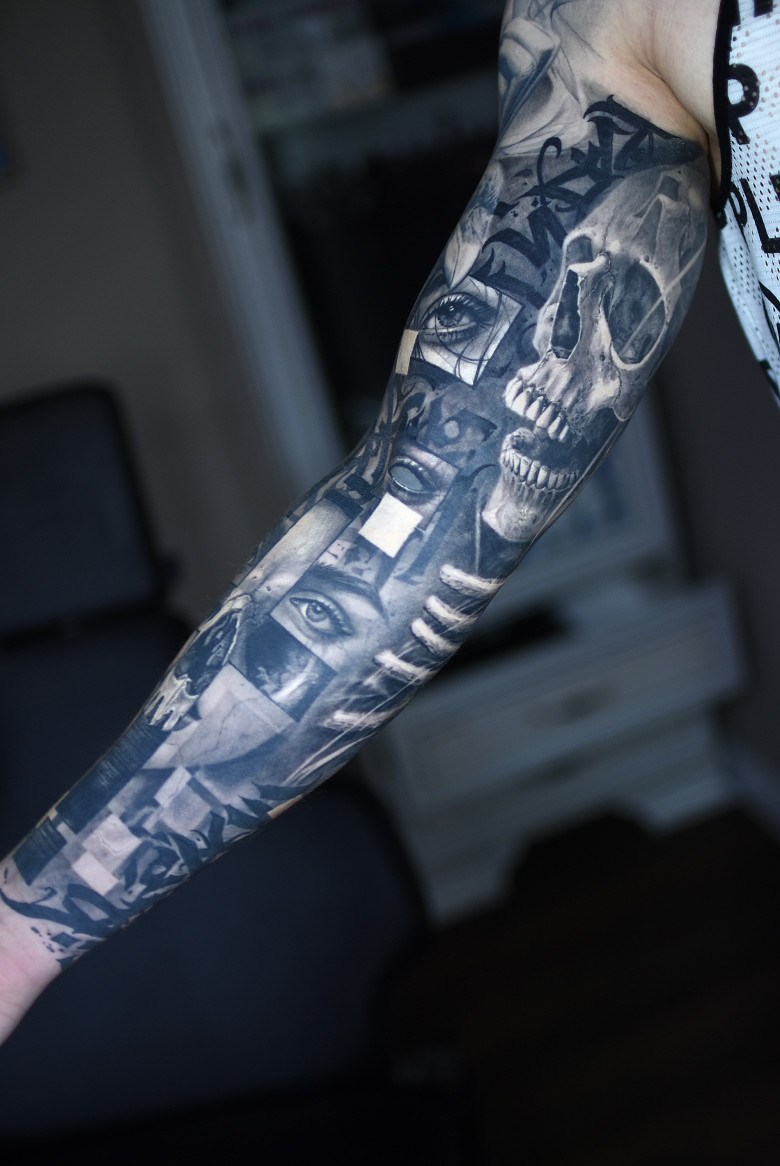 - Do you have an art education? What possible job have you left for a career as a tattoo artist?
- I have no art education, I studied at the College of Electronics with a degree in "Setting up technological equipment". I have always enjoyed drawing and I never missed an opportunity to draw a wall newspaper at school or college.
For a long time I did tattoos thinking that I could draw, but the further I went into the profession, the more I understood that I needed to study. So I began to study with a drawing teacher. For a long time I went to his studio for private lessons, and studied painting and academic drawing with him.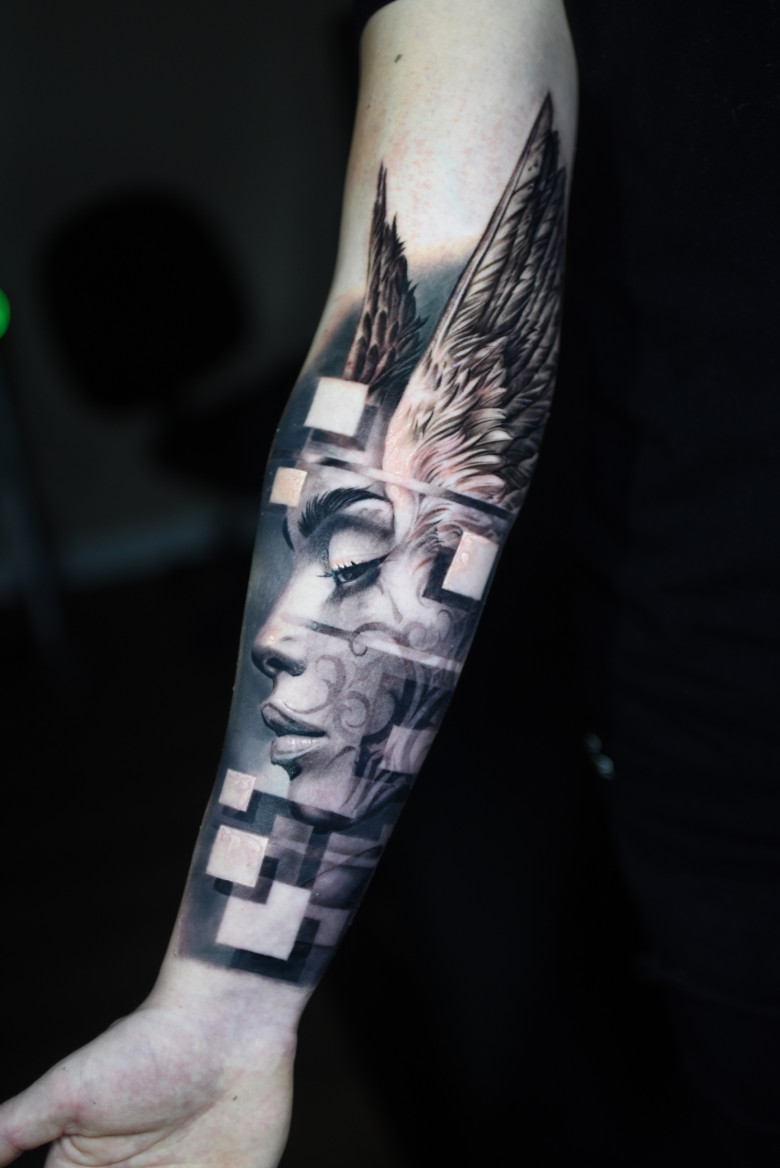 Now, when I have free time, I also do not miss the opportunity to come and work with him, we still keep in touch, and I come to exhibitions of his work with pleasure. My teacher's name is Igor Gardiyonok (@igargardziyonak_art) and he is a very cool artist and person.
- Why did you choose black&grey tattoo? Do you have your own features that distinguish you from other tattooers working in this style?
- My career started a long time ago with homemade tattoo-machines, and at that time we did everything in a row, all styles, any requests - from Polynesian ornaments to Japanese dragons and infinity signs.
I really love traditional styles, but at some point I began to feel that I like doing realistic work the most, and I really like something scarier and more mystical.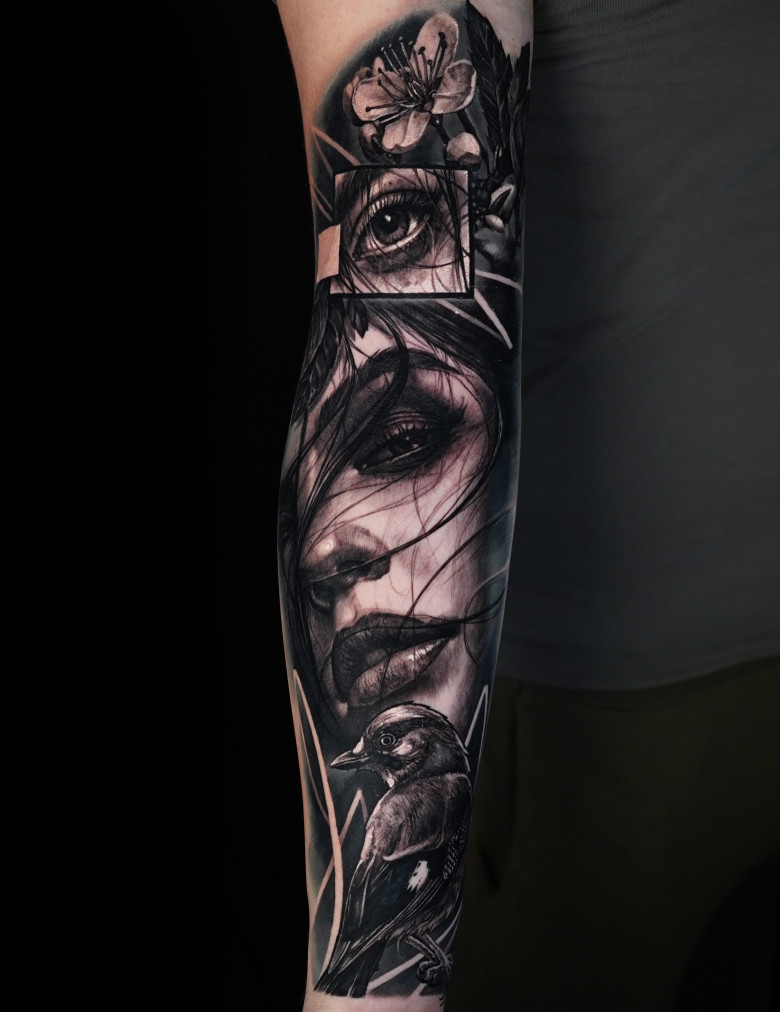 These works I did with great pleasure. In black&grey works, I began to feel some recognition and handwriting, and color tattoos looked like a separate style. I decided to abandon them in order to develop handwriting and style of black&grey tattoos.
In my works I like to use surreal motifs, square elements, broken glass, moths. I like it when the tattoo looks expressive, dynamic and a little scary. I think that when a tattoo scares others it's good, such tattoos can protect you and push trouble away from you (smiles).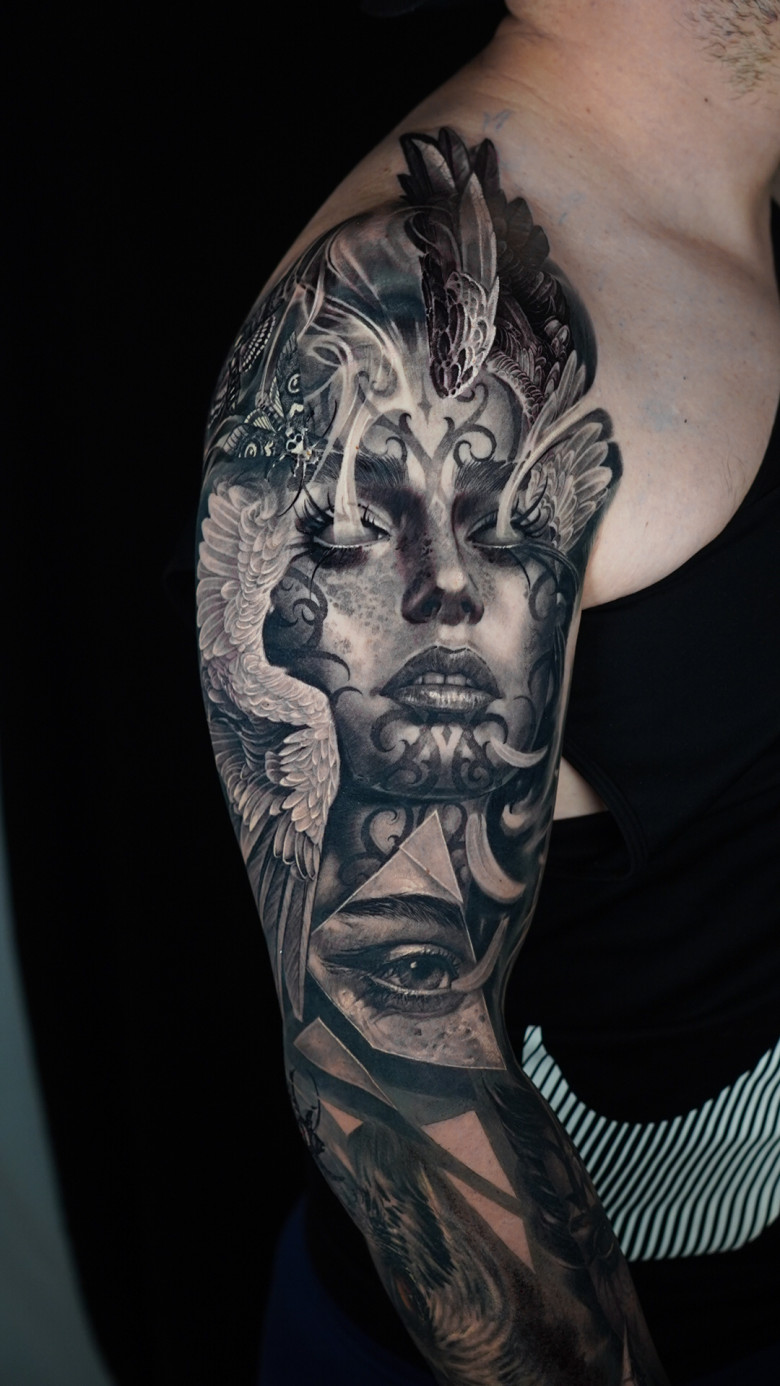 - How did you come to this style? Where did you start, what else did you try?
- I think that we come to style through observation and experience, the more we observe other tattooers who inspire us, the more we try to apply their techniques in our work and then develop our vision through selection.
It is very important to observe the work of other artists, not only of tattoos, but also of painting, graphics, and learn, try to apply these techniques in your work, but try to keep the vision that you like and be yourself in your work, keep your emotions the way you feel it .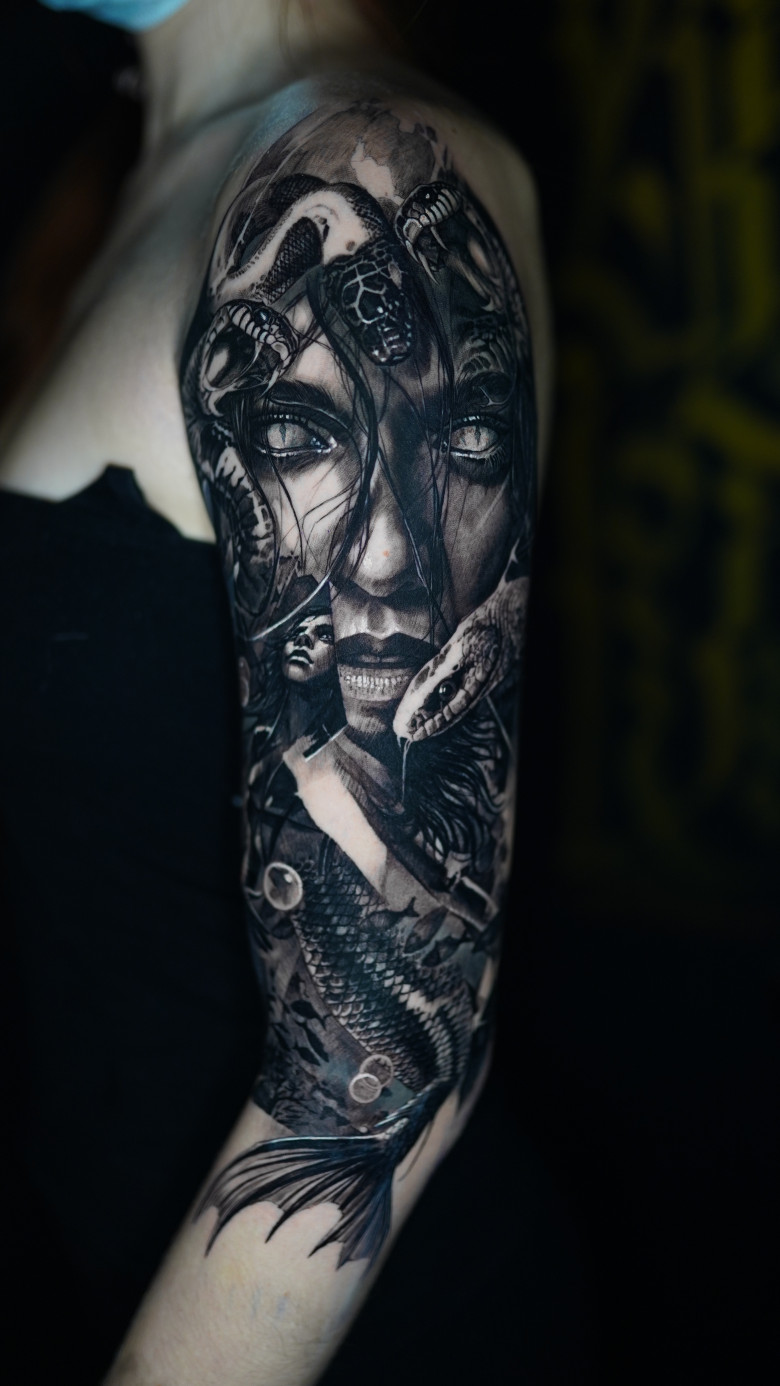 - Have you participated in tattoo conventions? Do you have awards? Please tell us about your experience.
- Yes, I have many awards, I have participated and attended various conventions since about 2007. I took part in conventions in Belarus, Russia, Ukraine, Poland, Germany, in the USA in New York and Philadelphia. This is a good experience of communication with colleagues - new acquaintances and a concentration of tattoos that you can see live. Previously, at the first conventions, we organized a bus and traveled in a big company - that was a lot of fun.
- What is the most attractive thing about working as a tattoo artist for you?
- Travel and new acquaintances. Thanks to the tattoo, I have visited many countries and met a huge number of people. I have friends all over the world - and this is the most attractive thing. I've been tattooing for a very long time, and it's really cool that I'm still learning it, and constantly finding something new.
- Who or what inspires you?
- My colleagues inspire me. I follow different artists a lot and very often I am surprised how they come up with different techniques, tricks and constantly try to learn from them. I really like to watch the work of my colleagues and see how they develop.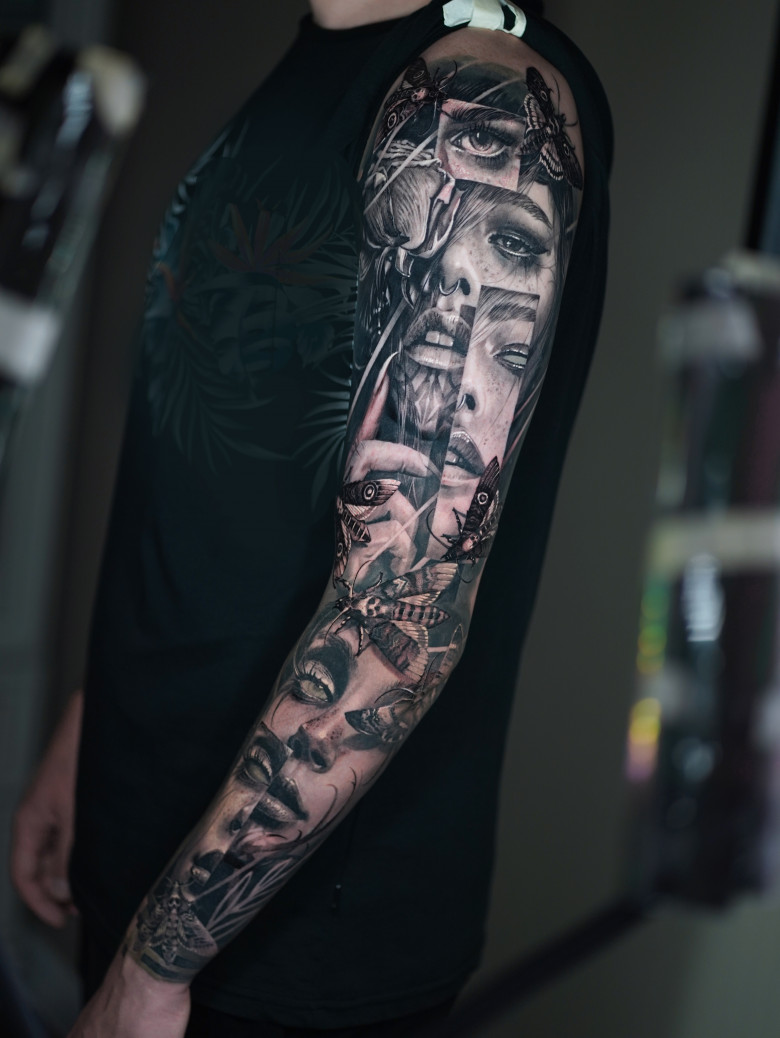 There are artists who inspired me 10-15 years ago, and they still have not lost their relevance. These are such tattoo artists as Robert Hernandez, Denis Sivak, Carlos Tores and many others.
- How extensive is your tattoo geography? Are there many foreigners among your fans?
- I managed to visit a lot of places, and get tattoos in many countries. Before the pandemic, I lived in Belarus, and then about 30% of clients per month came from Europe, Russia, Germany, Holland, Belgium, the United Arab Emirates, Iceland and the USA.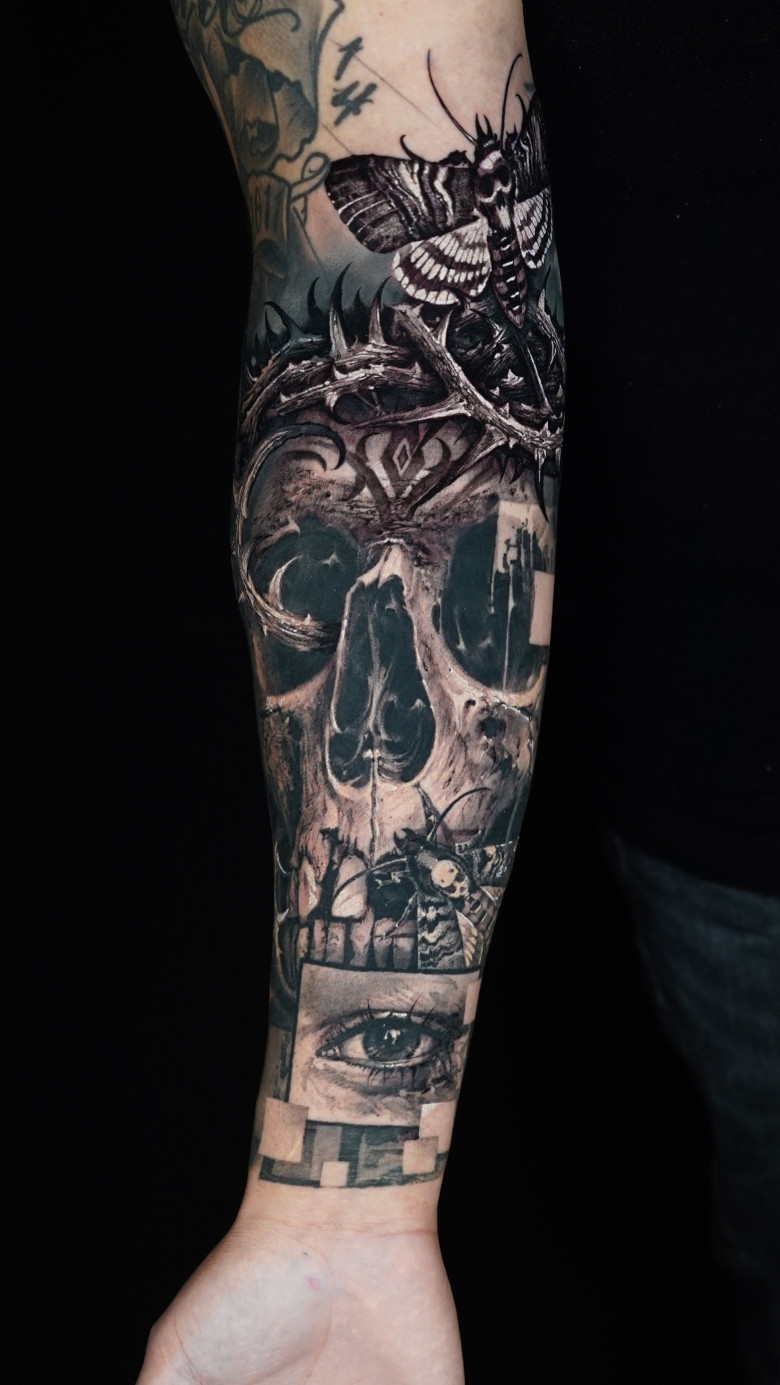 - Are you planning any personal events in the near future?
- In the past, I helped organize tattoo conventions in Belarus, produced t-shirts with my own prints, and I had my own studio where we organized various events.
At the moment, there are a lot of plans for the future. Now I live in the USA and I really enjoy watching the tattoo culture in this country. I would say that I am now in a state of creative creation and learning in order to create and organize something interesting in the future.