Flawless New School Tattoo Mastery: Azat Kamaletdinov
12 / 02 / 2023
Alexander Ledovskih
Today we have a special guest - one of the leading tattoo artists in Russia in the New School style. He is a three-time winner of international tattoo conventions and leads master classes on drawing and tattooing techniques. His tattoos stand out with sharp lines, meticulous execution and unique designs. He constantly works on improving his style and inspires other tattoo artists. His Instagram profile @delai_dzen is a real treat for the eyes, and today we will talk about his creativity. Meet - Azat Kamaletdinov.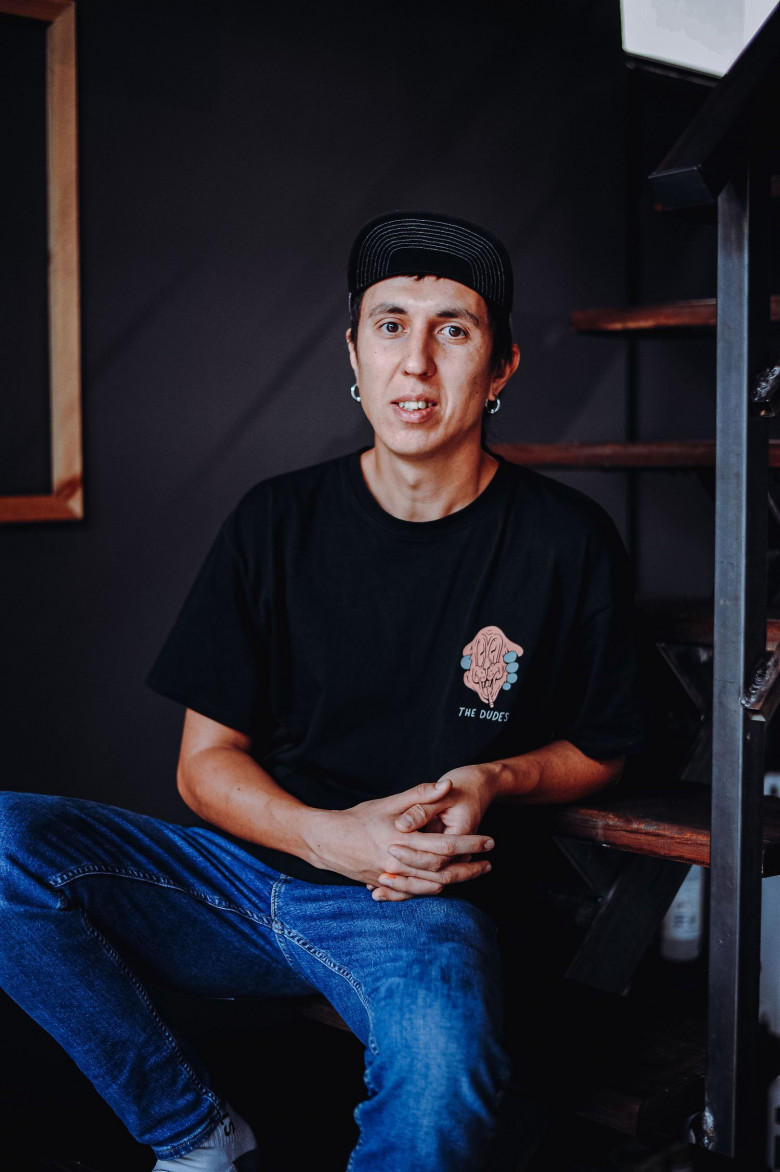 ---
What did you do before tattooing? Why did you decide to become a tattoo artist?
- Before tattooing, I worked at a metallurgical plant and I am an engineer by education. After the institute, I worked for several years in my field. Although I studied to be an engineer, I always loved to draw and it was my main passion in life. I never thought about tattooing, but my friend once suggested buying me a tattoo machine, and that's how I started tattooing my friends.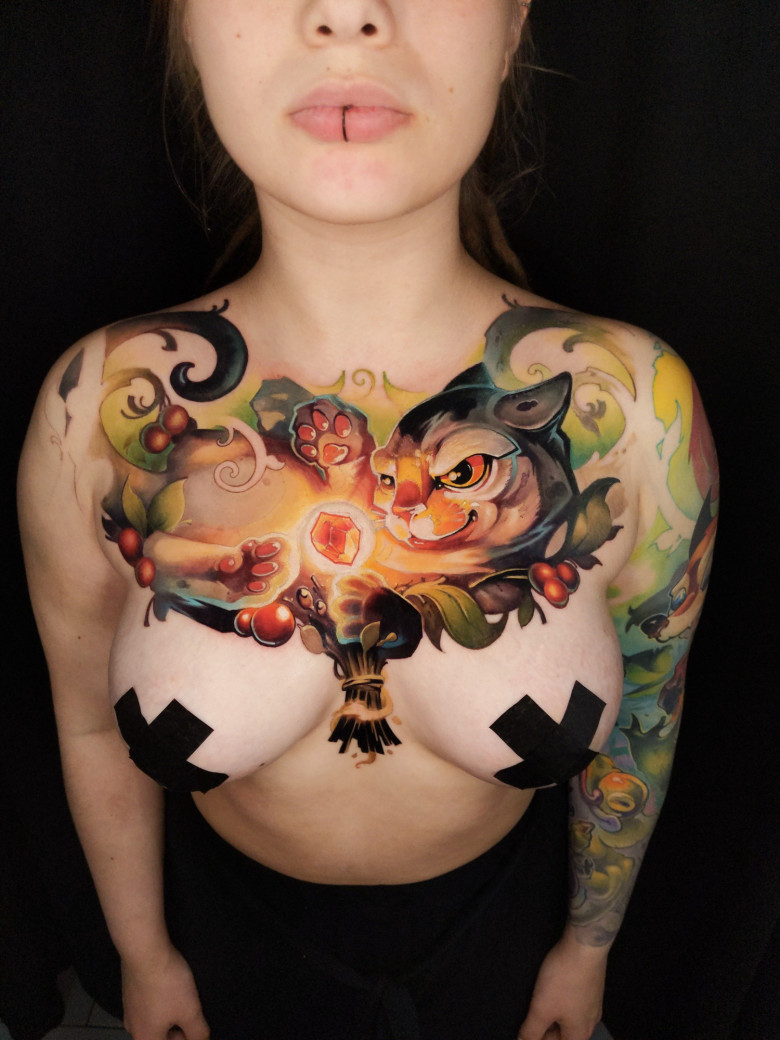 How did your career start? Were there any difficulties? Who was your teacher?
- If we talk about difficulties, it was difficult to learn tattooing through the internet, as I did. So after a year of working at home, I moved to a bigger city and my career started in March 2015 at the "Elit Tattoo" studio in the city of Chelyabinsk. There I met Sasha Cherny and Toha Ryakhovsky. After getting a job at the studio, I already had the opportunity to watch how other masters work and ask questions. This way, I gradually raised my level step by step.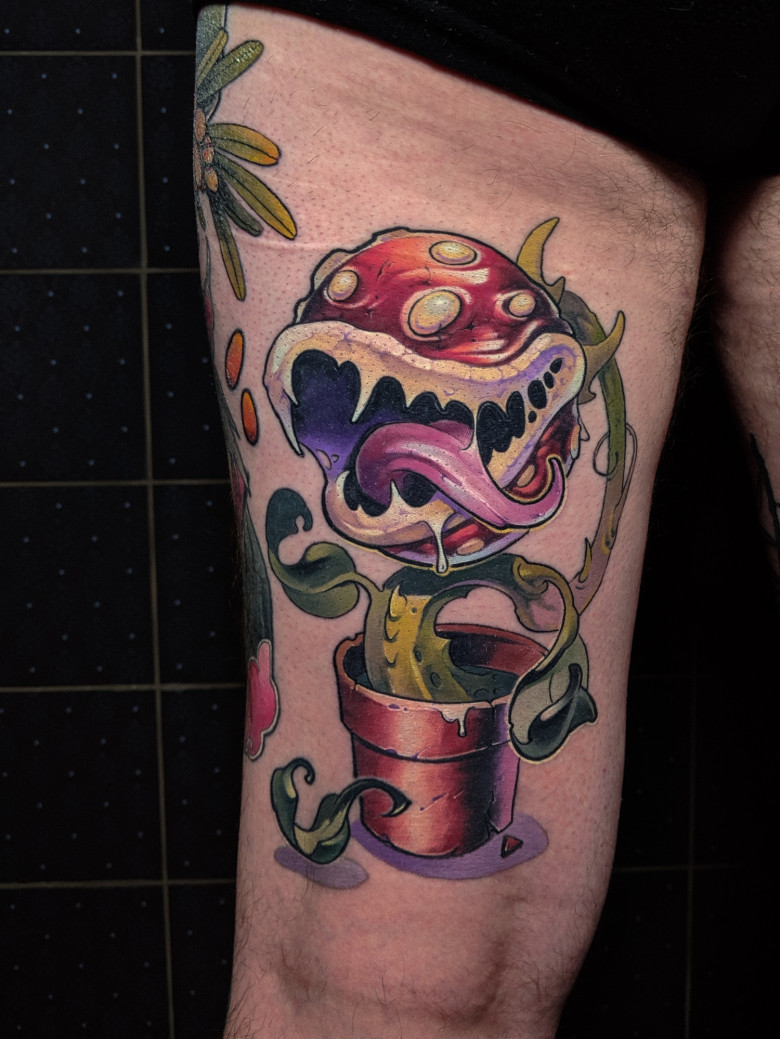 Why did you choose the new school? What attracts you to this style?
- I clearly remember the moment when I saw one of Victor Chil's works for the first time. It was a discovery for me: how he combined form, color, and texture, it was a mixture of something very sophisticated and realistic at the same time. Perhaps unconsciously, I started imitating the techniques I saw without realizing it and began moving in that direction..
So, I just did what I liked, not setting a goal or framework. To this day, I draw what I love, and I do it the way I see it, undoubtedly, people whose creativity inspired me had a strong influence on me.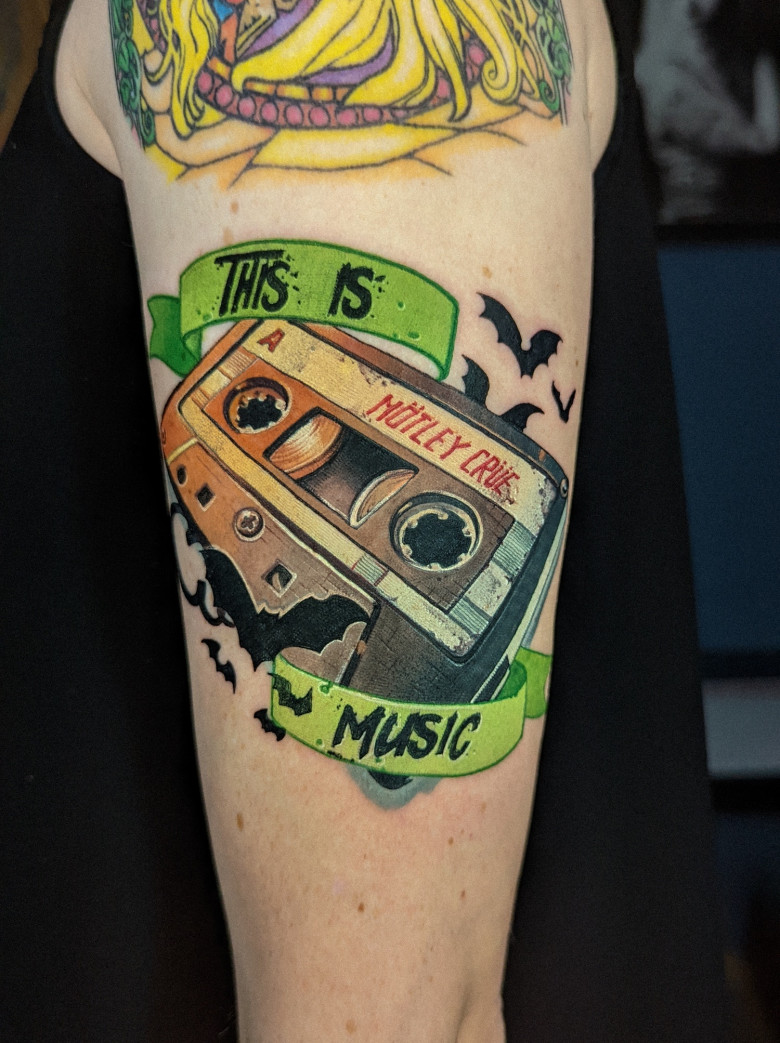 Probably, the favorite part of working in this style is that I am practically limited only by my imagination, I can draw anything I want in any form and view, which I think is particularly relevant in the context of tattooing.
What characteristics of your work can you highlight independently?
- I think one of the characteristics of my work is my approach to tattooing and design. I have a certain pipeline now that allows me to achieve the highest quality of work. I spend a lot of time preparing the design, minimizing the possible errors and inaccuracies in the image. I pay special attention to how the image fits on the body. The body has a certain dynamics and composition of shapes, and our task is to prepare the design in such a way that it all works together.
Where do you draw inspiration for your work?
- Most of my inspiration comes from my clients, it gives meaning to my work. I do tattooing primarily for the client who in turn trusts me. I want to give the client the best possible result, which is only possible if the client gives me the freedom to do the tattoo in the way I know how. I want to say that it's a kind of symbiosis that gives me the opportunity to realize myself as an artist.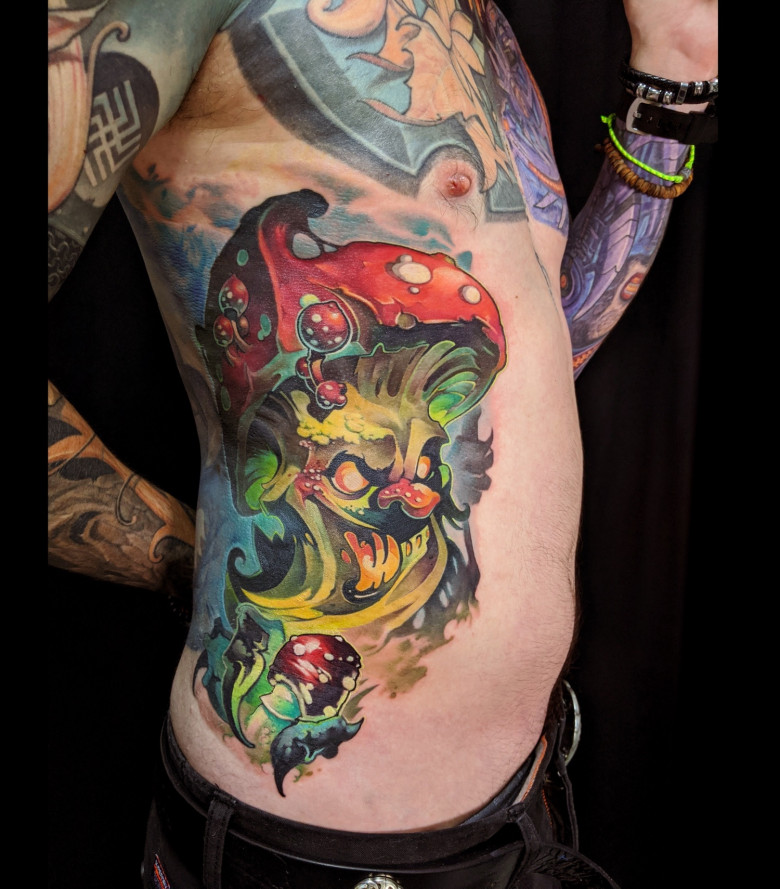 Do you have any idols among tattoo artists? Tell about your TOP 5.
- There are many young, talented artists in tattooing now, but if we're talking about my TOP 5, the people whose work has been like some kind of magic for me come to mind.
#1 on my list is James Tex. He's probably one of the first people to create designs at such a high level of illustration. Victor Chil - undoubtedly the first name that comes to mind when speaking of the new school. Timmy B - this person showed everyone how to use shades of gray in color tattooing and, of course, he makes incredibly cool things. Thom Bulman - did very stylish tattoos and I can't help but mention him. Ben Banzai - many new school artists learned to draw by looking at his designs.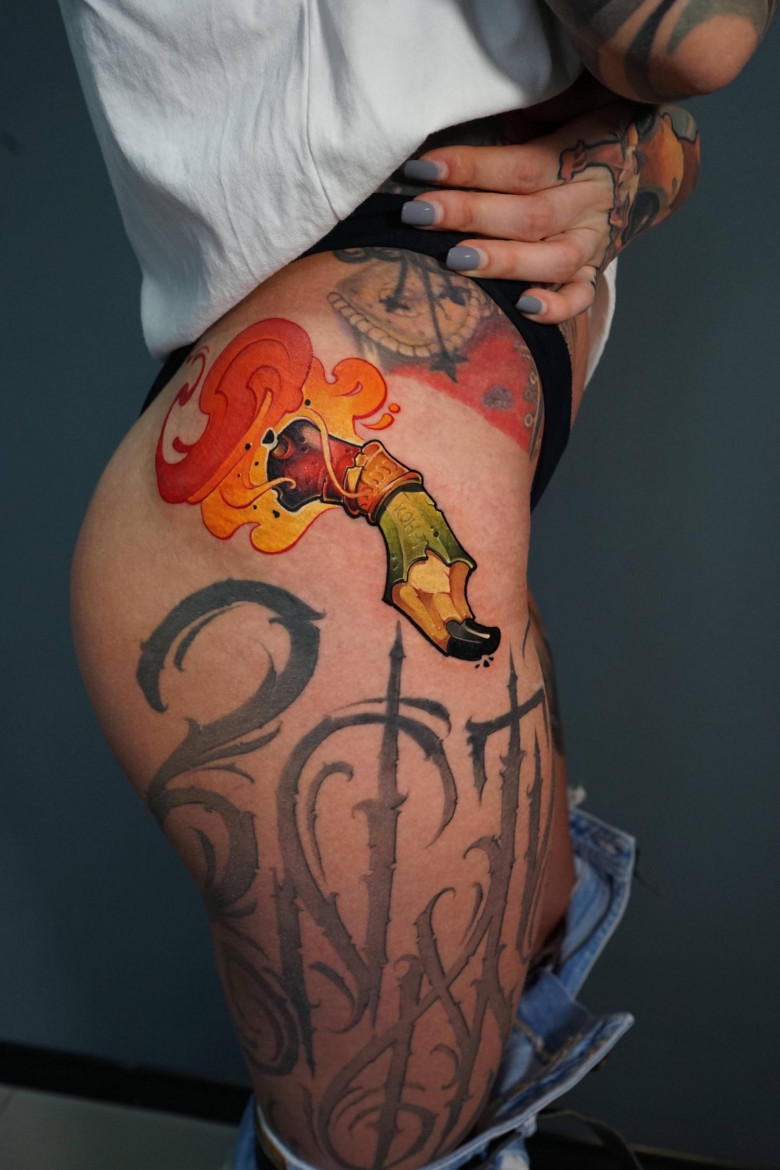 How often have you collaborated with other tattoo artists? Tell about the most memorable one for you?
- There have been collaborations with other artists, but the most memorable one was a mega-collaboration with the coolest New School artists from around the world. Jesse Smith once invited over 23 artists, including Thom Bulman, Timmy B, and many other cool guys from the industry. The essence of the collaboration was that each person drew their own character for a large scene where they would all be placed together. I also drew a character for this collaboration. Unfortunately, this project is still in development... but I hope it will be completed soon.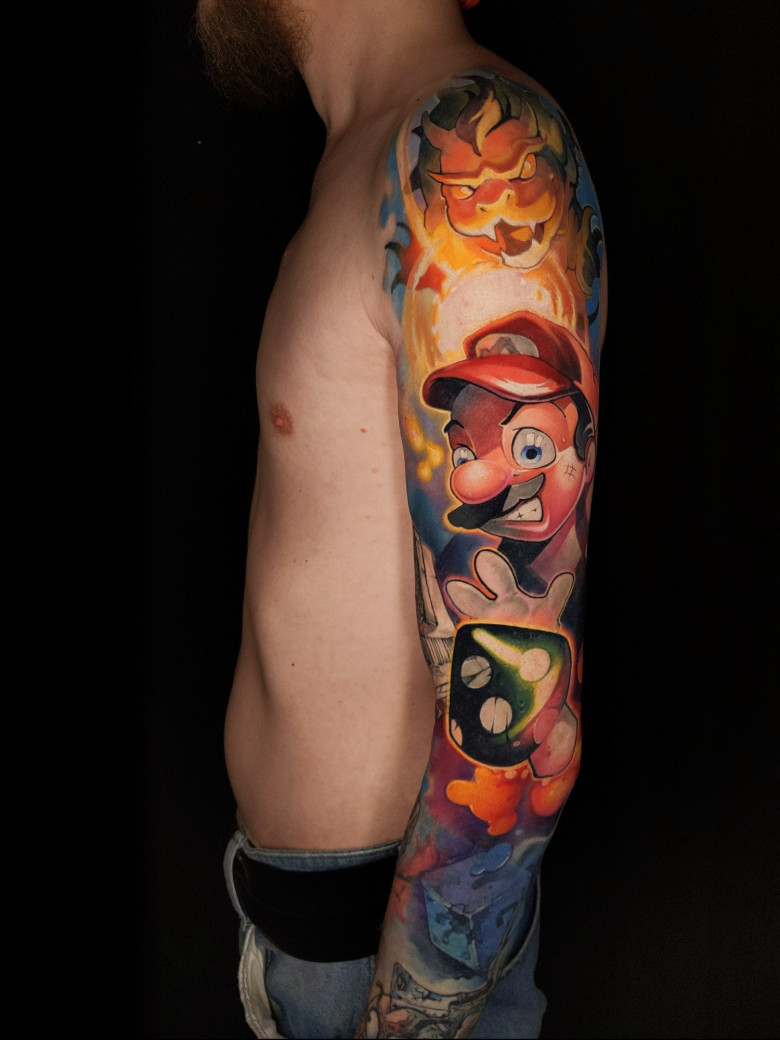 Do you have any special or favorite projects? Or perhaps some weird stories from your career?
- Once, I tattooed a guy with a realistic nipple on his leg and a life ring around it. It so happened that he lost in a competition that my friends were filming for their YouTube channel, and as a loser, he was supposed to make the life ring around his nipple. This young man didn't want to spoil the appearance of his chest, and I suggested that he make the nipple on his leg. He agreed with pleasure. Thus, everyone was satisfied.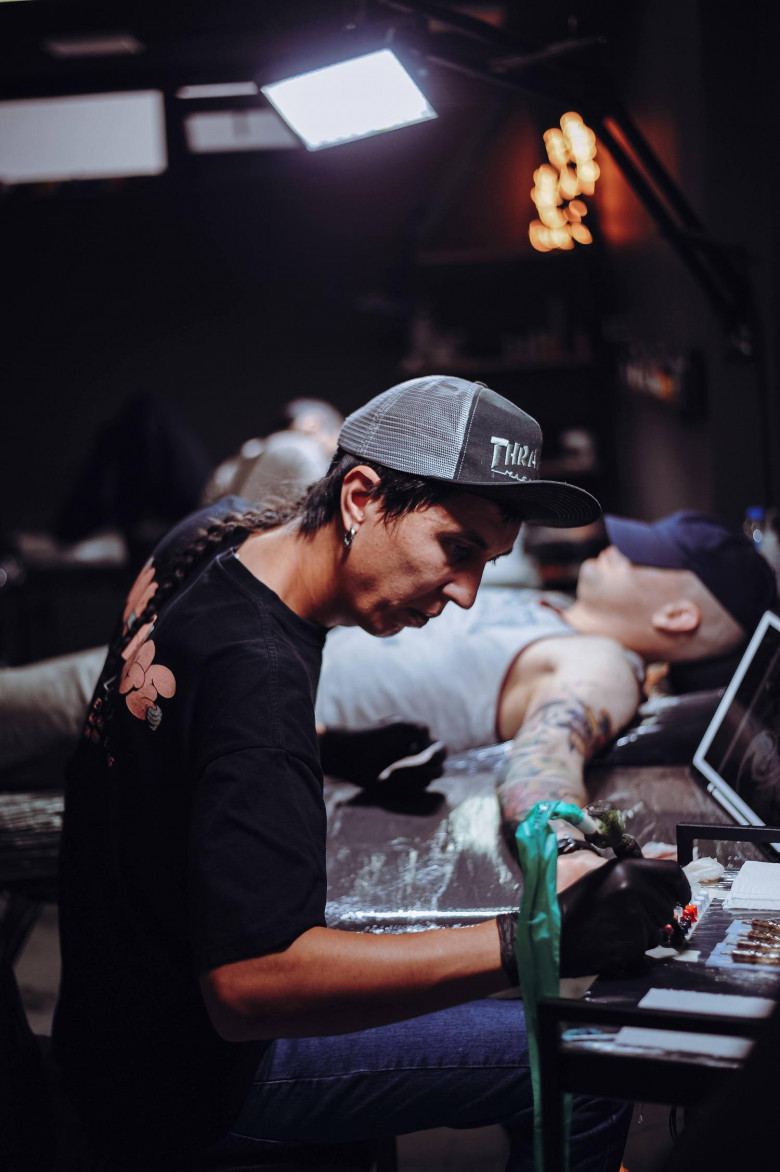 Remember your double victory at the St. Petersburg Tattoo Show! How many conventions have you attended and how many victories do you have in total?
- I've only attended two tattoo conventions and competed in three categories. Two of them were at the St. Petersburg Tattoo Show, and one was at the online KIWI convention. As a result, I have three first prizes out of three.
Do you travel a lot for work? Tell us about where you have been and who you have worked with.
- Like many tattoo artists, I have visited many European countries. In the summer of 2022, I flew to Barcelona and worked at the Family Art Tattoo studio. The boss of the studio is Victor Chil. Despite his busy schedule, Victor was very approachable and friendly. I'm glad I had the opportunity to meet him in person.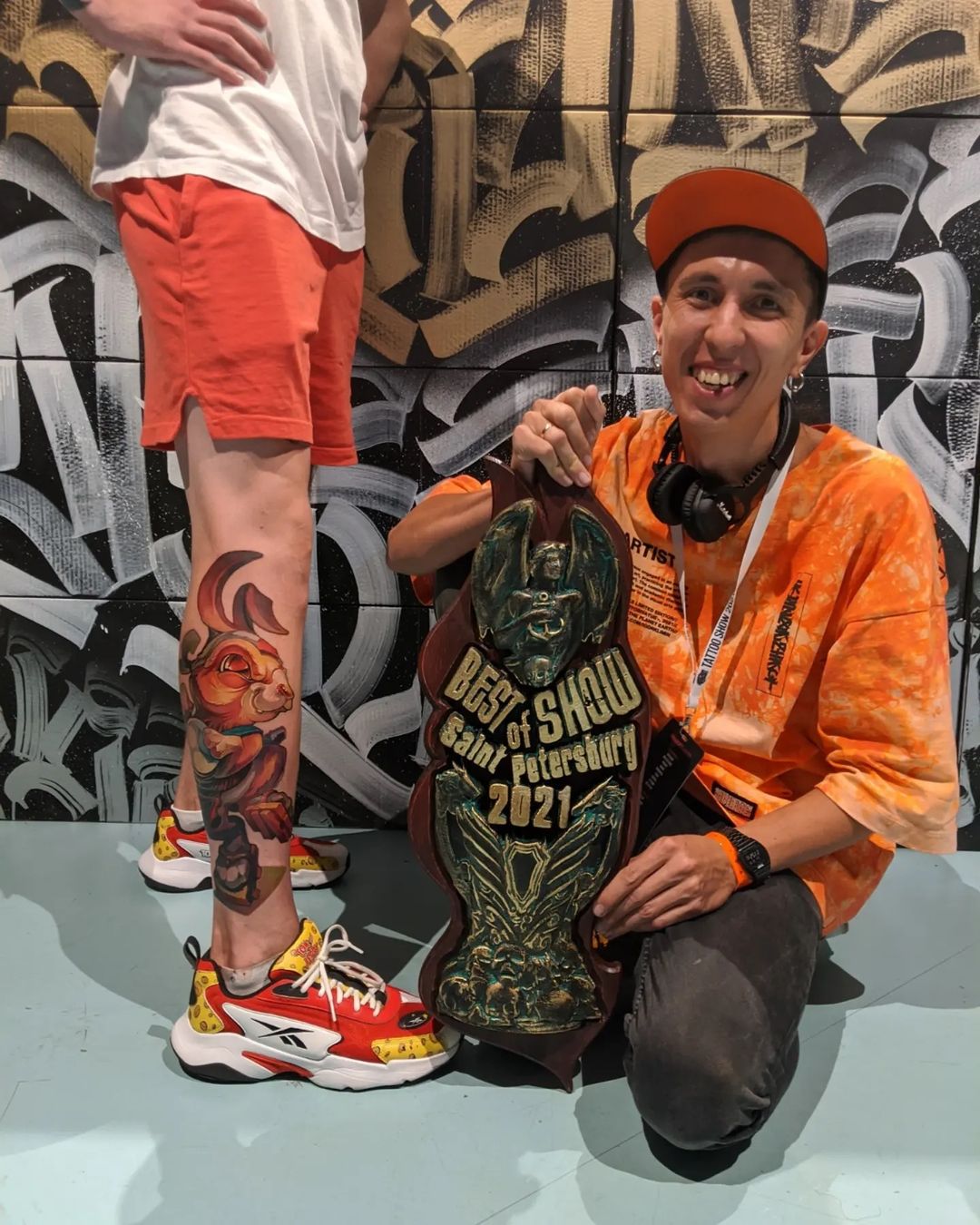 How do you evaluate your popularity, and what can be measured by it?
- About popularity, I can say that once when I was on vacation, the shawarma seller recognized me. And if I'm serious, then it's hard for me to speculate on popularity, but when I meet different artists and they say that they know me and I help them develop their drawing skills with my designs and various videos and live broadcasts, that's valuable to me.
About your training videos on YouTube and master classes. Tell us more about this. Where did the idea of teaching come from, who are these master classes for, what does it give you?
- It all started with live streams on Instagram. People could watch the process and ask questions, and that's how I realized the main "pain points" of people who wanted to learn how to draw in a similar style or just improve their drawing skills. I liked this communication format and also noticed that by packaging my experience, I am structuring it and sometimes even discovering something new. As a result, I started creating educational content, created a Patreon, and several master classes. There are several videos on YouTube, but due to technical reasons, I left YouTube in the spring of 2022.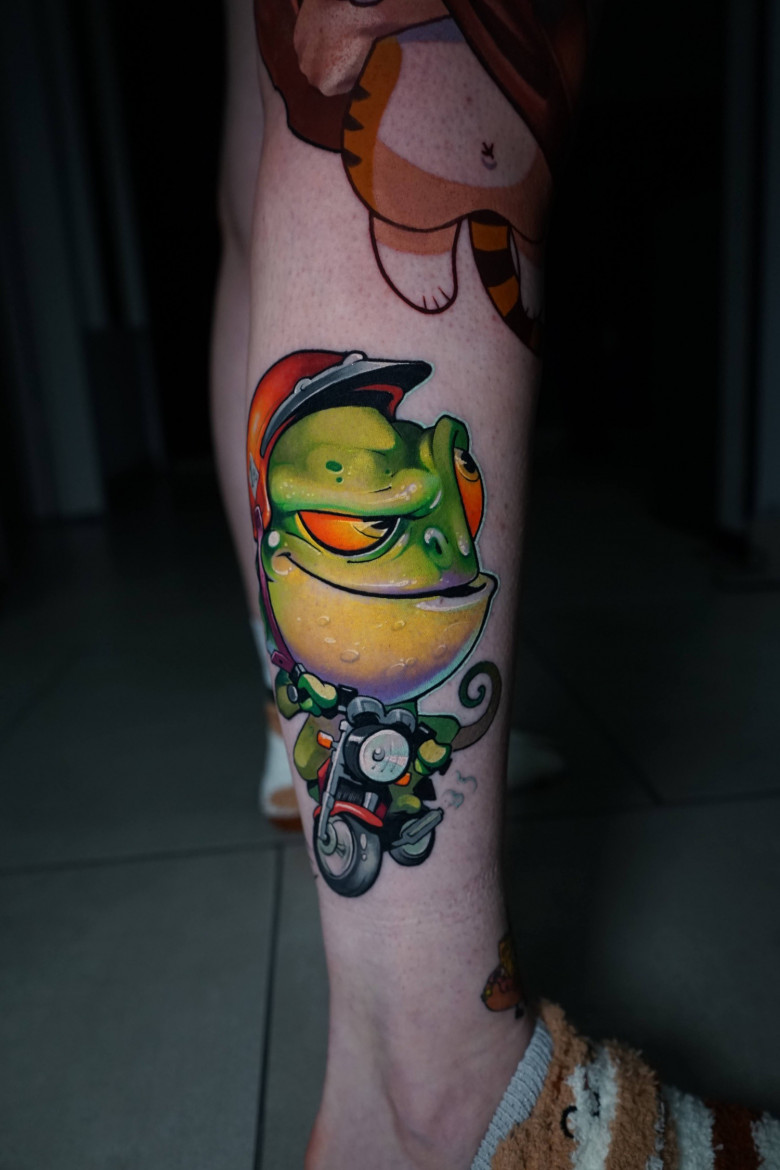 In general, there were many different trainings, including individual master classes on tattooing techniques. I like the format of educational content because it is also a form of creative process. You need to find a language that will describe something new to the learner as clearly and simply as possible. At one time, I was deeply impressed by how Johannes Itten wrote in his books. He approached education as an art.
Please give advice on how a beginner tattoo artist can understand who to go to for training, as there are now a huge number of options.
- First and foremost, you must have a clear understanding of what you want from the training, as this is half the success. You need to formulate your request as clearly as possible, even writing it down on paper or in notes. Without this, you simply won't be able to move forward consciously and step by step - this is your compass that will guide you from point to point on your journey.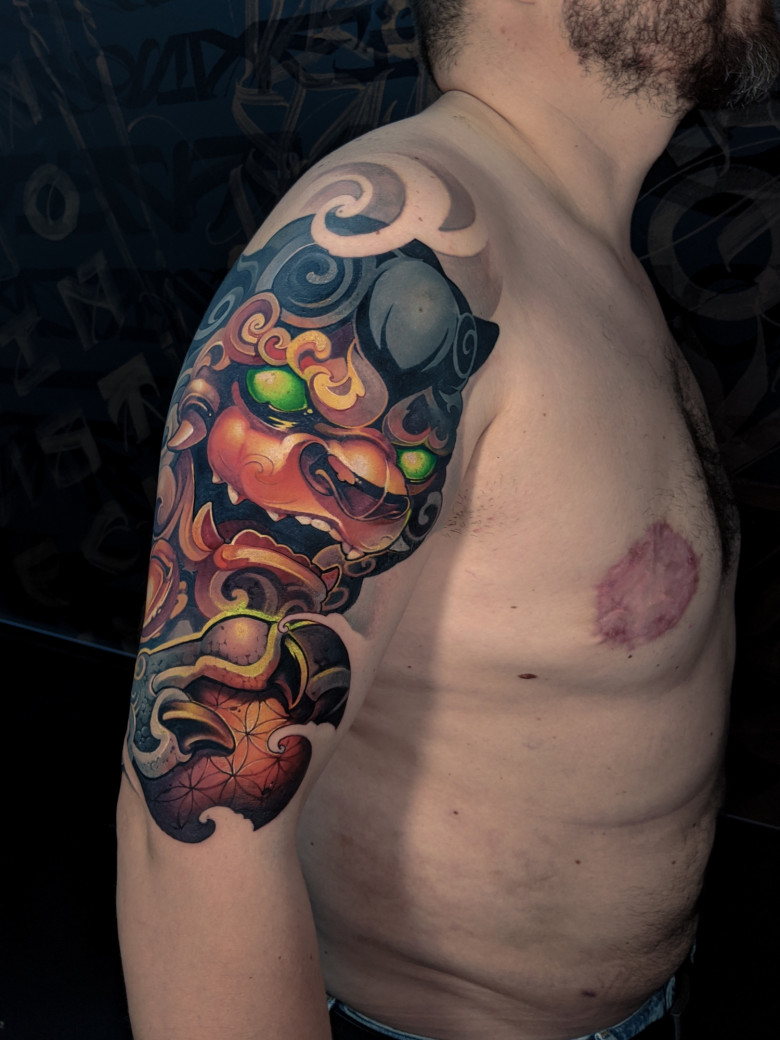 For example, it is not enough to simply improve your drawing skills, as they consist of many components. You need to go from general problems to specific ones and find the weakest link, working locally on it. This way, your development will consist of constant search and work on specific small tasks, which in turn form your level.
Is tattooing for you art, work or something else?
- When I'm working with a design, it's art for me, but when I'm tattooing it on skin for 7-8 hours in a row, it can be called a craft. But in general, I believe that you can turn any job into art, and it doesn't matter what you do, the most important thing is to do it with love.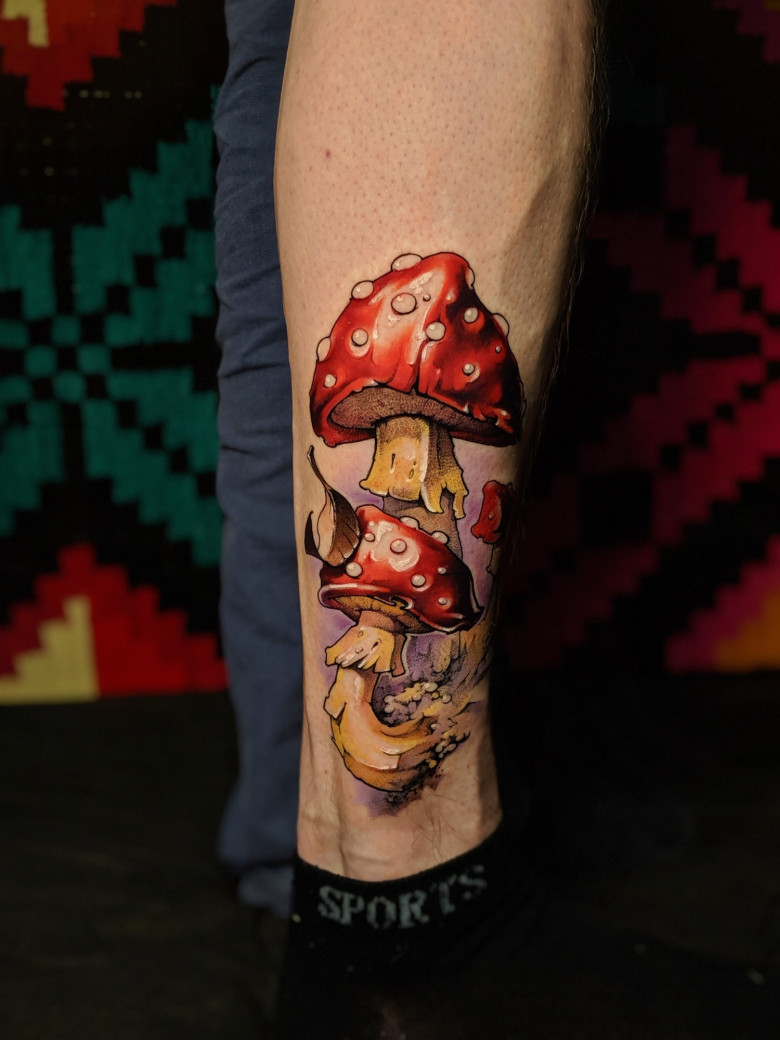 What career goals have you set for yourself?
- The environment always has a strong impact on development, so I would like to work with my idols and the best representatives of the industry. I left the NBK studio, like many of our guys, and I plan to join a new star team.
Tell about your plans for the near future.
- In addition to my regular schedule, this spring I plan to attend at least a couple of European conferences.