Sasha Akulov: video games, red and yellow autumn, Istanbul discoveries
14 / 09 / 2022
Alexander Ledovskih
I don't know about yours my friends, but in my personal TOP of illustrative tattoo styles, neo-tradition takes one of the first places. I like everything about it, the lines that preserve the integrity of the tattoo despite any test of time, bold colors that remain colored even if the sun shines directly on the tattoo for days on end, a certain restrained color scheme and, as a result, excellent readability of the tattoo from any distance! In a word - love it!
And today we have an interview with a tattoo artist, whose work I personally have been watching for many years. This tattooist is widely known not only in the neo-trad field of Russia, but also fans of illustrative tattoos all over the world know his name very well. Meet Sasha Akulov.
---
Sasha, first of all, tell us a little about yourself, where are you from, how long have you been tattooing? Where do you work now?
- Hello! My name is Sasha Akulov and I am from the city of Tomsk. There I began my creative journey in the tattoo industry, which now has 7 years. For most of it, I lived and grew as a tattoo artist in St. Petersburg. And at the moment I moved to Istanbul with my wife and son.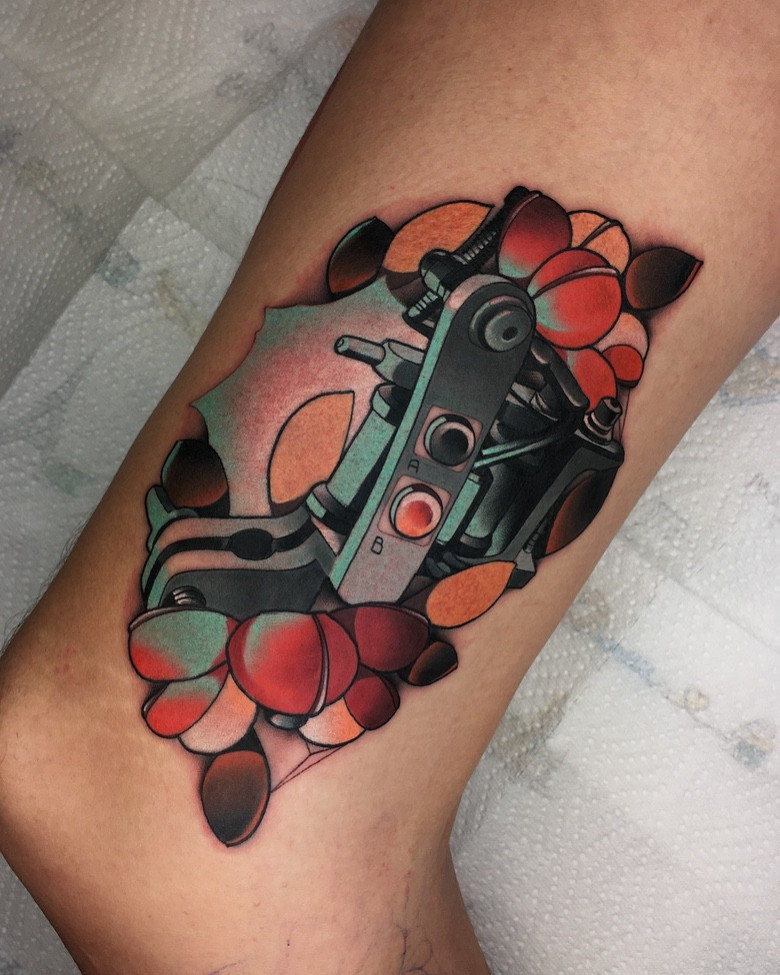 How did you get into the tattoo industry?
- In 2015, after graduating from university, I thought about what would be interesting for me to do. I can say, I was looking for myself while working in a clothing store. One of the Tomsk tattoo studios announced a competition, if I won it, they would take me as a student. I lost that competition, but a couple of months later I met Max Difu, who started to teach me the craft of a tattoo artist, and in the future became a good friend of mine.
Let's talk about your portfolio. How did you come to the neo traditional tattoo? How was your style developed?
- My first ideas for sketches were definitely in the video game theme (Bowser from Super Mario Bros. and Michelangelo's hand from TMNT).I drew in a style closer to the old school, and soon I became cramped within this style. After adding detail, thin lines and smoother gradients, I eventually came to my vision of neo tradition.
Do you have your own features that distinguish you from other tattooists working in this style?
- Absolutely there are, every tattoo artist should have them. When I realized how important individuality is in tattooing, I thought and experimented a lot in this direction, trying to find my own way of drawing the main and secondary elements of the image. For several years, among the Russian neo-traditionalists, I was distinguished by the red-yellow "autumn" color scheme. Probably only a couple of years ago I started adding turquoise, blue and purple to my work.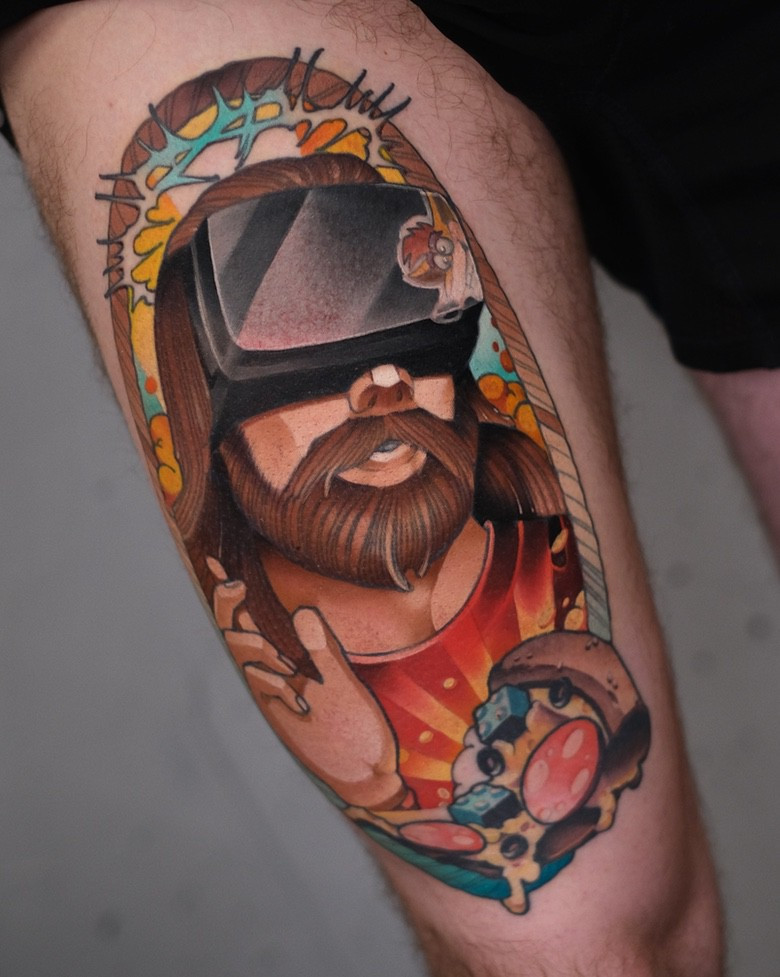 In the latest works that you shared on Instagram, you can see how you changed the color palette from warm to cold. Are these one-time experiments, or should we wait for your style to be updated?
- Updating occurs constantly, sometimes more intensively. I hope this trend will continue until the "end of my career". In terms of painting a sketch, I always try to keep within 3-4 colors, which has a good effect on the readability of the tattoo.
What does your nickname on Instagram "pixelcuteman" mean - does it somehow characterize you?
- Oh, under this nickname, I registered on Instagram a long time before I took up tattooing or any other kind of creativity. Rather, the nickname reflects my love for Dendy (NES) games, because the original spelling of the nickname was pixelcutman. Cutman is the first boss from Megaman, and of course he was pixelated.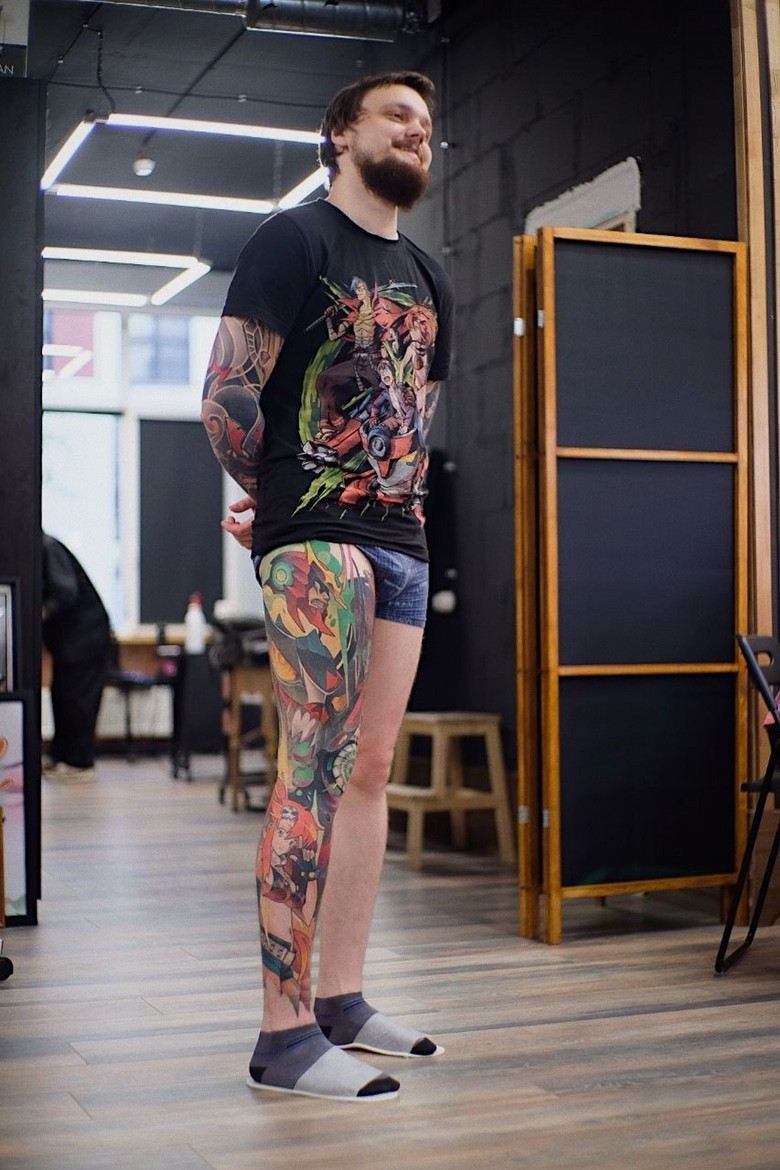 Do you have favorite projects?
- Each next project is special for me and every time I try something technically new on the skin or when developing a sketch. But, of course, I have more pleasure in working on tattoos on topics close to me: video games, characters, consoles (portable, stationary), accessories for them, etc. Plus, another facet of the pleasure of tattooing is the experience gained when communicating with a client. We can laugh the whole session, share experiences and emotions (which became more relevant at the end of February this year), or discuss our favorite anime and series.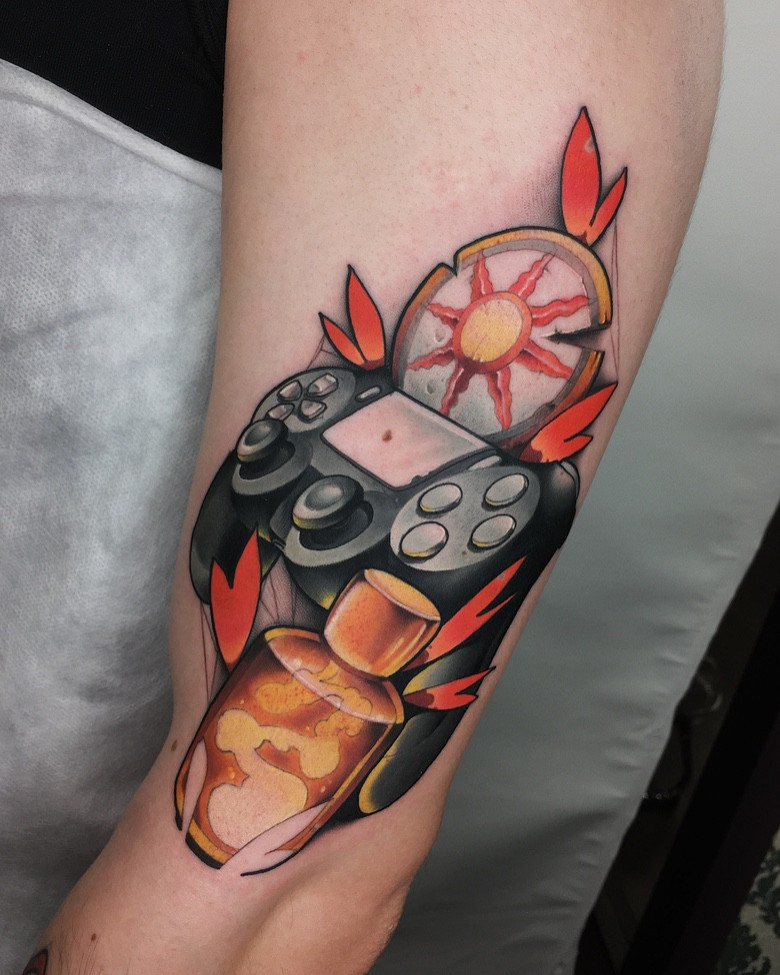 Do you have a favorite collaboration that you remember the most?
- My favorite collaboration we did was with Dima Harleich during our tattoo tour in 2019. In Rostov-on-Don, we made a can of Burn for our friend, enjoyed the process and received a prize for third place in Neo traditional, exhibiting it at the Voronezh TattooMo on behalf of Dmitry Akulych from the city of Yeysk.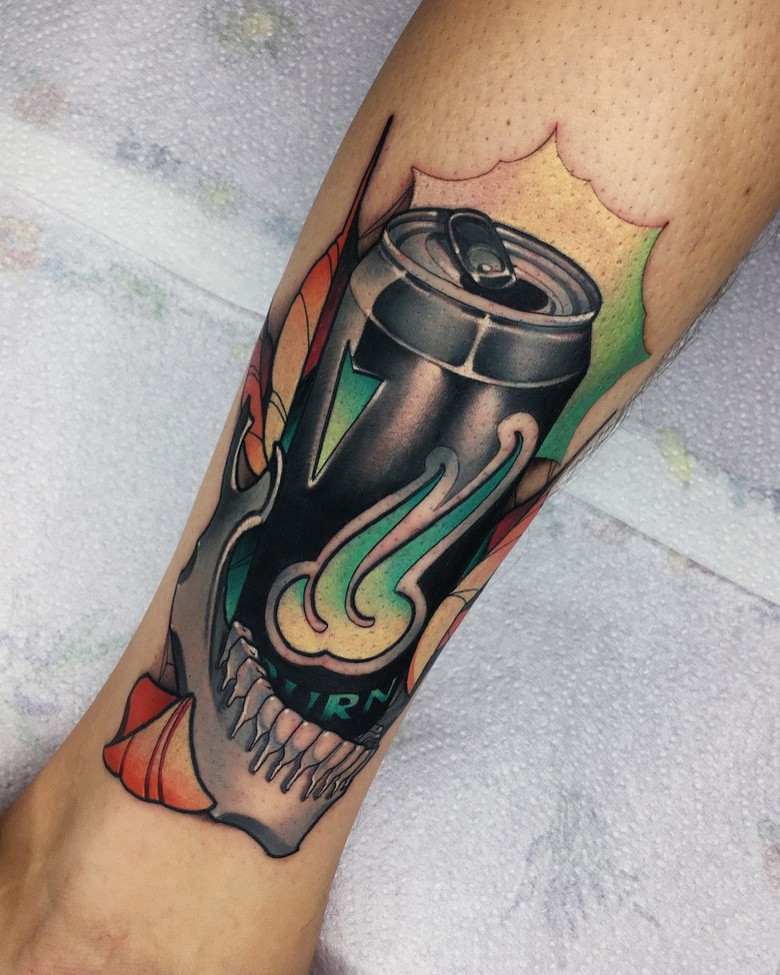 You have extensive experience in participating in tattoo conventions, including international ones. Tell us what awards and where did you manage to pick up?
- So far, I have participated mainly in Russian conventions. Among the victories: first place in new school, best of show, first place in color and third place in collaboration…
How extensive is your tattoo geography? Are there many foreigners among your fans?
- Living in Istanbul now, I am surprised when tourists from different countries sign up for a session. Apparently it was difficult for them to get to Russia, and as soon as I got a little closer to Europe, they began to text me. What surprised me the most was a guy from Australia who, as part of his vacation, flew to Istanbul for a few days to get Dennis from the series "It's Always Sunny in Philadelphia" done by me.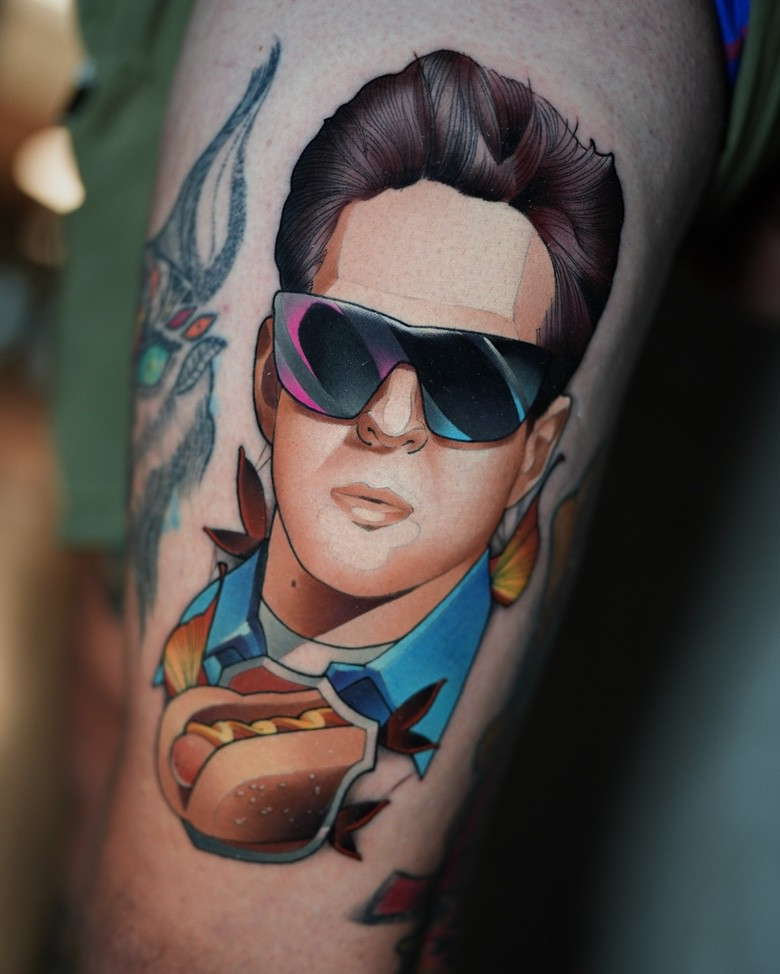 What motivates you to create and develop? What is your main goal as a tattoo artist?
- Now my main motivator is my family, and more specifically my son. I want to be the best example for him, not only as a father, but also as a person who has found his calling. Also, guys like that, who are ready to fly from far away to get a tattoo on me, are very motivating. And, of course, I draw and try something new only for my own pleasure, without it in any way.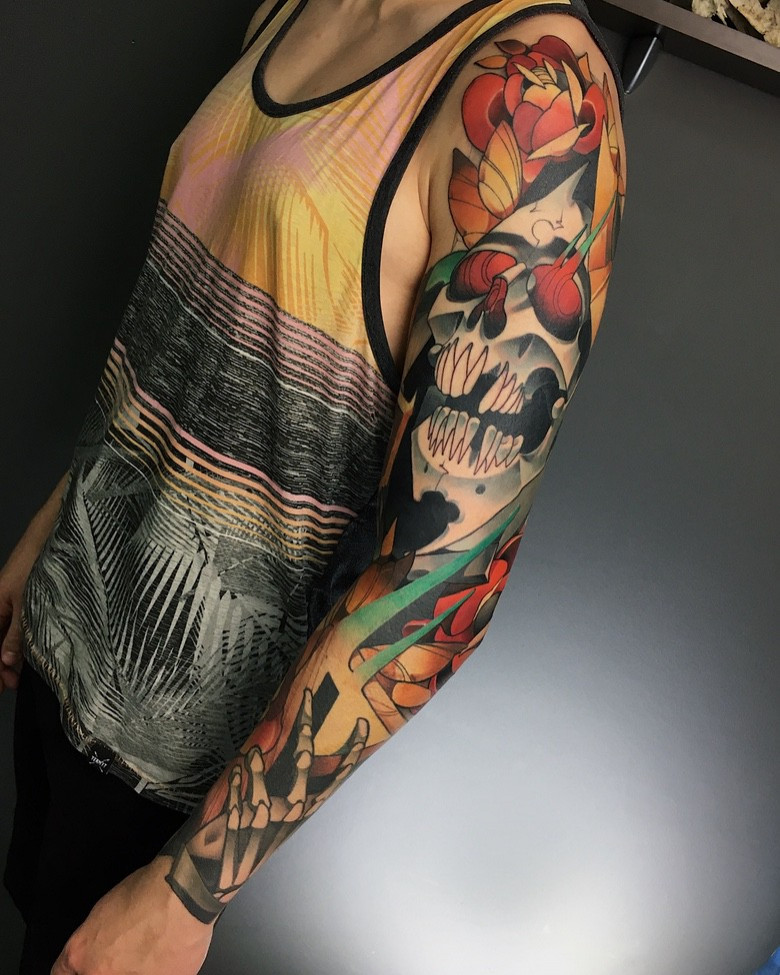 Do you have any creative plans for the near future that you would like to share?
- Since we are now at a crossroads, we are looking for a new place to live, my head is full of this. Turkey is cool, but I could not live here all my life. However, as things get better, I'll be doing more to express myself through music and collaborations (not just with tattoo artists).