Spectacular neotraditional tattoos by Dmitry Harley
Tattoo artist Dmitry Harley
/ Source: @harleytattooartist
Harley, Harleich, Dima Harley - remember any of these names if you are not yet familiar with the work and the guest of this interview. One way or another, many people who are somehow connected with the tattoo industry in Russia have heard about Dima. Podcasts, YouTube channel, interviews, reviews and collaborations - this tattoo artist does not sit still and enjoys his profession to the fullest, thanks to which he helps to develop it.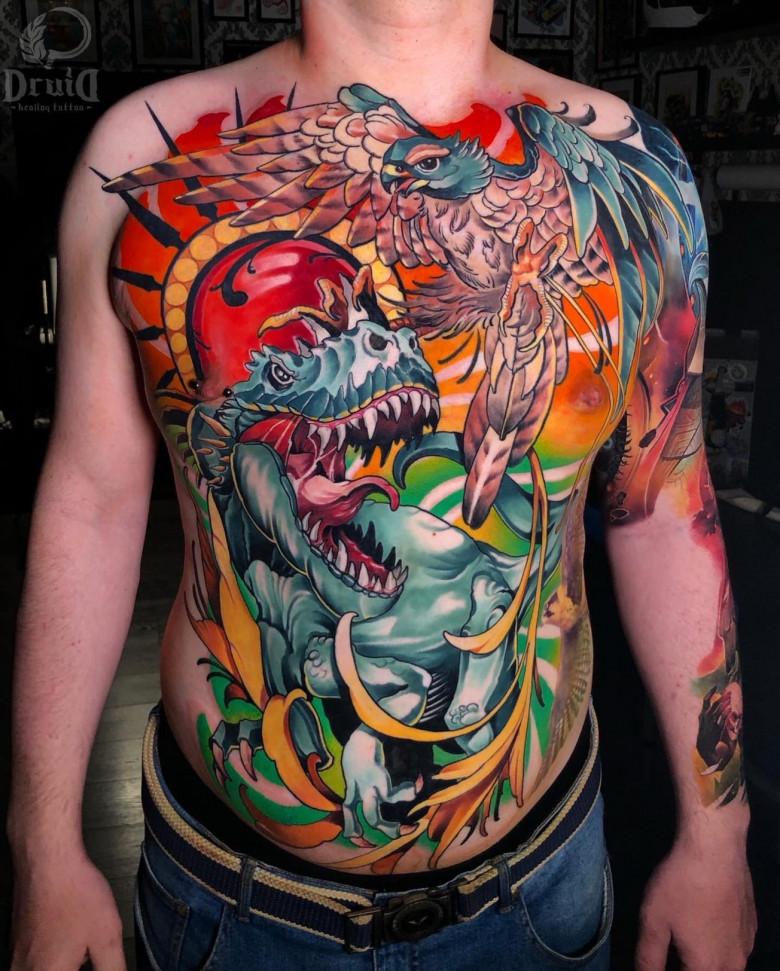 Of course, in addition to an active position in the industry, Dmitry occupies a high position in the list of the best neo-traditional tattoo artists in Russia, as evidenced by many awards and experience of judging at the largest tattoo festivals in the country. Bright, juicy, always bold works of Dima Harley are imprinted in the memory, so you are unlikely to confuse them with the work of some other tattoo artist. Well, you can evaluate the skill of this artist just by looking at any of his works.
Please meet Dmitry Kharlashin aka Dima Harley!
---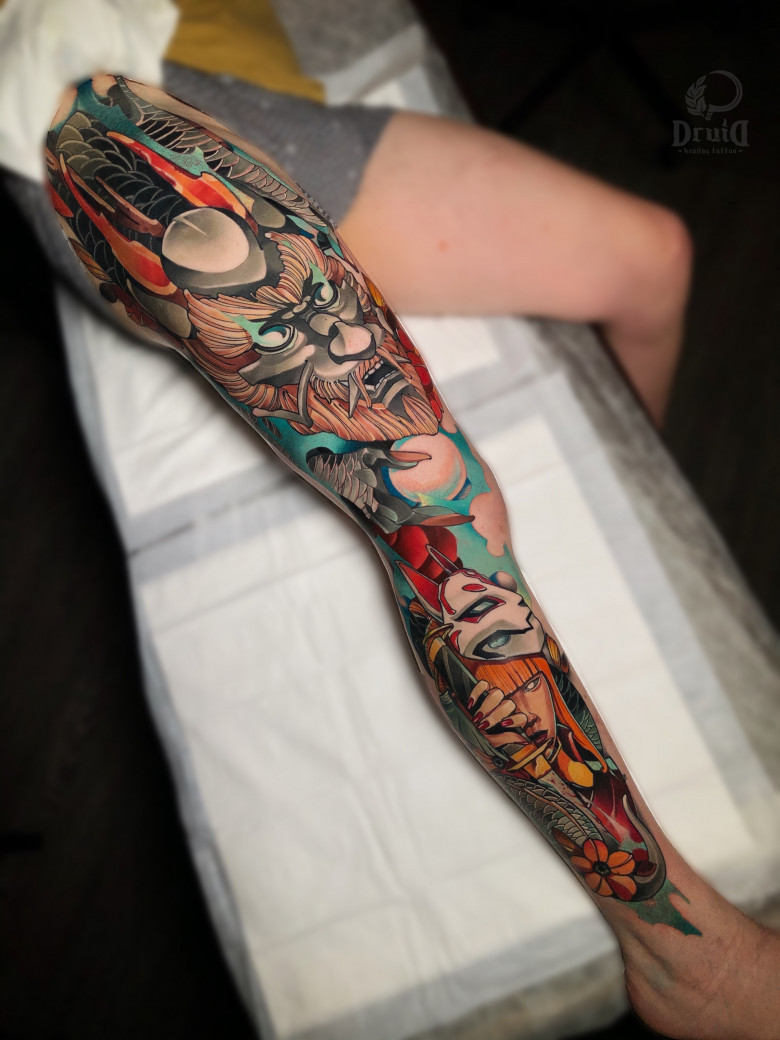 Dima, where and how did your tattoo career start? Did you have any teachers?
Dmitry: I started tattooing in Volgograd in 2012, when I was still a 2nd year student at the university. At the tattoo session, I met a tattooist who was the same age as me, and was already on his second academic leave, because he was better at tattooing than at school. After talking with him for a while, I thought that I also want to try this craft.
After that, the search for information began: what and where to buy, how to start. But in Volgograd in 2012, even though it is a big city, there were 5-6 tattoo studios, and no one wanted to share information, there were no YouTube channels on this topic either. Therefore, I started my journey on my own and not at all successfully ...
Why did you choose neo traditional tattoo? Do you have your own features in this style?
Dmitry: With the advent of Instagram, we got access to a huge gallery. It was on Instagram that I saw enough Spanish tattoo artists and realized that I wanted to do something similar in Russia.
I tried different styles, but settled on what works best and brings more pleasure. My features, if you can call it that, include a discreet palette and a set of certain elements.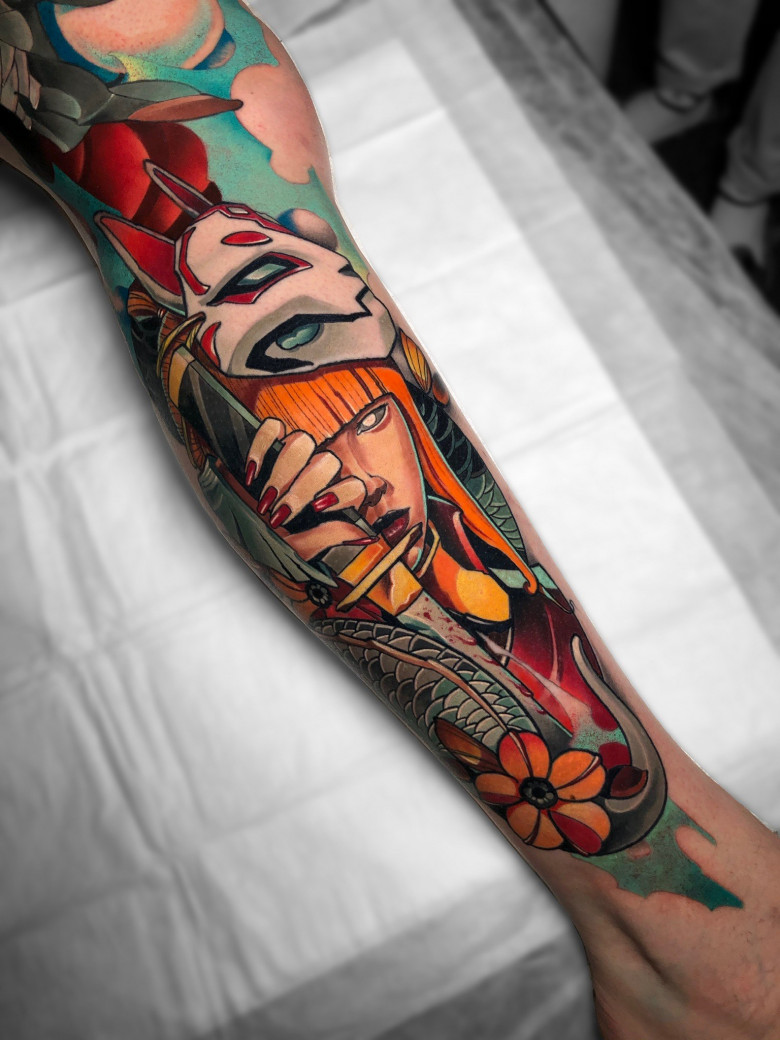 I love skulls and Japanese masks so much, you can see how much on my Instagram page. But it's not that I'm fond of Japanese culture, but I like Japanese attributes, and recently I love all kinds of samurai movies and anime. I'm still on my way to immerse myself in culture. But I can't say that I have anything to do with the Oriental (Japanese) tattoo, for example. I do all the same good old neotrad, but with the use of Japanese plots.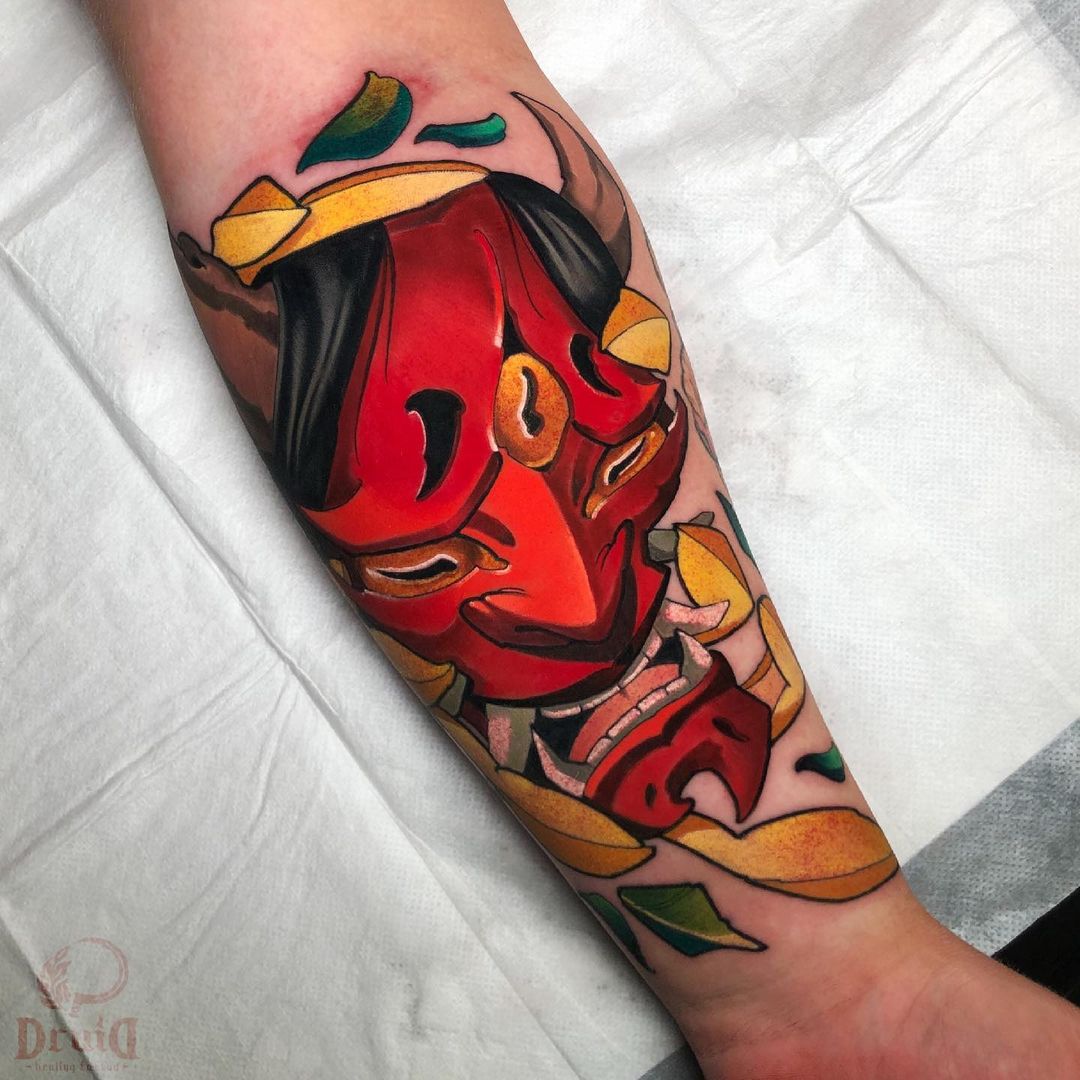 What Pro Teams are you in now?
Dmitry: In 2020, I was invited to the Radiant team. This is an American manufacturer of tattoo equipment, before they only made inks, but now they have cartridges, machines, and even furniture for a tattoo studio.
I was very happy to be on the team because the guys interact very cool with their sponsored artists. For example, we were taken to the coolest tattoo festival in Mexico, which was held in 2021 in Mexico City. The inks, by the way, are of excellent quality, which does not have colors that are problematic to use, I recommend it.
Since about the same year, I have been sponsored by Kiwi needles. Now we are still negotiating with one of the manufacturers of tattoo machines.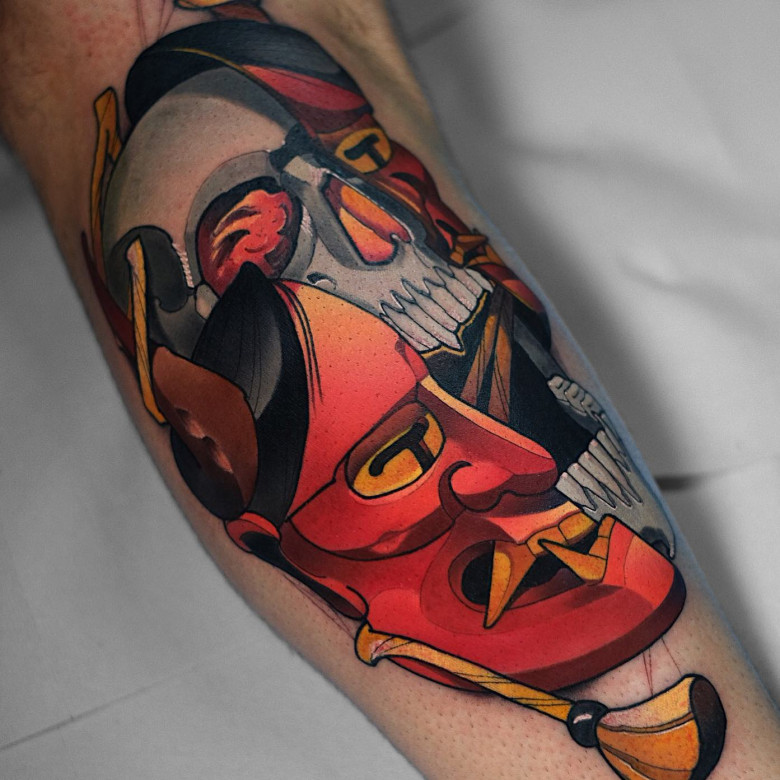 Do you have any personal records in tattooing? Are there any works that you are truly proud of?
Dmitry: We started setting records with my friend and colleague Sasha Akulov back in 2017, when we were preparing for SPB TattooWeek - it was our trial collaboration in order to understand how much time we would need for this performance.
This work took us 21 hours of working time, we did it for 2 days. The tattoo was on the outside of the leg from the hip to the foot. Now this is no surprise to anyone, but I am pleased to think that we were one of the first to start a similar format of work in Russia at tattoo festivals.
From the latest records, my colleagues and I in the studio did a tattoo on a back for 3 days in a row, for example. In general, I love collaborations, it doesn't matter to me whether they occur within the same style or a mix, the process is important to me. As a result, we get an exchange of experience and a big beautiful tattoo, isn't it a miracle?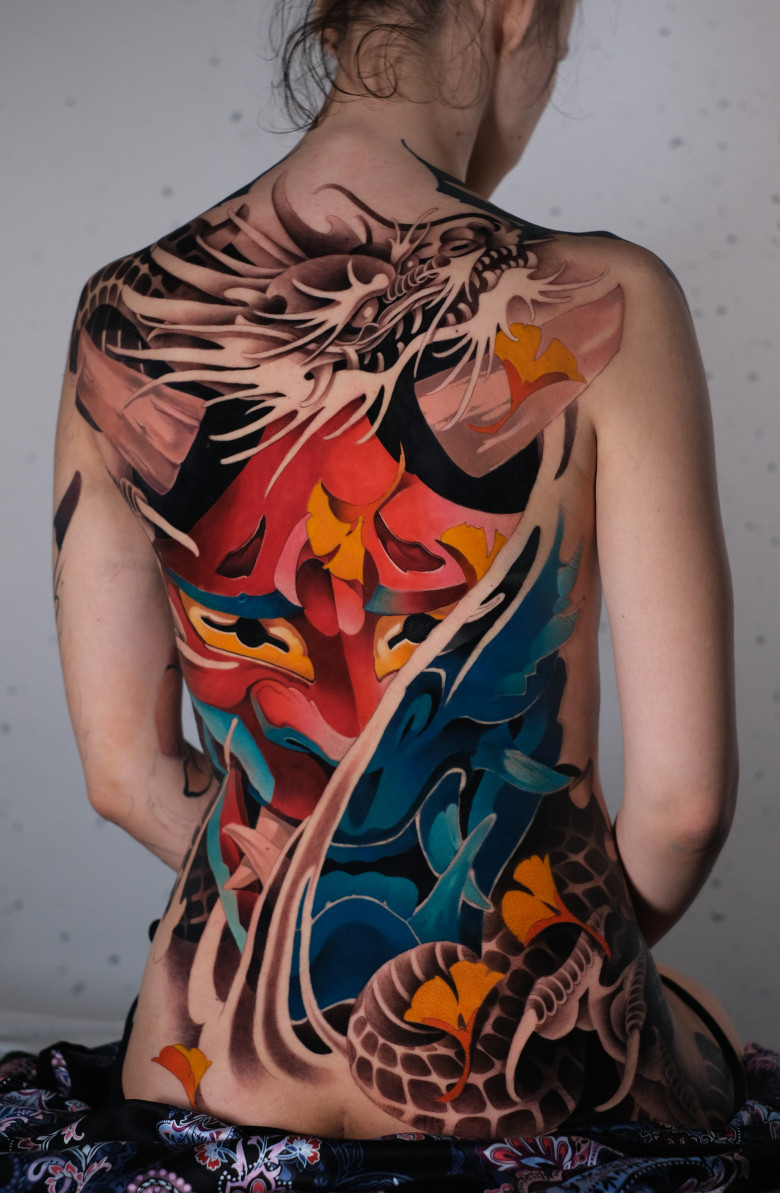 Sasha Akulov and I even gave a lecture in Mexico on the topic of finding style and collaborations, my piece was just about it. And the most spectacular collaboration, in my opinion, is the tattoo on the back and legs of my client Kolya. We also prepared this work for the festival in Mexico, but unfortunately, our model could not go. This work took us 24 sessions. At first we worked together, but after a while we decided to split up and take turns doing the tattoo.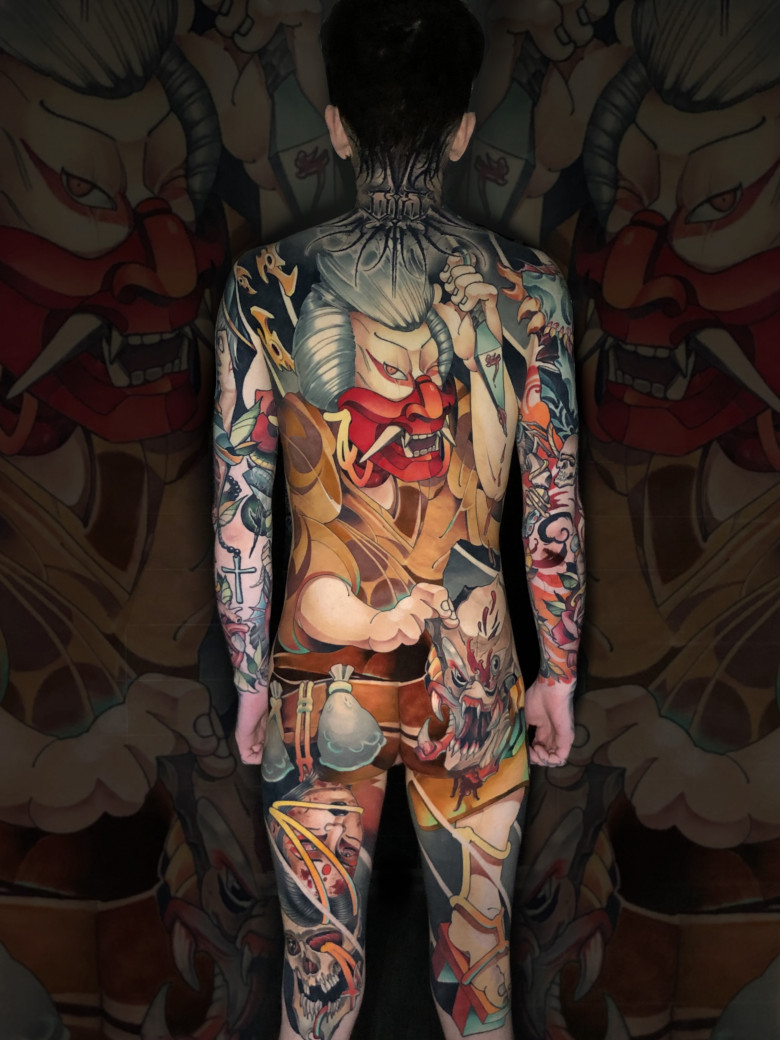 What other tattoo conventions or festivals have you attended? Tell me about your experience.
Dmitry: I have been participating in them since 2015, I have experience in both Russian and foreign festivals. For me, each festival is a motivation for growth. If it wasn't for wins or losses, I'd be treading water instead of moving forward. When I get the next prize, I want more of these awards. And when I lose, I draw conclusions and build a new plan where I need to refine it.
I have had no questions about refereeing for a long time, because for several years in a row I myself have been on the other side and I know how hard it is to make the right choice.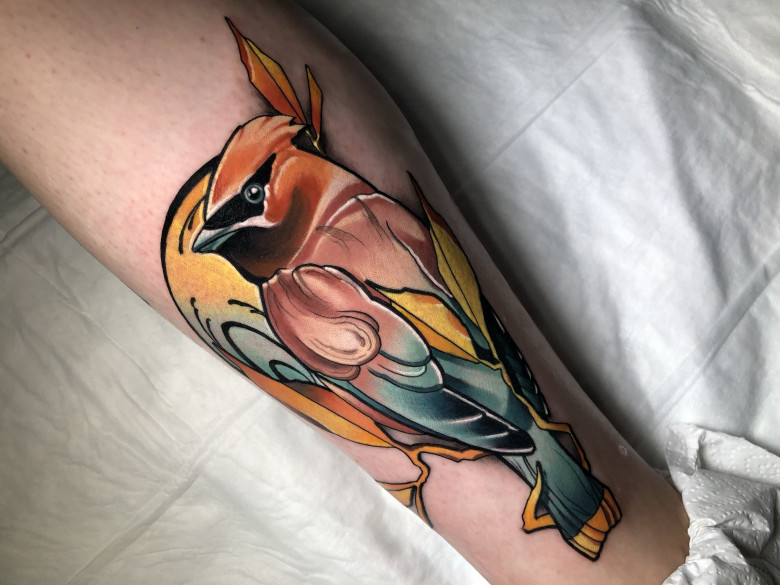 The most memorable experience for me was the festival in Italy "Lecce Tattoo convention" in 2017. I went with a great desire to win, and even in the most prestigious, in my opinion, nomination - Best Of Show. My client from Russia went with me. I tattooed him all 3 days of the festival, I am still amazed at his stamina. This festival just showed me how you can put on a "show" at conventions in order to gather as many spectators as possible around your stand. By the way, we won.
I also judged the St. Petersburg tattoo show for 2 years in a row, and was a judge in various nominations for the Mexico tattoo convention, just where my sponsors invited me. During the pandemic, I judged an online festival organized by my sponsors Kiwi.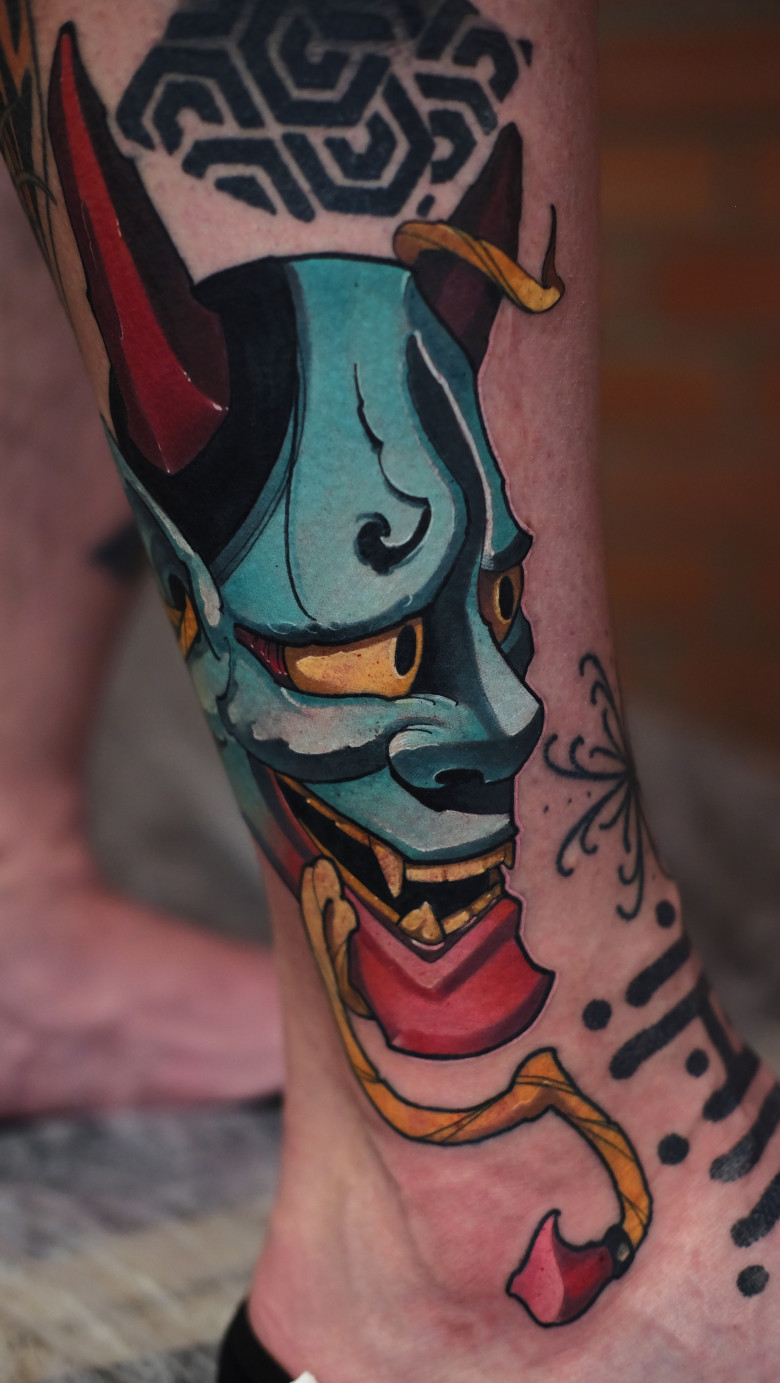 No new podcasts or videos have been released on your YouTube channel for several months. Do you plan to continue working on it?
Dmitry: My YouTube channel is not only about podcasts, after all, I wanted to make educational content, podcasts also have some kind of educational character. But in the near future the format will change. I'm still trying to find what I'm more interested in and better at, so I try a lot. Considering that only my bride and I are involved in production, but not a separate production-team, everything is stretched out. There are 2-3 pieces of mounted videos, there is material for a few more videos, and there are about a dozen ideas in general. So wait, soon there will be new releases on my YouTube channel PodcastDreamcast.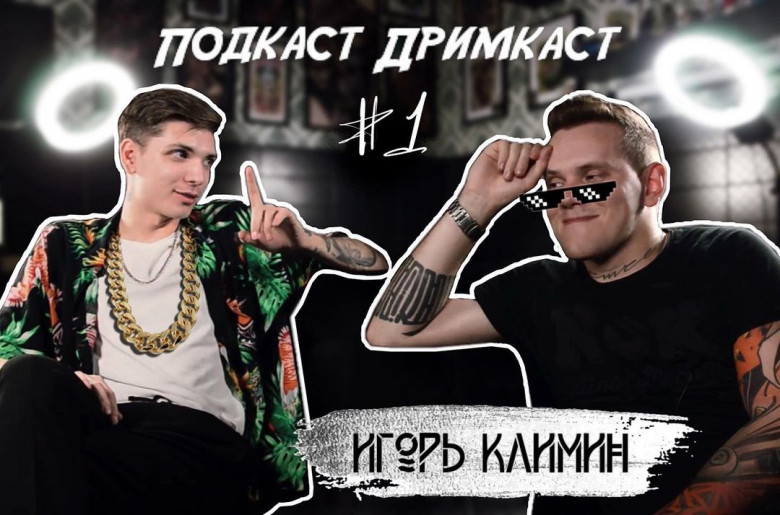 Considering that only my bride and I are involved in production, but not a separate production-team, everything is stretched out. There are 2-3 pieces of mounted videos, there is material for a few more videos, and there are about a dozen ideas in general. So wait, soon there will be new releases on my YouTube channel PodcastDreamcast.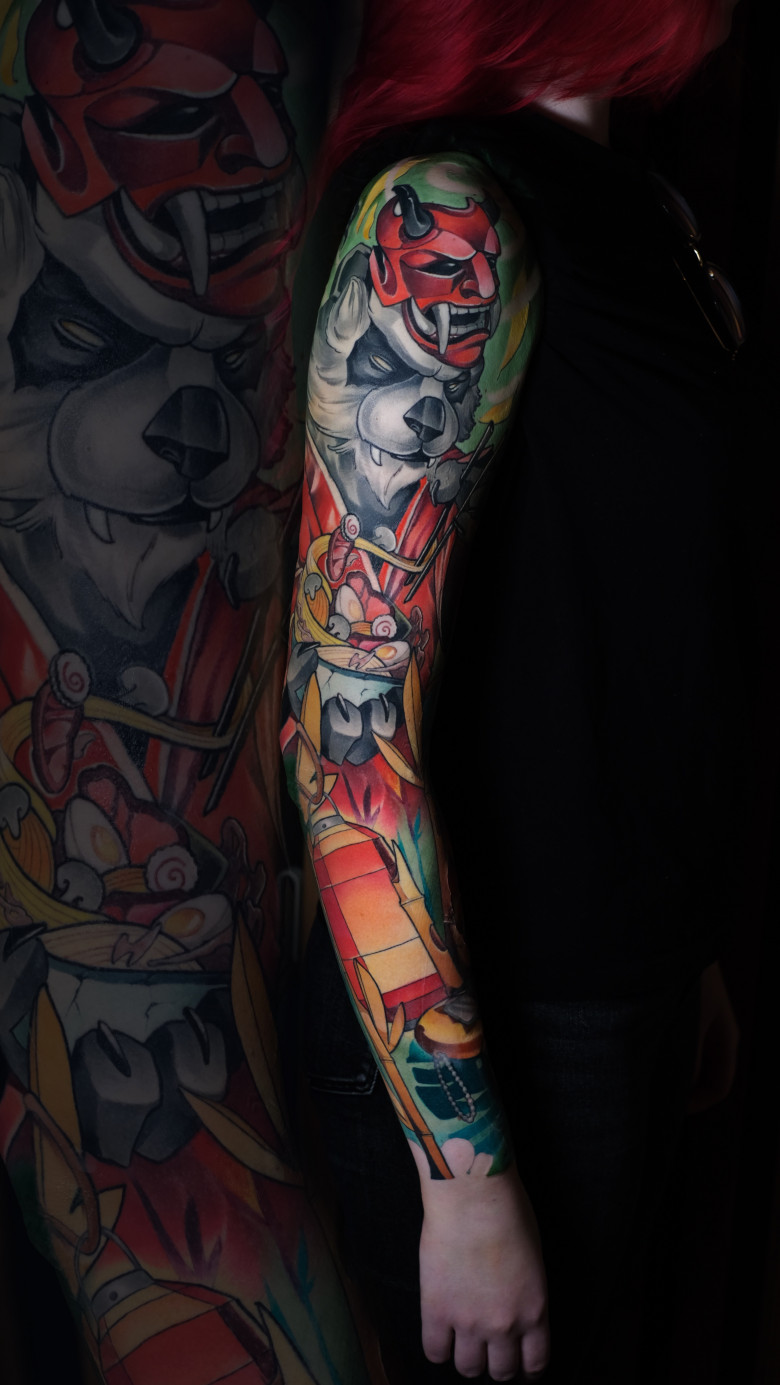 Do you plan to train beginners in tattooing?
Dmitry: I do not train beginners, it is not so interesting. I have a telegram channel where I publish my experience on any issues related to the tattoo. Beginners can also benefit from this experience. I give master classes quite regularly, but this is for guys who have experience in tattooing and want to improve their skills.
Do you have tattoos? What style do you prefer?
Dmitry: There is, but I rather prefer not the style, but the artists. I don't have any concept of a bodysuit, all the tattoos were made in different styles by my friends at different times, now my two favorite tattoo artists Sasha Akulov and Sasha Cherny are doing a sleeve for me.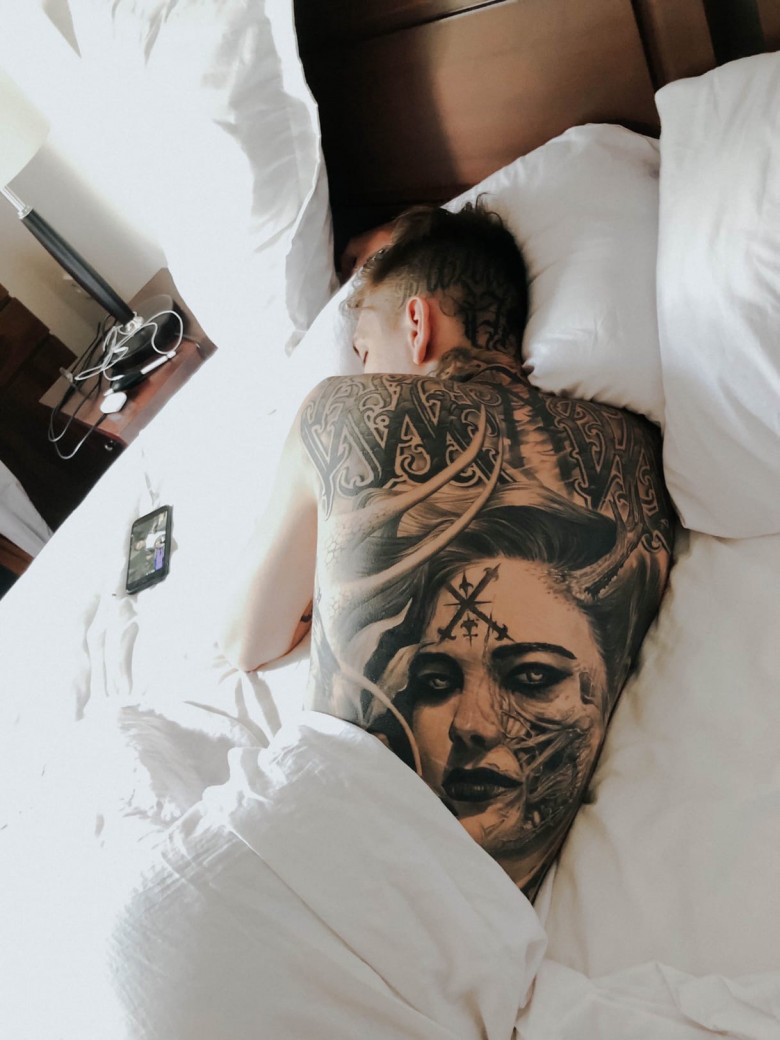 Are there many foreigners among your fans?
Dmitry: Based on my Instagram stats, yes. Now the US is in the top, followed by Russia. It happened that clients from Europe came to me for tattoos. In general, for me, the components of successful success are:
1) When colleagues in the shop want to have tattoos done by you.
2) People are ready to come from another city.
3) People are ready to fly from another country (an absolute success, you can say "passed" the tattoo).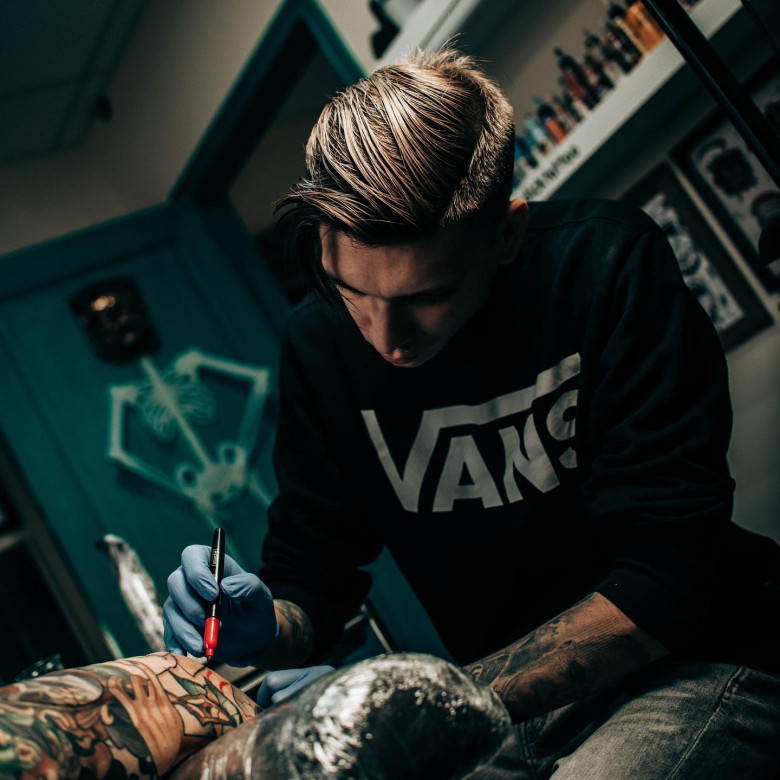 What do you think your clients appreciate about you?
Dmitry: I am friendly and very persuasive. I love advising people offline, it's easy for me to establish contact with a client, understand what he wants and make it look cool.
In recent years, I have not done anything to find clients, clients find me on their own. And when you communicate with people who have chosen me as a tattoo artist, it means that we will work together in 98% of cases.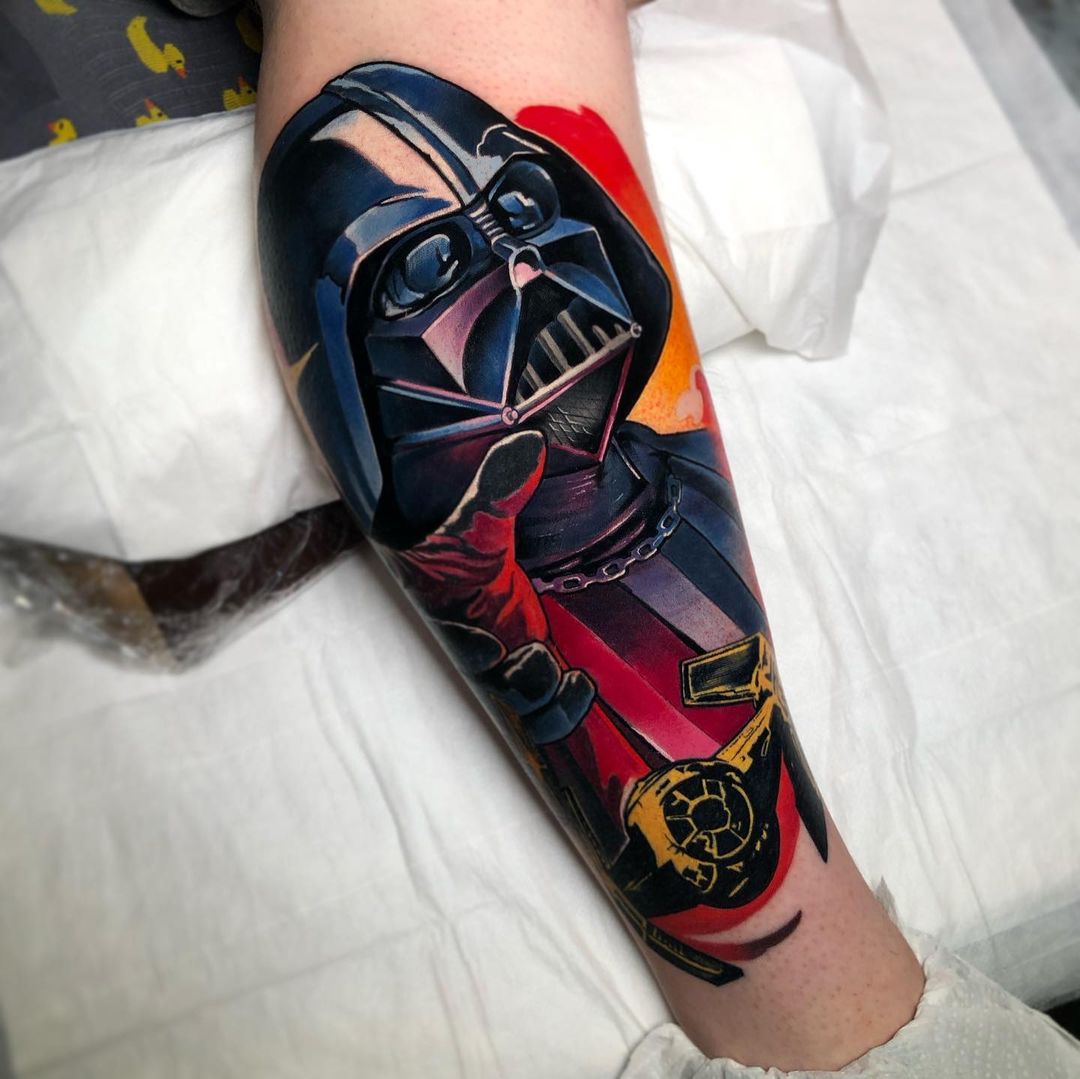 What are your development plans for the near future?
Dmitry: At the moment I have a sketchbook with my designs on my favorite subject - neo traditional skulls. The design of T-shirts has also been developed, now they are making a pattern for us, and soon it will be possible to pre-order. I don't know when this article will be released, but in May I will be at conventions in Germany and the Czech Republic, in autumn in Italy and Belgium. I also want to visit the Golden State Tattoo Expo in America in the near future.