Lettering - Evolution of Inscription in Tattoo. Igor Klimin
31 / 07 / 2022
Alexander Ledovskih
Tattoo artist Igor Klimin
/ Source: @igorklimin
Igor Klimin is a name known to everyone in the Russian tattoo industry. But if you have just started immersing yourself in this culture, and are looking for a tattoo artist in the style of lettering and calligraphy, then you have definitely stumbled upon the right article.
Igor Klimin is perhaps the most famous tattoo artist and calligrapher in Russia at the moment. His name constantly flashes in popular publics about tattoos, people line up for T-shirts with his prints at tattoo festivals and conventions, and his videos regularly show into YouTube recommendations.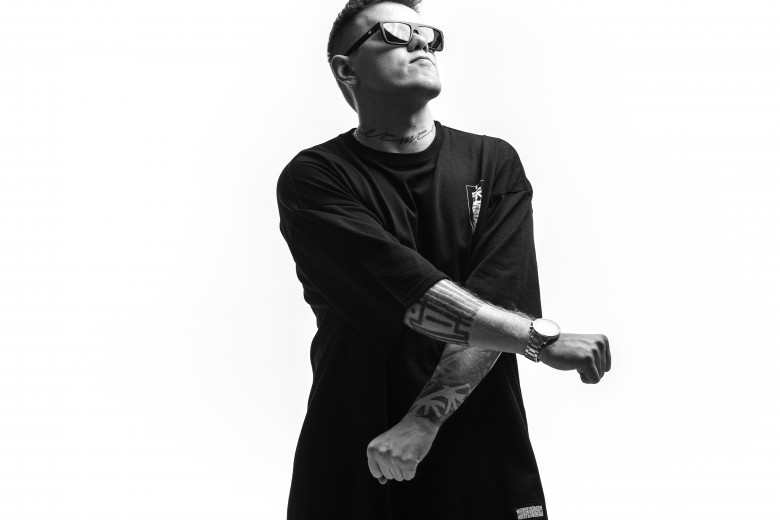 Igor has been specializing in tattoo lettering for more than 5 years, and has been devoting himself to the art of calligraphy for more than 10 years - from painting cars and interiors to creating prints for clothes and other items. Of course, we are primarily interested in the art of creating inscriptions on the skin, the nuances of working in lettering, the features of Igor's tattoos, as one of the professionals working in this direction, and of course the secrets of his insane popularity, which allows him, like Midas, to turn any undertaking with one touch into a successful business.
---
The first question that comes to a person who wants to get a tattoo with a beautiful inscription and gets into your Instagram is - What is lettering, and what is calligraphy? What is the difference with the usual Latin inscriptions, such as Veni Vidi Vici, which we see everywhere since the early 90s?
Igor: An inscription is any text or symbol applied to anything in any way. Lettering and calligraphy is the art of creating beautiful inscriptions. But there is one significant difference between lettering and calligraphy, which is fundamentally different in terms of the principle of work.
In calligraphy, a symbol is written immediately, and mastery in this direction lies in the possession of a pen and the ability to make each movement beautifully the first time.
Everything is possible in lettering: contours around characters, gradients, three-dimensional letters and much more - that is, you can visually work with text in any way you like.
If we give an example from a tattoo, then an outline inscription made without a sketch, that is, freehand and in one movement, is calligraphy. If there is a prepared sketch, contours, gradients - in general, work on text that requires several stages is lettering.
Despite the fact that in tattooing I still do lettering, and not calligraphy, I consider myself a calligrapher, because tattooing is one of the many areas for me in which I apply my writing skills. In particular, I do all the sketches for my tattoos freehand - I write letters with a pen over the body without a preliminary sketch, focusing only on anatomy and my instinct.
In general, lettering in tattoo has moved very far forward compared to the inscriptions from the 90s - more individual artists appeared with their own style, there was more artistic component, and this trend has become a serious established style in tattooing with its fans and culture.
How are your works different from those of other artists? What is your feature?
Igor: As I said, I do lettering and only lettering. I don't tattoo in any other style, and I don't add any objects to my work. If a person needs a combination of some objects or characters with my font, we do joint projects with other tattoo artists who can complete the required task.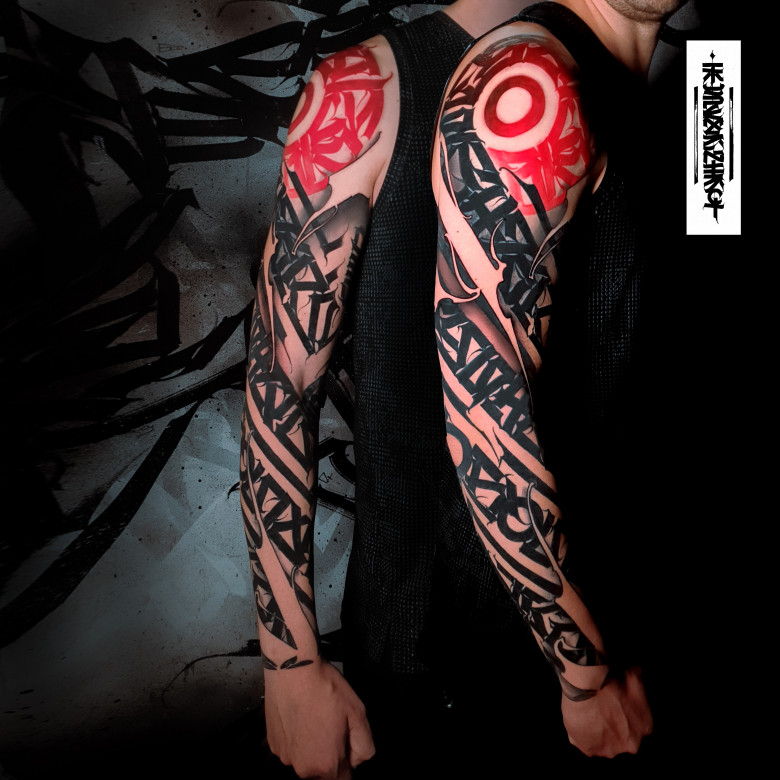 I do all the work without a preliminary sketch. It scares someone, motivates and impresses others. But this is my approach to work. I can't sketch without getting a feel for human anatomy. For example, try to create a full-fledged sleeve sketch for a person you don't know, haven't seen his hand size, body features. And if we are talking about covering up old tattoos or scars on the human body, or connecting my work with other tattoos, then I generally keep quiet...
As a rule, I work with large scale projects: a whole arm, leg, back, chest... I try to create a full-fledged multi-level type composition for the anatomy of a particular person, focusing on his wishes. For me, a person is a canvas, and for me, the project that I make for a person for his whole life should be as serious as possible. As an artist, I can't afford another approach.
How can I book a session with you? What does a client who wants a tattoo by Igor Klimin need to know?
Igor: As I said, there is no preliminary sketch. It is created in the moment in symbiosis with the vision of the client.
Most of the people who contact me have been watching me on social media for a long time, mature, get inspired.
When a person is ready, he turns to me with a specific request, focusing on what I have already done or posted on social media as a concept. He describes the place on the body, shapes, colors, expresses his wishes, including the text, and attaches examples from my work.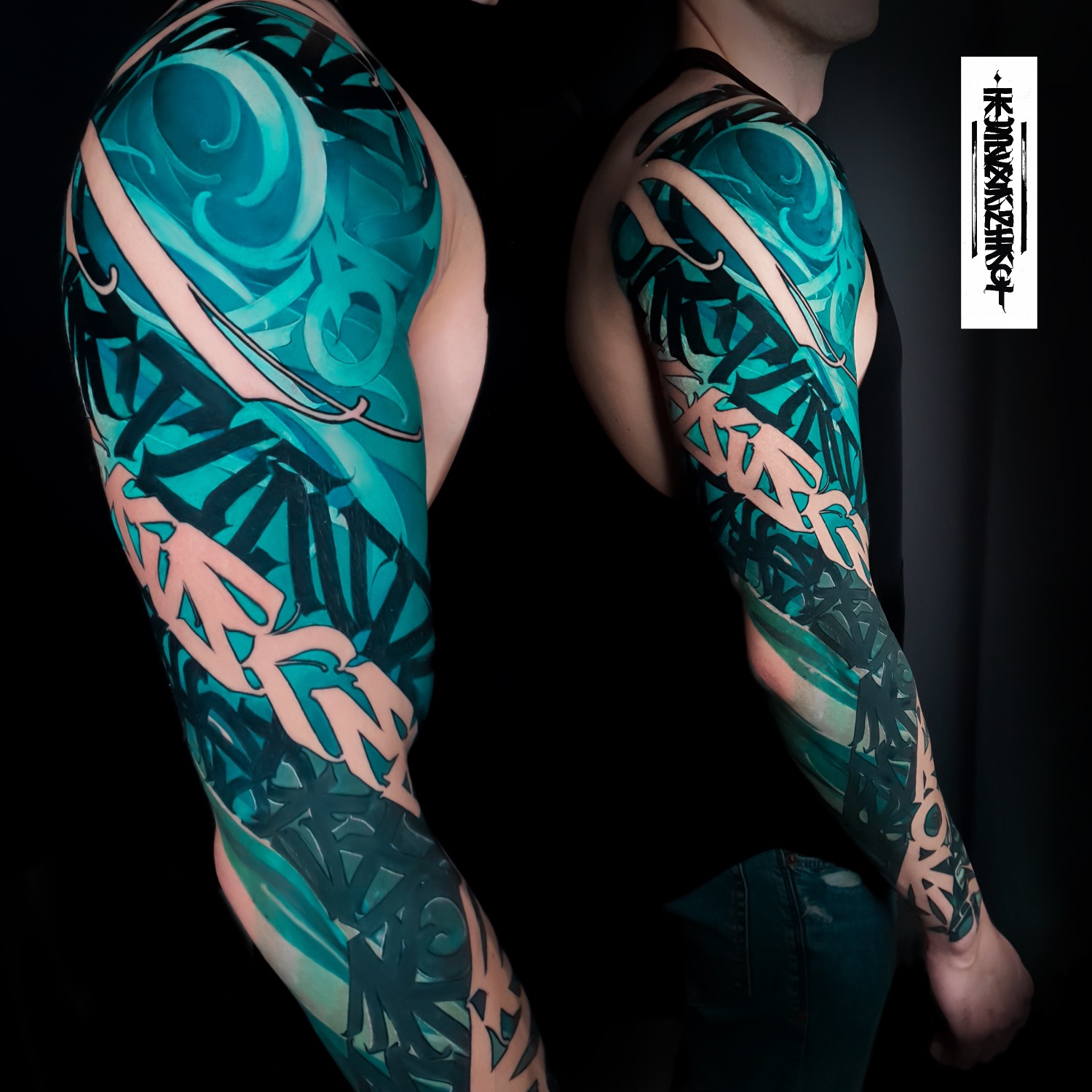 Immediately after that, we decide on the date of the session, after which I take a small advance payment and book the day of the session. We also talk about the necessary preparations: take comfortable clothes, do not drink alcohol, coffee, energy drinks, get enough sleep, have a hearty breakfast, etc.
How many hours or sessions does it take to make, for example, a lettering sleeve?
Igor: My usual session lasts 6-7 hours. For the first few hours of the session, we draw the design, discuss it, and redo it if necessary. I try to draw no more than 2-3 hours, otherwise the eye becomes blurry and the project may turn out worse. Therefore, on large projects, I can finish drawing parts of it during the first few sessions.
Since I often do sleeves, and they require me an average of 6-8 sessions, this is not done in a few days. In a row, we can only do 2-3 sessions, since the human resource can no longer withstand. Therefore, after the sessions, a person heals and recovers for at least a month, then again 1-2 sessions, and so on until we complete the project. On average, it takes 4-6 months for a sleeve, sometimes it takes 2 months, sometimes a year and a half. It depends on the employment and financial preparedness of the client.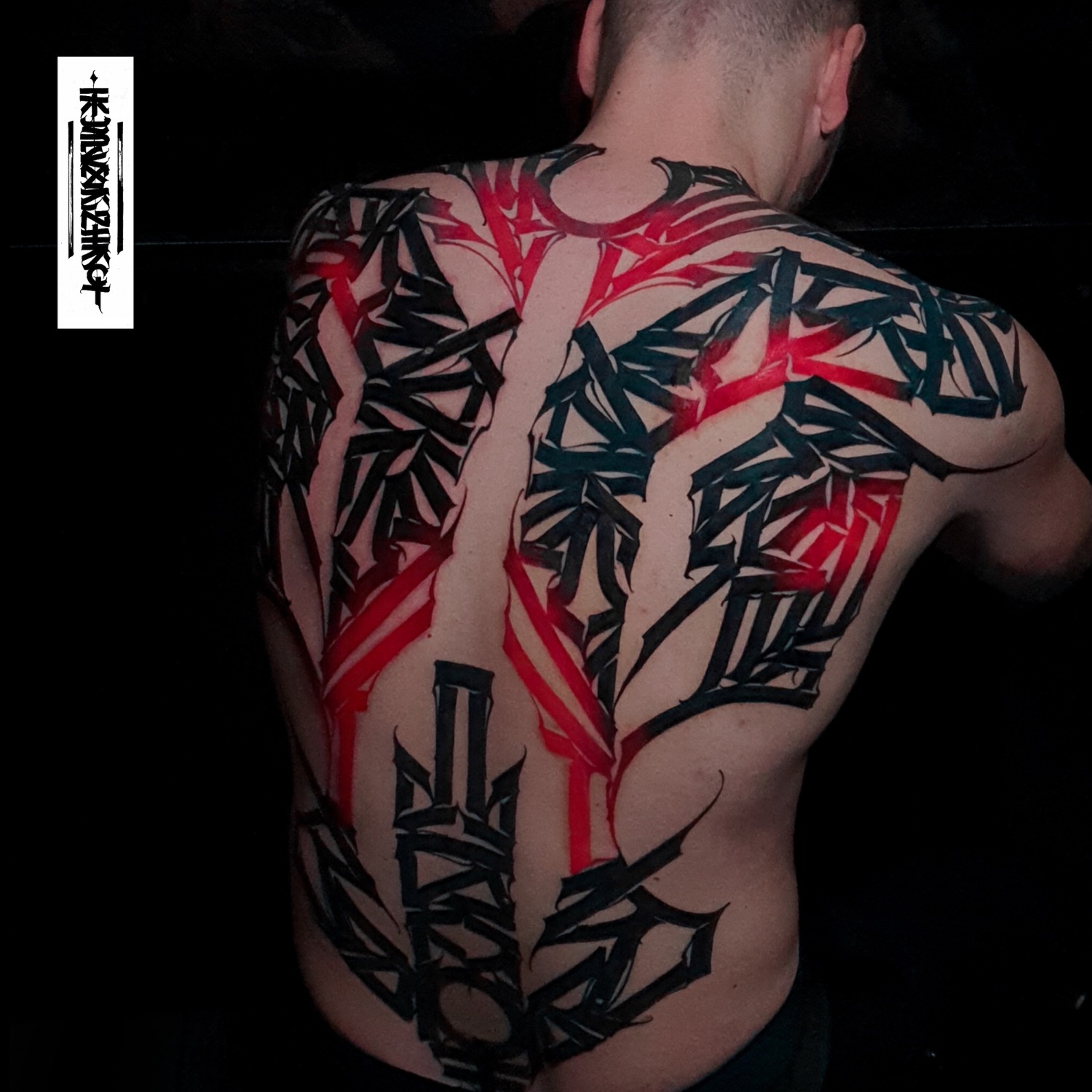 Can you show me your favorite tattoos you've done?
Igor: I have a lot of favorite projects, because each of them is connected with cool people, stories and phrases that they want to get tattooed.
For example, if we take the latest works, the first was made for a cool DJ (and this is a cover-up), the second was made for a cool family guy who got his sleeve with the names of his wife and 5 children, and for them he overcame all the hardships of life and built a serious big business. The third one was for a tough guy programmer who had the best recovery from a session of any of my clients. The fourth was made for a tattoo artist from Ukraine in Germany (we covered the scars and tattoos on the hand and wrist).
Each project is unique and individual, in each project I try to do something new and cool. And in combination with cool clients, I can say that I love each of my projects.
Why did you decide to continue your career in Krasnodar?
Igor: In fact, I have thoughts about moving to Moscow just now, because at the moment the Krasnodar airport is closed, and people flew to me from all over Russia, and now it is much more difficult for them to do this.
I purposefully moved to Krasnodar at the invitation of my friend Dmitry Naboka. And I moved specifically for the NBK studio, which at that time had more than 20 artists, many of whom are considered one of the best tattooers in Russia and the world in their field. I wanted to work with the best and learn from the best.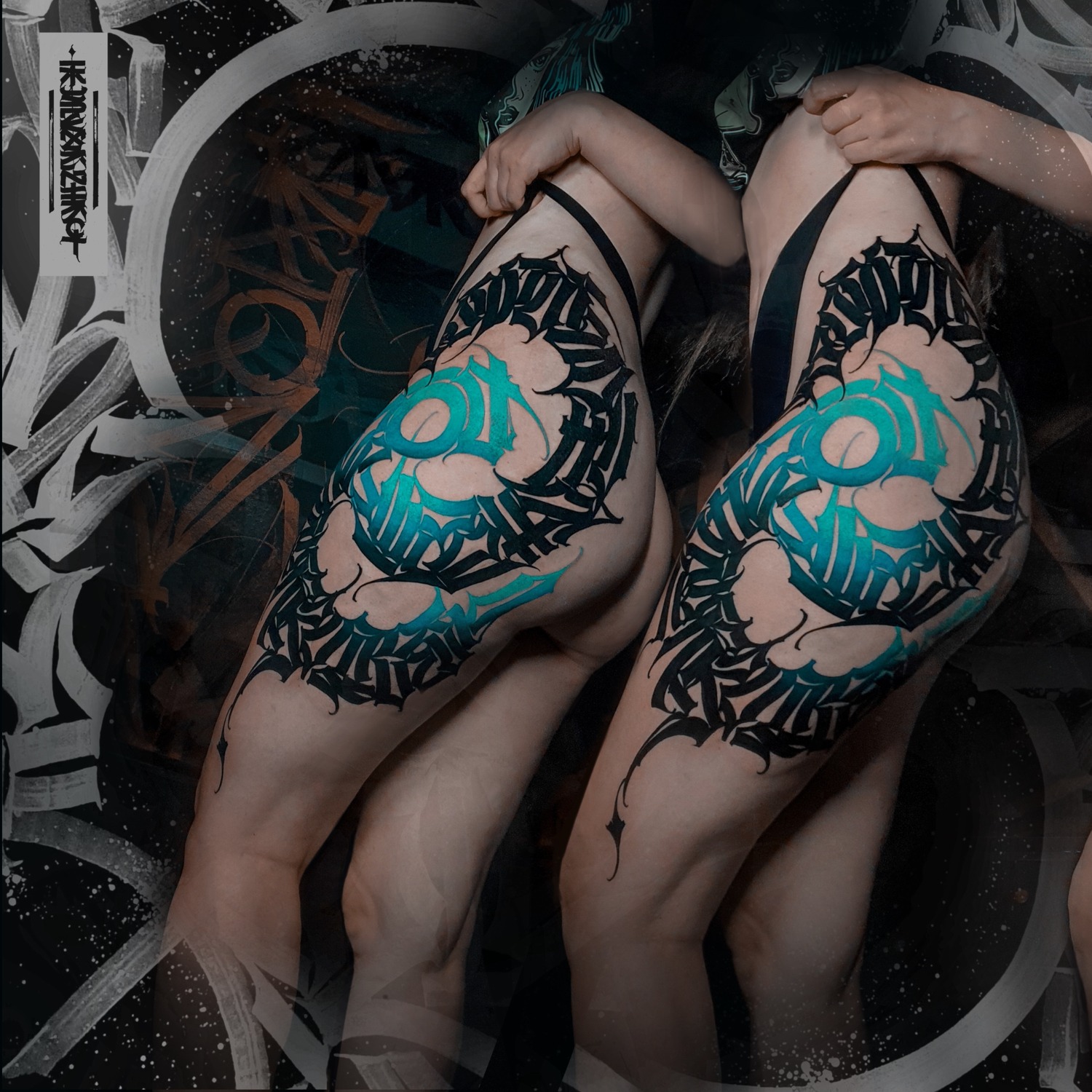 Do guests from other countries come to you to get a tattoo?
Igor: In Russia, mostly only Russian guys come to me, even though some of them have not lived in Russia for a long time. In Russia, prices are nicer than European ones. Well, plus everything, I now visit Europe more often, so it's easier for clients to wait for me there than to fly to Russia.
If you look at the statistics of my social media, only half of my audience is in Russia, so I can say with confidence that people from different parts of the world like my work.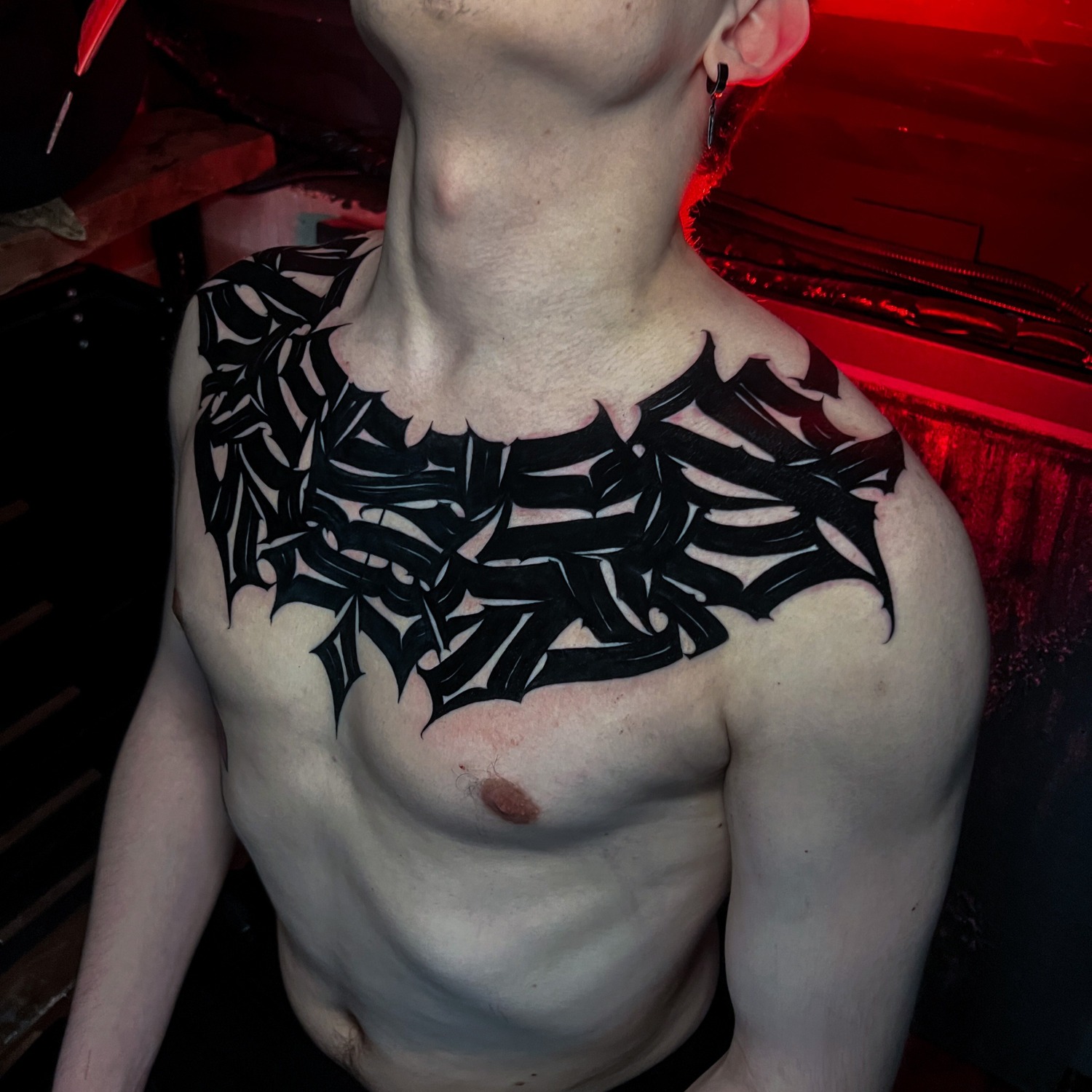 You say that you work only with lettering, and it is better to entrust other elements of the tattoo to another artist. Do you have any favorite examples of collaboration with other tattooists?
Igor: There were a lot of collaborations in my career. Collabs are remembered thanks to the harmonious symbiosis between several artists.
For example, the first one was made in collaboration with graffiti artist Ivan Fansta. Moreover, Ivan is a cool artist, but he is just starting his journey in tattooing. As a result, we exchanged experiences and ended up with a cool project.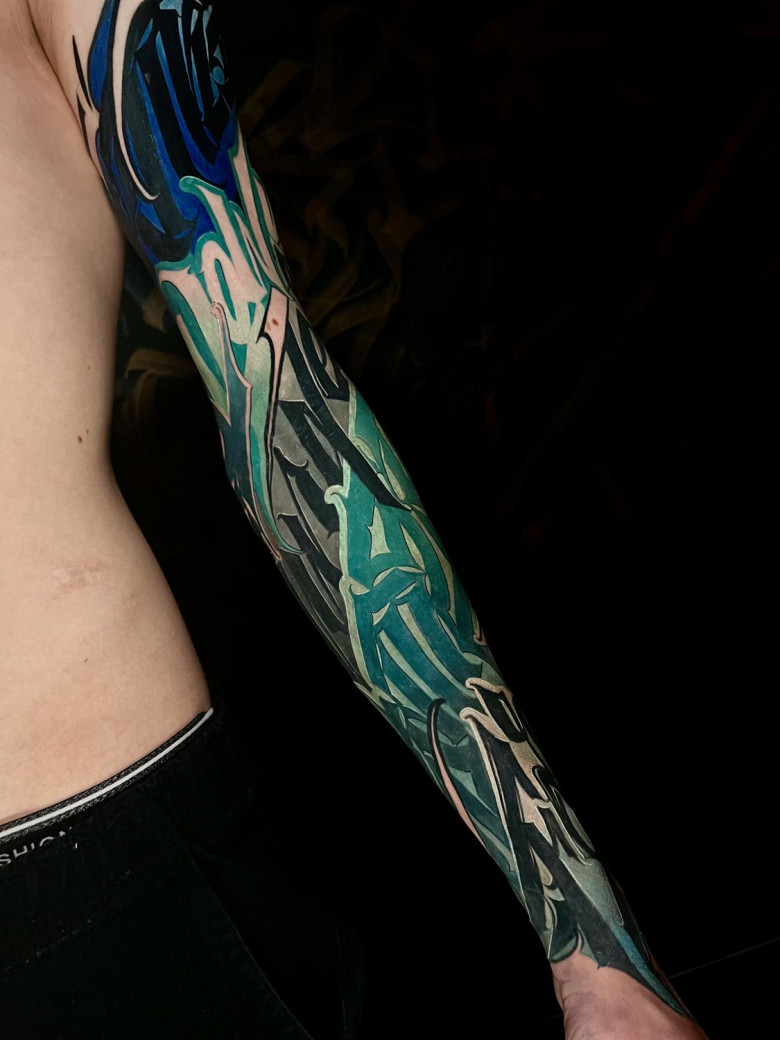 The second was made in collaboration with another tattoo artist Mikhail Kogut. Here, due to my parts, the dynamics of work has increased and it turned out to be a cool frame for a serious project.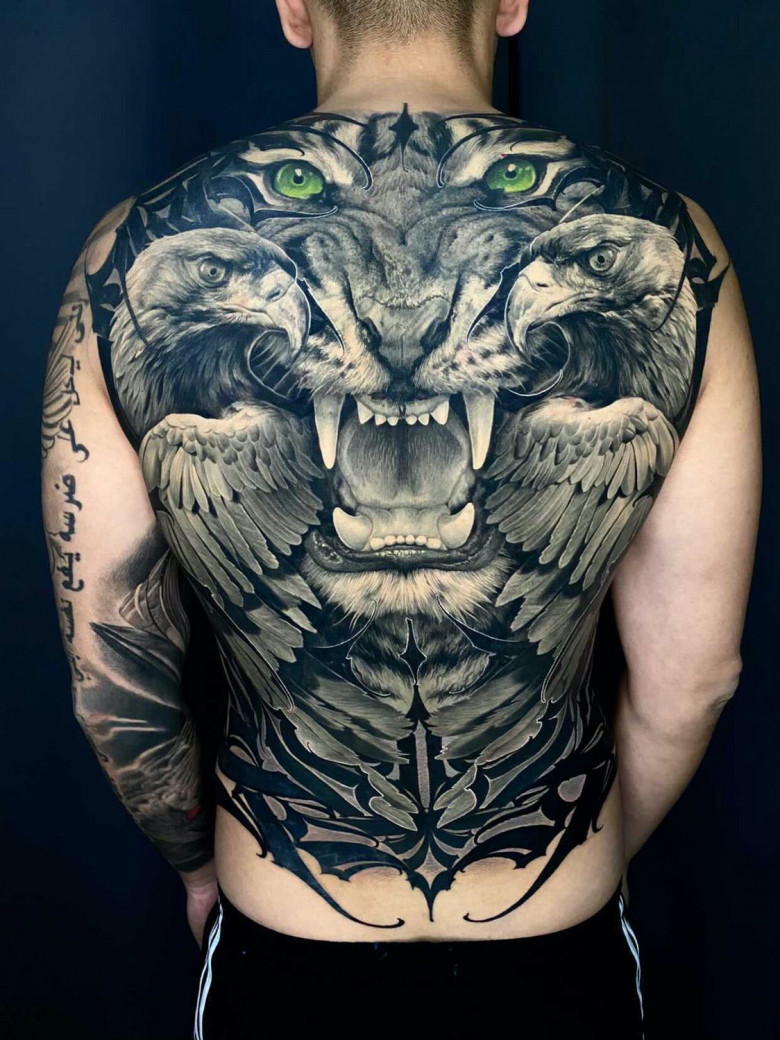 You participate, it seems, in all Russian tattoo conventions. How many awards do you currently have?
Igor: I often participate in conventions, but recently I came not to participate as a tattoo artist, but with the booth of my clothing brand TYPEMANIAC.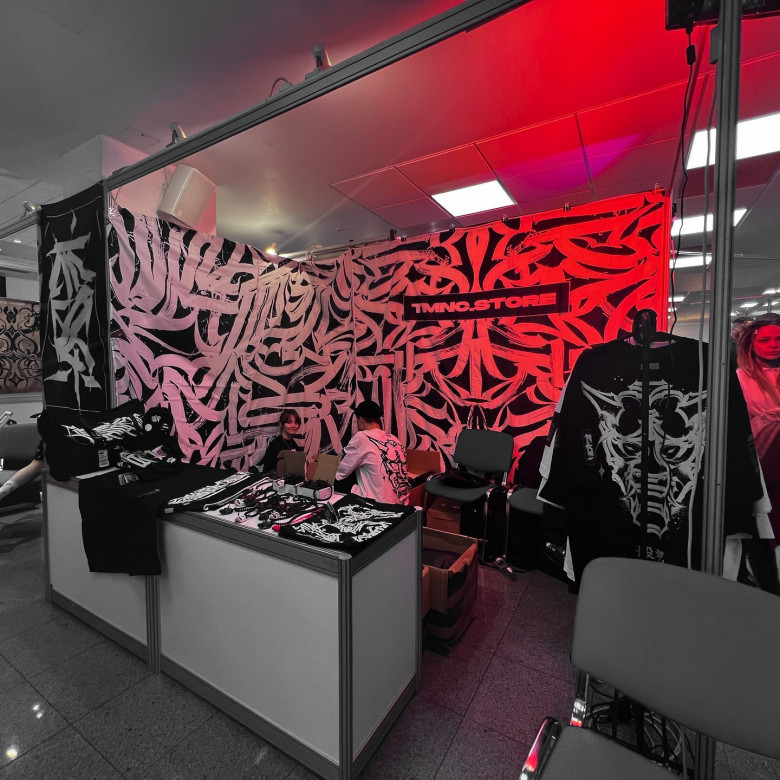 I have lost interest at the moment in participating in Russian conventions in the Lettering category, because in 2021 I took 1st place at every major tattoo convention. After 4 victories in a row, I realized that I want to go further.
In addition, newcomers are offended by me if I take the victory, someone does not even exhibit models if I show up for the fest. I do not want to negatively influence the development of Russian lettering. Therefore, at the last convention, I acted as a judge of the nomination, and I myself decided to participate in European conventions - after all, the artistic tattoo industry has existed there many times longer.
So now you are planning to take all the awards in "Lettering" at foreign tattoo festivals?
Igor: Yes, in the near future I will have to participate in several European conventions in the fall of 2022. In the last year, I often traveled to Germany in order to prepare serious projects for these events. Unfortunately, this is a little difficult - I have to adjust the dates of my short visits, free days of clients, my and their financial possibilities, as well as the healing time. But I believe that I will succeed, because I set myself the goal of winning first place in lettering at every major convention in Europe.
How do you manage to combine the work of a tattoo artist, development of a clothing brand and your other projects? By the way, what are you currently working on?
Igor: In fact, I always do calligraphy. I just use it in so many areas that I don't get burned out. If I don't want to do something, I delegate it or don't do it at all. I think this is the secret.
Tattooing takes up only a third of my time. I paint canvases, sometimes I paint walls and cars. I also paint Japanese masks for the @go.jirra brand.
I have my own clothing brand @tmnc.store and my own production for this clothing brand, in which I am the owner, designer and investor. But I really want my clothes to be sold in fashion showrooms around the world, and in a year and a half of the brand's existence, we have achieved good heights.
Plus, I film all my movements with production in the format of vlogs on my YouTube channel "KLIMIN". In addition, I shoot educational and entertaining content about creativity and development in creativity on the same channel.
Also, in the near future we are launching a new format of tattoo expertise, where we will review and compare absolutely everything related to the tattoo industry: websites, cartridges, paints, vaseline, cars, and more. Plus, at the end we will arrange a raffle of what we reviewed.
Plus there are a whole bunch of projects that I can't remember everything about. In general, I don't get bored.
There is a real buzz around your t-shirts at every convention. Tell me what's the secret?
The secret is pretty simple: I do things for myself. Whatever suits me in terms of prints, details, cut, assembly, etc. With experience and observation, understanding in these matters becomes greater.
I can say one thing: we do not only make T-shirts, they just sell out faster because everyone has them and everyone needs them. We are working to be perceived as a serious brand with full-fledged clothing collections.
At the beginning of our interview, we were not afraid to describe you as one of the most famous lettering tattoo artists in Russia. How do you rate your own popularity?
Popularity is just a detector of the correctness of your growth. It's just an indicator.
But for the sake of justice, I want to say that thanks to fame, it is much easier to implement any idea, work, and feel comfortable in any country, it is easier to work with famous people, and I have more credit as a specialist. In short, it's a little easier to exist and understand whether you are doing everything right.