Max Twenty Eight - about music, baroque and the path of a true artist
07 / 10 / 2021
Alexander Ledovskih
Tattoo artist Max Twenty Eight
A truly talented person is talented in everything! This is a truth that finds constant confirmation in the lives of passionate creative people. The hero of our today's interview is another proof of this. Tattoo Artist with a mysterious pseudonym Max Twenty Eight. For the first time, we heard his name and saw his works back in 2015, then, year after year, we learned more and more about him, and not only as a tattoo artist. We have seen his artwork at exhibitions, tattoo conventions, saw him on the jury of festivals, and more than once heard about his work outside the tattoo industry.
And finally, we were able to talk with Max, and in a big interview to ask him about his life and rich creative path. Who is he, Max Twenty Eight? We will find out together with you!
---
Max, we have been following your work for a long time, but can you tell a little about yourself for our readers? Where are you from and where do you work now?
- Hey! I come from the glorious Russian northern city of Arkhangelsk. There I began my career as a tattoo artist, then moved to St. Petersburg, and at the moment I have been living and working in Moscow for the seventh year.
How and when did you decide to become a tattoo artist? Who were your teachers? How was it?
- In Arkhangelsk, after school, I entered a branch of a St. Petersburg University, but after studying there for almost a year I was expelled for truancy (laughs). And on the kind advice of the history teacher, unfortunately I do not remember her name, but she saw that I often draw instead of writing lectures, and knowing that I was on the list for expulsion she advised me to start preparing to go to the artistic - pedagogical lyceum. I am very grateful to her for this advice. I listened to her and entered the lyceum as a teacher of fine arts and drawing, and I began my journey in drawing, and later in tattooing.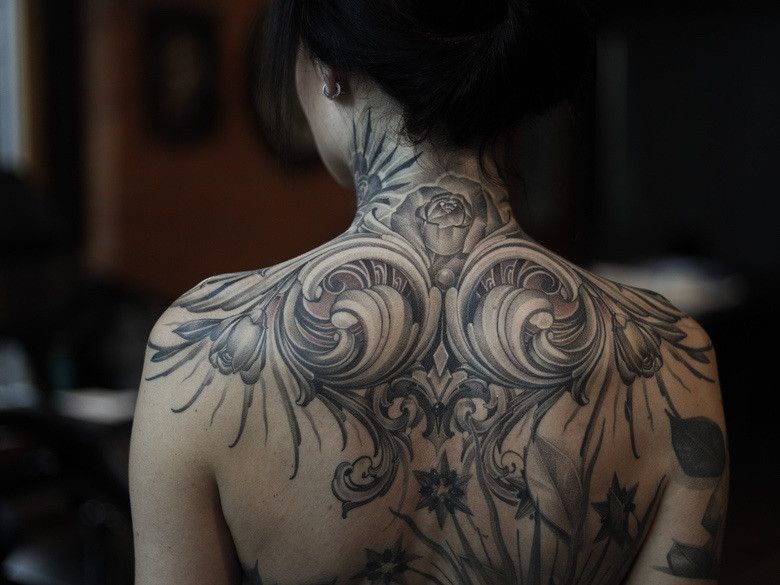 I've always liked tattoos. At a certain moment I started getting tattooed and in the process of communicating with my tattoo artist Eduard, everyone knows him as "Felix", I received an offer to work and try myself in this matter. Felix taught me the basics and gave me tremendous support and motivation. In the first year of being tattooer, I managed to attend the main International Moscow Tattoo Convention, which spurred me on! This is how my journey in tattooing began.
What does the word "tattoo" mean to you personally?
- Interesting question. I will not philosophize much, but I think that a tattoo is one of the closest ways for me to express myself and a chance to live an interesting life. Tattooing taught me a lot. This is a colossal experience of communication, the formation of oneself as a person and an endless learning process.
In your portfolio, most of the tattoos are combinations of various techniques and styles, which, frankly, look amazing. Can you tell us more about it? What do you prefer at work?
- Thank you very much! In view of the fact that over 11 years of career, trial and error, and the search for my own handwriting, at different periods it was interesting for me to work in different styles of tattoo, I think it helped me to accumulate enough experience, artistic and technical skills, which eventually contributed to the development of my own handwriting , a certain uniqueness and recognition in the works. But I am one hundred percent sure that this process should not stop and I am doing everything possible for this.
What features of your work would you like to highlight?
- I would emphasize attention and boundless love for details. Sometimes there are a lot of them and it makes my brain boil (laughs). I love it! And of course I will highlight my passion for floral designs. At one time, after analyzing my work and digging a little in my head, I realized that Baroque ornaments and other floral ornaments are closest to me. The understanding came to me that this topic is limitless and it is easy for me to create complex things in this direction, and I want to set myself difficult tasks.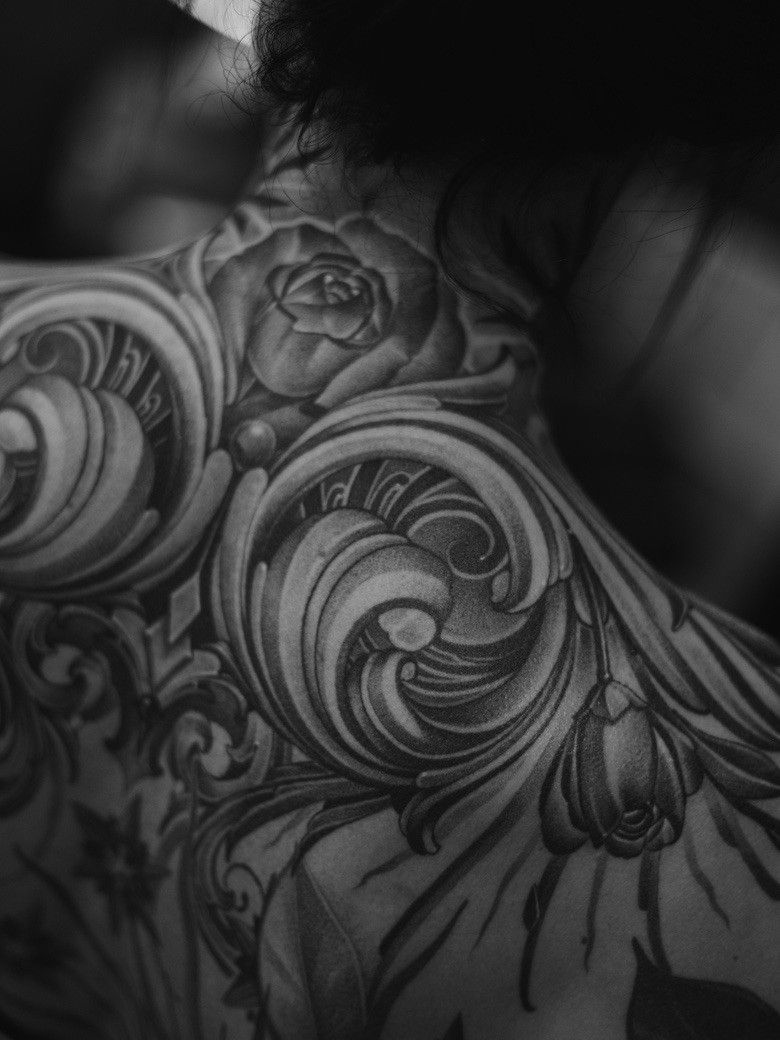 I feel free in this: weaving ornaments, thinking about space in my work, looking for new moves and details that will make me stand out. In addition to ornaments, it has always been interesting to stylize realistic objects. And eventually I came to mixing ornaments with different objects. And I expanded the range of my capabilities.
What comes first in your work: the client's idea or yours? How is your tattoo sketch born?
- When meeting a new client, it is very important for me how the communication takes place. Since almost always the client comes up with certain ideas and thoughts about the future tattoo. And then my task is to find out as much information as possible for a better understanding with the client and, in turn, tell what scheme I work with, and "teach" the client to think not within the framework of what he saw on the Internet or on someone's body, but take a deeper look at his life, his thoughts and desires.
Over the years, I have developed a design development scheme in which I exclude any "water" in communication, and this gives me the opportunity to be free in design development. This scheme is actually very simple. I ask the client for references of my or other people's works, any pictures that he likes, anything. I also ask for a brief description of how the client sees his future tattoo.
Since I really love detailing in the works, I ask him to think about what details we will add. And when all the information is on hand, all that remains is to structure. We define the main object, the secondary ones and write a list of details that may be in work. This is where our communication ends and I get to work. And within the framework of this information, I gain freedom of expression, no matter how absurd it may sound. I have been working on this scheme for several years now and I find it as comfortable as possible for myself and my clients.
Where do you get your inspiration?
- Music inspires me a lot! It takes up quite a large part of my life. One of my hobbies is finding talented street musicians and singers on YouTube. I myself make music in my free time, it helps a lot to unload my brain.
Also I love to watch detective stories and thrillers, apparently due my love for observation and detail. In general, there are a lot of sources for inspiration, from a simple smile to grandiose films and events.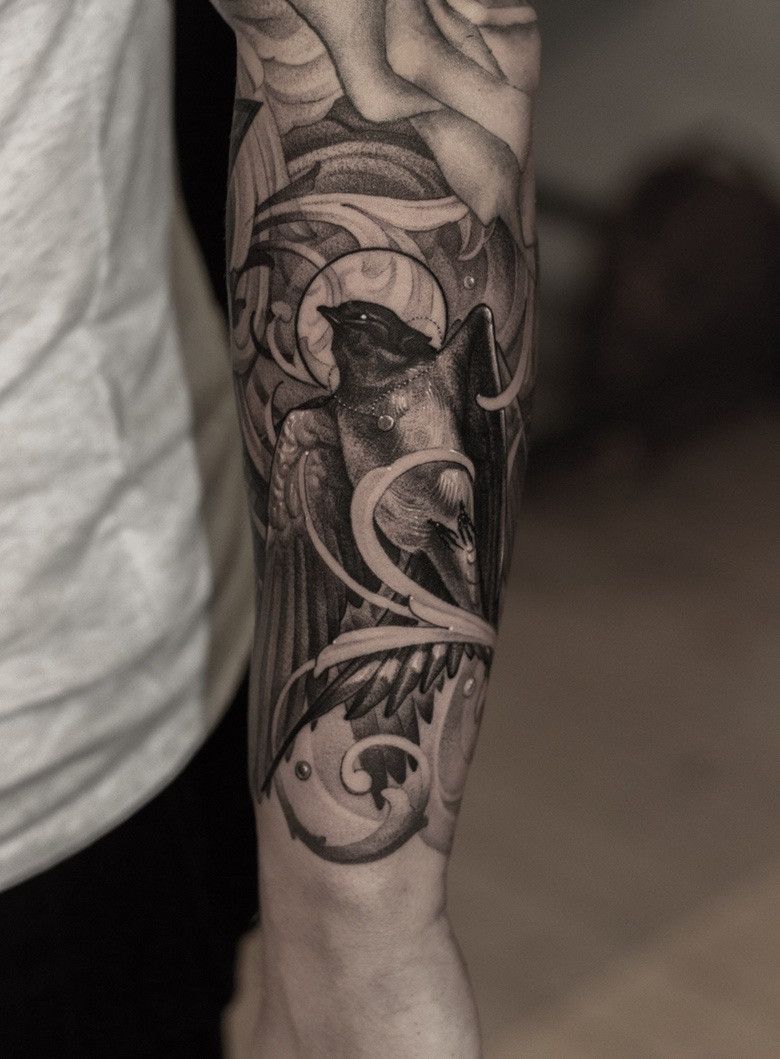 I would like to know more about the musical side of your life. Can you tell us in what style you make music, where can we listen to it?
- Since childhood, music for me has been something magical. I started playing guitar at school and showed interest in sound in general. I am very grateful to my father for the first guitar. This guitar has changed my life a lot! Then I dreamed of becoming a musician. But fate had other plans and music became my hobby.
In different years of my life I showed interest in various directions in music. And at some point I began to compose my own music. Fortunately, we live in the era of technology and now there are a lot of opportunities for this. In my free time, and when interesting melodies are born in my head, I sit down at the computer and make it. This is not often the case, as tattooing and painting take up most of my life. But music is a time to relax from the daily hustle and bustle and dialogue with oneself.
It's hard for me to say in what style my music is, it is always different and rather experimental. Every time I don't know what will turn out in the end, I just catch the mood in the process.
You can listen to my music on the "Sound Cloud" site, here is a link to my page https://soundcloud.com/twenty28eight
Maybe someone will like what I am doing. I will be very glad!
What kind of tattoo equipment do you prefer to work with and why?
- Oh. In my work, I tried a lot of different tools from different brands. And a few years ago I settled on instruments from one of the largest manufacturers of tattoo equipment, the American company Bishop Rotary. In addition to the highest quality products, I can also highlight the company's high attention to feedback from tattoo artists, which is very important for me personally! I personally know the founder of the company Franco Vescovi and the entire team of the company and I will say that this is a very large and friendly family.
Do you have any idols among tattoo artists?
- I would not like to use the word "idols". Rather, there are people who positively influenced me in different periods of my career, gave me motivation and spent their precious time on me, and these were not always tattoo stars. I am very grateful to all of them!
How do you rate your popularity in the industry? And how do you think it can be measured?
- Complex issue. I don't quite understand what popularity is. I honestly do my job, people like it and they come to me to carry my work on their bodies for the rest of their lives. This is very important to me.
Communication with the audience is no less important, I always try to give feedback, motivate and share my experience, I see that people appreciate it and it motivates me too. The more you give, the more you receive, it seems that this is how it works. The audience is growing, which means I'm moving in the right direction. Expressing respect from eminent tattoo artists with a larger audience, whose work I respect and admire also carries a lot of weight. At these moments you understand that we ourselves create these frames of popularity and they hinder our development.
You are a permanent participant of the Moscow Tattoo Convention. You were both a participant in the exposition and as a jury of a tattoo contest. Tell us more about your experience.
- I really like being on the jury at festivals. Over the past few years, I was lucky to be as a judge at the International Moscow Tattoo Convention in 2019 and 2021, in 2019 at the International Novosibirsk Tattoo Festival and this year was a member of the jury at the Golden State tattoo expo in Los Angeles.
It is interesting to observe what works are done by different tattoo artists, to evaluate the technical and artistic aspects of projects, to identify for yourself some points related to the thinking of artists and clients. This is an opportunity to analyze and look at the industry from a slightly different angle.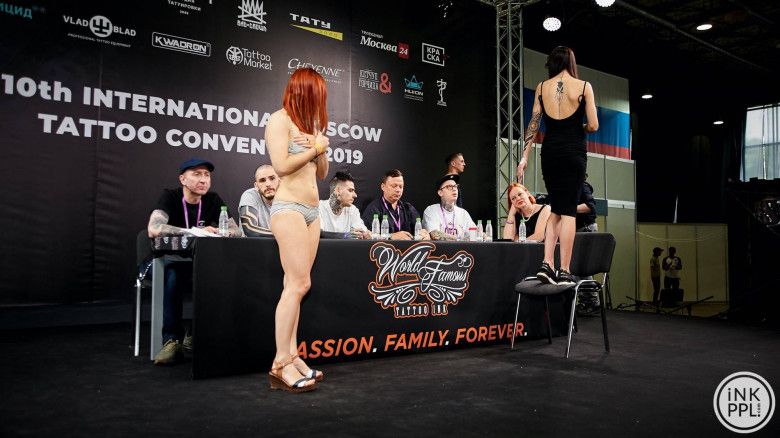 Refereeing is always difficult and a great responsibility, and as a rule there is a lot of controversy and defending one's position and opinions at this table. Sometimes it gets pretty hot there (laughs). When I am not on the jury, then of course I join this competition as a participant, and this is no less interesting and important.
Over the past few years, I have also presented my non-tattoo projects at festivals. These are canvases with my work and various collaborations with artists from other industries.
Do you think it is necessary for a modern tattoo artist to participate in tattoo conventions?
- Certainly! This is part of promoting an artist and a great opportunity to make a name for yourself, it moves the industry forward and raises the bar. It is also important for the client to see the artist's attitude to his work.
Tattoo conventions are always a lot of communication and an opportunity to communicate with artists from other cities and countries, thereby further blurring the framework in your head and discovering new ways for creativity.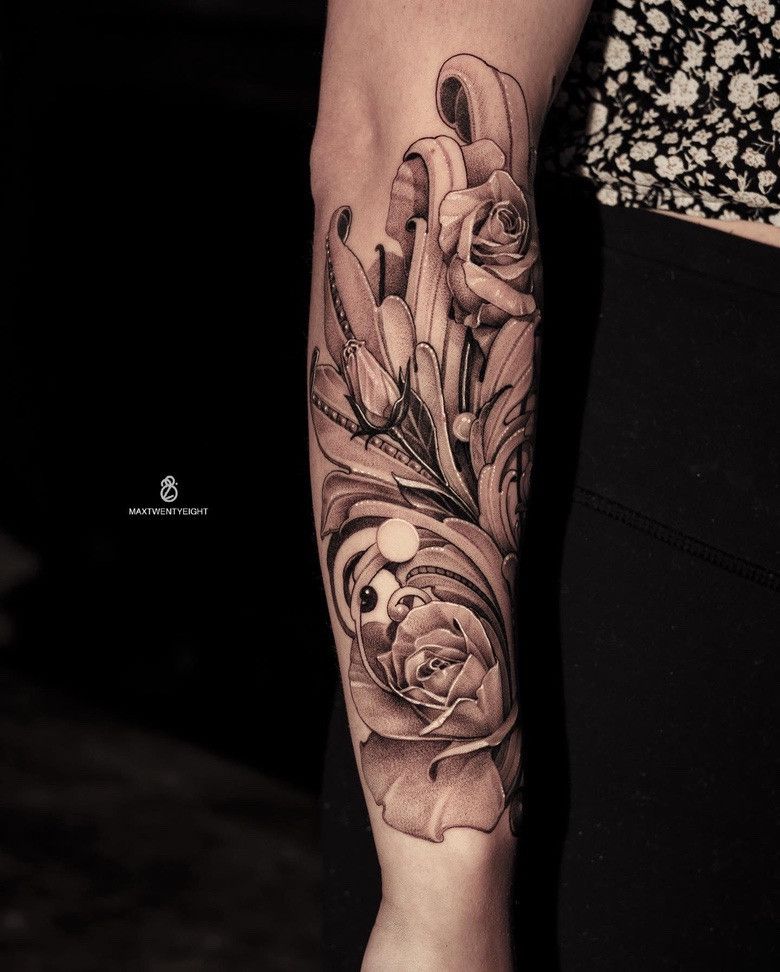 What about travel? Where have you already been? Do you have your favorite place on this planet?
- I love my profession for the opportunity to travel! Over the past few years I have been invited to various studios in Europe, and I managed to visit countries such as Switzerland, Sweden, Italy, Spain, Germany, France. And I realized for myself that the world is delightful, and I want to see even more. Live in different places. Observing the mentality of different peoples gives more opportunities in creativity, since in these observations I absorb these moments into myself, and this allows me to better understand the world around me and expands my horizons. That is why I have a desire to live somewhere else. At the moment I am thinking about life in the USA.
Do I have a favorite place? I sometimes think about it and probably answer that there are a lot of them (laughs). And they are loved not because of their location, but rather because of the memories of situations, people and emotions at these moments.
We know that your creativity has already spread far beyond the tattoo industry. Tell us about it.
- I am interested in creating in principle. And in addition to tattooing, I am fond of various things. I paint on canvases, create toys, make music, collaborate with various creative people from other fields of activity. I was glad to cooperate with a large and well-known clothing brand from California "Sullen".
I really love sneakers and to my happiness, fate brought me to the fountain of his business, the founder of the Moscow brand Shoes Maker Lab, Pavel. And we already have several products from our collaborations.
Recently I managed to cooperate with a wonderful Moscow jeweler Roman "Dharma Jewels". Together we created a limited edition pendant featuring one of my figurines that I created in 3D. This is an incredibly cool experience for me!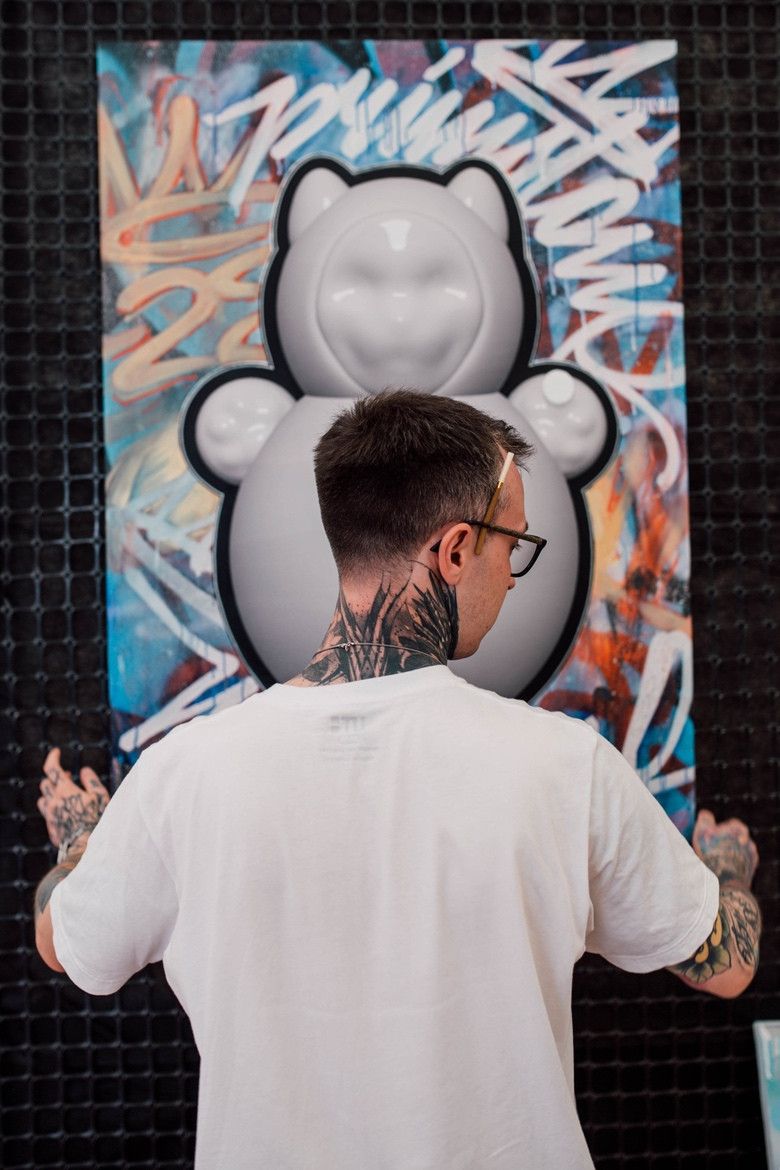 Also, over the past couple of years, I managed to participate in various exhibitions of painters, one of the most significant for me is the annual exhibition at the studio "The Raven and The Wolves" in Long Beach, California, which was founded by the world famous tattoo artist and painter Carlos Torres.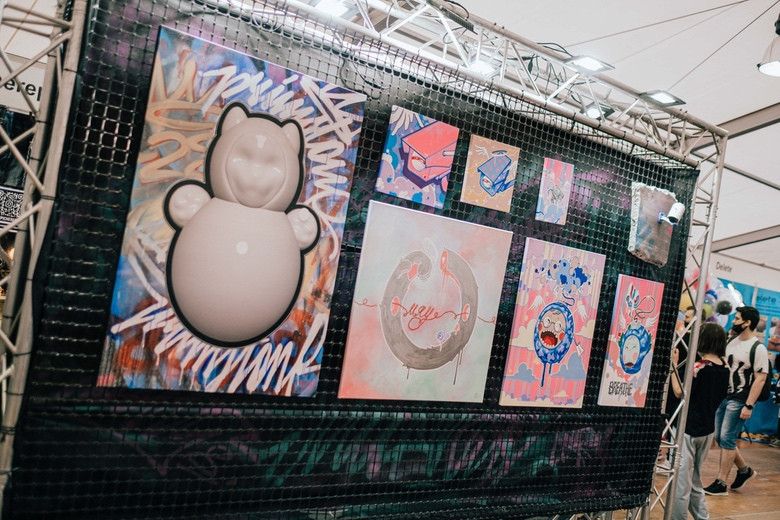 Are you preparing any new activities in the near future?
- There are still many interesting projects in the plans, but they are all very time consuming.
At the moment I plan to release a new toy, now it is at the stage of developing a 3D model. I can only tell you that it will be a cat.
Toys for me are a new story in creativity and I have already gone a certain way in this, having released a small number of figures according to my designs last year.
And of course, without stopping, I paint a lot of canvases and plan a personal exhibition in the future.
Do you follow the tattoo industry in general? What can you say: is modern tattoo art or commerce?
- Yes, of course I follow what is happening in the tattoo field. In general, I am interested in this for analyzing my work.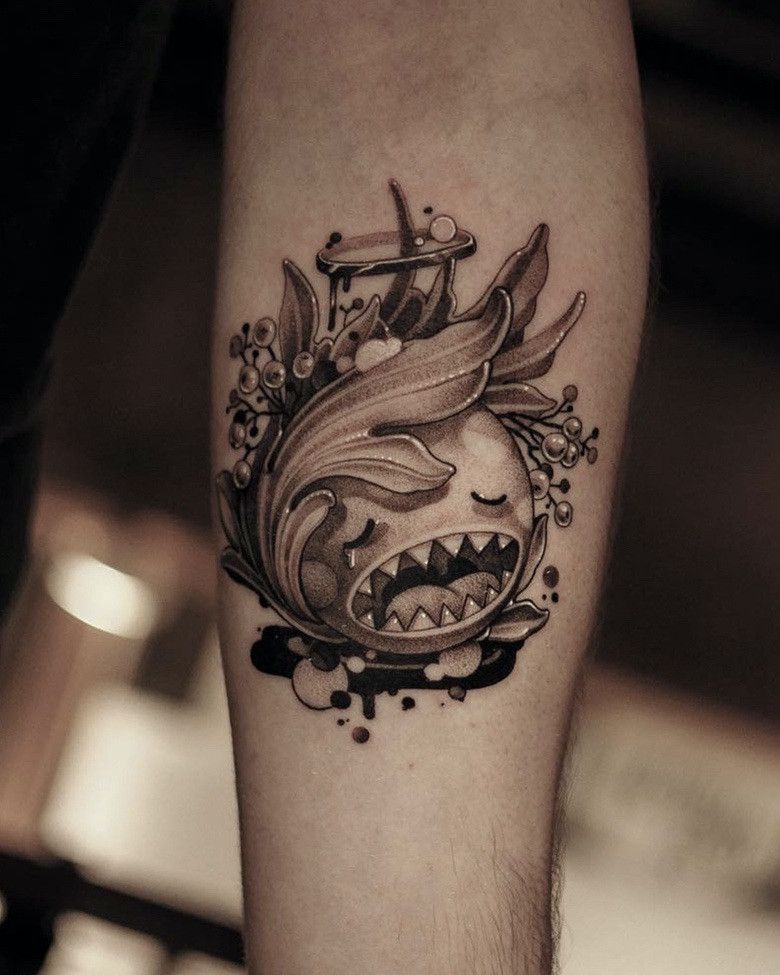 When it comes to art and commerce, I think the two are closely related. Basically, we are all in business. But the question here is, what drives a person: creativity or money? Those people who are interested in the industry, who want money and at the same time are not an artist can master a tattoo technique and start making money. This is not difficult.
I, in turn, chose a different path. It is more difficult and time consuming, as it seems to me, and requires more effort. Just getting tattoos is not interesting for me, it is much more interesting to find my audience, people who like my ideas and execution, my train of thought. This is more satisfaction and incentive not to stop developing. Sometimes it is difficult and it does not always happen quickly, but this is the point, constantly looking for new moves and experimenting. I think this is the life of an artist.
How do you feel about the trend of universal learning, when even the tattooers who were recently newcomers themselves are already teaching the next generation?
- To be honest, I don't quite understand how it works. If people who go to study with a tattooer who himself does not yet have enough artistic and technical knowledge and experience, then you need to understand what drives the organizer. Maybe he incorrectly evaluates his skills and incorrectly analyzes his work, or it's just a trend and a desire to make money. If those who go to such training, in turn, do not understand and cannot assess the level of the teacher, then this is the level that is currently available to them. And they need to learn to analyze a lot. This is how I see it.
What advice would you give to aspiring tattoo artists?
- I would like to advise novice artists, whether it is a tattoo or a canvas design, be honest with yourself! I think this is a very important point! Ask yourself questions more often. What do I want? What do I enjoy creating the most? And build on this. Thus, you convey this position to the viewer and this can help many people find themselves. I am sure you need to be in the learning process all the time and be very curious! Constantly communicate with like-minded people and not only, sometimes people with a different mindset can push you to new ideas. The wider your view of the world and you are open to it, the more and the stronger will be the return and motivation to move forward.
So where do you think the Russian tattoo industry is heading? And how do you see the future of global tattoos in the next few years?
- Times are changing and the industry is growing. More and more tattoo conventions in Russia and more and more people are changing their attitude towards tattooing. Tattoos no longer seem so "wild", and it makes me happy. The tattoo industry in Russia has long been not an underground organization and has gone beyond its limits, and is increasingly moving towards the art industry and media. I think this will certainly lead us to new horizons.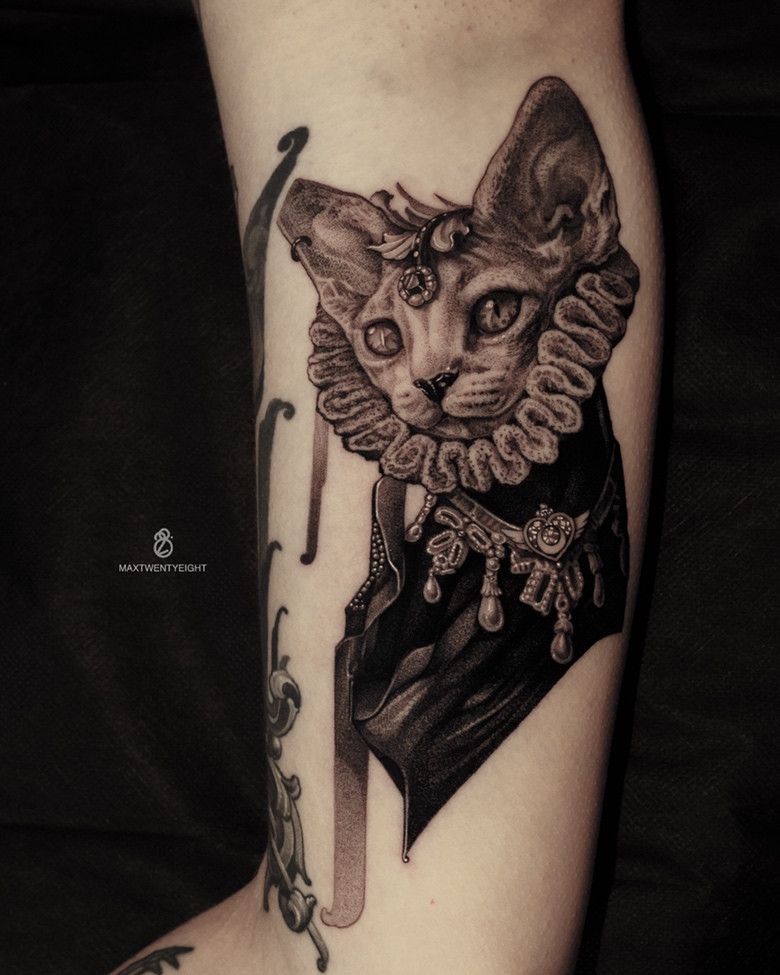 As for the global tattoo industry in the next couple of years, I can confidently say that many new high-profile names of tattoo artists from Asian countries will appear soon. This is already happening. Over the past couple of years, many tattooers from the same South Korea have appeared, who are rapidly gaining popularity and are quickly pumping their skills, which is typical of Asian peoples. It will definitely get the industry moving.
And of course, the development of technologies in the tattoo industry cannot but rejoice, which is greatly facilitated by a huge number of large companies producing tattoo equipment. Who are happy to collaborate with artists and help them in promotion. It is important.
At the end of our conversation, I really want to say that creativity is a very powerful and versatile tool, with which you can influence the world around you. The more honest you are, the faster you will find your unique style.