Interview. OOQZA: «My characters are a projection of human senses and emotions»
Tattoo artist Ooqza
/ Source: @Ooqza
The heroine of our today's interview does not shout about her fame, does not participate in conventions (except for the only one where we saw her at work for the first time), does not chase sponsorship. And, apparently, this is not required - her sincere works are so imprinted in the memory that even before we met, we determined in a second that the tattoo was copied from her work (which does not always happen with work of other artists)!
Feelings of confusion and despair are one of the most difficult conditions for any soul, but they became the basis for the development of the unique style in which Ooqza, aka Valeria Volokhova, works.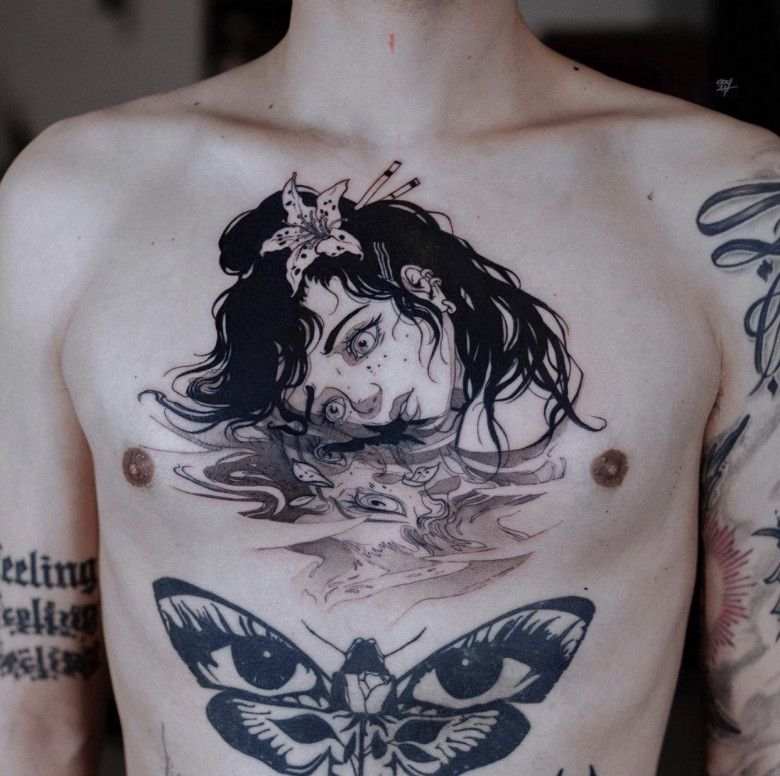 The eyes of the characters in her tattoos are always empty, sad, almost devoid of life, and sometimes insane. It seems to us that it's melancholy attracts the attention of thousands of fans of Ooqza tattoos. And today there are more than 100,000 tattoo fans from all over the world following her work. And this, of course, is not the limit - her author's style has long been copied by unscrupulous tattooers, and clients are attacking Valeria's social media with calls to come to their country in order to get a tattoo from her.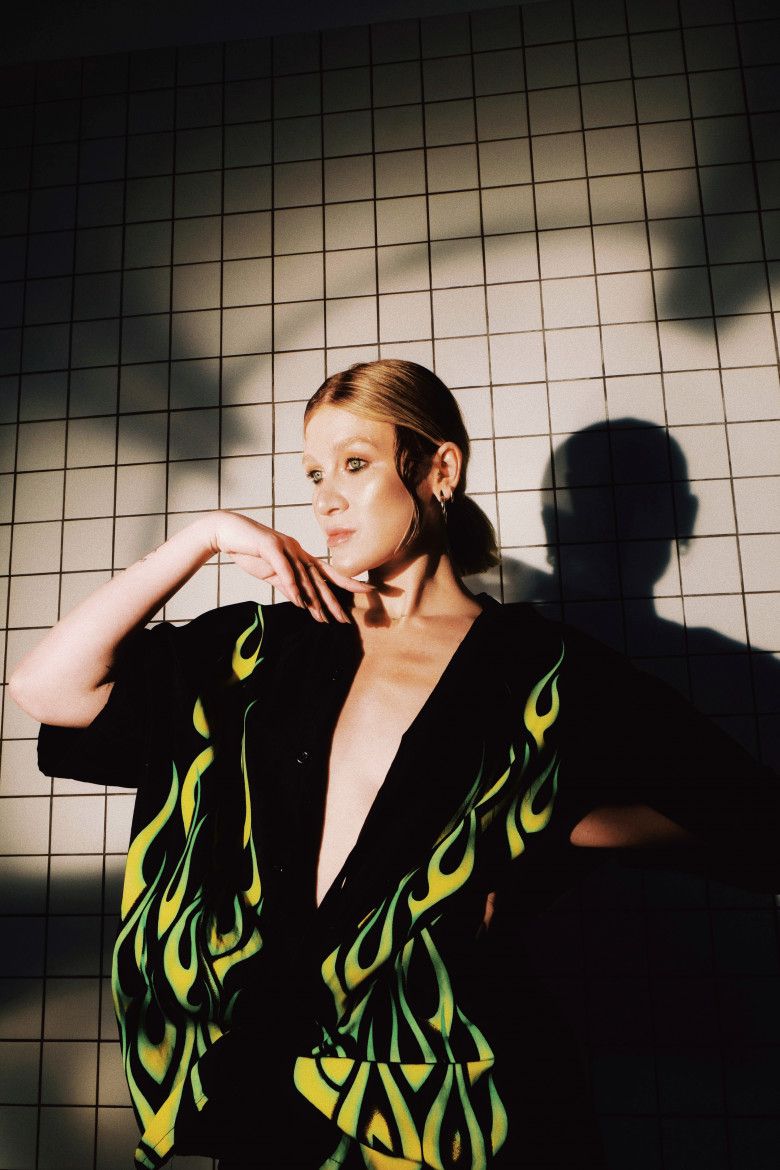 - Ooqza, hello! Tell us a little about yourself, where are you from, where do you work now?
- Hello! My name is Valeria, I was born in a small town in the Tula region, about 160 kilometers south of Moscow. There were no creative people in my family, mostly - social workers, I, so to speak, a pioneer, and I am glad that I took the path of freedom and self-expression. Now I have been living and working in Moscow for 6 years. At the moment, I have been doing tattooing for the eighth year, and this is a significant part of my life. Tattooing has brought me many interesting and unexpected acquaintances: artists, musicians, photographers, and of course the experience that I would hardly have received without starting to develop in this profession.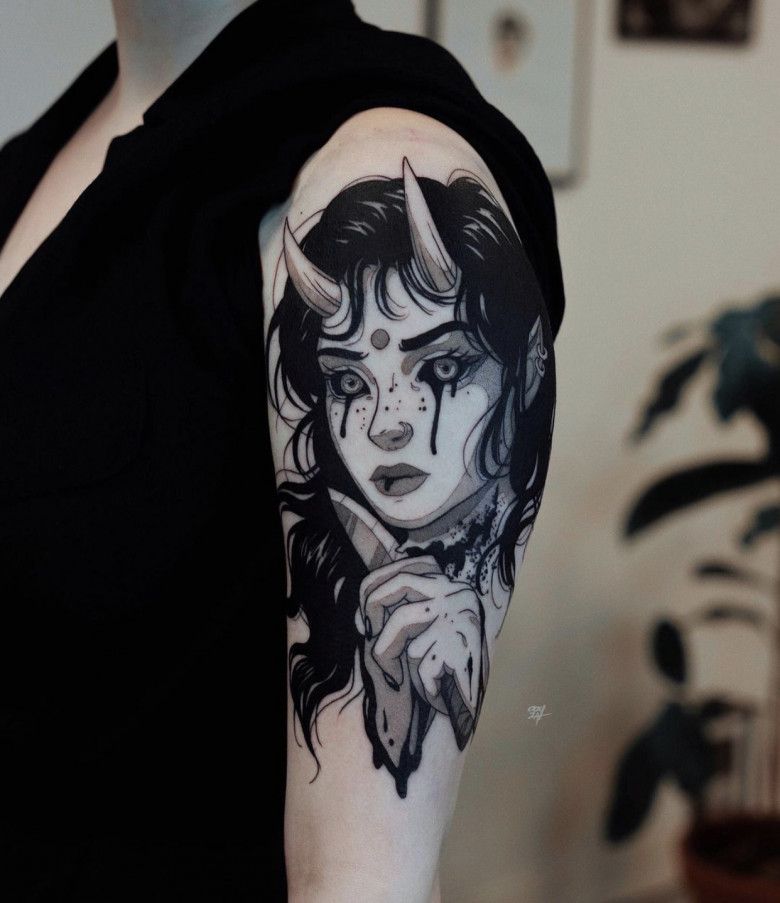 - How and when did you decide to become a tattoo artist?
- Then I was in the third year of university, like a large percentage of tattoo artists, I studied graphic design. I rented an apartment with a friend, and her friends often came to us. They were quite alternative, tattooed, and I did not have a tattoo at that time, and I did not even think that I would ever want to get a tattoo. At such home parties, everyone found out that I was drawing, and this was a reason to assume that I could also tattoo.
One of the guys suggested that I get a tattoo on him, and I, without thinking twice, went to Moscow and bought all the equipment for only 30 thousand rubles. It was the most primitive set, but as a hobby it suited me. The first tattoo was done 8 years ago at the same home party, and it was fun for everyone except me, I took it very seriously and responsibly. Then I didn't know that this hobby would stay with me for a very long time.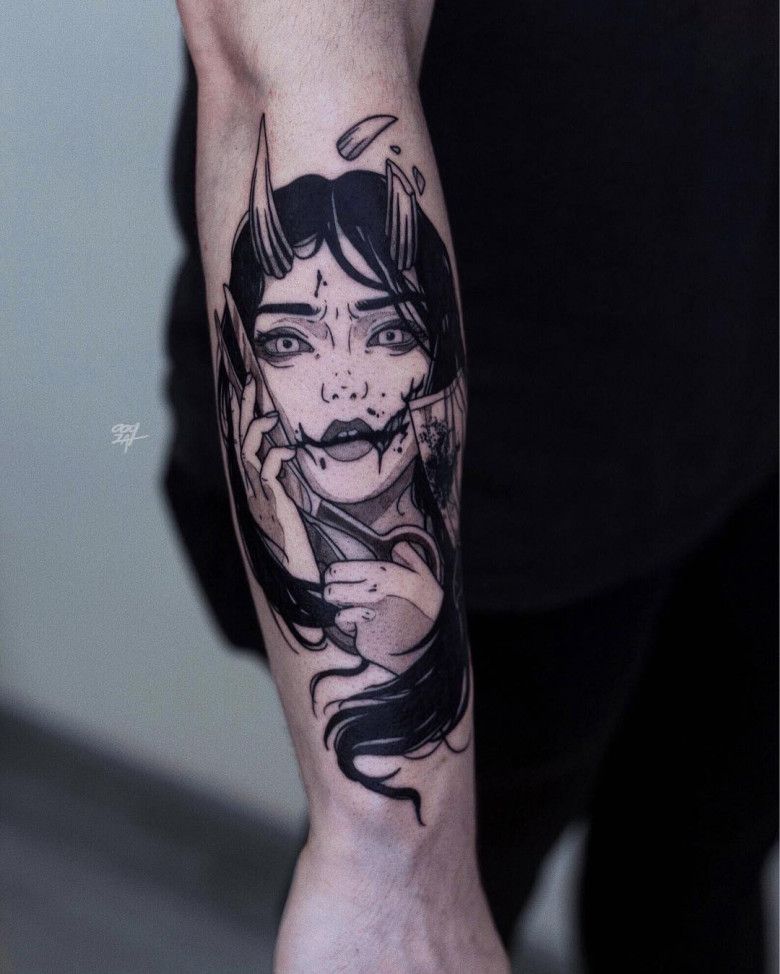 - How would you describe your style? What features of your work would you highlight? How did you come to the style you are currently working in?
- Then I had a very difficult period in my life, my mother was gone, and I was in a very lost state, absolutely did not know what to do next. My friend supported me during this period, he saw that I draw a lot, he also knew that from the very beginning of my journey in tattooing, I was looking for my own style.
Once he asked why I didn't draw anime ... I seemed to have received my sight. I didn't understand why this thought didn't appear in my head earlier. I have been inseparable from anime since childhood, since I was 13. His question was the beginning of my style. This new path became my outlet then. I directed all my emotions into drawing.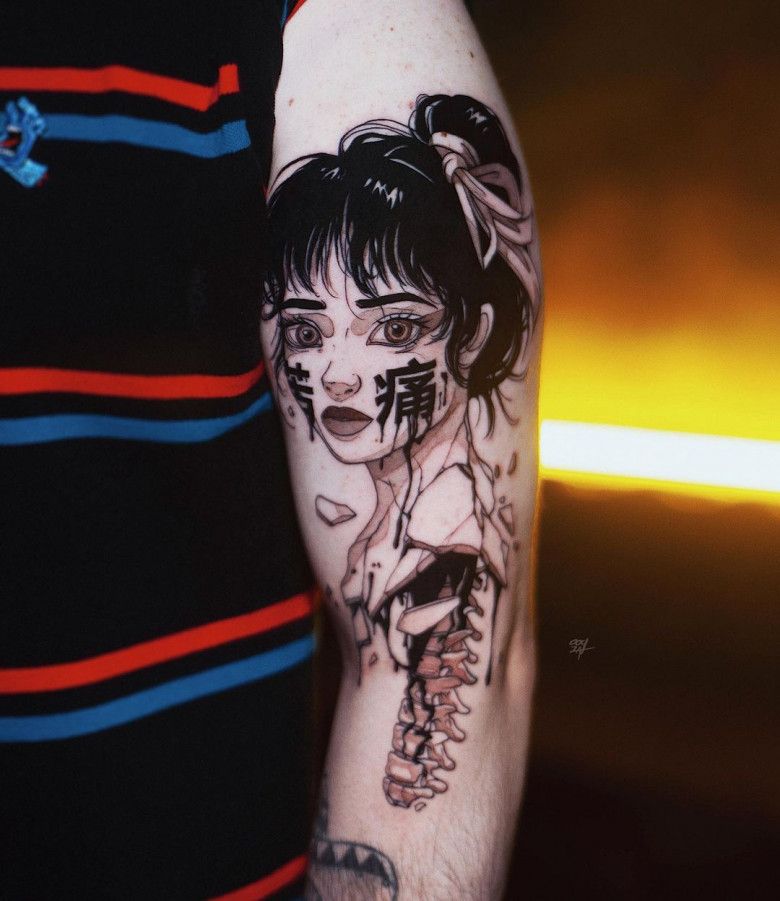 After analyzing, I can say that in part they were so dark and frightening precisely because of my condition. Soon I began to receive a lot of attention from my work, and my pictures resonated with people. Until now, of all my sketches they are the most copied in the whole world.
Now my style is different from my initial one. I have matured, and the motives have matured with me, have become more thoughtful and elaborated. I focus on detail and elegance in the design. I would call my style Gothic anime, although it's not really anime. Something of my own, a mixture of everything I like. I use fine lines in combination with big dense black spots, it gives good contrast, and lately I like to add a red accent. It gives romance and passion to the image. A timeless classic, but everyone applies it differently.
I really managed to create a unique style by seeing my tattoo people understand that Ooqza did it.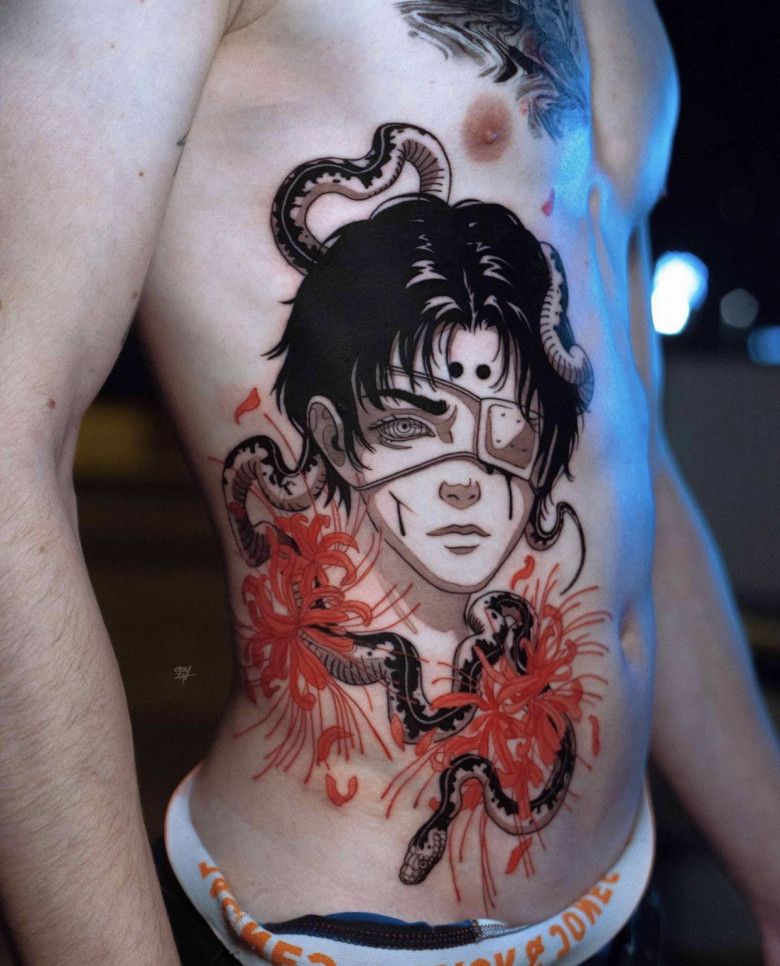 - Who are they - the heroines of your tattoos? Tell us how their images are born.
- My characters are projections of human emotions and feelings. They are not always positive, not always the same as we want, but I want to see beautiful and aesthetic things in everything. The aesthetics of melancholy resonate with me, like, for example, Millet's painting Ophelia, a girl so glassy, ​​on the verge of life, and beautiful at the same time. This is empathy, I can see the story behind the painting, I can guess what happened to her before she fell into the water, what emotions she experienced.
In the same way, I prepare for the development of the sketch - I come up with what my character feels and why. Concept artists have a similar approach when there is a story and you know the character's past, his personal qualities.
It is extremely important for me with what mood my client sees his future sketch. At the very beginning of the discussion of an idea, I always ask the emotion that it will evoke. This gives me a better understanding of the character and thus minimizes the possibility that I will not understand the client. A kind of symbiosis between me and the person who addressed me.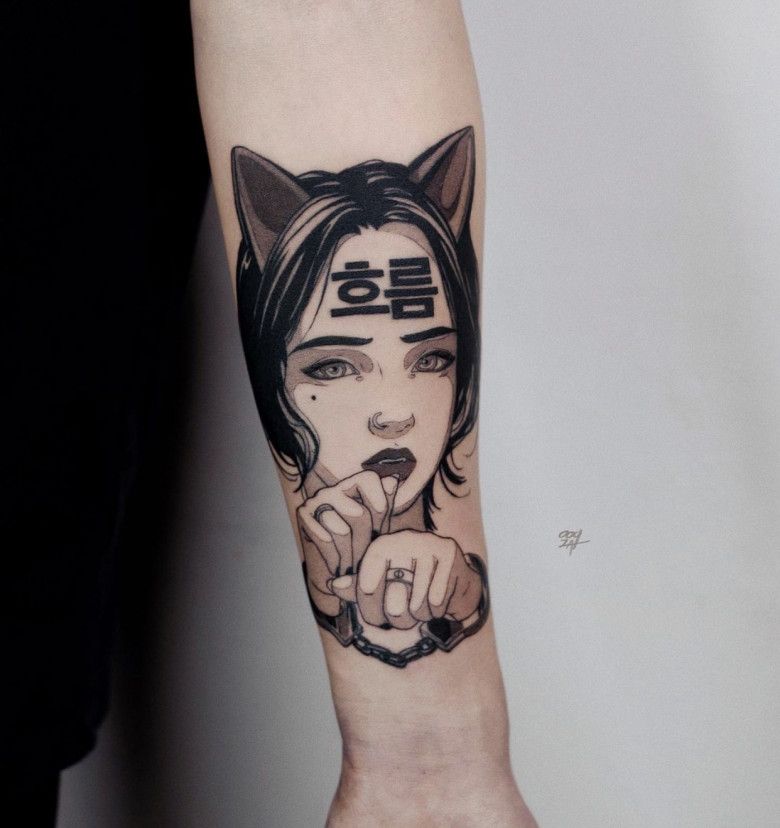 - What inspires you as an artist? Are there tattooers who inspire you?
- People! Their inner experiences, emotions, aesthetics of purity, as a distinctive feature of Japanese art. I mean that simplicity and conciseness of the visual that is inherent in the East. I am not inspired by the work of other tattooers, but there are many illustrators I follow who mostly paint on the same Asian theme. For me, the only way to get inspired by something is to find an emotion or a situation that I myself experienced, that left some kind of mark. If a drawing is without an artist's soul, he will not find his viewer, he will not respond in the heart of the beholder. So, through my work, I broadcast myself, a real person.
I'm inspired, of course, by reviews of my works, it is inspiring that I can inspire someone! It is an indescribable feeling when strangers thank you for becoming a motivation for them to grow and develop. That is, you remotely sent a person to some direction and made his life better!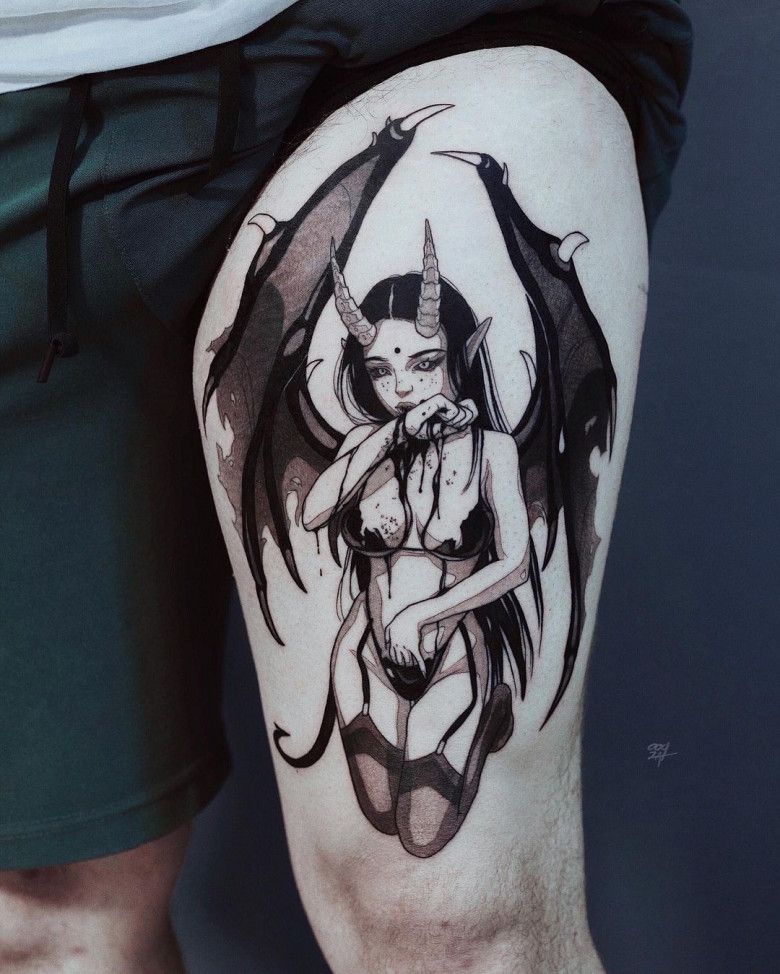 - How do you feel about the fact that your style or images of the heroines of your tattoos are copied?
- Earlier, when it just started, it was very unpleasant, now I am calmer about copying. Of course, it's not great that people earn money from my work and don't do anything themselves, I draw all the sketches for a specific person and put meaning in each drawing, but for most who are copying it's just an unnamed picture from the Internet.
"I just found it on the Internet, you posted it yourself, so you allowed everyone to use the sketch" is the most common excuse. Alas, no, it doesn't work that way. I always say that a picture appeared on the Internet for a reason, and everything that is posted there has an author, and with it copyrights. Nothing happened by itself. All my works are signed and a person can contact me for an individual sketch, drawn with a soul and just for him.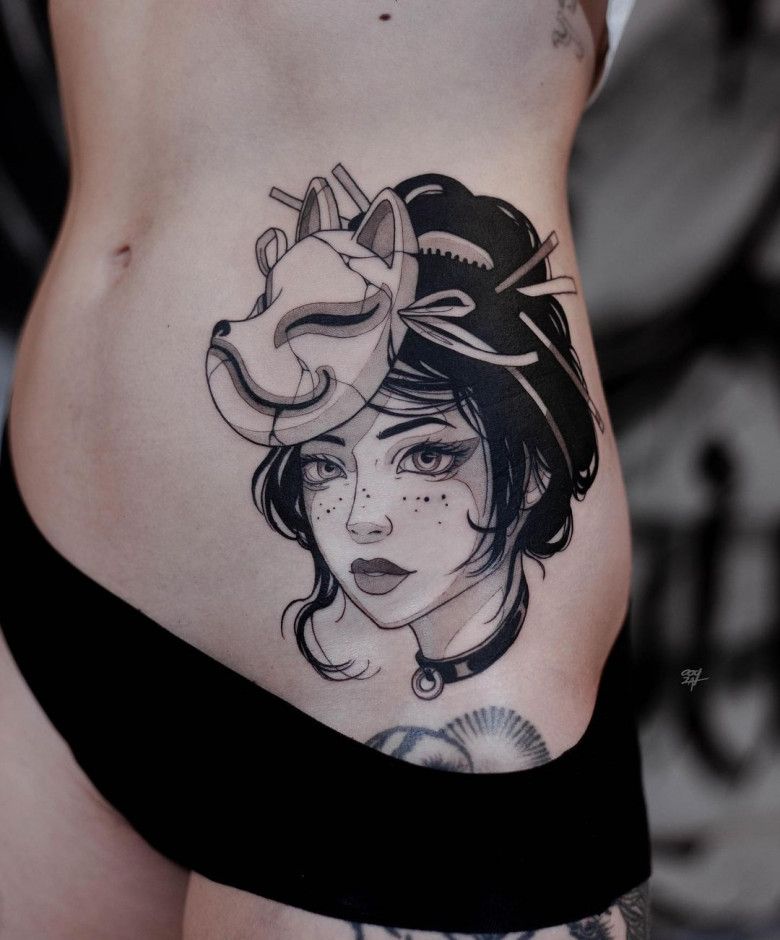 On the other hand, of course, copying is part of the popular style. A lot of people like what I do, so they want the same tattoo for themselves and repeat the sketches. Perhaps this is a confession.
Copying is a phenomenon that has two opposite sides, and will always bring both joy and resentment. My policy now is that if you have no control over the situation, let it go.
- What difficulties did you face as a tattoo artist on your way?
- The complexity, perhaps, was in the information, or rather, in its absence. In the city where I started tattooing, there were no good tattooers to teach me "how to do it right", so I had to try different ways of tattooing intuitively. This, of course, took a long time. To all novice tattoo artists who are now reading this interview, I would advise you to take the time and get to a professional who is close to you in style, and who will explain the basics to you, which will clearly accelerate your professional growth.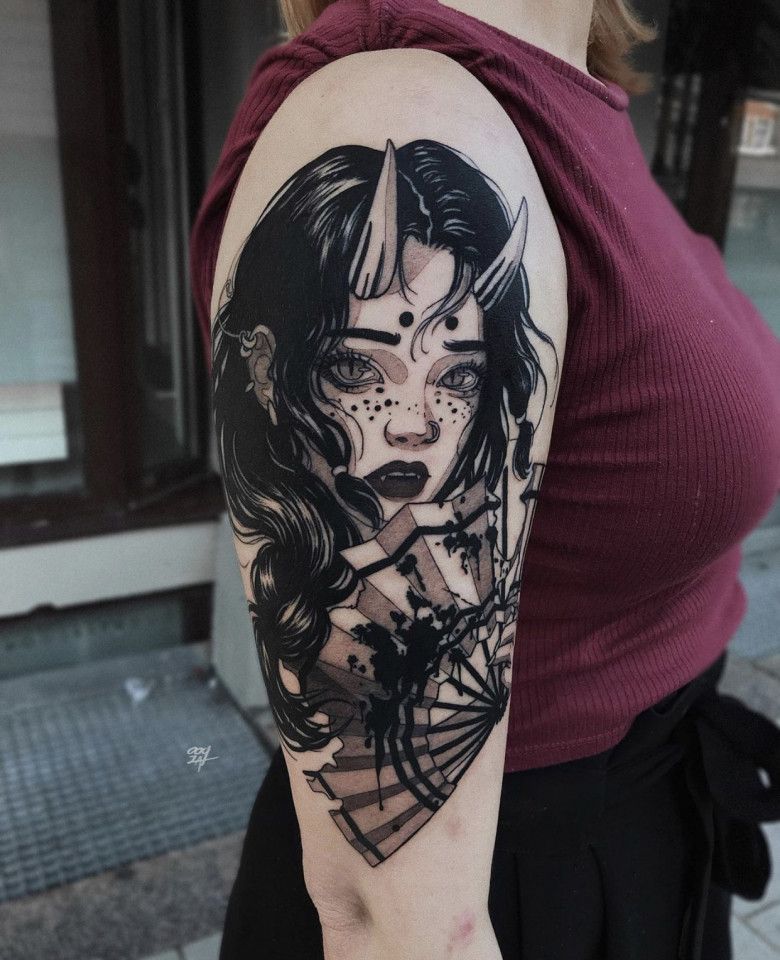 Since I work with people directly, it is obvious that it was difficult to guess the client's idea of ​​a tattoo. But this was at the beginning, when my portfolio was not formed, and the client did not fully understand what he would get in the end. Now there is no such problem, I have developed my own method of communicating with the client, when we understand each other. Even if he / she says he doesn't quite know what he wants, it's definitely a tattoo in my style, and there is usually some common ground initially. I ask a few questions that help me come up with the image and draw. They trust me a lot, the choice of posture, details, decorations, surroundings ... When there was no trust it was difficult, and it's good that this moment is far behind.
- Do you travel for work? Tell us about your experience.
- A huge number of foreign clients from the USA, almost all European countries, Australia, Brazil, Japan write to me. That is why I have thought many times about obtaining a work visa in order to implement all the many projects that await me in different parts of the world. Some clients do not wait and travel to Moscow in order to get to my session, so my tattoos are in all countries of Central Europe.
Now I am actively working on obtaining the necessary travel documents, and I hope that everything will work out for me!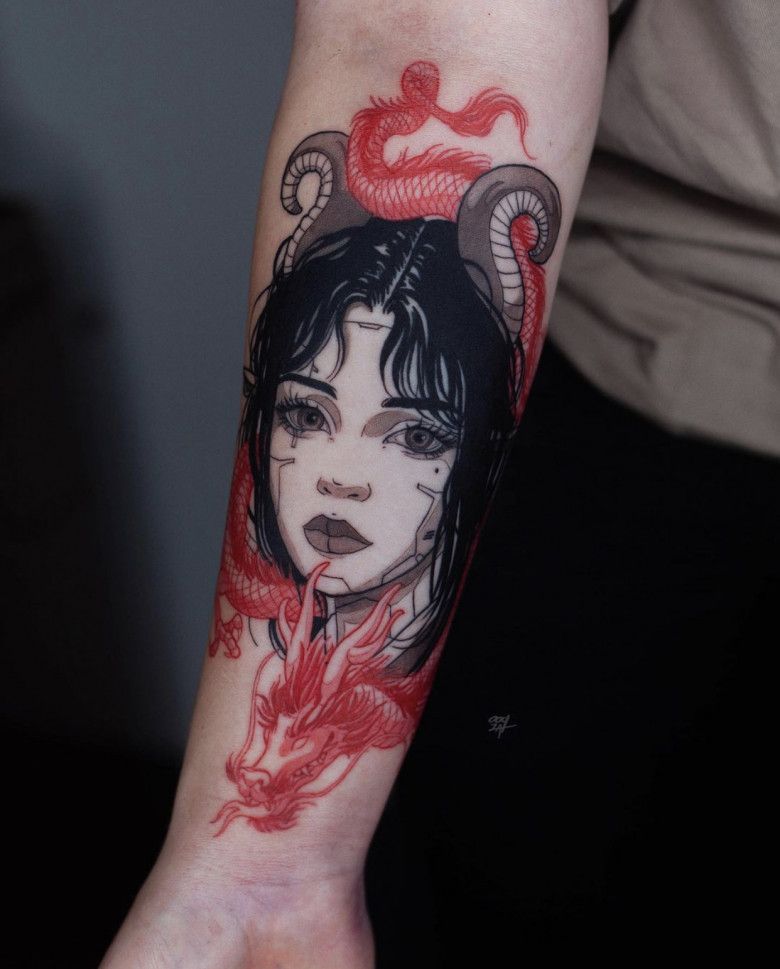 - Tell us about your experience of participating in conventions. Do you have any awards?
- I never considered it necessary to participate in conventions, I always found it terribly uncomfortable that there were a lot of people around, crowds of people! And I didn't see the point in professional terms, it was always good with the booking, I didn't need sponsorships and awards, but this year I was invited by the Wjx brand manager to represent their company at the convention, and I decided to give it a try. How surprised I was how positive the experience I got! They recognized me, approached me, asked, and took pictures! Everything was great! I've changed my mind a lot about conventions.
At the Moscow Tattoo Convention, I started a very beautiful job and, to my great regret, did not have time to finish it by the beginning of the judging, but I put it up anyway. I definitely had a chance of winning the Best of Show that day if I could finish.
I do not regret a bit that I participated, it was a very memorable debut! Cool experience! I will definitely still participate in conventions in other cities and countries.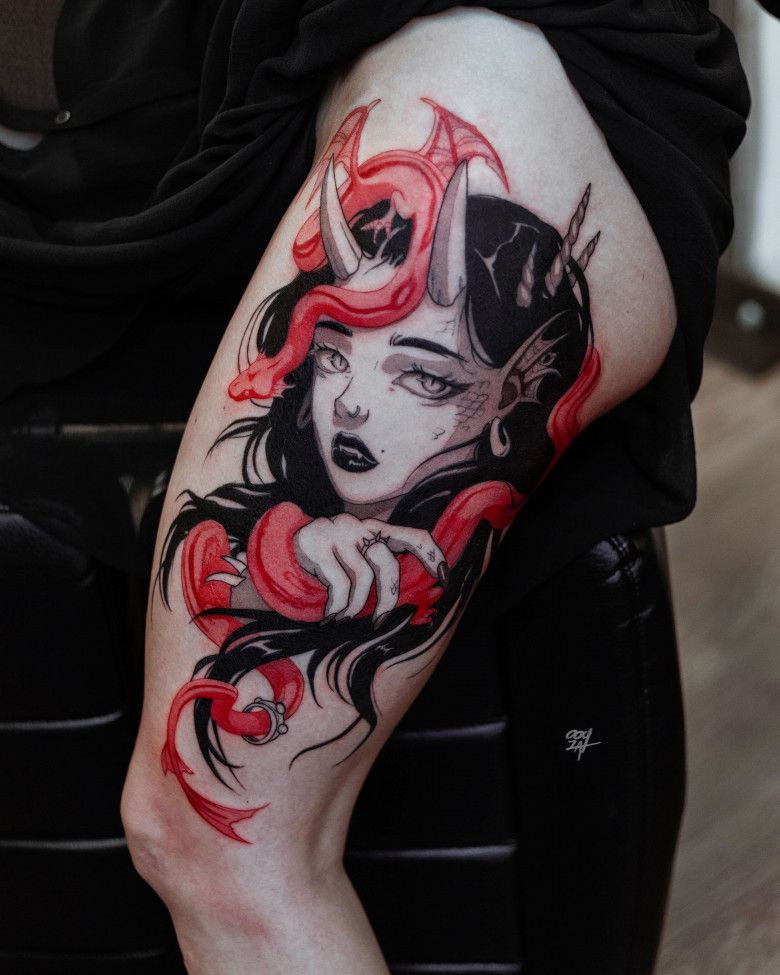 - Who are your clients? Do they have something in common?
- Да, конечно есть! Многие любители аниме, манги, многие мечтатели и творческие люди. Общее ещё то, что им нравятся мои иллюстрации, они разделяют мое настроение и понимание красивого, раз выбирают носить на себе всю жизнь мой эскиз. Мы определенно похожи. Они все – немного я.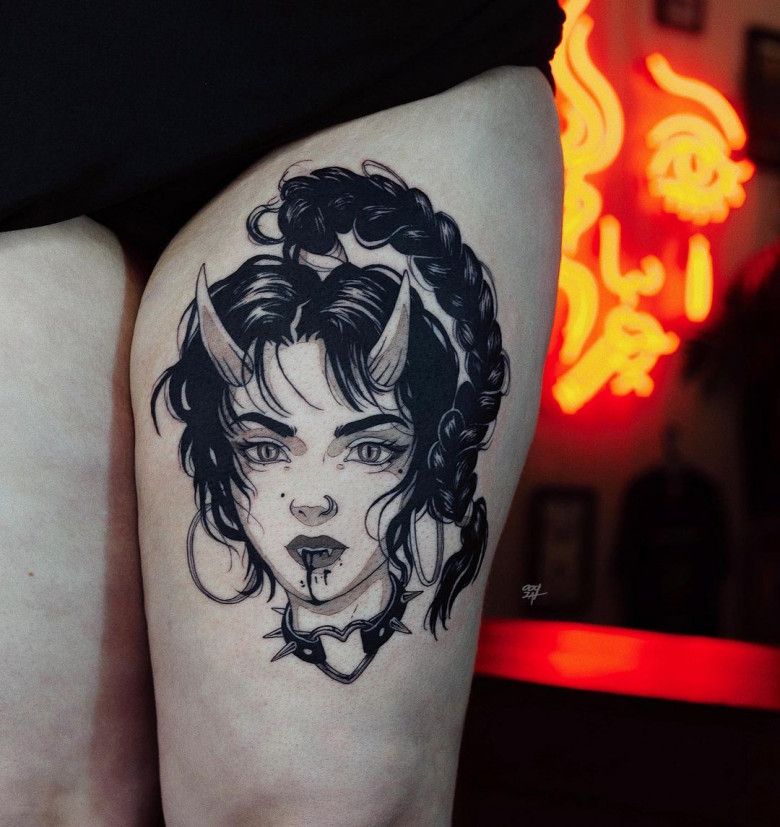 - Do you prepare any personal events, activities?
- Most recently, I gave a lecture for tattoo artists on how to find your own style in a tattoo and how to make it popular. I really enjoyed sharing my experience, and I will continue to do so. I plan to give educational content, but now online and in two languages, English and Russian. It will be available on my website soon.
I am also currently focused on creating clothes with my characters. The very first illustration that will be on T-shirts was drawn at the very peak of the lockdown. I drew it for a month, practically without leaving my home! A very interesting period of my life and very productive in terms of creativity and self-development.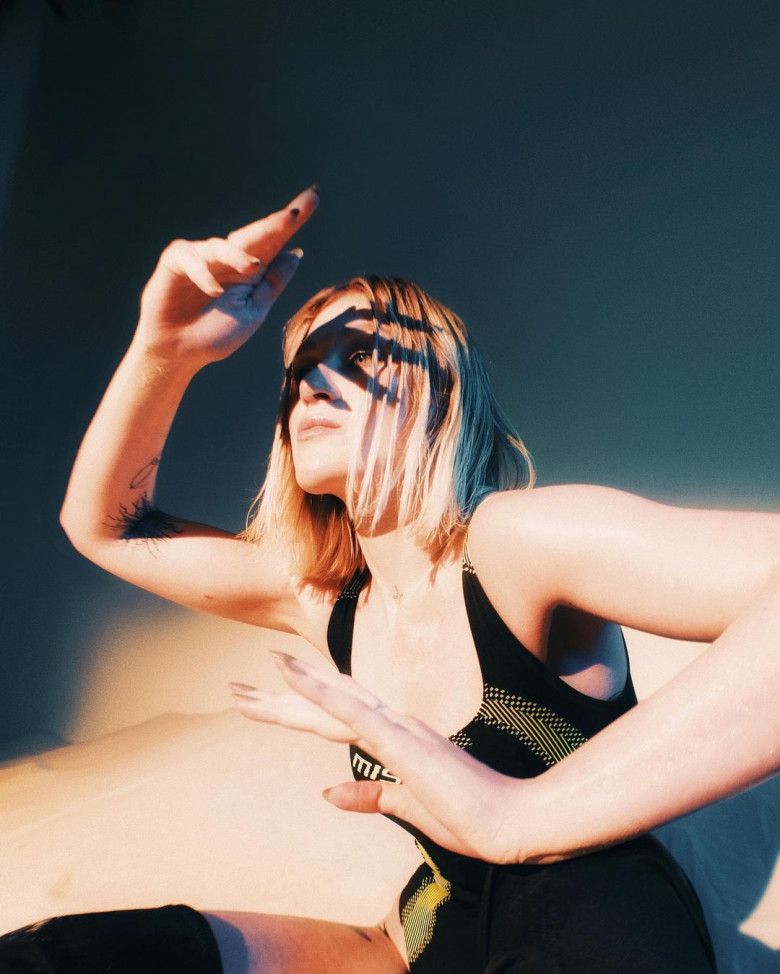 - What advice would you give yourself as to a tattoo artist 5 years ago?
- You know, I really sat and thought about this issue, and did not find any advice for me. Perhaps I did everything right, that inexperienced Valeria was good! I listened to myself, no one limited me in my actions, I developed and tried new things. I tried it again, if it didn't work out, I experimented. I would hug her and tell her that you are on the right path, just keep going!
For readers, I would point out the importance of believing in what you are doing and in yourself. When I say the right way, I mean the right way for you, for everyone. There is no universally accepted right and wrong, as there is no one way for all. Nobody knows what is better for you besides yourself, and mistakes are a reason for gratitude for the experience, you should not be afraid of them.