One frame tattoos by EQ
05 / 09 / 2022
Andrew Novikov
Tattoo artist EQ
/ Source: @tattooist_eq
A few years ago, we introduced you to the amazing EQ's tattoos, which looked like a cut out frame from human memory enclosed in a long, thin rectangle. We were fascinated by these tattoos, they look so capacious, beautiful and original. And now, after almost 3 years, we managed to talk with EQ and find out how these amazing tattoos are born!
---
Hello EQ. Let's start from our traditional question. What did you do before tattooing?
- Before tattooing, I worked as an art teacher. In Korea, students take exams to enter an art university, and I taught them how to draw. When I was a teacher, I often drew what was in the curriculum rather than what I actually wanted to draw.
How and when did you decide to become a tattoo artist? Who taught you? How it was?
- People around me encouraged me to become a tattoo artist. They often said that I was good at drawing, so I believed that I would become a good tattoo artist.
Early in my tattoo career, I started looking for a place to learn the art, and one day I saw that StudiobySol had classes, so I immediately applied for training. I studied tattooing with Sol. At first, I was afraid to draw on human skin, not on paper, so I practiced a lot, first on artificial skin, and then on myself.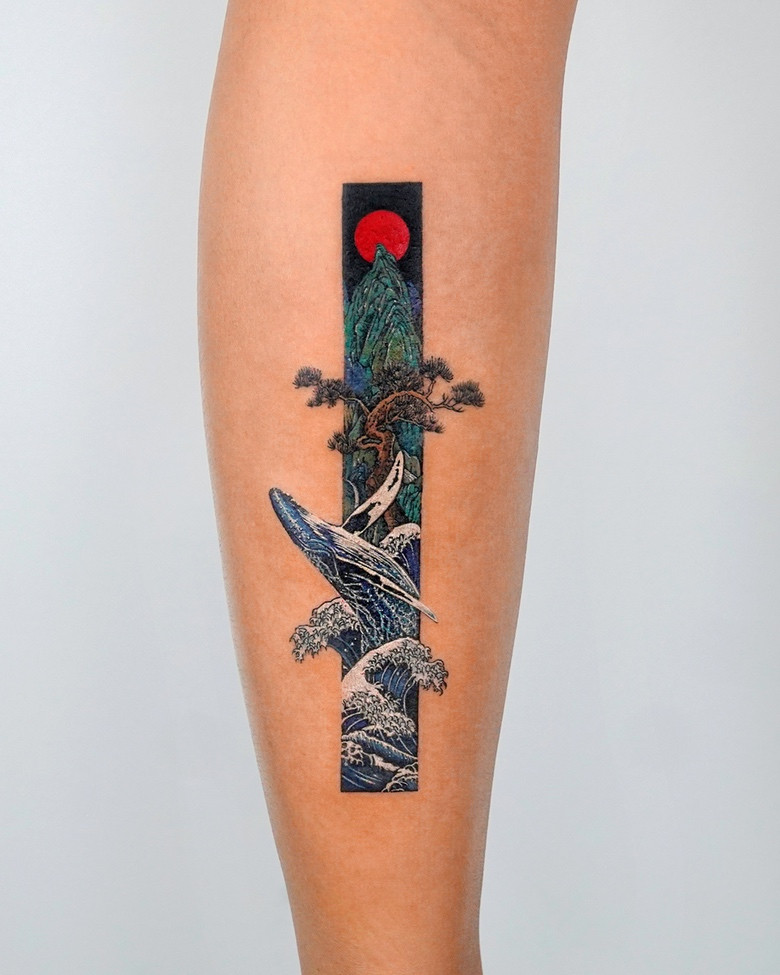 Where are you working now?
- Now I mainly work in Seoul, South Korea, and sometimes abroad.
Let's talk about your work. How did you come to oriental tattoo? And how Korean traditional painting influenced your tattoo style?
- The style in which I now do tattoos is a reflection of my love for traditional art. When I first started learning how to tattoo, I thought that my favorite paintings would be on my skin.
The tattoos I'm doing now are small and detailed. I like to work with details of an image and use a fairly large number of colors in them. In such a small size - it requires extra care and precision.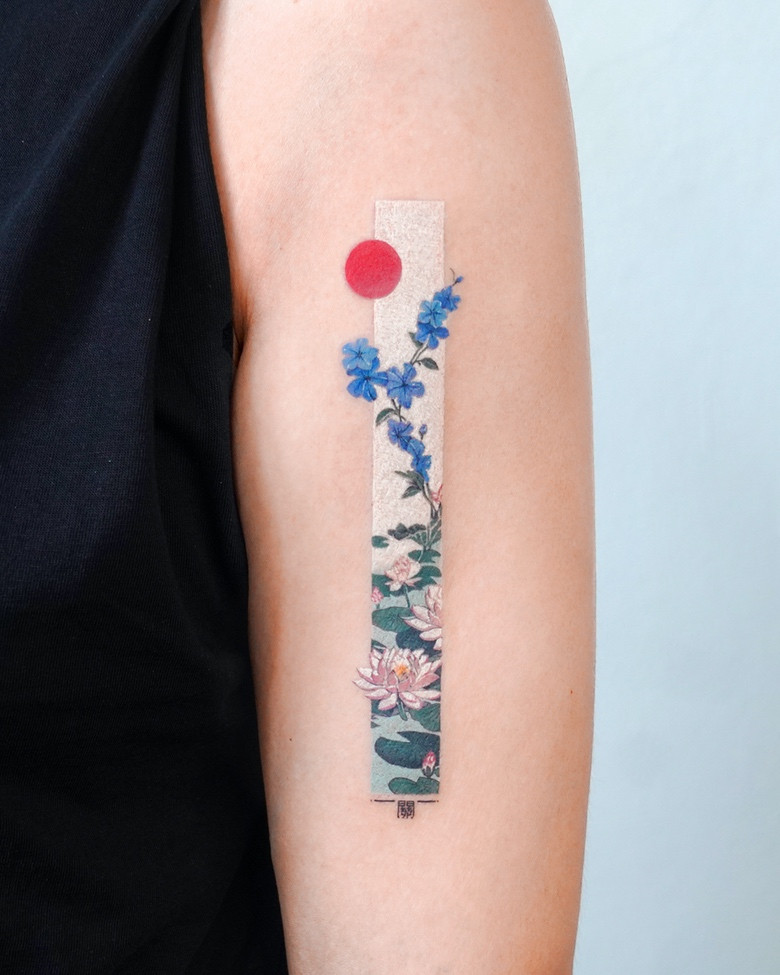 Korean traditional painting has a certain recognizable palette of colors. These colors really inspire me. I always create my projects by looking at Korean paintings and learning the methods and techniques inherent in this traditional art.
What are the main features of your tattoo would you highlight?
- In my designs, I place all the beauty of oriental painting in a small rectangular shape. Traditional oriental paintings often depict landscapes and animals such as cranes or tigers. Working in the so-called frame tattoo genre, I try to convey a person's view of the world through the window in the beauty of traditional oriental painting. My frames always reflect the stories of clients, as well as emotions expressed in different colors and details.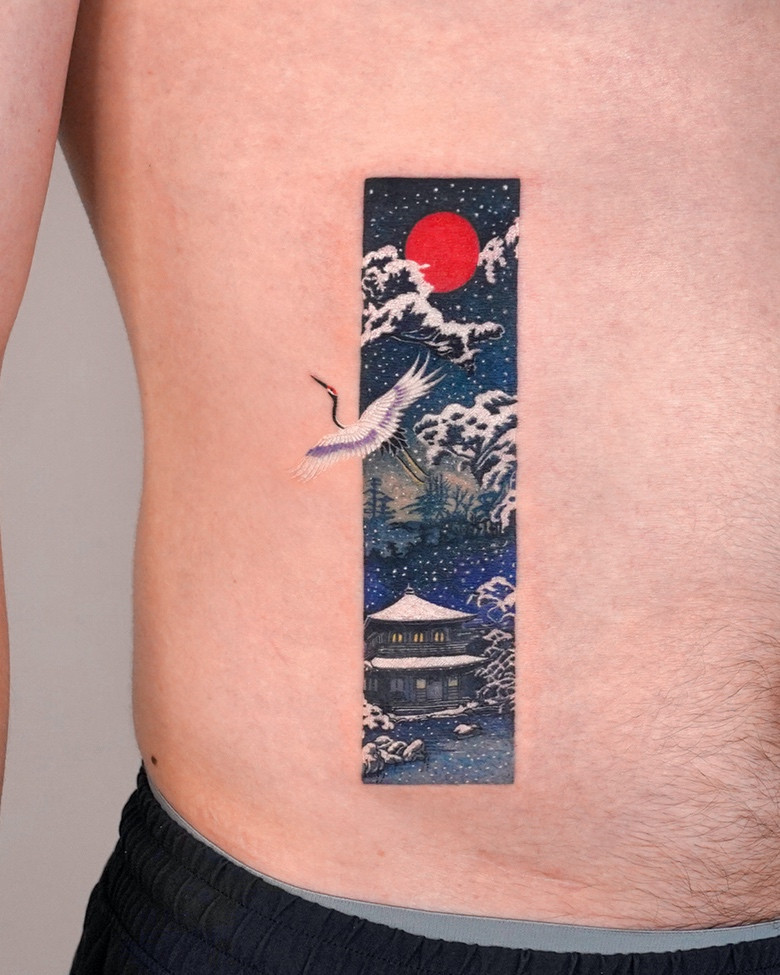 The peculiarity of working on such small tattoos is how they heal. Can you show what your tattoos look like a few years after the session?
- During the tattooing process, I select shades in accordance with skin color, and also carefully control the tattooing process with a needle. Each color ink requires a special approach and even tattooing technique, so if you know all these features, then there will be no problems with healing.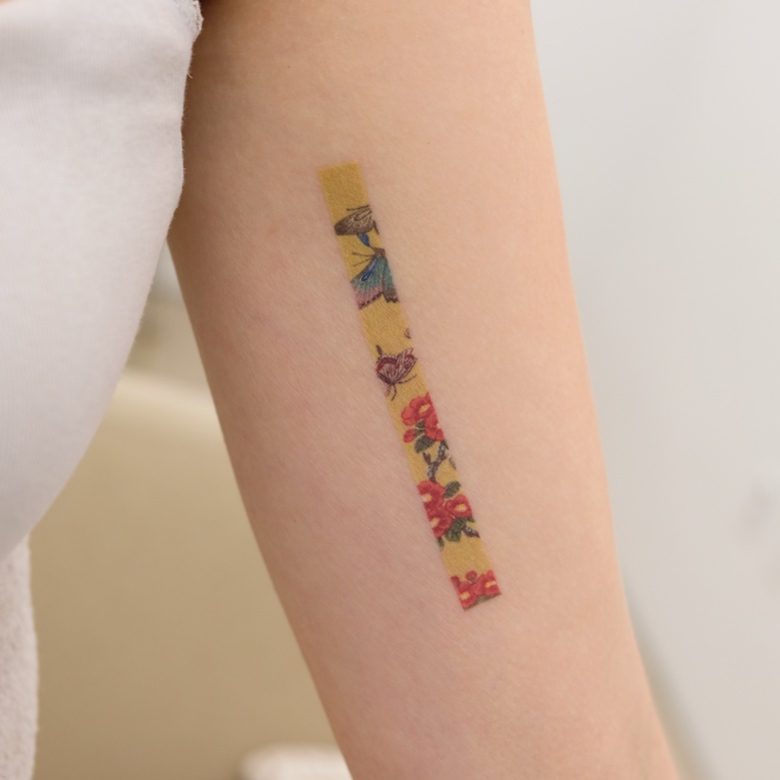 How do you turn clients' ideas into tattoos?
- Most of my clients want to tell their stories in tattoos. For example, to remember the days spent in Korea, they want designs with Namsan Tower, Hanok and Mugunghwa in Korea, or they want designs with a combination of famous places they visited in one frame. Each person has their own style and desires, so I create designs using their own story.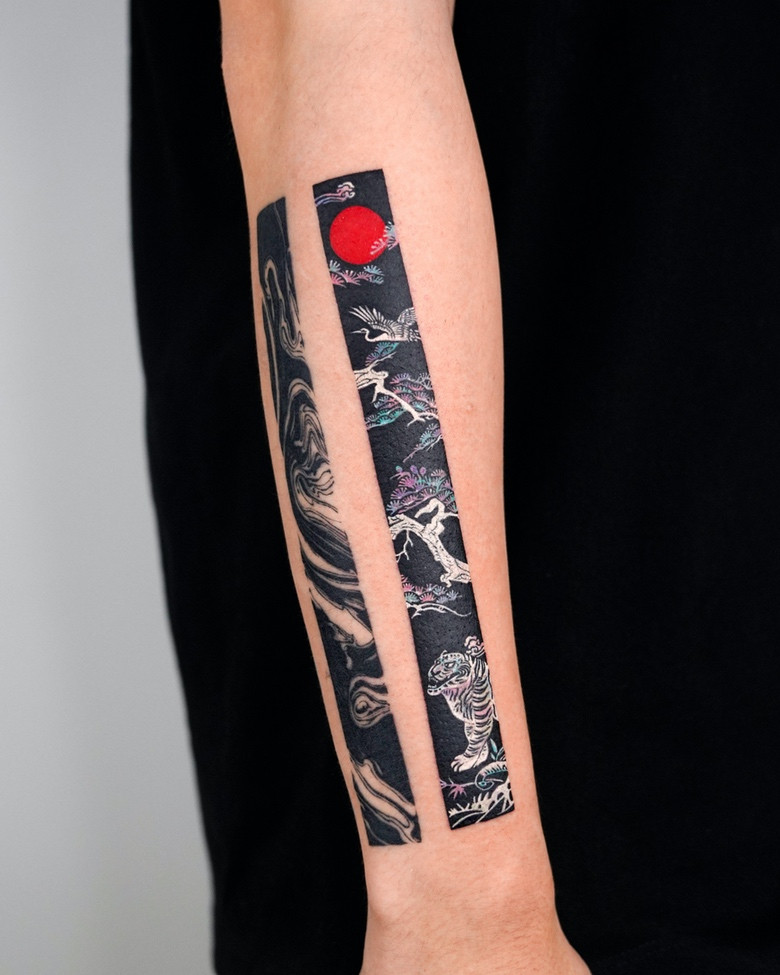 Do you have any favorite tattoo projects? Can you tell us about them?
- I immediately remember one story of a client I recently met. She was adopted by a Belgian family almost immediately after birth. So when she grew up and came to Korea for the first time, she wanted a tattoo with the Korean flag and dragon. Because the dragon personified her, and Korea is the country in which she was born. It's nice to remember that I gave her a tattoo with this meaning as a present.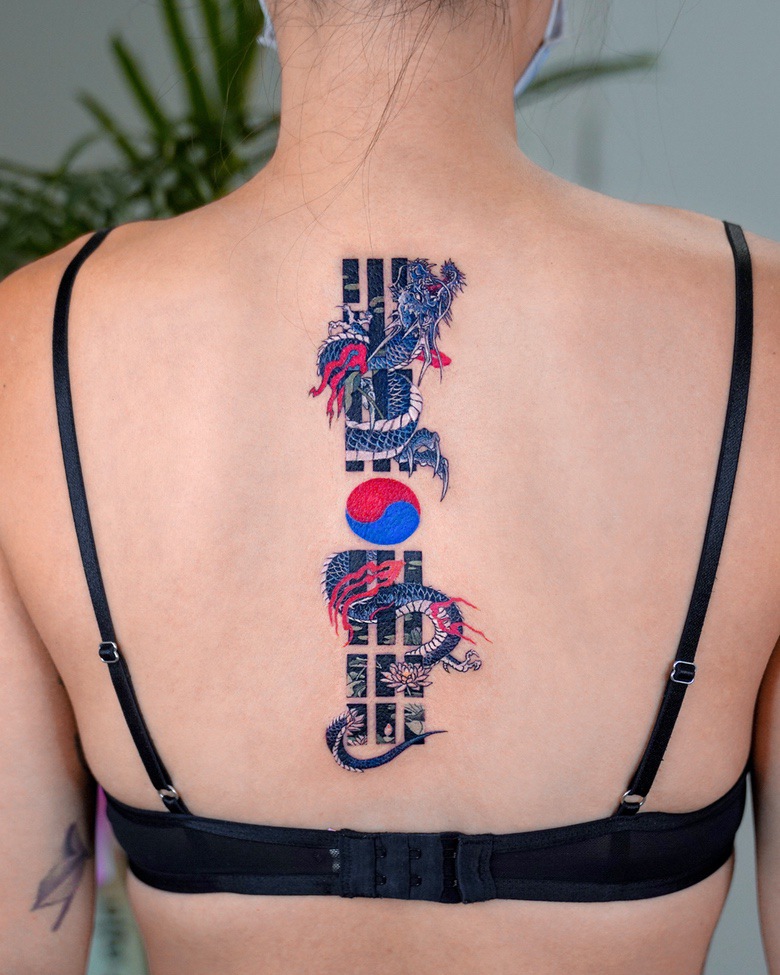 Where can we see you in the near future? Do you have any plans that you would like to share?
- Most of my guests are foreigners. Currently, I am working almost exclusively in Korea, but if I have a chance, I want to go to various countries and work on it. And so will it.
What is the most attractive thing about working as a tattooist?
- I find my job of creating tattoos while meeting with clients and listening to their stories very attractive.