Tattoo artist and model Candice: «I am proud of tattoos what I wear. It is my armor.»
Tattoo artist Candice Soleillant / Photo by @ enzolucia_
/ Source: @basan_aurinko
The girl we want to talk about in this article attracted our attention with a stunning combination of ornamental facial tattoos and a mesmerizing appearance. But as it turned out, Candice from France is not only an ethnic model with tattoos on her face, but also a great tattoo artist who creates traditional and ornamental tattoos filled with power and deep meaning. We wondered what these harmonious tattoos on her body mean, and also why she chose the ornamental field in her work.
- Hi, Candice! Tell us about yourself - where do you live and work now? Do you have your own studio or maybe you are working in some local tattoo parlor?
- My name is Candice Soleillant. I am 22 years old and I was born on April 11th 1999. I was born in Hô Chi Minh, Vietnam. I was adopted at birth and I arrived in France when I was 5 months old. Since then, I have always lived in France. I returned to Vietnam at the age of 15 to meet my biological family. I have two families and I feel grateful for this chance.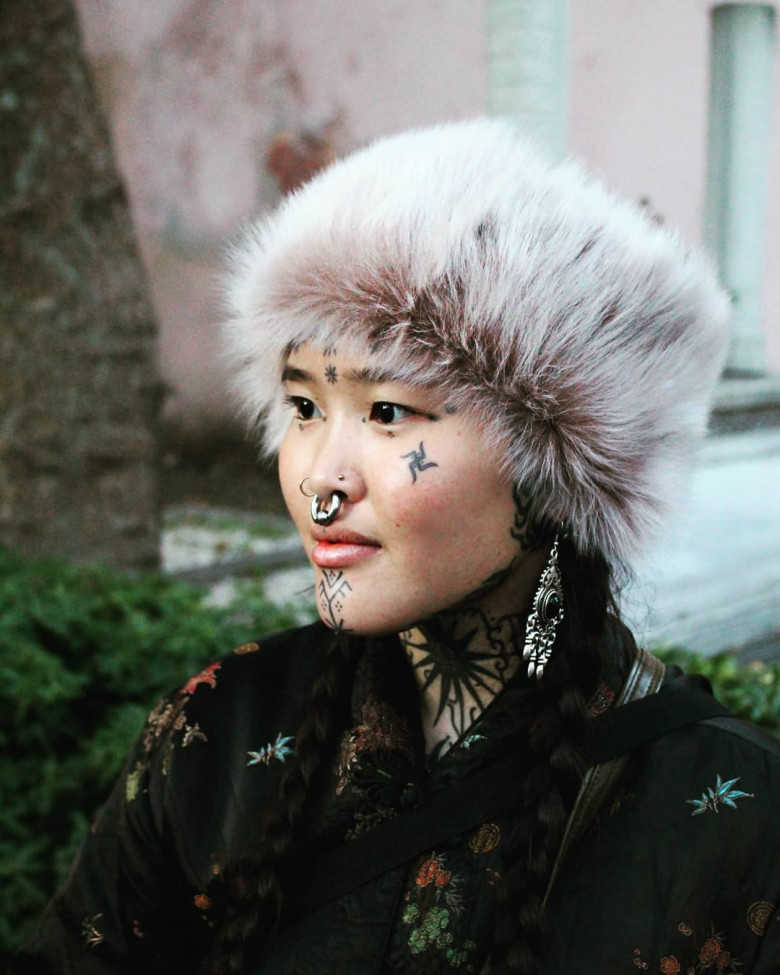 Currently, I am in the process of moving, which is a time of great change. I was living with my ex-boyfriend in a small village in Haute-Savoie called Thônes. And I was working as a resident in a shop in Annecy "Chez Moustiche". For the moment, I am going back to my parents who live in Essertines-en-Châtelneuf. For the beginning of the year 2022, I will only make guests all over France. The time to find a city where I feel good. I find it hard to stay in the same place. I've moved around a lot in the last few years. So guests are perfect for me. I travel, work and meet new people.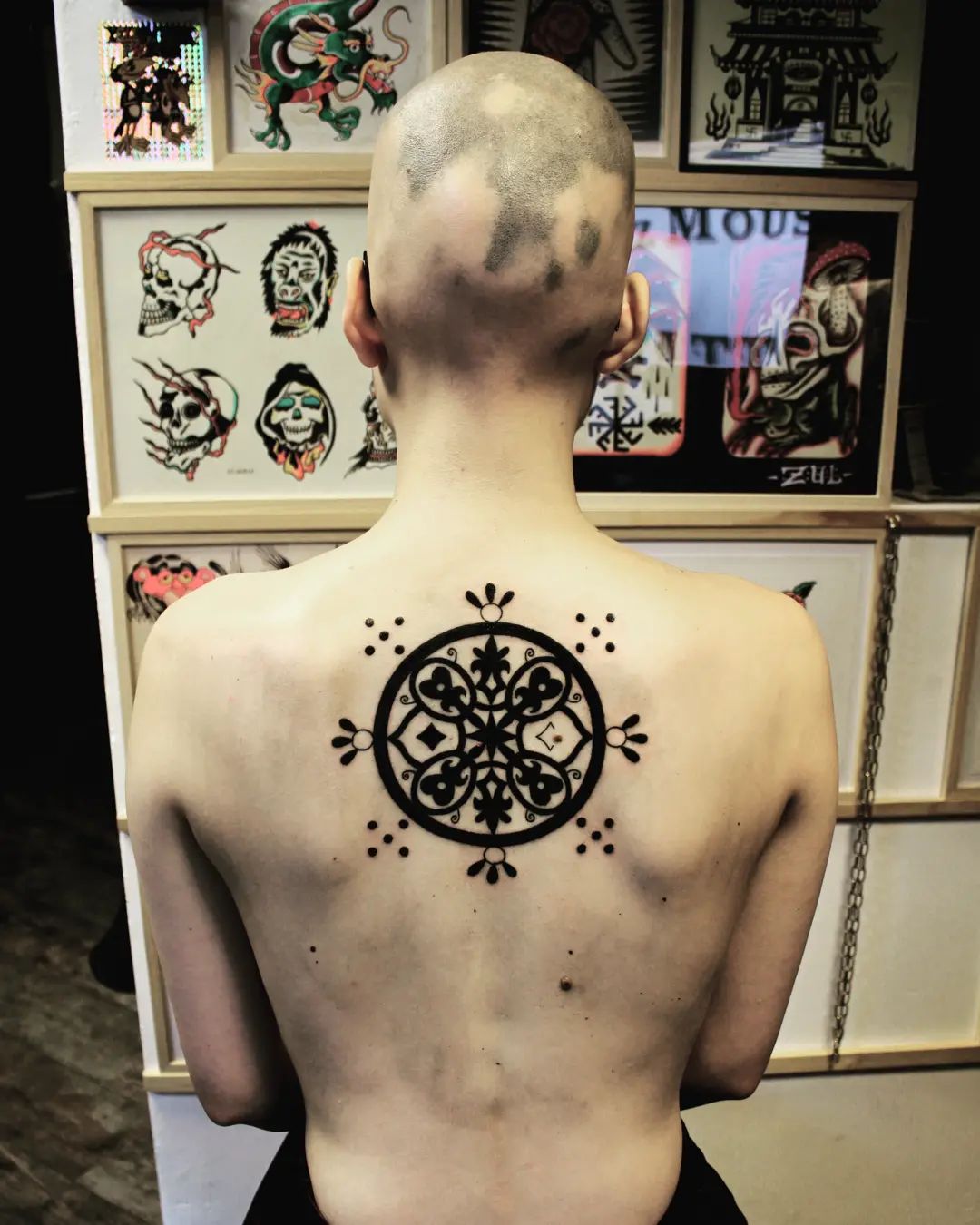 - When exactly did you discover the artistic and cultural value of ornamental and traditional tattoos? How did it all begin?
I discovered the artistic and cultural value of ornamental and traditional tattoos when I started getting tattoos. I was 18 years old, and I have always been fascinated by this world. At the time, I was living in Lyon and studying at the Beaux-Arts. Lyon was the beginning of everything. I met and worked with many tattoo artists. I observed and listened a lot. I envied and admired these artists. Little by little I immersed myself in this universe. And it was wonderful. I dreamed of becoming a tattoo artist, I drew a lot, but I never took the step to look for an apprenticeship. Because of my lack of self-confidence.
Then I met Jules. Thanks to him, my life changed radically. He tattooed me in Lyon. He became a friend, a lover and then the man I shared my life with. He was a little older than me and had been tattooing for many years. He had a great experience in tattooing. His art fascinated me. He was a character, a man I respected a lot with a tumultuous and passionate life. He was skin, his world was opposite to mine and I discovered many things by living with him. He tattooed almost my entire body over the years. I loved what he did and I was madly in love with him.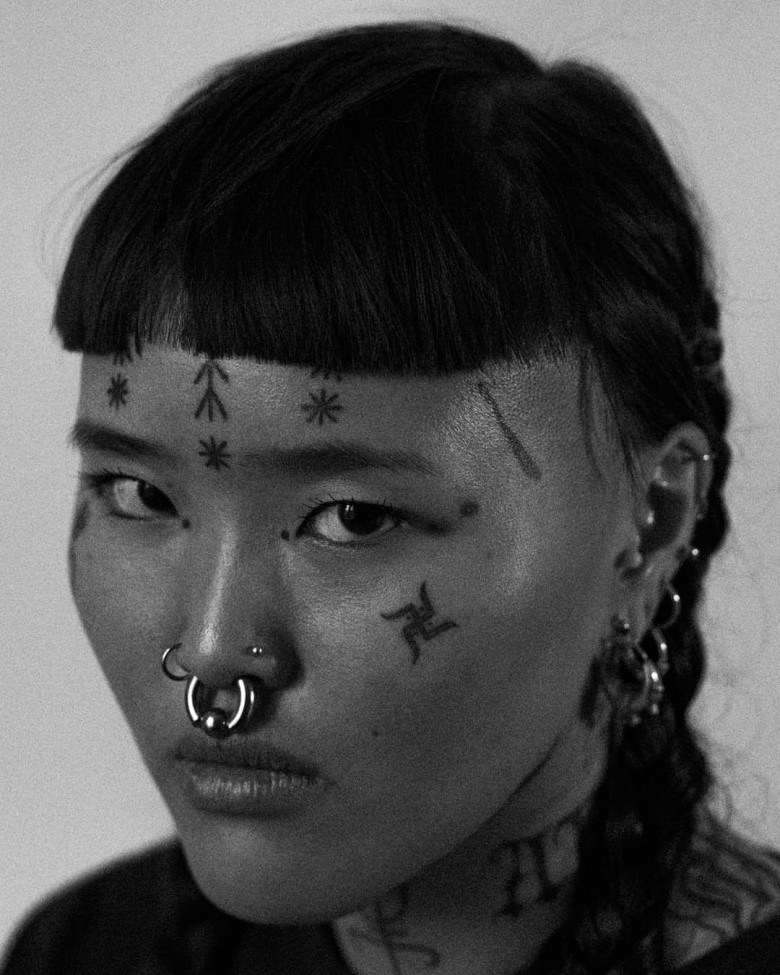 I followed him around a bit, doing odd jobs. Then, at the beginning of the first confinement, he offered to teach me to tattoo. I never had the courage to ask him. I was filled with happiness, the great adventure began for both of us. He taught me everything. I practiced on him, on myself, on my friends. And when the shops reopened, we did guests all over France, staying right and left. It was great. My apprenticeship was different but so rich in life. I would be an eternal apprentice.
- Why did you choose this particular tattoo style to work in? What does it mean to you personally?
- I chose to work with ornamental tattoos because for me, it's choosing the return to the origins, the primitive return of tattoos. I am looking for my roots and through ornaments I can express this. I live in the past, I feel like I've been living on this earth for centuries. The ornaments are like a body language. Through them, I can speak about my spirituality and my beliefs. I want these ornaments to bring luck to my clients, because they are talismans. The symbolism is powerful. In ancient tribes, they were marks for war, to remind men of who they were, where they came from.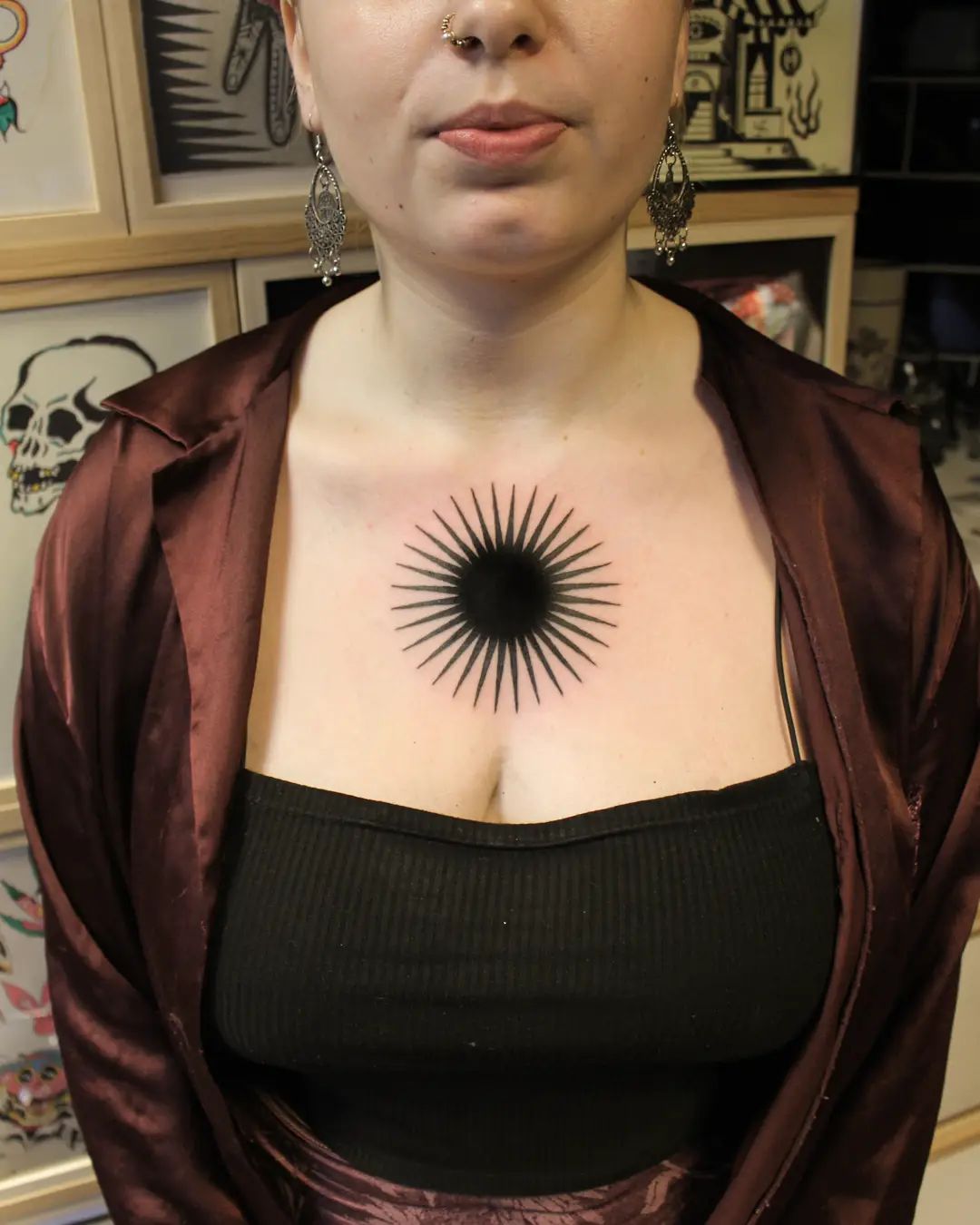 - Often traditional tattoo is applied using handpoke technique. Which way and equipment do you use in your work?
- I currently stitch with a machine but I started my apprenticeship by stitching with a needle, I used to handpoke. It is an ancestral technique, which requires a lot of perseverance and patience. Now, I prefer to work with a machine because I make big pieces. But I would like to tattoo fragile areas, like the ears or the nipples, with handpoke.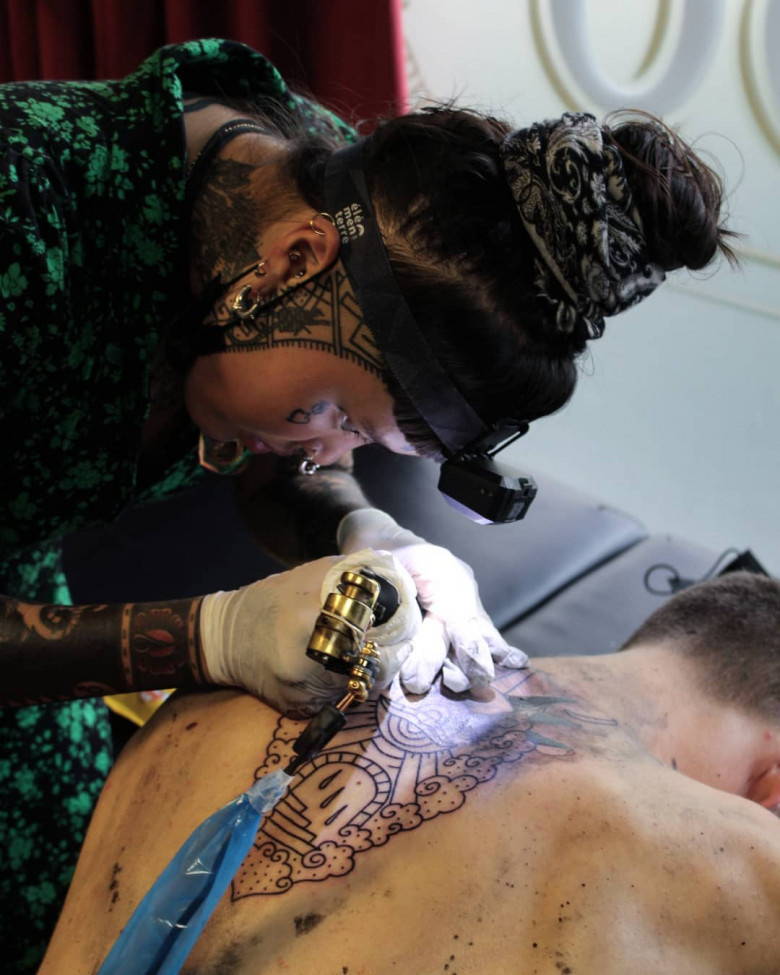 - How do you make your available designs look aged? Are you doing this on purpose?
- To give my drawings an antique look, I put coffee on my paper to blacken it. And I use bean paper. I do everything by hand, I don't use a tablet. It was so beautiful the paper with its imperfections. I find it more authentic. I also use Indian ink, brushes and feathers to paint my designs.
- It seemed to us that your tattoos and your amazing appearance are connected with the preservation of the cultural heritage of your ancestors. Is it true? Tell us more about your beautiful and mysterious face tattoos. Do they mean something? How did you decide to make them?
- I don't know my ancestors. I know where I come from but I suffered a lot from my adoption when I was younger. I was lost, disoriented, and without direction. I was very religious as a child, I was a traditional practicing Christian, due to my education. Then little by little, I discovered another way of believing. I keep my beliefs through my tattoos.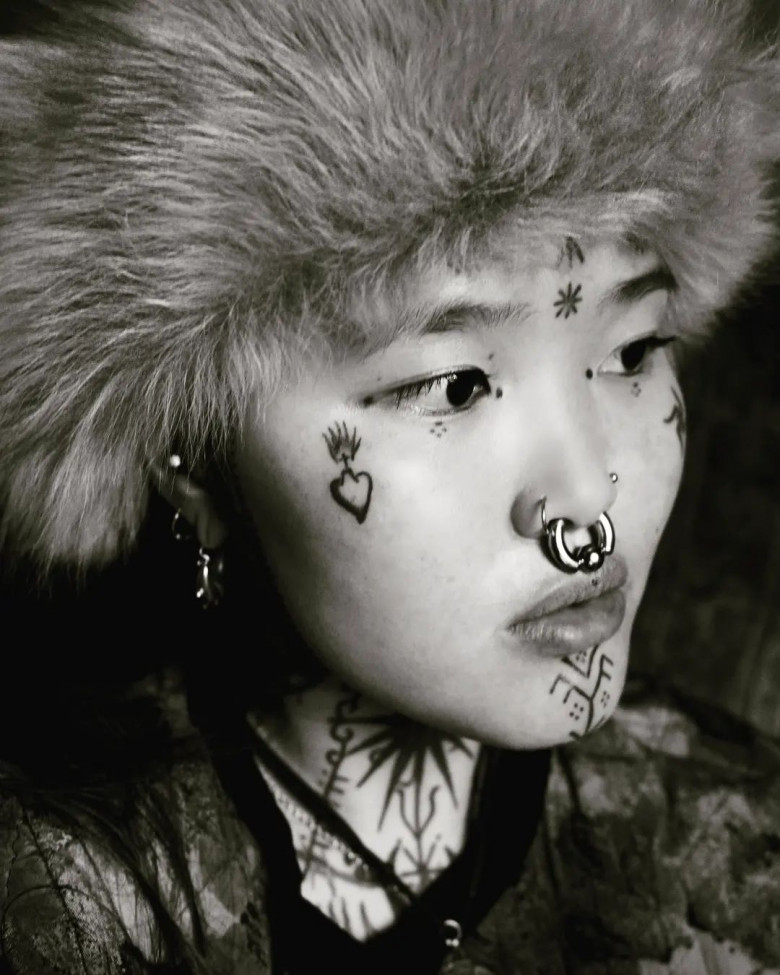 I wear Japanese, Nordic, traditional Italian, traditional French, Tibetan... All styles are mixed together, just like I am. I am rooted in the whole world. I feel at home everywhere. And I mark my body with these ornaments, to remember this life. It is a deep identity quest.
It was Jules who tattooed my face. They are mainly ornaments. On the forehead, they are Mongolian ornaments, for a good destiny. On the chin, a Berber ornament. Japanese flames for strength and on the other side of the face, Slavic ornaments for protection. I also have a big heart on my cheek and a swastika. Of course, it's not a Nazi swastika but a Hindu symbol, symbolizing well-being and welcoming. It's a cross from Asian countries, very common but not known in Europe, so it's sad to see some confusion. I tattooed my face little by little, the more my consciousness evolved, the more my face evolved. I don't regret anything, I am proud of what I wear. It is my armor.
- Your Instagram profile is very unusual - each picture is complemented by poetic lines. What is this poetry? Can you tell us more?
- I like to write, I like to express my emotions on paper. I have been writing since I was a little girl, I write about everything and anything. I am more talented in writing than in speaking. I want to leave a mark on people as much with my tattoos as with my poetry. They are words of life that transmit light and courage.
- We also noticed your love for sculptures in cemeteries. Why are you attracted to them? Do you have any other unusual hobbies that you don't talk about on Instagram?
I take a lot of pictures, mainly of people I love and people who touch my soul, but mostly of cemeteries. I love cemeteries, all sacred objects. They soothe me and remind me that man becomes dust again. He belongs to the Earth and will always belong to the Earth. Cemeteries allow me to honor the memory of these many lives. Every life is sacred and every life matters.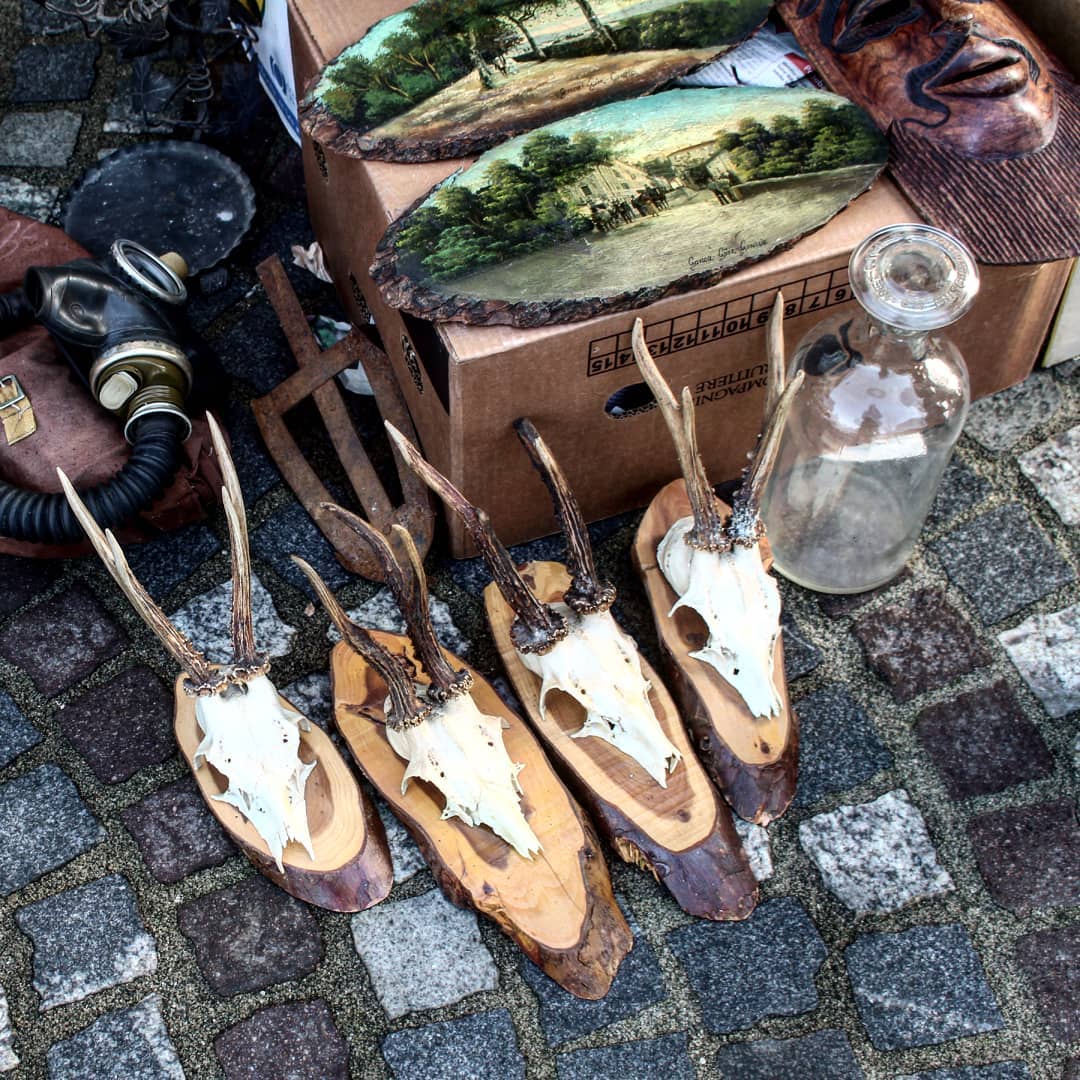 I have many passions, as I said, poetry, and photography. Then I am a collector, I have a lot of objects. My favorite collection is my crucifix collection. I go to flea markets and garage sales all the time. I am also passionate about sports, I run every day and I do Thai boxing (Muy Thaî). I like dancing, reading. I love animals, especially cats. I simply love life and all that it has in store for me.