Alex Uragan: Art of Antique Tattooing
14 / 04 / 2023
Andrew Novikov
Tattoo artist Alex Uragan
As it is known, tattoos have become a real trend today, and this trend is gaining momentum all over the world. Many people decide to take this step to express their individuality, capture important events in life, or simply decorate their bodies. But what happens inside this industry, how it develops through the eyes of a modern tattoo artist, what trends emerge, and how tattoo artists cope with competition? These and other questions will be answered by the famous ancient tattoo master - Alex Uragan.
He will tell us about his travels, the popularity of ancient tattoos in different countries, as well as the importance of education and passing on experience to newcomers in the industry. And, of course, we will find out how he sees the future of the world tattoo industry in the coming years.
---
Can you tell me a little about yourself? Where are you from and where do you work now?
- My name is Alexander. I'm from Moscow. I work under the creative pseudonym Alex Uragan in the techniques of Black and Grey and Fine Line. I prefer antique and classical themes in my tattoos.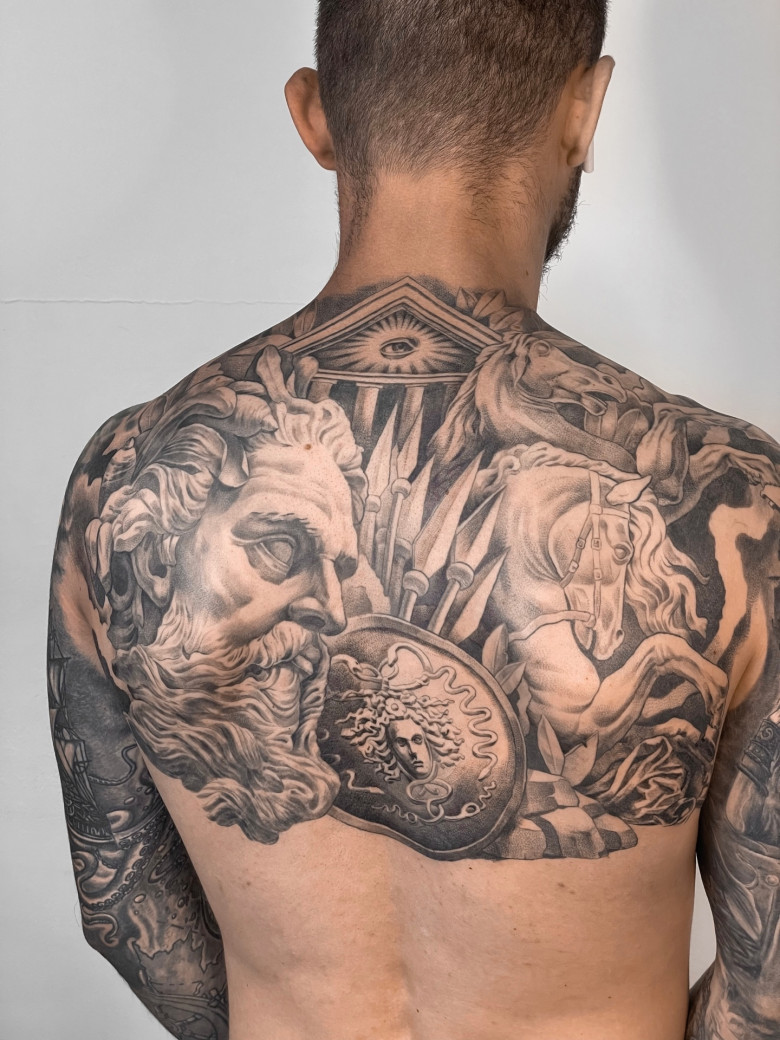 How and when did you decide to become a tattoo artist? Who were your teachers? What was it like in general?
- I started tattooing quite late, at the age of 29. For an adult man, opening such a new page in his story is quite difficult, as it was necessary to quickly start earning money from my art. At the same time, I understood that I had no right to do bad work. But it's not in my character to deviate from my goals, so such a challenge to fate, in essence, became my motivation.
I quickly found academic drawing teachers and surrounded myself with a good community of tattoo artists, where development was happening quite fast.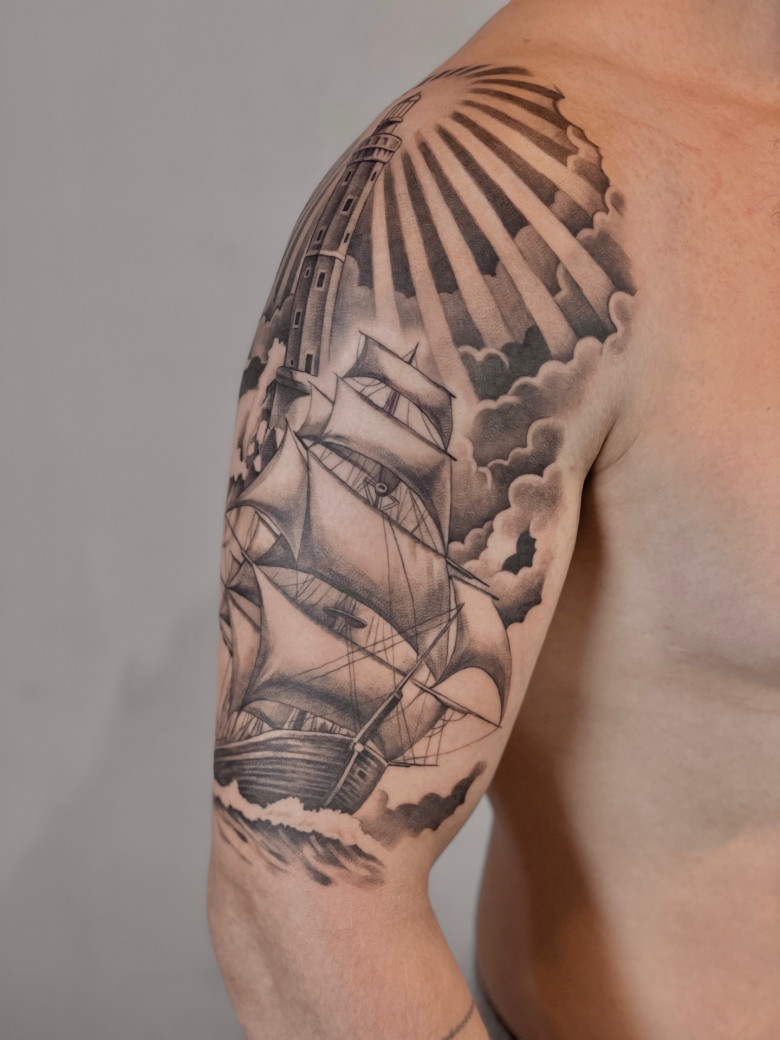 Is tattooing for you art, work, or something else?
- For me, tattooing is something in between the fashion and beauty industries.
For example, fashion designers create their collections, shaping the fashion industry. For them, as creators, it's a way of self-expression, creation, and work. Is it art or just business? Each person decides for themselves. But it definitely leaves a mark on history and cultural influence.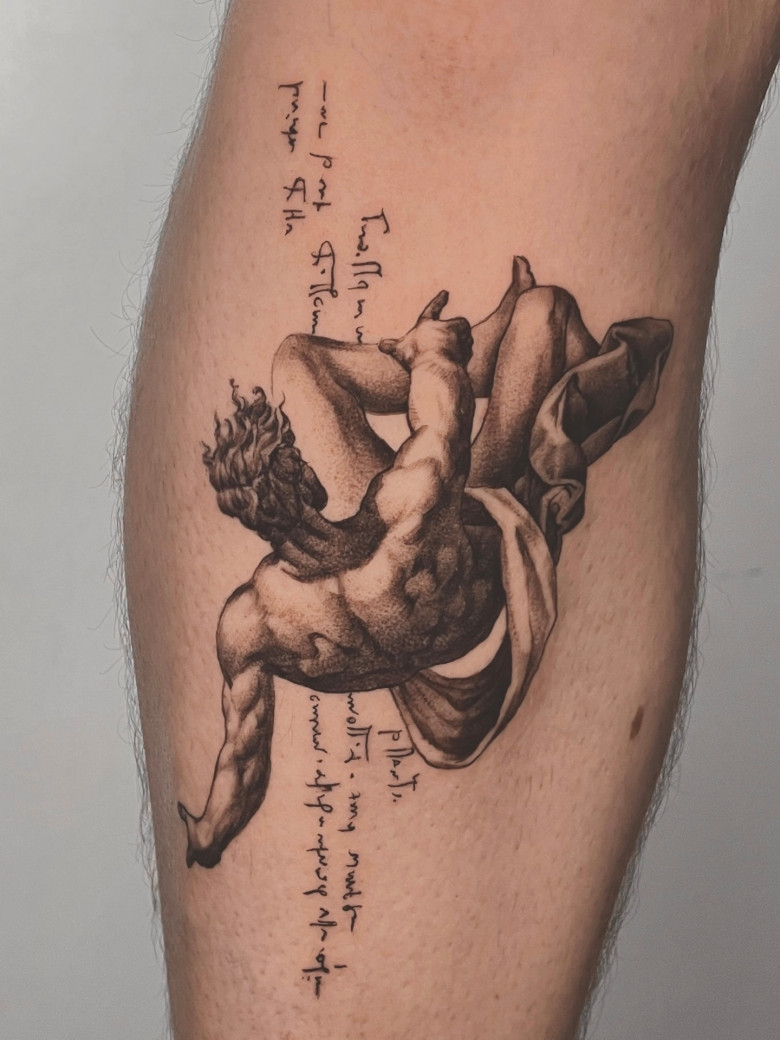 Tattooing is definitely connected to the beauty industry through client service. Comfort in studios, customer orientation, and, of course, safety during procedures.
So for me, tattooing is a good income, the emotions of clients, and self-expression in my work.
Your portfolio is just infused with love for classical architecture. Where does this passion come from?
- Classical motifs attract me because of their stunning plasticity and contrast. Moreover, they will always be relevant. This is a timeless classic.
I like that sculptures, architecture, and characters from Renaissance paintings that I use in my work sketches fit perfectly on the body, following its anatomy and forming harmonious compositions.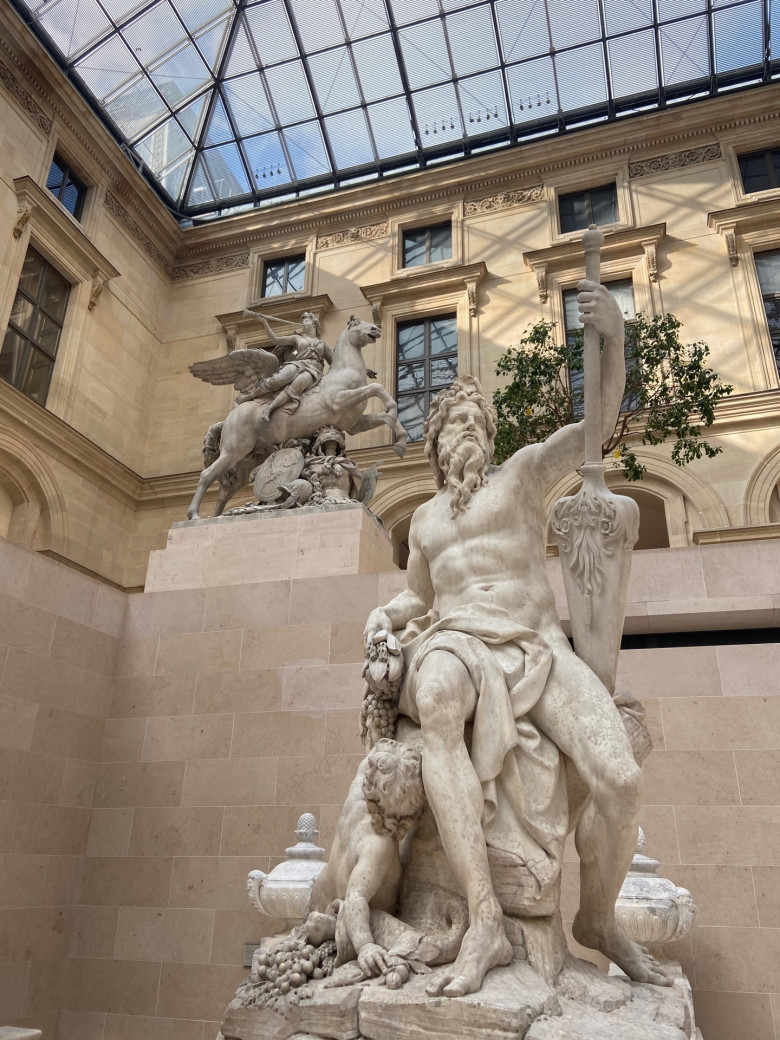 Also, classical motifs blend perfectly with other styles. For example, the currently popular micro-realism + geometry + abstraction. Well, everyone knows what I'm talking about.
What unique features of your work can you identify on your own?
- The main feature of my work, both technically and creatively, is the complex compositions built according to the anatomy of the body, consisting of multiple characters and elements that are united into a cohesive narrative.
Another feature is my personal style, which many people seek. It is not just a style, but my own perspective on how a tattoo interacts with a person's body, appearance, and lifestyle.
I view tattoos as an enhancement to a person's appearance, and I strive to ensure that my tattoos do not overpower the person's overall look, but rather harmonize with it. They should blend with the person's clothing, accessories, and overall lifestyle. That is why I chose the black and gray technique, as it creates semi-transparent tattoos with exposed areas of skin. After healing, they look incredibly cool, and even clients say it looks like they were born with those tattoos.
Everyone shares this view of tattoos. That is why 60% of my clients get their first tattoo from me, and often their first tattoo becomes a sleeve.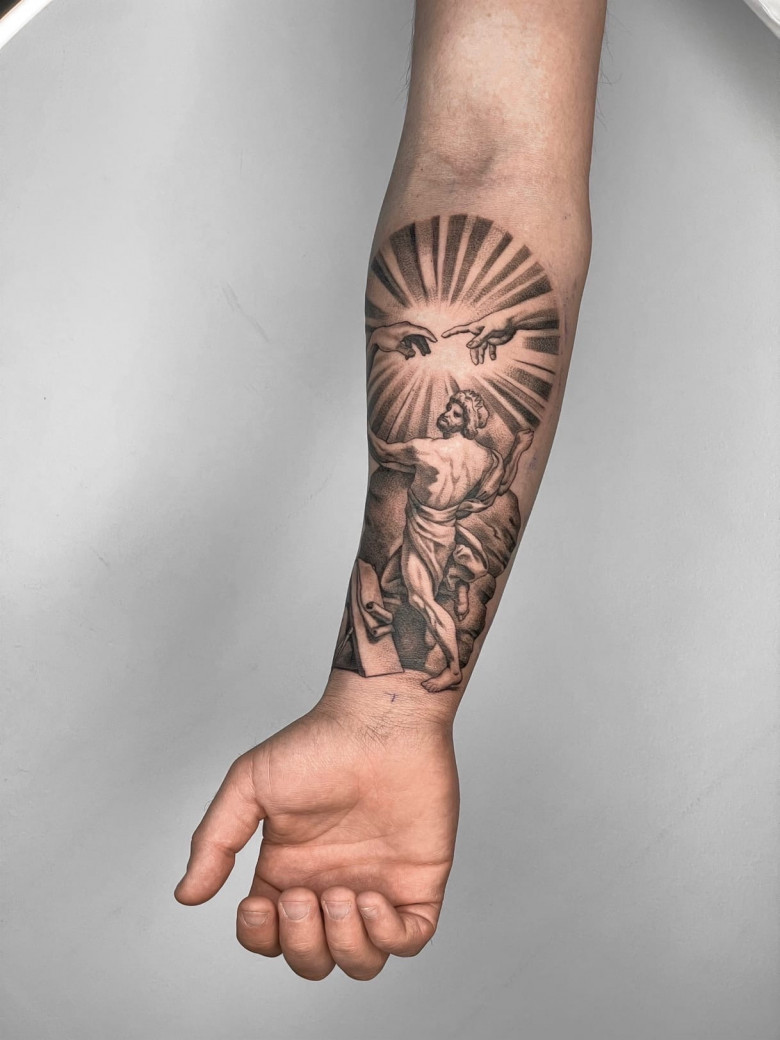 What types of narratives do you prefer, and how do you create projects?
- First and foremost, I am interested in my clients' ideas and visions for their tattoos. From there, I begin to plan the upcoming work.
Here's how I do it in detail:
For example, a man wants to get a sleeve with sculptures and the Vitruvian Man. I search for suitable images, arrange them into a composition based on the anatomy of the arm, and find the perfect spot for the Vitruvian Man image inserted into a circle. I also add Leonardo da Vinci's handwriting.
It is important to me that the tattoo looks good with watches and looks great peeking out from under sleeves. So, I added the head of the Gorgon Medusa to the brush.
Next, I create a unified composition for the upper and lower parts of the arm so that the entire story also spirals around the arm. The arm can be rotated and viewed like a painting.
Together with the client, we thought it would be nice to extend the tattoo to the upper part of the shoulder. So, I added stylized clouds with rays and an angel. It was logical and beautiful.
Where do you get inspiration for your work from?
- No matter how simple it may sound, the source of my energy and motivation is everyday life and travel. I remember when quarantine began, I went to Paris and visited the Louvre on the last day before it closed for lockdown. The museum was empty. I stood in front of the Mona Lisa with only one other tourist. Essentially, the empty Louvre was a historic event. And the feeling was as though it was built exclusively for you.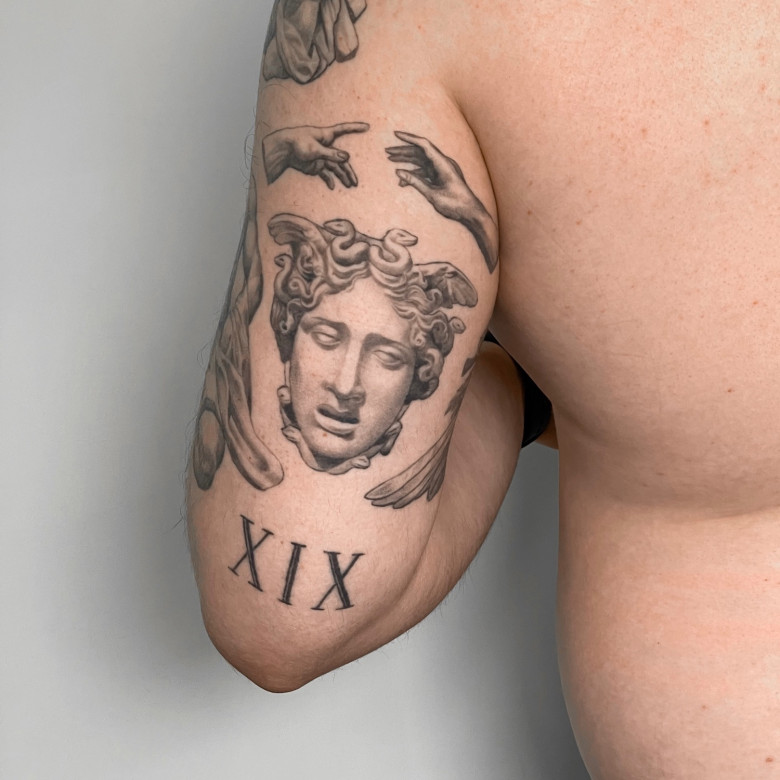 Moreover, many sculptures presented there, I had used before in my tattoo projects.
And such situations are part of my everyday life, motivating me to work further.
Do you have favorite tattoos, clients, projects or any unusual stories in your career?
- A large number of my clients give me complete freedom of action. They book a session and say, "Alexander, I have a clean arm, I want a sleeve, I trust you completely, do what you want."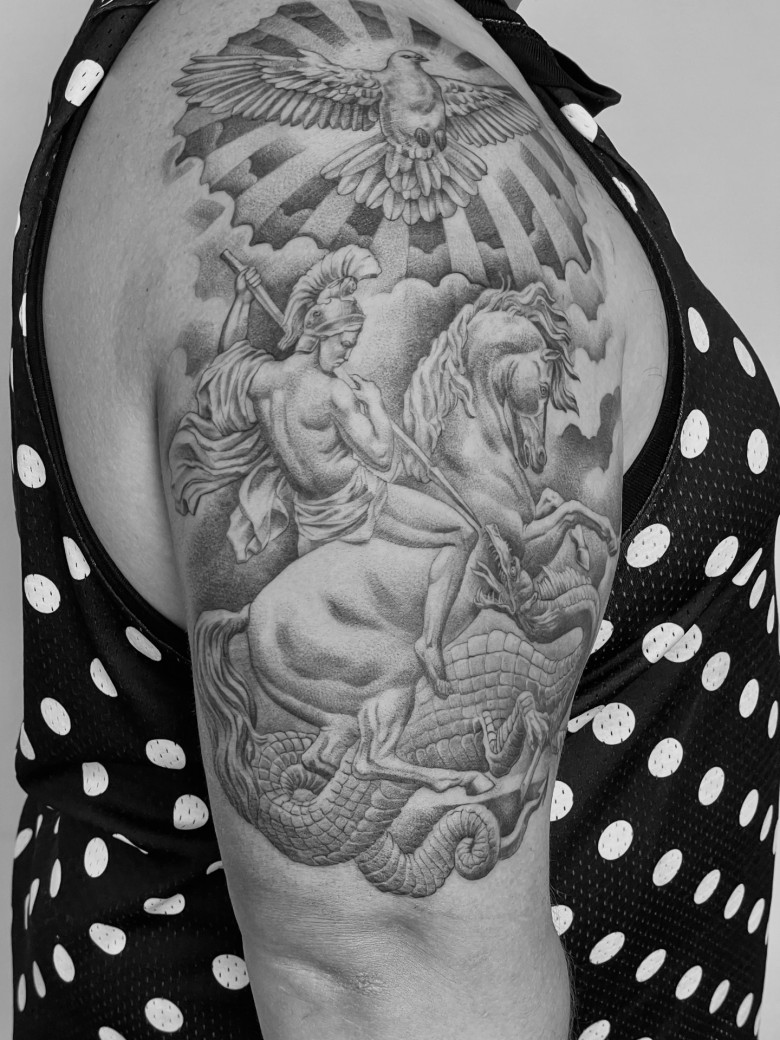 The first few sleeves were made without any problems when there were plenty of free ideas and full-arm sketch projects. It's really interesting and cool.
But after some time, when clients give complete freedom of action without any initial ideas, it becomes a bit difficult to come up with something. After all, creators, artists, and designers need some basic ideas and frameworks within which to create their works.
Are there any tattoo artists or artists who inspire you? Whose work do you follow? And do you have any favorites?
- Certainly, Dima Troshin has had a strong influence on me. Since I got my sleeve done by him, I adopted his view on creativity and the tattoo industry and followed his rise to fame.
At the same time, there are now so many strong tattoo artists that it's difficult to pick a favorite. I'm interested not only in how the artist draws and tattoos but also in their image and thought process.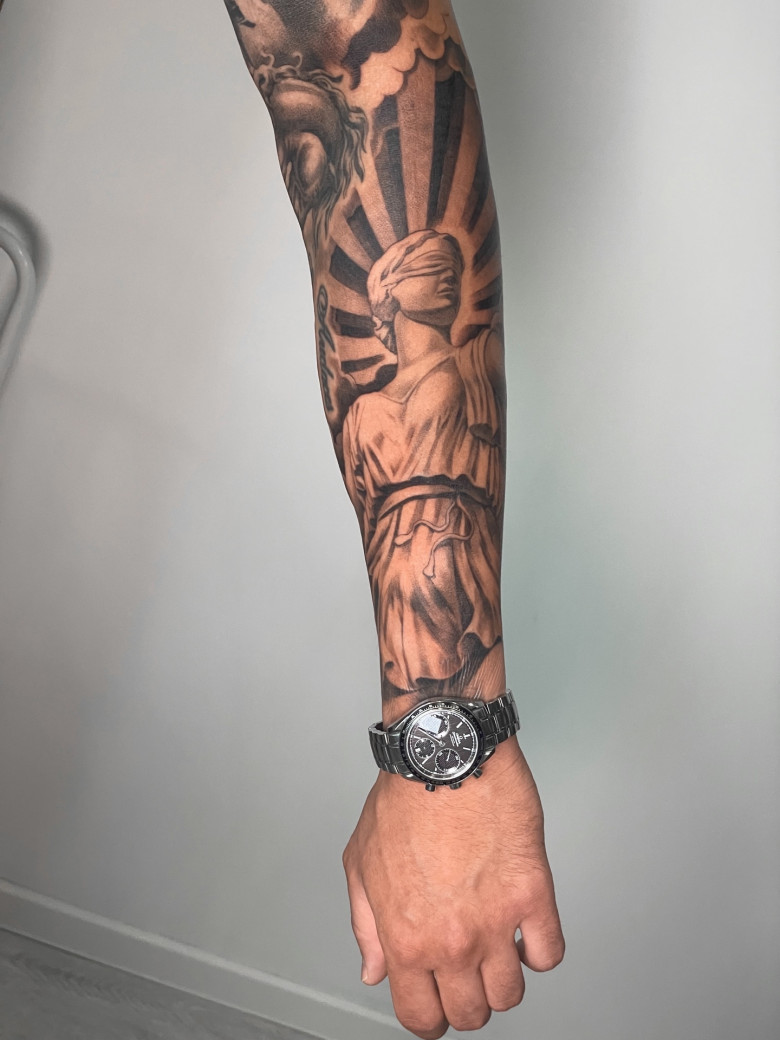 Do you travel a lot? Do you have an understanding of which country antique tattoos are more popular in?
- I have been traveling constantly since my teenage years, both in Russia and around the world. From my observations, antique tattoos are popular everywhere. However, it seems to me that Americans do larger projects with sculptures (sleeves, backs), Europeans tend to mix antiquity with geometry, Turkish tattoo artists are currently developing abstraction with geometry and sculptures, and South Korean masters are known for their micro-realism and perfect quality of work.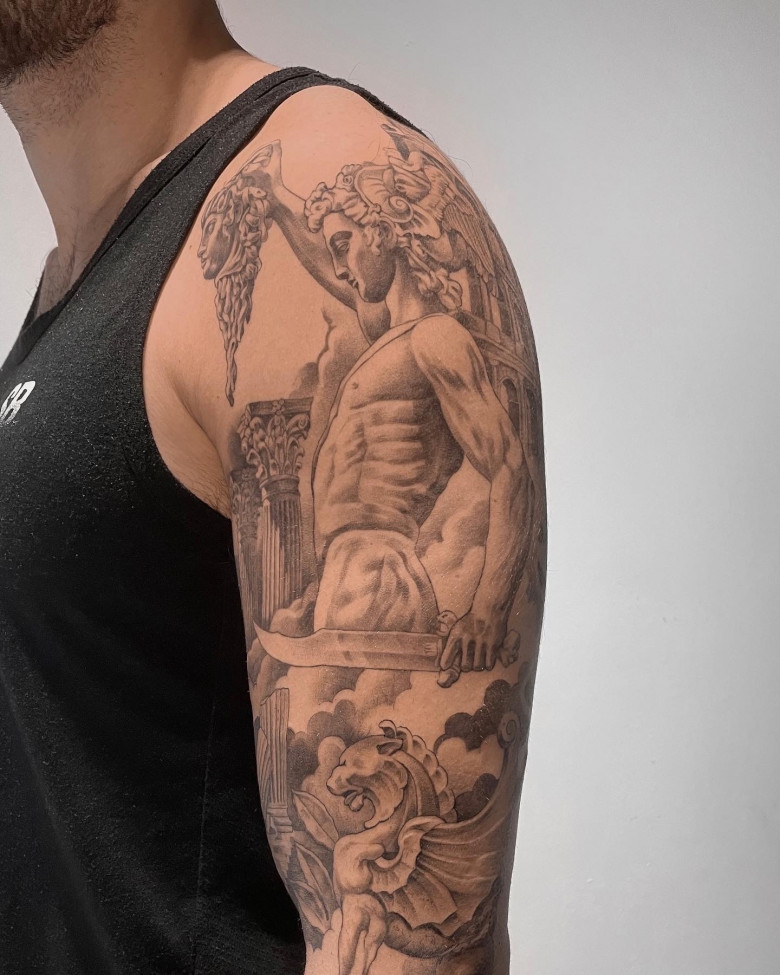 Can you share your plans for the near future?
- Recently, the world is constantly changing. All plans that were made are crumbling, so it's important to plan new ones. Therefore, the most reliable plan is to develop oneself, improve work skills, communication with people, gain experience and knowledge. This will definitely pay off, even in the most unusual situations.
I've seen your educational videos for tattoo artists. How important do you think it is to share your experience with newcomers in the industry, and what can come out of it in the end?
- I'm glad you noticed my video podcasts with tattoo artists, as I believe that experienced masters who have achieved certain successes and have considerable work experience should pass on their knowledge to the next generation of young tattoo artists. This gives impetus to the progress of the industry, which benefits everyone.
At the same time, helping young tattoo artists contributes to building my communication with them. It opens up their fresh perspective on the industry and allows me to continue developing while remaining in demand for new generations of my clients.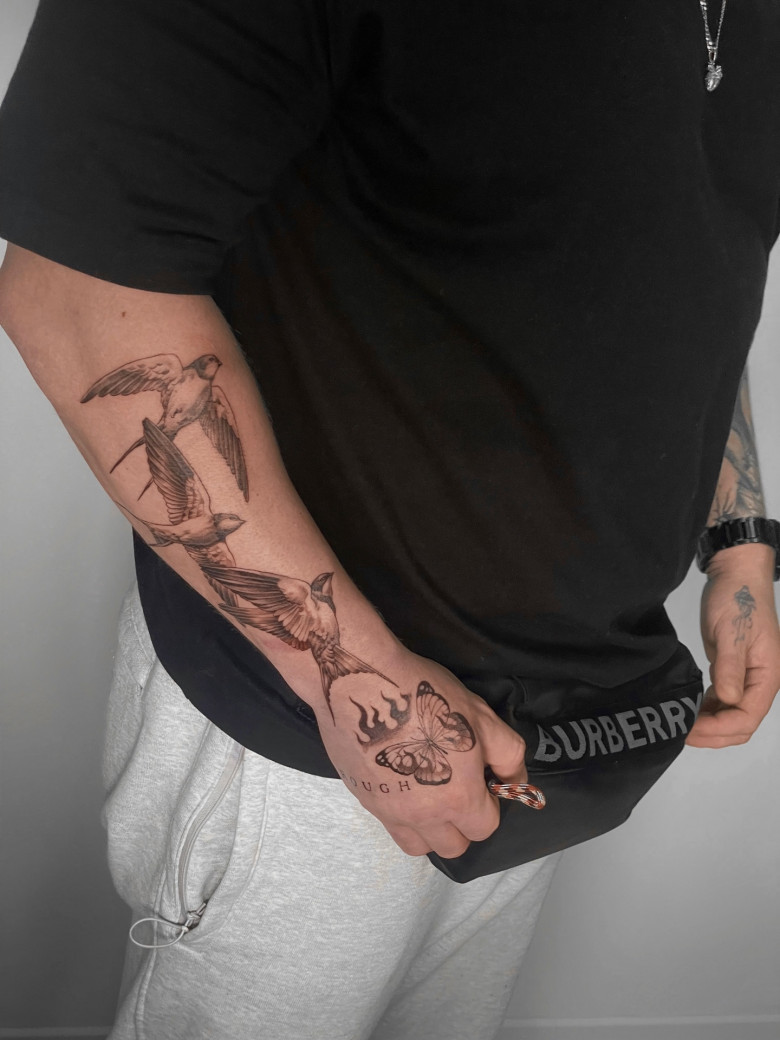 How do you see the future of the global tattoo industry in the next few years?
- I notice that the tattoo industry has reached a very high level of quality. There is a very large number of good tattoo artists.
The main competition will now take place in the creation of new tattoo studio spaces. In a couple of years, we will see interiors of studios designed by famous designers and architects, as well as collaborations with famous artists in the decoration of tattoo artists' workspaces, similar to the restaurant and hotel business. This will definitely become a significant part of modern pop culture.