Blossoming Beauty: The Artistic Journey of Svetlana Ehrt
Tattoo artist Svetlana Ehrt
Today we want to introduce a talented tattoo artist based in Barcelona, who has found her passion in creating stunning, feminine, and delicate tattoos that showcase her unique style.
Her style combines the natural shapes of flowers with bright colors and shades, creating a unique look that is not quite realism or watercolor.
Please meet Svetlana Ehrt, also known as @mo.no.tattoo.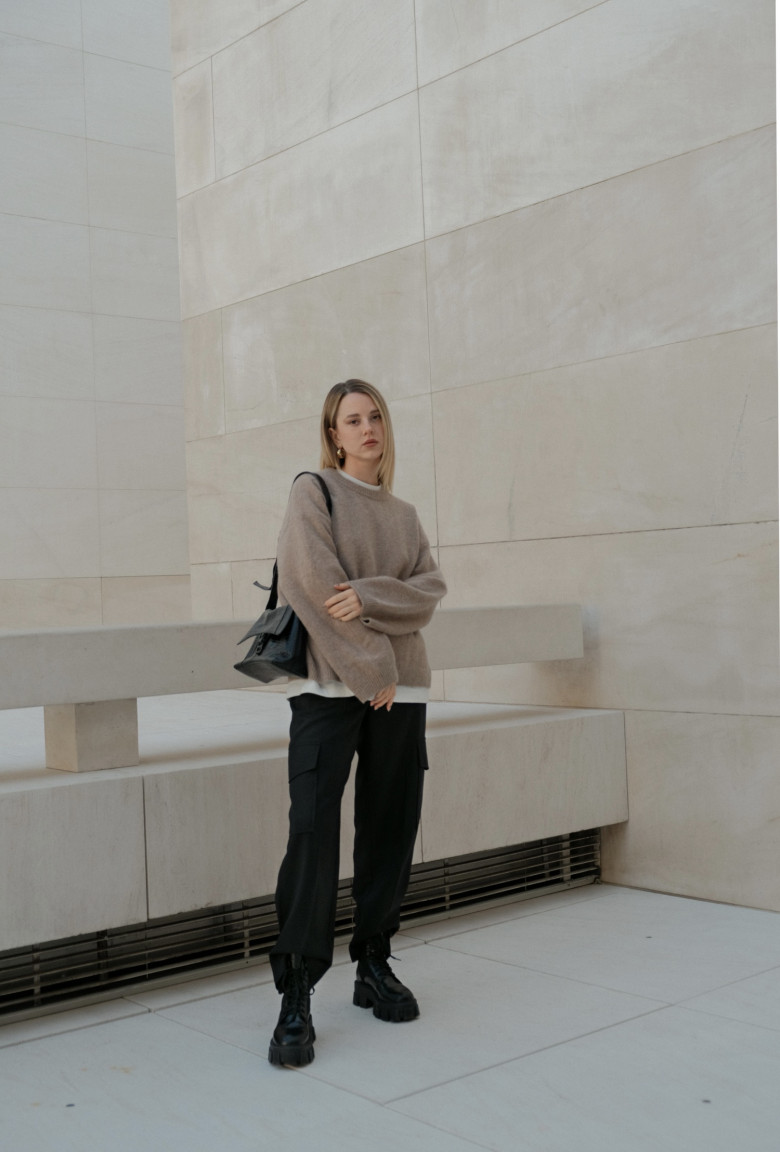 Tell us a little about yourself. Why did you decide to become a tattoo artist? What were you doing before tattooing?
- My name is Svetlana. I'm a tattoo artist and I live and work in Barcelona, Spain. I started my career about 5 years ago in Lviv, Ukraine. I studied art at Lviv Academy of Arts and was a fashion designer before I came into the tattoo industry. I saw a great opportunity in tattooing to manifest as an artist and to travel around the world.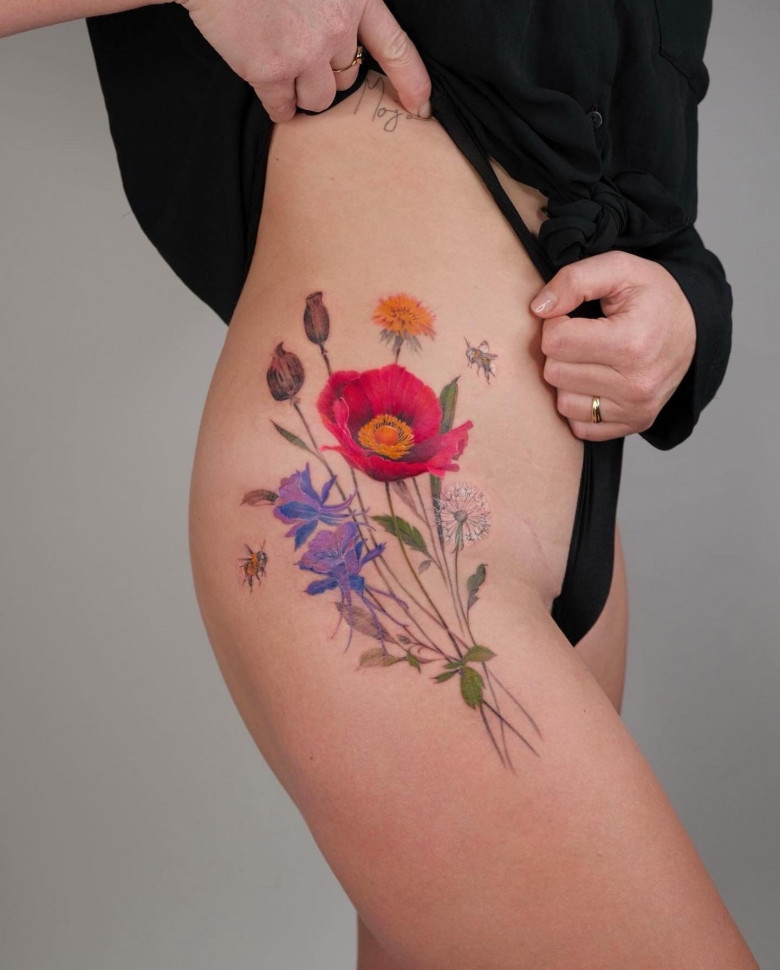 How did your career start? Who was your teacher? Were there any difficulties in mastering this profession?
- My career started in my home studio with tinies black line tattoos for my instagram followers. A few first tattoos I had made for free and after then customers started to pay me. My friend, who was a tattoo artist, just showed me the basic tattoo process and I started to practice a lot. Like in any other profession, when you start something new, it is always difficult because you don't have enough experience.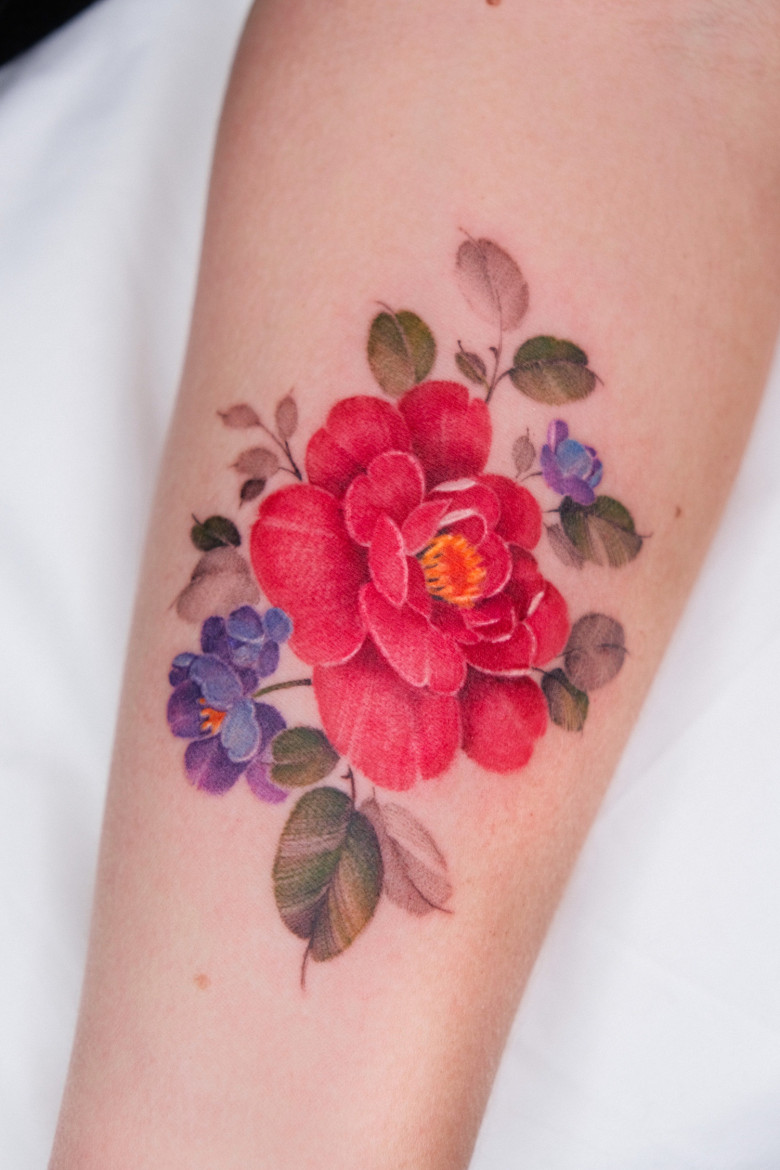 Is tattooing art, work, or something else for you?
- Tattooing for me is all together: art, work, traveling, meeting new people, and the opportunity to earn money. That's why I chose tattooing.
Why did you choose flowers as your main tattoo theme?
- It was very natural for me, because before I became a tattoo artist, I used to draw a lot with colorful pencils and watercolors and the main motifs were floral and animalistic.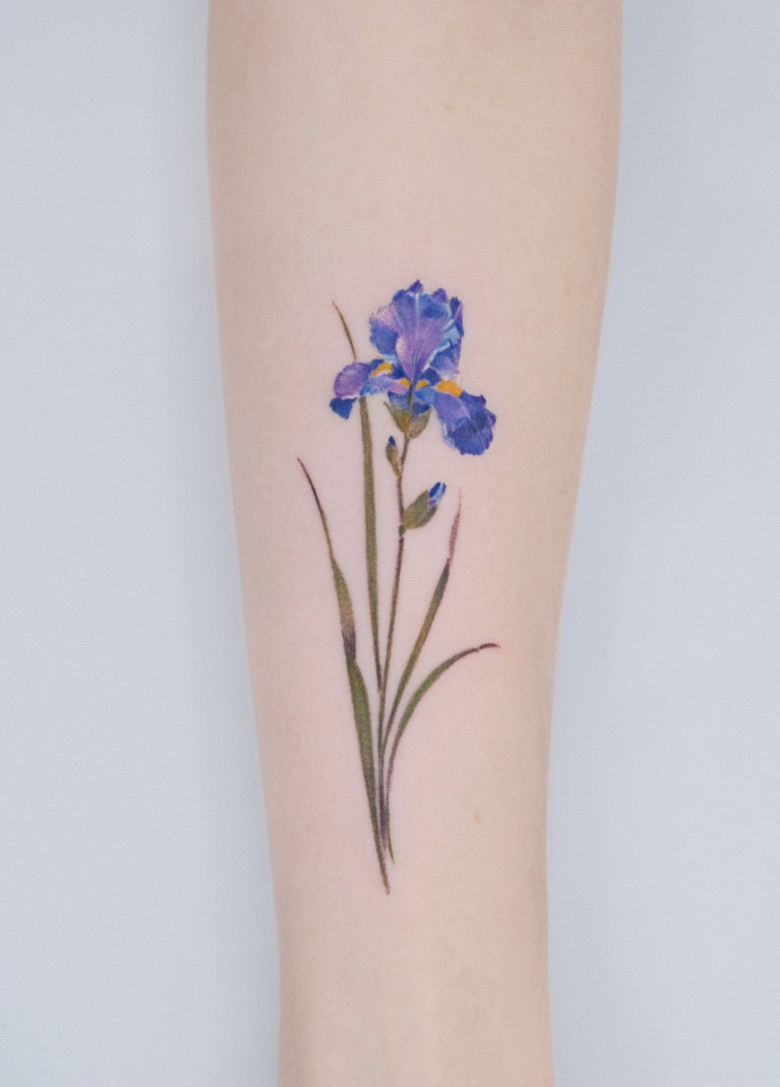 We are used to seeing colored flower tattoos mostly in realism or watercolor. Your style is somewhere in the middle. Tell us more about it. What features of your tattoos can you highlight yourself?
- Yes, my tattooing style is not realism or watercolor. I think it is more like colored pencils style. I guess I came into it because of the huge impact of drawing with colored pencils. I created designs with pencils and transferred them to tattoos. I can highlight that I keep natural shapes of flowers, but use bright colors and shades. And, what is quite atypical for tattooing, I don't use outlines, because, in my opinion, without outlines tattoos look more natural and soft on the skin.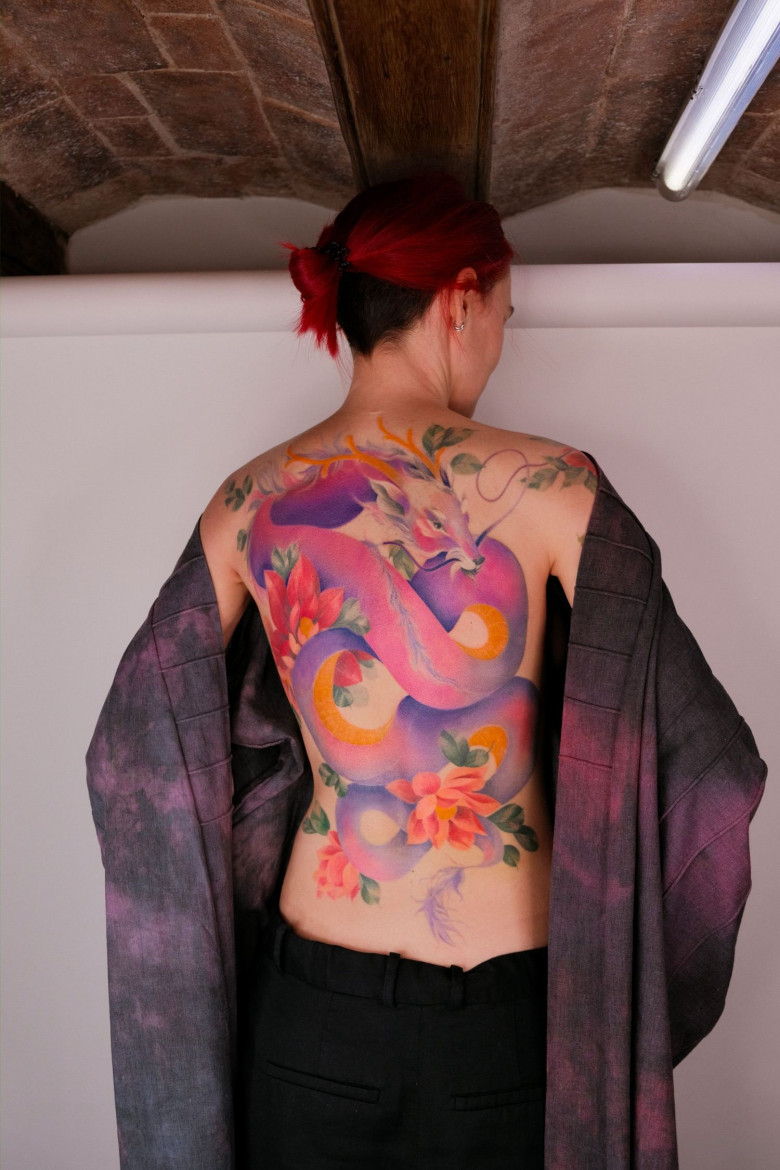 You have very feminine and delicate tattoos, but how does the client choose a tattoo? With what requests do people come to you for a consultation?
- Actually, a lot of people come with requests to get a very feminine and delicate tattoo. Usually customers just send pictures of flowers and I create a unique design. Sometimes customers just send me photos of the tattoos from my IG and I create something similar for them.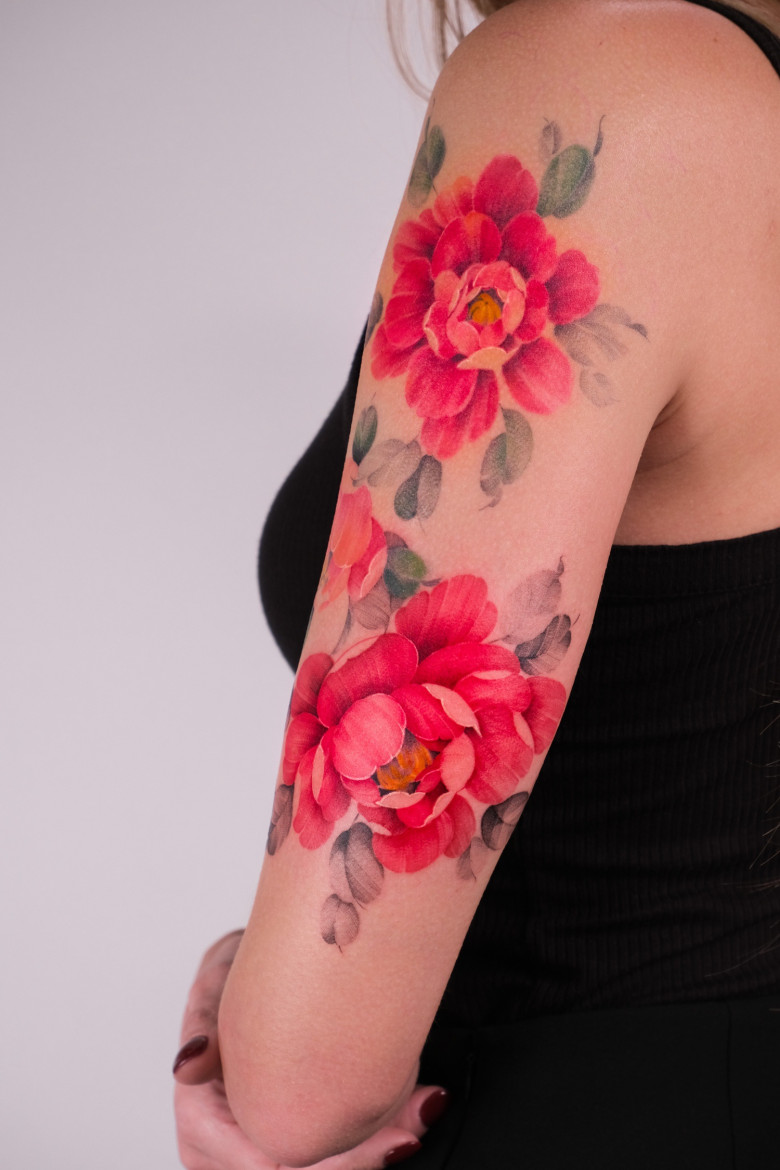 What is the most important thing for you in tattooing?
- The most important thing for me is my creative freedom. I very appreciate when customers give me an opportunity to create how I feel and how I see the specific design. It's possible when people love my style and trust me.
Are there any tattoo artists or artists that inspire you? Whose work do you follow? And do you have any favorites?
- Of course, yes. I have admired the works of Claude Monet and John Singer Sargent since I started studying arts. As for tattoo artists, a lot of them inspire me, but especially one Taiwan's artist Kubrick Ho (@kubrickgood). He impressed me long before I came into tattooing.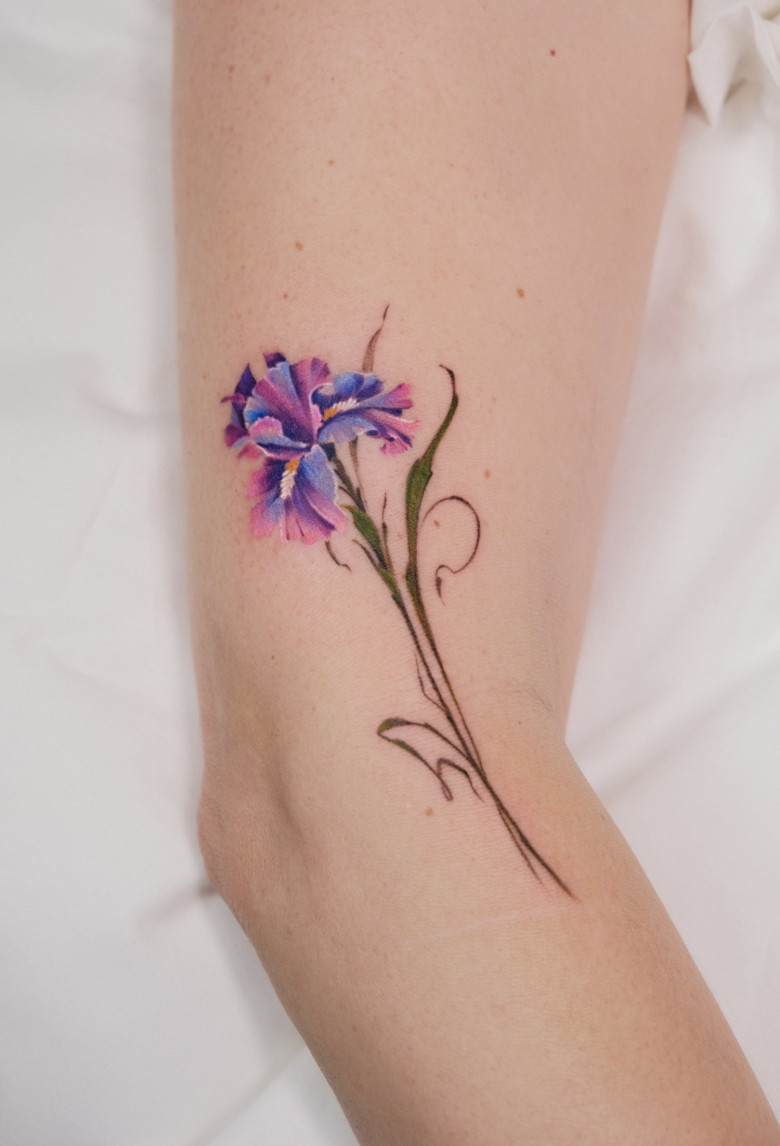 You have some collaboration projects in your portfolio. Tell us about them. And have you collaborated with anyone outside the tattoo industry?
- The first collaborations were with my friend @way.ink. We combined her fine line style with my full colored flowers and we got an interesting result of contrast between black and colored tattoos. Also have collaborations with French artists Jean Andre (@jeanandre) and Adolie (@adolieday) and there were very valuable experiences of working together with very talented people, not only with tattoo artists.
Do you travel a lot for work? Tell us about where you have been.
- Yes, I can say so. Usually I visit two cities in a month. But those cities repeat every 3-4 months. I regularly work in Paris, Amsterdam, Munich, Vienna, Copenhagen, Stuttgat and from time to time try something new like Berlin, Lisbon, Porto, Warsaw.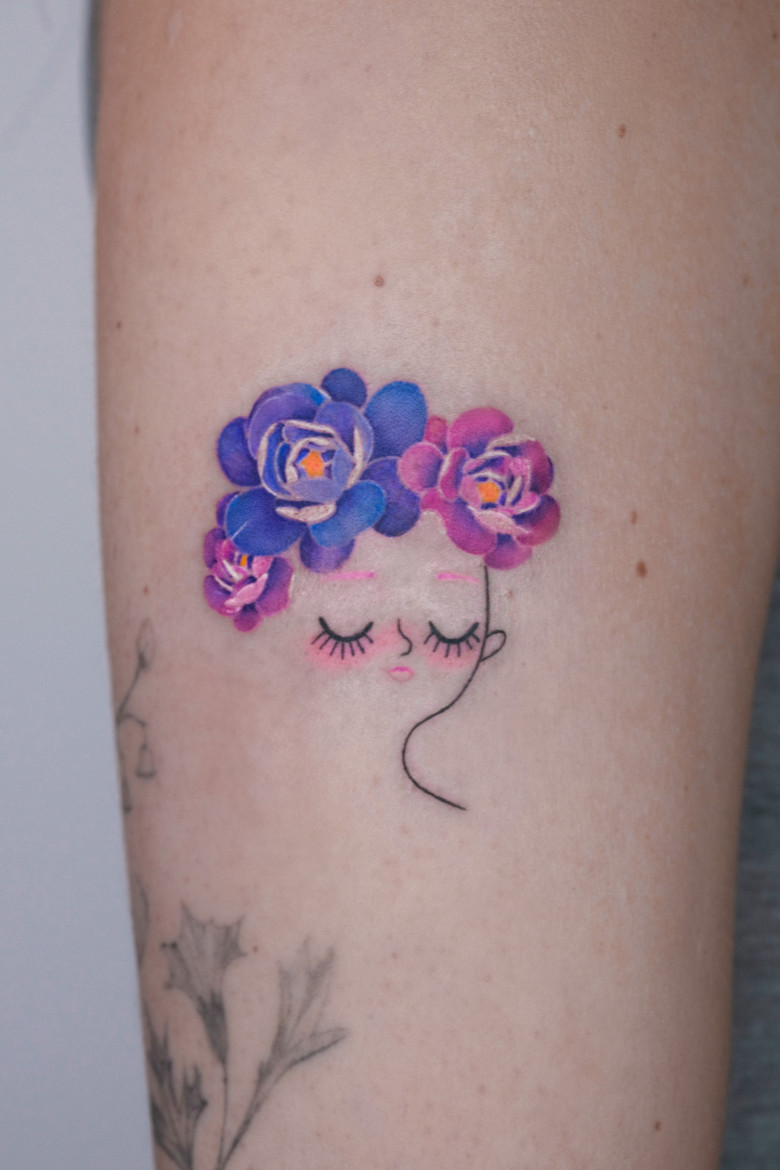 In recent years, more and more non-classical tattoo styles are being introduced at tattoo conventions. Have you participated in such events? Tell us about your experience.
- I participated in a tattoo convention. Last year I took part in the Barcelona Tattoo Expo. It was a very unusual and interesting experience for me. Working around such a big amount of talented and professional people is really inspiring and motivating.
What are your career goals?
- I really want to grow as a professional artist and bring the quality of tattoos to the maximum high level.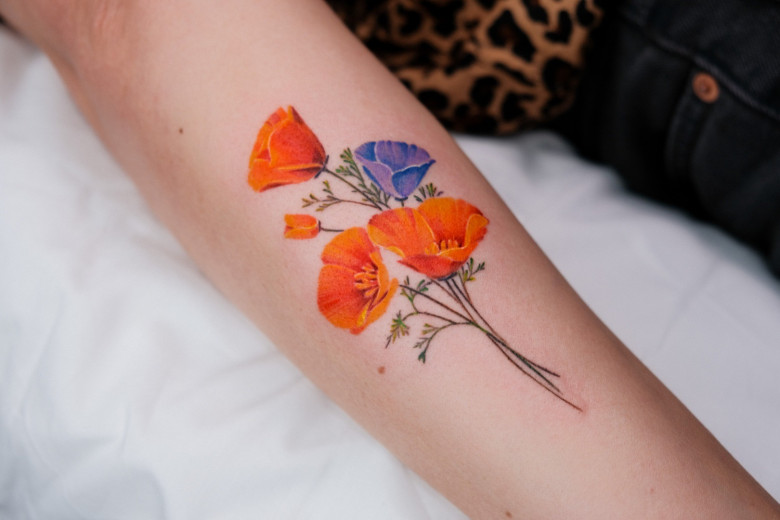 What are you interested in besides tattoos?
- Besides tattooing, I am into fashion, blogging and art. These things have always been a part of my life.
Tell us about your plans for the near future.
- I'm planning to keep my tattoo travels and expand horizons. Between this, I want to find work life balance. Because it can be quite hard to be on a road all the time, it takes a lot of energy. And I need to learn to find time for myself and to enjoy life.