The new look on Irezumi. Girin
14 / 09 / 2022
Oleg Zarvsky
The traditional Japanese tattoo, or in other words - Irezumi, is an imperishable classic with a centuries-old history, strict rules and canons passed down from generation to generation, experiencing ups and downs, global popularity and almost complete oblivion. This is a classic that is revered by fans of tattoo art on all continents. However, in recent years, the hands of modernist artists who turned old school into new school in their time have reached it.
Today, in our interview, a young Korean tattoo artist who broke through the barriers and limitations of traditional Irezumi and showed the world his vision of this truly beautiful art.
Meet Girin.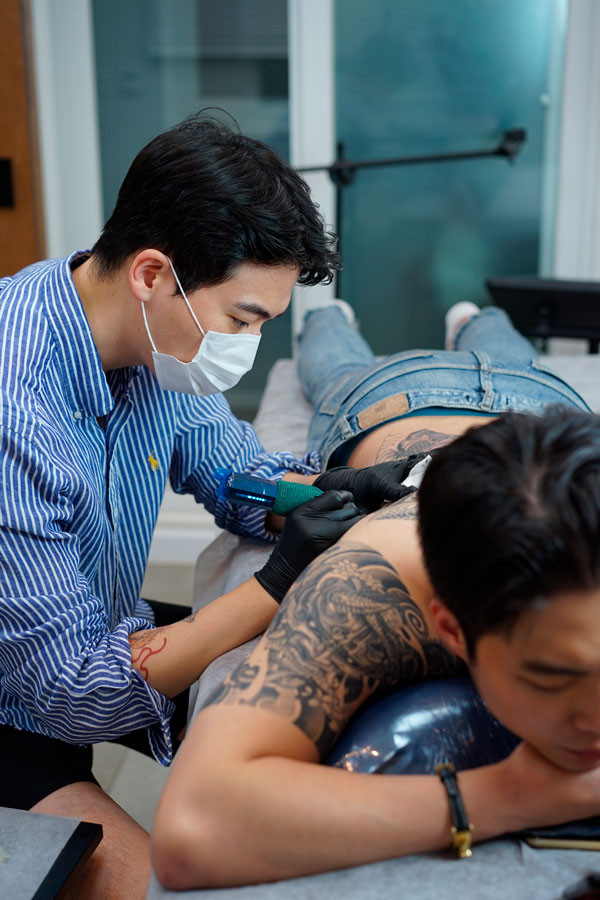 ---
Please, tell our readers a little about yourself. Where are you from, what did you do before the tattoo?
- Hello, I'm Girin - a tattoo artist from Korea. I was a student majoring in cartoon and animation in college
Did you have any artistic background?
- My artistic background is Oriental style games, cartoons, anime, illustrations and everything like that.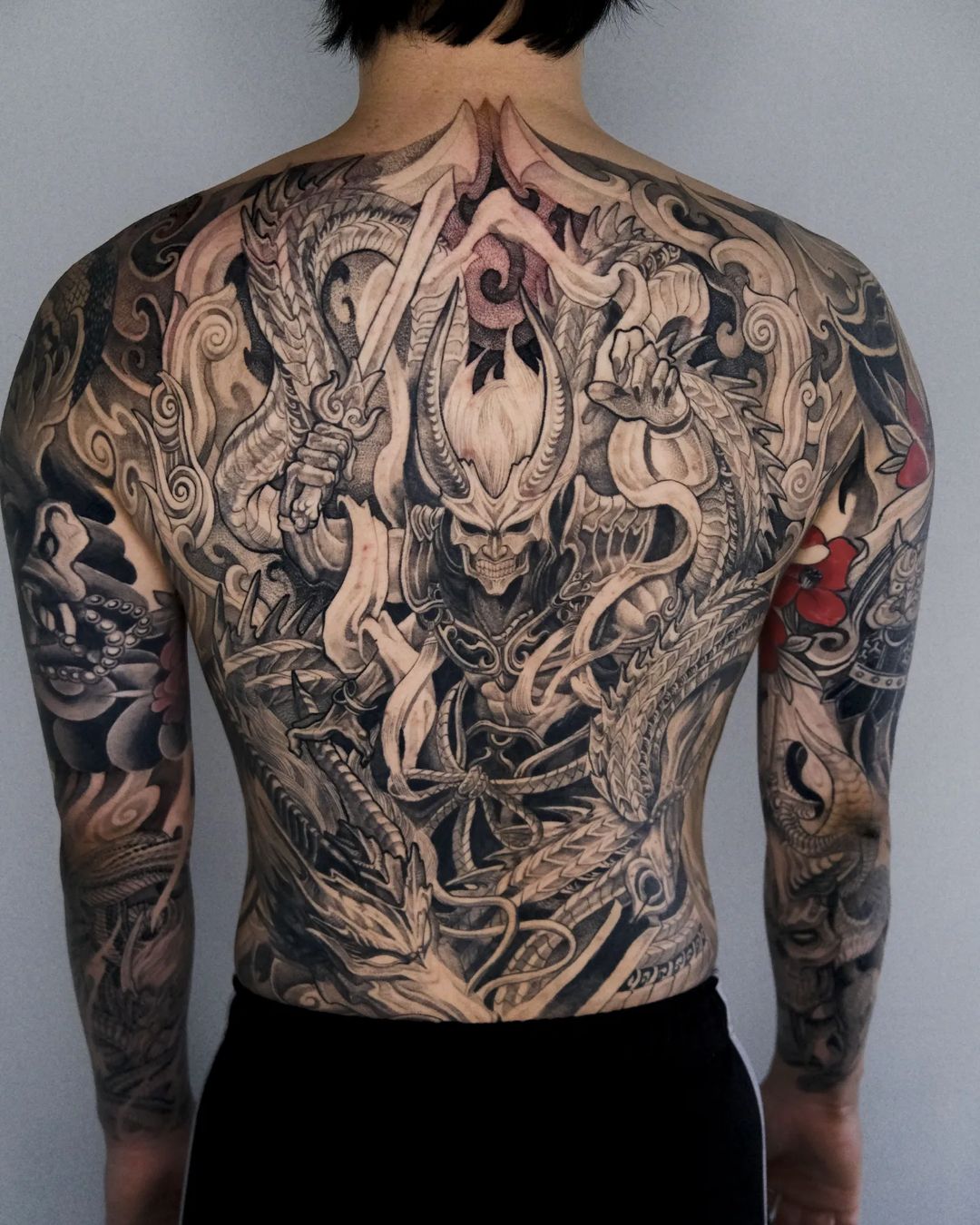 How and when did you decide to become a tattoo artist?
- One day, my cousin opened a tattoo shop and I went to see what he had done. I was curious about the tattoo, so I asked my cousin: How do I learn to tattoo? And my cousin taught me how to tattoo and that day I became interested in it and started tattooing.
How would you describe your tattoo style? Why did you choose Irezumi tattoo as your main style?
- I have been interested in Oriental art since I was young. I liked fantasy and martial arts. There were a lot of martial arts novels and I watched a lot of animated cartoons. I liked the design of Asian armor and weapons, and I drew it a lot. As for me, the genre that suits the Asian style the best is Irezumi. But I didn't like the typical and identical Irezumi style. I wanted to make my own style. I think that Girin tattoo it's a unique style. It's Irezumi, but it's my Irezumi.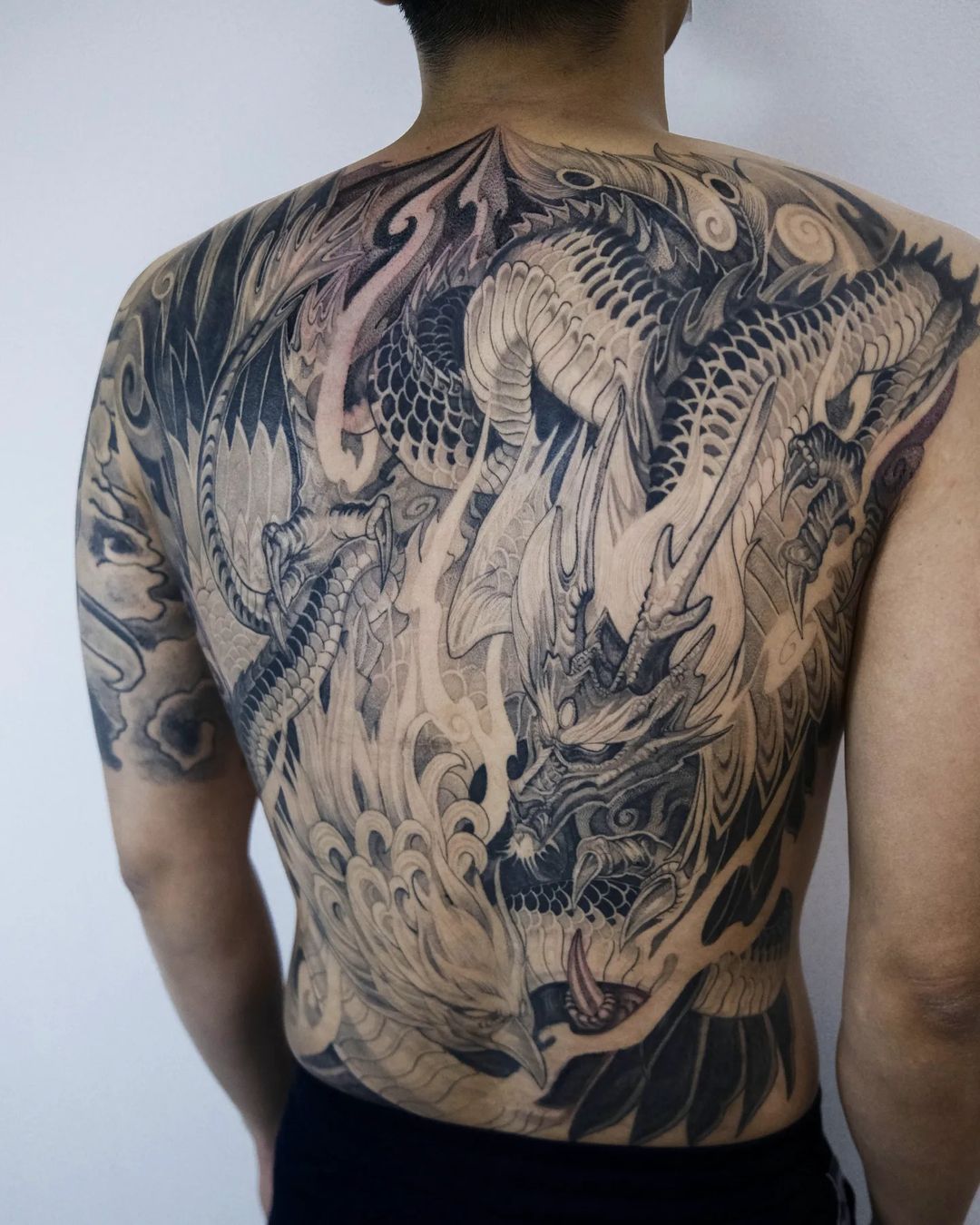 Where do you get inspiration for your work now? Do you study history, myths and legends?
- I like oriental style cartoon series, games, and illustration. I Inspired by images of characters in games and monsters in cartoons. I also like mythical animals and heroes. For example dragon, monkey king, buddha.
What are the main features of your tattoos, you can identify by yourself?
- I usually work on big projects like full sleeve, full bag, chest and short sleeve or chest and full sleeve. Because in a big work, I can use several objects at once in a composition. For example, dragon and monkey king, dragon and Hannya mask, snake and tiger, etc. Moreover, the dragon and the snake often become part of the background, wrapping around the main object of the tattoo. I am not using the traditional Gaku design, which usually draws the background of a tattoo in classic Irezumi. I always create and draw the background design myself, in my own style, and not in the traditional way, which is used by most of the tattooists working in this direction.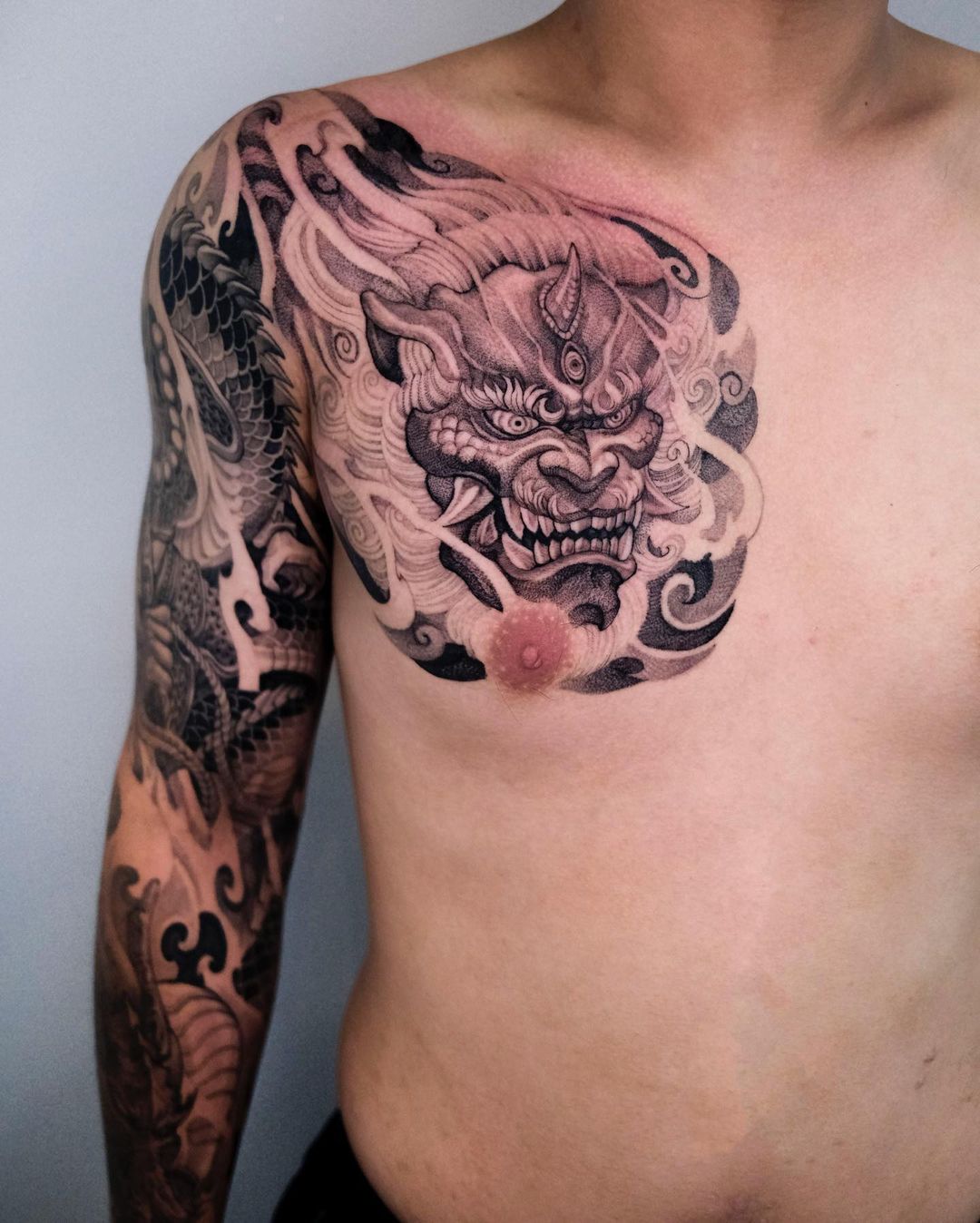 Who are your clients? What unites them?
- All my clients love my designs. They hated the typical Irezumi style and wanted a unique design. And this is Girin's tattoo.
Do you have any favorite tattoo projects? Can you tell us about them?
- The twelve signs of the zodiac are called the twelve gods protecting the earth. Depending on the year of birth, you belong to one of these 12 signs. Also, each sign symbolizes a specific animal.
One client wanted to get a tattoo on his full back depicting all 12 animals. We needed to fit all the animals into one big picture. This is a very big and interesting project that is still ongoing. I think it will be a good tattoo when we finish it.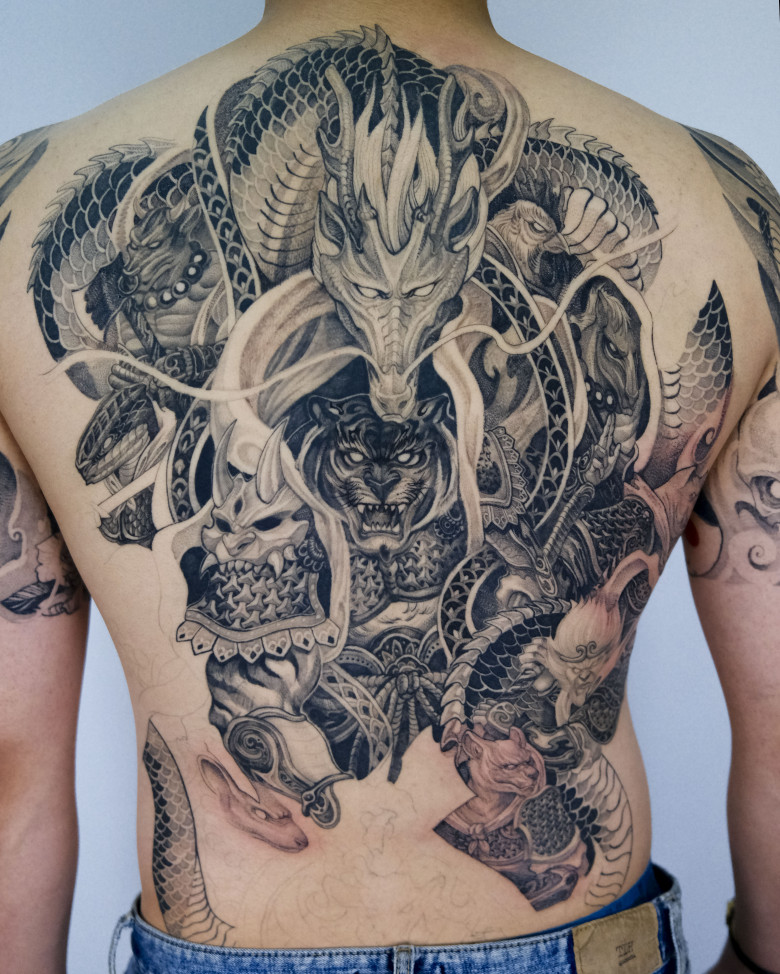 Do you travel a lot now? Tell us about where we can see you in the near future?
- I will go on a trip to Australia soon.
What about conventions? Tell us about your experience.
- I haven't participated in tattoo conventions yet because I thought I wasn't good enough yet. But I will definitely try in the future.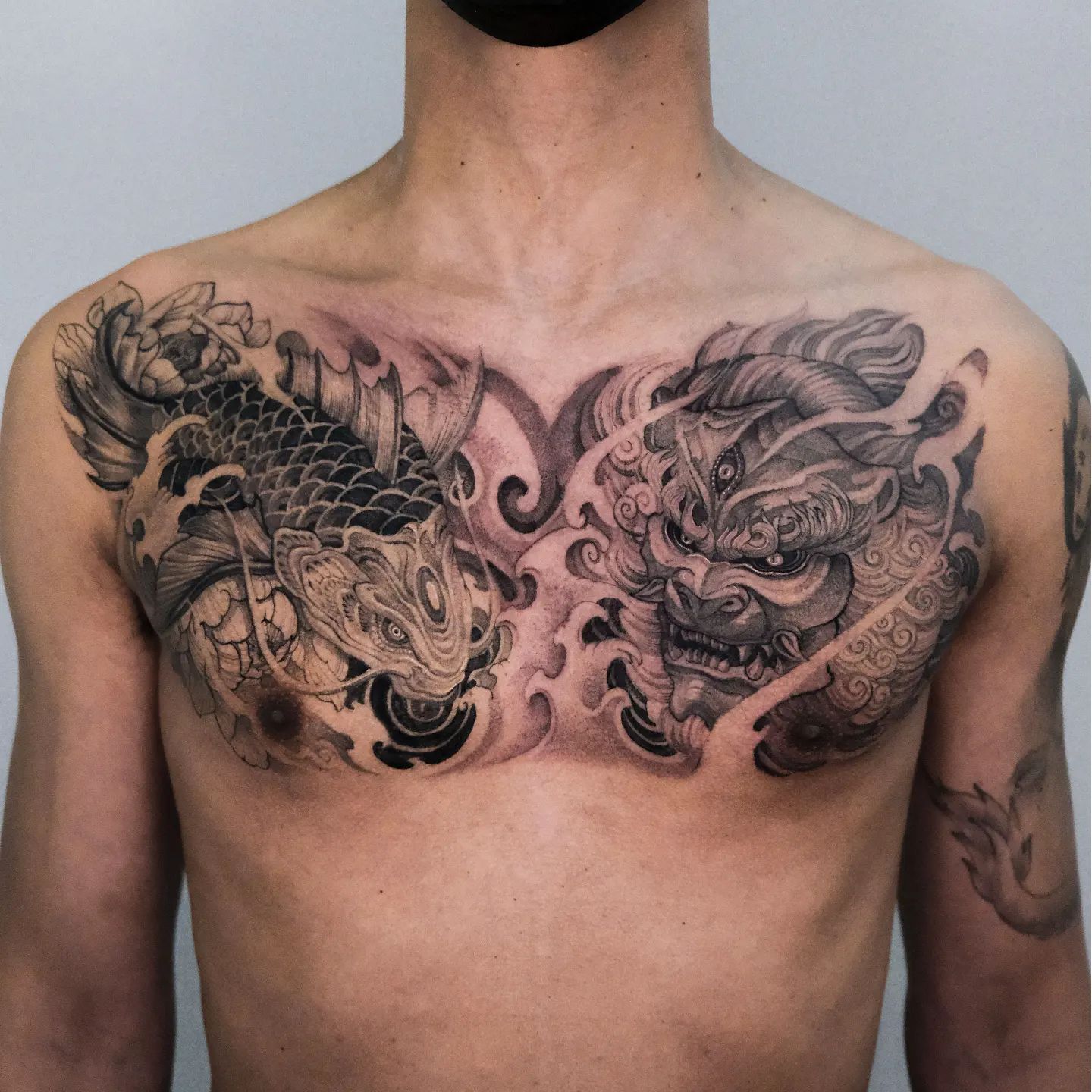 What is your main goal in your tattoo career?
- I just want tattooing as long as possible.