Adriaan Machete: «Every artist that has a unique art has always a time in their life that I call the «Divine Timing»
28 / 04 / 2023
Andrew Novikov
Today's guest of our interview is a famous German tattoo artist who brought his own vision of neo-traditional tattooing. His style is a combination of classical female portraits, inspired by Art Nouveau, flavored with the distinctive color palette and mystical forms. This brilliant combination made a splash at greatest international tattoo conventions, and gave him the sincere love of tattoo fans around the world. How did it happen? Let's find out firsthand! Please meet - Adriaan Machete.
---
Tell us a little about yourself. Why did you decide to become a tattoo artist? What were you doing before tattooing?
- Hi I'm Adriaan Machete, a tattoo artist & illustrator from Germany. I created my own style when I started tattooing influenced by classic art, Art Nouveau and mysticism.
In my 20s I was living in Berlin surrounded by artists, musicians and underground cultures. It was a mix pot of music, art & freedom to create. Tattooing was a very well accepted form of art and expression.
I soon got immersed in tattooing and its growing scene.
Before tattooing I studied anthropology and ethnology in university. It was fascinating as I could travel and open my mind to different social groups and cultures of the world.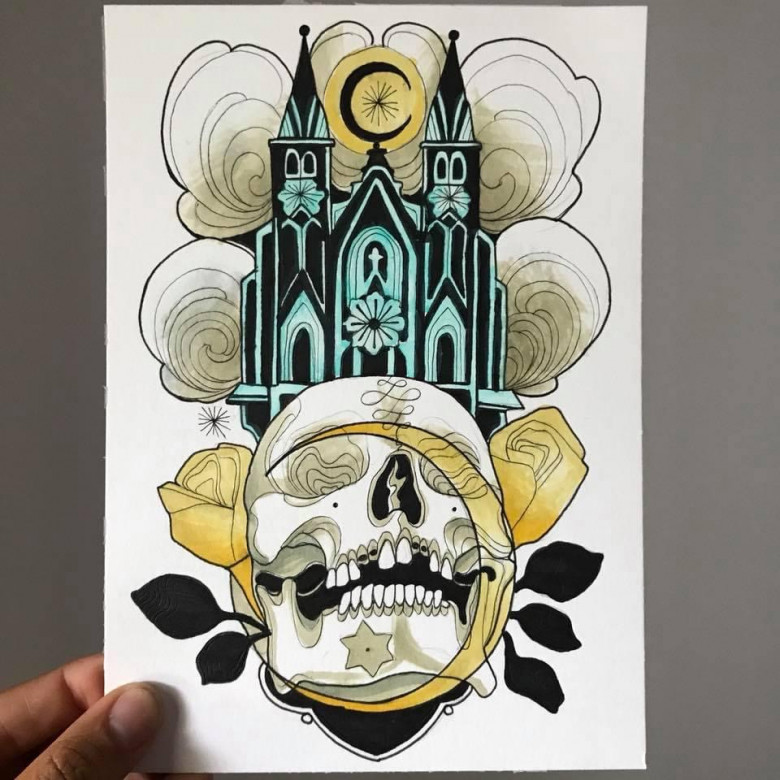 How did your career start? Who was your teacher? Were there any difficulties in mastering this profession?
- I had a friend who was tattooing my sleeves, his techniques & color mixing were amazing and still my favorite tattoos on my body. I was fascinated by tattooing and asked him if he could teach me. In no time I was absorbing all knowledge and spending lots of time in Berlin tattoo studios observing and learning all I could. I practiced tattooing on friends and it all happened very quickly, I was soon tattooing in tattoo shops and getting recognized for my art.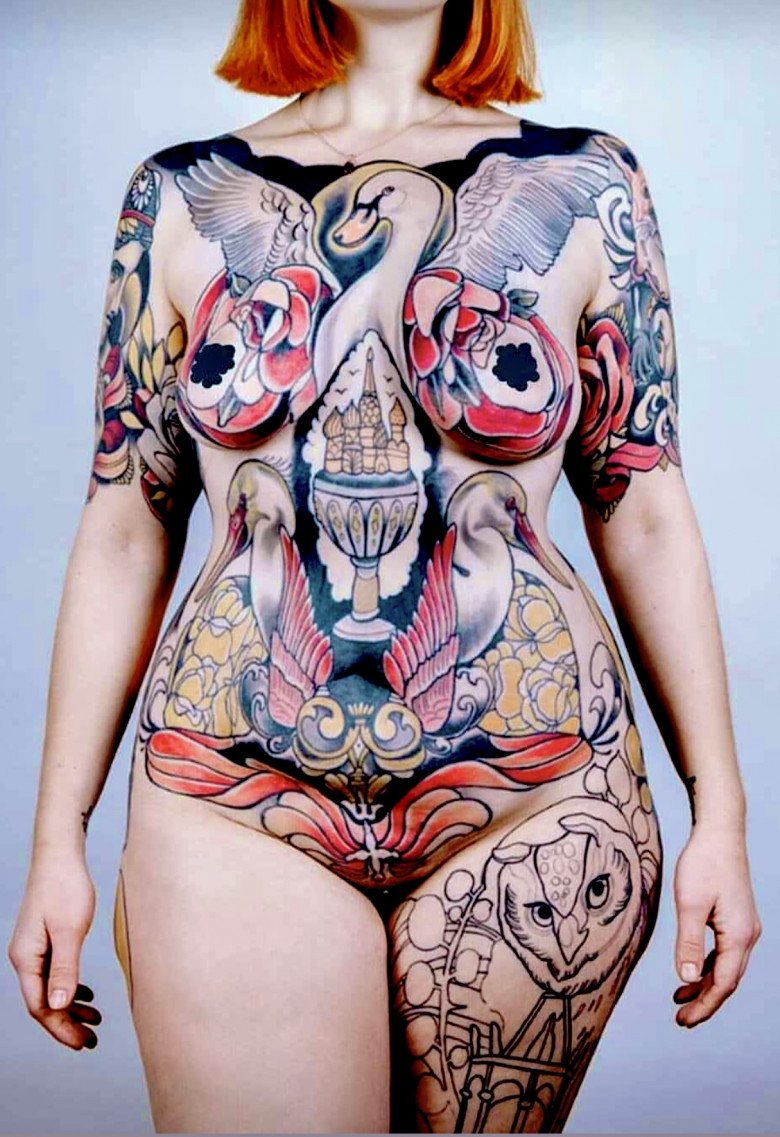 The hardest thing was mastering drawing the things I wanted to create and to develop my own style. I spent years drawing for hours every night finding the art & style I was happy to create. Some years later it paid off as I was recognized by having my own style of tattooing.
Is tattooing art, work or something else for you?
- For me it's a mix of everything: art, mysticism, a trade, a ritual, an energy exchange and a profession. That is why it is so fascinating, it can allows you being yourself and express through your art your creativity, emotions and energy. It also has the power to heal and expand our consciousness using the right symbology and designs.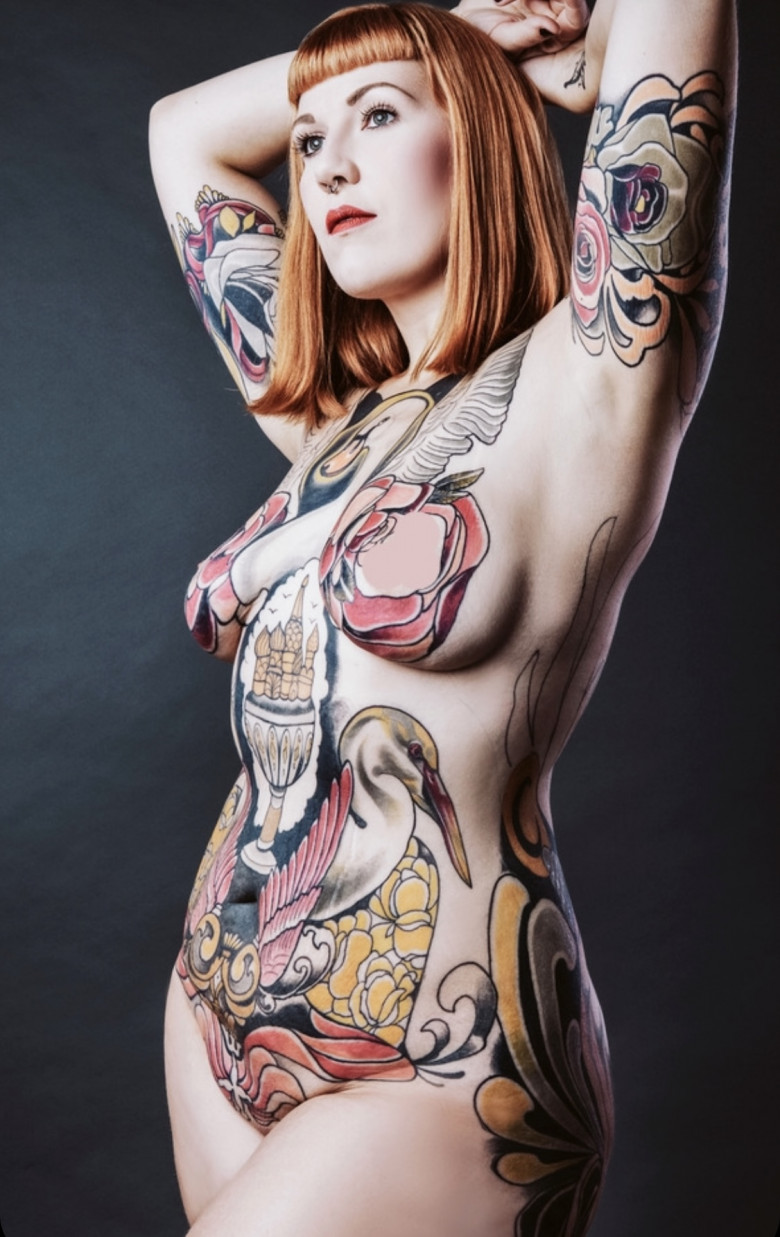 Your style is close to neo-traditional, however, there is something else in it. Tell us more about your style.
- I was at the right time and place where the neo-traditional style was invented by Lars Uwe. I got the chance to get tattooed by him and I learned so many things about magic and tattooing as a form of energy. I then decided to create my own style, I incorporated the love for the sun & light into my color palettes and started adding esoteric symbolism, later in my career I added spiritual symbolism as my life was evolving & changing as well.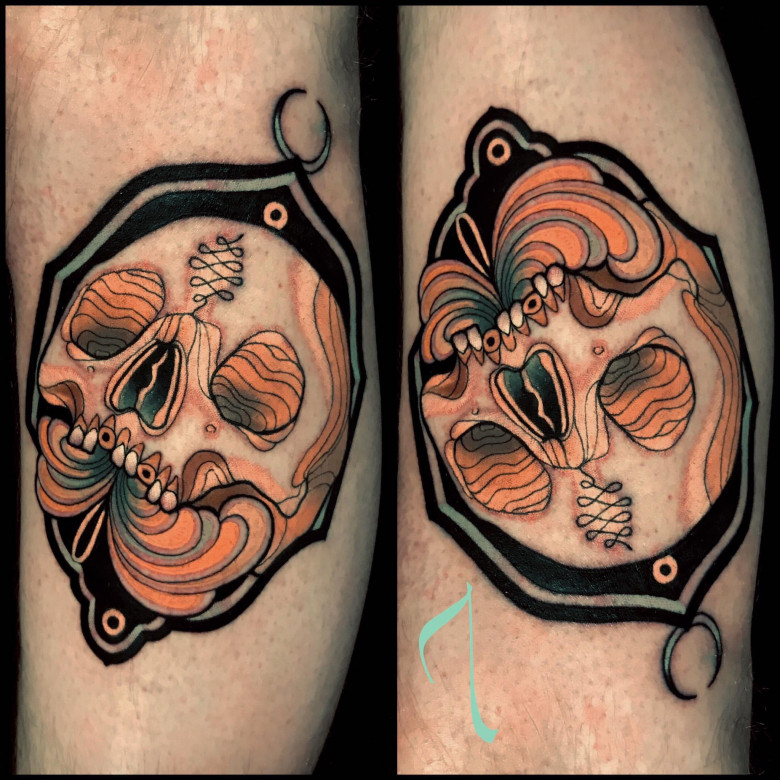 What features of your work can you highlight on your own?
- As I was living in Berlin I could see that other tattooers from Europe had a special style connected to nature & seasons, many artists would be mixing the color palettes of autumn, as in north Europe is one of the most beautiful seasons. I learned that technique but I was always fascinated by summer and the bright warm days. I started incorporating lots of yellows and warm colors into my designs. My favorite designs to tattoo were women portraits, I would spend hours studying human anatomy to create a more feminine & expressive portrait of femininity. I started tattooing portraits of women on hands, sleeves, arms and backpieces, the results were very special.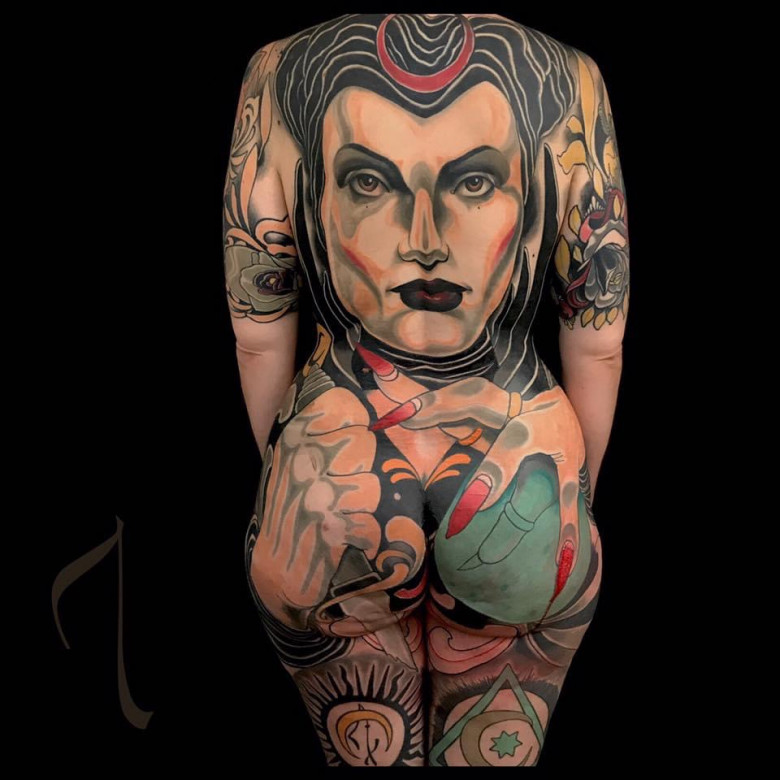 What is the most important thing for you in a tattoo?
- For the design definitely the lines, they create a flow, catch the attention and hold the tattoo for life. For meaning it's the healing & consciousness expanding, every tattoo I create has a story that is connected to my customer, it connects them both and has the purpose of healing, expanding and evolving, and at the same time to decorate the body in the most harmonious and beautiful way. These two things combine so beautifully that can create a real change in the customer aura.
Where do you draw inspiration from?
- Mostly from everything in nature, portraits and human emotions, anatomy, animals, seasons, places and also from spirituality mysticism, classic & art Nouveau.
Are there any tattooists or artists that inspire you? Whose work do you follow? And do you have any favorites?
- There's tons of tattooists and artists that inspire me, I love to see how tattooing has evolved so incredibly much and I love all kind of styles. Every year I discover new amazing artists and it's so inspiring for me and my art.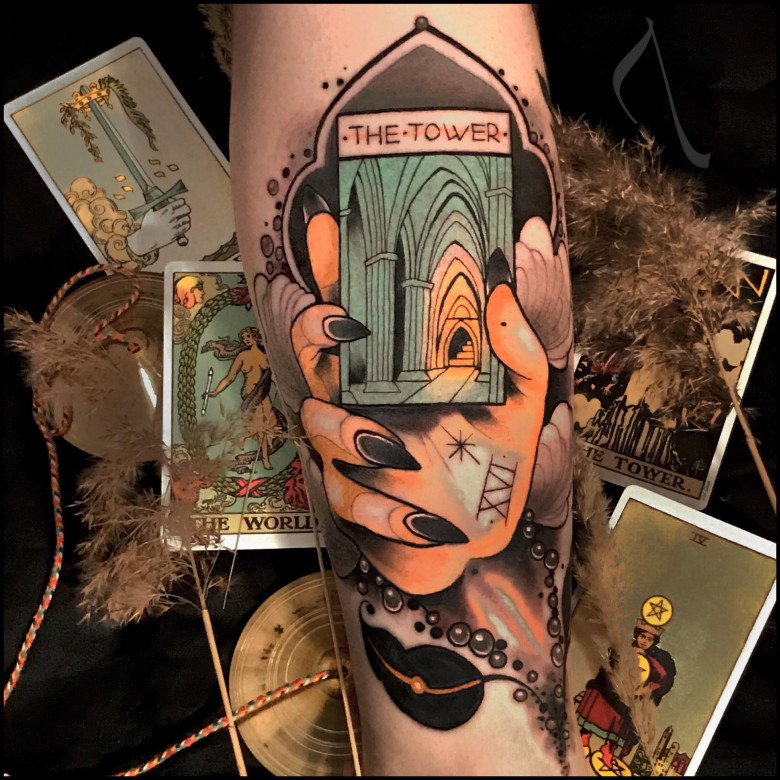 Do you travel a lot for work? Tell us about where you have been?
- Yes I do! The last 10 years I traveled the world and worked in some of the best tattoo shops & conventions in the world like London, Amsterdam, Berlin, Hamburg, Prague, Helsinki, Budapest, Brighton, Brussels, Moscow, St. Petersburg, Barcelona, Edinburgh, Bali, Australia and I'm still planning to go to many other places.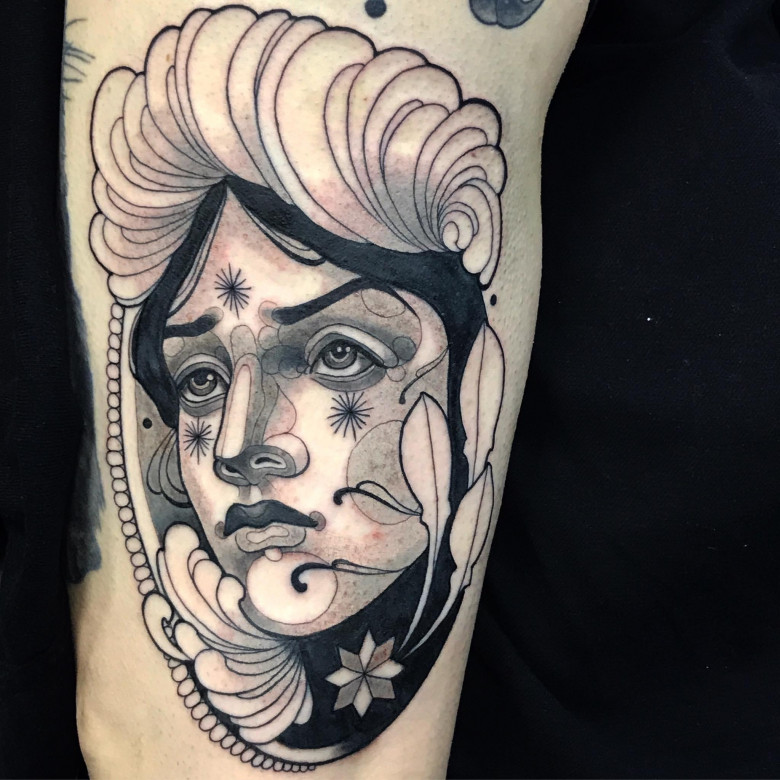 Where do you think your style is most in demand and why?
- I'm so incredibly grateful that in all places I go to tattoo I get amazing customers. They allow me to create my art and give me full freedom to design and tattoo them. I feel the more grateful I am the more I attract the best customers in my journey.
Where do you work now?
- I'm based in Germany between Berlin & Hamburg and I travel regularly to Amsterdam as I have many customers with big pieces in all these places, mostly sleeves, chest pieces & back pieces are my customers favorites. I also enjoy very much tattooing hands.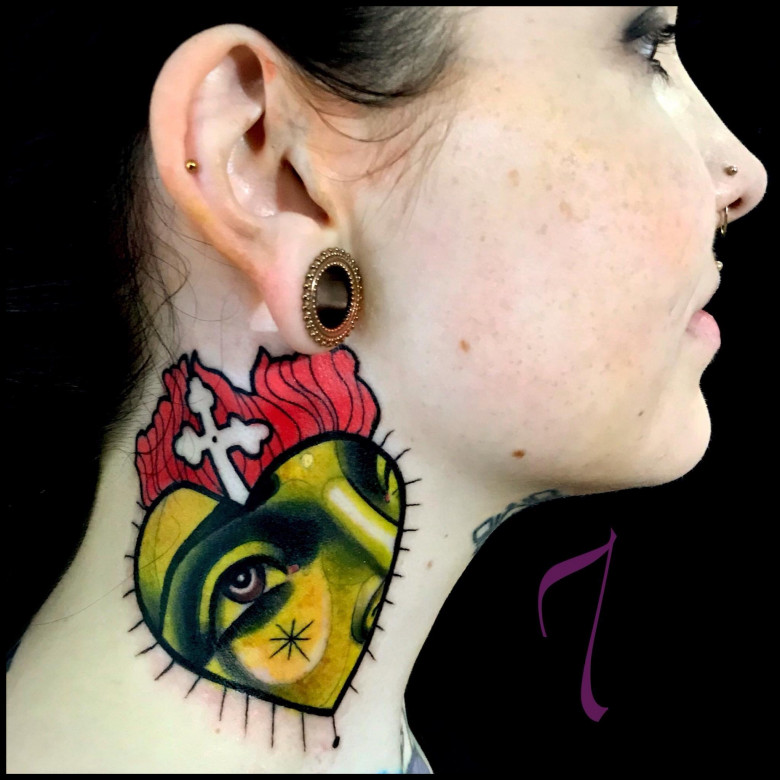 You are sponsored by PEPAX. What does this give you as a tattooist and how important is it for a modern tattoo artist to have a support of tattoo brands?
- I think it's amazing how we can help each other, especially supporting brands that have helped artists a lot. It's also so positive the art of giving & receiving which promotes in the world the energy of abundance, the more we all give & receive, the more this energy arises in the consciousness in everyone of us.
How do you rate your popularity and how do you think it can be measured?
- It's an interesting question, I believe that every artist that has a drive to be recognized or that has a unique art has always a time in their life that I call the "Divine Timing", it's when the whole universe aligns with you and you get recognized and praised for your art, the most amazing thing is that every artist can achieve it with the right amount of perseverance, Love for art, believing and dedication.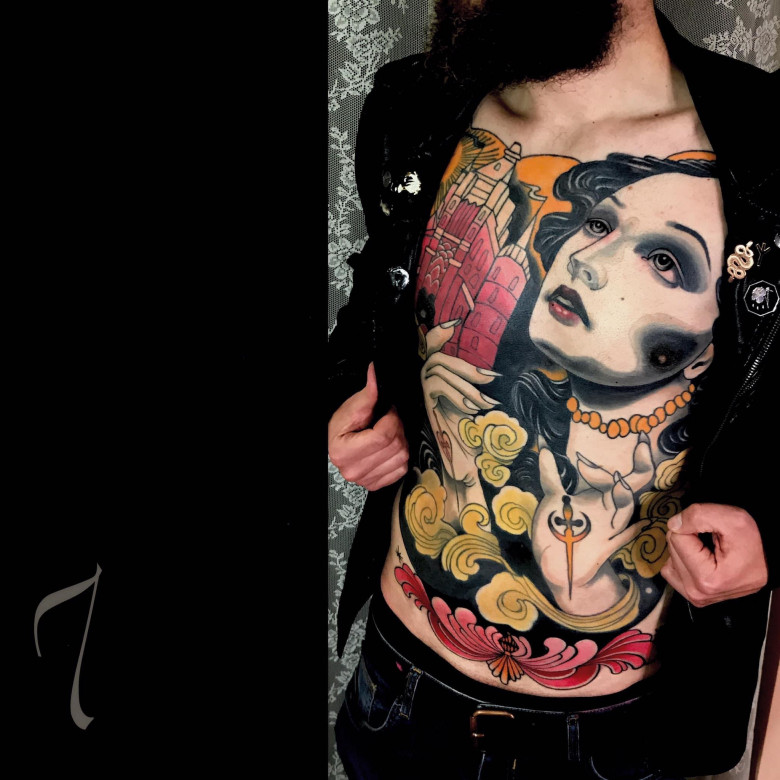 We know that you have participated in many tattoo conventions. Share your experience and results. In your opinion, how important is participation in such events for a modern tattoo artist?
- It was a dream to participate in conventions, I remember being a visitor in the Berlin convention and a year later I was tattooing there and won my first prize in the contest. It was so surreal, and I had the amazing luck to tattoo in so many conventions and being recognized for my art that I feel very blessed.
For me it not only helped me to learn from amazing international artists but also to challenge myself to become better and push my limits in art and creativity. I learned from the best of the world and made so amazing friendships with some of the most recognized tattooists in the globe. To my surprise we all had so much in common, we are all artists that didn't fit in the normal world. I also loved the chance to win prizes in contests as it meant that my art was recognized in many different places. That's something beyond words for me, I'm really grateful about it, especially to my customers.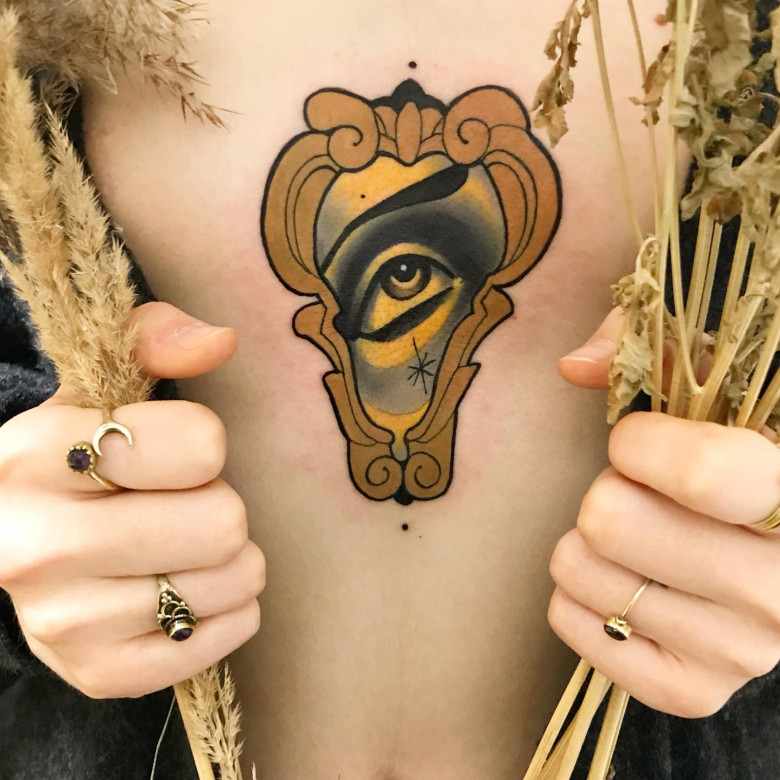 What are your career goals?
- They've been changing all my career, from tattooing the biggest conventions to guesting in some of the best shops in the world, to winning prizes & being recognized, to creating art that helps healing and evolving consciousness. I guess now is to create the most beautiful art that can ignite healing and awareness in the hearts of my customers.
What are you interested in besides tattooing?
- I love surfing and yoga so I will often be at the beach with my surfboard and practicing or teaching yoga in sunrises & sunsets. I also love nature so I spend lots of time in it and it recharges my energy to keep tattooing and creating art.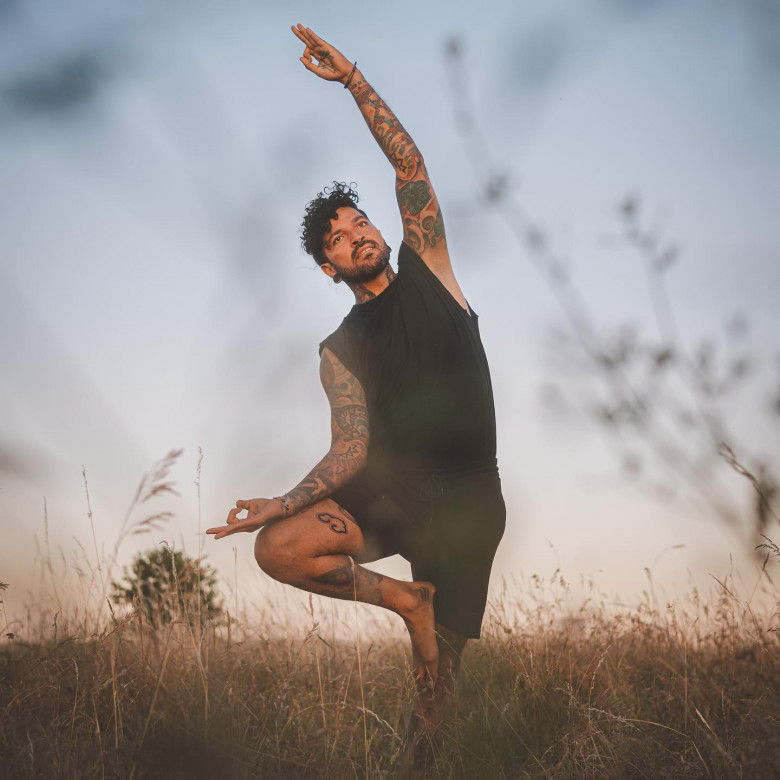 What advice could you give novice tattooists?
- To follow your heart, I know it can be discouraging to see so many amazing tattoo artists already but with the right dedication & energy you can achieve your divine timing, trust yourself and the process and keep believing in yourself. Your heart will always show you the way.
Tell us about your plans for the near future.
- Travel to more amazing shops in the world and tattooing conventions as I love to see other amazing tattoo artists and friends, and keep the flame inside of me to tattoo inspiring people in the world the best I can.