Tatyana Tkachenko: «Neo-traditional - is the absence of any boundaries or rules. The maximum flight of fantasy.»
21 / 11 / 2022
Andrew Novikov
Neo-traditional remains one of the most popular directions of modern tattoo, despite the fact that it's time to add additional "neo" prefix to its name. Every year this style expands, develops, giving an incredible amount of stunning, vibrant, and most importantly, durable tattoos. Tattooists find the new in the new, remove all sorts of stylistic boundaries and limits, all modern trends in cinematography and animation are reflected in their work, in general, life is in full swing!
But among the many, a few always stand out. And today, we want to introduce you to a tattoo artist who has been striking us with her work for several years! Her tattoos are a strong cocktail of high contrast, awesome color palette and the real style. This cocktail is as strong as her nickname in the creative area. Please meet Tatyana Tkachenko, aka Green Vesper.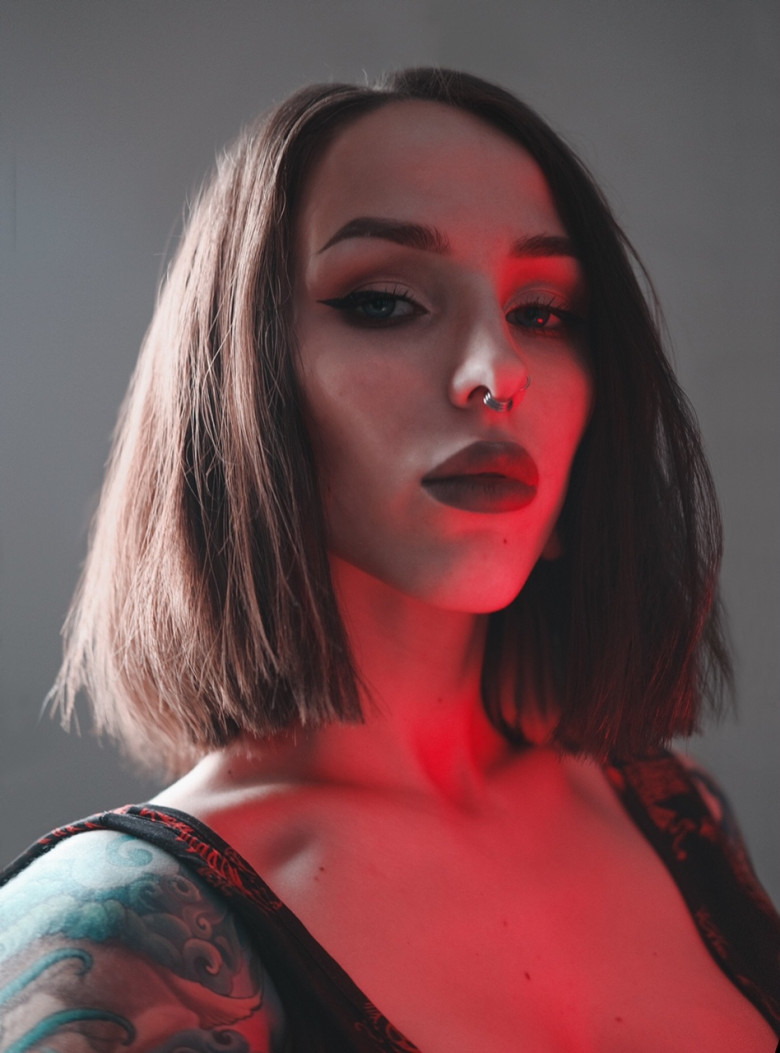 ---
What were you doing before the tattoo? Why did you decide to become a tattoo artist?
- I thought about tattooing as a craft at the age of 15-16, when I got my first experience of tattooing. At that time, the art school had been completed and was approaching admission to the university at the faculty of graphic design.
Before the tattoo, I was an ordinary student with an excess of energy and ambition. Since I was moving in a creative direction all the way and was interested in art in general, as I remember, there were no other options for me at all. Well, I definitely didn't intend to work by profession, it turned out to be not so cool, as Artemy Lebedev said.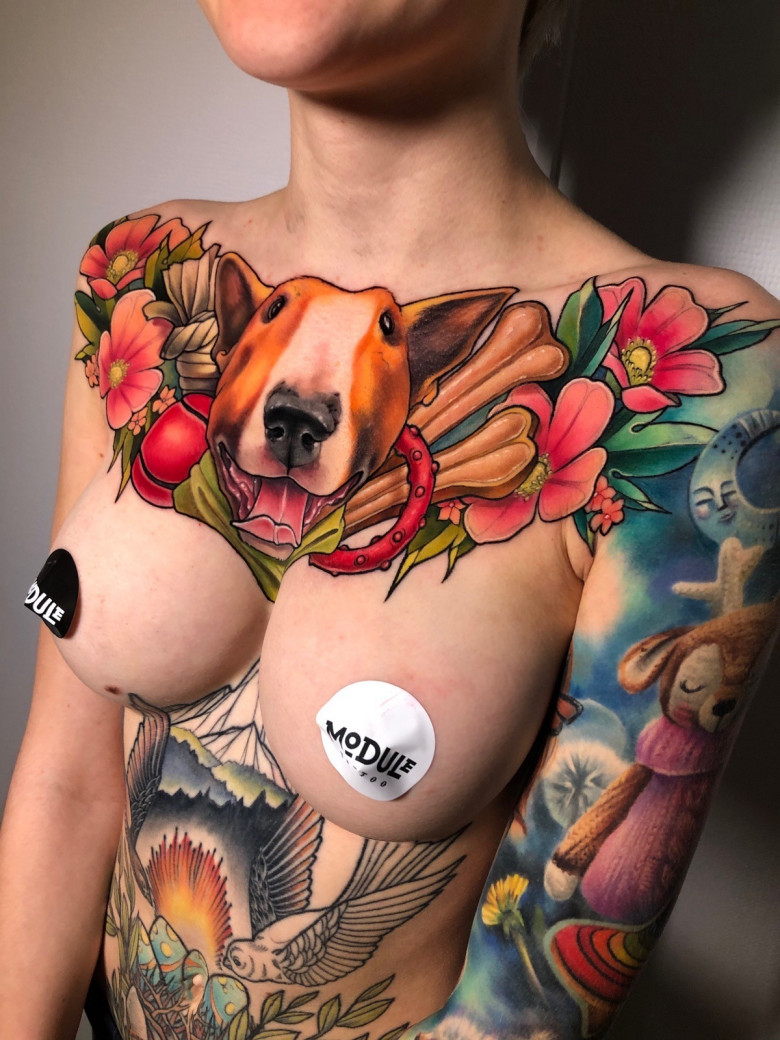 How did your career start? Were there any difficulties? Who was your teacher?
- My career started quite suddenly. At that time I was friends with a guy from a local music group, who was getting tattoos from a Tomsk tattoo artist and, as it turned out later, my future mentor. He introduced me to him. So, as soon as I hid the finished diploma work on the desk, I immediately came to the studio to get acquainted. Rinat (Mingazdinov) turned out to be a very "right" person in the sense that he immediately showed the whole kitchen, set me to the desired vector, looked at my work for the first six months, understood what I could, know, and released into free swimming. With two artistic educations, there were no problems, it was only necessary to adjust to a new instrument and learn how to connect with people.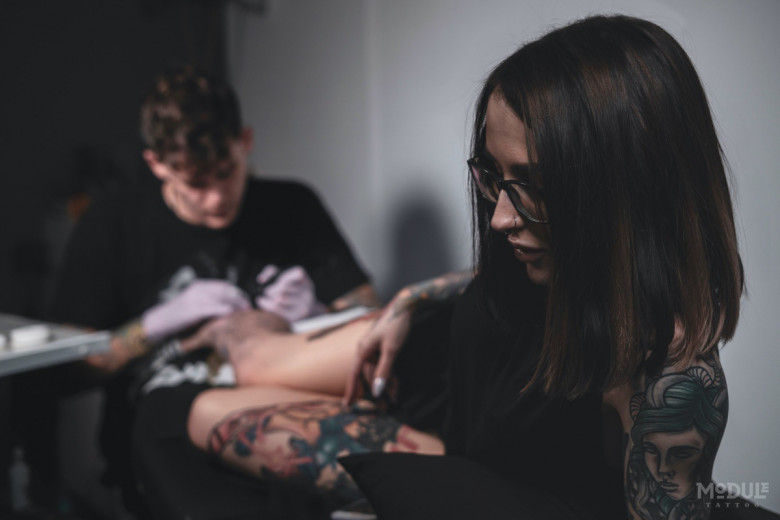 Where does your love for neo-traditional tattooing come from?
- In general, when I came to the studio, I immediately declared that neo-tradition seems to be to my taste, but realism also attracts me. As a result, I mainly do and show neotrad works, but sometimes I also do realism, but selectively, without portraits of children or grandmother's wedding photos on a 1:1 scale, in short, all sorts of interesting things to me.
I cannot say why I fell in love with neo-tradition. Maybe for the absence of any boundaries or rules, for the ability to draw in an absolutely free form, an abundance of stories, the maximum flight of fantasy.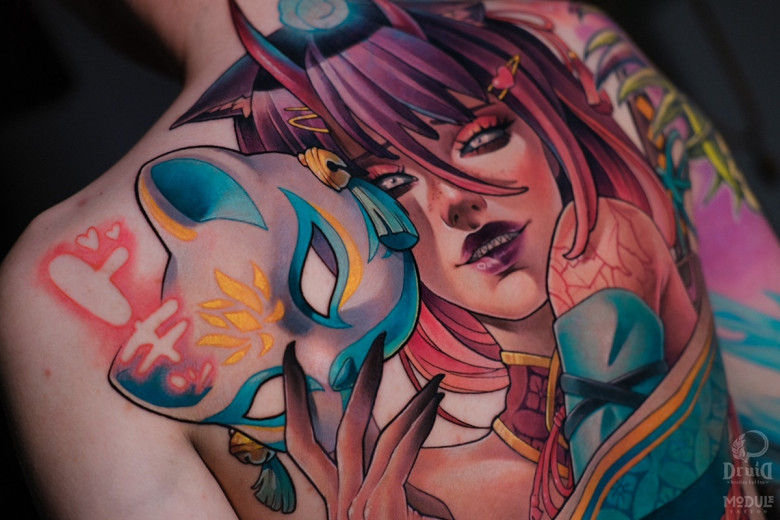 How can a simple guy distinguish neotrad from new school?
- This is the same ambiguous question as the ending of the Drive. It's hard to say, lately this is a very painful issue at Russian festivals, no one knows. But as a topic for jokes it's good.
What features of your work can you highlight on your own?
- I like to take bright contrasting shades. There is a certain favorite color scheme that I try to stick to. I won't say about the quality myself, because I'm still in the process of perfecting my work, but most people note the cleanliness and smoothness of my tattoos.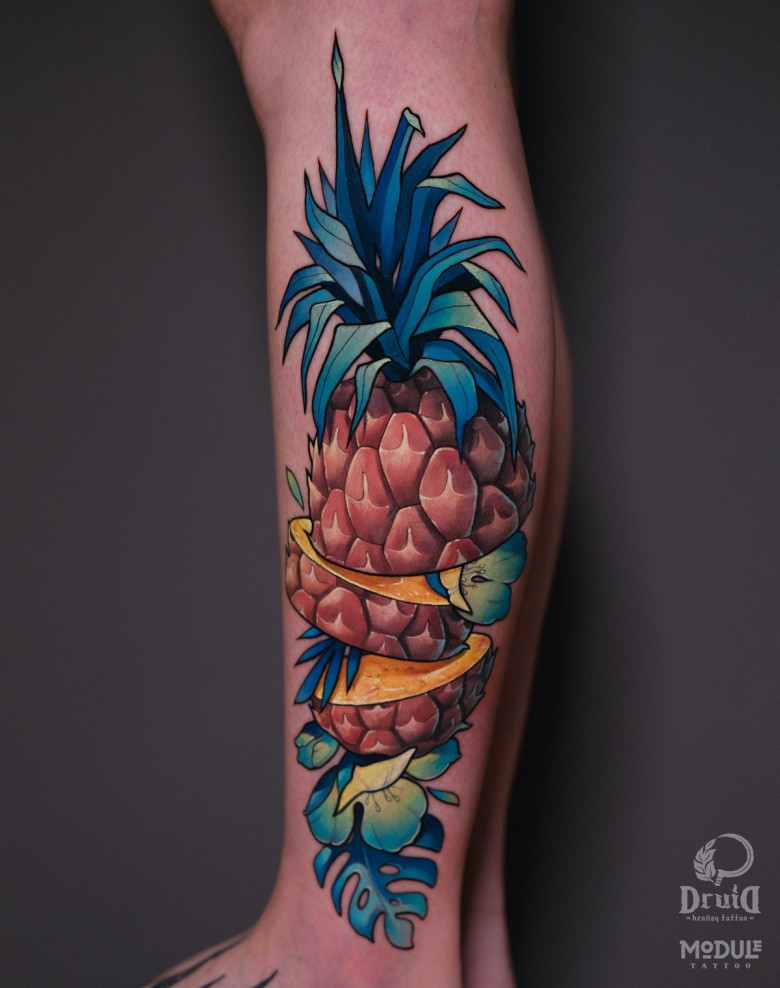 Which of the tattooists do you actively follow and who is in your personal TOP?
- I'm crazy about many Russian tattooists. I like their local party and some kind of mutual movement, but in terms of work, I mainly look at foreign artists. For example, for many years I've been watching the work of @oash_tattoo, @kennipoke.
There is a very large and active NeoTraditionalRussia community in Russia, in which you also periodically appear as an artist. Tell us about the extent of your participation in it.
- There was no initiation ceremony as such, the guys just started posting my work to their social media at some point. Then they suddenly invited me to participate with them in the tattoo festival under their flag. It's cool that such a community exists in Russia, it's not cool that there are some kind of contradictions inside it. But there are mostly interpersonal problems, so I don't go there. I enjoyed hanging out with them and meeting new people.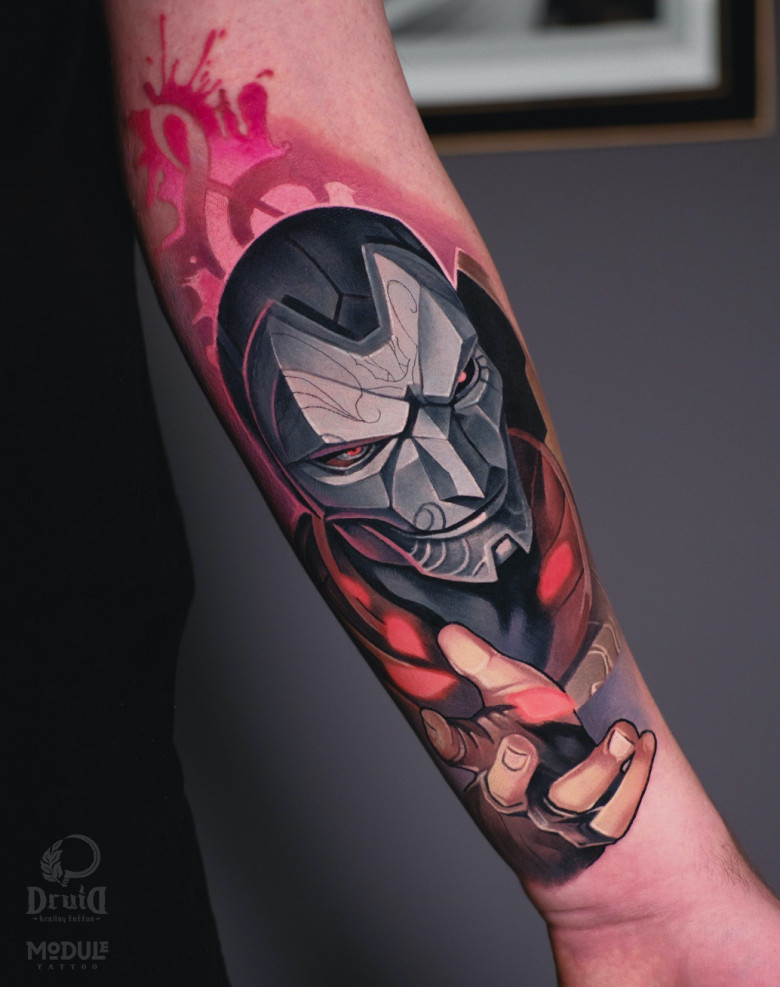 Do you travel a lot? Tell us about where you have already been?
- I started traveling outside of Russia two years after the beginning of my activity as a tattooist. The first trip was to Germany. And I liked it so much that I still go to Germany all the time. Not so long ago I managed to visit a festival in Rome, we made a collaboration with Dmitry Harleich, the convention in Brussels is now on the way. There are many countries and cities where I would like to go.
You have several large collaborations with Rinat Mingazdinov in your portfolio and the results of your collaboration are simply amazing! Tell us more about these activities.
- Rinat and I somehow got along right away, and the collaborations only strengthened our tandem. It's very comfortable to work with him, he does not pull the blanket on himself, adapts to the rhythm. Initially, it was just an experiment for fun, but after the first one, many people wanted it, and we rooted this format. In short, we had a match with him in many aspects of work and business.
Who else have you collaborated with? Can you tell us about the most interesting ones for you?
- Not as much as I would like, in addition to Rinat, I managed to work with Daniil Kalyaev at the festival in St. Petersburg, then in Rome with Harleich. We worked with Daniil in turn, because we made a tattoo on the shin, the project turned out amazing, but they didn't take anything then. But with Dmitry we collaborated as it should.
The realization has already come that I'm wildly rushing from such joint movements, here are the exchange of experience, and educational program on missed memes, and in general the opportunity to be aware of what is happening in the industry.
How do you rate your popularity and how do you think it can be measured?
- It's difficult to talk about my popularity from the outside, it seems to me that I'm generally a no-name at this party. Except perhaps some Turks and Arabs, who, for the most part, don't care about my tattoos.
Well, at the festival people took a picture with me a couple of times, it was a surprise, and I think, wow, someone knows me. I'm not a particularly media or sociable person, I don't like excessive attention, this is a big problem for me, as an artist, I guess. But I'm working on it.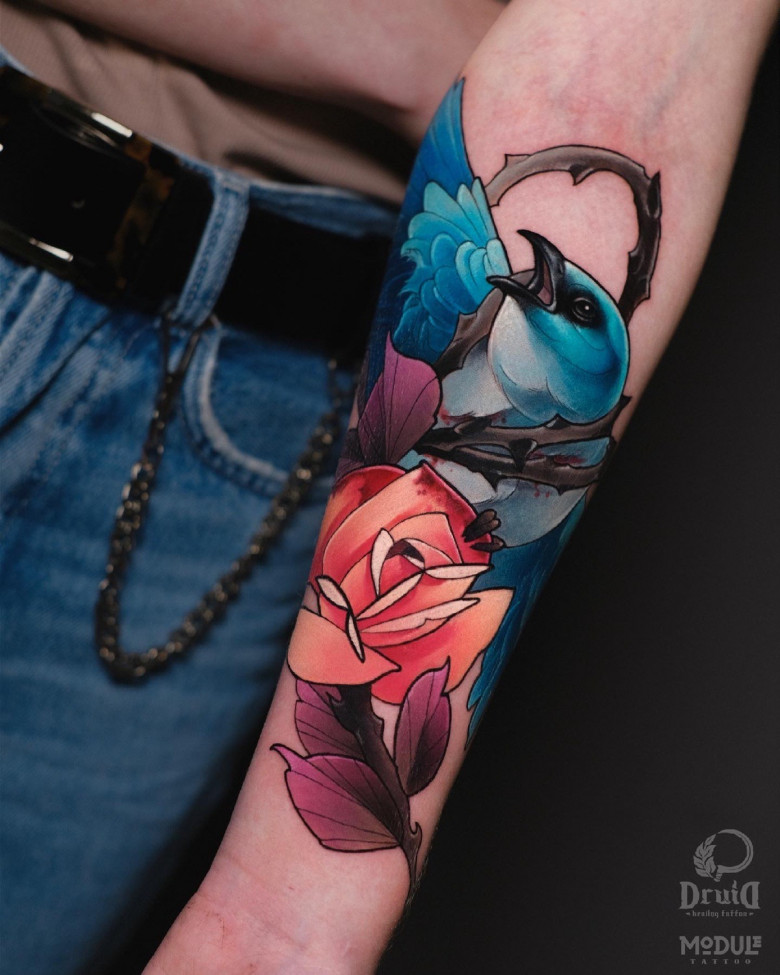 You are a member of the Druid Pro Team. How important is it for a tattooist to be part of a brand's professional team and what does it give to you personally?
- I've known the guys from the Druid for a long time and I treat them so well. This is no longer about sponsorship, but about cooperation and friendship. The brand is small and hasn't gone outside of Russia yet, so there was no talk of any significant offers as a place at a booth at the tattoo festival. But I like their products, and I'm happy to advertise them just for respect. Their product is really cool.
This is my only sponsorship at the moment. Tattoo machines, needles somehow I didn't like, and the Chinese have already overcome me with calls to join them. For me, cooperation with the Druid was a kind of help to join the party. I was small and green when I joined them. And then voila, and someone took me under the wing. It was joyful.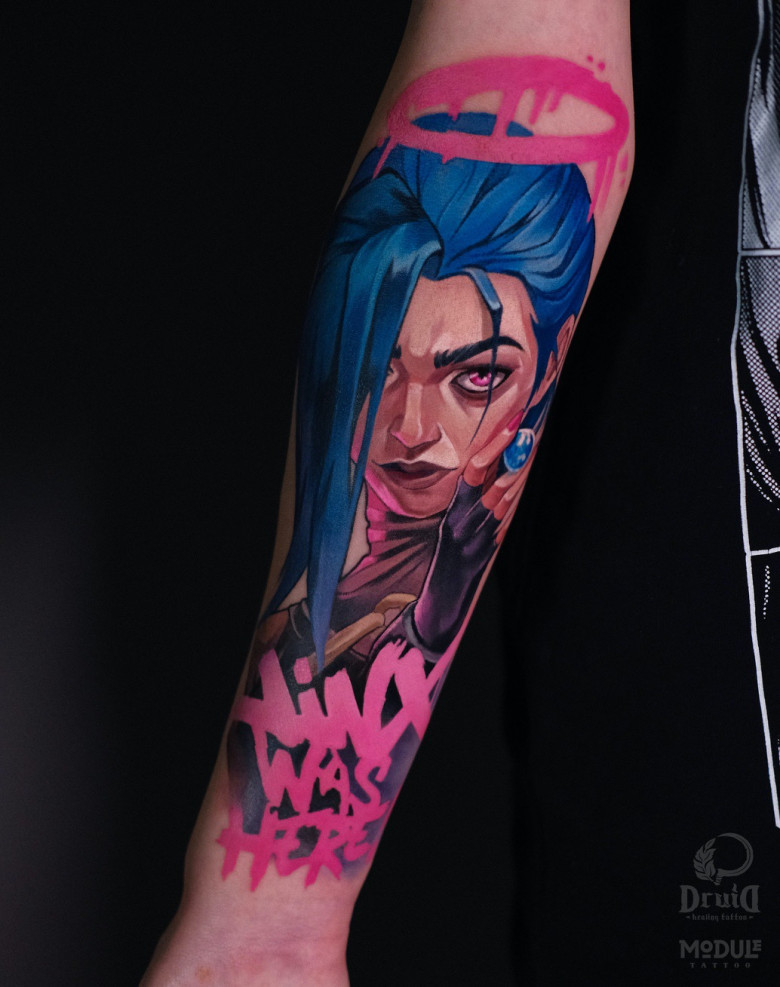 We saw you at the St. Petersburg tattoo festival this year. How was it? Share your experience of participation in conventions and results. In your opinion, how important is participation in such events for a modern tattoo artist?
- It was the most controversial festival for me.
Firstly, for the first time I worked on a large event, before that I was only as a guest. I don't really like working in stressful conditions, something always doesn't go according to plan. By the way, I'm a person whose notes with a to-do list on the phone take up more space than photos.
Secondly, it was my first experience with dubious judging. I brought a friend with the tattoo on the back, which received standing ovations from visitors and other tattooists during the day, but in the end we didn't take any place. I don't even know who was more angry, me or my friend, but, in my opinion, getting on the jury a blogger who makes dubious tattoos and generally doesn't inspire any confidence as a professional was reckless and raises many questions. In short, I was very angry for a couple of days.
But in general I think festivals are cool, I guess. At a minimum: socialization, the opportunity to see cool dudes and, as a result, accelerate your own development.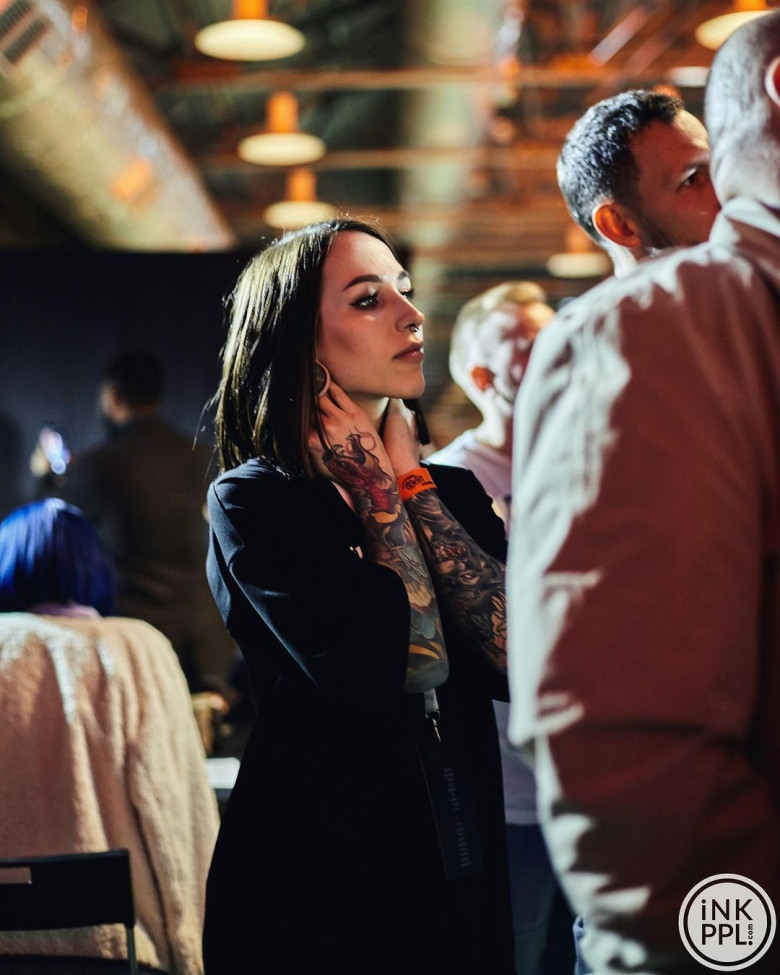 Is the tattoo for you an art, a job or something else?
- It's a paid hobby. There are projects that I treat as work, there are those that are addictive and bring great pleasure in working with them. It still depends on people, sometimes the project is boring, but the person is just a charm, and everything is smoothed out at once. I don't just tattoo, I am a psychologist, a friend, and a memeologist. The tattoo brought me together with a lot of really cool people, some of them became very close friends. And sessions with them are no longer about work, but about friendly gatherings.
Green Vesper is a very strong cocktail. Why did you choose such a nickname for yourself?
- The story is that I started as a digital artist, and I had to come up with a short sonorous nickname that wasn't related to my real name or activity. I had a hard time with fantasy, but with alcohol it was better, that's why I started flipping through the alcohol encyclopedia. And then it migrated with me to the tattoo. Few people know that this is a cocktail, and I have never tried it, but now it looks like I have to.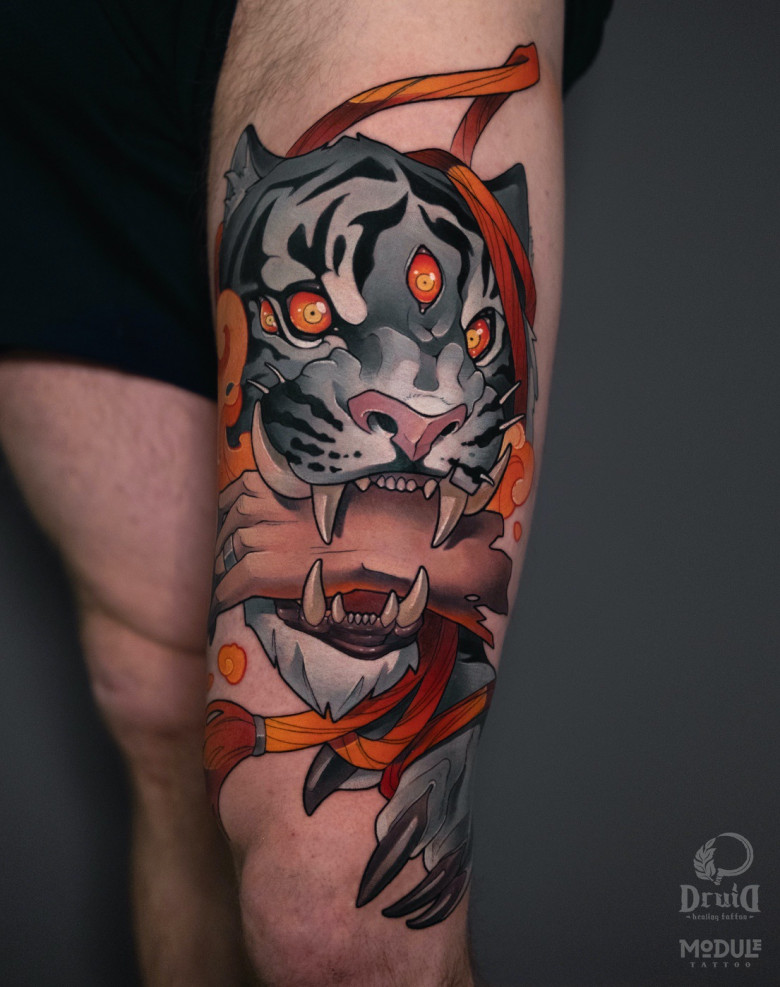 What are your other hobbies in life besides tattoos?
- Basically, all my current hobbies are somehow connected with creativity. For quite a long time this place was occupied by sports. Now it has already gone.
Due I draw all my life, I have an interest in photo and video editing, so I spent a lot of time on mastering editors, shooting and the process of creating a product. I have an interesting feature, I don't like tutorials. It's important for me to figure out something on my own. So I studied Photoshop at the age of 14, video editors went on after. At the university, I discovered 3D editors, also an interesting topic. I spent a lot of time on it, but my computer and nerves didn't take out 10 hours of rendering, so this hobby is still in the future plans.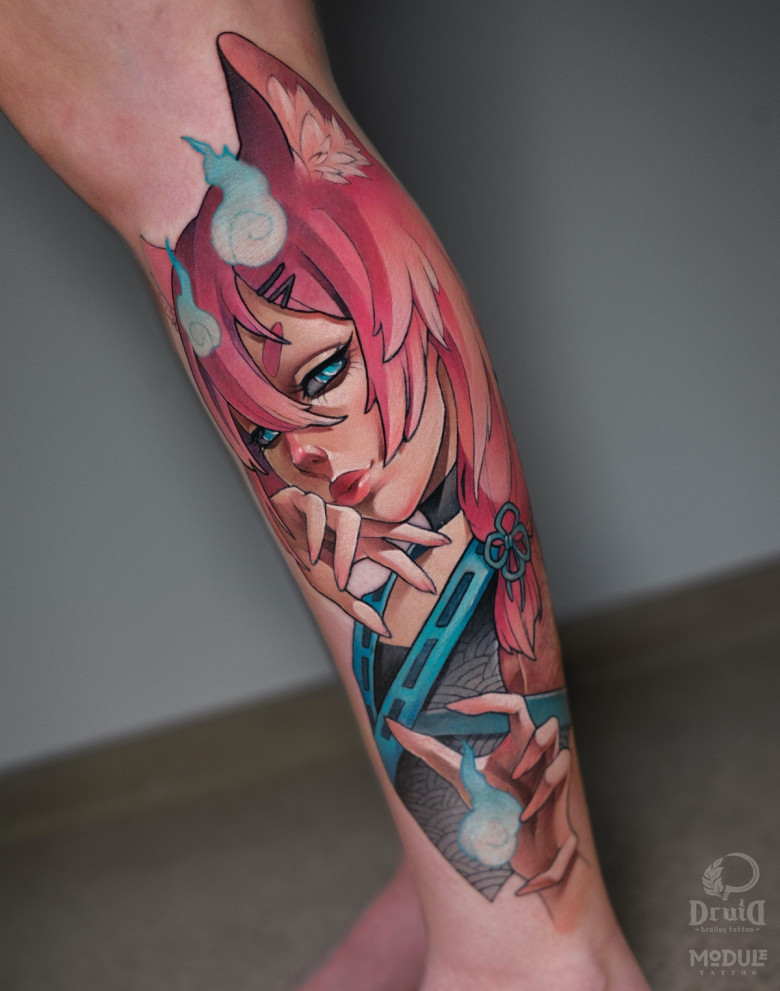 What are your career goals?
- I'm still not fully satisfied with the quality of my work, at least I want to come to some compromise with my perfectionism so as not to stumble into soul-searching after each work is done. I want to become more confident, more active in terms of my promotion, to gain at least a little, but authority.
Tell us about your plans for the near future.
- I plan to resume trips abroad, because the pandemic has greatly spoiled the planned movements. I really want to work in new studios, with new people and expand my social circle.