Artist Sergei Jaer's One of a Kind, Fluid Tattoos
Tattoo artist Sergei Jaer
/ Source: @jaer_tattoo
The artist we want to introduce you to is one of the few tattooists in Russia who chose to move away from all the classic forms, colors, and popular styles we see tattooed every day. Sergei Jaer is a tattoo artist from Moscow, whose original touch distinguishes him from thousands of tattoo artists. His works have already brought him great popularity among clients and fame in the global tattoo industry.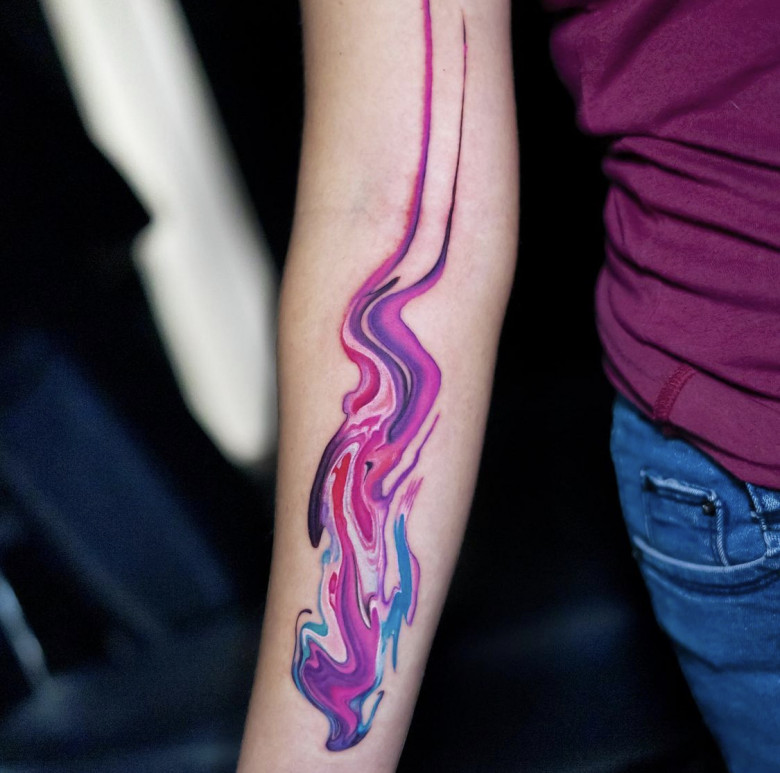 Sergei's experiments with color and form led him to a new abstract style, unique and unlike anything you've ever seen before. Smooth tints of color either complement realistic objects or act as independent figures that display an emotion, mood or idea.
We asked Sergei Jaer about how he creates such amazing and unique designs - let's find out from the tattoo artist himself!
---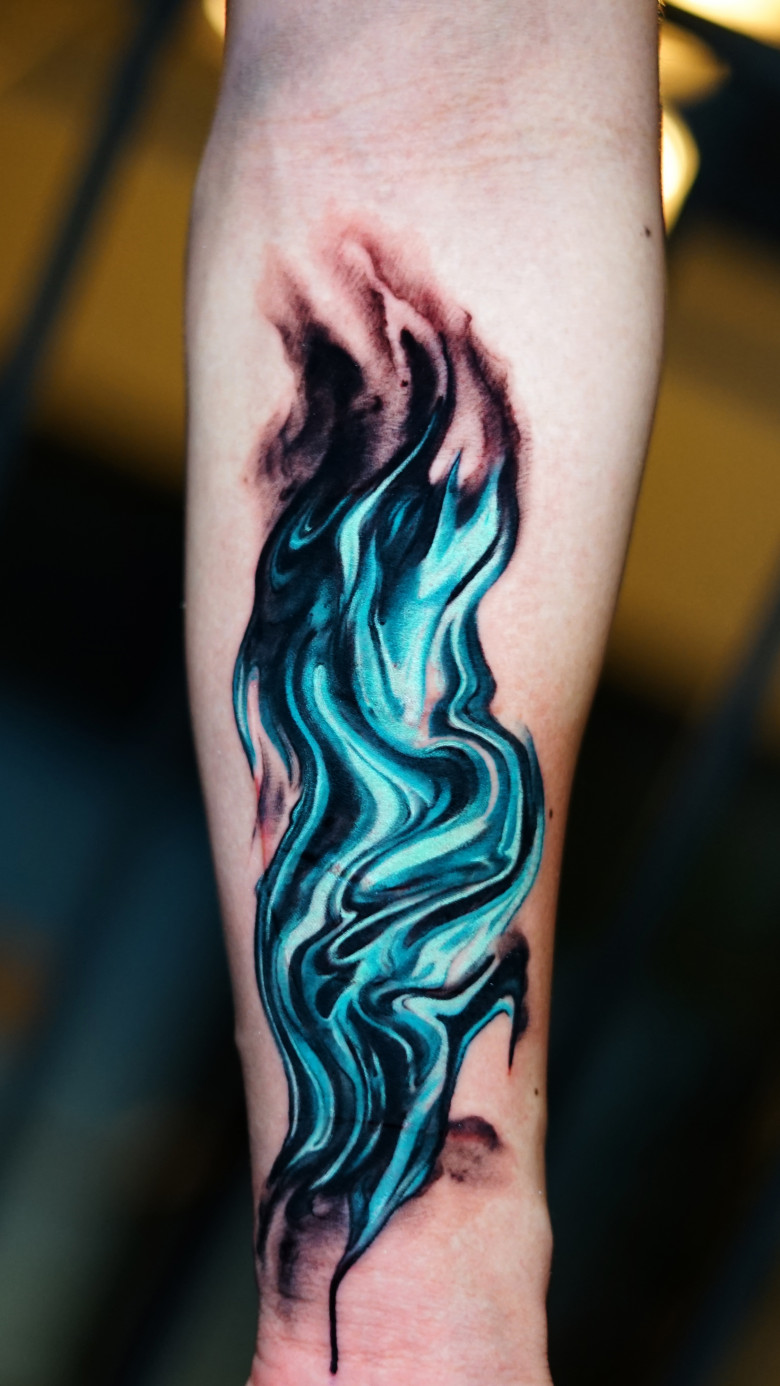 Sergei, let's start with the traditional question: how did you become a tattoo artist?
Sergei: This is probably the classic underground story. I began to tattoo at home in Moscow. In terms of technique, I consulted with friends from the graffiti scene, and with those who had already tattooed for several years. Also, I spent many evenings searching for information about tattoos on the Internet.
Eventually, I would practice on myself and on friends, or I got tattoos from different artists and spied at how they work. Later, when skills and knowledge more or less allowed to, I opened my own studio and started working with clients.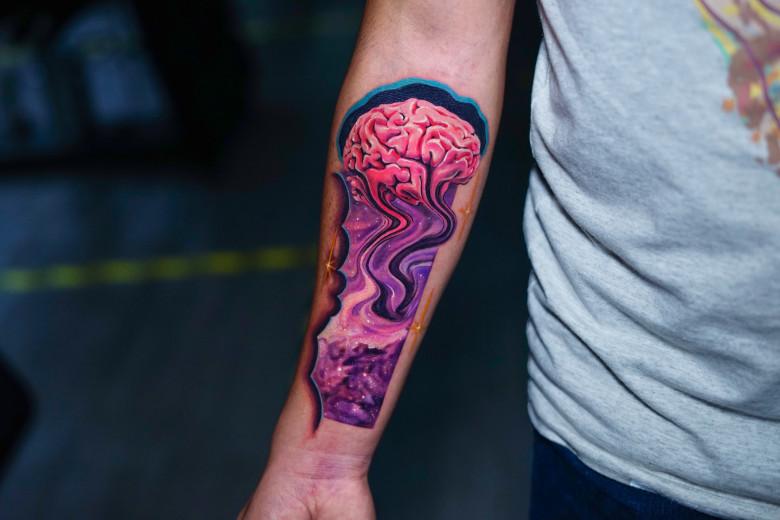 Did you have any artistic background?
Sergei: I graduated in graphic design. But my path in drawing began much earlier, back in school. It all started with graffiti, then airbrushing, and all sorts of orders for commercial murals and graffiti festivals. This was all before university.
My university time was great, some of the teachers were from Stroganovka and so we were professionally trained, including in painting and academic drawing. The wildest experience I had there was getting all the projects ready just a few days before exams (laughs). I think this skill of working under pressure is useful for a tattoo artist.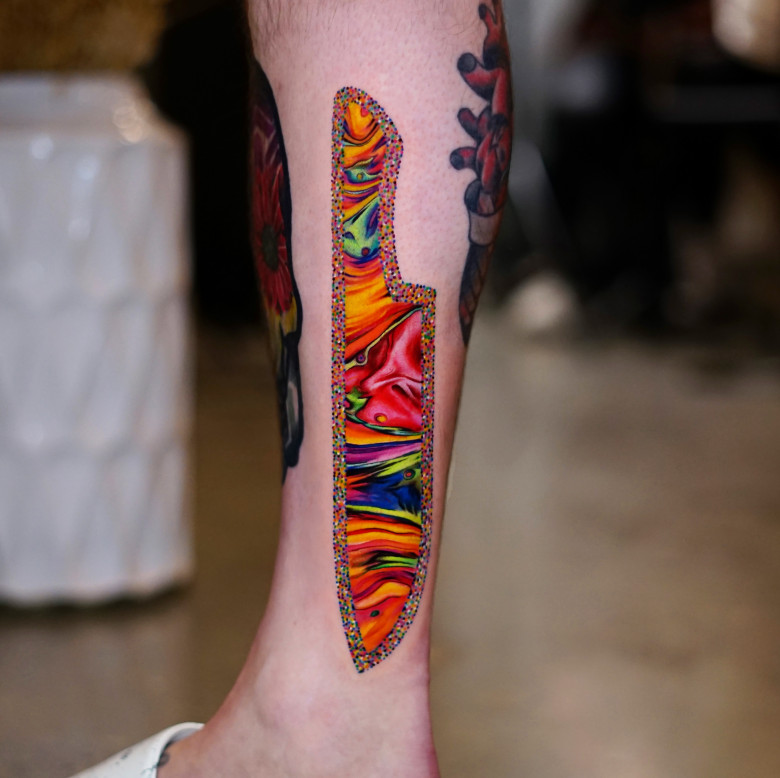 How did you start tattooing in the unique style you currently work? What do you call it?
Sergei: When I started tattooing, I tried many styles, worked in graphics for a while, and then settled on black&grey and color realism. Sometime in 2018, I got bored and my soul yearned for a more creative outlet. I removed all my tattoos from social media and started from scratch. Radically. One of the reasons why is that I was already traveling by that time, and had seen enough of what other tattooists were doing that I wanted to do something completely new.
I took a lot of time to experiment and find my style. At the end of 2018, my experiments led me to include elements from Fluid Art in my designs. I was also inspired by my travels, especially Mexico and Hong Kong. Both of these places are very creative, with lots of avant-garde paintings, art, and tattoo artists with their own unusual styles. During this time of experimentation, I worked in different cities. And I give great thanks to the studio for their support (Tatudemia) and the clients who liked my art. Since then, I have continued to develop and refine my technique.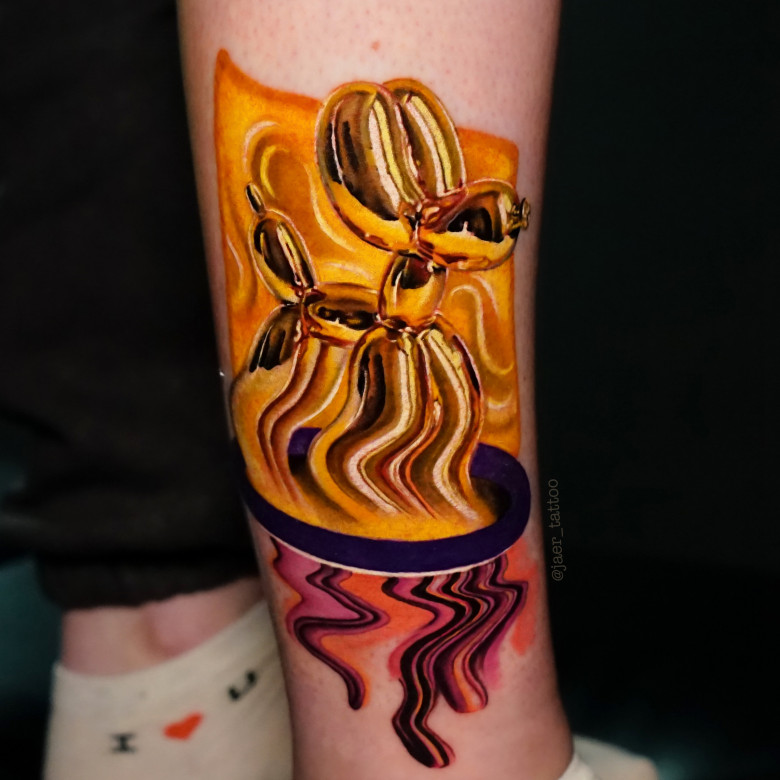 Fluid art, in general, is gaining more and more popularity in tattooing. But, I am proud to say that I was one of the first artists to pioneer in this design style and work with colors that were not traditionally used together. It is very cool to see how other artists have interpreted this method for their own work.
Especially in ornamental tattoos. But the difference is that I use the technique of realism. This means a lot of color use, different layering techniques, and sometimes I am combining different objects. In many ways, I am inspired by the avant-garde artists of the 20th century and many of the canvases that I was lucky to see live.
For the name of this style, I had many versions. The most recent one is, Fluidity tattoo. Perhaps someday a tattoo artist will come up who will invent a better name for the style than I (laughs).
You know, ideologically this style is akin to the style of lo-fi music, I try to make imperfect shapes perfect while keeping a sense of some spontaneity, freestyle.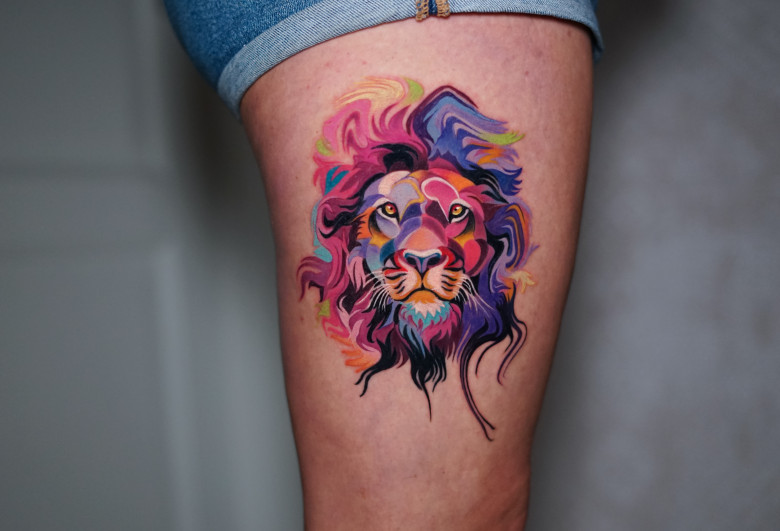 How do you create a tattoo design? Does clients usually come up with their own idea, or do they rely on you?
Sergei: It's always random. Probably 50/50 - my ideas and ideas of clients. But most often it is a collaboration with a client. It is difficult for a person to come up with a complete design on their own, especially when they want the tattoo in my personal style or something unusual. I communicate a lot before creating a tattoo design, and we discuss many details to make the design perfect for them.
I have a debugged action plan for this process. After I have a rough idea of what a person is looking for, I immediately start designing. I use fluid forms and fluid art in my work. To do this, I start with a template that I make using software on a PC, or even sometimes by hand, then photoshop and tweak the design by hand. In the end, I work a lot to finalize the plasticity of the picture, since the original references don't always spacially fit the body part where the tattoo will be. Also, an important final part is the color scheme of the design, this can take up most of the time it takes to design.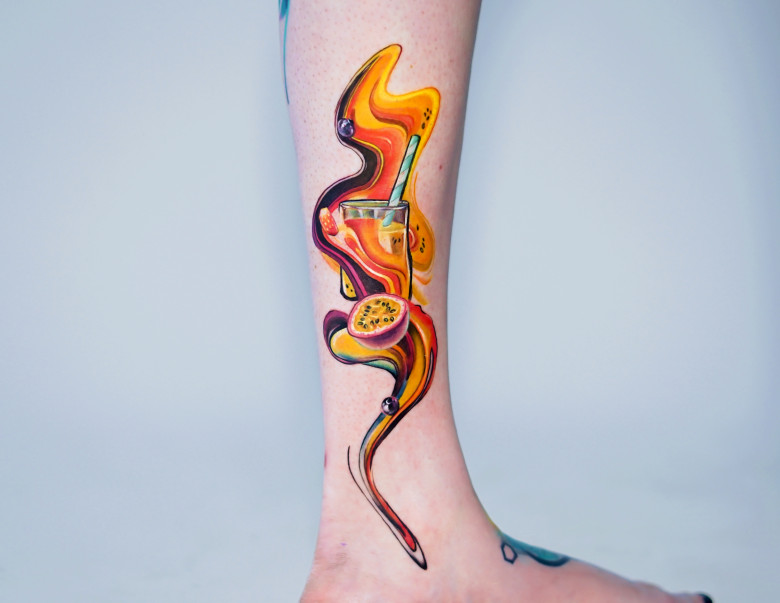 Can you tell us about your favorite project?
Sergei: Probably my favorite project is a pink trippy skull with a banana. At the time when I did it, I wanted to challenge myself. Pink and yellow pigments are known to be difficult to tattoo. So, my client and I came up with the challenge of using these tones in a tattoo, and eventually, I traveled to conventions with this work.
I know how judging works, because I myself have judged some conventions abroad, and one of the main criteria for judges is high contrast, a lot of blacks, and so on. Due to this, the tattoo looks more saturated. But in this project, I decided to move away from that and use open colors, almost without black. In general, the tattoo healed great, and over time nothing «faded».
Unfortunately, I did not win any awards with this tattoo, but the public reaction to the work has always lived up to expectations. My tattoos are nothing like anything that is usually exhibited.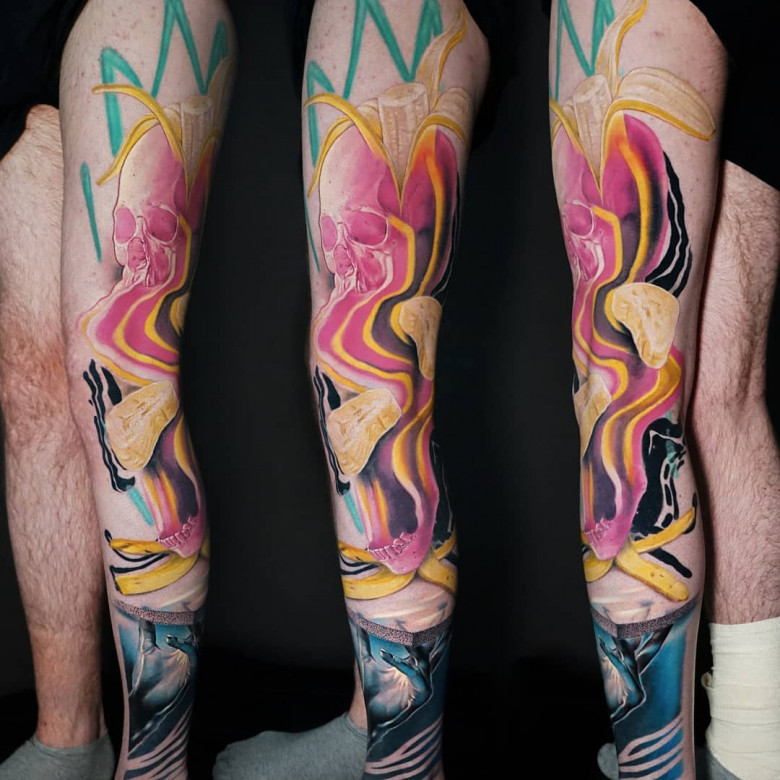 And what work from collaborations with other tattooists, in your opinion, is the most successful?
Sergei: This is one of the collaborations with Ksu Arrow. Flower embroidery plus my fluid art. To be honest, this was also a challenge. It came out pretty good in the end but, it's rare to see collabs of such different styles. And I will say that I would like to do more collaborations with tattoo artists of completely different styles. There are some plans in the works.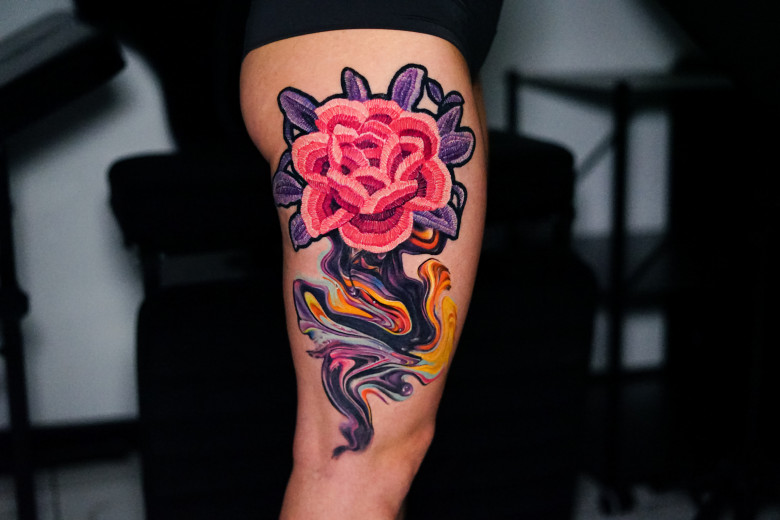 Can you tell more about your experience participating in tattoo conventions? How did the jury and the audience react to such an "non-conventional" format of tattoos that you do? How are things going with similar trends in tattooing now, in your opinion?
Sergei: I have been actively participating in conventions since 2015. And I literally felt this difference for myself in connection with the evolution of my style. I wouldn't say that now this is still a "non-conventional" format - recently new nominations have appeared, such as «Avant-garde tattoo» or «Abstract».
I thought and analyzed a lot about the system of tattoo conventions. Over the past few years, tattooing has really gone beyond the craft, and it can be safely called an art now. And how can you compare and judge the art of artists? Comparing meanings and messages is pure subjectivism. This is not a sport where there are winners and loosers.
I think in the near future we will see the transformation of conventions, without nominations, they will be like professional conferences or festival formats. Those in the industry are already seeing these transformations.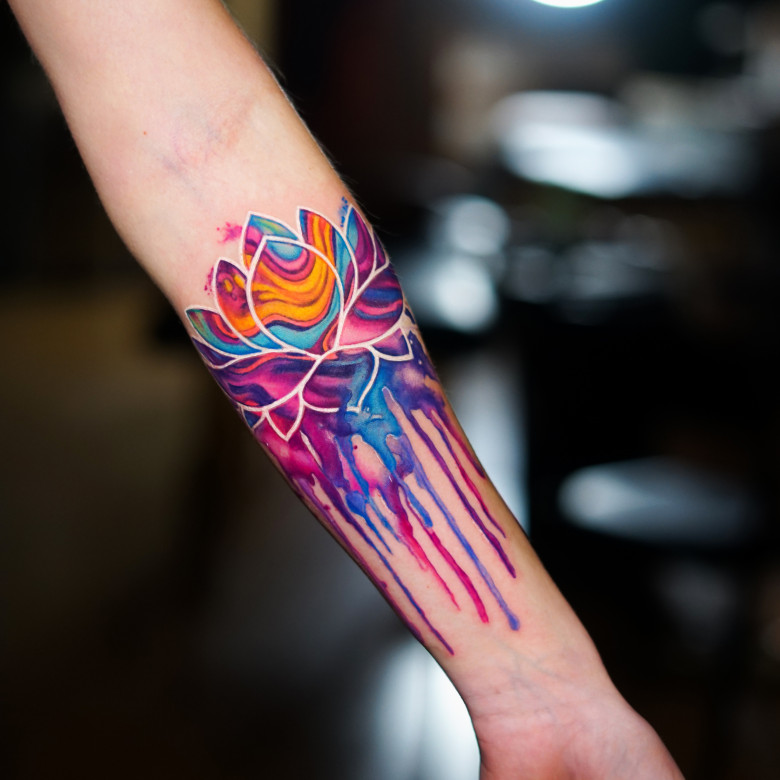 Do you have experience participating or winning at foreign conventions?
Sergei: I have participated in foreign conventions. It was interesting to see my idols from the beginning of my career, meet new people, and exchange experiences. One of the most memorable was the convention in Shanghai - I have never seen so many photographers in one place anywhere in my life. The artists were being photographed every ten seconds, without exaggeration. It was an interesting experience.
Another convention in Leche, (southern Italy), was the last one I participated in, and I received an award in the Avant-Garde Tattoo category. This is a small town, almost on the coast, but the event was significant for the region. The organization was at the top level - and famous Italian rappers came, and a lot of interesting things happened. That is, because of the buzz surrounding the event, I saw crowds of young people and students, and that is really a rarity for conventions in general.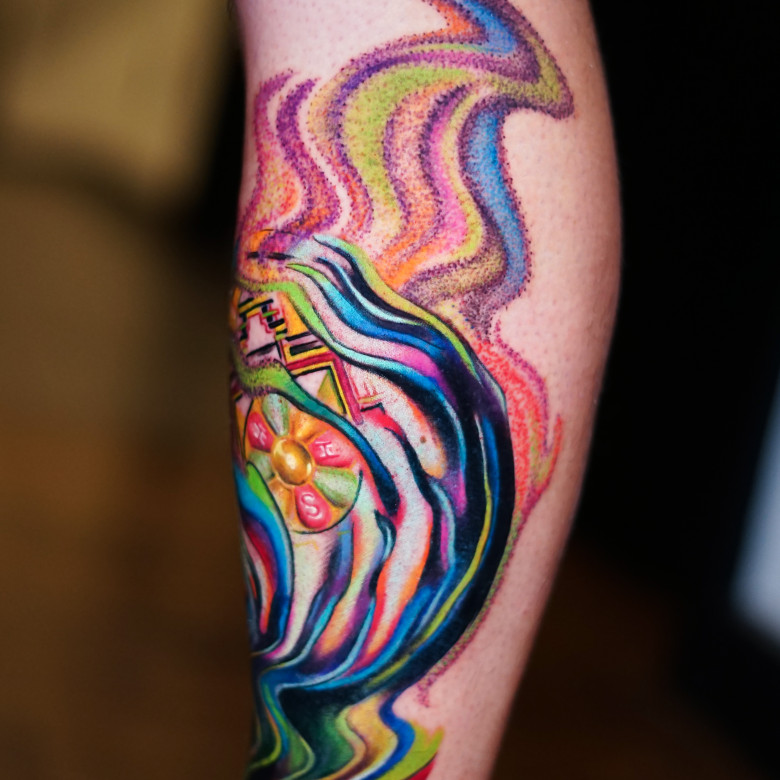 How often do clients from other cities or countries come to you? Do you have many fans abroad?
Sergei: Often. I have been traveling the world since 2017 almost continuously: more than 20 countries, and more than 50 cities where I have tattooed. Accordingly, my audience is decently scattered around the world. Some of these clients come back to me for a new tattoo, some don't, as my style has changed a lot over the years.
Where do you book clients now?
Sergei: I'm currently traveling, so I don't have a permanent location right now. But there are several studios where I return and, as it is now called, work as a guest resident.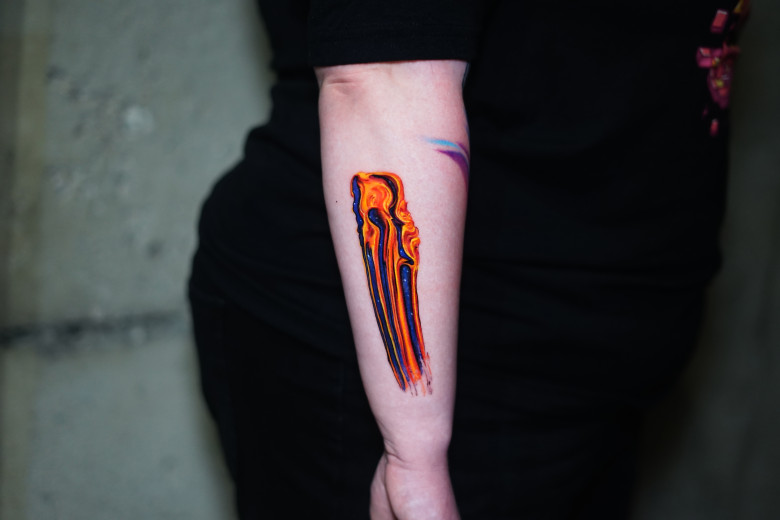 Do you have creative plans for the near future that you can share?
Sergei: I painted in oil/acrylic at the end of my university years, plus a couple of custom-made murals. After that, I finally went into tattooing. A couple of years ago I returned to canvases after a long break. When the Covid-19 pandemic began, with all its disadvantageous for me, I found at least one positive - a chance to return to paintings. My tattoo experience helped me to rethink this kind of creativity.
The first canvases I finished I then sold in Dubai, where I painted them. I have several unfinished canvases scattered in Mexico and Europe, and someday I will go back there to finish them. Right now I have this idea to make a series of canvases, it will be a mix of sculpture, painting, and fluid art. Actually, the first of the series is already ready and went to a gallery in the States.