Expanding the boundaries - Park Tattooer
19 / 10 / 2022
Alexander Ledovskih
Jaeung Park, famously as Park Tattooer, has enjoyed an award-winning career, most recently in 2022 winning 1st place in the Small Black and Grey Category at the 7th TITANIC INTERNATIONAL TATTOO CONVENTION in Belfast, United Kingdom. A multi-talented tattoo artist, his other wins also include 2nd place at the Urban Land Tattoo Exposition in Rome, a significant convention with over 30 judges and 700 artists.
Originally from Korea, his success has led him to be invited for guest spots at reputable tattoo shops in France, Australia, and Germany to showcase his talent.
---
Please, tell our readers a little about yourself. How did you decide to become a tattoo artist? and what were you doing before the tattoo?
- Hello, my name is Park tattoo artist. I'm based in South Korea. I think the biggest influence on me to become a tattooist was my mother when I was young. My mother was a person of great artistry and sensitivity who liked watching movies and reading books, and under such a person, I have been exposed to various genres of movies and classic music since childhood. According to my mother, since I was 3 years old, rather than going out and playing with other children, I spent a lot of time at home and drew all day. It was drawn while recalling scenes from the movie without any reference drawings.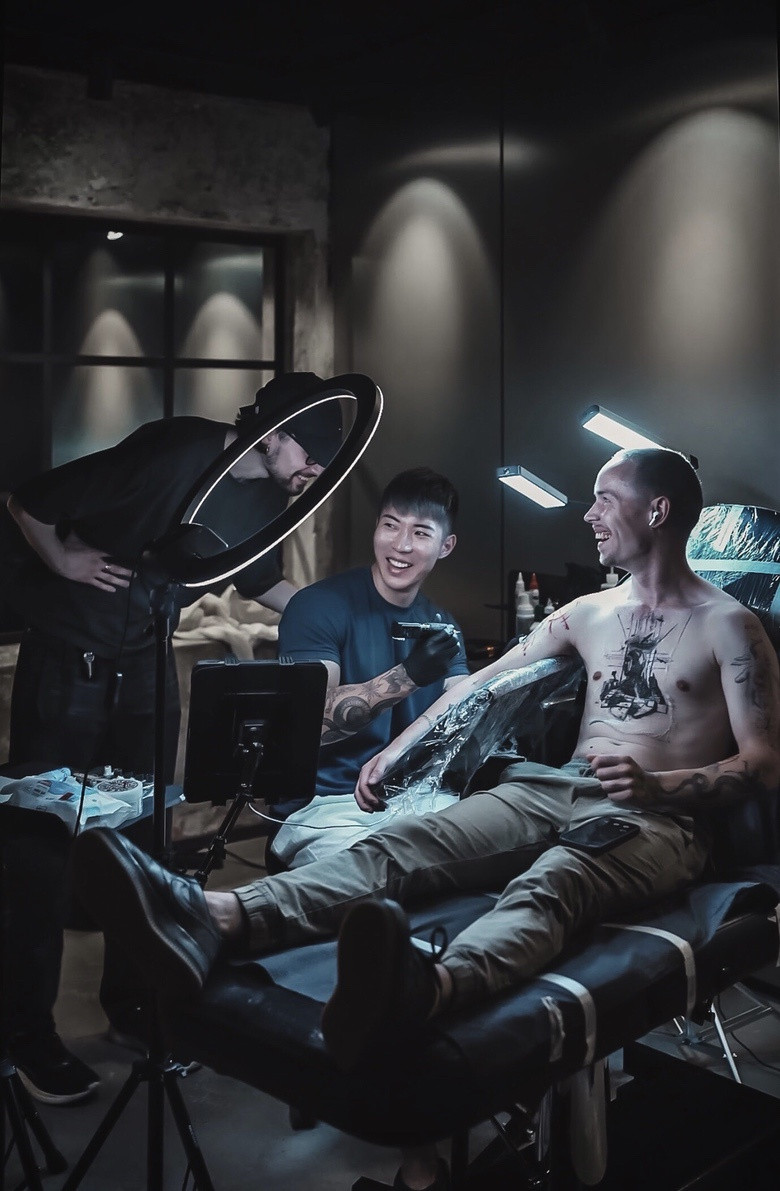 I spent my childhood with drawings like that. When I was in school, I went to an animation high school that specializes in animation drawing and developed my passion but unfortunately, it didn't fit me. So at that time, I lost interest in drawing because of the pressure to draw a picture that was more and more conformed to the Korean entrance exam system. Eventually, I turned around and entered a college specializing in becoming a hair designer.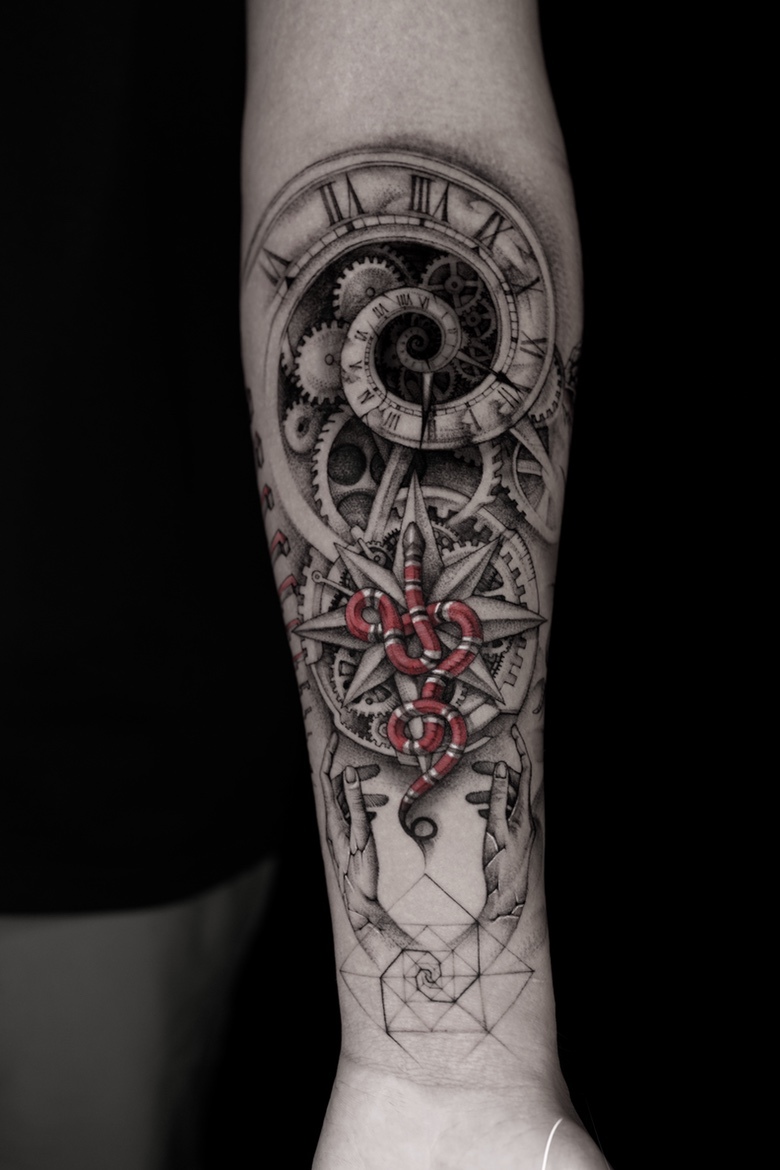 However, the part where I did not give up my passion for drawing while working as a hair designer was I draw the hairstyle image in various ways and let the customers see it, Luckily many customers liked the way to see the hair image drawing than a long explanation in words, and the number of customers increased like that. However, in the corner of my heart, there was always a feeling of not letting go of my passion for drawing and taking it with me.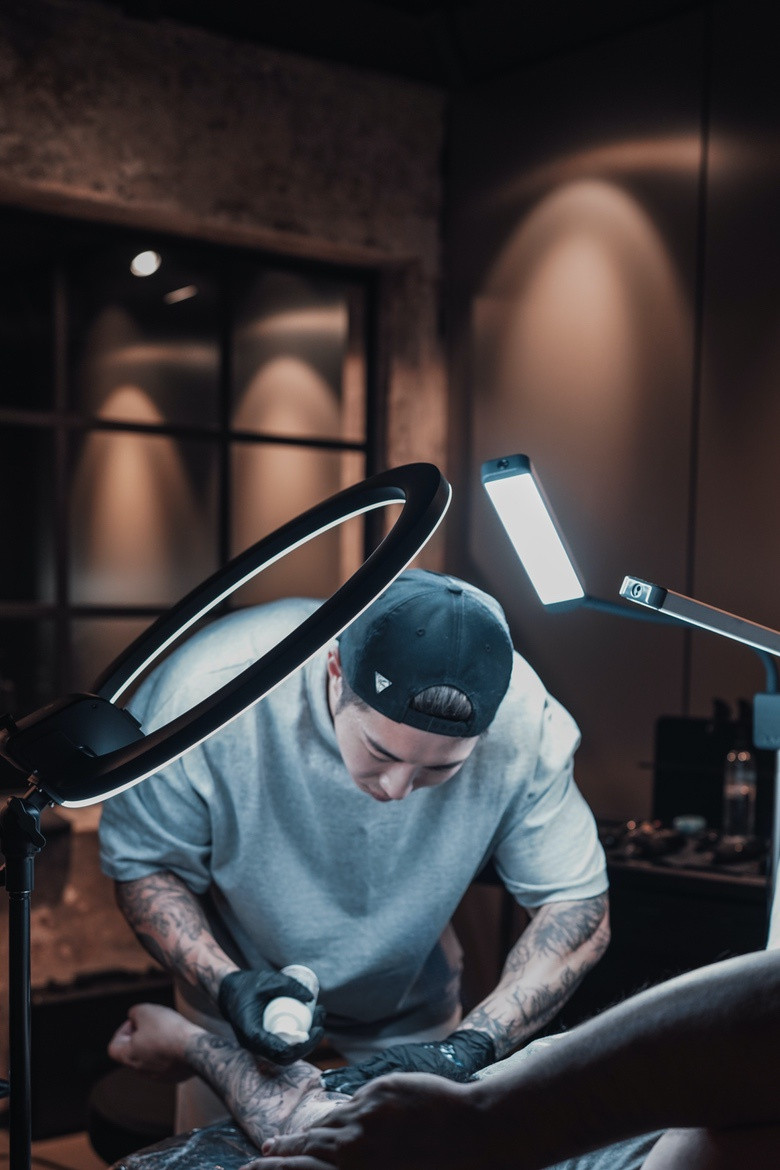 Then, while studying in Canada, I met a Korean tattoo artist who came to Canada for guest work, and got a tattoo from him. While getting a tattoo from him and seeing how he works and travels the world, I felt like I wanted to be a tattoo artist for the first time in my life. There's a deep feeling coming out of my heart that says to me I can still keep enjoying drawing in my life. After that, I returned to Korea to study tattooing and now I am continuing my life journey as a tattooist. Although I came back after a different job, I am grateful to myself that I did not give up my passion for drawing while working as a hair designer. And I want to express my gratitude to my mother, who nurtured my artistic sensibility as a child, more than anyone else.
There are many things that need to be improved in the future for my career, but the thing I fear the most is that I will lose my passion for drawing, directly for tattoos. I am highly satisfied with what I am doing now, love and enjoy doing tattoos. Of course, no matter what other difficult things may happen in the future, I don't think there is a greater fear than my passion for drawing and tattoos is waning.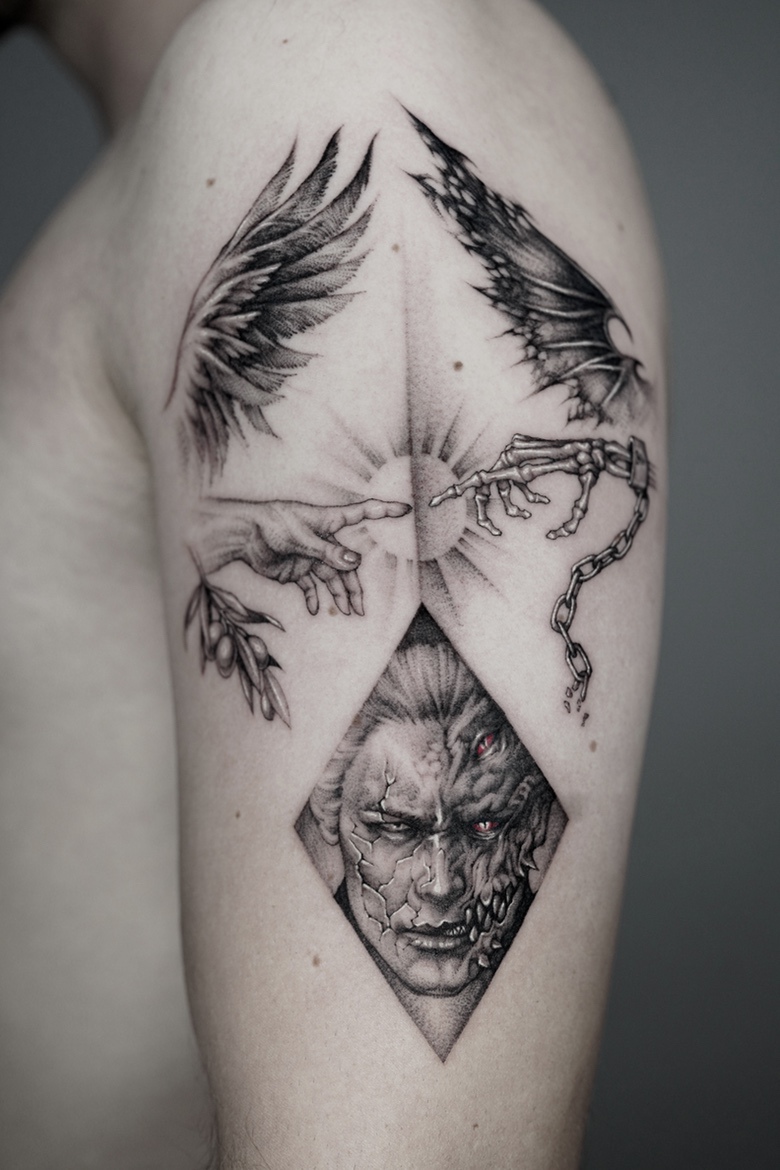 Who was your teacher? And who inspires you now?
- The only formal learning about tattoos was the 3-month course at the tattoo academy in Korea. It was more of a theory class than a practical class, and the learning period was short. So, what I found in my own way was to visit the artists I usually like and admire and get tattoos from them. As an apprentice tattoo artist, if I ask questions about how they work, many kind tattoo artists cheered me on and taught me well. At the same time, tattoos are getting more on my body one by one, and for now, most of the tattoos I have now were received from tattoo artists I respect at that time when I was learning tattoos and knew nothing.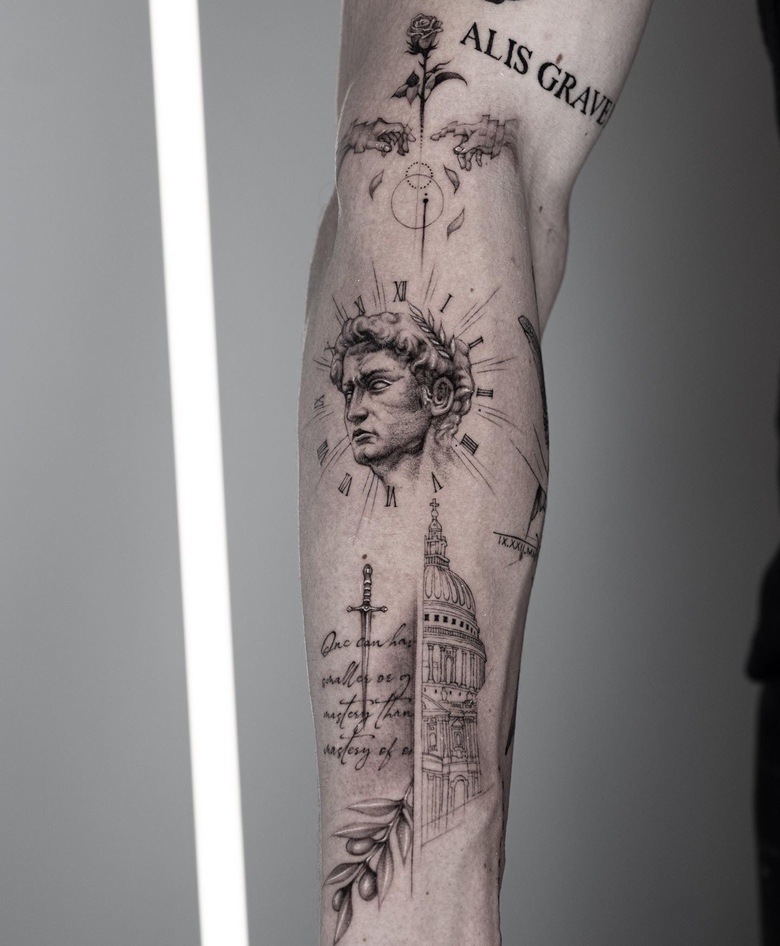 Thinking about it now, they were like real teachers in the real world of tattoos that I am really grateful for. In the future, I expect that I will grow a little more and give good advice to younger tattooists with the same mindset as them.
What does the word "tattoo" mean to you?
- People keep a diary about the events and emotions that happened that day. To me, a tattoo is like this diary. Even after time passes, if you open a diary, you can remember the things and emotions you did that day. When I look at my tattoo work, I can remember the emotions and thoughts I felt that day, and the precious conversations and times I had with guests. Regardless of the quality of the work, each work is precious work and time that cannot be changed more than anything to me.
Your work is an amazing combination of many tattoo styles: graphics, geometry, fine line, black & gray and many others. How would you describe the style you work in?
- There are many genres of tattoos, but I am not limited to any particular genre. Of course, I am working mainly on black & gray and cover-ups, but lately, I have been working on various geometric styles. A lot of people say it's important as an artist to have your own specific style. But for me, dividing the genre feels like drawing a limit line when getting a tattoo. More importantly, if you look at the tattoo in a big framed picture and mix and express the style and feeling that I can embody regardless of genre, I think that is what I can call my own style.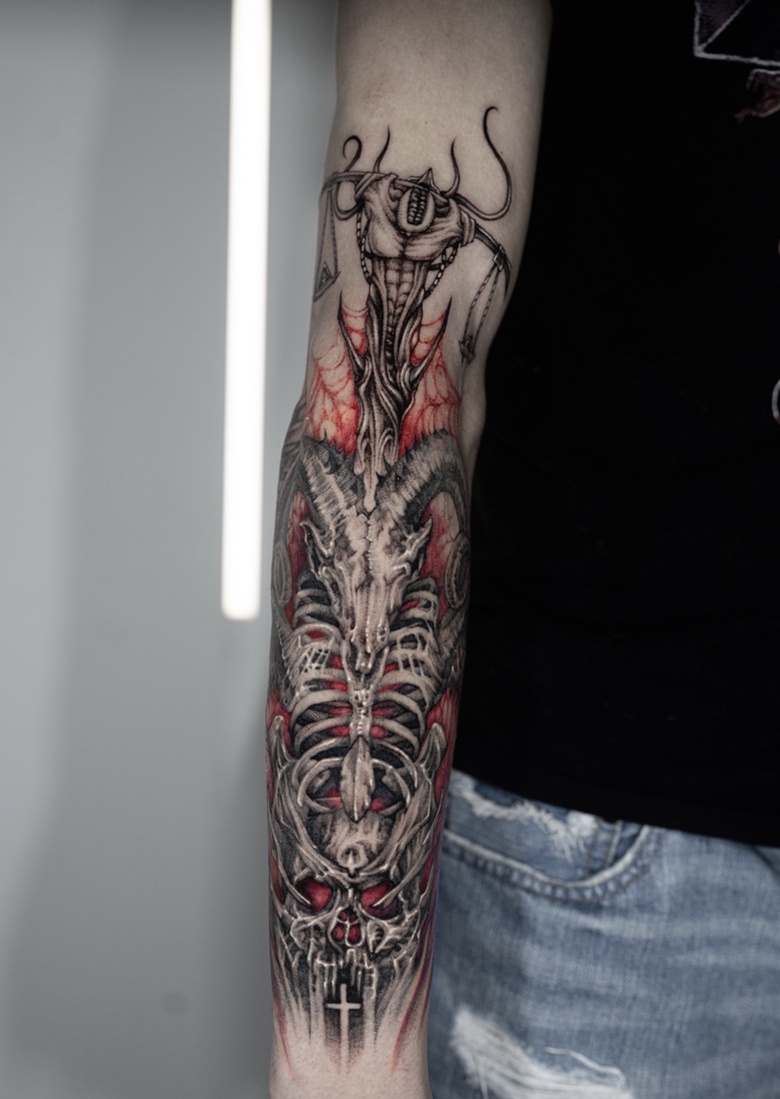 What are the main features of your tattoos that you can highlight on your own?
- There are so many different categories of tattoos. However, I think this is a small part that separates the tattoo area, and when I think about the big picture, tattoos are a journey to put new clothes on people. It is also semi-permanently indelible. Therefore, more attention should be paid to the design and size. If you buy an item and don't like it, return it or not use it. But tattoos are not like that. Once engraved, a tattoo is semi-permanent and remains on the person's body for the rest of his life.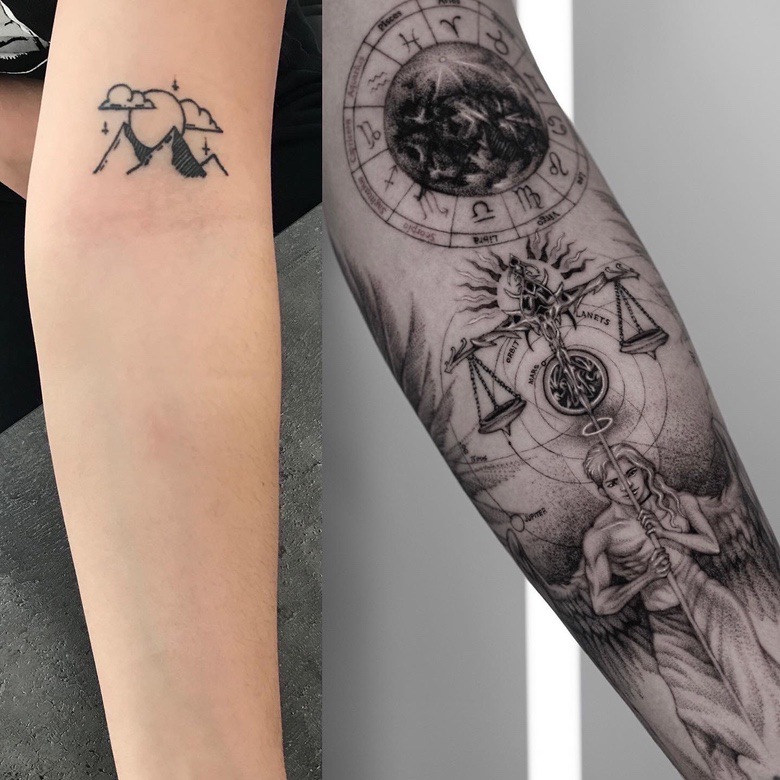 Just as if you give a person who is wearing a small size and ask them to wear a large size, it will not suit you, and if you ask someone who looks good in pink color and asks them to wear a blue one, it will not suit you. It means, As a tattoo artist, simply drawing a good piece of work is an essential quality that must be possessed, but I think that giving a tattoo that suits each individual tattoo recipient is an important attitude as a tattoo artist. So, when a tattoo inquiry comes in, if possible, I try to work to engrave a tattoo that matches the person's image and body part.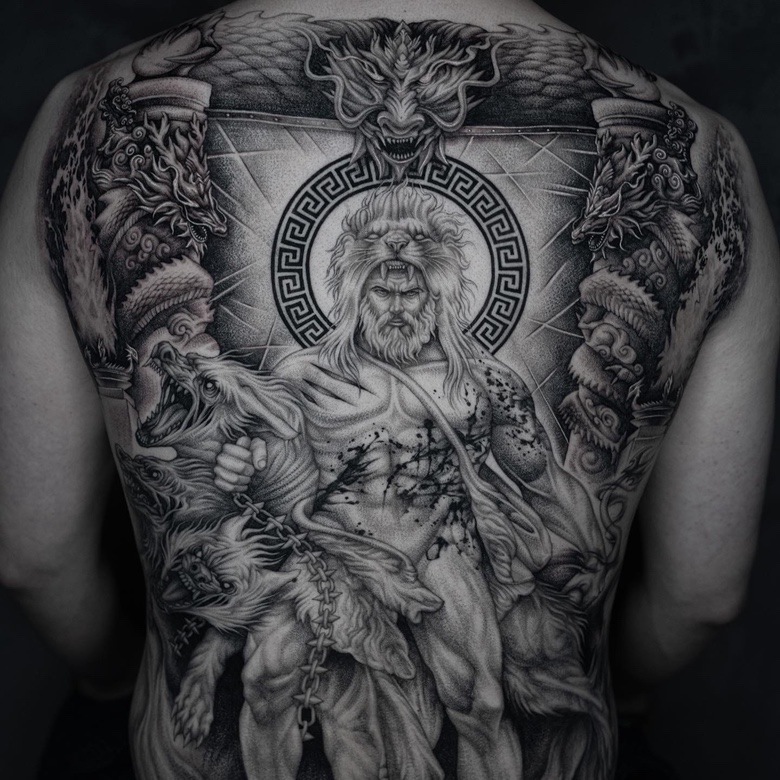 And one of the other characteristics of my tattoo work is that I try to engrave the image according to the flow of the texture of the body part, such as muscle flow, according to the part to be tattooed.
In your portfolio, there are many cover-up works and works on fixing old tattoos. You call it touch-up. Please tell me more about these works. Why did you choose this field?
- I think coverup (touchup) tattoos are another level of tattoo work. Cover-up works are done over an existing tattoo when a client does not like that original tattoo or decides to change to a different style. It is a difficult task since it consists of adding new artistic value to an existing drawing, rather than just working on clean skin with nothing drawn. When we compare it to a painting, a coverup tattoo is like repainting over the painting already done by others. which means more complex fields of art.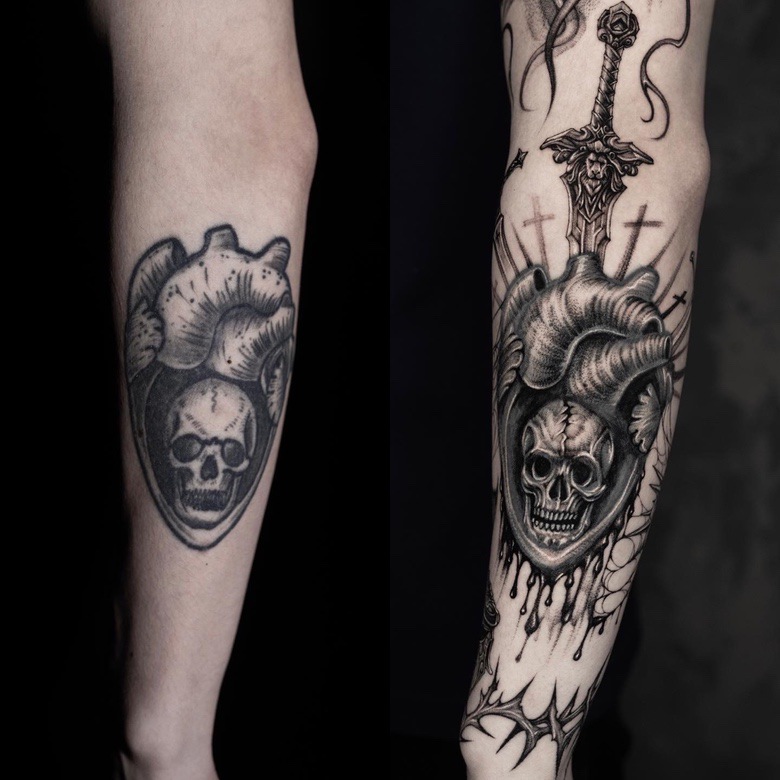 Additionally, people who want cover-ups or touch-ups tend to be stressed, because usually they don't like their existing tattoos, so they tend to be more anxious and worried than those getting new tattoos. Because of that, some artists can feel intimidated by the challenge of filling their client's expectations and delivering pristine work. Also, most artists tend to avoid cover-ups because they want to work on their own work. However, for me, the cover-up is a challenge to another tattoo area, and I feel it is very rewarding in terms of a cover-up tattoo that solves the problems of people who are struggling with existing tattoos.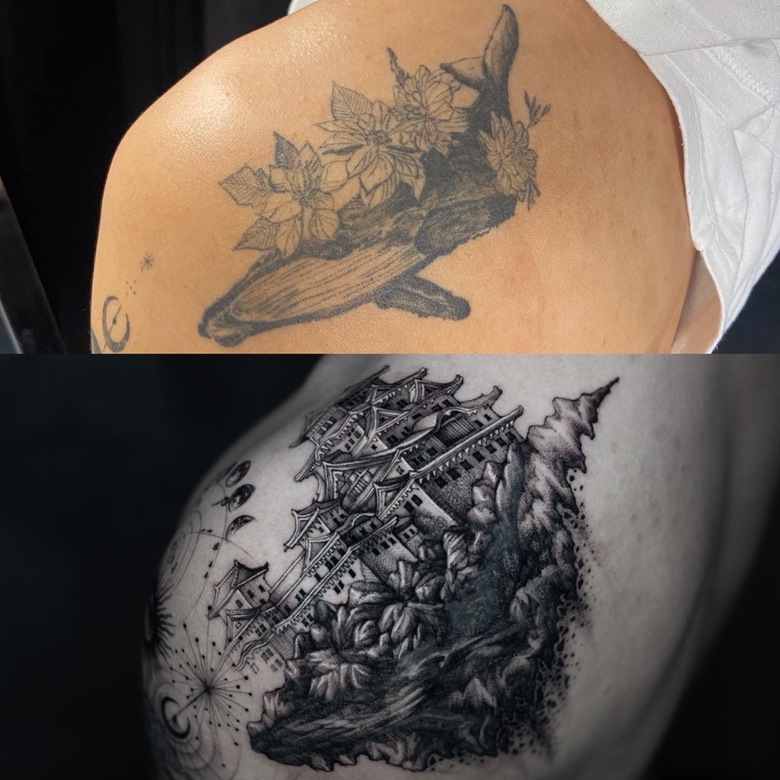 Do you have any favorite tattoo projects?
- I do a lot of cover-up tattoos. Most of them are unsatisfied with existing tattoos. Therefore, if you listen to the stories of each individual customer, there are various cases, but in many areas, they consider the existing tattoos as complex and do not want to be seen by others, so there are cases where they hide it or cannot wear the clothes they want even in the summer.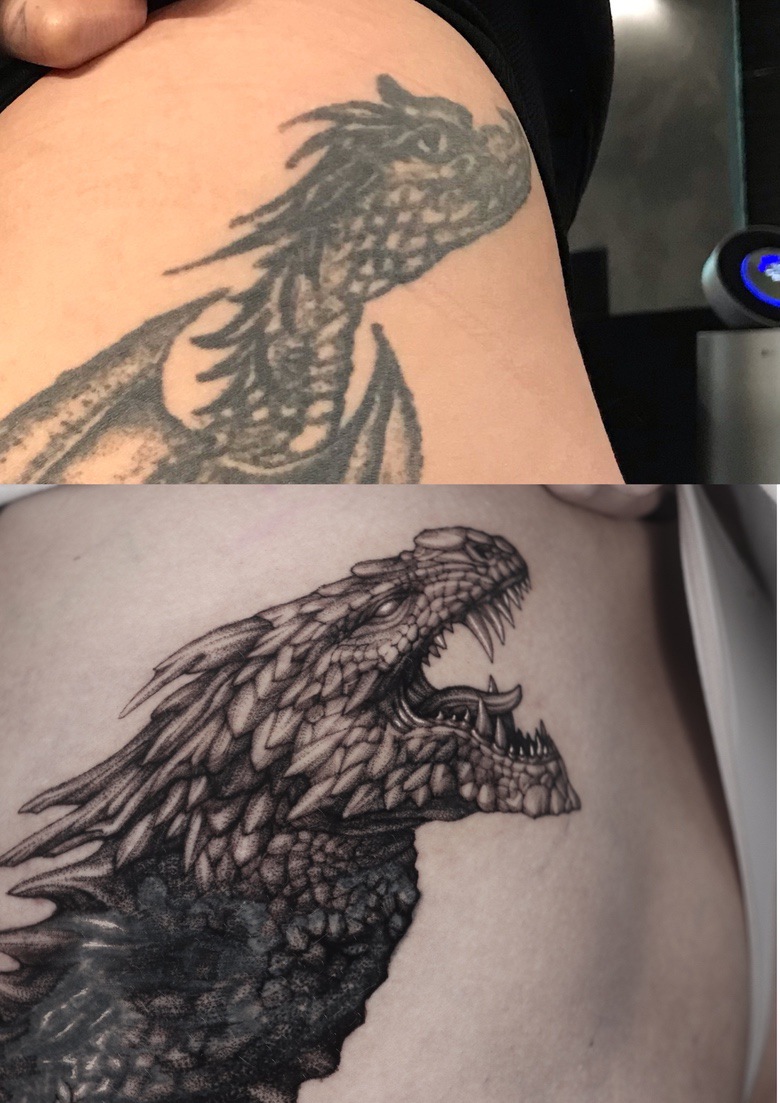 This work was one of those cases, and after the cover-up work, the client really thanked me and said that I can now wear the clothes I want in summer and go to the beach with joy. Unlike new tattoos, I think the cover-up is more meaningful work in terms of it goes further; the design frame also solves people's problems.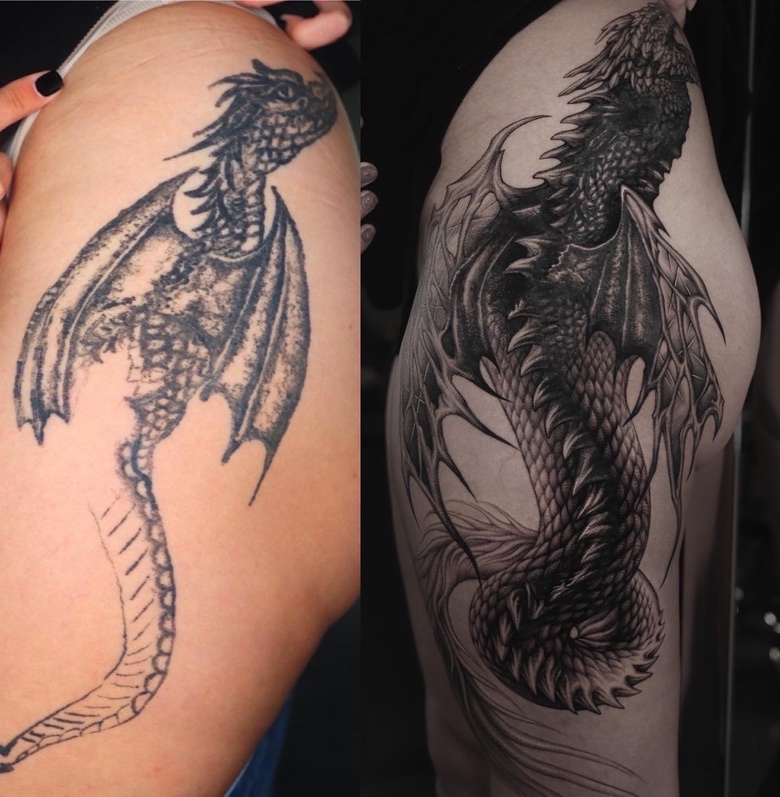 Do you travel a lot. Tell me, where have you already been? Do you have a favorite place?
- I basically work in South Korea, but ever since I started tattooing I have traveled to Taiwan, Australia, the United Kingdom, France, Germany, Italy, etc. I can say Australia is one of the most memorable and wonderful countries for me. I went to a tattoo shop near Bondi Beach as a guest worker, and I remember that I enjoyed going on a new trip every time I went to work because of the good weather and the beach near the shop.
What about tattoo conventions? Have you had any experience of participating in such events? And what were the results?
- When I went on a European tour this year, I was presented at the 2022 Belfast Titanic Tattoo Convention (Belfast, United Kingdom) in which I got 1st place for small black&grey. Also, I've participated Urban Land Tattoo Expo (Rome, Italy) as a coverup category and I got 2nd place of best coverup.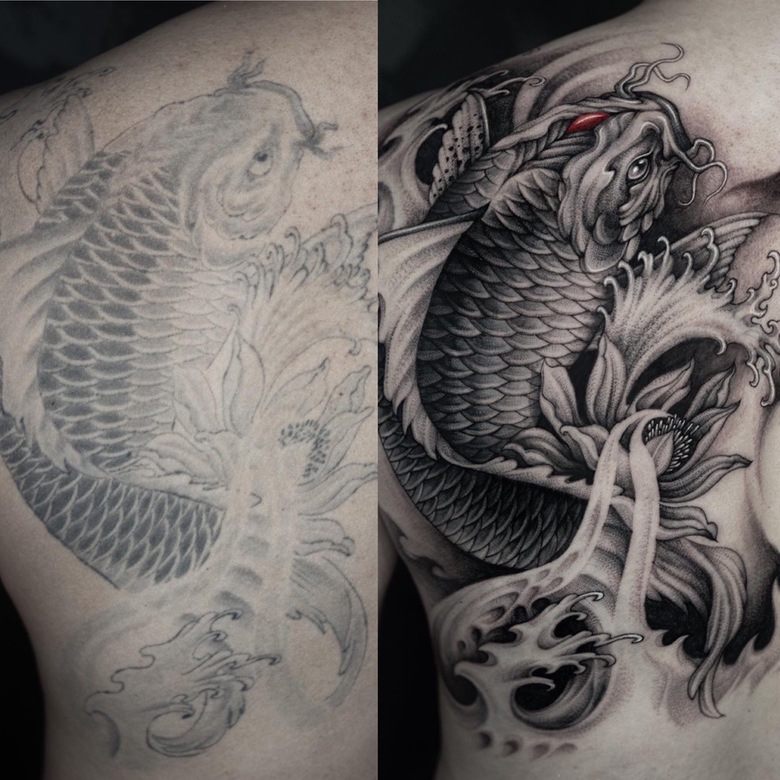 What do you do besides tattooing? And what is your main goal in life?
- On my days off I enjoy working out. Originally, I was very skinny, but as a result of constant exercise, I am a bit bigger now. Because tattooing is a job that requires sitting and working for a long time, I believe that steady physical fitness management is essential. I think that exercise is an indispensable element in life for a stable life both in terms of my health and professionally. I think that one of the strengths of exercise is that, along with improving your body, you can calmly settle your distracted mindset when you exercise.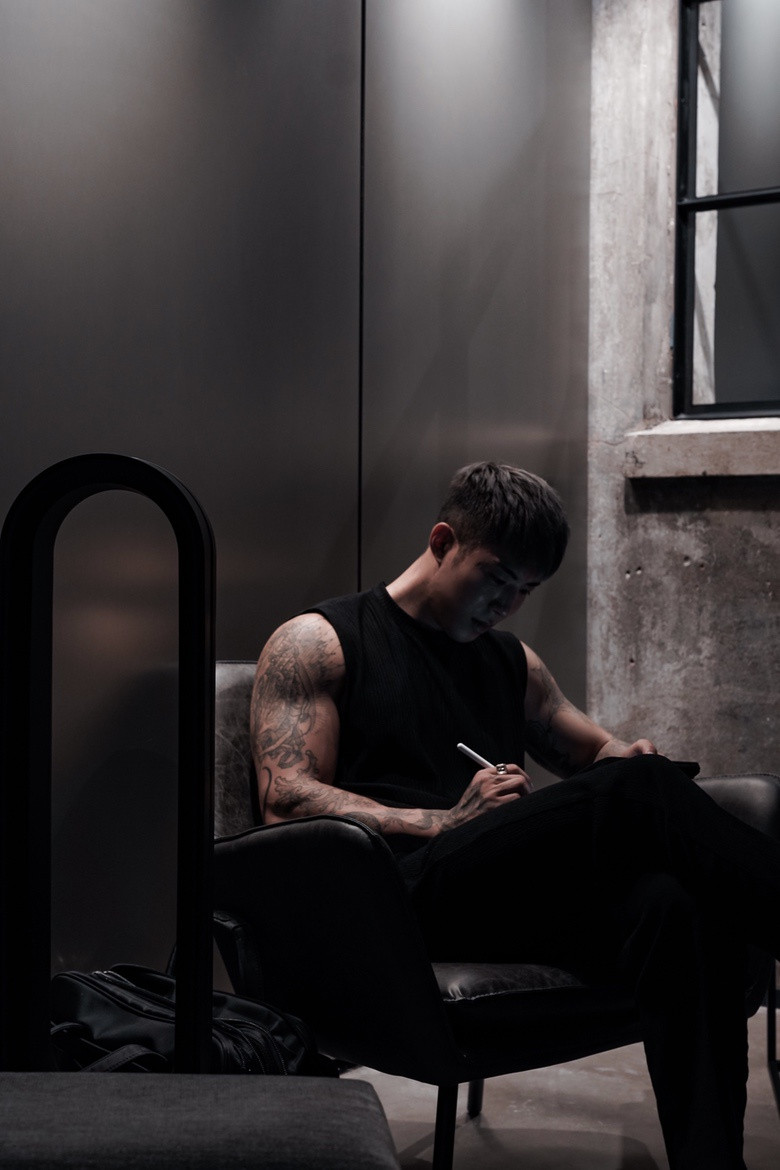 As always, my main life goal is to enjoy as much the happiest time possible with myself and the people I love. Money eventually disappears, but the time you don't spend with your loved ones never comes back. I will try to do my best not to regret the time I did not spend with the people I love at the end of my life.
Do you have plans that you want to share?
- Currently, since many customers inquire about cover-up tattoos, I think my professional position is being established as a professional cover-up tattooist. There is still a lot to learn and a lot to improve, but I will try to grow the quality of my tattoo work with an attitude of learning without stopping. Although the exact schedule has not been set, next year, I am thinking of making plans to collaborate with other tattoo artists on new art projects. Most tattoo artists work alone, but I don't think this is the limit of this profession. I am constantly thinking about how to deliver better works to people in a better way and trying to put it into practice as an art project with the other tattoo artists next year. It can be said to be one of the plans for next year.