Sex, Art & Rock'n'Roll - Marie Thirteen
29 / 08 / 2022
Alexander Ledovskih
Marie Thirteen
/ Source: @marie_thirteen
One of my favorite expressions "A talented person is talented in everything" is confirmed almost every day. You may only look behind the cover of a person's main occupation, and you will see that a talented artist is not only an artist, but a talented actor is not only an actor. So today, we want to share with you our new interview. This time in our magazine, the tattoo artist, singer, musician, soloist of the St. Petersburg music group "Chertovo Koleso Injenera Ferrisa" - Marie Thirteen.
There is a lot of provocation, sexuality and style in her tattoo works! Is it difficult to live in Russia for tattoo artists with a rebellious soul - we will find out today!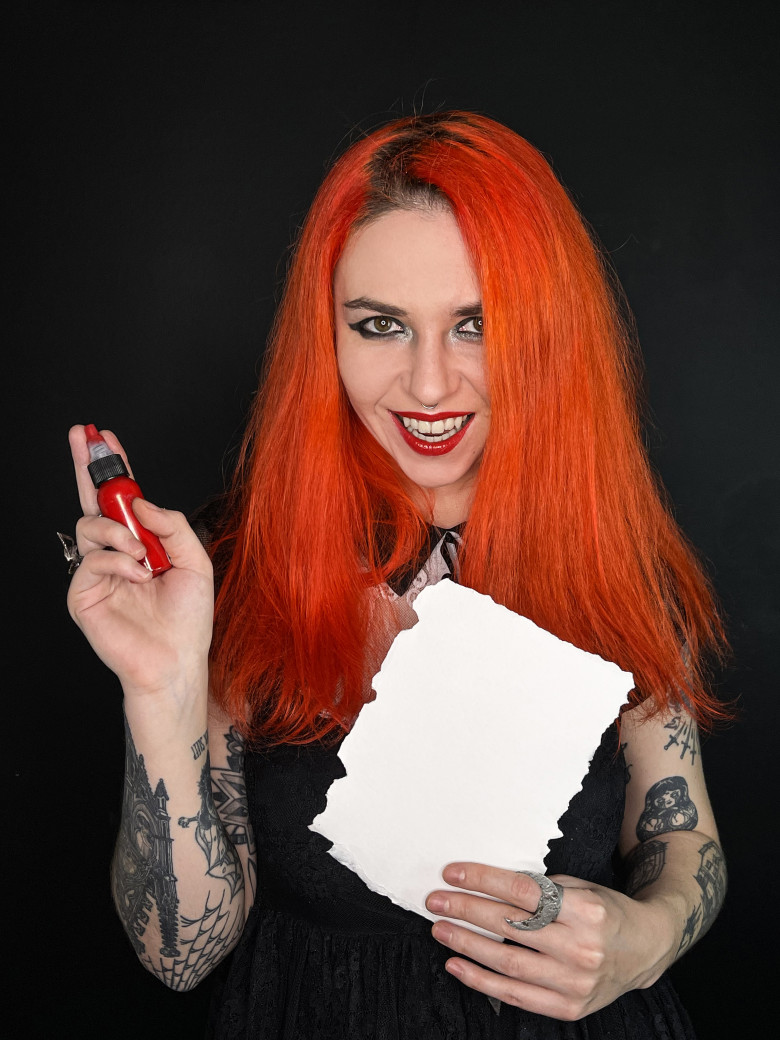 ---
Let's start with a classic question: how and when did you start your journey in tattooing?
- My journey in tattooing began with an acquaintance with Engineer Ferris (the leader and creator of the Chertovo Koleso Injenera Ferrisa) in 2016, in addition to his musical activities, he was engaged in tattooing, to which I was fascinated and excited: was it really possible?? As a child, I was dissuaded from a professional artistic career because of the alleged lack of prospects and poverty of workers in the creative professions, in particular artists. Around the age of 14, I buried the idea of ​​becoming an artist along with a pile of certificates and victories in national art competitions. And here is a living example of the fact that you can earn and live only on art.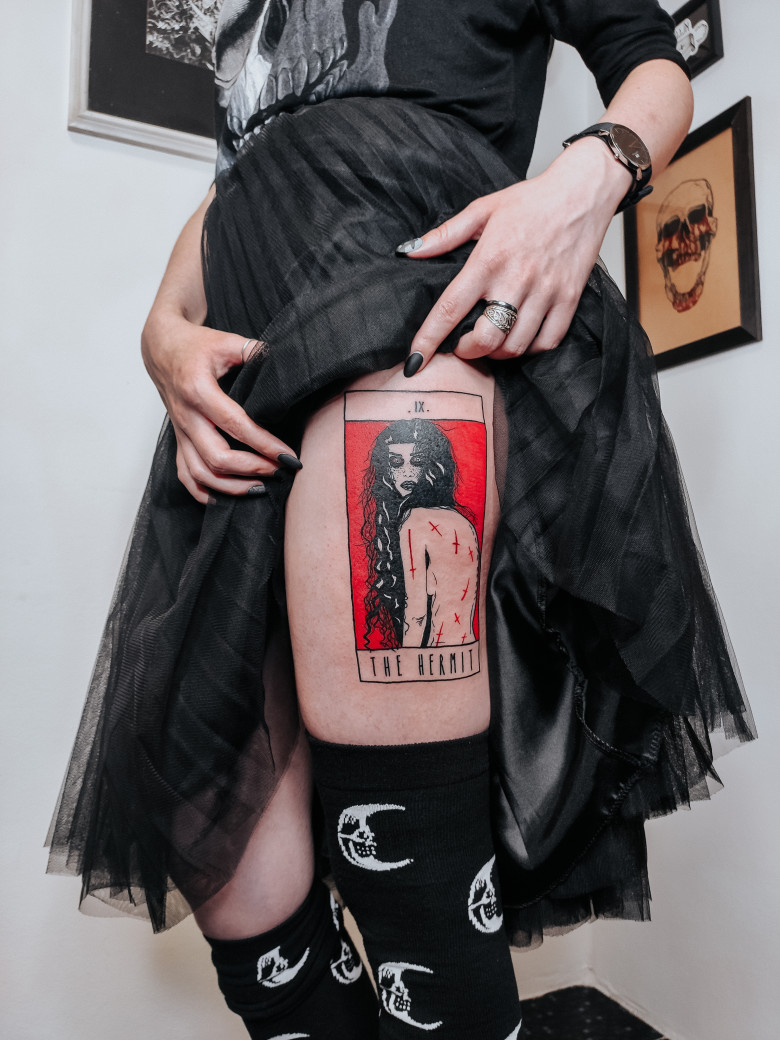 How did you get this skill? Did you have teachers?
- It so happened that my creative collaboration with Ferris in terms of music grew into a strong feeling and in 2017 I moved to him in St. Petersburg from Moscow. While I was engaged in the musical group - in my free time I decided to remember the past and draw from the heart. He noticed this and said that I just need to master the work of a tattoo machine and that's it - the new tattoo artist is ready! The path to becoming a tattooist was very nerve-wracking and exhausting as my sensei is an intolerant perfectionist, hygiene geek and former designer with an architect background. The requirements and assessment of the work were at the level of either perfect or not considered. No discounts.
Do you have an art education? And do you think it is important for a tattooist?
- I am self-taught, as a child I spent all my free time drawing for as long as I can remember, I took first places in all art competitions where schools shoved me in. There was also an art studio in my area. It can be considered close to some kind of artistic education.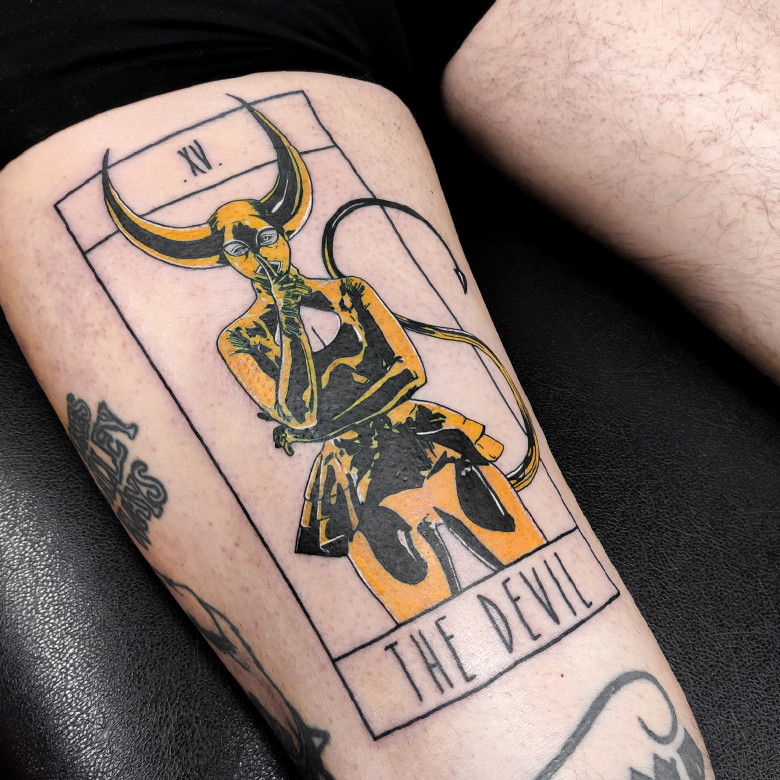 I believe that the basic knowledge of composition and light and shade, which takes 2 pages of a textbook, is enough to create designs. Classical art education, where you comprehend all forms of fine art, study all possible techniques and especially academicism, can easily kill just an identity and originality in an artist. They shift the focus.
Observation and copying of individual works will help to study a specific technique - this way you can understand how the artist thought and composed the piece bit by bit, and when you understand the meaning of each detail and why it is in its place - this is 90% success. Most of the time it takes practice and honing skills - both in sketches and in tattooing. It's the same in music - the most complex and impressive professional ear genre is mathcore, but somehow I don't see a single mathcore band that would become popular. In general, academic education can kill the creator in a person and make him just an average artisan who knows how to do everything a little bit. When you concentrate on a very limited set of tools, colors, techniques, there is a great chance to become one of a kind.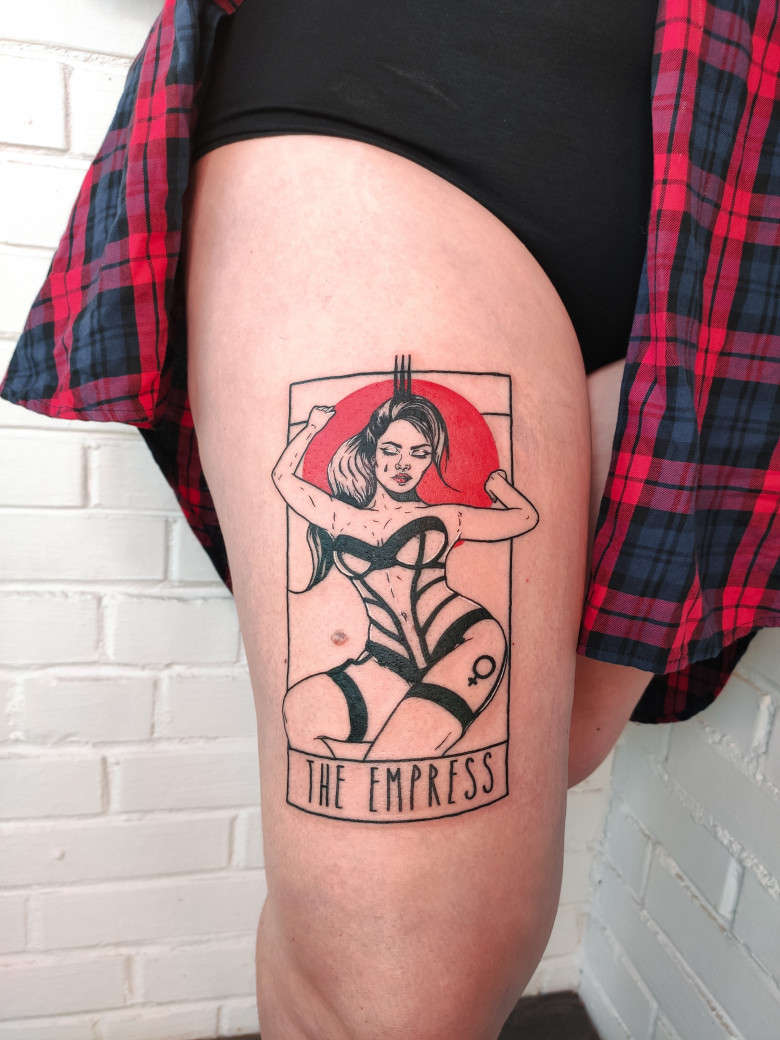 What does the word tattoo mean to you?
- My favorite joke about this is that my tattoos mean that I wanted them and then got them. In general, the tattoo is an internal expression outside. As well as body modification and body design. We are all equally "naked" initially, how we dress ourselves is up to us, tattoos are like thoughts in the head, only thoughts are not visible and until a person starts talking, we don't know anything about him, it's more honest with tattoos. Before I became a tattoo artist, I liked all tattoos indiscriminately, in general, any fact of ink under the skin made me delight and love a priori. Now I can draw up a psychological portrait of a person by his tattoos and immediately know whether we will make friends or whether this person needs to be bypassed for a kilometer. The content that a person is able to place on himself for life is very significant and is able to tell a story that even the tattoo wearer himself will not tell you.
Is tattoo artist a job or a lifestyle?
- This is definitely a lifestyle, because since I have known the joy of my dream job - I live 100% in it completely. Now I have problems with how to spend my free time, I am not interested in anything other than work 😄. I used to at least wait for Friday after work at the office to go away for parties on weekends, but now I don't drink alcohol at all because then I'll have a hangover and I won't be able to work.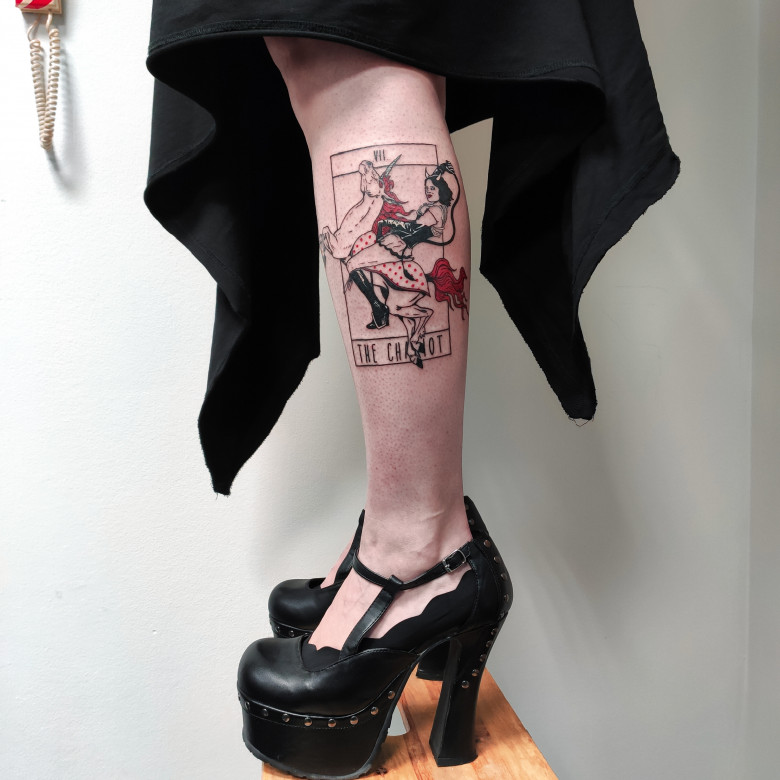 Let's talk about your tattoos! You have a cool poster-like style. What do you call it? And how did you come to it?
- I have been asked this question many times and nothing better than graphic semi-realism or comic-style came to mind. I love the simplicity and emotionality of retro comics, poster graphics and movie posters, 50s-60s aesthetics, pin-up and rock and roll, dark/witchy aesthetic and of course sex. How did you come? From observation, of course 😊
What features of your style could you highlight on your own?
- Well, firstly, a limited palette - black and red, I believe that I can create any design only within these two colors, and secondly, all images are without penumbra, only deep shadows, and volumes are only due to the thickness of the lines. All this is done in the traditional technique - clear lines and bold colors. Even old, long-healed tattoos look very bright - bold will hold.
Who or what are you inspired by? Are there any favorite tattooists or artists that you admire?
- Porn, comics, pin-up and of course movies. I love beautiful female bodies, undisguised sexuality. I spend every evening watching movies and TV shows and this is my great love, I love making tattoos based on movies. My favorite artists are Billy Kid, Christopher Cooper and Sad Amish about 5 years ago.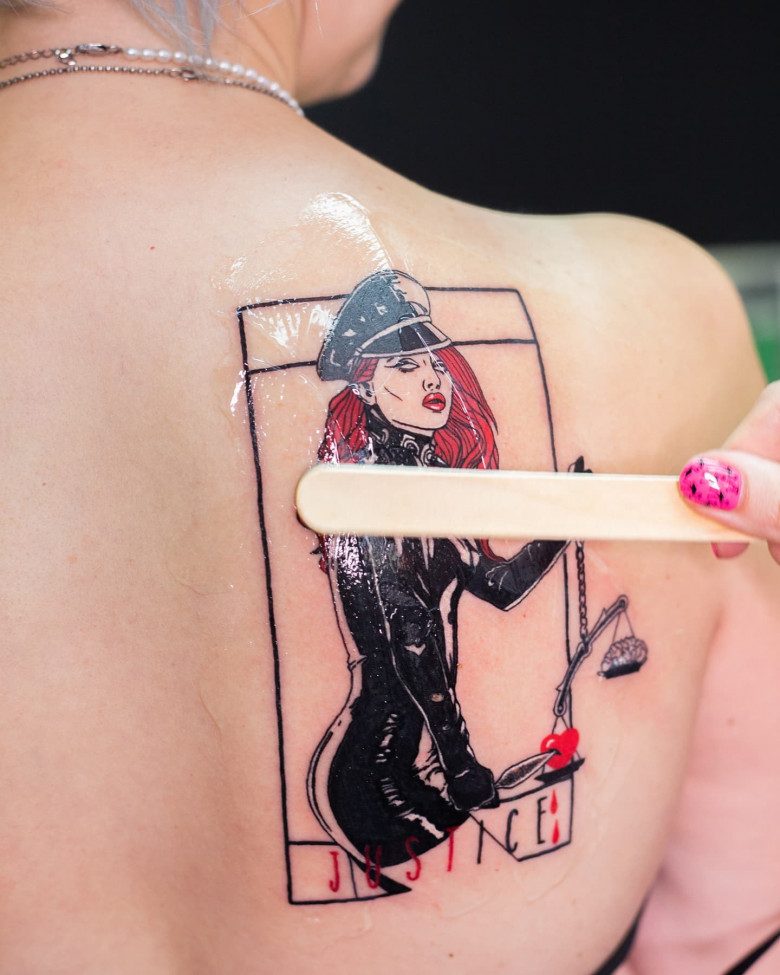 You have a lot of rather provocative designs. Is this a reflection of your rebellious nature?
- This is both rebellion and work with childhood trauma at the same time, it's like with an exorcism - in order to exorcise a demon, you need to call him by name. So this is my skeleton, which is not in the closet, but goes to work. I would very much like sexuality not to be tabooed, sex is a natural part of every person's life, but for some reason, every year sex is increasingly criminalized under the pretext of protecting children from all this - this provokes the ambiguity of what is permitted, ignorance and shame. And after that, adult men are afraid and hate women and vice versa. In general, I reflect graphically on what should be the norm and what should not. It seems to me that there would be less violence in the world if sexuality was accepted and understood by society and was not tabooed at the level of parenting.
Tell me about how your tattoos are born. Is the idea more often brought by the client or does it come from you?
- Most often clients choose my free sketches or ask for a version of an existing design, since I do not repeat works - I have a creed, a tattoo should be unique and all my designs go around the world in only one copy. But I'm not averse to working to order either, they ask me for the most part that close to me in spirit.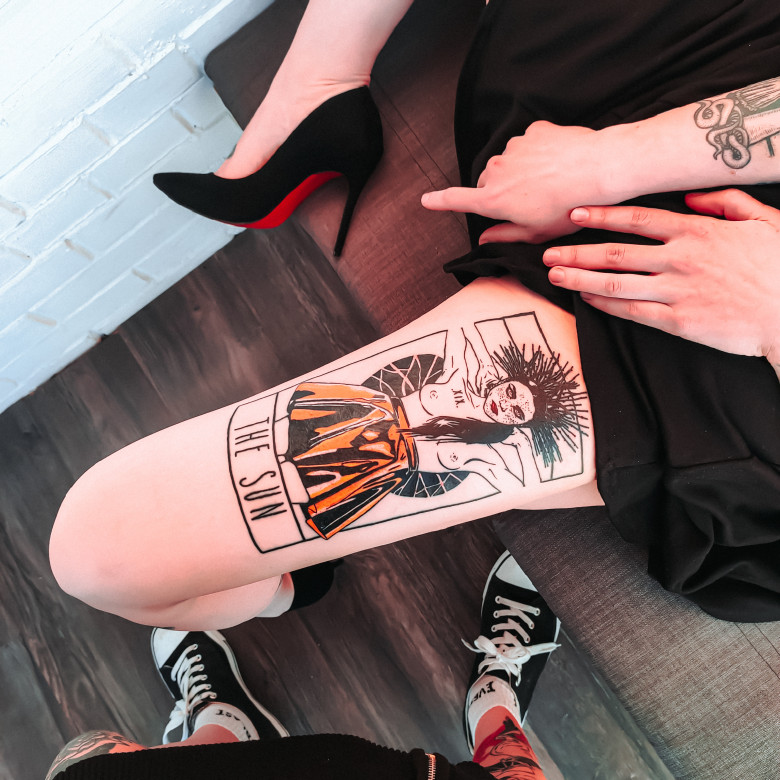 Do you have any favorite projects or designs?
- I have a child that I have been carrying since 2018 - a tarot deck. 78 unique designs. The first cards and their style appeared with the usual commercial order for a tattoo - a card for lovers and a star in Belgium, then orders for other cards slowly poured in and I thought that since I drew a few - why not do the rest. So I got involved in this long story with meanings, I put my whole soul into it, at the moment there are 3 last cards left, on the way there were creative crises, burnout and hatred for the project, I hope by the time the interview is released - everything will be ready and can be printed.
What tattoo would you never do in your life for any money?
- I decided for myself that I would never do flower tattoos again - no flower arrangements, ornaments and other peonies. Just not my clients, not my mentality and I don't want to have anything to do with them 😊
And who are your clients? Is there anything in common among them?
- In general, everyone is very different, but most often a creative direction can be traced. My clients are often photographers, artists, designers, directors - people who are professionally connected in one way or another with the visual.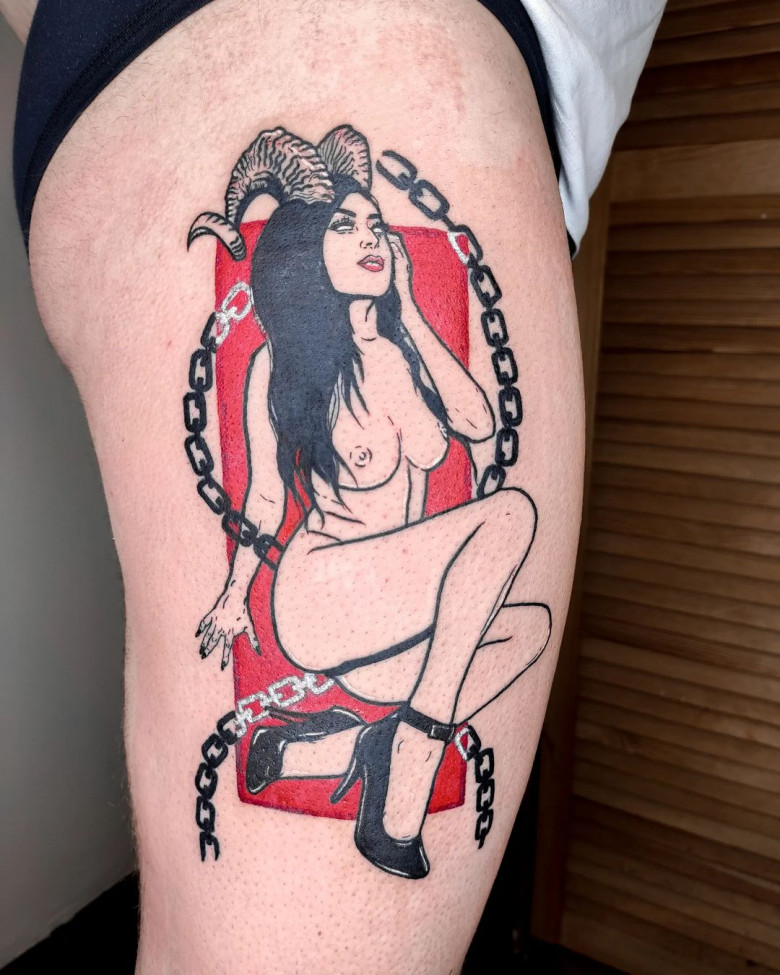 How long have you moved from St. Petersburg? Where are you currently working?
- I was originally from Moscow, I moved to St. Petersburg for love in the literal and figurative sense and worked for 5 years, and since the beginning of the year - planning has ceased to be my forte and I am on the road all the time and sow my tattoos in all directions, where can I go.
How different is work in Europe for you from work in Russia?
- These are generally different things, in Europe tattoos are so commonplace that it slowly develops into the category of a fast service such as nails, eyelashes, etc. Plus the level of consumption is somewhere at the top of the Maslow pyramid, where people collect tattoo art from all over the world on their bodies. There is no such thing that people save up for a tattoo for years, it is easier to work with clients because they trust professionals and their expert opinion when drawing the same sketches or when choosing a tattoo placement - no bargaining and endless sketch editing, everything is much simpler. Plus, a well-functioning deposit system - even if the client cancels the appointment, changes his mind or something else - your time will not be wasted. People easily travel around Europe and are ready to come to any place, wherever you visit.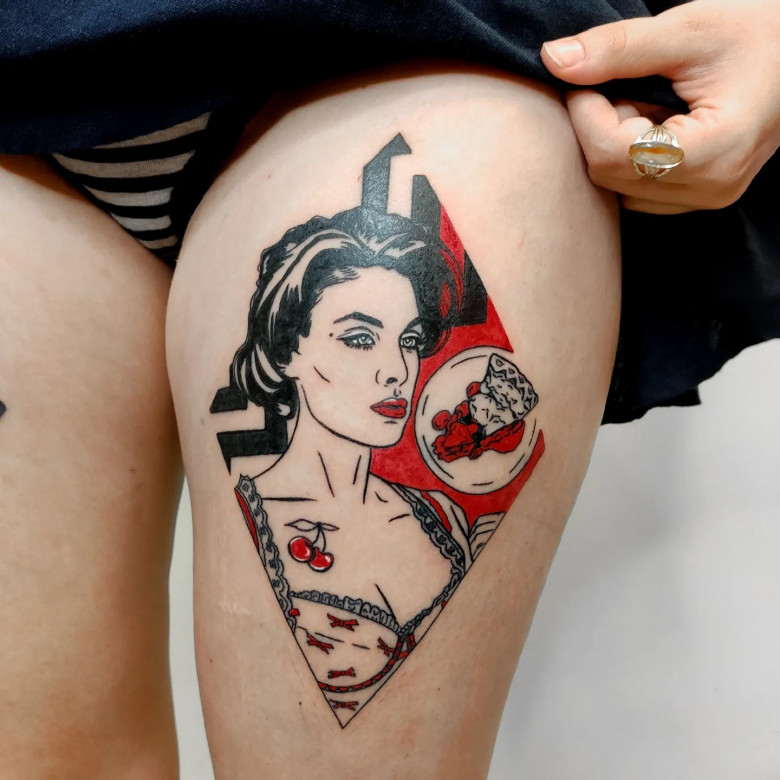 Do you plan to return to Russia?
- In the current situation, I don't see my future in Russia, since I sell my style, which is quite specific in terms of plots - only Muscovites and Petersburgers are morally prepared for it due to their progressiveness, and traveling around Russia is rather inconvenient and expensive so people from all over the country can't easily come to St. Petersburg for tattoos. I have clients scattered all over the world, not only for tattoos, but also for designs. Russia has now turned out to be completely cut off from the world and, of course, small business has felt this most of all. Especially those who work with foreign clients. But as the saying goes, never say never.
What else do you do besides tattooing?
- I am the lead singer of Chertovo Koleso Injenera Ferrisa, where I sing and play guitar/ukulele. I have already recorded 5 albums as part of the group, you can listen to it on all streaming platforms. I love Ferris' music and songs, but what will happen next with the group is not clear. Until we officially announced the termination of activities, but anything can happen. It is simply dangerous to be acutely social in the Russian Federation now, and there is no moral strength to continue in the same way at all. So we are still on pause until further developments in domestic events. The whole ChKIF project is completely independent and lies mainly on the two of us - from creating music and lyrics to post-production and merchandise. We simply do not have the moral strength to continue. Let's see what will happen.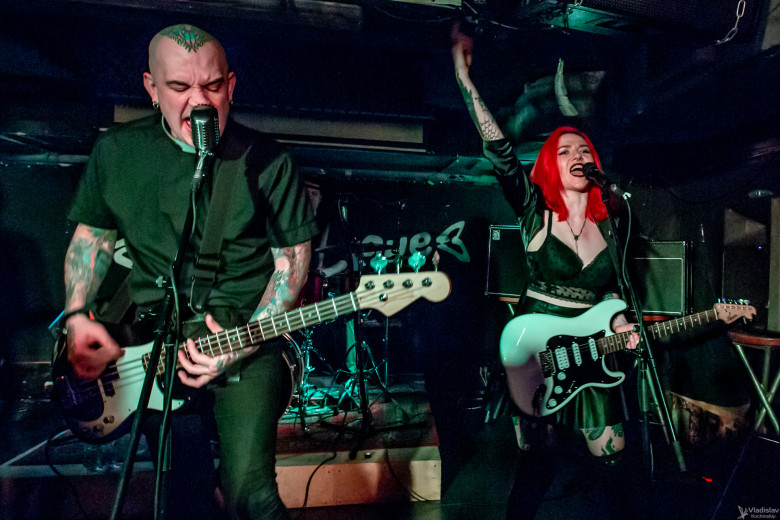 How do you feel about tattoo conventions? Did you take part in them?
- Oh, it's complicated. It depends on why you are participating. Just like that alone and for fun - it makes no sense. Only if you don't have an extra bag of money lying around that you don't mind spending. Meet and chat with other tattoo artists and see how they work - yes, but you do not need to be a participant for this. I took part in large and small conventions - the Tattoo Festival in St. Petersburg, the convention in Dortmund, Villingen-Schwenningen, Leuven, Kortrijk, Beauvais and Marche-a-Famenne.
If you are promoting your studio and service, it is important for you to be at the convention, and with all the furniture and all the service from the studio, you show potential clients and collaborators yourself in all your glory. The more convenient and beautiful your booth is, and the more features in the service, the better. It's like an exhibition.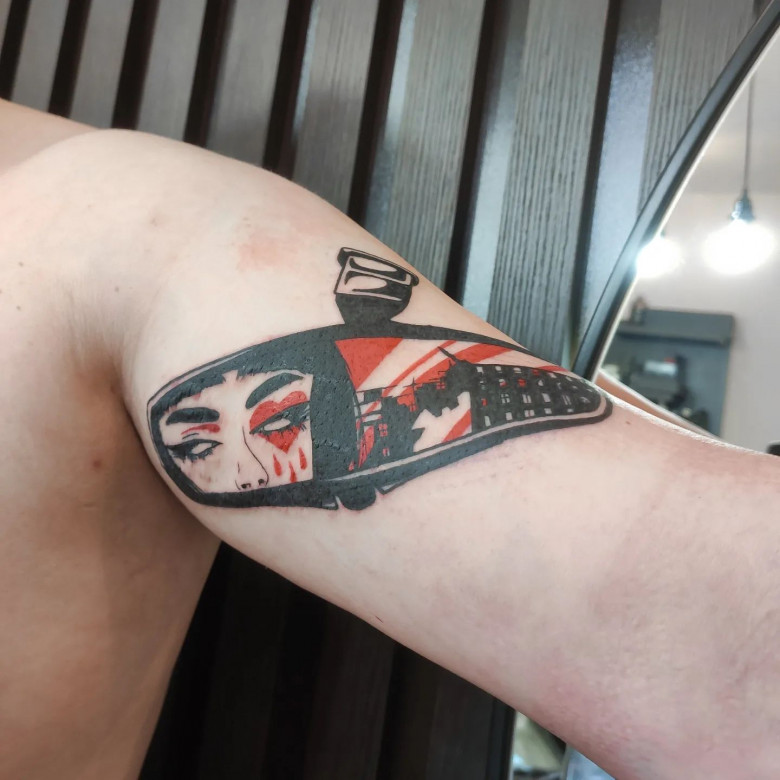 If you are going for an award, get ready for the design, style and how clearly you match to one or another nomination, study the jury and the genres in which they are experts, find out the evaluation criteria. It's good if you work in traditional and understandable genres. My works are not suitable for participating in classical conventions, as they are outside of genres. Even when there are no specific criteria in the nomination and, for example, it is limited only by the size of the tattoo - 100 percent a realist will take part in there and take the prize. So here it is important to understand why you need all this and prepare very carefully.
What is your main goal in life?
- To help people loosen up, strengthen their inner foothold and express themselves in all ways available to me.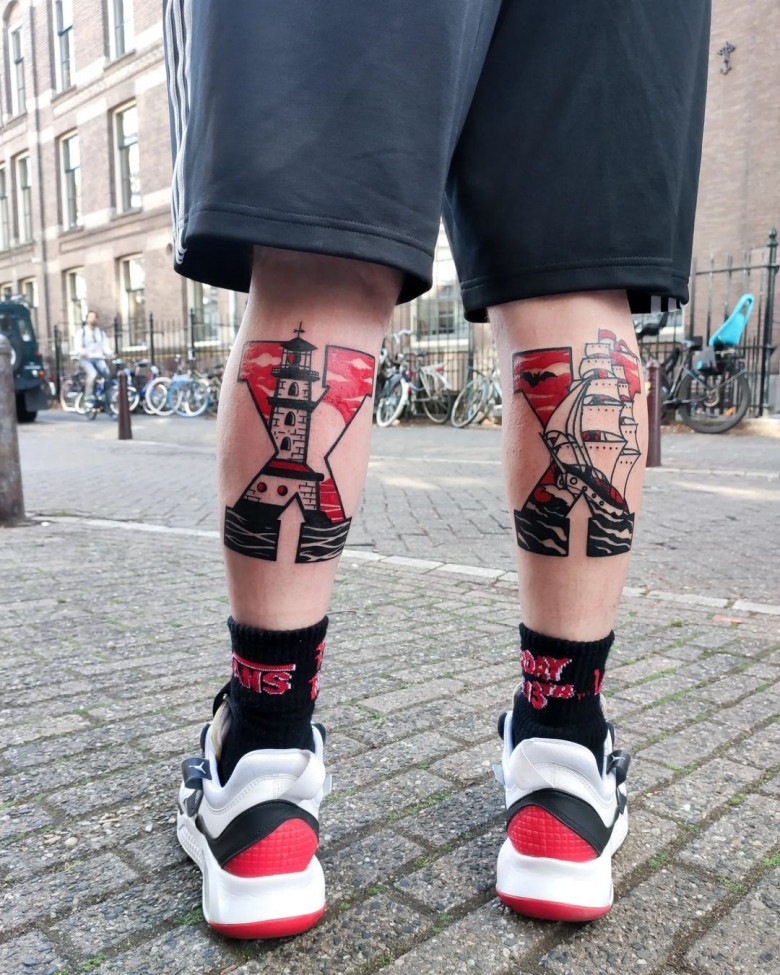 Tell me about your plans for the near future.
- In the near future I plan to release an author's tarot deck and an NFT collection. And also discover the US market, we'll see while I'm working on all this. I also have a collaboration with 52 tattoo artists from all over the world - a playing deck of cards - RealInkedProject - 52 tattoo artists made their own unique design and pricked on the skin, then they created a deck of playing cards from the tattoos of different artists. This is the biggest collaboration of artists in the world at the moment. We are waiting for the release.