Kseniya Way.Ink: «When you feel people's interest in your work, you find that you are doing something really worthwhile»
The art of tattooing has long moved beyond the ubiquitous brutality that for a long time has been a must attribute of tattoo. The «heavy» plots and styles were replaced by a variety of images and techniques, and complete freedom of expression.
One of our favorite styles of modern tattoo is the fIne line. The subtlety of the lines, the lightness of the images, the tenderness that fits particularly elegantly into the beauty of the female body, the roses, the peonies - oh, that real art, isn't it?
Today's guest of our interview is Kseniya Kleshchanok, better known on Instagram as WAY.INK. Her fine line tattoos are light, airy and infinitely stylish. Even the peonies beloved by many tattooists bloom in a completely new way, emphasizing with each thin curve of petals the extreme precision of Kseniya's work.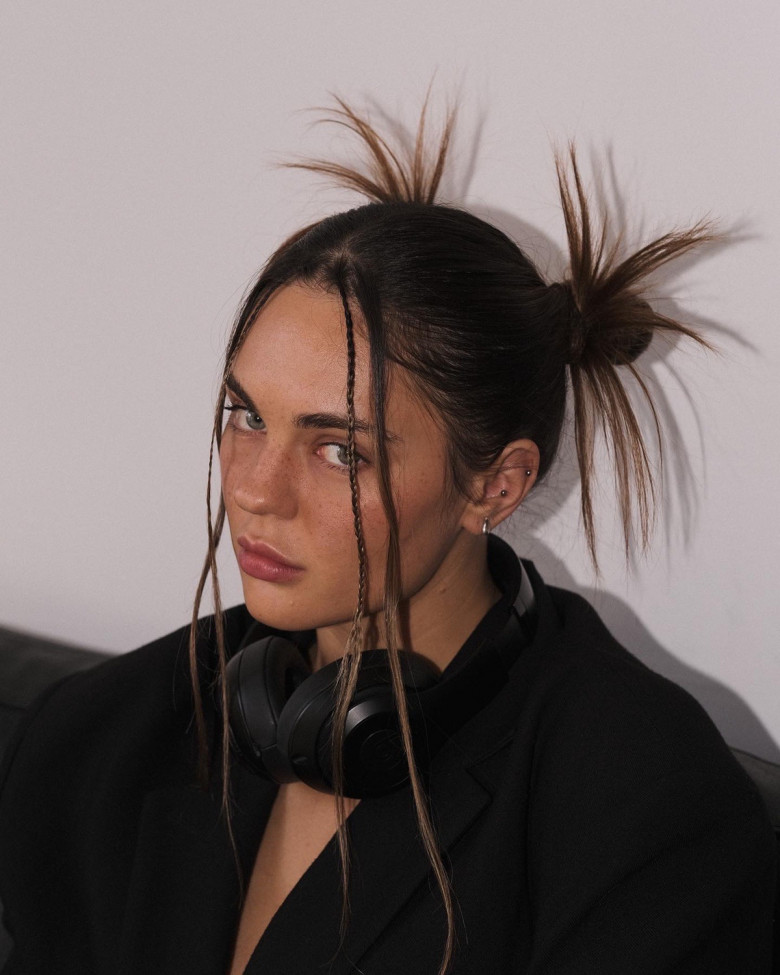 ---
Tell us a little about yourself. Why did you decide to become a tattoo artist? What were you doing before tattooing?
- I've never seen myself in a creative way and it still surprises me how I came to the tattoo industry. All my life I went in for sports, I was the most restless child. But I decided to choose a completely different story for me. I studied as an architect but fell in love with drawing only in the last study year. At some point, I realized that it was interesting to try drawing not only on canvas, but on the body.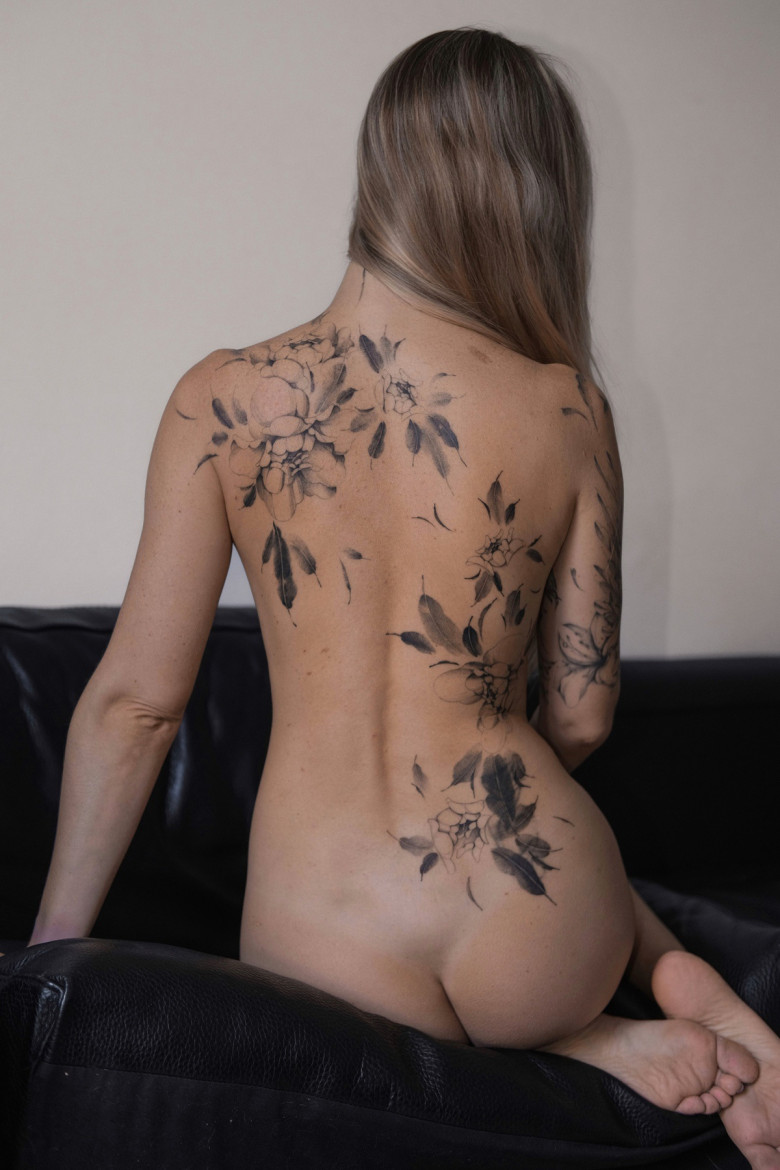 How did your career start? Who was your teacher? Were there any difficulties in mastering this profession?
- It was a very spontaneous decision. At that moment I followed one artist and she opened her first tattoo training course. It lasted only a few days and was practically useless, but I was on fire with tattooing. For a beginner in any activity, starting is the most difficult thing, everything is new and unknown. Probably the most difficult thing for me was to see the result of the tattoo, because what was in my head still did not match the result.
Is tattooing art, work, or something else for you?
- First of all, tattooing for me is always an art. It's so reverent to understand that you can do something of your own, individual, interesting, and at the same time receive an instant response.
Flowers are one of the most popular themes in fineline tattooing among women. But in your flower tattoos, in addition to fineline, there are also elements of watercolor. How did you come up with this combination?
- I've always wanted to be different from other tattoo artists. When I started tattooing, my flowers looked different than now, but I imagined my art to be a more delicate and airy pattern. It is very important to feel what you really want to see in your work.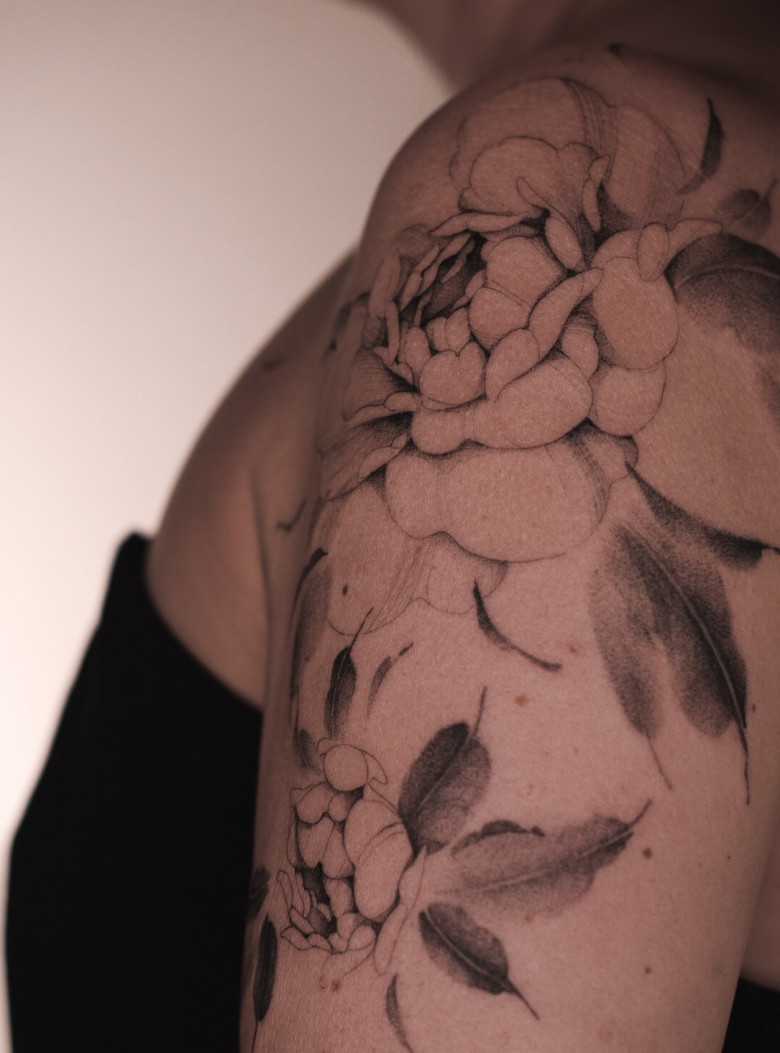 What features of your work can you highlight on your own?
- It's a pencil fineline technique with delicate lines.
You are using super thin lines. How difficult is it to work with such precision?
- It was insanely difficult in the beginning. You worry about how to make a really thin line, how not to hurt the customer's skin, and how everything will be healed. Just a lot of practice and everything comes.
How do these tattoos heal? And how do they persist over time?
- Tattoos in my technique heal much faster, look great, and retain the same quality in the future.
What is the most important thing for you in tattooing?
- It's very significant for me to bring my ideas to life and to feel trust and insane interest in my work. The whole process of creating a tattoo is very important, but every time you understand that your creativity is limitless thanks to the people who choose you.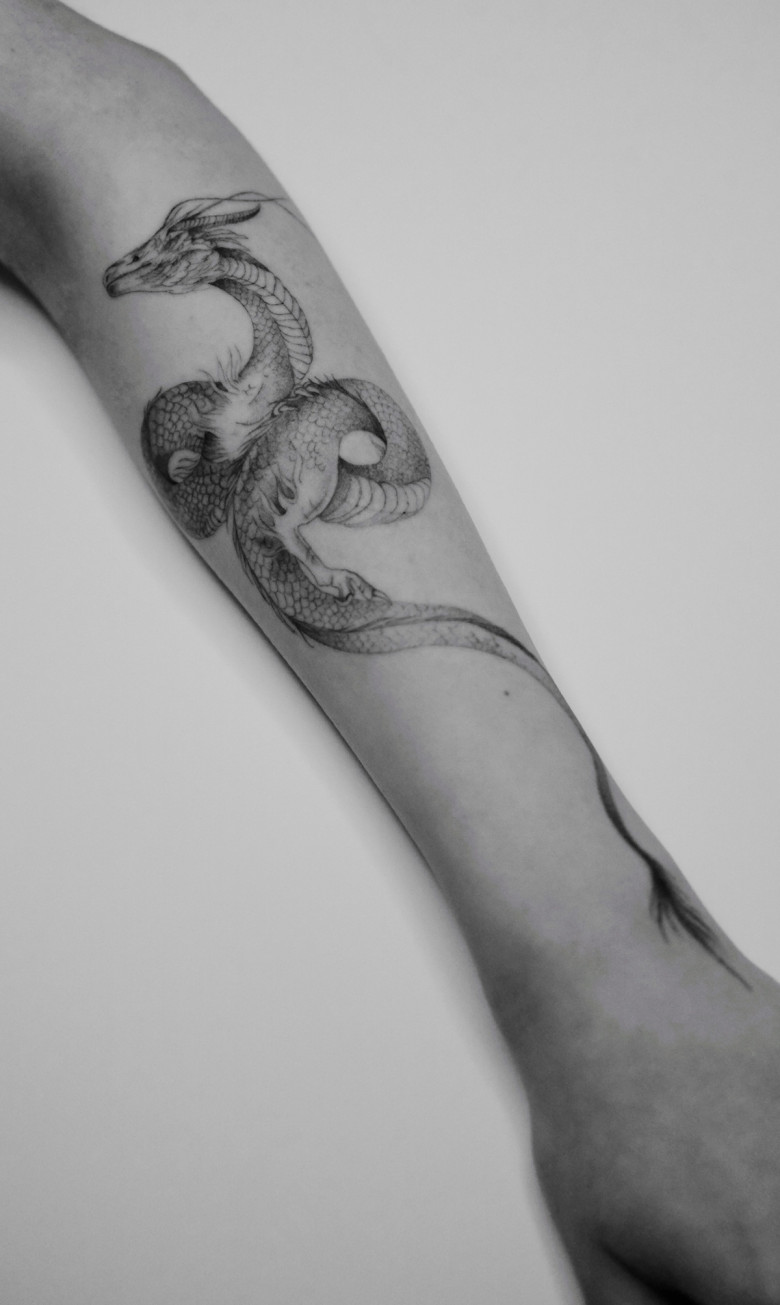 Are there any tattoo artists or artists that inspire you? Whose work do you follow? And do you have any favorites?
- Your taste and vision change every year with your growth.
The top five now are:

Do you travel a lot for work? Tell us about where you have been.
- Yes. I love to travel. It's just a huge opportunity to meet new people, combine work and explore new places.
I've already worked in many countries: Germany (MOMMY I'M SORRY, PARDONPARIS, VADERS.DUE), France (BON JOUR TATTOO CLUB, LASERREPARIS), Switzerland (SANG BLEU TATTOO ZURICH), Netherlands (INK DISTRICT AMSTERDAM), Spain (SASHATATTOOINGBARCELONA), Austria (TRUE CANVAS), Portugal (NAMES TATTOO STUDIO) and etc.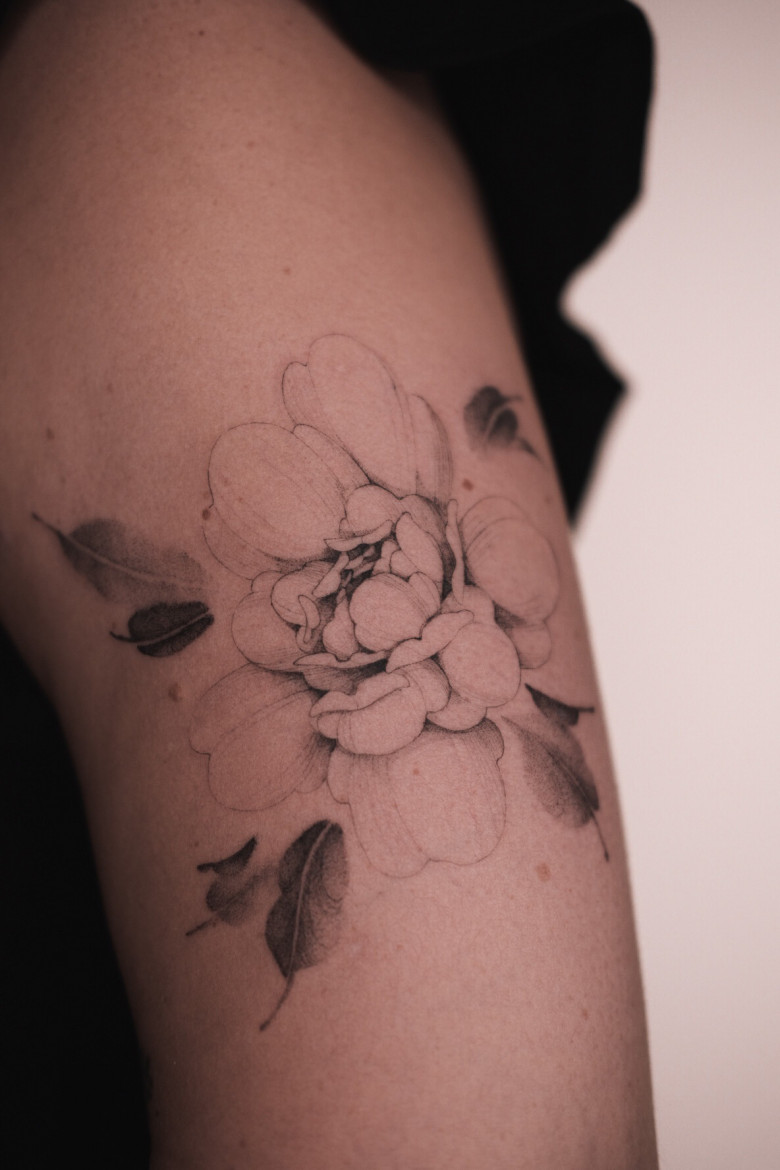 Where do you think your style is most in demand and why?
- I have a lot of clients in France and Germany, but France probably wins. My tattoo style is quite popular now and Paris is a trendsetter. For French people, it is very important to be on trend. These are my feelings.
Do you have any favorite tattoos, clients, projects, or maybe some unusual career stories?
- I can't choose any specific work. I always do only what I like. But I also love to get tattoos in rarer placements, for example, on the head or neck.
A lot of people think that my tattoos are only for women, but on men's bodies, my flowers can look very organic and interesting as well.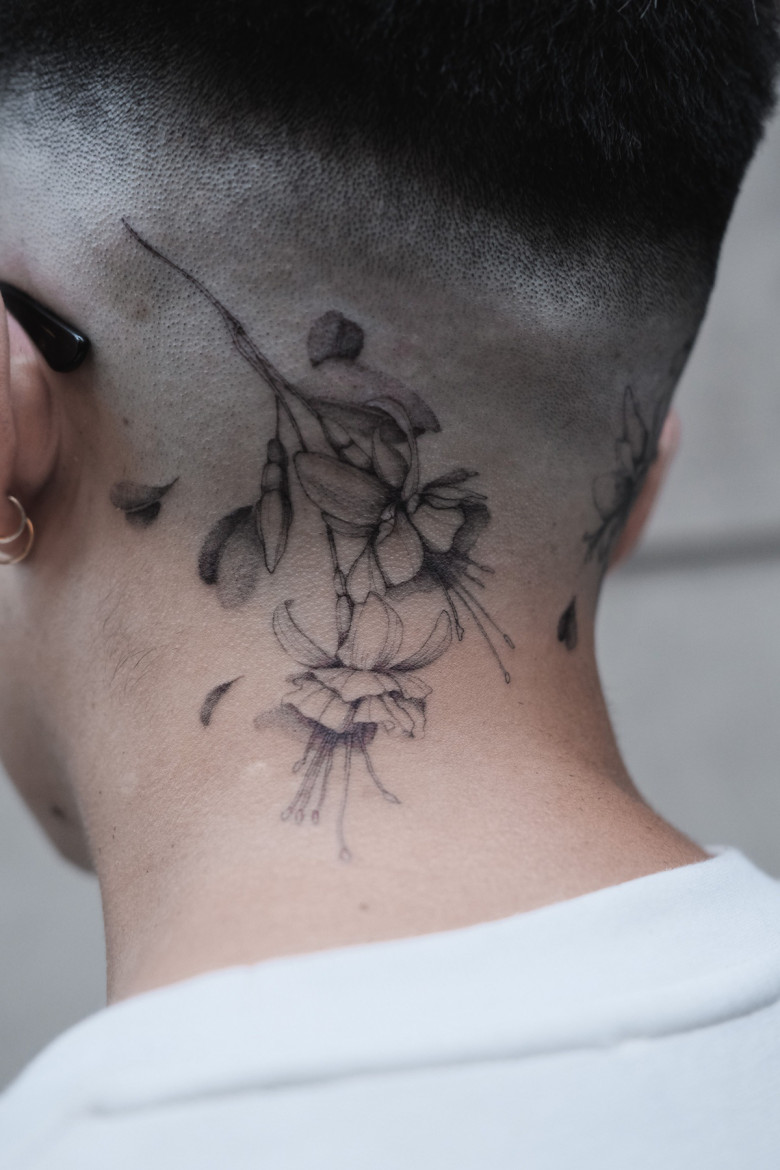 Where do you work now?
- I'm based in Spain (Barcelona).
You are a member of the Hustle Butter Pro Team. What does this give you as a tattooist and how important is it for a modern tattoo artist to be in professional teams of tattoo brands?
- Hustle Butter is a sponsor. It's a huge step in the tattoo industry to be a part of the Professional team of such a brand. I really appreciate it.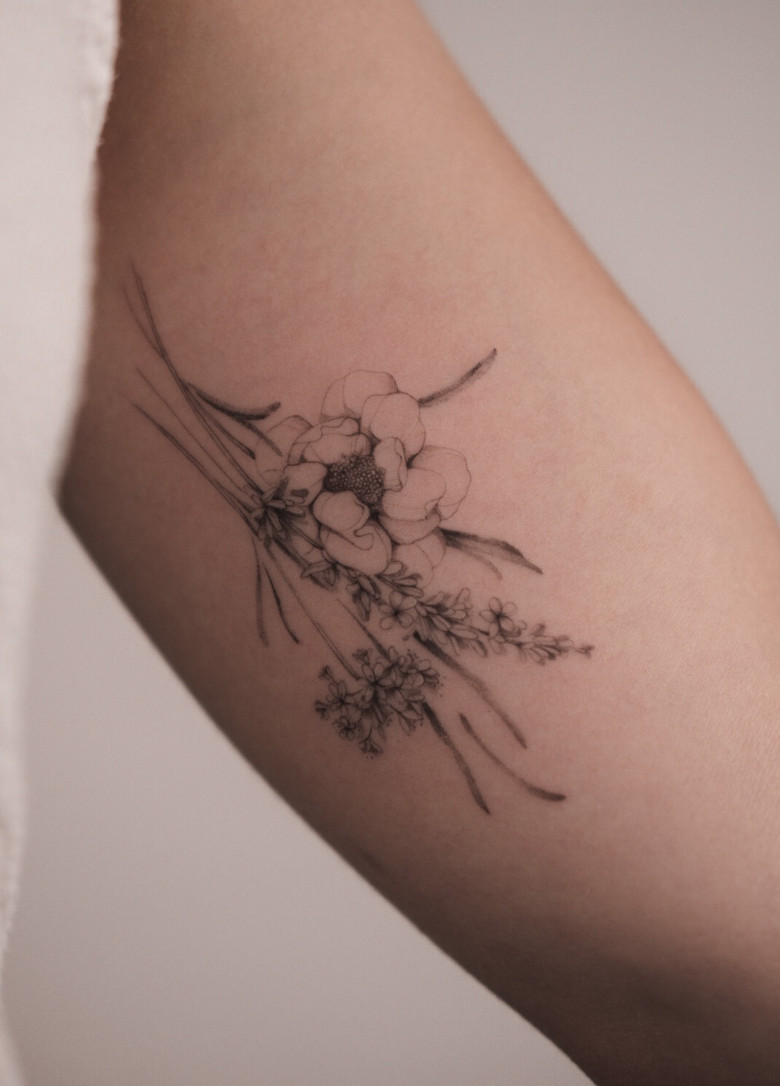 How do you rate your popularity and how do you think it can be measured? How much are your tattoos now?
- It seems to me that the most important point is your relevance. When you feel people's interest in your work, you find that you are doing something really worthwhile.
The price depends on the idea, size, details, and location as well.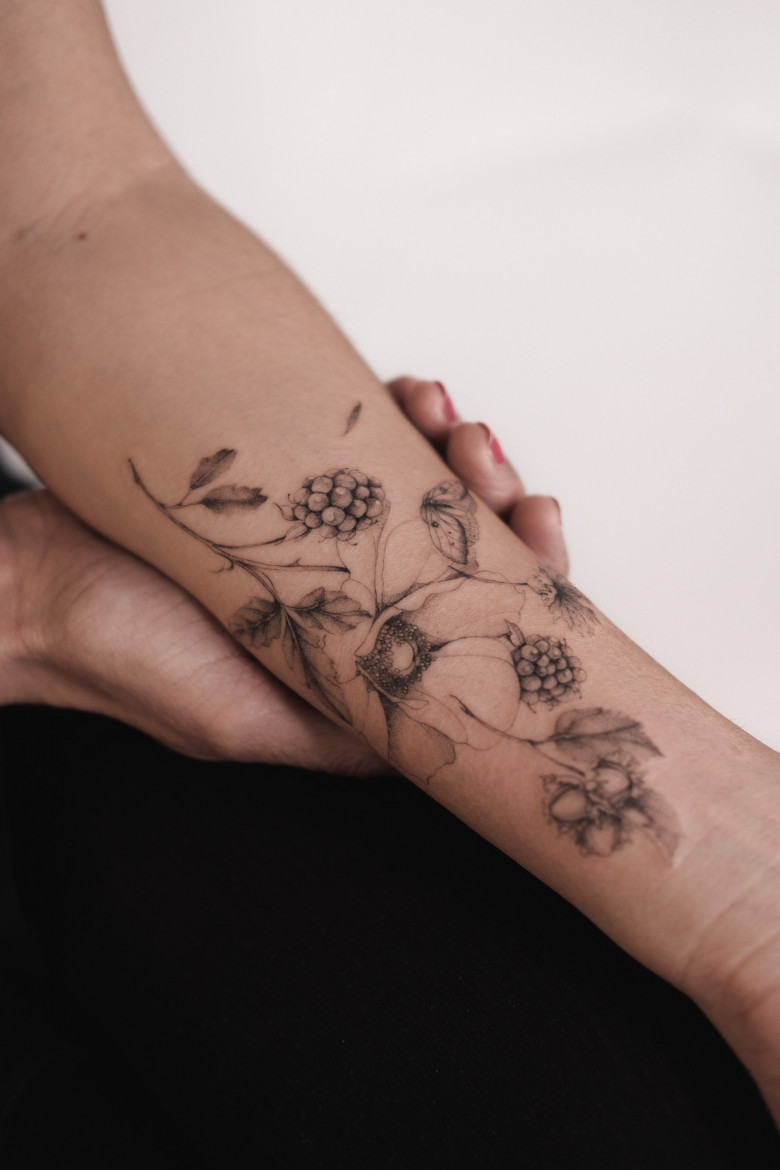 Do you participate in conventions? Share your experience and results. In your opinion, how important is participation in such events for a modern tattoo artist?
- This is a special and different part of the tattoo world. I have been only once at the Ibiza tattoo convention as a participant. I would like to try myself as a judge more.
You have some collaboration projects in your portfolio. Tell us about them. And have you collaborated with anyone outside the tattoo industry?
- I have collaborations with my talented friends @lescrowtattoo and @mo.no.tattoo.
This is one of my best and most interesting projects. You can show your creativity in a different way, presenting something new and fresh. I'm delighted about this.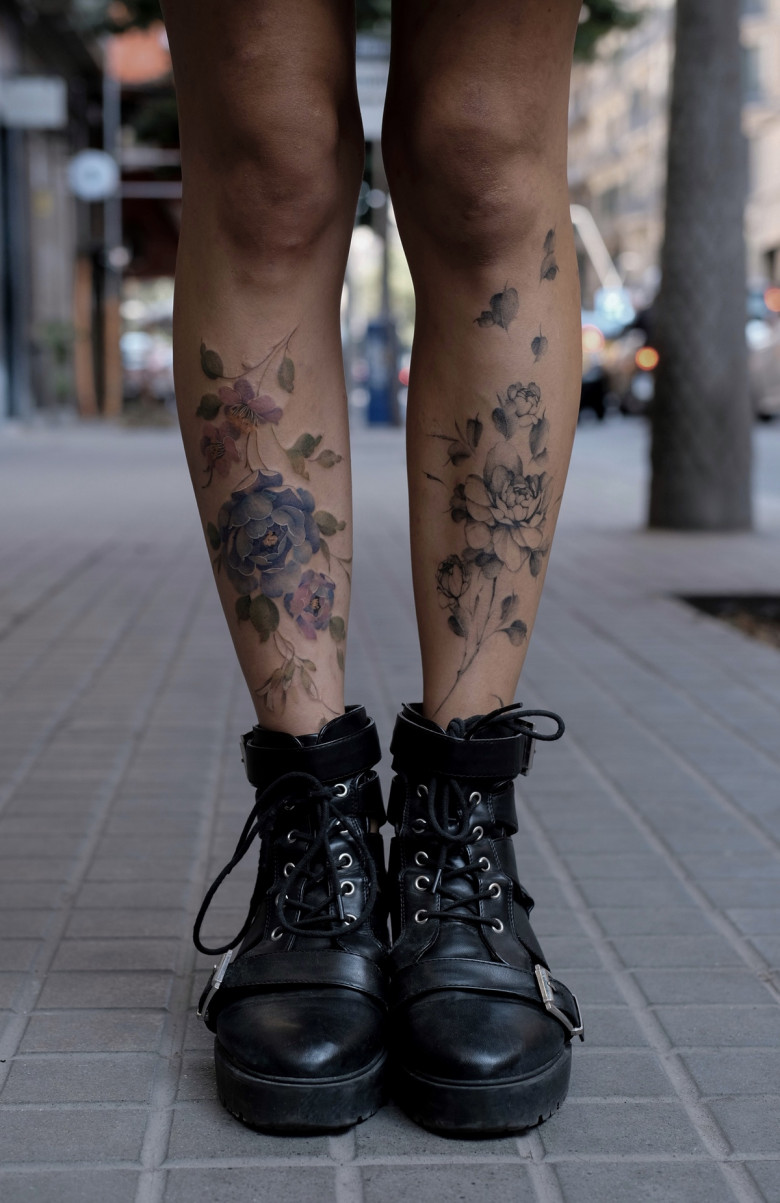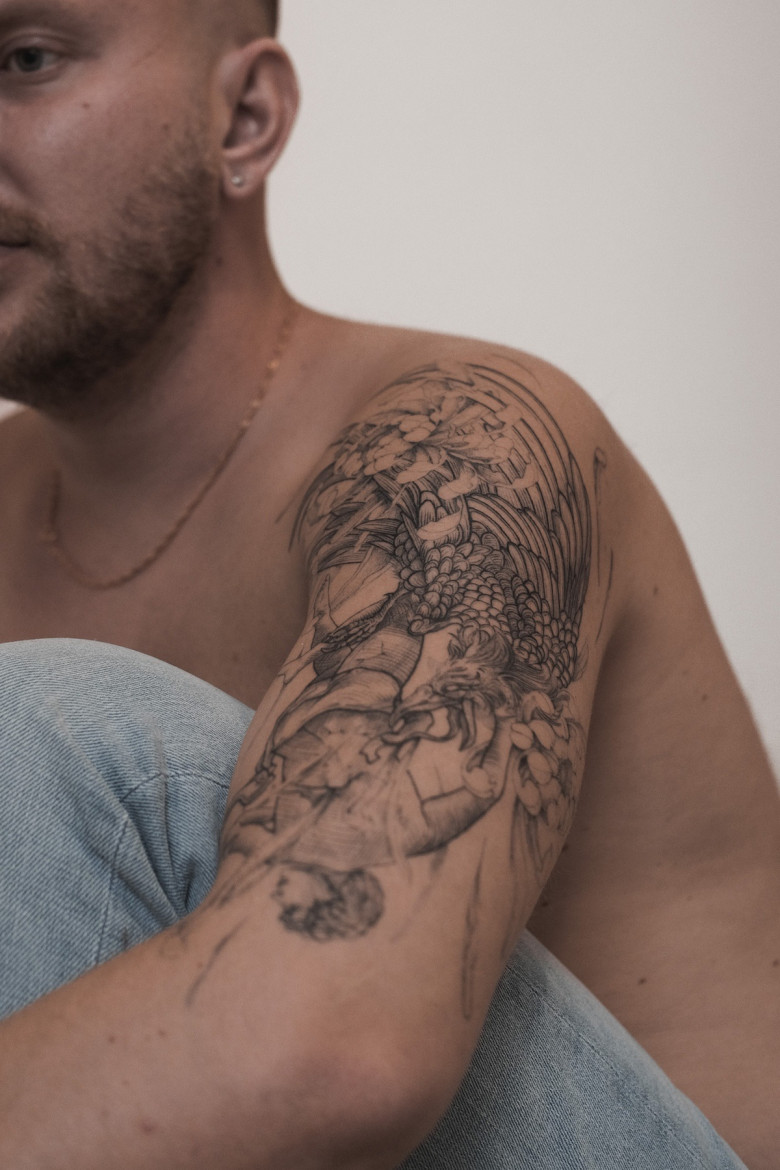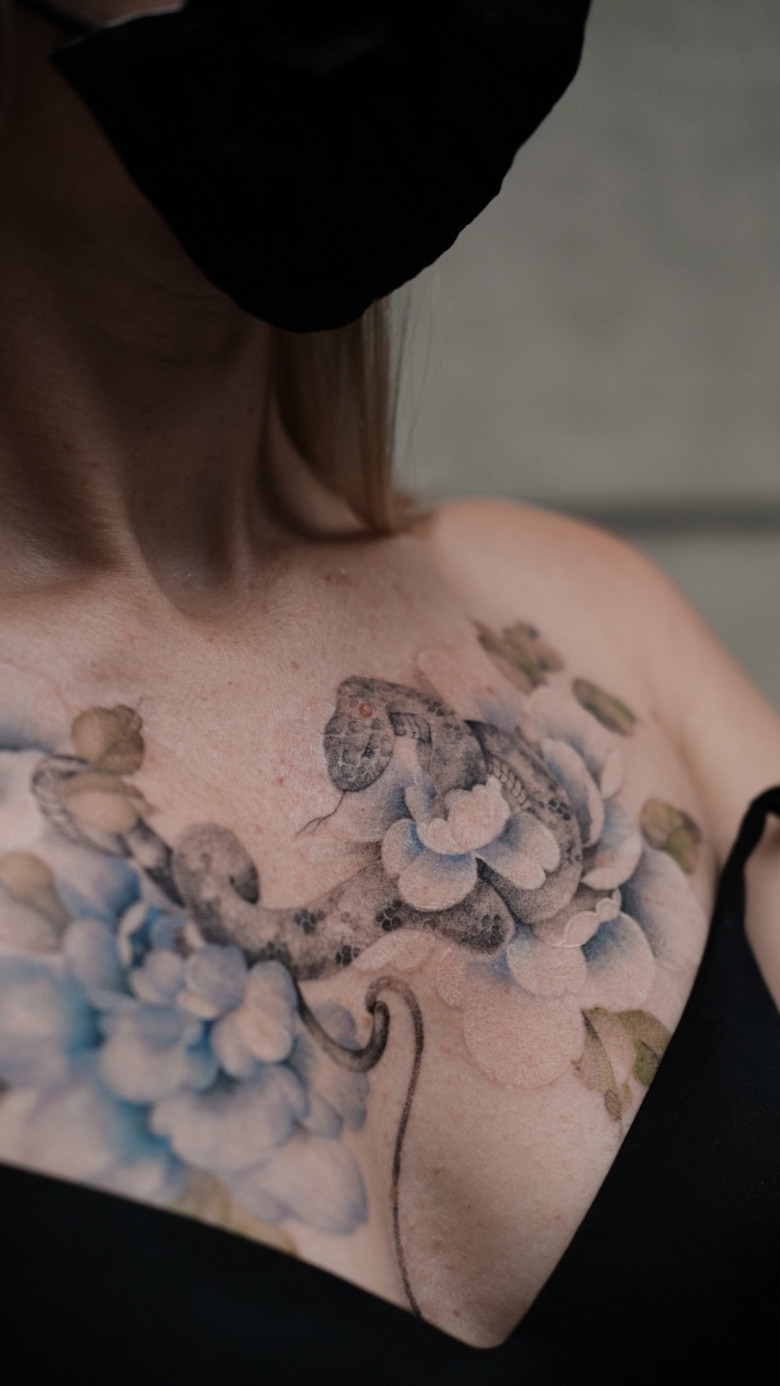 What are your career goals?
- When you realize that you've reached a certain quality in your work, it's very important not to stop and always grow up. It's an excellent opportunity to show yourself through art on your body, decorating it exactly how you feel. But I would like to show my art not only on the body but also outside the tattoo.
What are you interested in besides tattoos?
- Cars are my passion. I can't pass by something unusual, beautiful, and especially rare.
I have stretching classes and I really want to resume modeling lessons.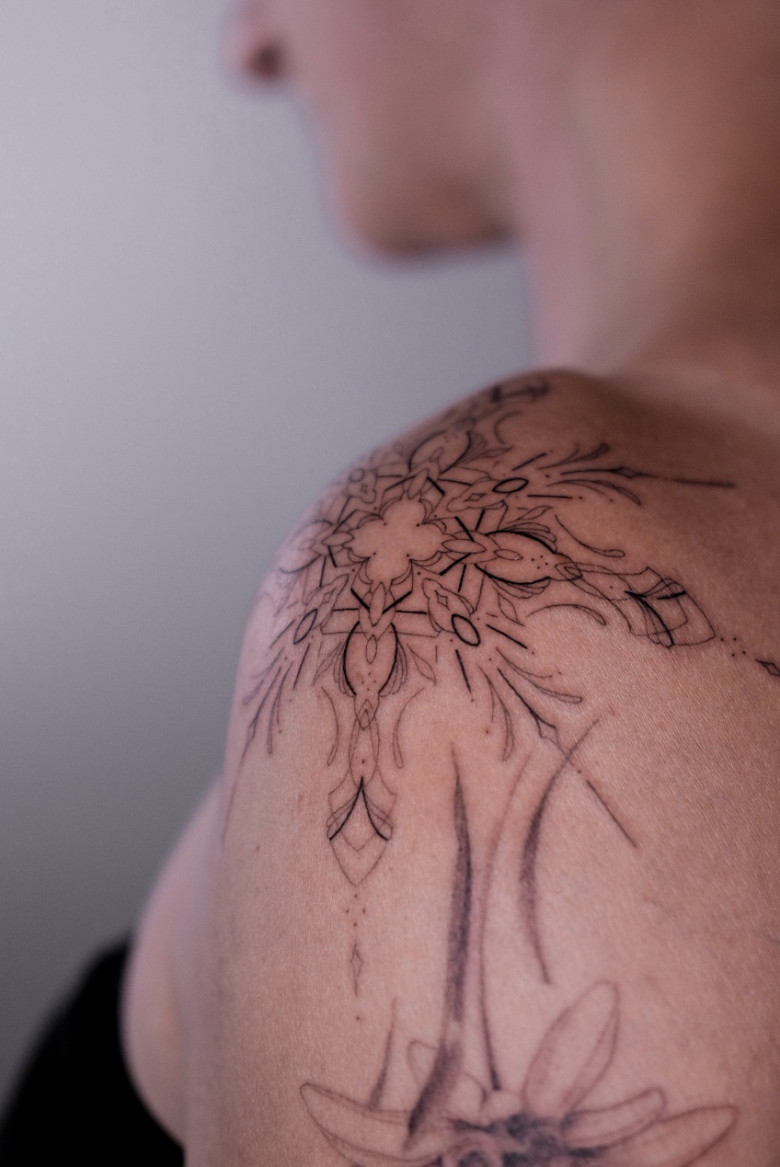 Tell us about your plans for the near future.
- I'm going to visit one convention in the USA, to have several collaborations with famous tattoo artists and run two projects outside the tattoo, but through tattoo projection.