Lina Kurbanova: «You know steamed Japanese buns with all sorts of different fillings. These are my clients!»
23 / 10 / 2022
Yaroslava Green
Anime tattoo is gaining more and more popularity around the world, becoming a separate stylistic direction of this art. Tattooists involved in this type of tattoo are often called Otaku, which means "fan" in Japanese, and for good reason, because in order to achieve success in this direction, you need to devote yourself entirely to modern Japanese culture.
How did the anime tattoo manage to win the hearts of millions of people around the world? What anime should everyone watch? And what does the tattoo mean for an otaku artist - Lina Kurbanova will tell us!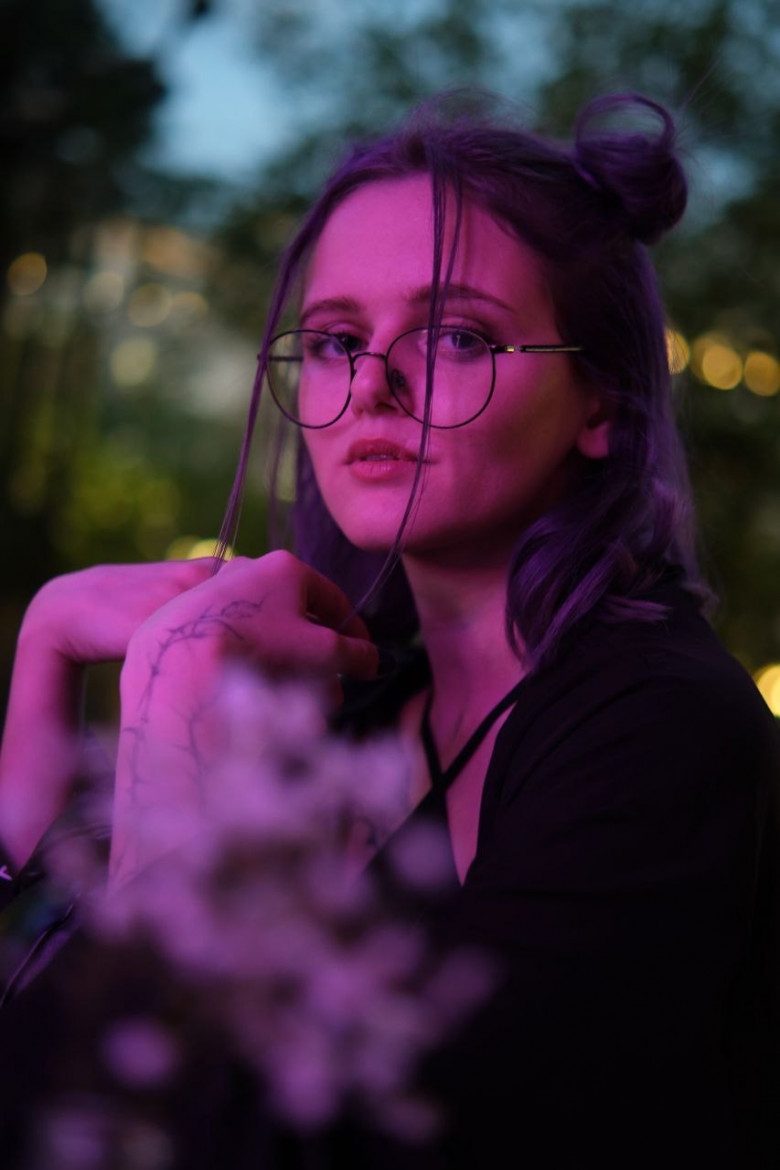 ---
Lina, to begin with, as usual, we will ask you to tell us a little about yourself. How did you get into tattooing and what did you do before?
- Hello! I am a tattoo artist from Moscow. From about the age of 11 I began to come across tattoo publics on VK (social media like Facebook) and, naturally, like all little girls, I began to draw up a plan on how to fill my entire body with huge black tattoos. Time passed, tastes changed, and the idea of ​​getting tattoos did not leave me alone.
At 18, the university started, and also kind of career in advertising. And that means an office and a sad me, so you get the idea. But I took control of myself and tried to start a business that had fascinated me since childhood.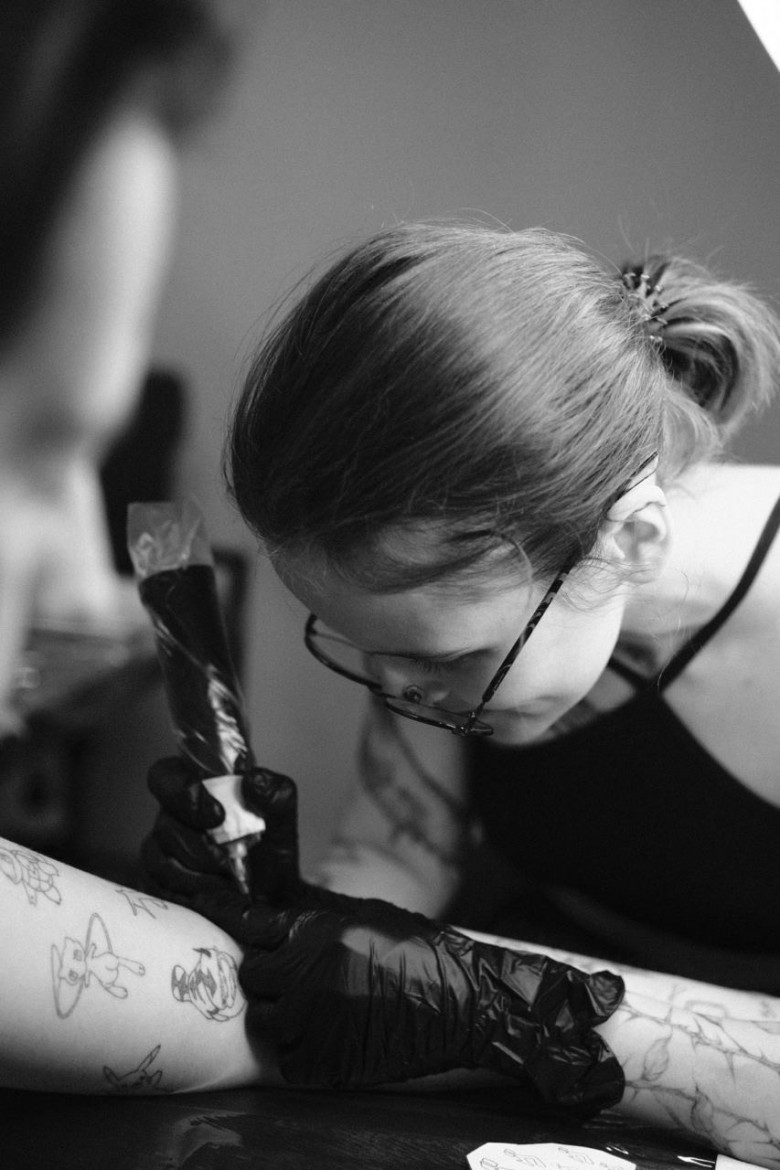 The fairy tale didn't begin right away, but the chance brought me together with the girls from the small but proud studio @Tattoo_naive. There I settled for several years, found myself a crazy friend, and then rushed off into the sunset to conquer the tattoo world in free-floating.
Do you have an art education or professional training in tattooing?
- Art education busily rushed past me, my school notebooks and textbooks suffered for this, where I drew for my own pleasure. My parents are serious people, and silently watched the whole thing, however, when the talking went about tattoos, they didn't express their consent, but who asked them, lol.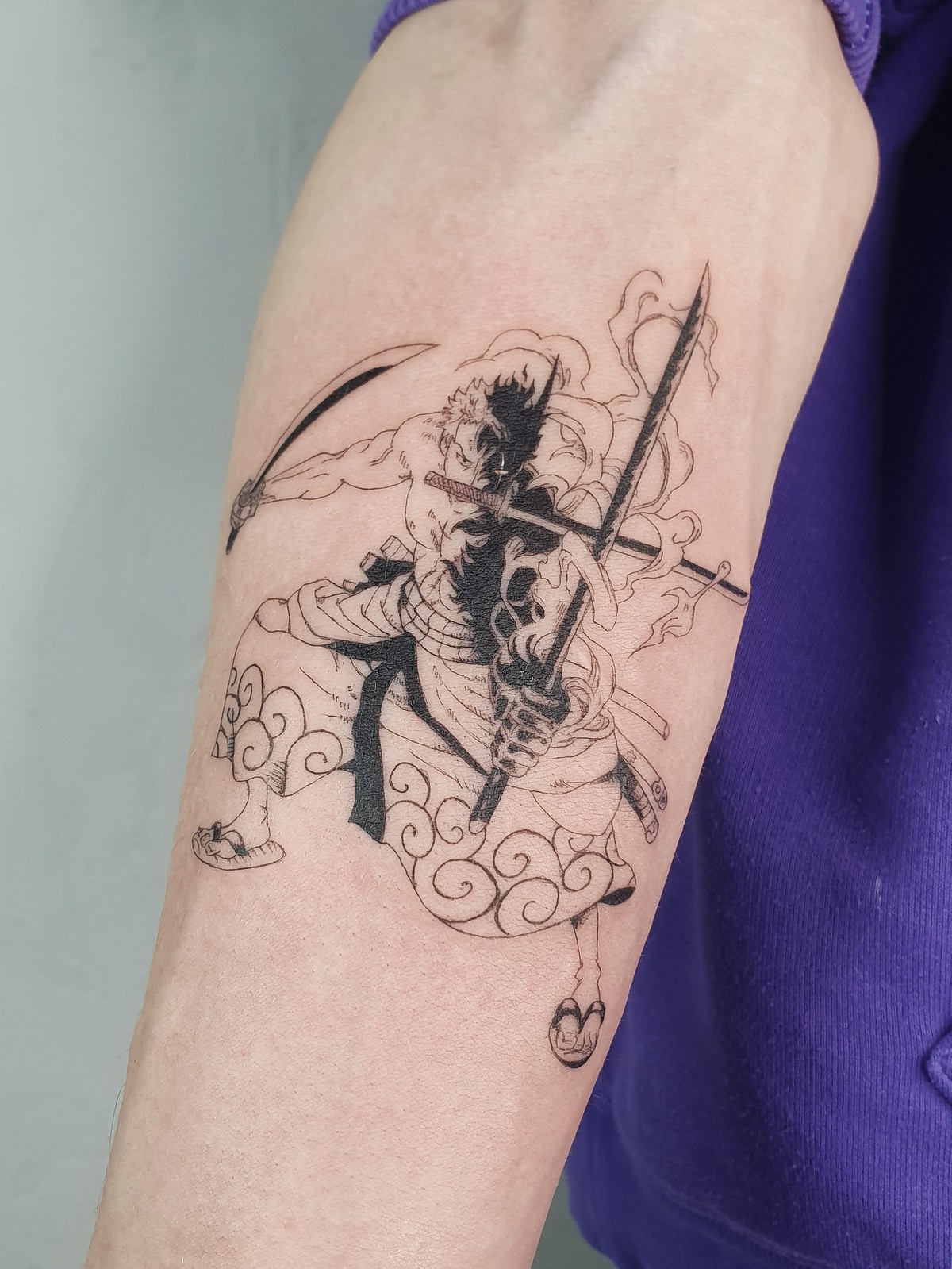 Although I managed to study a little, I had a tutor in academic drawing, but things didn't go any further. I also searched a lot of information on YouTube, but there was not enough either. I continued to draw on my own, carrying everything for drawing to work in the office. The desire to become a tattoo artist was stronger than the fear of getting punished for "idleness" at the workplace.
Anime tattoos are the trend of the last decade. Increasingly, we hear the phrase otaku-artist, which essentially means a fan, and in particular a fan of anime and manga. Do you consider yourself a fan? What does this culture mean to you?
- If you're trying to call me an otaku right now, I totally agree with you (laughs). Lists of watched anime continue to grow. But I'm such a cute little otaku, so far nothing serious. And I would like to say that this term is often used in a negative way, which I don't like. I love Japanese aesthetics, I am interested in its culture. Time will tell what happens next.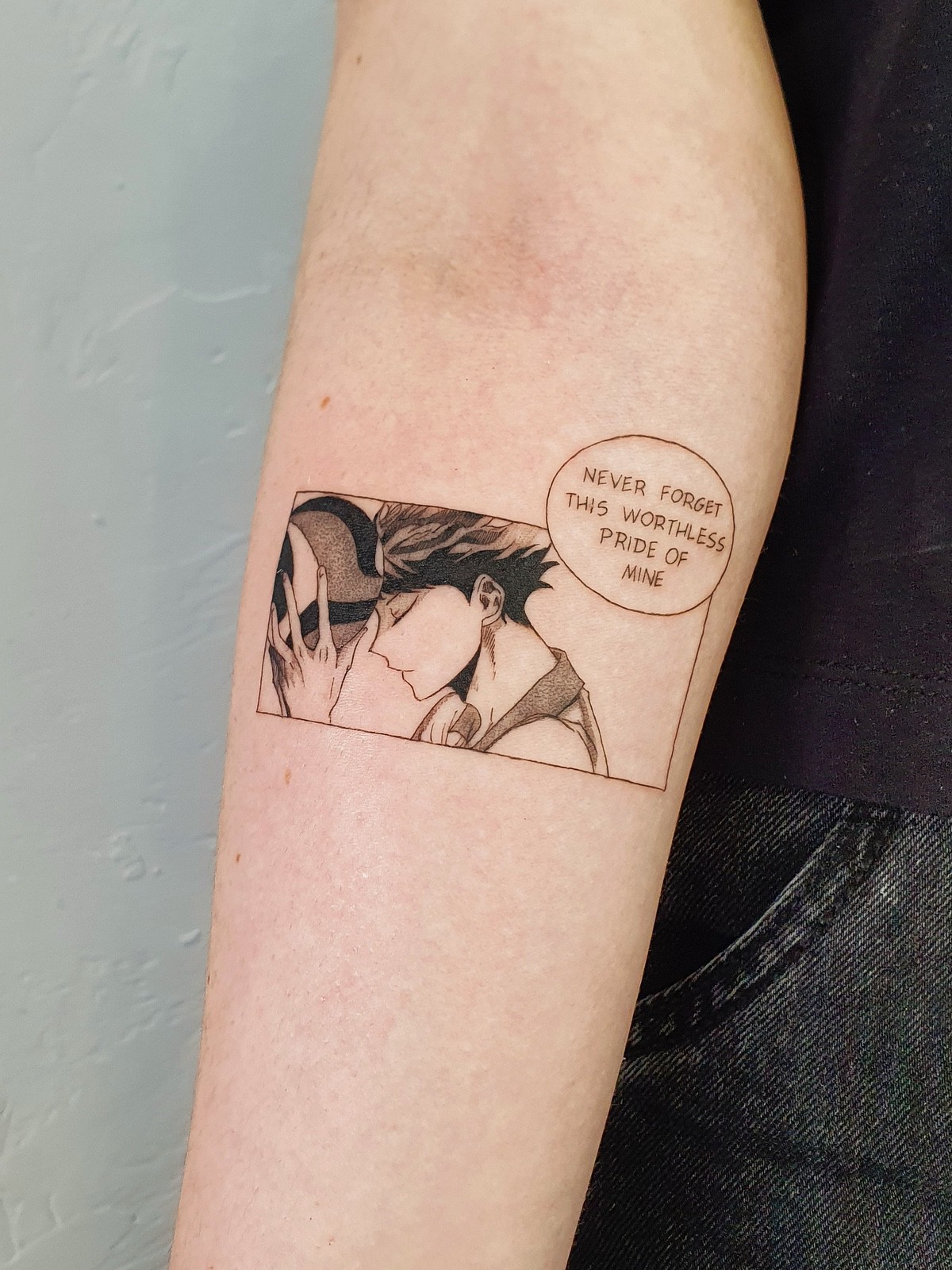 And of course we can't help but ask about your favorite manga, anime and their characters!
- My Guilty pleasure and only four syllables "To-ra-do-ra"!!! I rewatch it every year while drinking gallons of tea. Of course, in addition to "Toradora!" there are many more titles that I have a particular fondness for, such as "Assassination Classroom", "Monogatari", "Fairy Tail", "Attack on Titan", etc. etc. etc.…
Your portfolio is predominantly black tattoos or with a little splash of color. Why did you chose this form?
- I think every tattoo artist tries to do what he would like to see on himself. I don't see bright colors on myself and I won't see them, at least in the near future. So it is in my works, I really love black tattoos and I don't go far from it.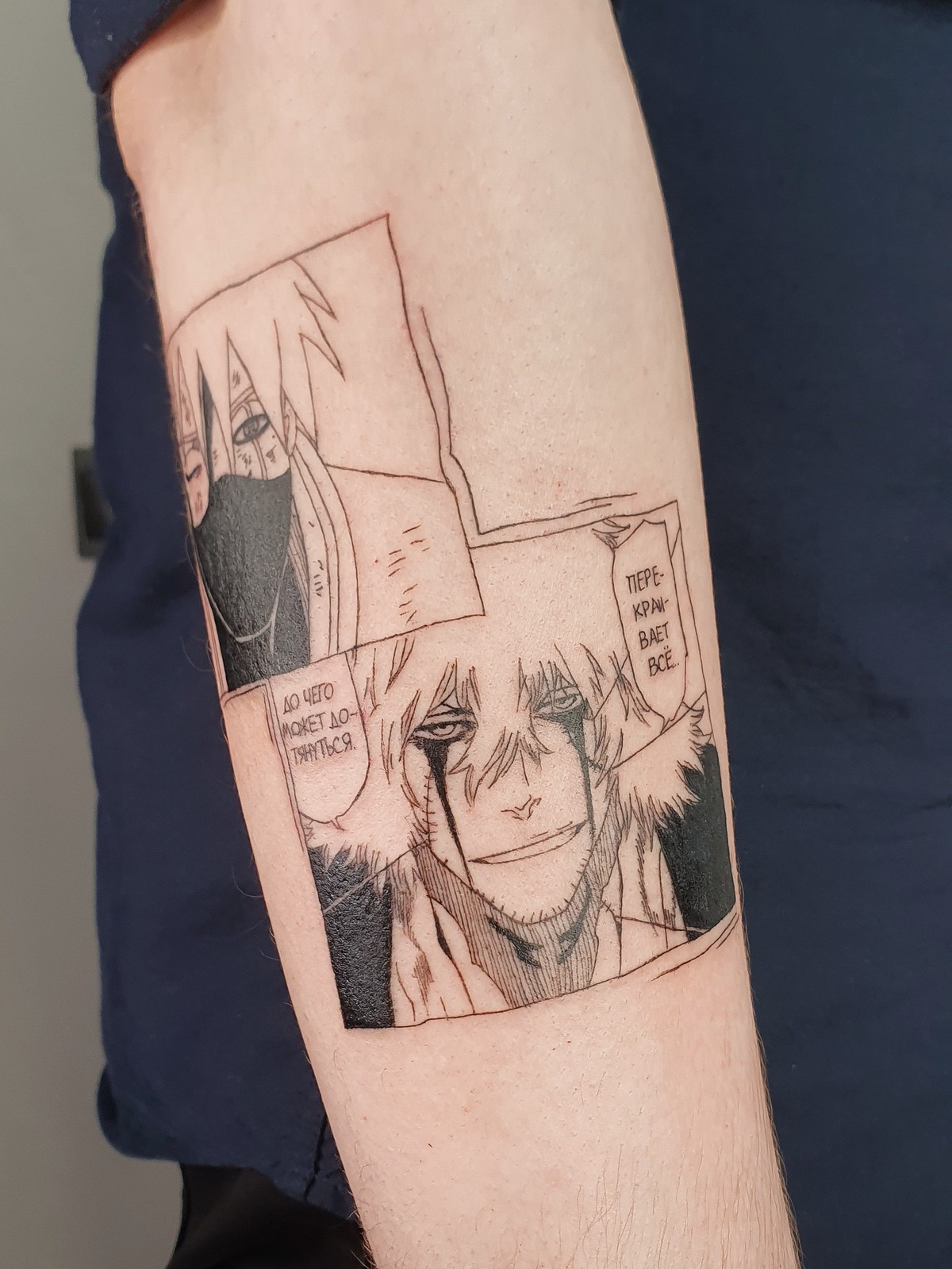 What motivates you to create and what inspires you?
- I'm crazy about my clients. And the treats they bring me to my sessions. Do you like yummy things? I am too. Okay, this is not about food. I just really enjoy the smiles of my guests.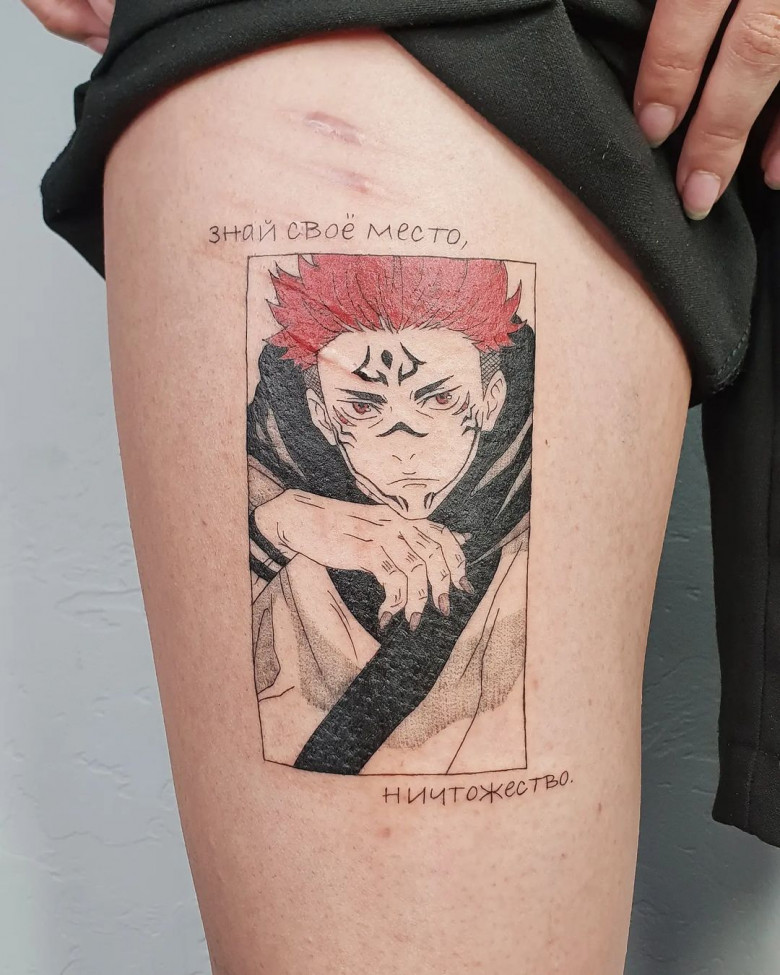 And who are your clients? Are there foreigners among them?
- You know steamed Japanese buns with all sorts of different fillings? These are my clients, the same soft anime buns with whom we sometimes continue endless dialogues on the Internet after the sessions. It was difficult for foreigners to get to Russia in recent years, but there were a few. But my steam buns are well distributed throughout Russia. It is very pleasant when people come to me from afar, thousands of miles from their homes.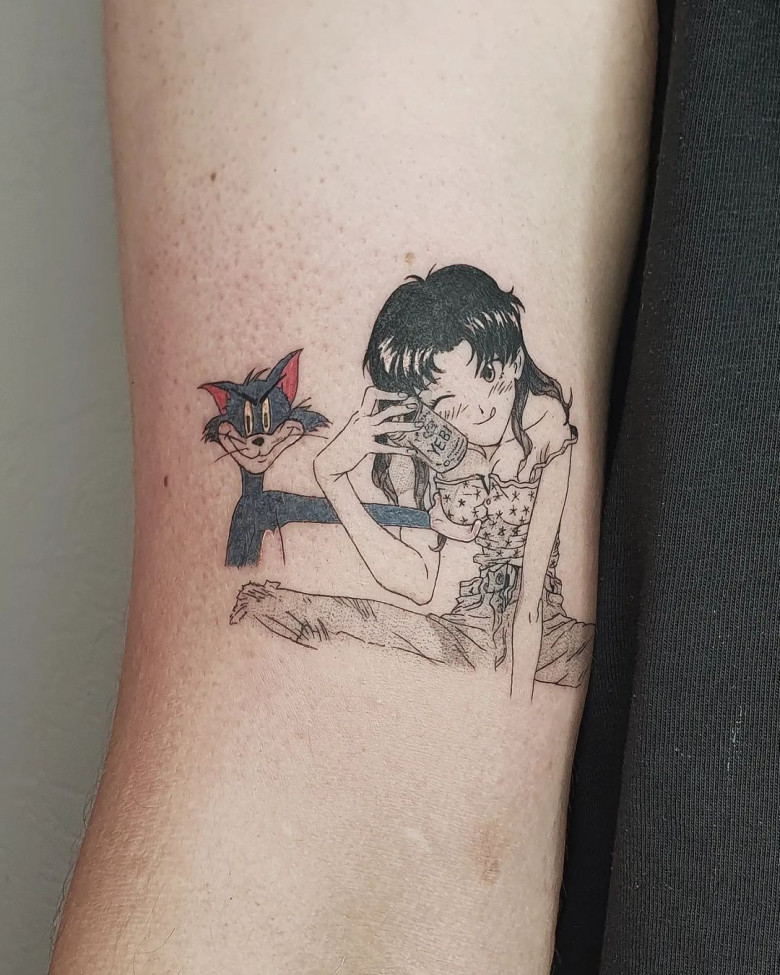 Why do you think anime tattoos have become so popular in Russia in recent years?
- Mankind has finally realized that this is cool! And the condemnation has become less. Now you can hardly find a sad Russian schoolboy watching anime secretly. We have 9 months of the year with gray heavy weather out there. Whether you like it or not, you will go for bright 2D worlds in which everything shines and sparkles and there are wildly attractive characters.
Do you travel a lot? Where have you already been and where are you going in the future? Have you ever been in the homeland of anime?
- I used to travel a lot, but due to Covid restrictions, I had to moderate my appetites a little. We haven't had any dates with Japan yet, we only send greetings to each other in IG Reels, but this can be fixed.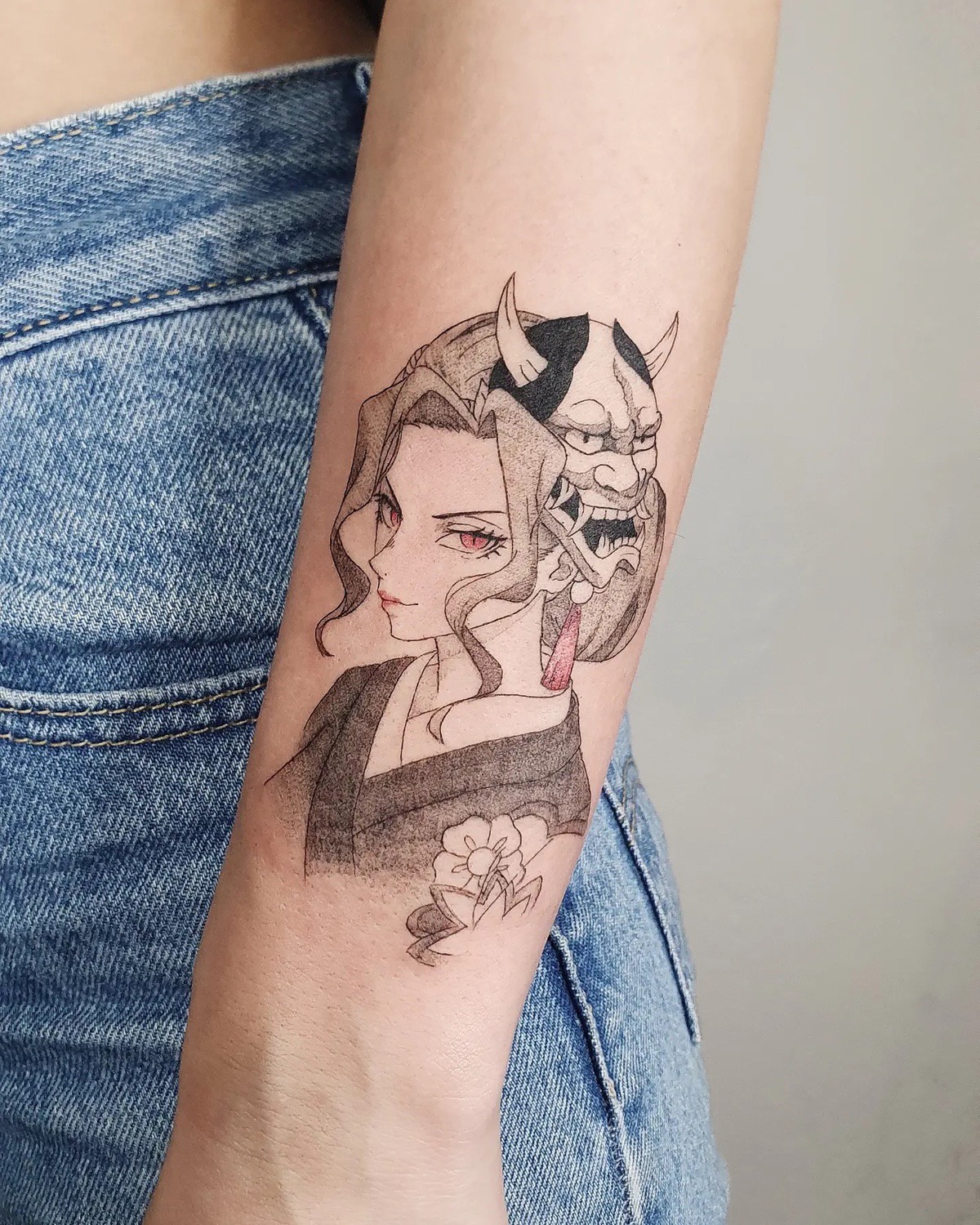 Tell me about where you are currently working and how can I book a session? Are there any features of this process?
- Now I am sheltered by a nice Moscow studio @barcelona.ink not far from the Avtozavodskaya metro station. But it's better to follow my work in Instagram or Telegram, it's more reliable. You can get an appointment for a session on my pages any time, I often update information about my schedule there. This process has no special features, you can and should feel free with me, I don't bite.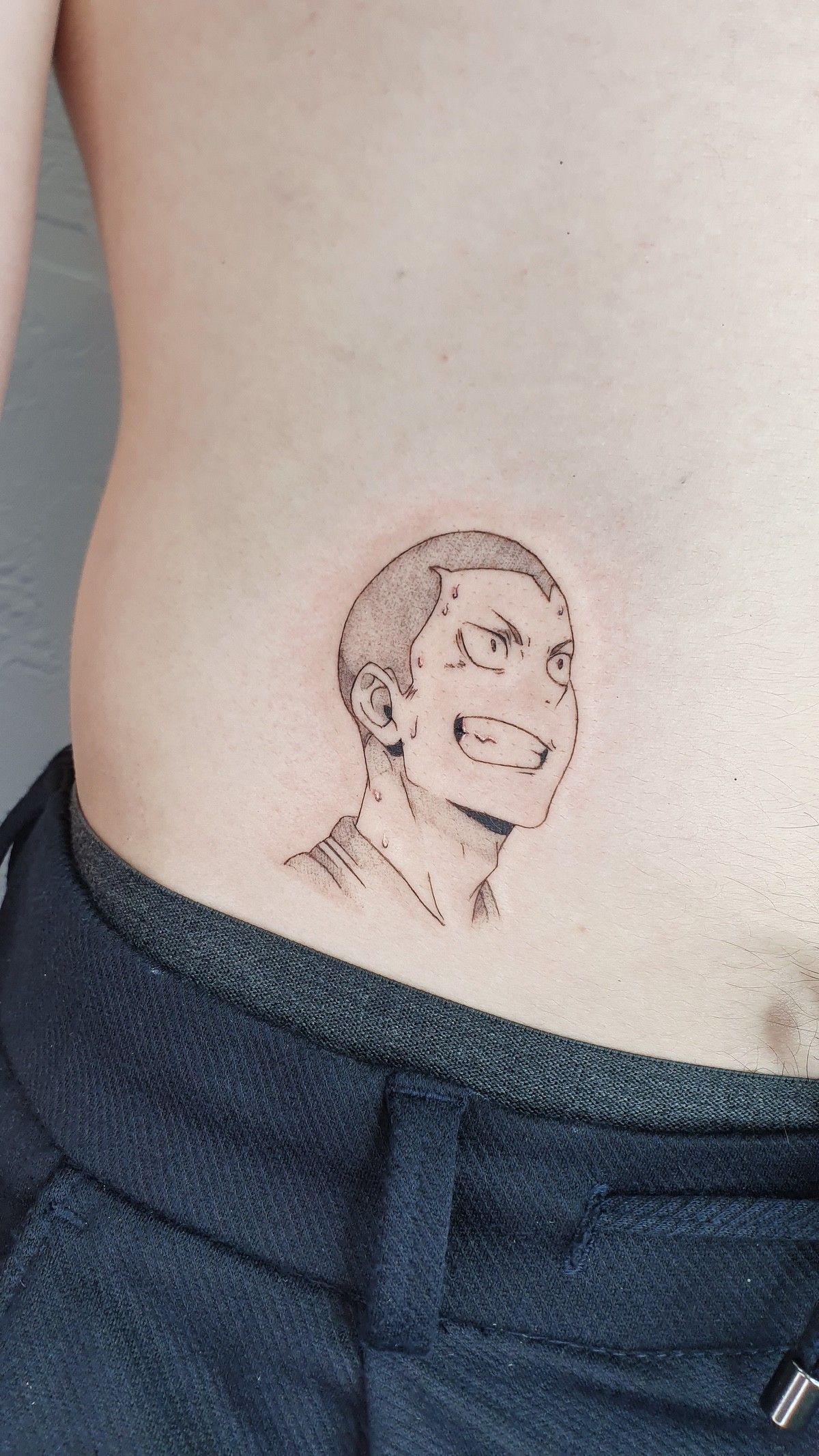 Do you have an active position in the tattoo industry? Do you attend tattoo conventions? Are you collaborating with other artists? Maybe something else?
- While I was growing my skill, the tattoo conventions ended for this year. I'm waiting for the next ones, it will be interesting to participate, look at people and show myself. In general, I dream of visiting the Anime Ink Convention in the USA someday, which means I will definitely do it!
Is the tattoo for you an art, a job or something else?
- For me, as a wearer, this is aesthetics and self-expression, and as a tattoo artist, I sometimes feel like a stand-up artist, a healer or a dakimakura, a sleep pillow that you hug and fly off into a cloudless dream. Probably, the tattoo is not a goal in itself, but a process of exchanging positive emotions and warmth.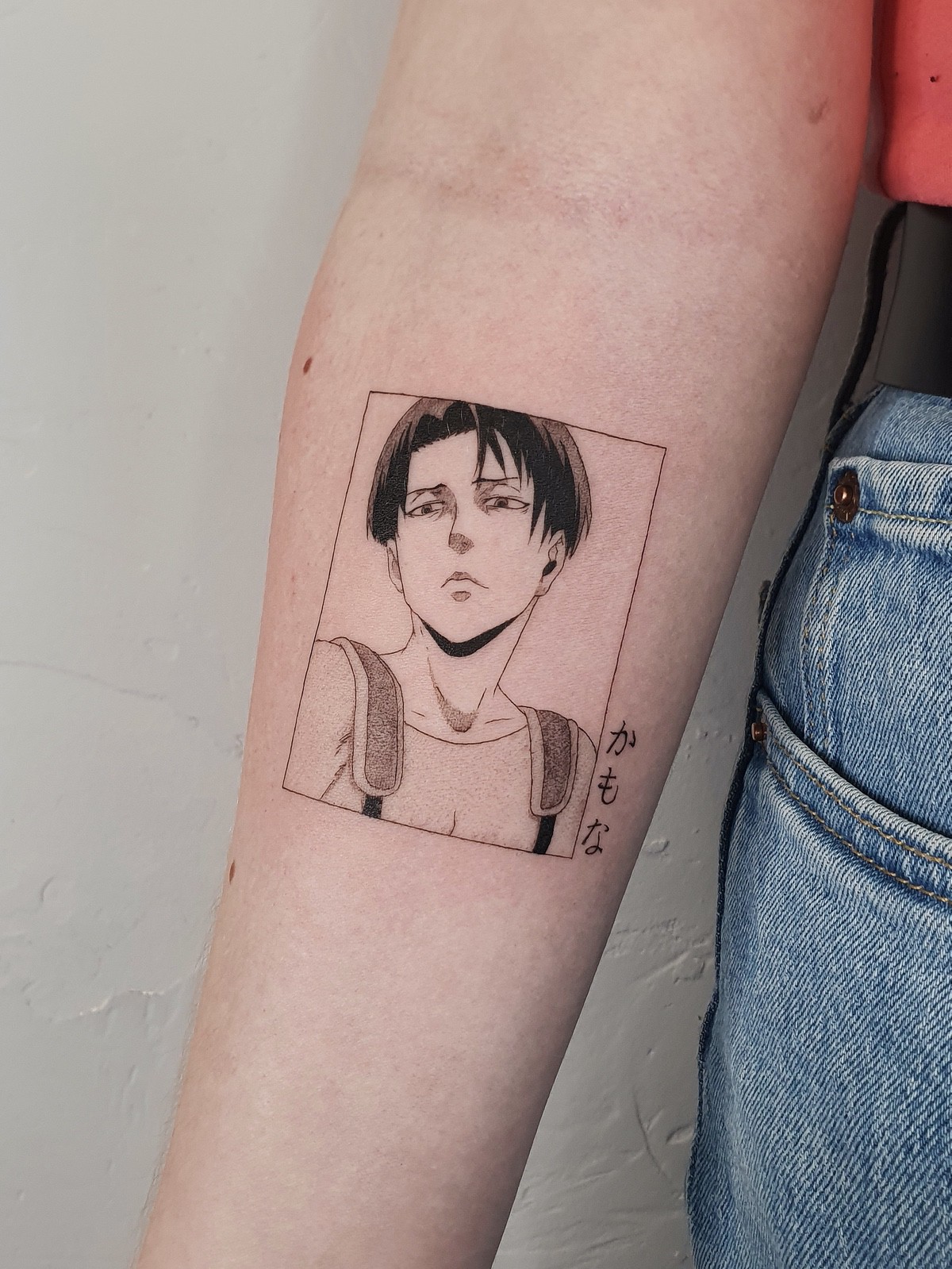 What are you interested in besides anime and tattoos?
- 100% travels! In recent years, there have not been so many of them, but sitting in one place is annoying. I love to eat, it's delicious. But I don't love to cook.
Almost all anime tattoo artists sooner or later come to the production of clothes with their own sketches. Do you have similar plans?
- I haven't been able to finish my sticker pack for a year now, what kind of clothes are there? But thanks for the idea.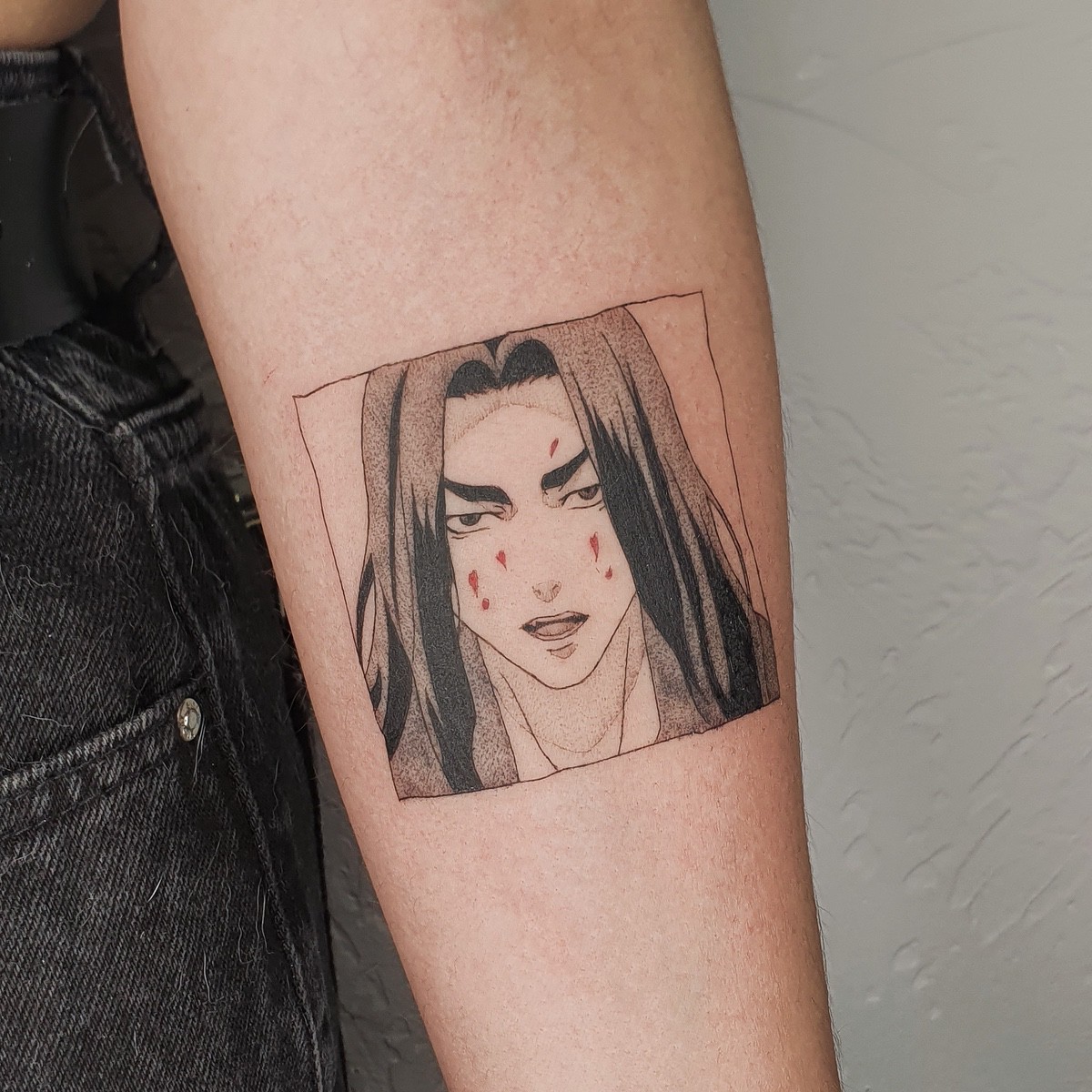 What would happen to your life if you woke up one day in a world without anime?
- Hm. Stop. This is something about isekai (from Japanese "different world" or "otherworld"), right? So instead of anime, I will have some kind of superpower and a harem of cute girls? I like it. Let's go! (laughs)