Timur Rumit: A Journey Behind the Scenes of Tattoo Realism
08 / 02 / 2023
Alexander Ledovskih
Among fans of illustrative tattoos, there is a belief that realism is just copying an image onto the skin without any creativity. Whether this is true or not will help us to understand the multiple winner of international tattoo conventions, a member of the BLACKOUT star team, a tattooist who has traveled half the world and gifted us with thousands of high-quality works, a 1RS lecturer and guru of building large tattoo projects - Timur Rumit!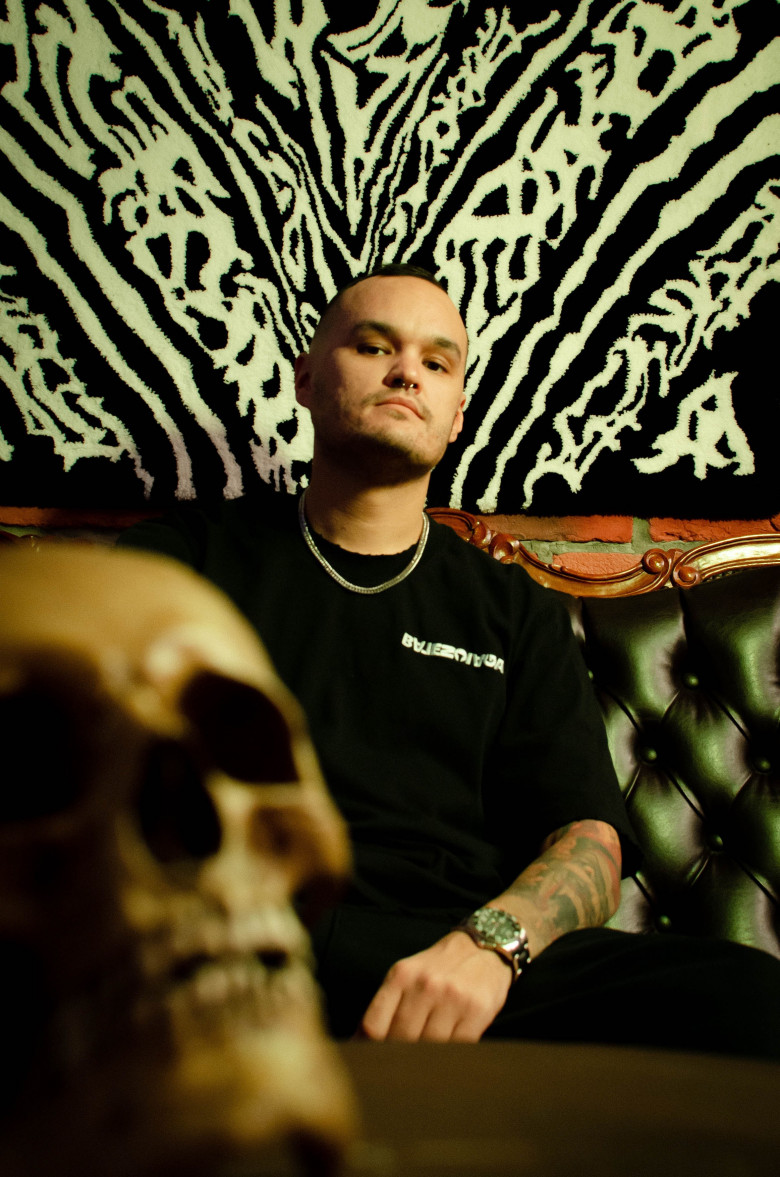 ---
Timur, we have been familiar with your works for a long time, but little is known about you as a person. What did you do before tattooing? Why did you decide to become a tattoo artist? How long have you been on this path?
- Before tattooing, I was involved in music and had my own rap group. At the same time, I always liked to draw. I started tattooing in 2005. It was a very long and difficult journey. At first, it was just a hobby, but over time it started to get better and better and, in the end, it became my favorite job.
For a portrait realism artist, a deep understanding of the correct image composition is extremely important. Do you have a professional fine arts education?
- Yes, it's very important, especially since there can be no mistakes in the process as you work with skin. I have a fine arts education: I graduated from the Kamsk Institute of Arts and Design as a graphic designer.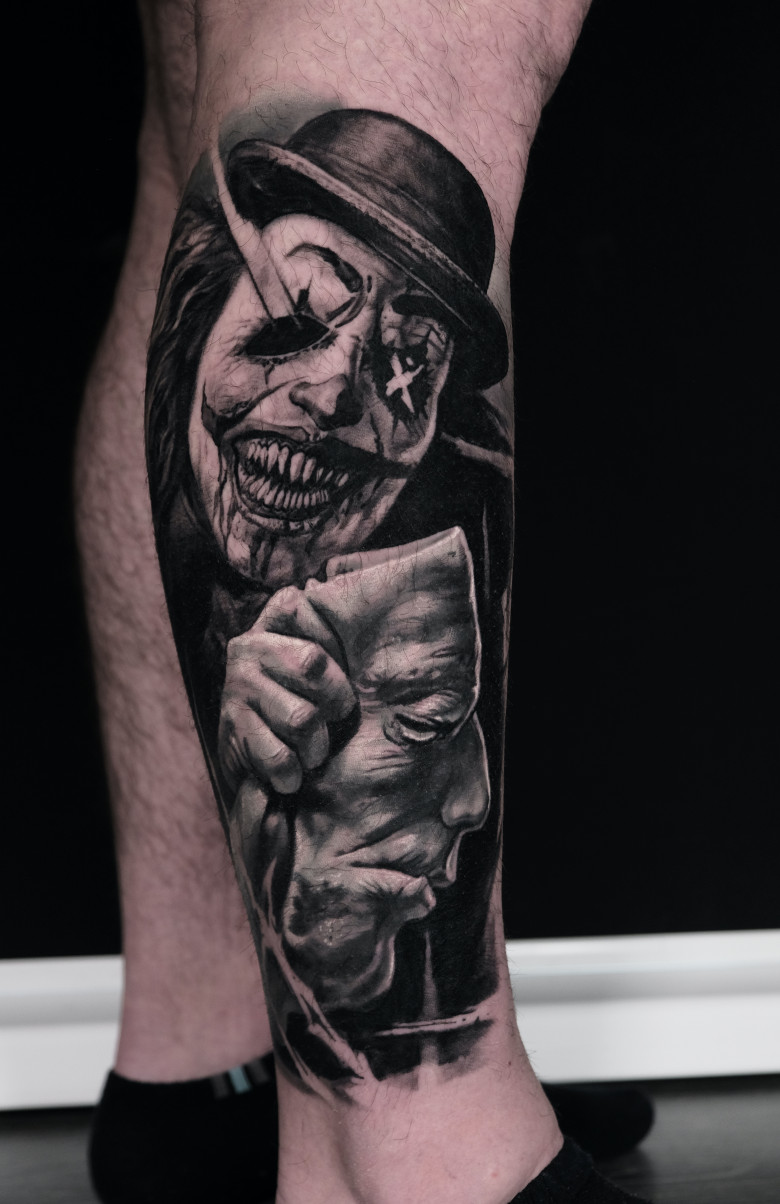 Did you start working in realism immediately or did you go through the classical way of a tattoo artist through all the main styles?
- Of course, at that time few people could do realism, and I started doing everything gradually. And I was pretty quickly inspired by the Chicano style and worked only in that style for several years. Then I wanted to complicate my work and started trying to develop in realism.
You work in one of the most famous tattoo collectives in Russia. Tell us when you got into BLACKOUT and what it gave you?
- I joined Blackout Tattoo Collective in 2015, from the opening of the studio. It turned out to be a very strong collective with cool tattooists, where each worked in different styles. The studio's concept itself was initially aimed at developing artists in a strong collective. Here I managed to make the strongest leap in my development, I completely changed my working technique and approach to design.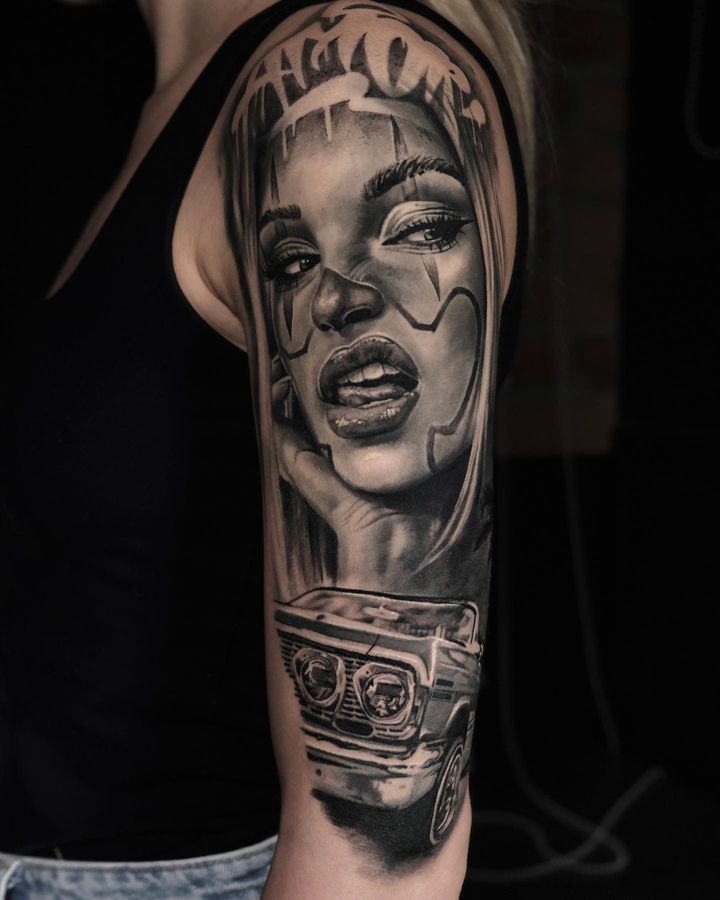 Among many fans of illustration tattoos, there is a belief that realism is just a transfer of a picture from the internet. What do you think about this? How do you realize your creative potential in your works?
- I agree that there is such a belief, but I do not agree with it. Not every artist can transfer a realistic image skillfully to the skin. It just sounds easy. In my projects, I delve into the design and composition, trying to make my projects eye-catching.
Do you work more often on reference from clients or your own projects?
- More often, I work from the client's own idea and try to develop it myself so that it's interesting for both me and the client. I search for references and all the design myself.
Tell me more about the design creation process.
- Like many tattoo artists, I make my designs in Procreate. As an example, let's look at one of my works. Here, the client envisioned the placement of two different characters on one plane. And so that everything looked juicy, gloomy and impressive.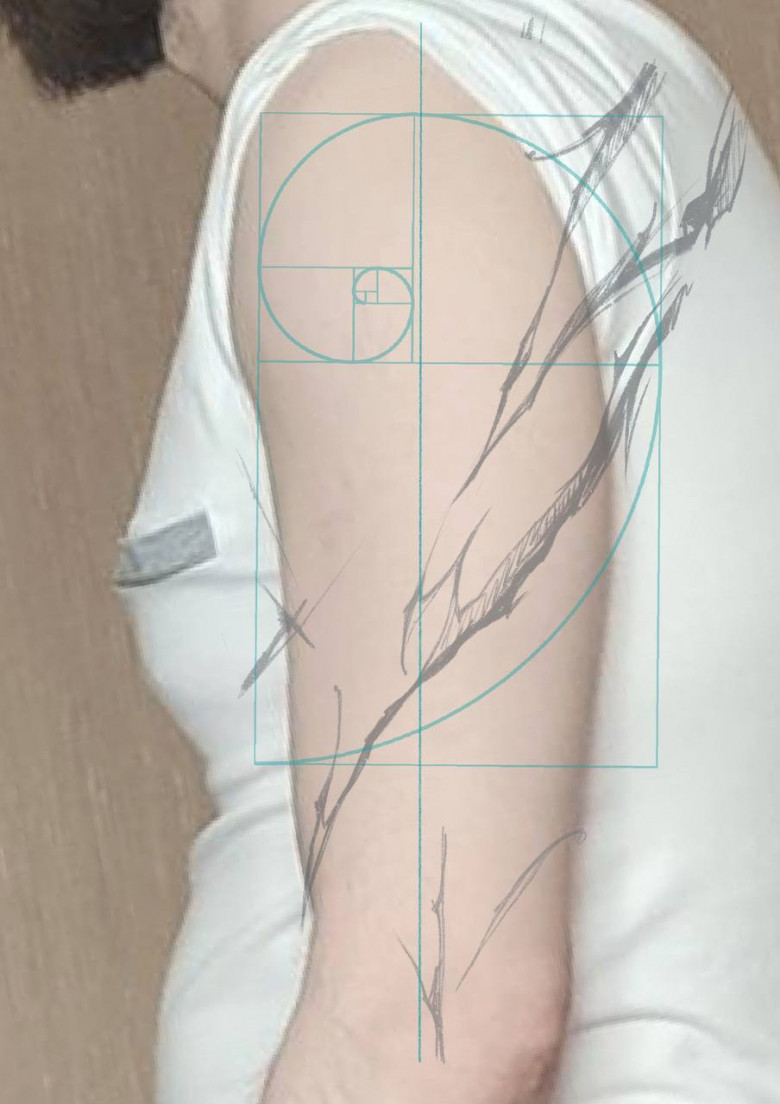 I started building the composition with the distribution of roles between the characters, so that each of them did not stand out too much against the background of the other and did not attract undue attention. I highlighted the image of the vampire as the main and dynamic one, using it as the basis. I made the design project according to the golden section rule.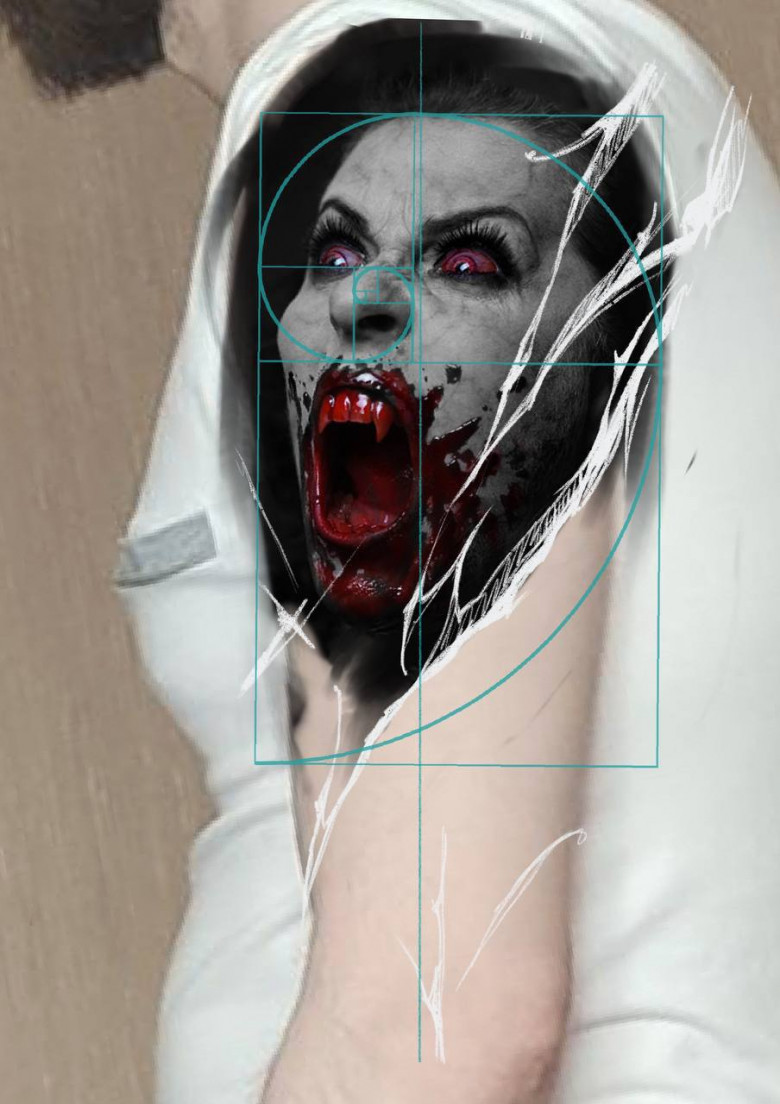 To link the characters in the composition, I made a dynamic line in the form of a jagged edge that emphasizes the muscle structure and follows the golden section. In this way, I highlighted the main character in the foreground, made it slightly larger relative to the second. It is also more detailed, and due to its large size, I can confidently work out the details.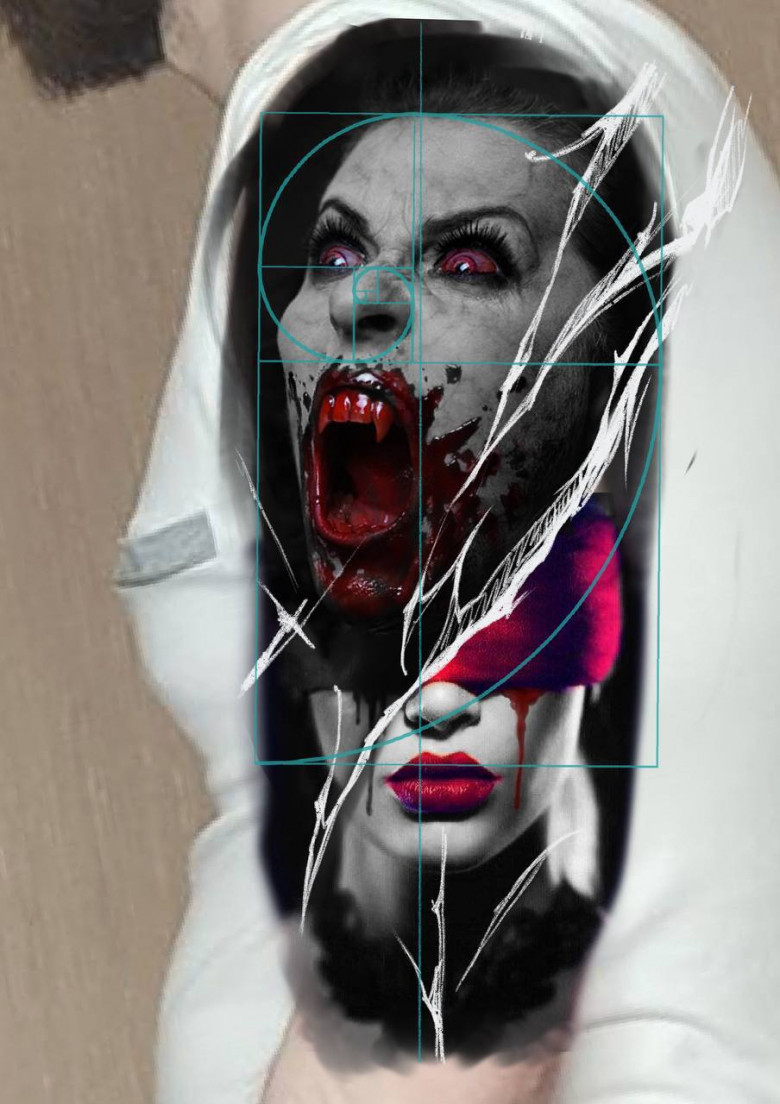 The second image is more static, I used it in the lower part of the composition. Also for impressiveness and support of the atmosphere, I used shadow and highlighting.
What is important to me in a project is that I immediately try to distribute the darkest and brightest areas. So that upon completion and healing of the project, all the work as a whole looks contrasted, effective and harmonious.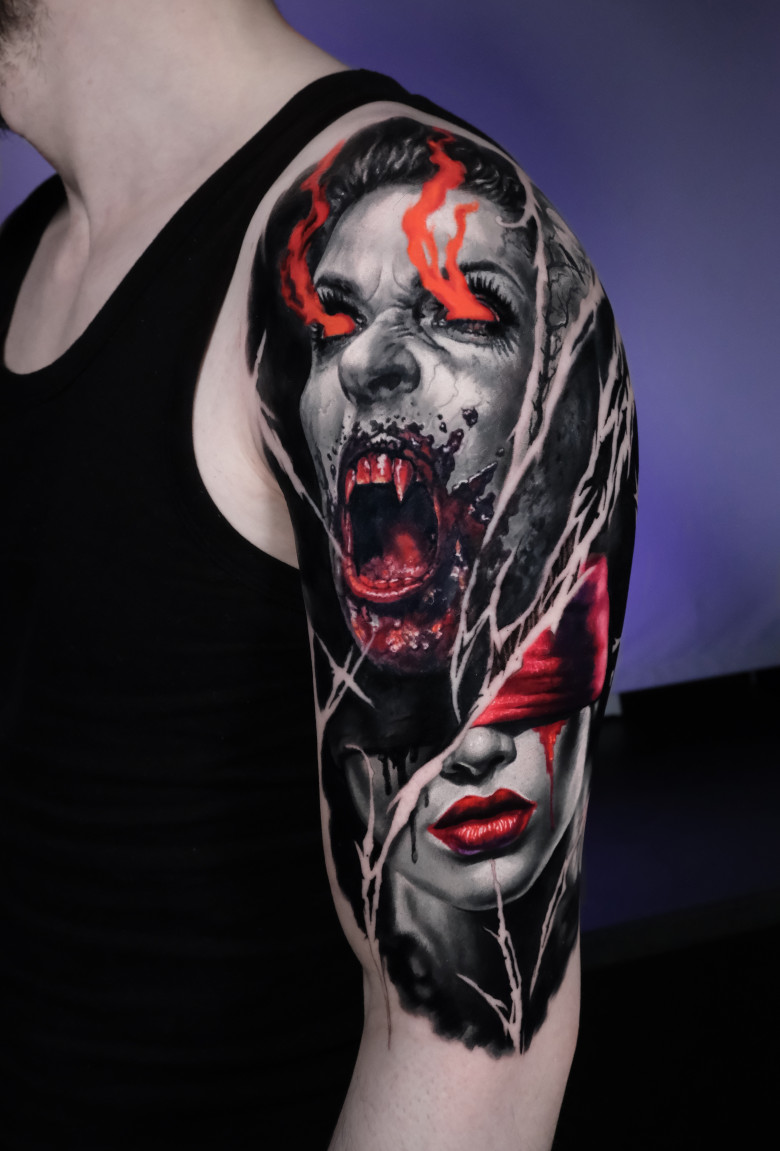 What do you prefer more: color or black and white? And why?
- Honestly, I like both color and black and white equally, but it all depends on the individual and the situation. Much depends on the idea and the skin. If the skin is light and I see that a certain idea will look great in color, then of course I will recommend color. And also vice versa, when a certain idea can look much more advantageous and harmonious in black and gray.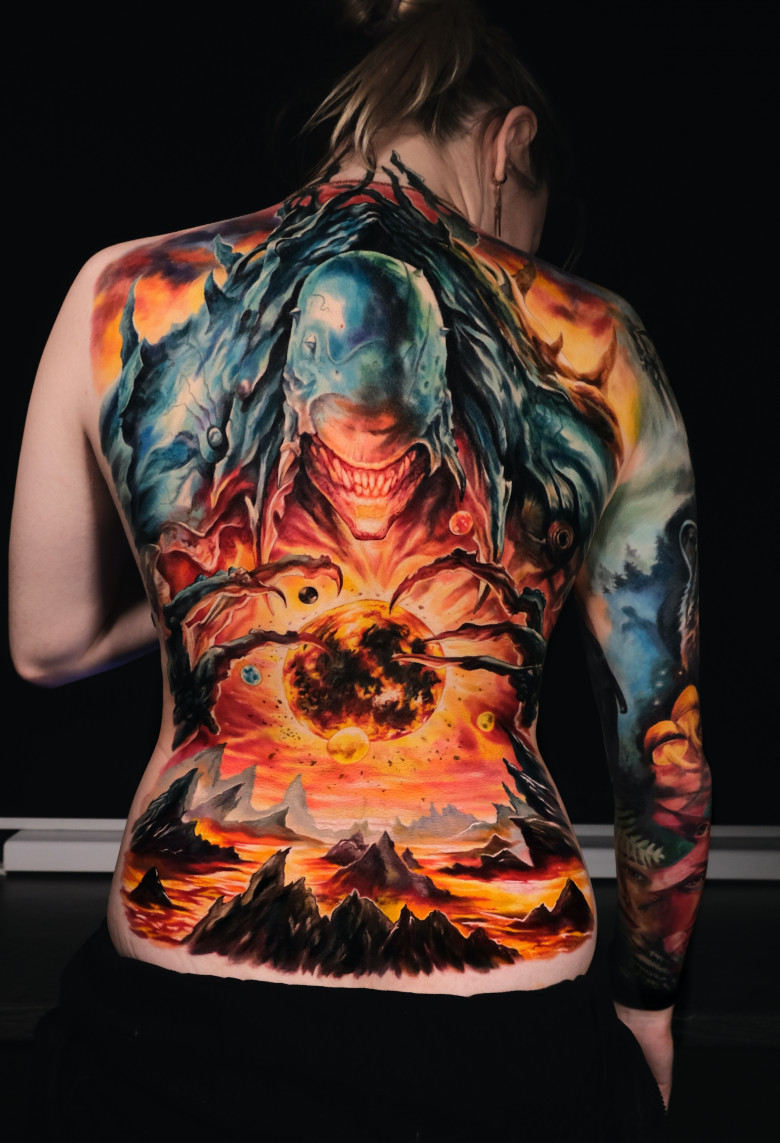 Where do you get inspiration from?
- I have noticed that it's cool to be inspired by visiting museums. Look at the classics, try to understand the technique. Also, watch movies and pay attention to contemporary art.
Who do you follow actively among the masters, who do you consider an example in their work, and who is in your personal TOP?
- I watch a lot of different styles and tattooists. Currently, I am actively following several styles and various artists. Especially I like works of Neon Judas, Denis Sivak, Thomas Carli Jarlier, Paul Acker.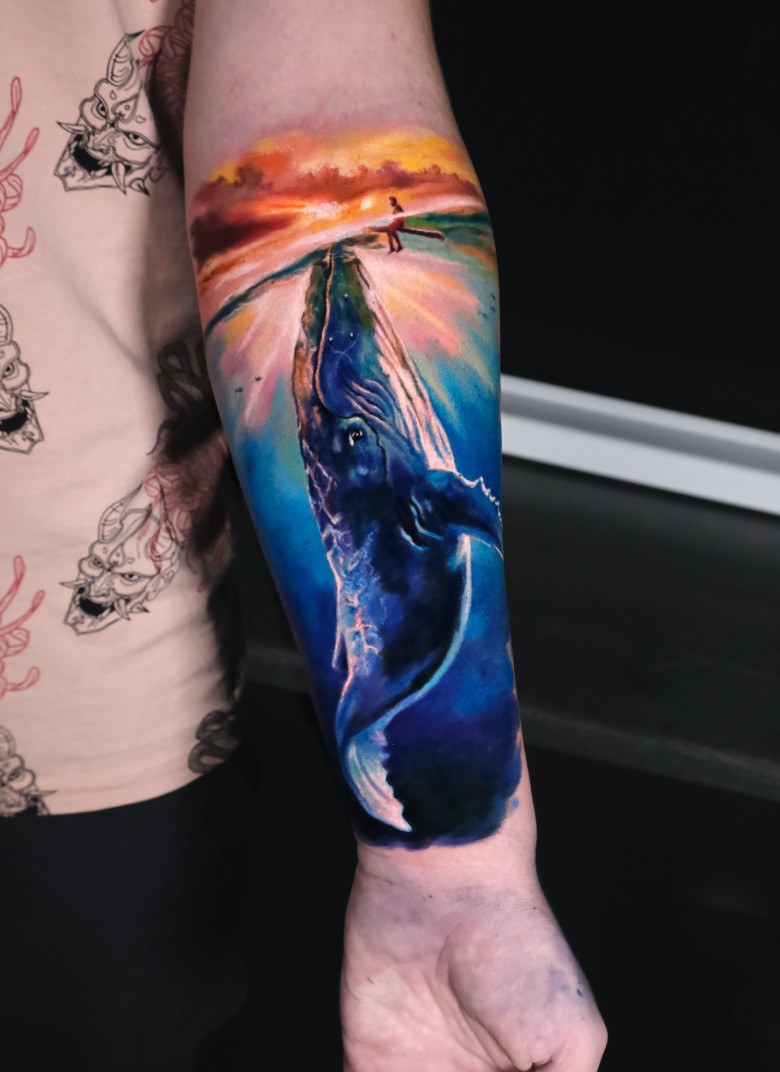 As with all BLACKOUT tattoo artists, you have a very active travel schedule. Tell us where you have already been, do you have any favorite countries?
- Yes, I enjoy traveling and meeting masters and culture in general. I have worked in most of Europe: Germany, Denmark, Spain, Belgium, Netherlands, Finland, Austria, as well as Indonesia and Thailand. Netherlands impressed me the most.
You are a frequent guest and participant in international conventions. What events have you remembered the most? How many awards do you have and which ones are the most significant to you?
- I try to attend tattoo conventions often. I liked the convention in Brussels. It was a very massive event. The convention in Frankfurt had an interesting line-up of artists. The Moscow tattoo convention had a very high level. The Novosibirsk tattoo convention was the most soulful. I have awards from the Moscow and St. Petersburg international tattoo conventions. An important award for me is "Best of the Day" at the Moscow convention. I also have awards from collaborations with cool artists.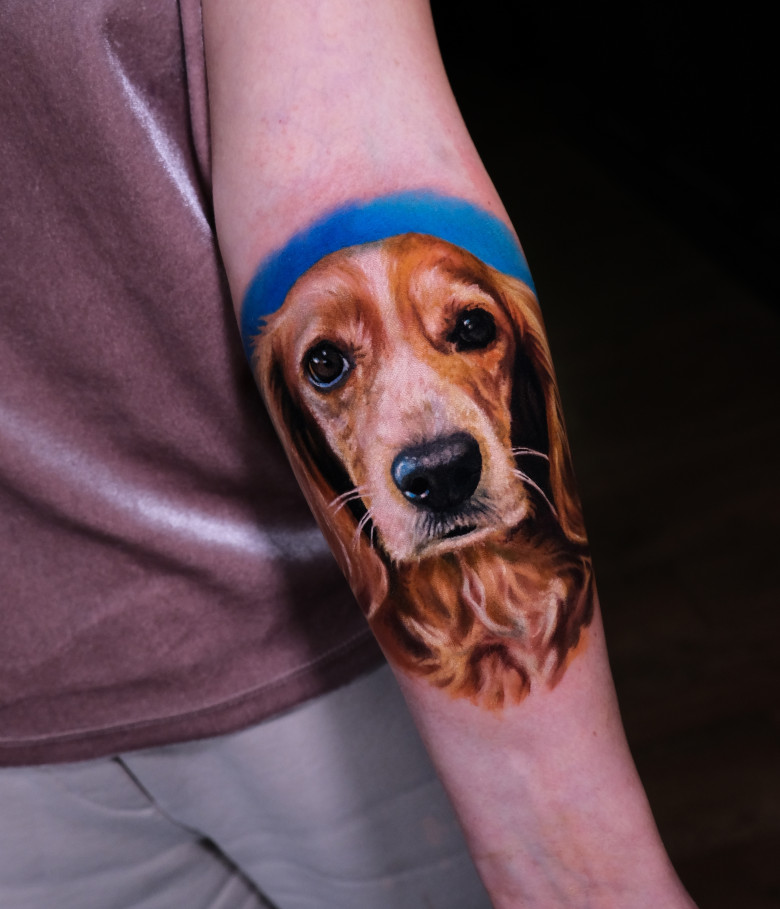 Do you have any favorite tattoos, clients, projects, or maybe some unusual stories in your career?
- My favorite projects are mostly large horror-themed projects. Each client is unique in their own way. I love the results of completed projects and the feedback from clients.
How do you assess your popularity and how can it be measured?
- Popularity is measured by demand and recognition. I think it's the productivity of my work in my style.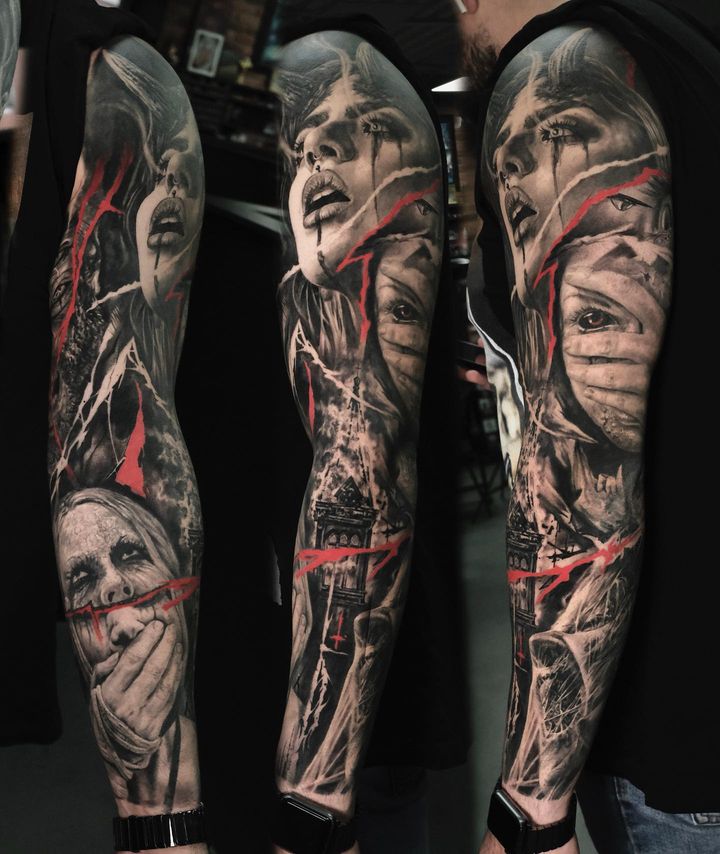 For you, is tattooing art, work, or something else?
- For me, tattooing is art, a beloved job, and work. Tattooing has unique design, composition, coloration, technique, various styles, discussions, festivals, museum exhibitions, and many collaborations in different directions.
What do you think awaits tattooing in Russia in the near future?
- Tattooing in Russia will develop, new young talents will emerge. Currently, there are good courses and training where you can learn technique. I see that many guys are striving to develop and experienced artists are ready to share their knowledge.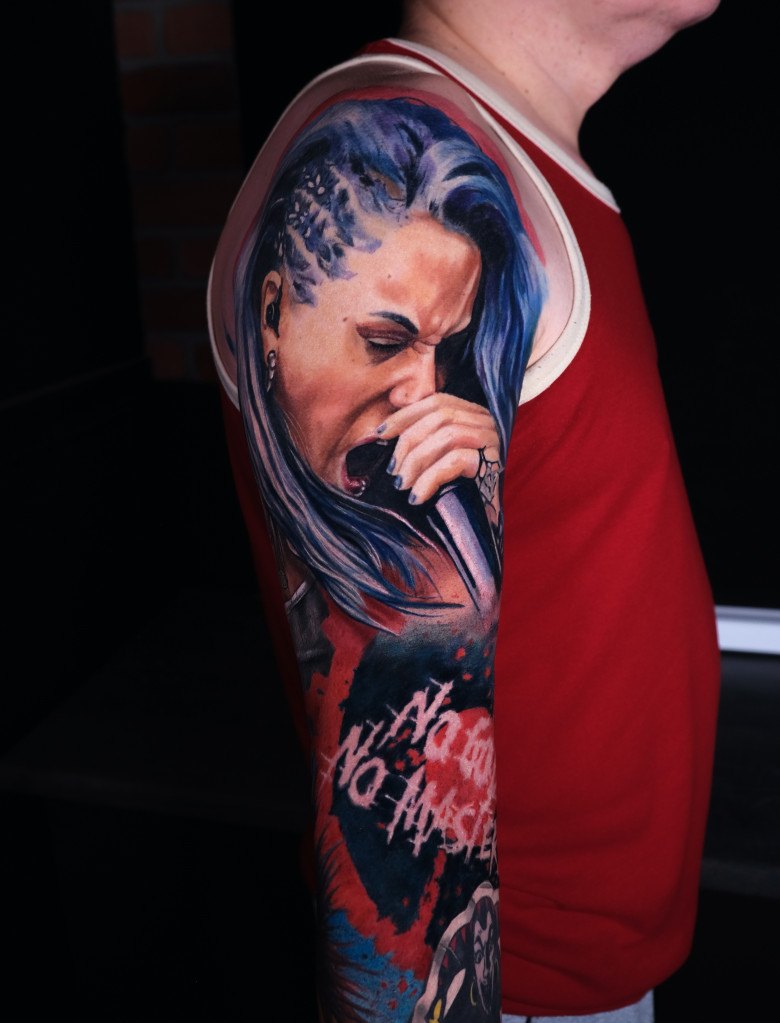 What career goals do you set for yourself?
- This year, I have set a goal to increase the complexity of design in my projects, to implement more projects with my own designs, to participate in new international conventions, to work with new collaborations, and to develop the studio.
What do you like besides tattooing?
- Right now, I am painting with oils and continuing to learn from the guys at Art Unity with the oil painting technique.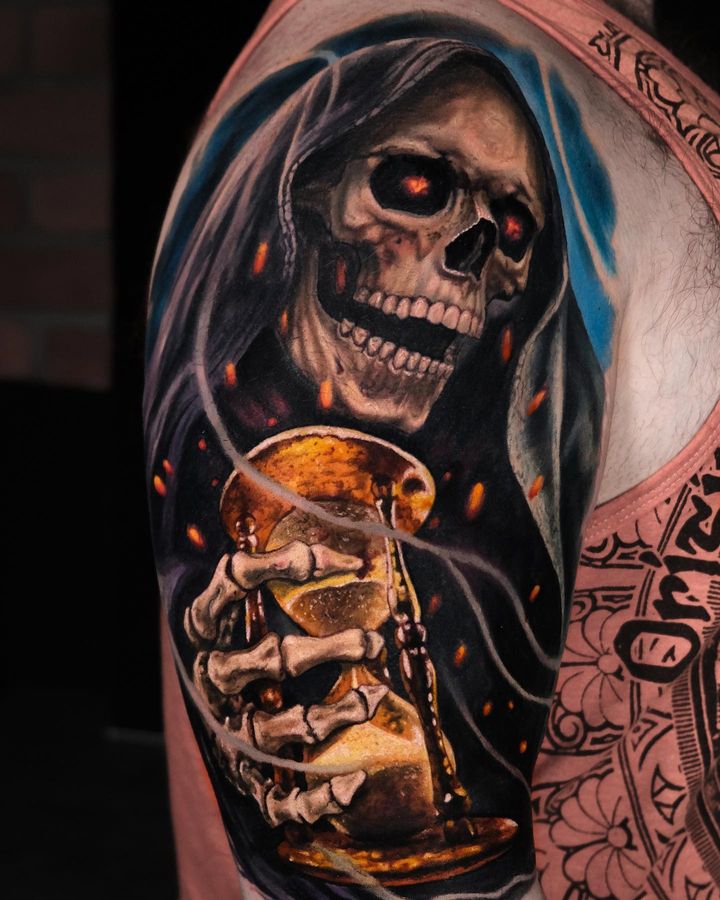 Can you tell me about your plans for the near future?
- In the near future, I will try to create my own clothing brand and also hold master classes to improve artistic and tattooing skills.
Can you tell more about the future master classes? Will these be classes for drawing or tattooing?
- I regularly teach individual master classes. And this is a planned larger format. We have a platform, many of you probably know about it - 1RS. So at the next event, we are organizing my master class. This will also be in different techniques: color and black and gray realism.